Our lifestyle has been overwhelmingly been influenced by the emergence of the Internet and high-speed internet. It's a common phenomenon that visuals are easily graspable for human mind if we compare them with text, pictures, or sound.
That's the reason why everyone prefers watching a video live streaming rather than reading news, listening to podcasts. 
We do participate in conferences, travel to places, conduct workshops, and whatnot, and we always want to share it with others by streaming the events on online platforms.
Twitch is one such platform, that offers video creators, gamers, and professionals to live-stream their work to reach wider audiences and earn revenue as well.
Platforms like Twitch have paved the way for rampant live-streaming industry, and startups and enterprises are utilizing these platforms to broadcast their corporate events like a product launch, offers, online conferences to reach wider audiences.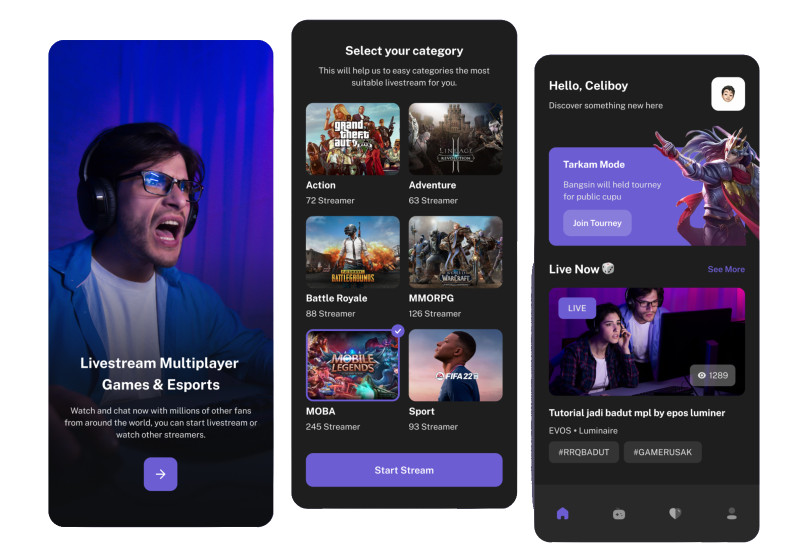 With the appropriate methods, research, and planning, you can also develop your own streaming application or website like Twitch. In this article, we will cover several aspects of Twitch, and explain how we can build a similar application.
What is Twitch?
Twitch is a highly popular live-streaming service, that was started in June 2011. Assessing its potential, Amazon Inc. acquitted it in August 2014.
It's a video streaming platform that permits users to upload videos, live stream games, view live streams of others, participate in gaming competitions, interact with gamers, and content creators via instant chat. 
Twitch allows users to view live broadcasts without even creating an account. However, to broadcast your own content and chat with others, you must create an account on the platform.
Twitch is compatible with a personal computer, Microsoft's Xbox,  and Sony's PlayStation console, apart from that it offers dedicated applications to let users broadcast their content and interact with the community.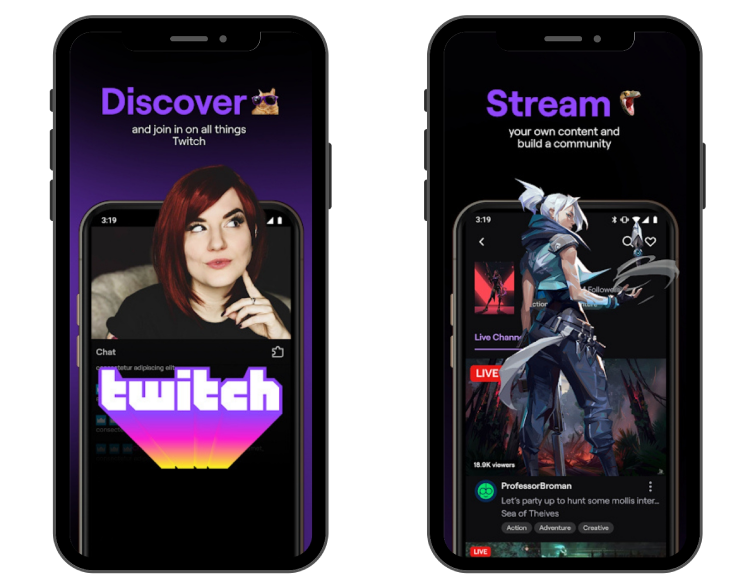 Twitch allows gamers or anyone interested in casting on other genres like music or food to stream their activity in real-time and let others watch it.
Users can find a video stream by searching various categories and they can follow a specific channel to get its activity updates and alerts.
It also provides browser support that enables users to use its features. Twitch also offers video on demand, and audio-video broadcasting services, which makes it quite popular among the youth.
Why Twitch is so popular?
Twitch is an undisputed leader in online streaming industry. Do people usually ask why it is so popular and successful?
We have researched certain factors, that are behind its unprecedented success :
Free Live Stream

–
Twitch allows users to watch the live streams without paying any subscription fee.
Real-time interactions

–
The inbuilt chat feature allows viewers and players to interact in real-time. Users can communicate with the players, ask questions, and encourage players during game streaming.
No language barriers

–
Twitch allows gamers to broadcast streams in multiple languages, which allows a wide range of viewers to watch their performance, without thinking about the language barrier.
Massive community

–
Twitch enjoys the support of massive user communities across the world, who watch all types of games, interact with like-minded people, make friends, and compete with them.
Market Stats of Twitch Platform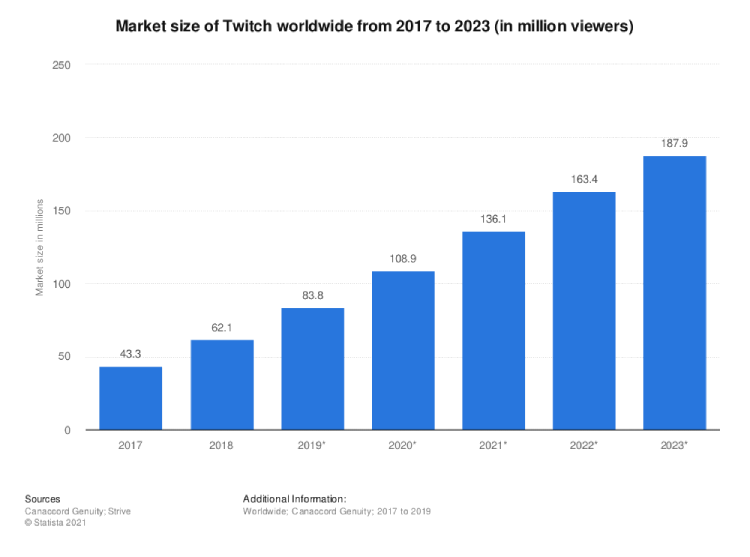 Twitch has become highly popular in recent times, and the following statistics just proved it : 
It enjoys an average of 15 million DAU (daily active users).
The peak viewership is 6.5 million views.
It has 140 million unique monthly viewers.
71 million hours of content is cons0umed by Twitch users daily.
Twitch has over 2.2 million creators, who broadcast their games.

Twitch's Partner Program is unprecedently growing with 68% since 2017.

It has 9.2 million active streamers.
Every active Twitch user spends an average of 95 minutes on platform daily.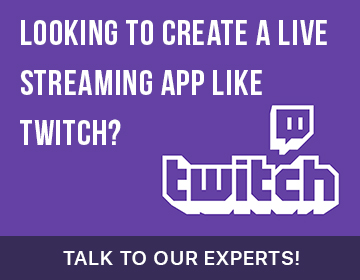 How does Twitch work?
Here is how Twitch works for viewers. 
The Twitch website's home page displays several categories of content and games that are available. The home page usually hosts the trending or most popular games, from where the users can select what content they want to watch. Users can simply click on the content to initiate live streaming.

On a mobile application, a user can easily watch the "Broadcast" or live stream. The mobile app offers a split-screen display, that allows users to check what the video streamer sees on their end. Users can hear and see the gamers play through a small window on the edge of their live stream broadcast.

The video streams contain links, from where the users can purchase games. Streamers can sell products via affiliate links, and the revenue is divided between streamers and Twitch.

While viewing a video stream, users can connect with other users and gamers via instant chat. This allows them to interact with others, ask questions, provide feedback, and receive responses. 

Users can save live streams so that they can watch them later at a convenient time.
Top Competitors of Twitch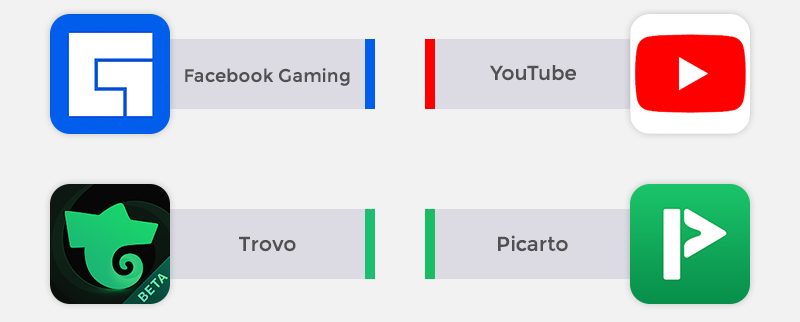 Twitch is certainly the most popular platform for broadcasting and watching online video game content. It was the first company that put focus on dedicated video game streaming, and it added a lot of innovative functionalities to ensure a flawless experience for the users and content creators.
Twitch is facing tough competition from other platforms in the market, that are not as popular as Twitch is, but they are making a giant stride in the online gaming streaming domain.
Facebook Gaming

–
Facebook has been pushing to make its mark in the gaming live stream sphere. It is not that popular now, but it is gearing up to gain a big pie of this business. Facebook is allowing its users to broadcast video games and other live streaming stuff. It is incorporating innovative features and methods to give a touch fight to Twitch in the near future.
YouTube

–
It is the biggest alternative to Twitch now. It offers users to search for specific content, broadcast online games. YouTube is also signing up deals with renowned content creators to enhance its content offering by pulling high-profile talent onboard. 
Trovo-
It encompasses lots of similarities with the Twitch interface and functions. Twitch users may feel at home when they use Trovo, due to its almost identical user interface and other similar features. Though it is still in nascent age if we compare it with Twitch, it has improved the content offering and live stream quality.
Users can simply click on the Games tab to navigate through trending categories, from Minecraft to Grand Theft Auto V, and enjoy their time. 
Picarto

–
As the name suggests, it deals with art streams. Picarto provides a robust platform to different artists across a multitude of art genre and styles. Artists can use Picarto to liver stream their artistic work and connect with millions of their fans across the world. Users can go to this site, click on the Explore tab to navigate variety of content available, and follow popular artists as well.
Vaughn Live

–
It is another platform that enables users to live stream any content. We have multiple content categories to choose from, such as news, gaming, creative, music, news, and many more. However, it doesn't allow users to monetize their live stream or video broadcast. 
How Twitch earns revenue?
Well, an application or website is built to earn revenue reports, and Twitch is not an exception here. Let's explore what monetization strategies Twitch has employed to generate revenue :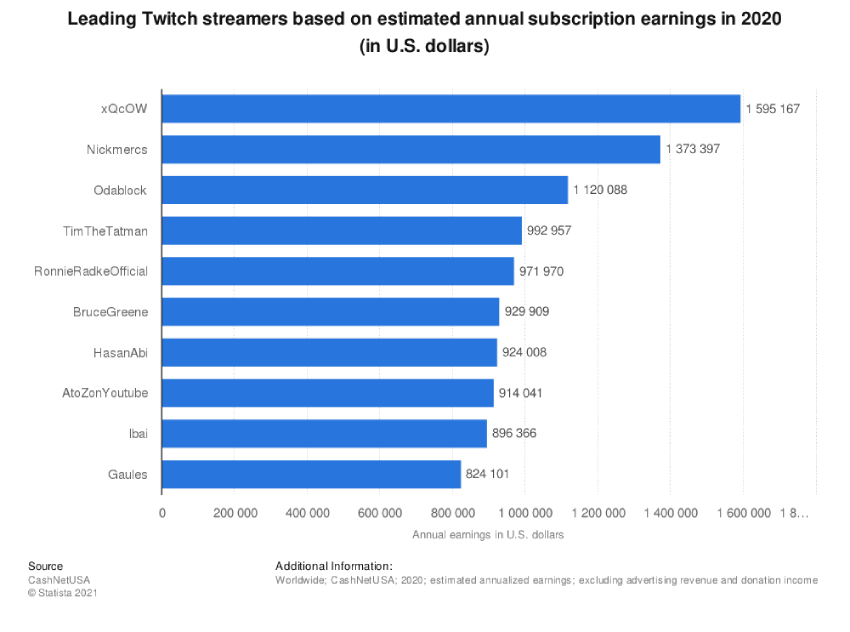 Freemium

–
This method allows users to avail some free and paid features at no cost. Though in this approach, users get advertisements while watching the content.
However, Twitch offers a Turbo service, where users will get fewer ads, get more video storage, and enhanced UI/UX by paying $8.99 for a month.
User Subscriptions

–
In this model, the users must pay a certain subscription fee every month to access all the features of the application. Twitch allows users to subscribe to gamers to watch their content, and this fee is shared between those gamers and the Twitch platform.
Advertisement-
Twitch places advertisements of its business partners, and these ads appear based on user preferences and demographic information. Twitch generates revenues when users watch these advertisements and make any transaction by clicking on them.
Merchandise and Apparel sales

–
Twitch has partnered with several merchandises and apparel providers and utilizes the platform to sell their goods. It also allows gamers to launch their goods and merchandise and advertise them during live streams.
Users can purchase those goods and the revenue is divided between Twitch and the Gamers.
What is Twitch Prime? 
It is a monthly subscription service, that gives you access to exclusive in-game content, a bonus channel subscription, and additional games, more broadcast storage, member-only chat, and more.
To avail the benefits of Twitch Prime, you must have either an Amazon Prime or Prime Video account, which may cost you $12.99 or $8.99 per month, respectively.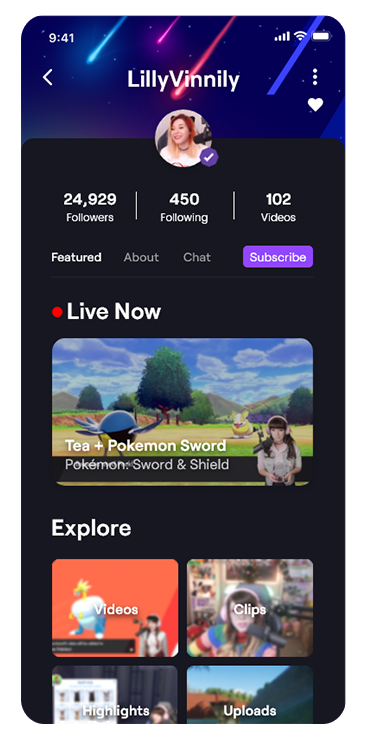 Twitch Application – Features
Twitch is popular due to its innovative features, that help it to engage users and ensure they spend more time watching live streams on this platform. It encompasses certain features that are essential for any video-streaming application. 
Let's identify these features from a user's perspective.
Onboarding

–
It offers an informative onboarding experience for users, where it explains the app features, functionalities, and navigational controls. While designing onboarding content, it is always recommended to make limited slides and ensure they are transitioned easily.
User Registration/Login

–
This feature helps users to create their accounts on the platform. It offers either a user registration form to register or allows users to register via their social media accounts such as Facebook, Twitter, or Instagram. While developing this feature, we must ensure that this process must not be too time-consuming.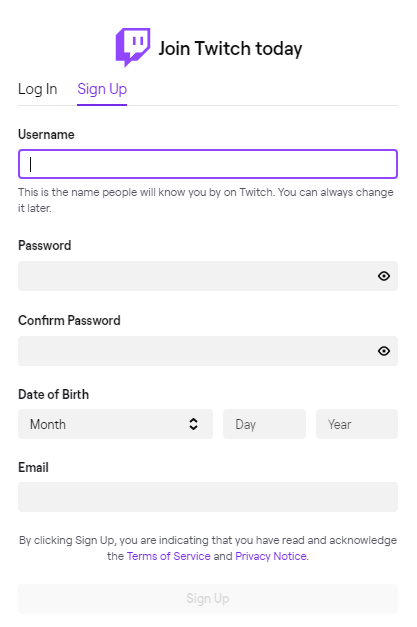 Live-streaming

–
It is certainly among the most important features, as it allows users to live-streaming their content. However, it is critical for your application to have a smooth live streaming capability to gain a user base.
You can implement RTMP to offer a high-quality and smooth video streaming service. RMTP works on low bandwidth connections by dividing the media stream into small fragments, that easily transmit between server and client. 

Video Library

–
A full-fledged video library is a must for an app like Twitch. It helps users to navigate through the content and play the one they want to watch. You must ensure that Video Library must be equipped with easy navigation and strong searching capability.
Watch Lists

–
It contains the preferred and recommended content for users. The watch list displays the content based on the user's activity and personalized choice. This feature gives users a personalized experience and helps them to access their choice of content quickly.
Instant Chat

–
It is an important feature, that allows users to interact with other viewers and the content creators/gamers as well. Users prefer instant chat, as it allows them to ask questions, encourage their favorite content creator, and share their feedback in real-time. You can use 3rd party chat solution to incorporate an instant chat feature.
Search Bar

–
It helps users to search for a specific genre of content. It must be equipped with strong searching algorithms to ensure user can search their content easily.
Cloud-Based DVR

–
It allows users to record shows using their application and then stream it live. Twitch uses Cisco infinite video platform and Velocix origin to offer this service to its subscriber. You can also incorporate these vendors to provide Cloud-based DVR services to your subscribers.
Automatic Video Categorization-
Video categorization is very important, and we understand that it is not possible in real-time. You can use Artificial Intelligence and Machine Learning to build an automatic video categorization feature. Machine learning will help you to avert copyright breach instances, whereas the AI can analyze different genres and user's activities to offer them personalized content.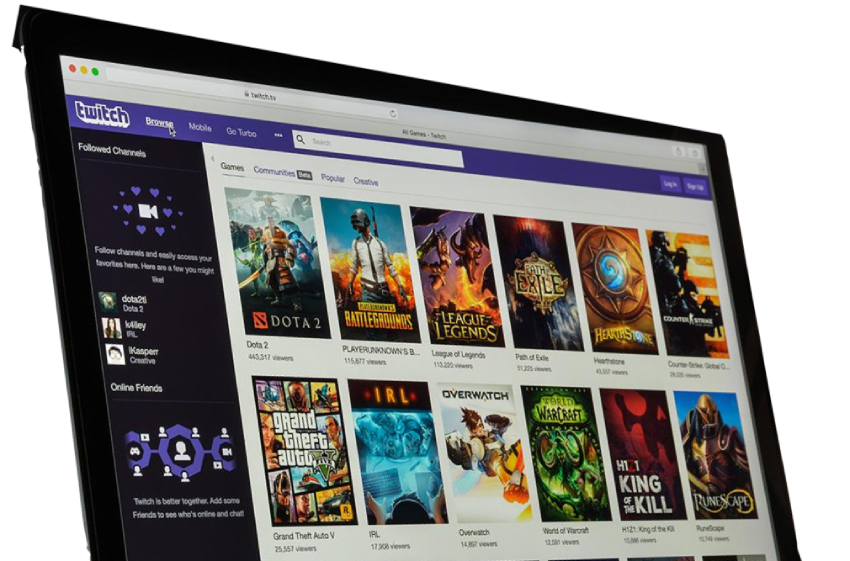 Screen Mirroring

–
It enables users to share their content from their smartphone to a larger screen, like smart TV or projectors. The live streaming is transmitted to a bigger screen via a wireless connection (Wi-Fi). This is a must-have feature as users prefer to watch their content on larger screens.
Monetization

–
It is important to have a monetization feature for any application. Twitch does have an in-built payment mechanism, that allows subscribers to make payments, access premium content, purchase merchandise, and even make donations. We must incorporate multiple payment methods and a robust payment gateway to offer an immaculate payment experience to our users.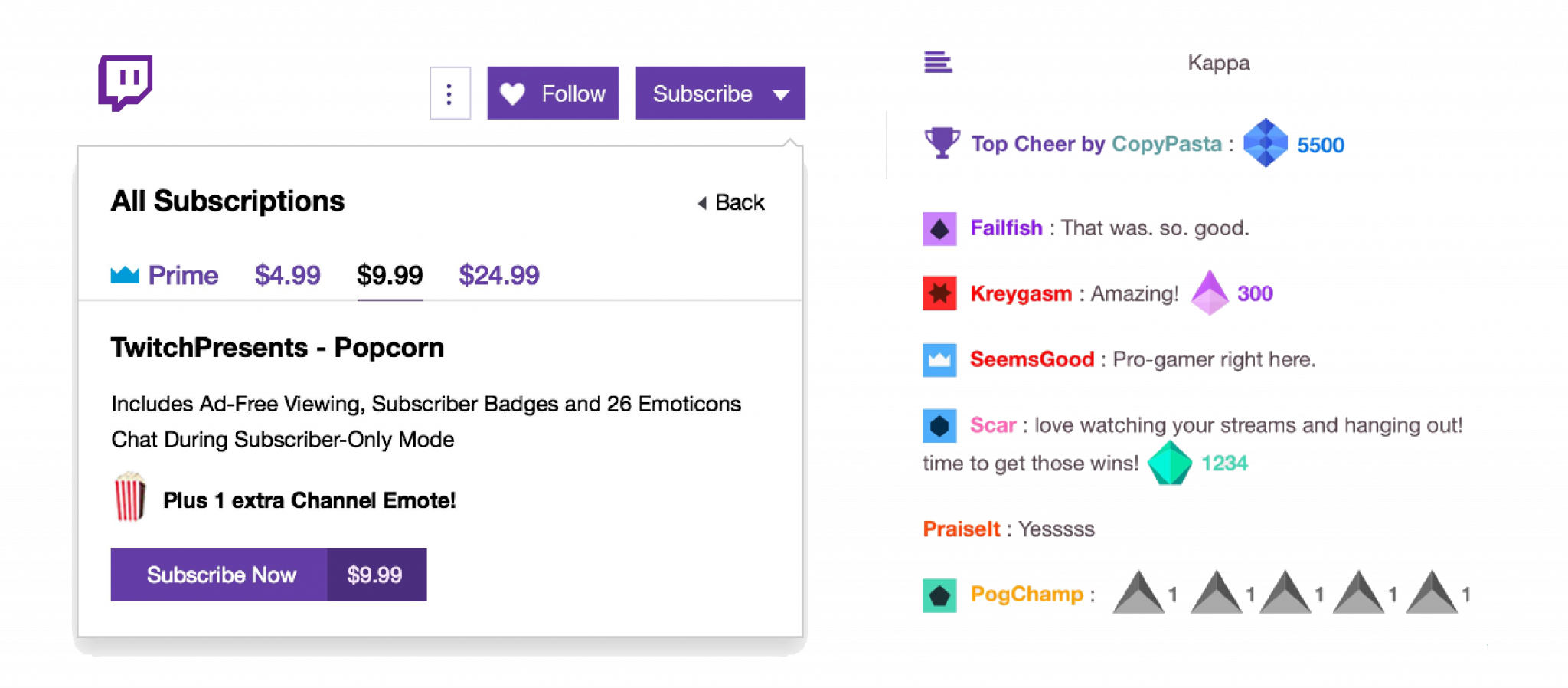 Advanced Security Features

–
Security features are necessary for a live-streaming app. Security features prevent data breaches, prevent hacking attacks, and prevent other vulnerabilities.
You can implement some strong but cost-effective security mechanisms such as IP-based access control, multiple-factor authentication, AES encryption, and DRM. 
Review and Ratings

–
Users want to express their opinions and register their feedback about their experience. A good streaming app should have a review and rating feature, that permits users to submit their ratings to the content creators.
This helps platform owners to analyze the performance of every content creator performance and enables users to watch high-rated content.
Analytics

–
This is a must-have feature, as it allows users to observe the growth of a specific streaming category. Users can monitor peak traffic, user engagement, and viewership.
It displays the statistics, that help you to analyze the traffic of your streaming events and take course corrections if required.
Technology Stack to Develop an Application like Twitch
We can utilize the following Technology stack to develop an app like Twitch : 
Programming Language – Go, Ruby, C++, C
Web Server – NGinx
Server Libraries – Rails 
Frontend – React JS, Angular JS, Express JS
Backend – Ember JS, Node JS
Databases – Firebase, PostgreSQL
Server Software – Varnish
Cloud Infrastructure – Amazon AWS, Microsoft Azure, Google Cloud 
DevOps- Jenkins, Varnish, Terraform, Puppet Labs
Business Tools – Hackpad, Medium, G Suite
Utilities – Google Analytics, Mixpanel, Swiftype

What is the development Cost of Creating an App like Twitch?
The cost of developing an app like Twitch is very much reliant on the hourly rates of the development team you are going to hire. This is the basic reason why most of the western countries outsource their projects to Asian countries like India.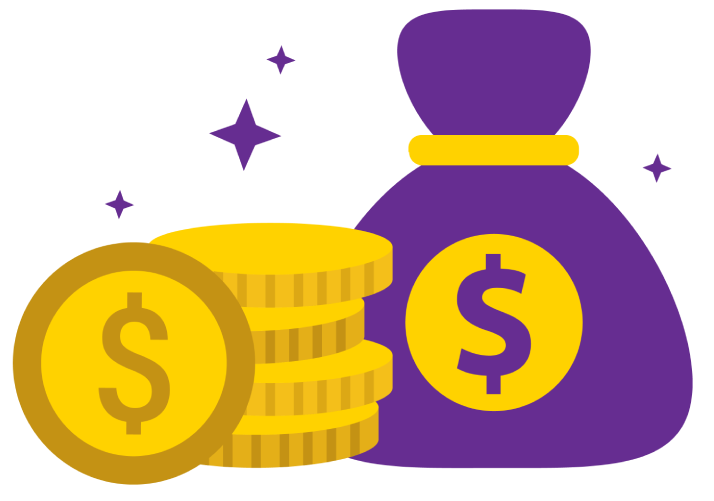 Here we have a comparison of average hourly rates in different regions.
| Region | Price Range | Average Price (Per Hour) |
| --- | --- | --- |
| North America | $100-$220 | $150 |
| South America | $40-$100 | $60 |
| United Kingdom | $100 to $200 | $140 |
| India | $30-$80 | $40 |
| Eastern Europe | $50-$120 | $70 |
| Australia | $60-$150 | $90 |
So here it is quite visible that the application development cost of Video streaming applications in the USA and UK is on the higher side, whereas the cost is relatively lower in India and South American countries.
It is recommended to outsource the app development work to these countries, as they can offer the same product quality at fraction of the cost.
Now, let's see how many days it takes to develop different application features.
| Features | Web Platform | iOS Platform | Android Platform |
| --- | --- | --- | --- |
| Onboarding | 10 h | 15 h | 15 h |
| User Registration/Login  | 10 h | 15 h | 20 h |
| Live Streaming  | 30 h | 35 h | 35 h |
| Video Library  | 20 h | 25 h | 25 h |
| Watch Lists  | 30 h | 40 h | 45 h |
| Cloud-Based DVR | 40 h | 40 h | 40 h |
| Instant Chat | 20 h | 25 h | 25 h |
| Automatic Video Categorization  | 15 h | 20 h | 20 h |
| Screen Mirroring | 20 h | 25 h | 25 h |
| Monetization | 30 h | 30 h | 35 h |
| Analytics | 30 h | 40 h | 40 h |
| Advanced Security Features  | 20 h | 30 h | 35 h |
| Review and Ratings | 10 h | 20 h | 20 h |
| Search Bar | 10 h | 10 h | 10 h |
This is a rough cost estimate for the development of Twitch type application. Though it still gives you a good insight of the resources and efforts involved, and the cost incurred to make a successful online streaming platform.
However, this does not cover other efforts, such as project preparation, project release efforts, project promotion, communication efforts, and several other supporting activities we must carry out. 
Challenges while Developing an App like Twitch
Well, there is no doubt that online streaming itself is a challenging domain, due to its technical and content-related constraints. Here are a few challenges you may have to counter while developing an app like Twitch.
Content Moderation

–
Although Twitch has imposed robust community guidelines to control harassment, hate speech, and sexual content, still the nature of the content is unpredictable, which may be inappropriate for kids and elders.
We must employ better moderation filters and content moderation mechanisms to prevent such issues.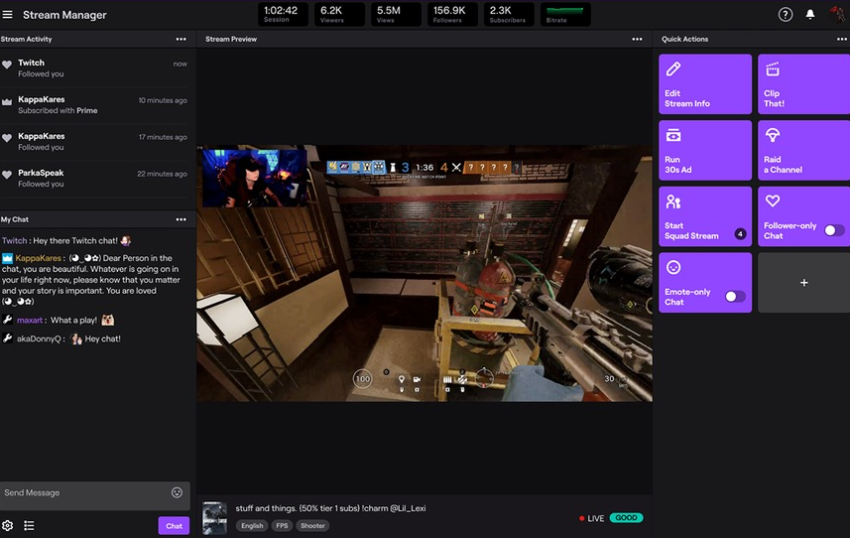 Unwanted Content via Instant Chat-
Well, the interactive chat feature is a big boon for the users, but direct messaging and chatrooms may expose kids and minors to some inappropriate content.
Inappropriate Advertisement

–
Twitch allows placing advertisements, and sometimes they are for mature movies and games, which is certainly inappropriate for minors.
Conclusion
Online live-streaming applications like Twitch are witnessing unprecedented revenue and popularity due to their innovative features and service offering. With the rapid progression in technologies, it is only going to gain more prominence in the future.
We can only imagine what kind of market disruption it can create once we incorporate emerging technologies like AI, IR/VR to enhance user experience to the next level.
Online Video streaming is almost everywhere, be it music, movies, gaming, corporate conferences, or even an online course.
This is an industry, which is going to make massive gains in the time to come, and If you are planning to develop a live-streaming platform, then this is the right time to start.
You can conduct your market research, determine the features and functionalities you want to incorporate in your application, and employ the appropriate development methodology.
After that, you only required a trusted partner, who can transform your mobile app idea into a reality. 
Arka Softwares can certainly assist you with the development of an application like Twitch, as we have a seasoned team of developers who have delivered many exceptional live-streaming apps for multiple industries. Don't be shy, please contact us to understand more about the development process.