Introduction
A quite common requirement among the uses of mobile phones and smartphones is the need to share contacts, large files and media files between two devices. This is a problem because of many reasons – slow Bluetooth data transfer, incompatible devices and incompatible OS. The problem with cloud-based services for data sharing is that it requires stable Internet connections for all parties involved and that is neither always possible nor cheap. Mobile data plans are quite expensive and while transferring large files burn a hole in your pockets. The problem with cables was trickier and more frustrating – incompatible ports and jacks, problems with recognizing the device, incompatible OS and the mess they create. With new file-sharing apps, it has become easy to send and receive large files between smartphones, PCs, Mac computers and tablets by creating a secure WiFi ad-hoc network from your mobile phone.
You are no longer dependent on slow Bluetooth or need an internet connection or any cables to send and receive files. All you need is that your device has WiFi capabilities, with the personal hotspot feature and you are good to go. Media and file sharing apps like SHAREit or Xender have become popular since their inception because they fulfill this pressing need of the users and then some. These apps have changed in which users transfer large files, photos, music, video, games, app-APKs and even contacts. Now, people find these applications as a must-have tool to easily share any documents at no cost. SHAREit and Xender are the preferred choices of their users as they were able to gain trust with their highly secure data transfer features.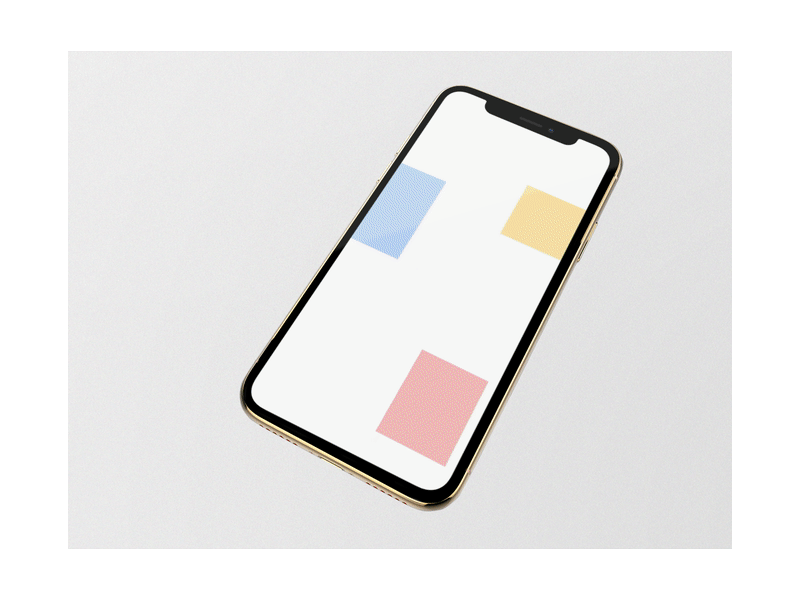 With the initial path already illuminated by leaders like SHAREit and Xender, innovative entrepreneurs can smell a range of opportunities in the file-sharing app sector with gaming, on-demand video and many more uses. Therefore, people with brilliant business ideas are looking to develop an application like SHAREit and Xender. They want all the features of these apps and want to add their own unique features or to build them with their custom specifications for specific business needs. File-sharing apps like SHAREit and Xender are a boon for users in countries and locations where internet infrastructure is under-developed, personal computer penetration is low, and public WiFi coverage is absent.
In developed economies, most netizens take these infrastructure facilities for granted, but not in remote areas or locations with limited economic means. There, people are more dependent on their smartphones and mobile data packs rather than PCs and broadband. This poses a big challenge for even content delivery and on-demand video services like Netflix and Amazon Prime, as unlike free public WiFi, mobile data is limited, unstable and more expensive. This is the most important reason why Xender and SHAREit have their largest user-base coming from countries with emerging economies, remote areas and poor digital infrastructure.
What is SHAREit and Xender?
Xender, SHAREit and other file-sharing apps can send and receive files between different devices and platforms including Android, iOS, Windows phones, and Windows & Mac PCs. File-sharing apps use the WiFi Direct technology to send and receive files between devices at about 200 times faster speeds than Bluetooth. These apps are available for all platforms making it easier for users of any operating system or device to do their job flawlessly.
SHAREit and Xender are small, have very intuitive user interface designs and do not drain the battery of the devices making them the market leaders and the de-facto choice for most users. With a file-sharing app like SHAREit or Xender, you can share movies, videos, photos, games and software with your multiple friends simultaneously. They have, undoubtedly, changed the way people share large media files and transfer data. The time and patience needed with transferring files using the Bluetooth method are no longer needed.

SHAREit
SHAREit is one of the best file sharing applications to help you easily share any file, without restrictions of any kind, between different devices such as your PC and smartphones. It has an easy to use user interface that is intuitive in design and can get you quickly started in no time. SHAREit is available for download and installation for your Android and iOS smartphones and Windows and Max PCs. It provides easy file and data management services, allows you to organize your data and even play media files with its built-in media player. During file transfer of large files, if the transfer gets interrupted, then you can resume it by connecting both devices again. This feature comes is a lifesaver as it saves a lot of time and is used by most users. There are many more features that are common with other file sharing apps and specifically Xender, that make it one of the most popular file-sharing apps around.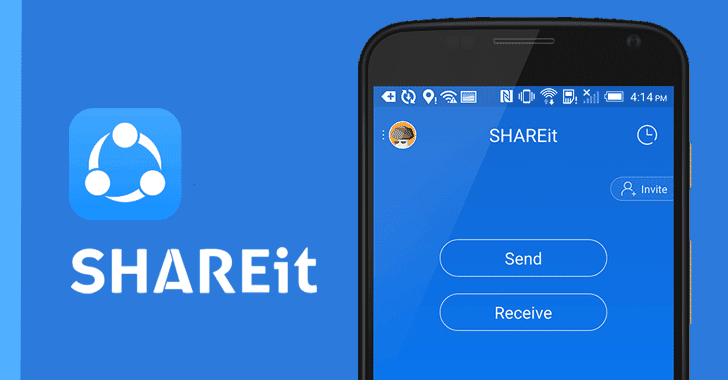 Xender
The other most popular file-sharing app is Xender, a multifunctional file-sharing app with security features and an in-built video player. The interface is clean and sleek in design, the users can easily start using the app and share any files between different devices. It allows you to share movies, videos, photos, games and software with many of your friends simultaneously. Xender is a cross-platform file sharing tool available for platforms like iOS, Windows, Mac and Linux. You can also access your shared files via a web browser on any of your devices. The media player can play all video and audio formats and has sleek controls. With Xender, you can transfer game files wirelessly in a matter of seconds and play your favorite game instantly without spending any mobile data to download it on your phone.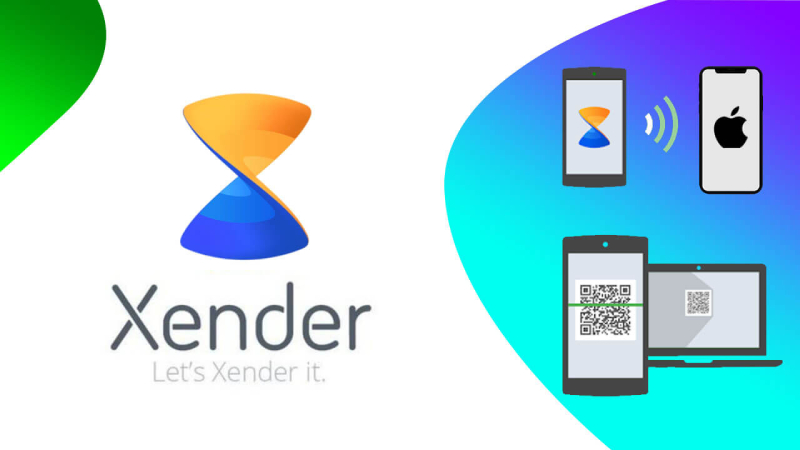 Why Creating Applications like SHAREit and Xender is a Beneficial Idea?
The Internet and broadband infrastructure in many regions are not enough or are under various stages of development, making it hard for users to access or share content. There are many hurdles that people face and therefore they are always on the lookout for a solution to transfer data and large files to other users.
Some of the problems people face without a reliable file-sharing app are:
The speed of data transfer is terribly slow on Bluetooth, NFC and even using some wired mechanisms.

The data cannot be transferred to multiple devices at the same time.

The data transfer is not possible many times because of the device, platform or file system format incompatibilities.

The physical distance limits are very restricted.

Not all types of files can be transferred as the Operating system may not allow certain APKs, installation files or games.

Largest files may get interrupted during the transmission process, requiring starting over the process once again.

The security of the data transmission is always at a risk and it can be hacked easily.

The Bluetooth and NFC drain too much battery of the mobile devices, smartphones and tablets, requiring constant charging.

The cables are many times incompatible and not supported by many devices. There is also the possibility of the cable being broken from within rendering it useless.

Data and file management is not possible, and, on some devices, it may be a problem for users to locate the data received on the phone's storage.

To play the video and audio files received from other users, one must have multiple video players and audio players installed, as not all players support all the formats and codecs.

Therefore, if you launch a file sharing app like SHAREit or Xender, you stand to gain a sizeable market share of users who are in dire need of such a solution.

The use of WiFi Direct instead of Bluetooth, allows these apps to transfer files at blazing speeds that are up to 20 Mbps.
With a unique file-sharing app, you can provide your users more than just secure data transfer at high speeds. You can offer your users an ecosystem for wholesome entertainment where they can browse, stream, download, share, and watch or play videos, audio, music, documentaries, class sessions. Images & pictures and collaborate on projects. You can provide your users, the following:
1. Discover Unlimited Online Videos
With the right partnerships and content sharing agreements, you can provide your users with the content that they want to watch. It can range from movies to popular web series, from documentaries to TV soap operas, from training videos to motivational speeches. The unique embedded video player, with support for all popular codecs and formats, and a simple user interface will allow its users to do all from a single location. They will never have the need to download and install another video player. Going an extra mile, the app will enable your users to watch curated videos online and offline, both. They can anytime pause whatever they are watching and download the rest before taking the device offline. They can complete the video anytime and anywhere, as it is now in their pockets.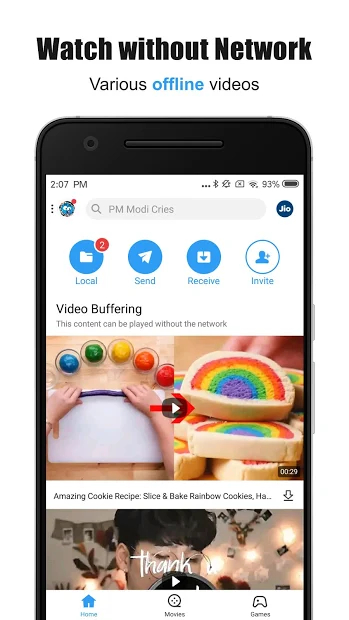 2. Discover Trending Music
Popular and trending music from labels and movies can be found online. It ranges from the classics to the current chartbusters. Just like discovering and streaming online videos, users can search for and find trending music online. The users have the power to create their playlists, mark their favorites, play them while online and even download complete albums or playlists. The music received from other users and devices can also be managed by the same music player. As the music player supports all popular formats, there is no need to download other battery guzzling apps just to play your music and manage playlists.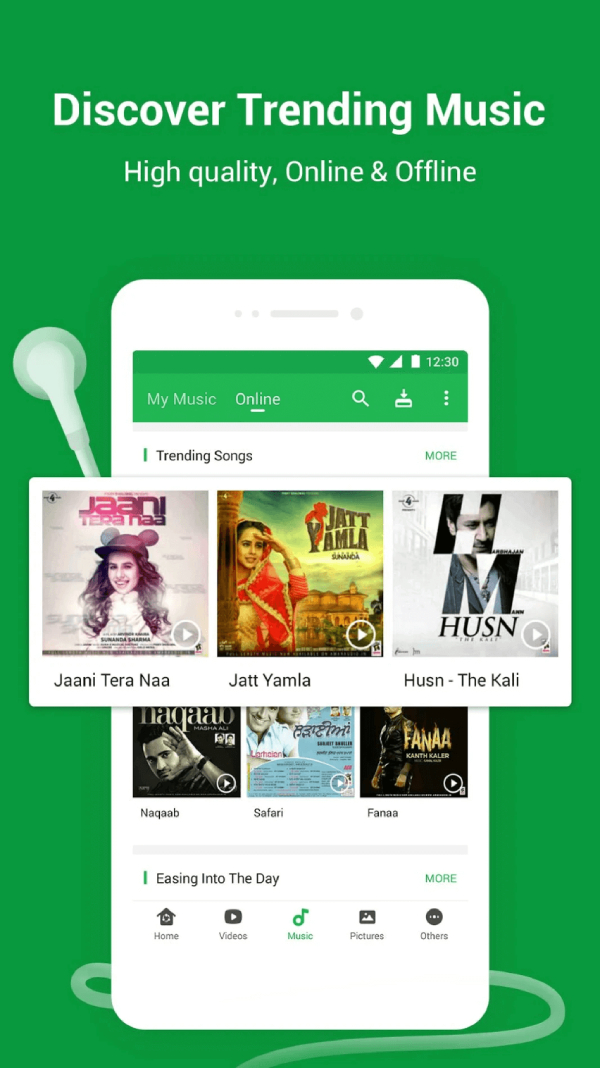 3. Cross-Platform Support
A file-sharing app, like SHAREit or Xender, is supposed to be a cross-platform application developed and installed separately for Android, iOS and Windows phones, and Mac, Linux and Windows personal computers. Because of its versatile availability, it can transform the data into different file formats to a compatible type for the destination platform. This can be helpful especially in case of documents such as spreadsheets, documents, and presentations. It allows users to share data seamlessly and freely across diverse platforms and devices without any compatibility worries lingering. This bridge for the gap between two operating systems minimizes the hassles of converting files from one format to another when transferred.
4. No Limits
There is no limit on the number of files that one can transfer, the number of files allowed in one session, and even on the size of the files. There are certainly no limits on the type of files to be transferred – photos, videos, documents, games and apps – all can be transferred easily. As there is no limit on the number of files that can be shared, you can send as many files as the other device can store. And, since the file transfers are fast, there is no need to worry about the time needed to complete the transfer.
5. No Costs Involved
File-sharing apps like SHAREit and Xender are completely free for users to download and use. As there are no charges for and restrictions on the use of these apps, users are inclined to use them very often. As these apps do not use mobile data for data transfer, there are no charges applied on your mobile data plan as well. Additionally, a hidden charge of battery drain is also avoided as these apps consume very less power to transfer files compared to Bluetooth or NFC mechanisms.
6. Create Your Niche Audience
With a file-sharing super app, you stand the chance to create a niche audience who will spend their most time on your app other than social media or messenger apps. With curated online content, embedded music and video player and facility to transfer files, users are going to use your app for most part of the day. if you can come up with great partnerships for content and provide a secure environment to your user, you can even monetize the app to your benefit.
7. Some Other Benefits
Phone to phone and phone to PC File Transfer

No need for USB, broadband or mobile Internet, no data usage, just WiFi hotspot

Transfer large files at superfast speeds ranging up to 20 megabytes per second

Share files to a group of devices having up to four devices

Clone an app from source device and install it will all settings on your device

Embedded multimedia player for music and video playback

Share your location on real-time basis

Encrypt local files and manage storage using the app

Link your cloud storage to the app and upload or download files from it
Market Share:
The latest market intelligence report released by HTF Market Intelligence titled, "Global File Sharing Software Market Report 2020" covers many aspects and analysis about the market share of file-sharing apps in general and for SHAREit and Xender in particular.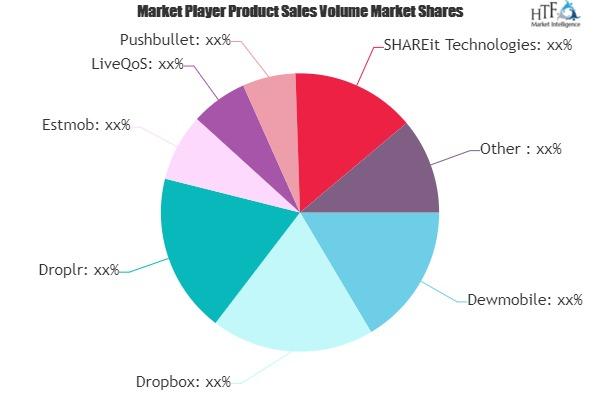 The analysis of the market survey for the global file-sharing app market offers an enthusiastic and promising future for such mobile apps, web services and PC applications. The current market size, projected market size, future trends, and competitive surroundings are all discussed in detail in the report. The research draws from primary and secondary data sources like Google's Play Store and Apple's App Store statistics, company websites, and the number of logins. It is qualitative and quantitative and provides you with deep insight. Two key players profiled in the study are SHAREit Technologies and Xender. It is vital that you keep your market knowledge up to date and properly segmented.
The most important segments to consider are:
Applications – Individual Users vs. Commercial Users
Product Types – Cloud-Based solutions, On-Premise solutions, or Stand-alone solutions
Major players – SHAREit and Xender
Geography – North America, Middle and South Americas, Europe, Africa, Asia, Australia & New Zealand, and Country-wise data


Such a market study helps you understand which market segments you should focus on in the coming years to reap the benefits of your unique innovative insights and business acumen.
Xender
As per the study:
They currently have more than 11 million daily active users (DAU)

It has more than 110 million monthly active users (MAU)

Close to 200 million files are transferred daily only between smartphones using Xender.

If files between phones and computers, two computers, and cloud are also included, the figures reach a staggering 225 files daily.

In those files, more than 45 million files are videos

It indicates there is a huge demand for video-based entertainment.
SHAREit
The study indicated:
India is THE most important market for SHAREit with over 45% of global users coming from here.

South Asia and South-East Asia, in general, are its most important global regions comprising about 90% of the total users

India contributed about 20% of the global revenue

Globally, SHAREit has 500 million monthly active users or MAU

India has more than 220 million MAUs

Due to lower mobile Internet tariffs in India, users stream as many videos as they transfer and share with others at close to 35 million a day.

SHAREit has more than 1.8 billion installs globally

It enables brands to achieve reach and omnichannel engagement for their products and services

More than 70% of Indian users come from Tier-II cities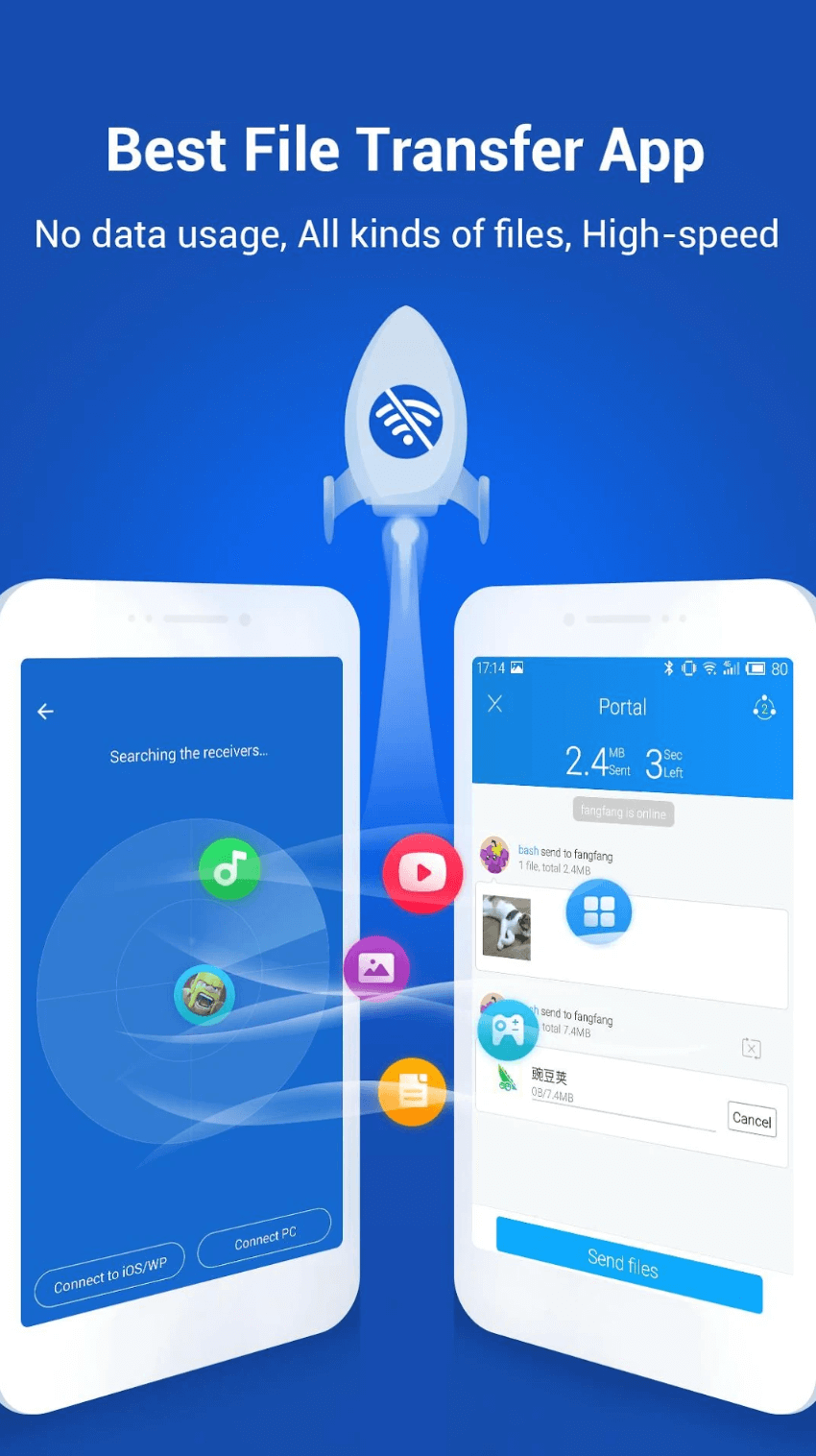 Business Model of SHAREit and Xender:
The business model of the apps like SHAREit and Xender is dependent on the fact that they can keep the eyeballs of their users continually on their screens. Whether it is for file transfers, streaming videos, playing online music, playing offline and online video and audio, of managing files – the users continually look at the app for notifications and content, both. The basic business model is based on the networking effect of the apps such as these – the more users use it, the more new users will install it. Just like WhatsApp has become the de-facto messaging app and Google the search engine, these apps aim to become the number one player and file-sharing app. The core idea for developing a file-sharing app with these many features is to grab the eyeballs and earn from it. The ad revenue is not the most important factor for such app companies in the beginning where the focus is more on nurturing an ecosystem around the app.
The entire revenue model is built around advertising within the videos and using banners. The business model involves advertising in the app in the form of in-video ads, video ads, and banner ads. The new pay per use subscription model to access premium services may be available for corporate users and premium individual users. These apps can also be used for mass advertisements on social media. Location-sharing features allow these apps to provide geolocation-based advertisements for their partner brands. The opportunity to leverage over the top (OTT) platforms and streaming content that is sourced from different players allows you to become the de-facto app for your users. You can become a content discovery, curation, consumption and sharing platform. The possible foray into the online multiplayer gaming segment allows more opportunities. With microtransactions and in-app purchase for game avatars and tools are the major sources of revenue in the future.
Monetization Methods:
If you are keen on developing and launching a multi-function file-sharing app, like SHAREit or Xender, you need to be clear about the monetization methods available for your business.
There are some important monetization methods that you can consider that can bring you serious revenues and profits over the years with a steady stream and an ever-increasing market share.
Advertisements:
The most important revenue stream for your app can be the advertisement model you offer to your brand and business partners. The network effect will gradually nudge more users to install the app, for file-sharing or video and audio player capabilities. To grab the eyeballs, you will have to curate content from many sources. The users will watch and listen to the videos and audio and during which you can place your ads strategically. The ad revenue comes from these main sources:
In-video ads

Video ads

Banner ads

Social media ads

Affiliate Marketing
With many users sharing and transferring content and files on the app, you get to know their preferences better than even themselves. You can leverage this knowledge to provide them special coupons and deals to make purchases on select premium products from your own company or that of your partners. With every transaction, either the users will give you more revenues directly or indirectly. In any case with the trust that you have so rightfully earned, you can always suggest more to your users for their benefit and productivity.
Subscriptions
The subscription model takes time to build as it requires developing a certain critical mass of the content that users are willing to pay for and that has received critical acclaim. There are many OTT platforms that provide access to movies and shows, but only a few can claim success like Amazon, Prime and Netflix. This is because the content provided by these two in multiple languages meets the entertainment needs of many segments of audiences. You can also provide access to premium technological services to corporate users and premium individual users that require more high-end and ad-free file sharing and content delivery.
Geolocation Marketing
With the live location sharing feature, you can deliver targeted ads to users from advertisers in nearby localities. These ads usually are for services such as beauty salons, restaurants and take-aways, movie theatres, music concerts, and even showrooms for branded products like garments or electronics. These advertisements can be more targeted as you already have user preferences based on the file transfer and video or audio consumption histories.
Multi-player Gaming
The simultaneous connection of multiple devices allows for the possible foray into online or offline multiplayer gaming segments. This segment is full of opportunities that range from making in-game purchases to unlocking closed levels with payments for the same.
Micro Payments Services
The micro-payment service feature can initially be brought in for making in-app purchases for advertised services, subscribing to premium OTT content, buying premium technological solutions and for in-game purchases. These micropayment services can then be extended to make payments for utilities, recharges and bills, small shopping and even bank transfers.

Cool Features of SHAREit and Xender
The most important feature of SHAREit and Xender is its fast and reliable file-sharing facility between any kind of devices and platforms. But these apps have a lot more to offer. The many cool features that these apps provide make them indispensable and a powerful tool in your toolbox.
Here is a list of all popular features that make SHAREit and Xender the must-have apps for your smartphone and PC:
Fast File-transfer Speed:
Xender and SHAREit can transfer files with up to 20 megabytes per second speed. This is two hundred times faster than the fastest Bluetooth speed of up to one hundred kilobytes per second. They can quickly transfer large HD videos files, game APKs and High-res images and documents between your devices.
Easy to use UI:
The user interface makes a world of difference. There are many apps offering the same services like WhatsApp, Twitch, SHAREit or Xender. What makes them the best is their intuitive design, their continuous efforts to make it simple for their users to use the app without sacrificing on the quality and efficiency. With a simple interface, it is easy even for not so tech-savvy users to share files. The instructions and on-screen guidance are also helpful for people to get started with the apps.
Cross-platform Support:
The cross-platform support for a variety of devices, operating systems and platforms gives the users the freedom to transfer files between any combinations of these. SHAREit and Xender are both available for all the major platforms and devices – Android and iOS phones and tablets, and Windows, Linux and Mac operating systems for PCs. Because of the pervasive availability on these platforms, these file-sharing apps can transfer data between any of them quite easily, without letting the platform troubles hinder them.
No Charges:
The SHAREit and Xender apps do charge their users anything for using their services- they are free for download. They do not even make use of your mobile data or home or office WiFi to transfer files. These apps use a technology called WiFi Direct to create a small and secure personal WiFi hotspot. Using the pairing feature available on a similar app on the devices that need to be connected, they establish a secure hotspot connection. Using this secure and encrypted ad-hoc personal hotpot these apps conduct the file sharing process. The wireless connection is secure using the advanced WPS protocol.
Regular Updates and Support:
There are regular updates and security fixes so that your app is always secure, and you get the best experience high-speed file transfers. The transfer, pause, interruption and resume functions are constantly updated to allow even multi-threaded transfer of large video files, documents and images within a matter of few seconds.
No Plug-ins needed:
SHAREit and Xender are the fastest file sharing and transfer apps available on the Play Store and App Store. These free apps allow file sharing across several operating systems, devices and cross-platform file transfers. This means that Android phone users can transfer files to iOS phones and vice-versa, or with their Windows PC with relative ease. For all this, you do not need any additional hardware, external plugin, or additional application to run the app and transfer files.
Supports All File Types:
With SHAREit and Xender, users can share all file types without any kind of restrictions. Initially, these apps were built to transfer only large media files – photos and videos shot using a mobile phone – from the phone to a personal computer. Now, these apps support the sharing of all file types– high-res photos, HD videos, Word documents, PDF files, Excel Spreadsheets, presentations, APKs of other apps, game installer files, projects and much more.
No Size and Numbers Limits:
There is no limit on the number and the size of the files that can be transferred with Xender or SHAREit. You can transfer any number of files individually or in a batch. The files can be as small as a few kilobytes in size or can be as large as a dozen gigabytes for an HD movie.
Cool Video Player:
The new versions of the mobile app for SHAREit and Xender come with an embedded cool video player and downloader. You do not need an external video player on your mobile phone to watch the home videos or movies you just received from your friends. What is way cooler, is that this video player can be used to play videos that you get from other sources as well – like the ones you shot with your mobile phone camera or downloaded from a website.
The video downloader functionality allows you to access and download millions of online videos for free. The users can download these videos and share them offline with their friends using the file-transfer feature. They can also post them online on their social media timelines or share them in family groups using WhatsApp or Telegram. The video player supports all video and audio formats – MP4, MOV, WMV, AVI, FLV, F4V, SWF, WEBM, MKV, MPEG-2, WAV, AIFF, AU, MP3, FLAC, and many more. So, you can now safely uninstall all other video players and save some storage for those videos instead.
Jazzy Music Player:
The embedded music player supports all types of audio formats like – MP3, WAV, AIFF, AU and AAC. The Xender and SHAREit music player is light and can be used offline as well as online. The small size and low battery usage ensure that you not only share the playlists with your friends but get to enjoy them on a long drive. Users can search from millions of popular numbers online, play them for free or even download them on these apps.
Small Memory and Battery Overhead:
The most important feature that goes in favour of SHAREit and Xender is that these apps are very well optimized for any Android and iOS device. They have a small memory footprint of not more than 50 megabytes in size that allows them to run smoothly even on dated devices. However, they do require a sizable system memory to store and keep all their data and manage the files that were received or sent. The small memory footprint ensures that these apps do not drain the battery fast during file-transfers, or video or audio playback.
Longer Physical Distance:
A typical Bluetooth device can transfer data up to only 10 meters, and as the distance increases the speed drops exponentially and the battery is consumed that much faster. The signals from a Bluetooth device also cannot easily penetrate walls and the file transfers can suddenly stop midway. With Xender or SHAREit, as they use the WiFi Direct technology, the area under coverage is more than double – up to 25 meters indoors and up to 50 meter outdoors. Using the WiFi hotspot, you can share files even across rooms in your hostel dormitories and in your home.

Reasons That Make SHAREit and Xender a Popular Application?
File-sharing apps come as the savior when it comes to wirelessly transfer files between multiple devices that are otherwise incompatible. Though every mobile device has Bluetooth and NFC now, apps like SHAREit and Xender are a real treat for people. Bluetooth and NFC are not as fast as cable transfers. The wires have their own problems – they have different ports and jacks, the operating system may fail to recognize the device or its file system completely. Besides, Bluetooth and NFC are also not entirely secure and trustworthy, and anyone can easily hack with simple tools. Another problem with Bluetooth is that its signal loses strength at only a few meters' distances and cannot penetrate through the thick walls of a room.
Another major issue with Bluetooth is that if you need to share a file with many people, you will have to individually pair their devices and then send them the file. There is no way you can send the file simultaneously to multiple devices. It only increases the chances of failure and the time needed to accomplish the job. The WiFi Direct technology used by file-sharing apps uses WPS encryption and provides reliable and strong signals at larger distances to connect multiple devices at the same time. Using the personal hotspot, you can send these files to up to 4 devices simultaneously at more than 20 Mbps speeds. The problems of wired data transfer – incompatible jacks and device not recognized issues – are also solved automatically while doing away with the clutter. Again, the wired media also does not allow simultaneous data transfer to multiple devices.
File-sharing apps like SHAREit and Xender are enabling tools for users allowing data transfer from one device to another. These apps have compatible instances running on Android, iOS, Mac, Windows and Linux platforms – overcoming all data format and file format issues. In addition, to secure and fast data transfers, the transfer pause/interruption and resume facility are the most significant improvements over Bluetooth, NFC and wired data transmission. When sending large files to or from a mobile phone, one may have to move out, make or receive a call. It can interrupt your data transfer and render the complete effort useless. Such an interruption may require starting over again the complete process of pairing the devices and data transfers, wasting more time.
The file sharing apps like SHAREit and Xender allow you to pause your transfers when you make a call, or they can automatically pause them for you, in case you receive a call. When your device is ready again, they can resume the data transfer from just where they left – saving you a great deal of time, and effort.
To sum up, among the major reasons that add to the popularity of file-sharing apps like Xender and SHAREit are:
Large files can be transferred up to two hundred times faster than Bluetooth or NFC. The latest WiFi protocol allows faster data transfer than even most wired connections.

You can transfer any type of files including videos, images, games, clips, music, documents, spreadsheets, presentations, and other apps installed on your phone or computer.

You can browse unlimited videos available for free on these apps and can download them to watch offline.

You can also search popular music, freely available, on these apps, download it to listen offline or even shares it with others.

The video and audio player is simple to use and support all popular formats and codecs.

The data transfer is automatically secured by WPS encryption making it difficult for anyone to hack it during transmission. The security of the content is ensured that randomly generated keys are used for pairing each time.

The managed files and data feature of these apps provide the users an easy enough way to sort and browse the data received using these apps.

The file-sharing apps are completely free to use, and any kind of data can be transferred, in any number, to any number of people and of whatever size. No restrictions of any kind are applicable.
Must-have Features for a File Sharing App like Shareit:
SHAREit and Xender have set an exceedingly high benchmark for new entrants in the file-sharing app market. It may seem, at first, that they are going to be the only market leaders in a market and hard to compete with. But if you can think out of the box and have a robust business idea for a file-sharing app, then you can not only prove to be a worthy competitor to them but also gain your own loyal user base. Before starting the design of the app, always make a checklist of essential and advanced features that you want to offer to your users, brand partners and content creators. The features also dictate the development time, efforts and cost, and affect your monetization methods. It is tempting to have all the features in one go, but that will also mean that it will take more time to build the app. The reverse is also true – your proposed business model will dictate your features and their rollout schedule. You can divide the list of features to be made available in two or three phases depending on the speed at which you want to move. The following is a list of essential features to include in your file-sharing app that will influence its success in the initial phases in the market. These are considered essential as users have come to take them for granted in any file-sharing app. Here we go:
File Transfer:
It is a basic feature to make the app even available on the play store or app store. Users can send and receive their documents to anyone on their contact list via a link or they can send it to unknown devices from within the app after pairing it.
Uploading files to cloud:
This is also among the primary features of any file sharing applications. Users can upload files and documents to a developer company cloud that is accessible as well as shareable via link.
File tagging:
When a user uploads a file, using different tags to identify its type, content, purpose, and keywords can make it easier for the users to categorize and easily retrieve later. File tagging can also be applied to transfer (sent or received) files.
File and storage management:
Storage and file management for files on the internal and external memory of the phone, hard disks, removable disks, and cloud storage from one place help the users a lot. It includes the import and export of files from one storage unit to the other.
File search:
This feature allows users to browse the files and documents in their devices (phones, computers and removable drives) and cloud storage. The search operation is optimized by the use of indexing, advanced filters in the app and tags defined by the user.
Quick share:
Users can share multiple files between two or more devices running your mobile app or its desktop application with the Quick Share feature. They simply need to scan the QR code from the app and start sharing.
Files encryption:
Data security during the transmission as well as in the device storage is a key element. Strong encryption is needed to ensure that users trust your platform's security before uploading their sensitive and important files. The data transmission must be done under the SSL (Secure Socket Layer) protocol for WiFi Direct technology with public-private key encryption algorithms.
Live geolocation sharing:
The geolocation of any device can be known with the help of WiFi, mobile network or the GPS. Location sharing not only helps users to be served targeted ads, but it also ensures that the device is being used in a similar location as its previous recent usage history. This gives an additional layer of protection for privacy and can control file access only within designated premises.
Push notifications:
Push notifications are a great way to engage the users when they are not using the mobile phone or are using some other app on it. Intelligently designed push messages tend to make the user check them and act accordingly. Your file-sharing app can send push notifications for group messages, new files uploaded on the group, member activities, transfer complete or interrupted and even for promotion & advertisements.
Offline access:
The files managed by your file-sharing app on any device must be available even if that device or cloud storage is offline. Obviously, you will not be able to download, transfer, or edit them but can be viewed and accessed even when the device is offline. The video playback and audio playback services will be available in the best quality.
Advanced Features of Shareit and Xender like App:
File sharing and transfer apps can provide many advanced features to their premium users such as corporates, organizations, schools and colleges, and even professionals. The app development cost for these advanced features can be higher than the basic app features, but they also provide a ready revenue source making them worthwhile. This is a list of some advanced features that can help you stand out from the competition and throw a spotlight on your innovative business model to help your premium clients.
Group file sharing:
The app must allow creating closed groups that can share the files to the group at once and the app will take care of notifying and delivering the file to each member. There must, obviously, be group management available like adding or removing members, granting or revoking file sharing privileges, and group messages. Groups must be small enough to be meaningful and must be large enough to communicate with all relevant people at the same time.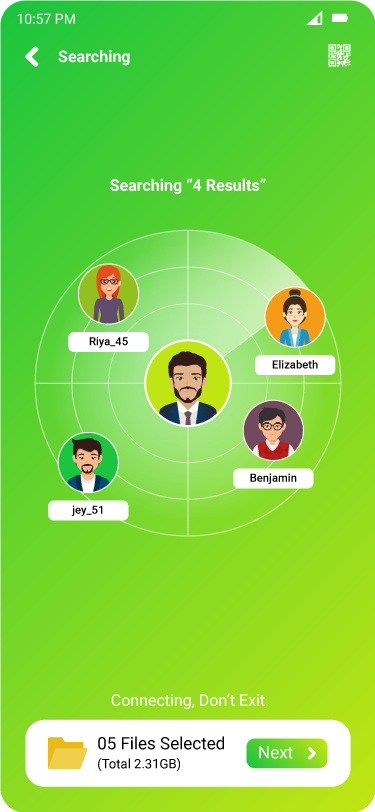 Scheduled sharing:
The app should allow scheduling the delivery of files to the targeted users at least in the premium versions. This is especially beneficial for corporate users where daily reports are automatically sent to the teams at a predefined time or daily leads are given to the on-field agents. This makes the business easier to conduct and improves team efficiency. The scheduled file sharing is also especially useful for schools and colleges, where lectures, assignments and quizzes can be shared with students on a scheduled basis following the class timetable.
Document reading:
An embedded document viewer for the most common formats such as text files, CSV files, spreadsheets, word documents, presentations and PDF files allows your users to preview the files before sending or editing them in some other application. This saves them a lot of time, trouble and even embarrassment. If possible, then document editing can be allowed for premium subscription users for popular document formats.
Activity log:
Frequent users, especially those who use the app for professional purposes rather than for entertainment, need to understand and analyze user activity on their files. The activity log for each document allows the owner of the file to check how many users have received the file, how many have downloaded it, read it, edited it and further shared it with others. The logs will also provide the timestamps of the activity with the users who have carried it out.
Cross-platform Application:
A secure and reliable file sharing app will allow cross-platform data transfer at high speeds and with robustness. For this, you will need native apps for Android, iOS and Windows smartphones to cover more than 99% of the smartphone OS market. You will also need to make desktop applications for Windows, Mac and Linux operating systems to cover more than 98% of the desktop/laptop platform installations. A cloud-based and secure web interface is also needed for users to allow access from devices that do not have the app installed, remote access and link sharing.
Phone cloning:
With the phone cloning feature, your app can clone all the important apps, messages, files, contacts and settings from your old device to a new device. While cloning, the app will automatically convert and transform the data into a compatible format for the new device. This way it will be a hassle-free operation for you to switch to your new device.
Multilingual interface:
Users in regional languages are more inclined to use the app if its features, messages and commands are available in their native language. This is as much true for Europe and the Americas, as it is for India. Adding multiple language support and giving the users to choose their interface language can be a game-changer for your app. It is not only a great marketing tool but also helps build a loyal user base.
Integrated Multimedia Player:
Allow users to view the videos stored in the device or downloaded via the app using the in-built video player in HD quality. Also, ensure that the videos on your OTT platform are streamed without any buffering in high quality depending on the internet connectivity. Provide an embedded music player to listen to online trending music, download it and allow users to access local storage. It eliminates the need to have a separate music app with features such as marking favorites, creating playlists and downloading them. The app must support all the popular formats for video and audio files including MP4, MOV, WMV, AVI, FLV, F4V, SWF, WEBM, MKV, MPEG-2, WAV, AIFF, AU, MP3, and FLAC.
Micro Payments:
The in-app purchases and subscription payments can easily be done via enabling micropayments from within the app. It must allow secure access to mobile wallets, online banking or credit/debit cards via a secure payment gateway. Transaction history and shopping cart features are also needed for users to make payments for multiple services in a single transaction.
Benefits:
As the business owner of such a revolutionary file-sharing app you, your clients and your users all can derive mutual benefit from it. We have already discussed the benefits that accrue to your end-users and premium clients in detail. Let us discuss some tangible and intangible, but equally important, benefits that may accrue to you if you are able to launch a successful app with a robust business model.
Reach:
The reach of such an app is humungous and almost universal in the region it is widely used. This reach is due to the network effect of the app. As the user base of your app increases, these users will insist on sharing large files using it. This will ensure that increasingly new users download and install the mobile and desktop versions of your app. As you have seen that the market share of SHAREit and Xender in the regions of their dominance is almost monopolistic, you can also gain such foothold in new markets or create a niche market with your services.
Revenues:
With a super app for file sharing and high-speed data transfer, you can really reach hundreds of thousands of phones in no time. With that many users, your app will be a prime medium to carry advertisements for relevant services. OTT platforms, online games, online education portals, banking and financial services companies, and even white goods companies are increasingly looking to find a proper medium to engage their target audiences. The user preferences and profile metadata and big data can help you sell targeted advertisements in the form of in-app ads, banner ads, in-video ads and video ads to your business partners. Advertisements, along with subscriptions for premium services, in-app purchases, online gaming payments and micropayments services can all increase your revenues in no time.
Profits:
When the revenues start coming in and in ascending order, profits are not far behind. Any activity needs to be sustainable over a long period of time, and for that it needs profits. Profits not only provide a motivation for the promoter and investors to continue to believe in the business story of the venture, but they are necessary to re-invest in technology, training, and providing better services to users. Advertisement models bring in huge profits, but it takes time to mature and turn black. However, other monetization avenues such as premium OTT subscriptions, service purchases, corporate and professional clients, and in-app purchases can start bringing in profits soon. The profits from these can be ploughed back into the business and to help it reach greater heights so that the real profit spinner – online digital advertisements – can show its magic.
Investments:
Any new digital venture can be started with little capital – you only need a bright idea, access to proper technological tools and an innovative team to realize it. But to take the business to greater heights, acquire new resources, hire and retain talent, spend on marketing to popularize and many such activities you continually need supply to huge amounts of capital. A well thought out business idea backed by working and thriving technological application can draw the interest of serious long-term investors, who not only bring capital to the deal, but also valuable resources, contacts, and technological superiority.
Technological Supremacy:
A digital business is as good as its next flaw. And a technology business can last only till the next disruptor comes along. The long reign of tech giants – such as Apple, Amazon, Google, Facebook and Microsoft – has taught us one thing – adapt the future today, or else someone else will come along and you will perish. With a thriving file sharing app with features such as cloud storage, data analytics, video and audio streaming, and online gaming, you are always going to be at the forefront of technology changes. As your trusted partners we will ensure that your apps technical supremacy is unchallenged – you just must present us with your innovative idea.
Reputation:
With profits and reach come reputation. The reputation of the company that gave a brilliant solution to everyday problems; the reputations of countless talented employees who toiled to realize the dream; and above all the reputation of the innovator, the dreamer who came up with an excellent idea and realized it. The reputation helps in closing profitable deals, forging partnerships, getting recognition, attracting investments and hiring talented people for the business.

Factors to be considered before developing such an application:
A versatile file transfer and sharing app development requires many variables to be in perfect sync and balance. As the business owner and investor, you need to consider many important factors before venturing out.
Here are some most important factors:
App Design:
To design an app like Xender or SHAREit, and provide more features, you must focus on the design of the app. App design involves its architecture design, its user interface design and the look & feel of the app. An attractive user interface is important to attract users and make them use the app in the first place. A great UI/UX has an aesthetic color scheme, good and easy to read fonts, great appearance and intuitive icons for the app. The mobile app design also involves the design of an MVP app or minimal viable prototype with basic functionality that can be handed over to test-user for testing and acceptance. You must hire reputed and experienced frontend designers and app developers from companies like Arka Softwares to get the best look & feel and UI/UX designs. Our committed frontend designers and developers have created many stunning, functional and efficient designs for successful apps.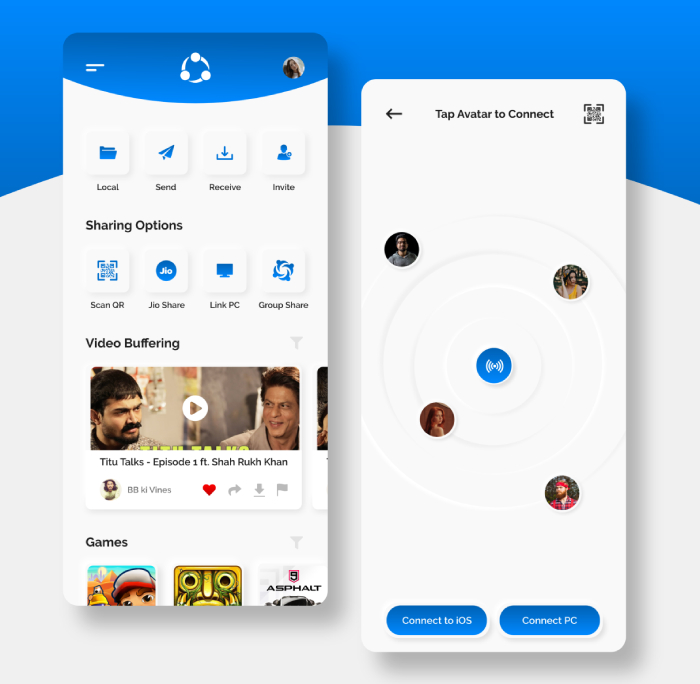 App Complexity & Features:
There are no simple criteria to identify if your app is going to be more complex in development than the next one. The only way to find out is what and how many features you are going to provide in your app. With each additional feature, the complexity may increase linearly or exponentially. That completely depends on the feature required and the features already supported by the app. For example, to allow device storage synchronization with cloud storage, you first need to provide cloud storage support and user management. No matter how complex your app is, at Arka Softwares, we have expertise in designing complex apps for a wide variety of needs and clients. We can help you build a feature-rich and efficient app, like SHAREit and Xender, with custom features to suit your needs.
App Platforms:
Choosing a single app platform for your business idea is one of the trickiest tasks. This is because every platform has to offer something unique and special. To select one platform, from many choices, you need to have in-depth research on them, about your potential market, and your users' preferences. In the smartphone space, there are three major platforms – Google's Android, Apple's iOS and Microsoft Windows. Similarly, in the desktop space, there are three major platforms – Apple's Mac, Microsoft Windows, and Linux. In the smartphone space, Android has more users, but iOS users have the more paying capacity. Similarly, in the desktop market Windows rules, but Mac users are more likely to subscribe to premium services. So, if you are looking for more users initially, then Android for mobile and Windows for desktops would be the best choices for you. The development cost for both these platforms is less than the platforms from Apple.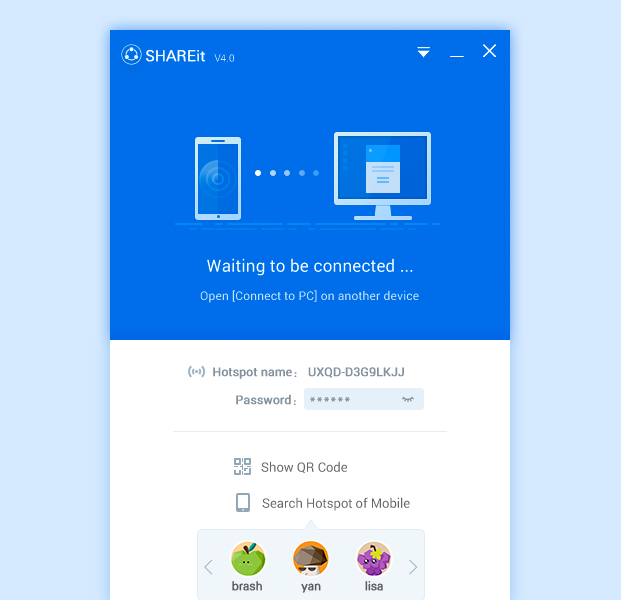 On the other hand, if you are sure that you can attract users to pay for your premium services, then you can choose iOS and Mac for smartphones and desktops, respectively. The development and license costs for both these platforms are much higher as Apple also charges a fee to host apps on its store. Finally, it is up to you to choose between Android, Windows or iOS/Mac. We recommend that you develop the app for multiple platforms to get maximum leverage from it. The cross-platform data and file sharing are it's one of the USPs, after all. At Arka Softwares, our development teams with experienced developers for Android, iOS, Mac and Windows allow us to design and develop your dream app for all platforms for a simultaneous launch in a very cost-effective manner.
App Size:
It is a big concern for users if the size of the APK or the memory usage of the app is large. It depends on the features and functionalities included in the app and how they have been implemented.
There are certain design patterns and paradigms, that if effectively used, can ensure that your app does not have a large memory footprint. A large memory requirement also affects the performance and battery usage of the device. Larger sized apps also have fewer downloads and therefore defeat the very purpose of being all-pervasive. When you hire experienced mobile app developers from Arka Softwares, you get an advanced, scalable, and feature-rich app.
Technology Stack of File Sharing App:
The basic technology used by SHAREit and Xender is WiFi Direct or portable hotspot – a feature that is available in most smartphones and WiFi PCs. By using WiFi direct, an ad-hoc network is created to which other WiFi devices can connect and start data & resource sharing.

WiFi Direct is a WiFi standard allowing devices to connect with each other without a WAP (or wireless access point). It allows sharing of any resource – Internet, files, communication – at typical WiFi speeds. As WiFi is an industry-standard, it has the advantage that it can be used to connect devices even if they differ in make and platform.

Other than the API to manage WiFi direct on your devices, you will need developers and designers proficient in frontend and backend technologies like jQuery, HTML5, MySQL, Swift, node.js, Kotlin, Flutter, AWS, Google Cloud and Apple cloud.

You will need to establish a cloud-based server to manage all requests for data, data sharing, group management, push notifications and other such common features.

It is recommended that a dedicated server for hosting media files of the OTT platforms for video and audio is advisable as they will put maximum load and hamper with other functionalities.

There will be many web services to manage the server life cycle and client requests for accessing data from the server.

Finally, the development suites for native app development, for both Android and iOS, will be needed. As the capabilities, dependencies and limitations of each platform are unique, the tech tack will also be different.

Kotlin and Java both are used as programming languages for developing Android apps. Android Studio and Eclipse, both are widely used IDEs for Android app development.
For iOS app development, Swift or Objective-C programming languages are used by iOS developers. These developers use IntelliJ AppCode and Apple XCode toolkit.


Required Team structure:
The team structure for a multi-platform file sharing versatile app will comprise developers, designers and testers from different backgrounds. If you plan to develop an app like SHAREit or Xender, your development team must comprise of:
Project Manager

UI/UX designers

Back-end developers

Front-end developers

iOS developers

Android developers

Quality Analyst and Testers
The respective numbers of developers and designers will depend on the number of features needed, and app delivery schedule.

What Does the Development cost for Shareit like App?
The development of a quick file sharing and management app, with embedded media players, like SHAREit or Xender, takes a few weeks if you only need customization to an already built functional prototype. For a completely new build from scratch, the time needed may increase up to a few months. Our Design and Development process is:
Requirements Gathering:
The brainstorming session starts immediately after you come on board with us. Our analysts collaborate closely with you to understand your business model and requirements.
UI/UX Design:
Our frontend design team prepares many design options for you to select from. They strive to present a user-friendly UI and an easily accessible and intuitive UX.
Back-end Development:
Our cloud and server administrators collaborate with developers to build a secure and robust backend. The cloud architecture allows your app to scale, ensure enough storage, and develop all needed web services for the app to function.
MVP (Prototype):
The Minimum Viable Prototype is made from scratch to be evaluated by you. It shows how the app will look and behave, once fully developed and deployed. As it is a prototype, any changes at this stage are accepted and finalized within the project scope.
Development:
The app is developed for both the Android and iOS platforms and if required a Windows and Mac application is also developed. It is always guaranteed by the project manager that all versions of the app have the same interface and same features.
Quality Assurance:
The modules are tested for quality as they start taking shape, individually and then in conjunction with other modules. Once the development is complete, the app undergoes a series of stringent automated and manual tests. These include Security checks, speed tests, data integrity tests and many more.
Deployment:
The cloud-based backend and the apps are hosted and made it live for downloads. For mobile phones, the respective apps are also hosted on the Play Store and the App Store. Our team completes the process of app approval and listing on the stores.
Support & Maintenance:
During the lifetime of the app, there will be a continuous need for the support and maintenance of the app. It also includes security patches, feature updates and upgrades to the app.
The extensive process ensures that the app we deliver is the best and you become successful in your business. The app development costs depend on various factors like UI/UX design, app complexity, platform support, feature integration, and numbers of skilled manpower involved. Therefore, making a final estimating of the actual mobile app development cost is next to impossible. But, as an experienced player in the market for many years, we can always make educated guesses.
The costs also depend on the location of the team, as different economies have different standard hourly rates for developers:
North America: USD 110 to USD 250
Western Europe: USD 100 to USD 175
Eastern Europe: USD 50 to USD 100
Australia: USD 70 to USD 150
India: USD 25 to USD 70
Considering all these factors, here is a ballpark cost estimate to design a develop an app like Xender or SHAREit:
Module Cost Estimate
iOS app USD 15,000 to USD 20,000

Android app USD 15,000 to USD 20,000

Backend Development USD 5,000 to USD 7,000

Frontend Development USD 5,000 to USD 7,000

Total Estimated Cost USD 40,000 to USD 74,000
Conclusion
Hence considering the market share and the recent step by the Indian Government to ban Chinese apps there is a huge customer in India as well as across the globe looking for a trusted solution which will work like SHAREit & Xender and offer the same service.
Development of any app must be done with the following goals in mind:
There is a genuine problem faced by users.

A technological solution to that problem is possible.

There is a business sense and potential for profits apparent.
Remember, just like for you, your end users are the most important factor, similarly, for us at Arka Softwares, your needs and requirements are paramount. By benchmarking your app against industry leaders SHAREit and Xender, you have already raised the bar remarkably high. Your app requirements become more complex as you keep on adding more services and features to it.
To develop such an innovative app, you need to rely on the services of a team of passionate developers and designers. If you choose other development services, then hiring Arka Softwares, you stand to lose your night's sleep due to their inexperience.
Why Choose Arka Softwares for your Next App Development?
Planned Approach:
We start collaborating with your team to understand your full requirement and garner business associates.
Result-Driven Approach:
With our long history of collaboration with several businesses, our extensive knowledge of the industry can help us get better results every time.
Seasoned Team:
Our team includes analysts, designers, developers, testers, and project managers.
Time-Efficient, Budget-Friendly:
on-time delivery of the app means there are no budget overruns. There are no hidden charges and additional costs involved.
24×7 Support:
Our clients are our primary responsibility and with a large client base spread across the world, we are always available, on-call.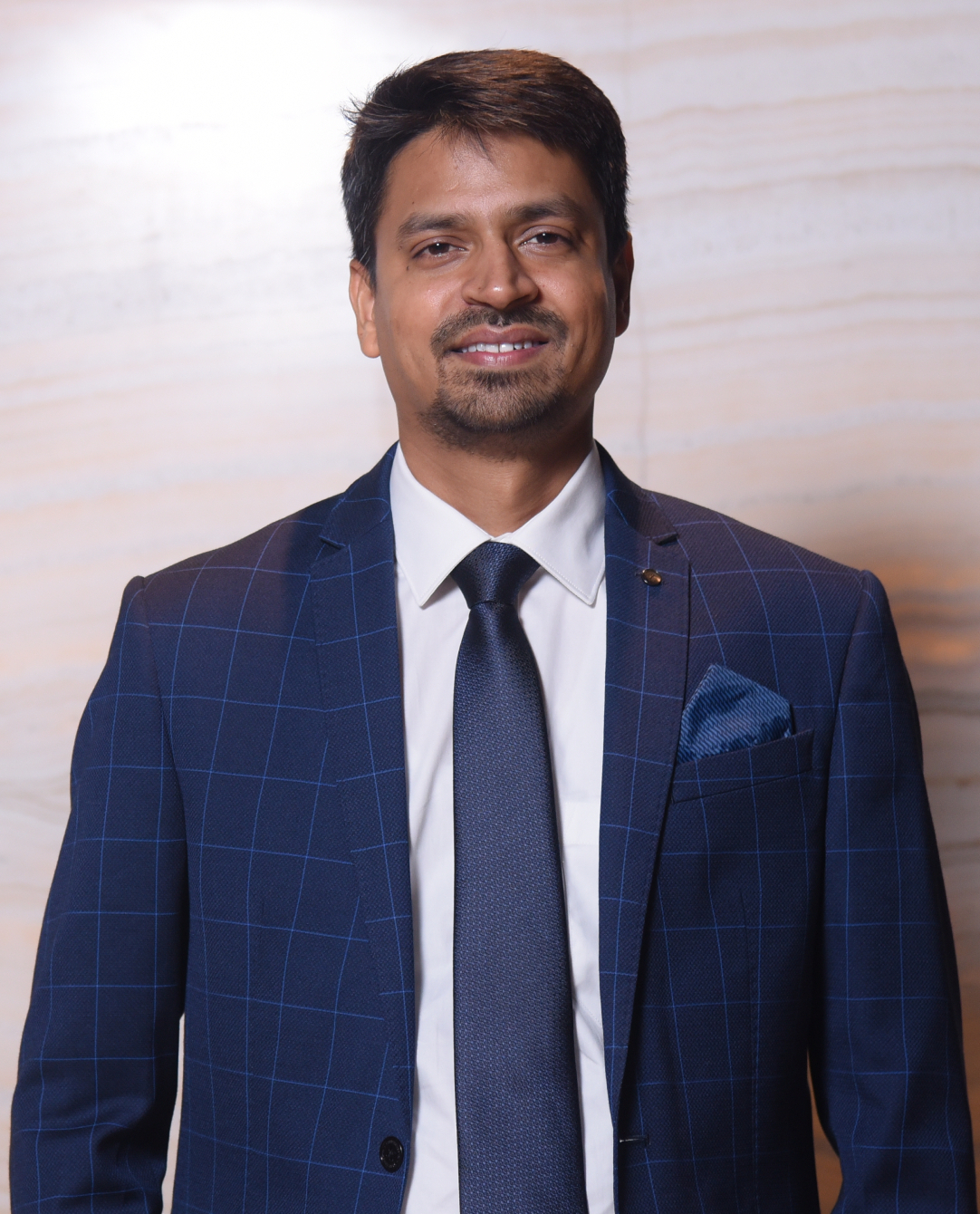 Rahul Mathur is the founder and managing director of ARKA Softwares, a company renowned for its outstanding mobile app development and web development solutions. Delivering high-end modern solutions all over the globe, Rahul takes pleasure in sharing his experiences and views on the latest technological trends.