The world has just started devouring the Pie and Google has yet another sweet dish in the oven. It is all new Android Q. At the beginning of 2019, Google introduced the alpha build of Android Q. Not after too long, on April 3rd, 2019, Google released the second beta build of Android Q along the April Security Patch via over-the-air (OTA) update. Currently, this build is available for Android developers, Pixel Phone line-up (1st Gen Google Pixel, Pixel XL, Pixel 2, Pixel 2 XL, Pixel 3, Pixel 3 XL) and Android Emulator. Right now, it is still an unfinished build and it is not recommended to try it on your daily driver. However, if you want to give it a shot then you need to enroll in the Android Beta Program.
In the early alpha build, Google introduced some modern features like a system-wide dark theme, desktop mode, etc. The Second Beta Build of Android Q adds some more features to its repertoire. What are those features? Let's find out in this blog.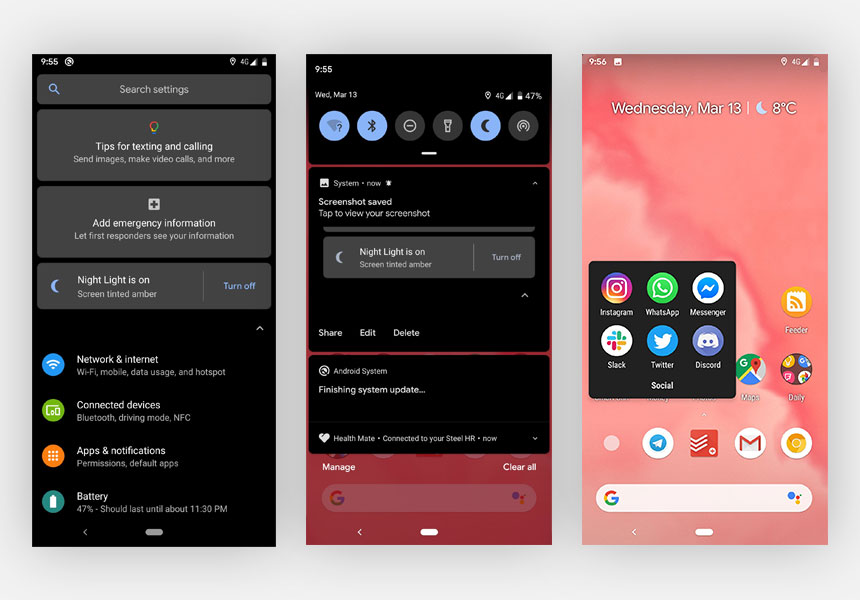 System Wide Dark Theme
Notification Bubbles
You are probably familiar with Facebook Messenger's chat bubbles; they call them, Chat Heads. The all new Android Q will natively support these notification bubbles. This means you will see coming in all texting or messaging apps. These chat heads utilize Android's Screen Overlay feature to show or pop these chat heads over any other app a user is using. So the user can check messages, send replies and get along with the previous work they were doing on the phone without switching the application. If the user does not want these notification bubbles then they can simply drag the bubble down to the bottom of the screen to dismiss them.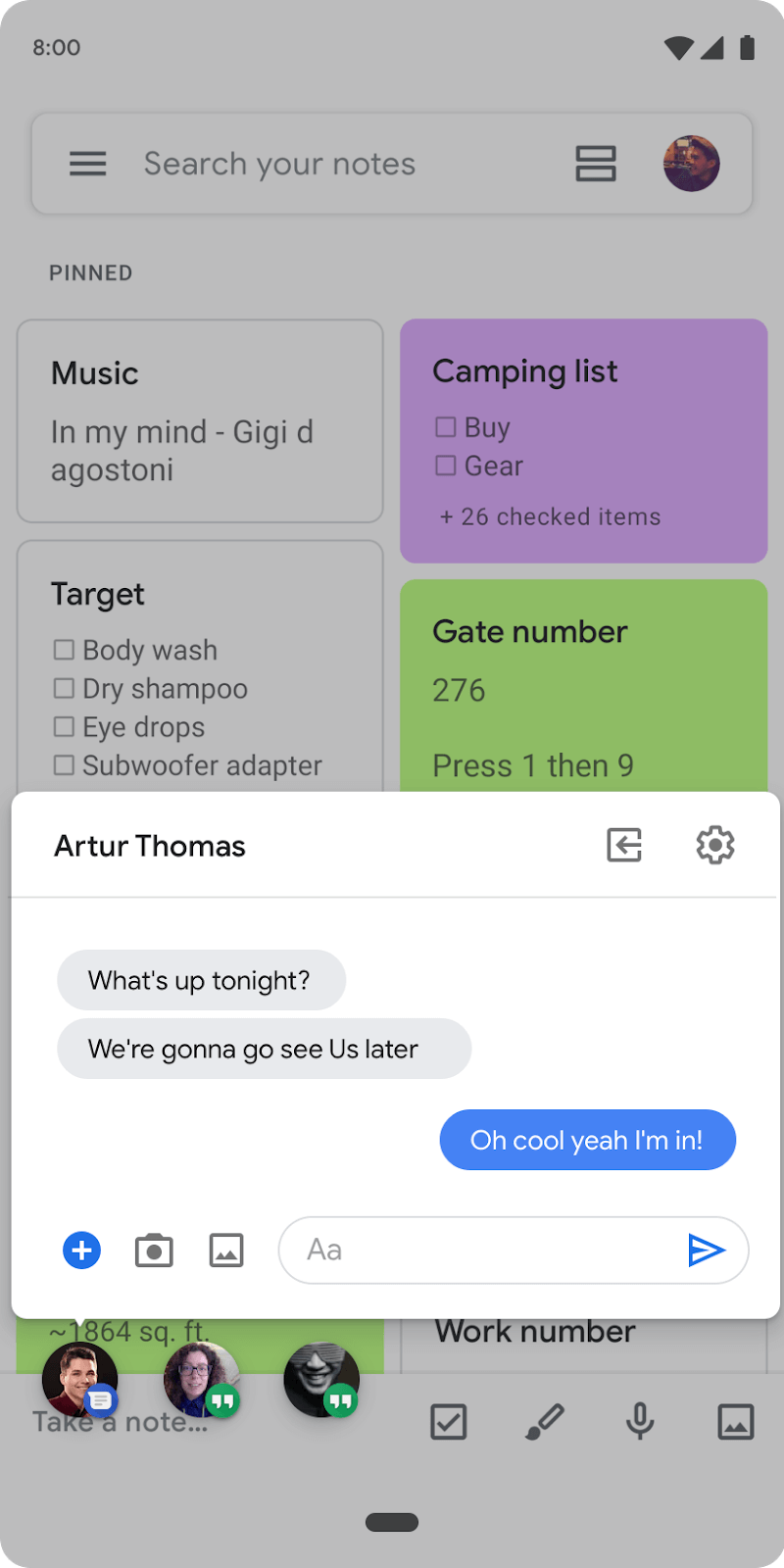 Facebook Messenger introduced these chat heads in 2013, and not all Facebook users are on board with it. People have mixed feeling about this feature. Google started implementing this feature with its Phone app, where users can access other apps while on call but they can also turn on speaker phone, mute or hang up the call without leaving the apps they were using.
Google's phone app shows that this chat heads feature is not limited to messaging apps. Similarly, applications like note-taking apps may utilize this feature of Android Q to provide quick access to users. Let's see what people will feel about this feature when it finally arrives in the market for the supported users.
Expandable Volume Menu
Updates are not always great. They bring some new features and sometimes they ruin a couple of things. In Android Pie, we lost the ability to adjust the ringer volume while playing some media. In addition, you can't adjust the alarm volume without going all the way into settings. In Android Oreo, we could simply expand the volume menu and set the volume of ringer, alarm, and media without having to go into settings.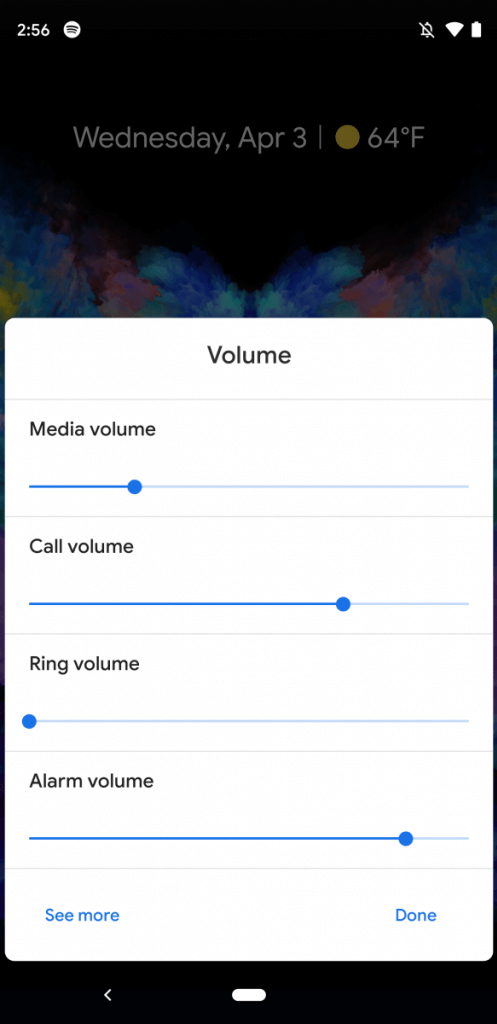 Finally, this expandable volume menu is back in Android Q. And we are not quite sure if we should call it a feature or a fix. So we choose to look at the bright side and appreciate that Google is making things right.
Revamped Gestures
In Android Pie, Google introduced its new gesture-driven user interface right after when Apple decided to abandon its home button from their iPhone X and latest models. It did not take long to iPhone users getting used to these gestures. But this was not the case with Android Pie users, they indeed got used to these gestures but they did not appreciate that. For example, Pie had the swipe up gesture to go in the recently accessed app menu and by swiping all the way up took users to the app drawer. These gestures were rather confusing and required practice to get along with them.
On the bright side, Google is polishing these gestures in latest Android Q with iPhone-like gestures to switch between apps. By swiping left to right from the bottom of the screen, now you can switch between apps in Android Q. Honestly, when it comes to the usability, the latest android gesture are way better than that Pill button that required slight swipe up to open recent apps. Not you can just swipe the pill left to right to switch between apps.
XDA Developers say that Google is planning to switch to elongated handle, that we see on new generation iPhones (X/X Max, XR, /XS/XS Max), from the currently used pill. We can see how Google is trying to fix all the gesture problems and bring some good gestures support that will enhance the overall user interface.
Notification Dismissal Swipe Direction Control
Till Android Pie, you could simply swipe left or right on any notification and the notification would still go away. In the first beta of Android Q, we could see that swiping in one direction would dismiss the notification and by swiping in another would open actions like snooze or go to notification settings. Now, this could cause a problem to a lot of people who are accustomed to swiping in a particular direction to dismiss any notification. They might accidentally open notification actions.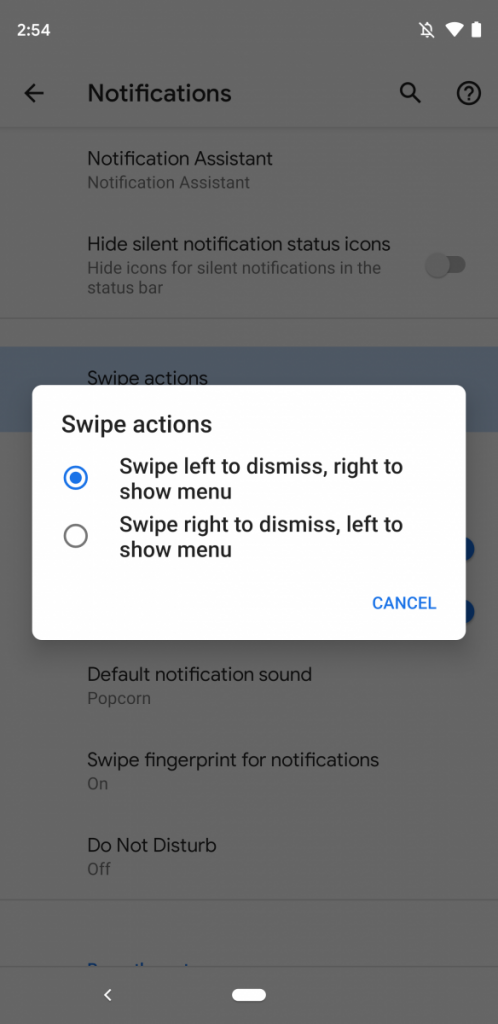 Fortunately, Google addressed this issue provided the solution in the 2nd beta of Android Q. Now users can select swiping in which direction would dismiss the app. As a result, swiping in another direction would open notification shortcuts like block, show silently and keep alerting.

Seekbar for Music Notification
You have secretly wanted this feature for so long. This feature allows users to scroll through seek bar of their music or podcasts straight from the music notification. So the next time you want to get to the best part of the song you won't have to go to the music app and skip it to the part instead, you can drag the notification bar down and do it from there. Features like this are something we all want but sometimes we cannot acknowledge them. It is good to see Google is progressing in the right direction with Android Q to provide an enhanced user experience to its users.
Sharp Edged and Notch-less Screenshot
In the 2nd beta build of Android Q, Google has finally got rid of those ugly and humongous notches and rounded corners from the screenshots. These notched screenshots were a topic of controversy among android users. They not only look ugly but they were not even practical at all. Therefore, this final fix is a relief for android users.
Personalized Settings
In the latest Android Q, users will see a deeper integration of Google Services in the setting menu as well. Now after opening the settings menu, users will see their Google profile picture on the right side of the search bar. Tapping on the picture it opens another screen showing Device Info, Emergency Info, Payments, and Google Account. In addition, now you can see Wi-Fi toggle and available Wi-Fi networks in the Setting Tips. Now you will not have to go to Wi-Fi settings to access Wi-Fi options.

New and Enhanced Share Menu
For almost 4 years, the share menu of Android has suffered from inconsistency and slow responsiveness. Users constantly complained about how inconvenient it gets when sharing a file with someone. Guess, the sufferings are over now.  Now Google has decided to fix this issue for once and for all by making the sharing menu fast and comfortable. Aesthetically, there are no changes. However, you can see a thumbnail of the file that you are sharing. It is a small yet very important feature to have.
So these are some of the top features and fixes of Android Q. Since it is still in beta, so we can expect more bug fixes, enhancements and possibly more features before its final release. The name of Android Q hasn't been decided yet. There are several guesses made by Android fans. There are some speculations that Google might skip letter Q and go for R letter. So far, we don't have any official word from Google about the name of the latest Android Q.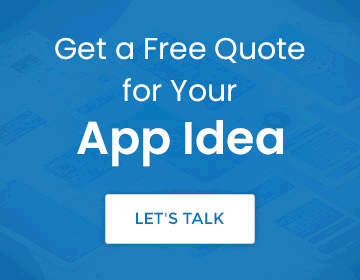 There is still a long way to go for the final global release of Android Q. What features do you want? Which feature did you like the most? Please let us know your thoughts in the comments.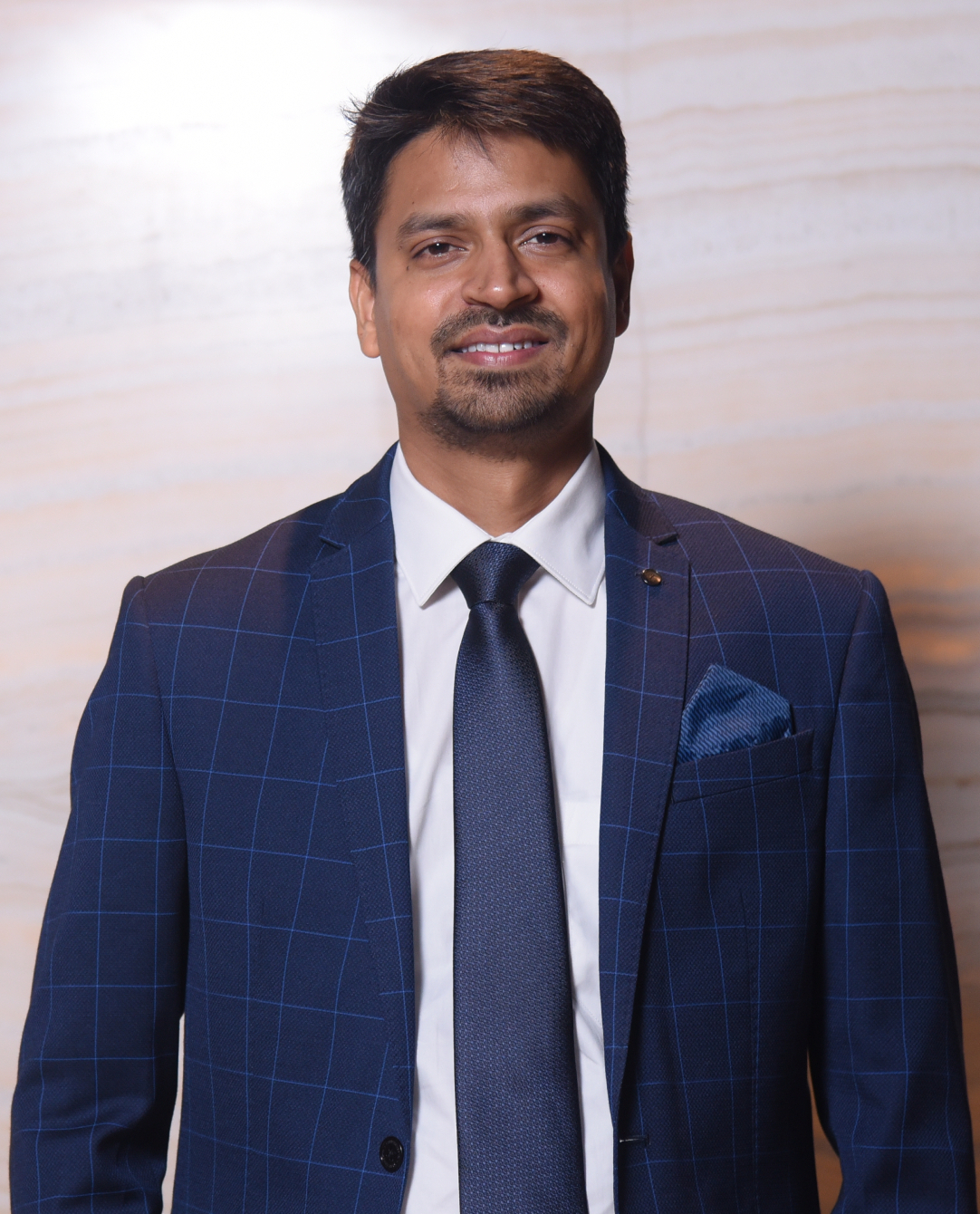 Rahul Mathur is the founder and managing director of ARKA Softwares, a company renowned for its outstanding mobile app development and web development solutions as well as specialized in Android and iOS app development. Delivering high-end modern solutions to all over the globe, Rahul takes pleasure in sharing his experiences and views on the latest technological trends.