The current situation has shaken up each industry and has left everyone wondering how to continue doing business and earn a good deal of revenue & get their life back to normal.
Since most of the things were being done physically in the recent past, we are now required to get on the online space and make optimum use of the same.
Taking into consideration that our current life dependency on mobile devices and the internet has gone a notch higher this has carved away for more and more mobile applications.
During this pandemic situation when everyone is struggling hard to get their life back to a normal routine the eCommerce business has been on a rise and it is highly likely for it to stay the same in the times to come.
So, do you have a physical book store in one of the most hyped markets which were always flooded with customers, and have now fallen prey to the pandemic? Well, you must definitely read this blog thoroughly as you might benefit a lot from this and generate ideas on how to bring your business online and expand it among the masses.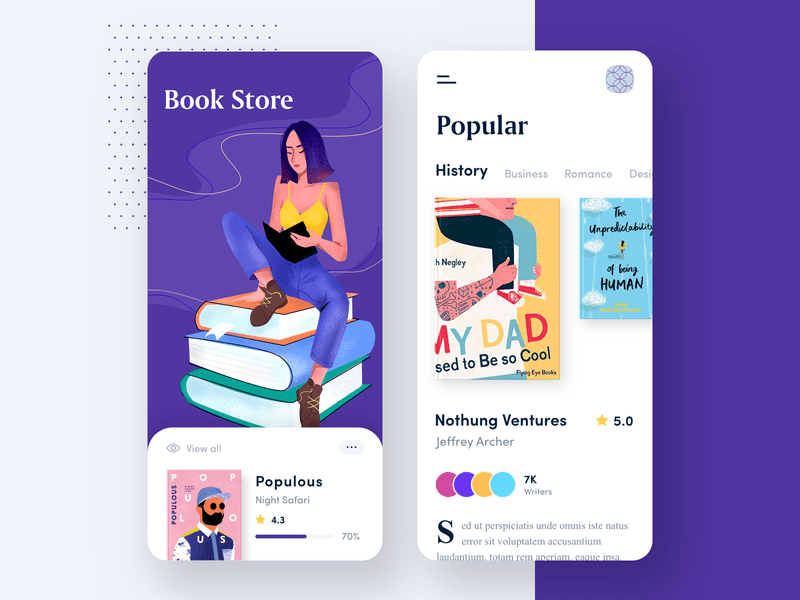 While several marketplaces of various industries are being made on the digital transformation consulting services, why the book stores should stay aloof? They can explore the online space and make their products available to the users by creating a book store marketplace on either the webspace or getting mobile applications made for themselves.
As history has witnessed that Amazon the great giant of the online e-commerce world started its business by selling or renting only books and now the rest is history.
This blog is going to throw light on why online book stores are so essential, special in times of Covid-19 when education is being imparted to the children online and teachers and students are refraining from going out to buy books in person.
We are also going to talk about the features that are essentially required to build a successful book store app.
Introduction to Book Store Apps
These apps allow the authors and book store owners to sell or rent or rent their books to the people who are interested in reading those particular books in return for money.
Our dependency on mobile applications has gone to a level where we don't like to step out of the house, as everything is just one click away, they why would someone want to go out to purchase a book?
With the help of an online book store marketplace, users can simply make their accounts on the particular apps they want to use and start looking up the books of the genre they are interested in.
By applying filters and entering the author of the book they are looking for or a keyword, they get a variety of suggestions.
There, they get a lot of options to choose from and add the book they are interested in buying or renting to the cart and make the payment.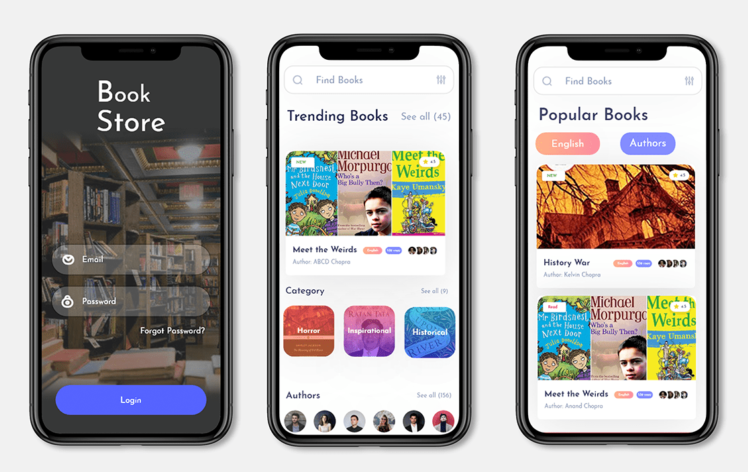 Later, the users have to just sit back and track their order, as the shipment details are shared by the app with the customers. All necessary updates are then made to the app itself and the book is delivered to the users in time.
While it may be hard for us to sometimes look up books in a physical book store, you might have to go from shelf to shelf. These online book stores help you save all that time, as you can get access to that particular book by just entering details of the author or the title.
Just like any other eCommerce mobile application, this one too has gained a lot of prominence among avid readers and school-going or college students. While the classes are being held virtually in most countries, students can now even purchase their books remotely, without having to go out of their houses.
Market Size and Statistics of Online Book Sales
The market size of online book stores has grown exponentially in the recent past and it has gone even higher because of the pandemic. Since people have apprehensions about stepping out of their houses now, they have turned to online stores for almost everything. This has increased the revenue generated by these book store mobile apps as more and more people are coming on board to look up books and get them here. Here are some market statistics that we would like to share with our readers:
According to a report by Grand View Research, The global online book services market size was valued at USD 17.7 billion in 2019 and is expected to grow at a compound annual growth rate (CAGR) of 5.8% from 2020 to 2027.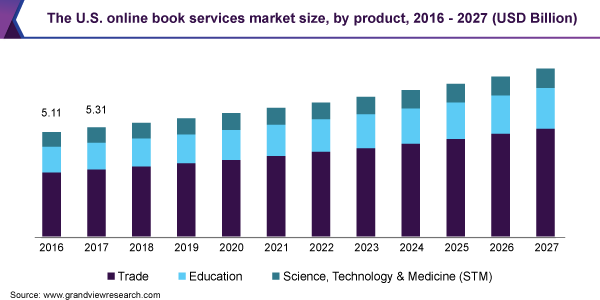 In 2019, the online book services market size globally was valued at $ 17.7 billion, which is likely to grow at a CAGR of 5.8 percent from 2020 to 2027. However, these statistics are for the e-books that have been taking over the world by storm.
10,000 to 12,000 people shop for books on average in a day.
The market size of the global books market was valued at $ 115 billion in 2016 which is predicted to grow at a CAGR of 0.9 percent from 2013 – 2025.
Types of Online Bookstores
This has not been a new trend in the education and publishing industry. The online space has been utilized to its optimum utilization and has been effectively delivering what is best for the users. Things have been made simpler and everything can be done and purchased from the comfort of the homes.
Although these online bookstores might look the same from the outside, the conceptualization and the type of each vary from each other. They have a set pattern that they follow. Now, let's look at the types of bookstores that are available online:
Individual bookstores:
These are owned by the authors themselves who have an array of books written by themselves and put up those books on sale on their own website or an app. This one is simple to make and one can start an eCommerce bookstore just by putting up their own books on sale.
The users who are well versed with the author will directly go to his website or the application and start looking up the books they want under that author's name. This will not consist of information or books from any other author.
Publishing house bookstores:
This one caters to a lot of young and eminent authors who can simply pay a certain amount to the app owners to display their book on their platform and pay a certain amount of commission on each conversion. The users can look up books by filtering their search criteria which can include segments such as language, genre, author, price, etc.
One can look up a wide variety of books under this type of online bookstore. Most international and bestseller authors also put up their books for sale under this type of eCommerce marketplace. In simple terms, this is a platform that brings the authors and readers together.
Reasons why online bookstores are succeeding
Online bookstores are flourishing and are growing at a rapid speed. There are numerous new bookstore apps that keep popping up every day. Needless to say, there is ample space for new ones to come and make their space in this online industry. Here is what has been contributing to the growth and success of online bookstores: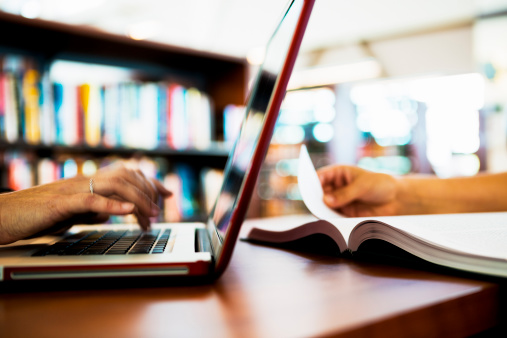 The pandemic has brought everything to a standstill with people having to buy everything from their remote locations, rather than stepping out for the same. Therefore, students who have been attending online lectures and classes are preferring to purchase books from

online bookstores on mobile applications

.

Most people don't like to go to physical bookstores looking for a particular book. There are times when you just can't find a book at any of these places, that is where the online bookstores come into the picture. Here, the users can themselves lookup for any book on hundreds of online marketplaces and buy it.

Thirdly, it is easy to compare the prices of the same book sold by each bookstore.

These online bookstores are always up with new offers and discounts, thereby, informing the users each time a new offer is updated on their platform. Users can wait for the offers to be revealed and then buy the books of their choice.

It is easy to look up any book as the

online bookstore apps

allow you to apply filters and search for the book. This makes the search criteria easy as the users can simply enter the name of the author and can get recommendations in the search bar dropdown.
The Target Audience of Online Bookstore Websites and Applications
Schools and students:
The syllabus books of each school vary from other schools, while most central boards make sure to retain the same books and authors nationwide. The online bookstore marketplaces have made it easy for them to look up books on the online space and strike a deal with them. These online bookstores aim to build a deal with the schools and provide them with all the study material and books required by their staff and the students.
Bachelors and spinsters:
Who doesn't like to read books? Social media has encouraged people to buy more novels by various authors worldwide and people are posting photos of books they read on their social media handles. The youth is always looking up for some good read and a good find.
While they are being provided with apt reviews from people of their age, it becomes easy for them to select the book they want to read. Therefore, the bachelors and spinsters are one of the major target audiences of these online bookstores.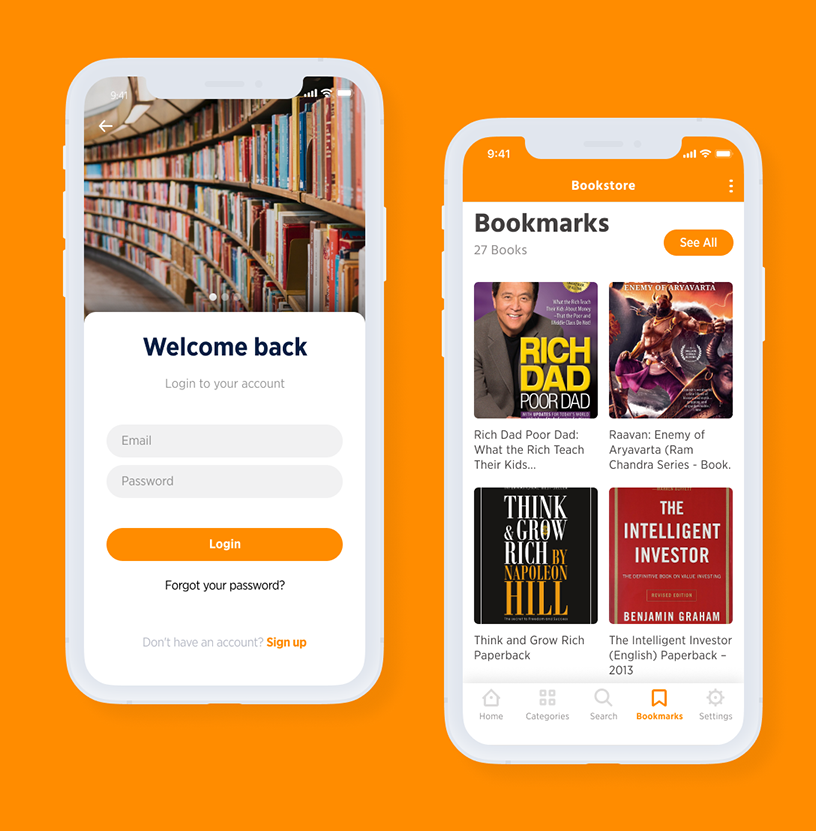 Corporate executives:
Since corporates need business information on several things, there are books that are of their interest. These books do not only impart knowledge of a certain business segment but also help them in several other aspects. Corporates also need to be updated with the latest laws and regulations by the government, for which they turn to the online space to know if the latest book is available with the bookstore or not.
Businessmen:
How do businesses flourish and who takes care of their legal work? There are professionals that are hired specially to take care of the proceedings of the business and know the technical know-how of its overall performance. Businesses aren't built overnight. There are a lot of books these businessmen have to read to get the knowledge in how to get going in the right direction.
Couples:
Couples, especially those who are about to get married have always shown keen interest in knowing about their compatibility and much more, the information which they derive from several books.
Expectant mothers:
Pregnant women are all ears to any information that they can get on pregnancy or taking care of the baby. There are books with illustrations that show how you can cradle your babies and how to feed them. It is easy for them to get all the necessary information from the books.
Sports Men and Women:
There are books that teach you the know-how of each game with specific techniques. These books are often purchased by sportswomen or men.

Government officials
Any new law or any amendment in an existing bill is added to the law books of a country each year. These books are of utmost importance for government officials.
Tourists:
A tourist is always keen to learn about the culture, temperature, religions, and mode of transportation among other things of a country they are going to visit in the coming time. There are a plethora of books that bear information about each city, state, and country as a whole.
Top players in the industry:
To stay on top and focused is a quality that is not developed overnight. There is a lot of struggle and reading that goes into it. The top-notch industry players will always have the study material that will guide them in keeping that spot throughout.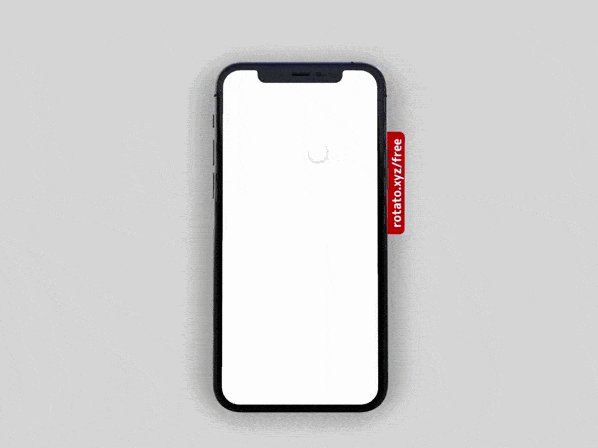 Basic Features of a Book Store App
Customer Panel
Sign up and log in:
Each user should have his own profile on the app, therefore, the app should have an integrated social media log in making it easy for the users to register easily. Secondly, the login process should be easy and simple so that the users can get access to their accounts without any hassle.
Genres:
The genres of the books should be listed separately, making it easy for the users to look up the genre of books they are interested in reading rather than going on a haywire search.
Font and size:
Each reader has a separate preference when it comes to selecting a font and the size of the font they have selected. Since each user's choice and preference varies, they should be able to read e-books in whatever font they want. Therefore, the adjustment of the same should be considered a feature of the bookstore app.
Format:
The book should be available in several formats and the users should be allowed to get a format that is compatible with their device. Format for eg:- pdf, epub, etc.
Cover of the book:
All users are different and so are their preferences. If a user wants to order a hardcover book, he should be able to do it and vice versa.
Social media:
Integrating social media in your app will help your users share the information they have with their users. It is very important to integrate this feature in your app to keep up with the fast-paced world which is highly social media savvy.
Bookmarks:
What would a user do if he wants to bookmark a page in his eBook? He would simply use the feature of bookmarks and put one on the page he last read. This enables them to start afresh from where they left, rather than getting confused about which chapter they were on.
Themes:
Reading on a normal white screen is quite an old school now in these modern times where technology has advanced to the level where readers can choose to put a theme in the background.
Copy and paste content:
This feature enables the users to copy the content from a page and paste it into a document for future reference. The feature should also allow them to download a particular page by the users.
Bookmark-
when a user comes across something interesting in a book, he can bookmark the same for later reference.
Chapter View

Reading mode 

Search Function. Find words or sentences in your whole Book.
Text Zoom in/out. Font size & Format can be changed.

Switch between different books.

Go to Page (slider).

Landscape/Portrait View.

AdMob and iAd Versions. This template already has iAd/AdMob enabled. You can disable it with one click. Easy monetization. The ad appears on each Book Page (both views) and you can earn lots of money.

Show progress in % of current reading

Last Location:– Resume and save the last reading location for each eBook
Publisher Panel
Sign up and log in:
Just like in the case of the consumer panel, the publishers also need to have their separate accounts where they can upload their information and biodata which is helpful for the users when they look up any publisher's reference.
Cover:
The cover of any publisher's book should be appealing with a catchy cover letter or note to grab the eyeballs. This will help you sustain the competition and get more readers on board.
Book description:
You need to attract the attention of the users by putting up descriptive, interactive, and informative content about your book and a brief about what the book is about.
Links:
Provide the users with comprehensive content by providing linkbacks to the content that has more value-added information to it.
Feedback:
The publishers should be open to feedback as it helps them improve their future scope of writing and publishing.
Admin Panel
CRM Integration:
The admin assists the users with the help of an integrated CRM system in the app.
Real-time analytics:
With the help of this feature, the admin can make better decisions regarding business choices. They can look into the current user base and scenario of the application for the same.
Dashboards:
This unique feature enables the admin to screen and break any insights. They get access to the statistics of the users an app has at one point in time from the dashboard.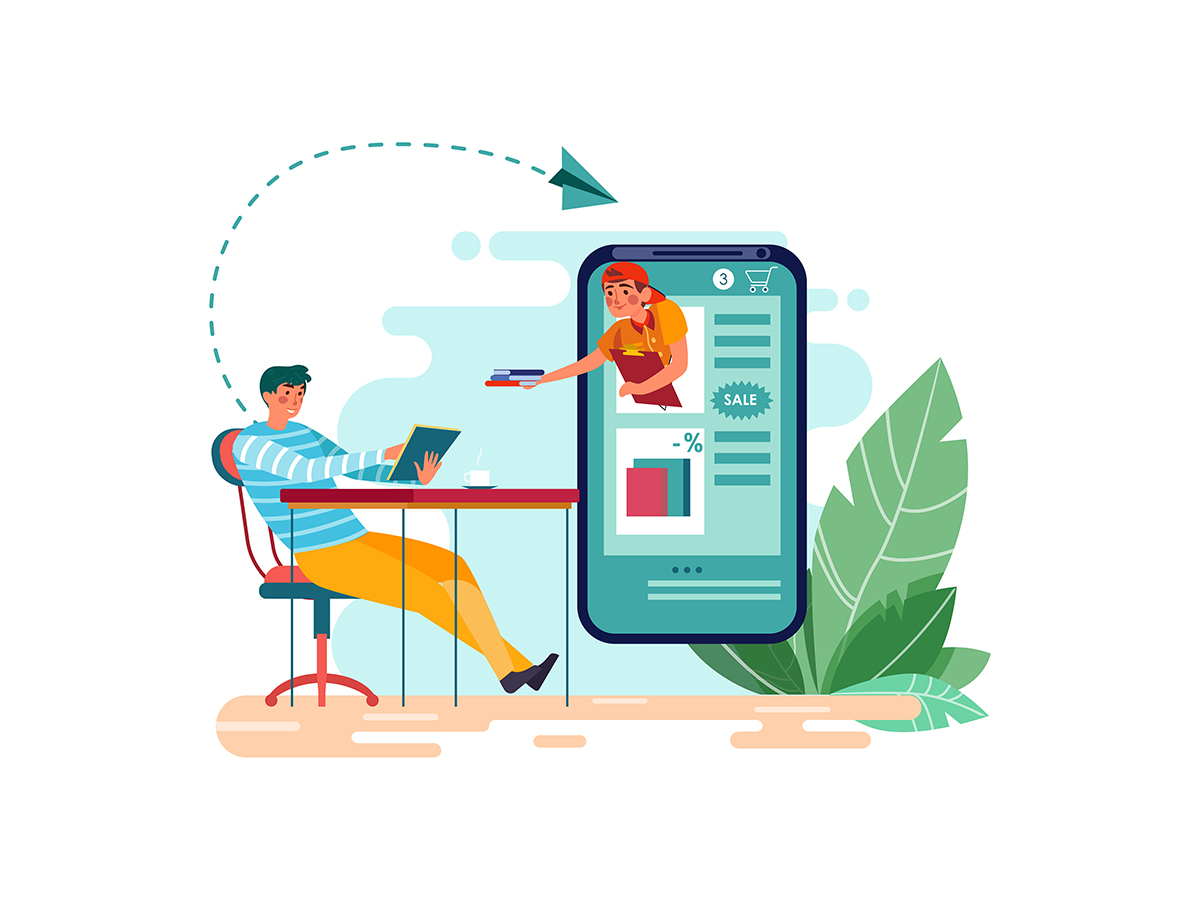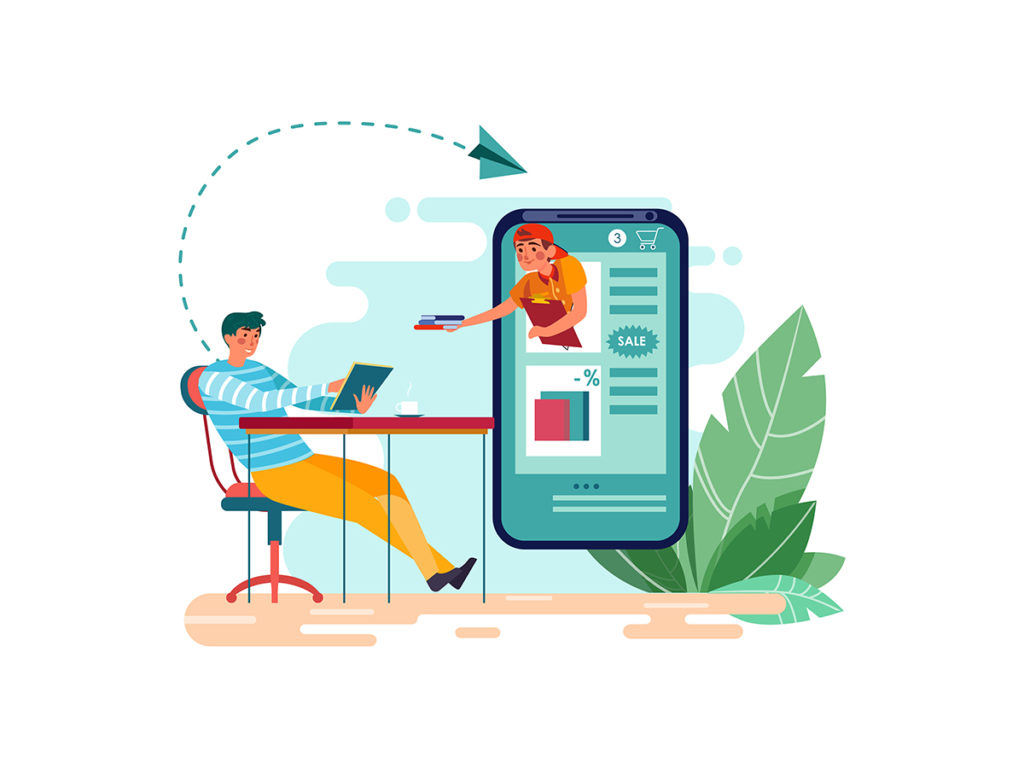 Features to Make your Bookstore App Ahead of Competition
Social Signup & Login: While all apps need the users to sign up and create their separate accounts when they start using the platform, it is essential for the apps to have the feature of integrating social media with the sign-up process as it becomes easier for them to become a part of the app without having to enter all their details again.
Push Notification: This feature enables the admin to send out important information of any new book launch and new author on board or information about new offers and discounts that the loyal customers of the app can avail.
Voice assistance: With the new age technology, it would not be a complete package if the users are not offered voice assistance. With this feature, they can just give a voice command and the app will automatically start looking up the book a user wants.
ChatBot support: This helps the users to have a seamless experience without getting stuck at any place. The ChatBot enables them to get in touch with the technical staff who helps them get through with and resolves their queries. It is a machine-integrated customer support system.
User behavior tracking: Since each user is different and the app owners make sure to send out suggestions based on their behavior and their choices, it is important for the admin to track the behavior of the users and know about their likes.
CRM Integration: Users might get stuck on the app at any point in time and might seek assistance from the technicians or other staff of the application. Therefore, CRM integration is a must which should be looking into all complaints of the users and helping them at each stage.
CMS Integration: This feature enables you to get access to a system that stores information and retrieves it at any point in time.
 SEO tools: Each feature assist the publishers in building strong Search Engine Optimization for their books and content so that it appears on top when the user lookup for it.
Promotional tools: Each publisher and individual wants to promote his book on the app, therefore, he is helped with these marketing and promotional tools, a service they can avail of only after paying a certain amount to the app admin. This feature allows them to make the users aware of the book and the content you are offering on the online bookstore.
Email marketing integration: This feature allows the admin to send our emails and reminders to the readers and users so as to build more followers and get more people on board. This is a marketing gimmick through which the admin and authors and publishing houses can share information of any new book launch among other things.
Multiple payment options: With time, technology has advanced and the online space has given rise to several safe and secure payment gateways. Since a lot of eWallets have come into being, there are indefinite users using each one of these. A bookstore app should therefore allow the users and readers to make payments via any of the payment channels they offer. These include the likes of Debit and credit cards, online payments, and e-Wallets. 
Multilingual: Books are written in various languages and there are users who would like to buy a book that is not written in a very traditional language. Therefore, with the help of this feature, they can access the app in that very language and get access to the books in the language they are looking for.
Realtime analytics: With the help of this feature the admin can make better decisions regarding business choices. They can look into the current user base and scenario of the application for the same.
Role-based dashboards: Each user has his own dashboard on the app that enables them to get important information and insights into the functioning of the application and its content.
Security features: This app helps you make your app safe and secure for the users to use giving them a sense of reliability.
Loyalty programs: A returning user should be offered special benefits so that he understands his association with the app and can retain that for a long.
Shipment tracking: The order of each user is processed as soon as the order is placed by each user. While the books that are ordered by the users are shipped on a certain day, the users should receive the shipment tracking information so that they know in advance when the order would reach their address.
Review and Feedback: Each reader is allowed to review a book and share the feedback on the platform itself. This helps other users in making decisions about a book.
Required Tech Stack for Developing a Bookstore App
1- Android tech stack
Programming languages: Java and Kotlin

Android SDK

Toolkit: debugging tools, emulators, graphical UI builder
2- iOS tech stack
Programming languages: Objective-C and Swift

Toolkit: Xcode and IntelliJ AppCode

iOS SDK
3- Tech stack for hybrid app
Required Team Structure for Developing an App
Project Manager

Front-end developers

Back-end developers

UX/UI designers

Testers

iOS Developers

Android Developers
Development Process of a Book Store App
Here are the important steps of developing a bookstore app for your business:
– Do the initial recce and find the most, apt place for setting up your business. The right place is the key to growing your business and beating the competition.
– Get all the important licenses and permits before in hand so that there is no hassle going forward and this will also help you avoid any sort of glitches.
– Make a collection of the right set of books you want to include in your collection.
– Get in touch with an android app development company that has the right set of skills and prior experience in developing these applications.
– Make a blueprint of how you want to go about your mobile app development company and list down the features you want to include in the app.
– Test your app after it is done and after the designing is done.
After successfully testing the app, launch the app on the app store.

Cost of Developing an Online Bookstore Mobile App
It is not easy to estimate a defined figure of the amount you will have to invest in developing a bookstore app as each app and its features vary from each other.
Computing the online bookstore app development cost is near to impossible, however, we can state the factors that contribute to the cost of these apps. Take a look at the cost estimating aspects:
Features: An app with more enhanced features will cost more than a regular app. If the app owners plan to keep more advanced features in the app, it will cost more as compared to an MVP which is limited when it comes to features.
Time: The development process of each app may vary depending on several factors. The time has taken on developing the application also plays an important role in the budget. If it takes longer for the app development team to build the app, you will have to shell out more money as compared to the one that is developed in a shorter duration.
 Complexity: The more complex the app is the higher the

app development cost

will be.
Type of employment: If it is being developed by a group of freelancers, it will cost less as compared to a team that is hired specially to develop the app.
Design and outlook: The design and layout also contribute to the cost of the application.
Conclusion
If you are planning to develop your own bookstore app, this is the right time as people are mostly browsing through these apps for books and novels. The most important thing is to get the right people for developing the app who have prior experience in the same.
We at Arka Softwares aim at building a relationship with our clients and delivering the best product to them. We also share a long association with our clients as we believe in offering after-sale services and helping them with all the necessary additions and updates later.
Let's

build something great together!

Just take one step forward and we can build history.

Want to build something good for the business but still good for the customers?
You know the answer is, Yes!