We all want to feel comfortable and secure in our homes and a smart home app provides precisely that.
As per surveys, more than half of smartphone users save significant amounts of time and money as a result of their home automation system, and 75% reported increased efficiency in their daily tasks.
A home automation app further enhances the user experience in this regard, since it is easy to handle everything right at the fingertips.
Reasons behind the Growth of Smart Home Apps
Customers' Expectations and the Evolution of Gadgets
We've become accustomed to the notion that new generations of household equipment and the underlying infrastructure, like lighting and ventilation, are becoming more interconnected and sophisticated.
Consumers are demanding products that are smarter, and the market is responding. The smart home automation app serves as a one-stop-shop for all of these devices and gizmos.
Hardware Components Accessibility
It is now far more affordable and simpler to develop smart home app models, experiment with features and connections, and develop smart home MVPs than it was, say, ten years ago.
It's no secret that the IoT hardware industry is growing at an incredible rate. There is a wide range of microchips, sensor systems, circuits, components, and ready-to-use kits available.
Expansion of Cloud-based Service Providers 
Could services are developing at an incredible rate, both in terms of number and quality. IoT Cloud systems from Amazon, Google, and Microsoft provide all-in-one capabilities for data analytics, network monitoring, and device management.
They have a wide range of options when it comes to customizing and price. Smaller players like Blynk and Upswift can help get IoT initiatives off the ground on a budget or for free.
Standards and Rules for Environmental Protection
In municipal and national environmental safety initiatives, smart power meters and other types of smart home devices play a significant role.
In nations like the United Kingdom and the United States, the adoption of smart home technologies isn't any choice but a necessity.
Several other forward-looking nations, such as the Netherlands, have pioneered the notion of "smart districts," in which every home has home automation equipment.
Market Value
The growing interest in smart home technology necessitates a rise in the need for the home automation app system.
According to Statista, this industry is predicted to grow from $48 billion in 2020 to $95 billion in 2025, a significant increase from the expected $65 billion in 2021.
Smart Home – Revenue Forecast in the World from 2017 to 2025 (in million U. S. dollars)
From cutting-edge smart home monitoring and networking systems to futuristic household robotics, businesses of all sizes are showing an interest in a wide range of sectors within this diverse industry.
The New Norm
It would be remiss of us to ignore the significance of smart home app development in the post-2020 world.
According to a recent poll conducted in the United States by Xiaomi, more than half of customers who want to redesign their homes in 2022 will do so with the purchase of at least one smart home gadget.
Since 2020, we've been compelled to work, study, and interact mostly from home, and many believe that the pandemic's behaviors will remain. Using smart home technology, we can make our houses safer, energy-efficient, and more pleasant in the future.
Best Home Automation Applications in the Market
Name of the app
Features
Play Store Link
App Store Link
Amazon Alexa

Smart home
Multi-room audio
Information

Danalock

Automatic Unlock
Flexible Access Control
Monitor Your Home

SmartThings

Universal Remote control:
Virtual Switch
Home Automation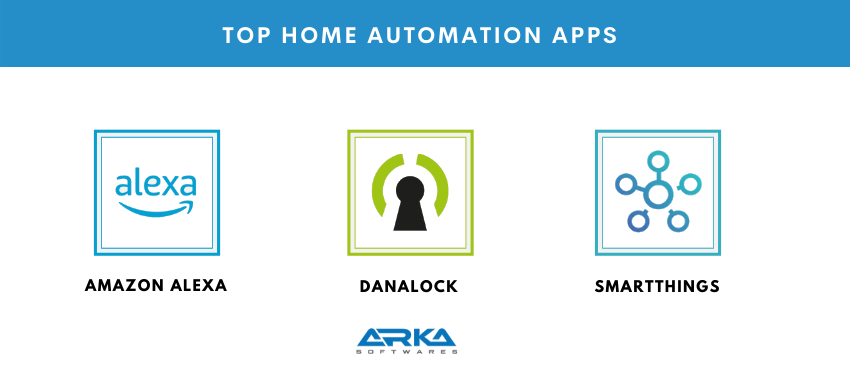 Amazon Alexa
It is among the most popular smart home applications, allowing users to operate Alexa-enabled devices as well as smart home devices from other manufacturers. It permits customers to create shopping lists, configures their smart gadgets, and music stream online.
However, its most important feature is enhanced voice control, which allows users to manage all of their gadgets just by saying their names aloud.
Danalock
It's a security-focused smart home app called Danalock. Smart locks in your residence can be monitored using this app, and you can configure them to open automatically when you get close enough to your house so that you don't have to worry about forgetting to lock the door every time you leave the house. Keeping your house safe and secure is a breeze with Danalock.
SmartThings
To keep up with the growing popularity of smart homes, Samsung developed the SmartThings app. It is linked with Samsung's smart devices and enables users to operate them from a single hub. 
SmartThings' biggest feature is the ability to combine devices together so that users can manage them all at once with one command.
Smart Home Applications: Different Types
There are several features and capabilities that a smart home application must provide in order to be successful. There are two distinct types of home applications that can be developed for the people: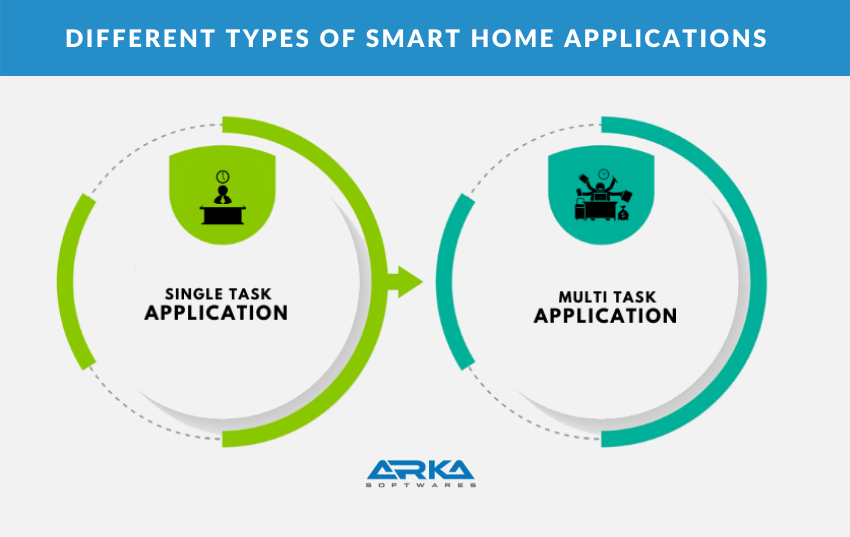 Single-Task Application

– The app's goal is to support specific equipment or technology, such as a flashlight or an autonomous vacuum cleaner.

Multi-Task Application

– As a way to satisfy the demands of a wide range of smart devices, this type of application can accommodate numerous technologies. A single infrastructure can help reduce the number of apps that need to be created. Everything from lighting to doors to cameras may be controlled by them.
Working Principle of Smart Home Technology
A smart home is a system that makes it simpler for people to live in a comfortable and secure environment while also reducing the amount of time they have to spend on routine household duties.
It is possible to share data and remotely operate devices with the help of the best smart home app, which has three major components and a standard communication protocol. These are the three components: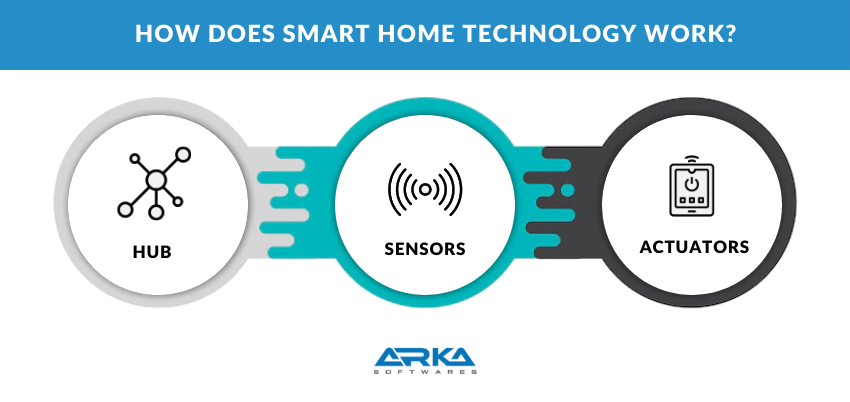 Hub
The hub is the central processing unit for your home automation system, acting as both a communication medium and a data processor.
Home automation hubs are made up of two parts: the back end and the client application, which is a mobile app for managing all devices manually or setting up an automated response for particular situations.
Sensors
Sensors are often low-power instruments that can detect environmental factors such as temperature, moisture, force, movement, or leakage.
It's common for sensors to send information directly to the hub, as they don't have a lot of storage. The hub then determines what to do with the information.
The hub, for instance, can send a notice to the client application or modify the temperature as required.
Actuators
When the hub sends a command to one of the actuators, they respond by changing their states. Smartwatches, televisions, voice assistants, valves, radiators, and automated blinds are all examples of IoT devices that use actuators.
The components of a smart home system must be able to interact with each other in order to function as a cohesive whole. Smart home IoT devices may be connected through a variety of approaches.
Connectivity Options for Smart Home Gadgets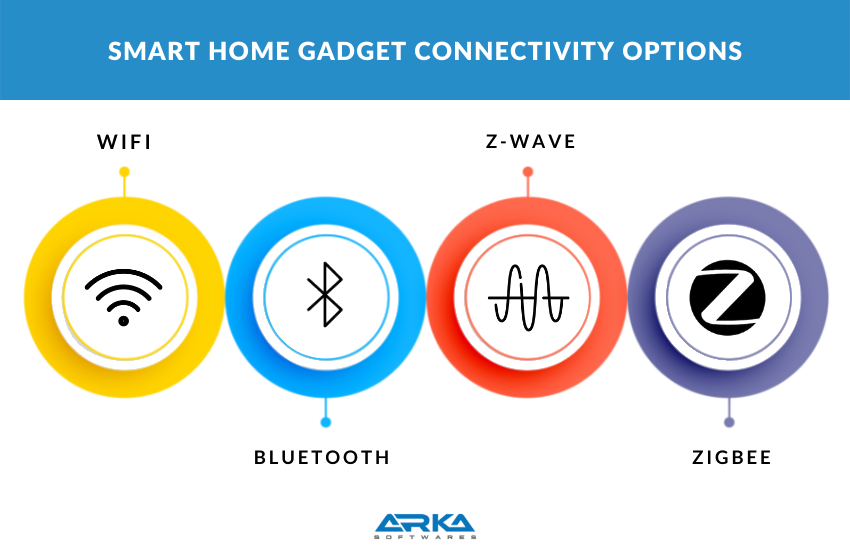 Wi-Fi
It is the most widely used protocol for communicating between smart home devices and a central hub. Wi-Fi is supported by the vast majority of smart home automation products.
Wi-Fi connectivity ensures that you can control your gadgets from any location over the internet. The downside is that you'll have to charge your gadgets more frequently due to excessive energy usage.
Bluetooth
It is the second most common method for smart home gadgets to communicate with each other. Bluetooth's advantages over Wi-Fi include that it consumes less power and is less expensive to deploy. Thus, Bluetooth gadgets will be more affordable and have a greater market share.
The lack of broad wireless coverage is a drawback. There is no way of managing Bluetooth devices from outside the house, and devices must be close enough to the hub for signals to be exchanged.
Z-Wave
It is a mesh-based radio wave networking approach. Z-Wave is ideal for large-scale systems since it can link up to 1500 devices simultaneously. Unfortunately, because Z-Wave is so site-specific, you won't be able to use it in another area.
Zigbee
It is the preferred protocol for the majority of low-cost smart home devices nowadays. Zigbee's drawback is that it operates on a frequency that is extremely close to that of Wi-Fi and Bluetooth, which can lead to interference if there are several devices using the same spectrum in the same region.
Use Cases of Smart Home Systems
Smart home components are interconnected systems that are designed to give users a consistent experience and to assist them in their daily lives. Here is what IoT systems can assist us with: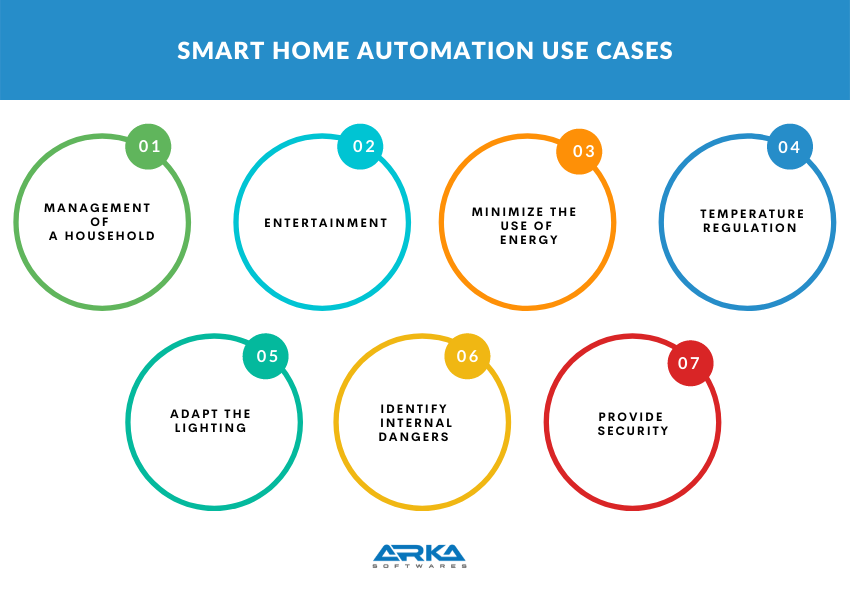 1. Management of a Household
Smart cookers, stoves, microwaves, and coffee brewers are just some of the IoT gadgets that may help you manage your home. Ideally, an IoT device can learn a user's routines and do tasks on-demand or automatically.
2. Entertainment
Streaming devices, audio systems, and home theater systems are all included in this category. These devices must also be able to communicate with one another via a hub Mesh Wi-Fi networks are used to prevent dead spots in entertainment systems.
3. Minimize The Use Of Energy
In this category, you'll find devices that assist you to keep your household appliances from wasting energy when they don't need to. They can, for instance, turn off other gadgets while they are not in use.
Washing machines and refrigerators are the most common appliances for which energy conservation devices are employed.
4. Temperature Regulation
Temperature sensors, air conditioners, and heaters are some of the temperature-controlling devices that can sense and maintain a certain temperature within a building.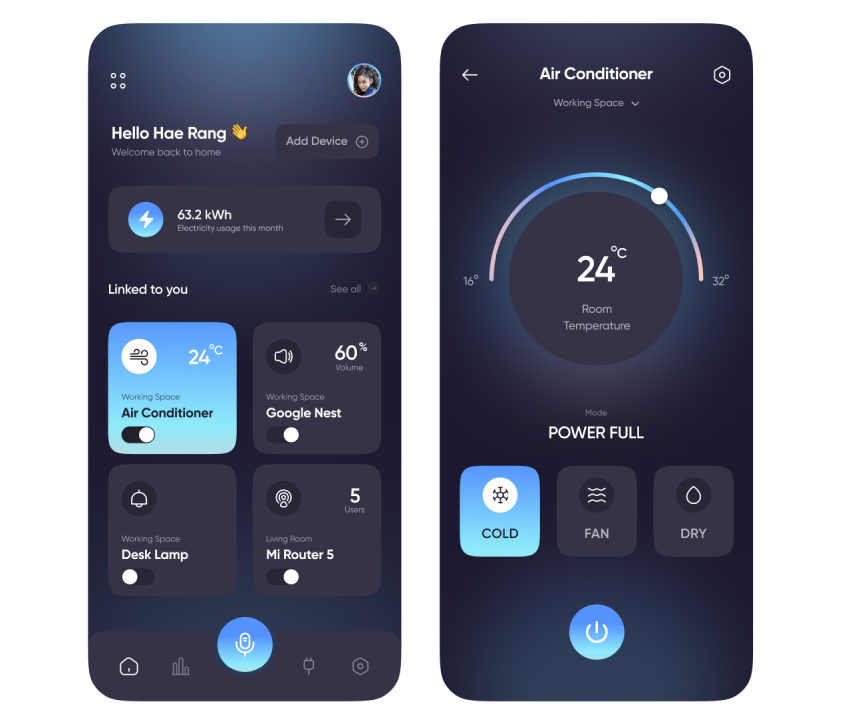 5. Adapt the Lighting
It is possible to modify light bulbs and shutters in response to changes in ambient light. Moreover, these gadgets can activate automatically in response to motion detection whenever anyone enters the room.
6. Identify Internal Dangers
Leakage, break-ins, fire, gas, carbon monoxide, and so on may all be detected by sensors. When danger is detected, a system can notify its users and, if necessary, the local emergency services.
7. Provide Security
Various types of mobile app security technologies, such as smart locks, cameras, and sensors, are available.
In the event of an incursion, security systems can notify the home's occupants or the police, and they may also identify guests and extend a warm welcome even though the owners are not there.
How to Develop a Smart Home App?
1. Select the Type of Automation Solution
You have two alternatives when it comes to designing a home automation system:
Create a solution that only interacts with a single device, such as a smart speaker or a pair of smart lamps. These apps can be built quickly and inexpensively, but they are difficult to sell. Having 10 applications for ten different smart gadgets is cumbersome for people who automate their houses.

Create a solution that allows users to operate many devices from various manufacturers, providing for a better user experience and greater flexibility. Developing such an app is more challenging, but the rewards are substantial.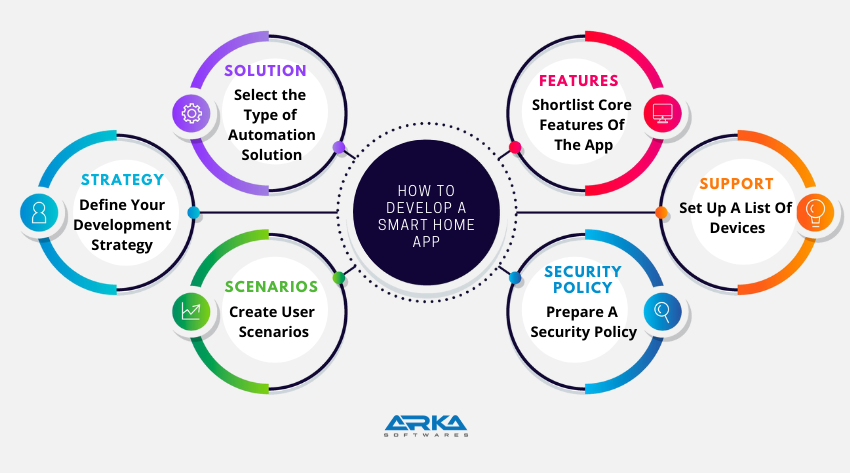 2. Define your Development Strategy
It's better to contemplate how you're going to put your home automation app into action after you've established your goal. You have 2 options:
Use a Pre-Existing Platform
Developers of smart home apps can find a variety of pre-built platforms on the IoT market. When developing an IoT app, there are four elements you need:
IoT Gadgets

A system to keep track of and apply upgrades to the devices' firmware

Analysis of data gathered from various devices

Your consumers' point of entry into the IoT
The first two components of developing an app on a platform are already addressed by IoT vendors and their platforms. To connect devices to your system, all you need to do is create an application and then utilize the APIs and SDKs provided by the device vendor.
Developing a Unique Solution of your own
Some IoT developers choose to design and build their own solutions from scratch. However, the cost and effort required to create something genuinely unique and personalized are substantial.
Because of the time and money, it takes to develop a custom solution, your company may fall behind a competition that has already established itself in the market and invested in the advertisement.
To avoid compatibility, performance, and user experience issues, we recommend starting with a ready-made IoT platform and developing at least an MVP based on that platform. Your product concept will be tested on the market before you make a large investment in customizing it.
3. Create User Scenarios
User scenarios, or the series of steps a user must take to accomplish a goal, will help you determine which features to include. When a business analyst performs research and develops user personas, user scenarios are often produced as part of the business analysis process.
Why is it necessary to develop user scenarios? Your app's user experience will be tailored to your users' behavior and demands if you create user scenarios. Don't skip the step of incorporating a user-centered design approach into your software development process.
4. Shortlist Core Features Of The App
The core elements of your home automation application should be evaluated after deciding on the sort of application you want to design.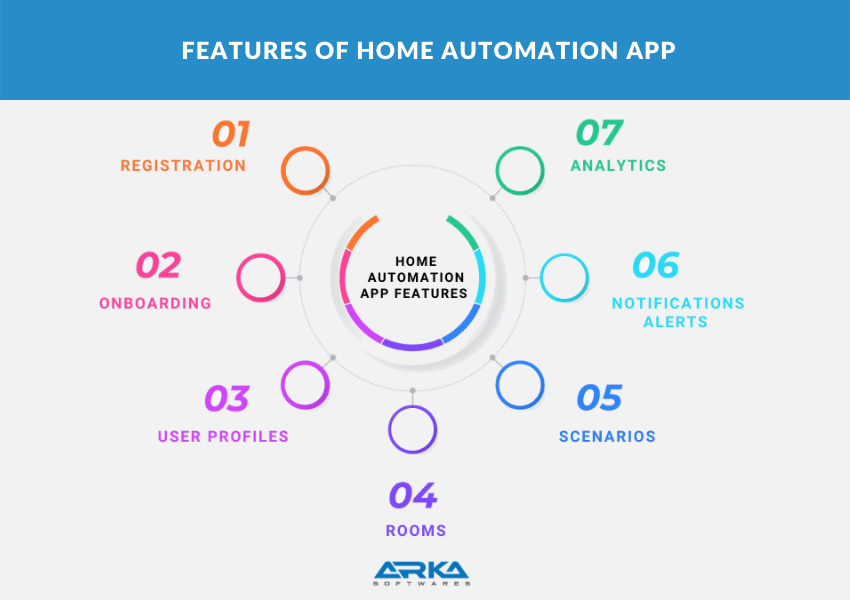 A mobile app development company will go through the specific aspects of your app with you, but it's a good idea to come prepared with an idea of what your app's features should be.
The following functionalities should be included in any home automation application you create:
Registration
It shouldn't be as simple as it is in other apps to sign up for an account in an IoT application. It's a good idea to register consumers using their mobile number and their email address as a backup. Verify an email address by sending a verification email or code.
Onboarding
Provide a tutorial to customers on how to use your application, especially if it is multi-purpose and supports a large number of devices. The user should have access to this training at any time, not just the first time they use the app.
User Profiles
Set up two different sorts of user roles: an administrator and a user with limited access. This will make it easier for people to manage their houses and divide up responsibilities among their families.
Rooms
Group devices by room, so that users may concurrently control all devices in a given area.
Scenarios
Allow the user to design their own settings. For instance, a user may configure their house to wake up with them in the morning, starting the coffee maker, turning on the lights, and opening the curtains on their own. Using a voice-activated control system is ideal in these cases.
Alerts and notifications
Your app should automatically deliver alerts to keep your users aware of what's going on in their homes. In the event of a fire, water leak, or any other disaster, a notification should be sent to the user's smartphone or tablet.
Ensure that alerts may be tailored to suit their needs. Users should be allowed to choose how they wish to be informed.
Analytics
To keep your consumers informed about their appliance usage, it's a good idea to integrate visual analytics that provides basic info like energy usage.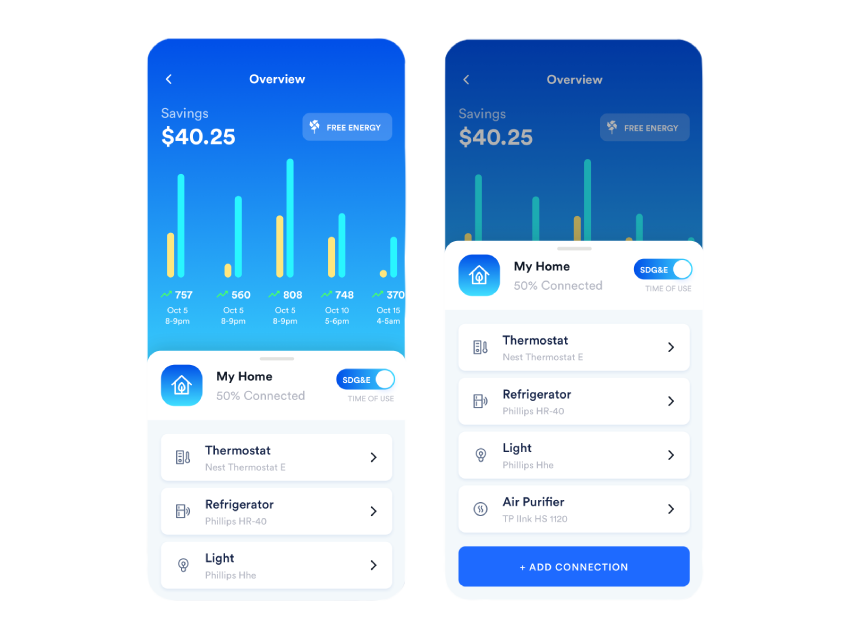 Moreover, your application should be easy to use and have a pleasing interface. If you don't do this, you won't be able to keep your users engaged. home automation apps need animations as well. It's a great way to differentiate yourself from the competition.
5. Set Up A List Of Devices To Be Supported By Your App
If your application is compatible with a wide range of devices, your customers will have more options. Selecting the right technology platform for your application is critical since it will likely limit the kind of sensors and gadgets that your app may use.
Limiting your customers to purchasing gadgets from a single company is never a smart idea, given everyone has their own tastes and devices they already own.
6. Choose The Appropriate Data Storage Solution
An IoT system's primary function is to process and exchange data. If you're looking to save data, you have 2 alternatives: cloud services and local storage.
The convenience of being able to access stored data from virtually any location over the internet makes cloud storage an excellent choice. When hardware or software breaks, the cloud makes it simple to restore data.
7. Prepare A Security Policy
Smart houses, in particular, are particularly vulnerable to cyber assaults, making securing IoT networks and existing smart home technologies a major concern.
Having a large number of devices linked to a single network increases the chances of a hacker getting into the system and causing catastrophic damage if the embedded software isn't properly safeguarded. This is what you can do to protect any home automation system.
If you want to secure the data, you need to use encryption on all of it. Passwords and other credentials should never be stored in plain text.

Instruct users to utilize a different network and to update their passwords. Although users are responsible for this, however, you should strongly encourage the IoT system users to utilize a separate Wi-Fi connection or another form of network. 

Your application should be updated and patched on a regular basis. Perform frequent security checks and release updates for your home automation application. To minimize security breaches and discrepancies in your smart home application, you should also update all third-party modules and services that you utilize.

Security should be incorporated into your architecture. Integrating security at the outset of development is a good idea. The design of your application should be fragmented, with security gates between its components, to prevent hackers from gaining access to the rest of your platform if one device's security is breached.
Cost to Develop Smart Home Mobile App
There are several variables that affect the cost of designing a customized smart home automation app, such as the project complexity and the team of specialists involved.
You'll need a project manager, a UI/UX strategist, two or three programmers, and a QA engineer to get the job done.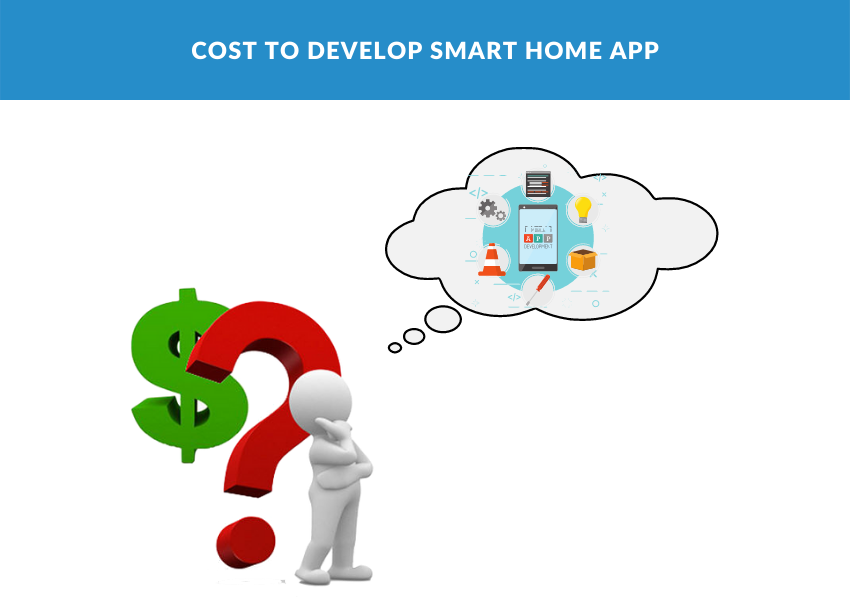 Moreover, you may need to engage a business analyst to manage and analyze your data in order to make more informed decisions. The entire smart home cost to develop a smart home app is estimated to be between $15,000 and $25,000.
Final thoughts
The potential of home automation technology seems bright, and the implementation of smart homes will only grow in popularity as more individuals use IoT automation solutions in their residences and places of business.
Developing any type of IoT system has a number of challenges in terms of security, innovation, and user experience. We recommend that you outsource the implementation of your smart home automation solution so that you may build it faster and save money on your marketing ideas for home automation.
FAQ for Creating a

Home Automation App 
Let's

build something great together!

Just take one step forward and we can build history.

Want to build something good for the business but still good for the customers?
You know the answer is, Yes!