Apple has finally announced the much-awaited iOS 15 Operating System at WWDC (Worldwide Developers Conference) on Monday. As expected, the new iOS 15 has brought several features and innovative propositions, that can make iPhone users happy. Apple has offered new features with granular controls and at the same time, it put more emphasis on improving end-user privacy and security. The iOS 15 provides more control to the iPhone user, as far as privacy is concerned, which is undoubtedly the primary concern these days.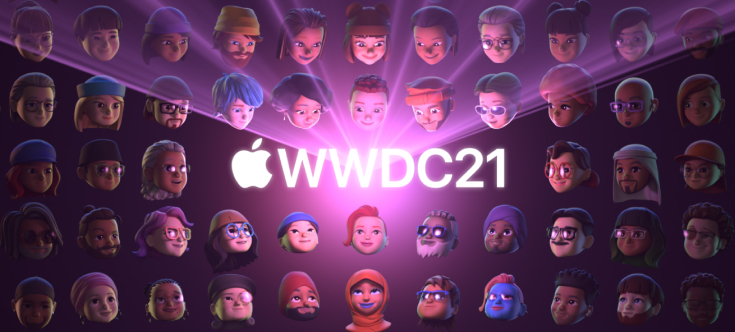 (Image credit: Apple.com)
The first developer beta of iOS 15 has been rolled out, whereas the official release is supposed to be launched in September. Apple's iOS preview allows us to see the future envisioned by Apple to power its smartphones, including the iPhone 13 models, which are slated to be launched later this year.
In this article, we have covered all the aspects of the iOS 15, its revolutionary features, betas, release date, and supported devices, and compatibility.
iOS 15 release date and Betas
Well, the beta version is used to cater to the developer's excitement and help them understand the features and workflow of the operating system. Apple has announced the beta version of iOS 15 during WWDC so that developers can get started updating their applications and get the real feel of the innovative features of this operating system. Beta is available for the registered developers only.
The public beta of iOS 15 is coming in July. Developers can head to Apple's beta website and log in with the Apple ID to register their iPhone. We can download the public beta once it is available and we can expect multiple updates to the iOS 15 public beta until the full version is ready.
The full version of iOS beta could be available by September, as Apple usually launches its products in the fall. If we see previous launches, then it is quite visible, as iPhone 12 series was launched in October 2019, and iOS 14 was released in September 2020. Keeping Apple's trend in mind, it is certain that iOS 15 will be launched in September this year.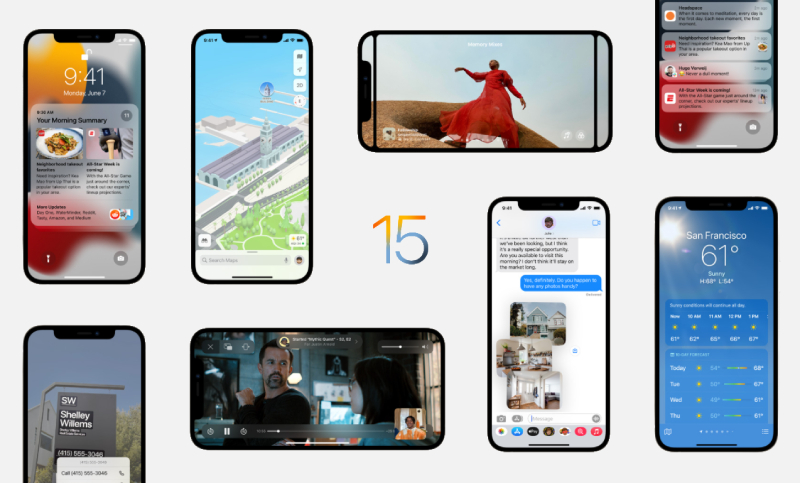 (Image credit: Apple.com)
How to download the iOS 15 developer beta?
One can easily download the iOS 15 developer beta version, by opening the betaprofiles.com website and select iOS 15. Here you will see an Install Profile button, by clicking on that, you can download the profile on your iPhone. Now, click on Settings and then Install this profile. You must agree to the terms and conditions of the services, and then the installation will be finished.
Now visit the Software update section, and there you will see the new iOS 15 Developer Beta link, click on that, download, and install it. Your iPhone will be restarted a couple of times to perform further configuration settings and now your phone is on the iOS 15 Developer Beta version. Please keep in mind that your iPhone is on a beta build, and you may face a few bugs and problems while using this version.
iOS 15 supported devices
Well, this is the area where Apple gives us a big surprise. Apple kept it very simple, if you can run iOS 14 on your existing iPhone, then you will be able to run iOS 15 as well. Though there were few rumors prior to the launch of the iOS 15 developer beta, which was suggesting that iPhone 6s and iPhone SE may be dropped. But Apple spins up a wonderful surprise and now anyone can run iOS 15 on hardware that was debuted in 2015. Isn't this exciting?

(Image credit: macrumors.com)
Here's the list of Apple devices supported by iOS 15:
iPhone 6s

iPhone 6s Plus

iPhone SE (original model)

iPod Touch (7th generation)

iPhone 7

iPhone 7 Plus

iPhone 8

iPhone 8 Plus

iPhone X

iPhone XR

iPhone Xs

iPhone Xs Max

iPhone 11

iPhone 11 Pro

iPhone 11 Pro Max

iPhone SE (2020 version)

iPhone 12 Mini

iPhone 12

iPhone 12 Pro

iPhone 12 Pro Max
The iPhone 13 series will be available with iOS 15 out of the box.
As far as iPad compatibility is concerned, the iPadOS 15 will offer most of the features we will discuss in the next section, along with several iPad-specific updates, that may sound familiar to the iOS 14 users.

iOS 15 features
The world was going gaga over the iOS 14 upgrade, as it incorporated a plethora of features and functionalities. Keeping the user's expectations in mind, Apple has planned meticulously for iOS 15 as well, and we are going to see some exceptional features. We have listed down some important features, that will be made available for the users in the final iOS 15 version.
 It is an innovative method of sharing media experiences with your peers, friends, and family. It gives a big boost to the capability of a user to share videos, music, and smart phone's screen, it allows a non-conventional way of communication. SharePlay is completely supported by all Apple devices across macOS, iOS, and iPadOS platforms. It allows users to use multiple applications in picture-in-picture mode. For example, a user can seamlessly watch streaming media on Netflix, while chatting in iMessage or listen to music with Apple music. 
It will also allow users to extend SharePlay to their Apple TV, which will enable the users to enjoy movies. SharePlay will support renowned services like Twitch, Disney+, TikTok, and ESPN.
New FaceTime features-
Apple is transforming FaceTime with an iOS 15 upgrade. FaceTime is a massively popular video chat application of Apple, and it has incorporated spatial audio to make the sound output more natural, which ultimately enhances the user experience. It will come with 3D audio, that will give an impression that all recipients are in the same room. Apple has also roped in machine learning and a wide spectrum to make voice isolation better.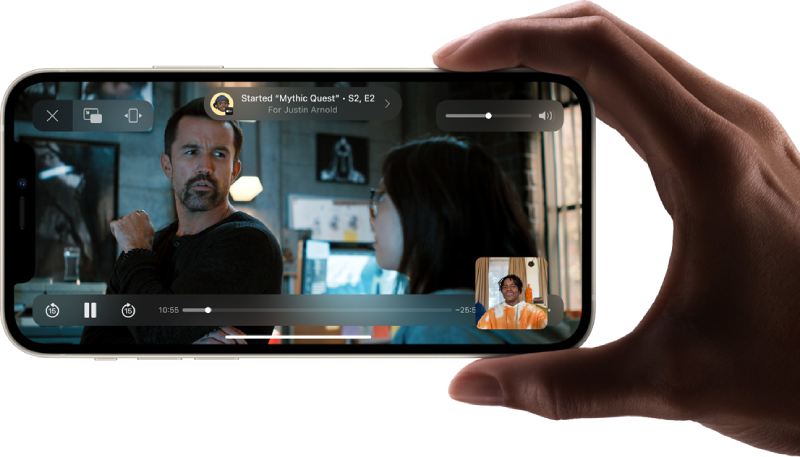 (Image credit: Apple.com)
Users will be able to use the group FaceTime calls effortlessly, Apple has also added the link creation, which will enable the people on Windows and Android platforms to join the FaceTime group calls via the browser. Apple has also incorporated the portrait mode and grid view for group calls, which will help the users to have better focus and visibility. 
Notifications and Focus-
Notifications have been one of the major pain areas for iOS, and Apple has been working on several aspects to make improvements. In iOS 15, the notifications will be sorted into a deal-with-it later category, it will ensure that conversations will surface first. The appearance of the notifications pane has been given a nice facelift to look catchier and more modern.
iOS 15 will also bring changes to Add the new Focus and Do Not Disturb mode. The Focus mode lets configure different profiles like personal or work, which makes you change the way you operate the phone; it also eliminates distractions while you are taking some time for yourself or working. The later feature DND lets you set a Do Not Disturb status in Messages, and when someone tries to call you, the iMessage will auto-reply to and convey that you're busy.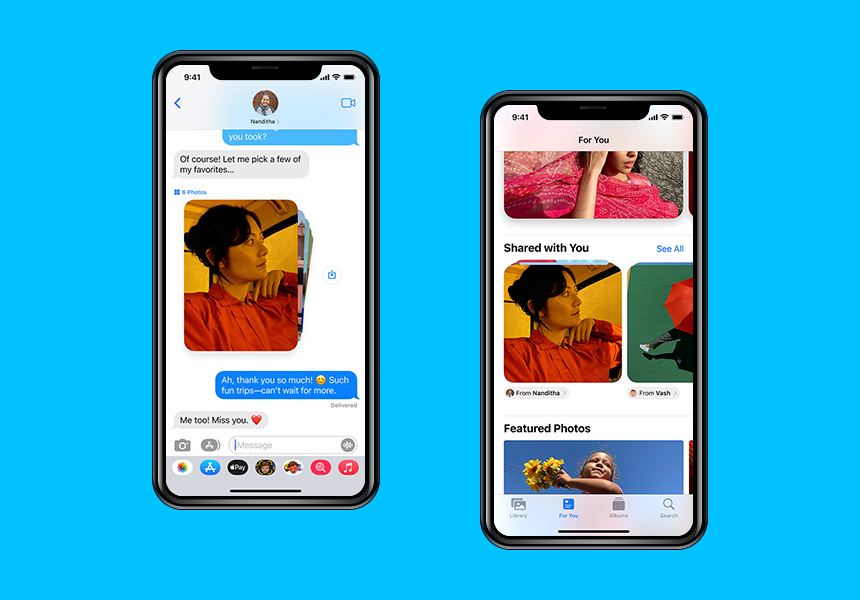 (Image credit: Apple.com)
Live Text –
Apple is introducing the Live Text service with iOS 15, it is a similar service like Google Lens. It allows users to copy text from within a photo, web image, or screenshot.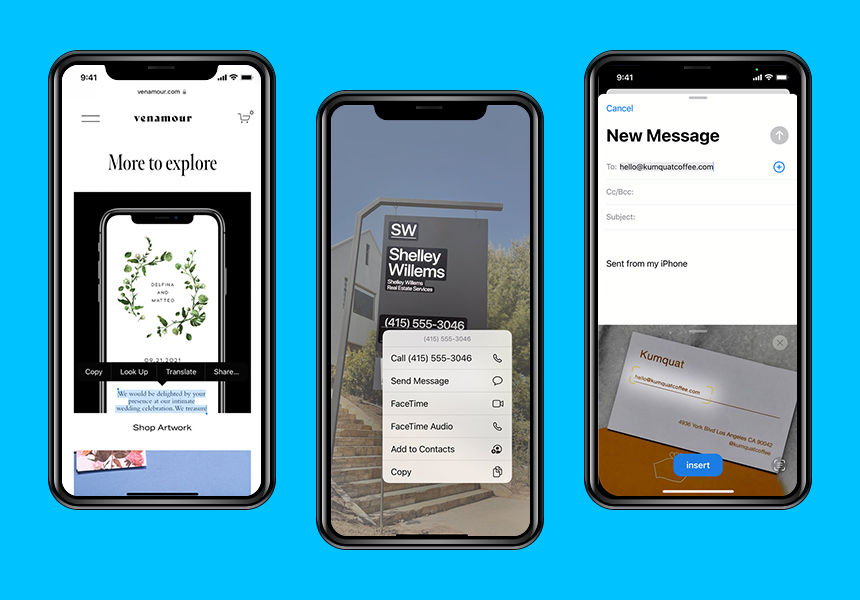 (Image credit: Apple.com)
Photos and Memories –
In iOS 15, the Photos will be searchable in the Spotlight. Users can easily search for photos by location and people, as well as the available objects in the photos themselves. With the help of Live Text, users can search for photos that may have specific text in them.
Apple has also made substantial improvements to intelligent Photos called Memories. It allows users to develop carousels and slideshows of photo collections, it also allows users to add music to their slideshows. You can make changes in the pace and music and can enjoy a wholly different experience altogether.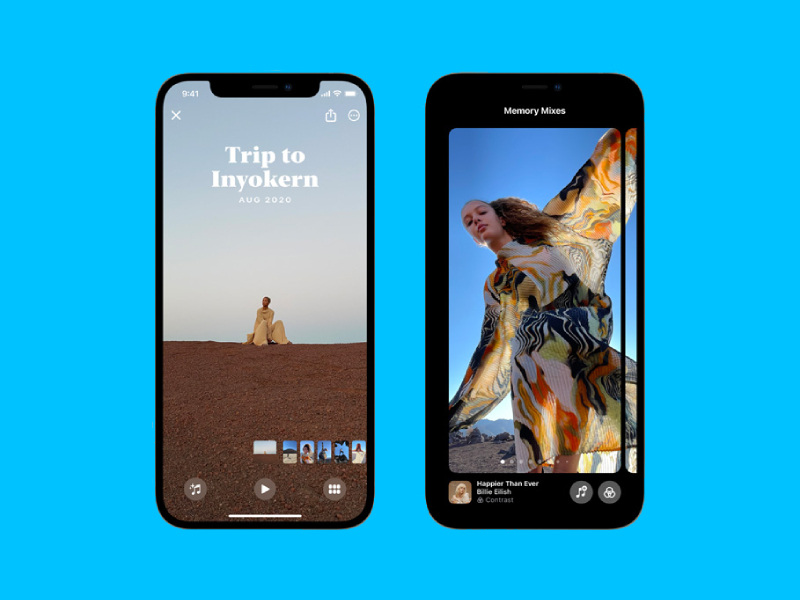 (Image credit: Apple.com)
Fresh Weather design –
You will notice a fresh facelift in the Weather application. Apple has added plush infographics and amazing animations. The improved UI will certainly make the users happy as they will get adequate weather information without any hassles.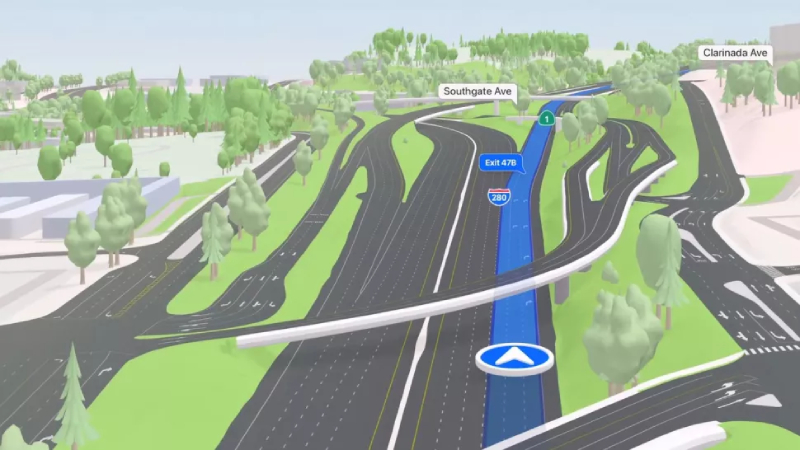 (Image credit: Apple.com)
Visual Lookup –
Apple is introducing the Lookup feature, which is on the line of Google Lens. This lets the users point their camera at some object and look it up. It can easily recognize natural objects, animals, art stuff, landmarks, and much more.
Wallet additions –
iOS 15 will improve the Wallet service as well, it will let users add their car keys (with supported car manufacturers), hotel keys (corporate partners), corporate badges, and even government ID documents. Apple has already said that this service will enable the users to start using their iPhone for identification purposes at TSA enabling security checkpoints.
Safari Browser –
Safari is a massively popular browser, and it is only getting better with an overhaul in macOS 12, and some of the updates will be reflecting in the iPhone as well. The new upgrade will move the Tab bar at the bottom of the screen, and this will disappear once the user scrolls, this will enable users to operate easily with one hand.
iOS 15 version will also incorporate the features offered by macOS Monterey version of Safari, such as Group Tabs. Web extensions will also be supported on both iPhone and iPad.
Maps –
Apple is known for its accurate and clear maps, and with iOS 15 upgrade it is going to take a giant stride in this area, it will help it to maintain its superiority in maps and navigation areas. It will offer a globe (just like Google Earth) and it will also provide city details like elevation, bike lanes, or turn lanes. It will also show live traffic conditions and information about new roads. It will allow Transit users to pin their favorite lines and help them to know the time to disembark.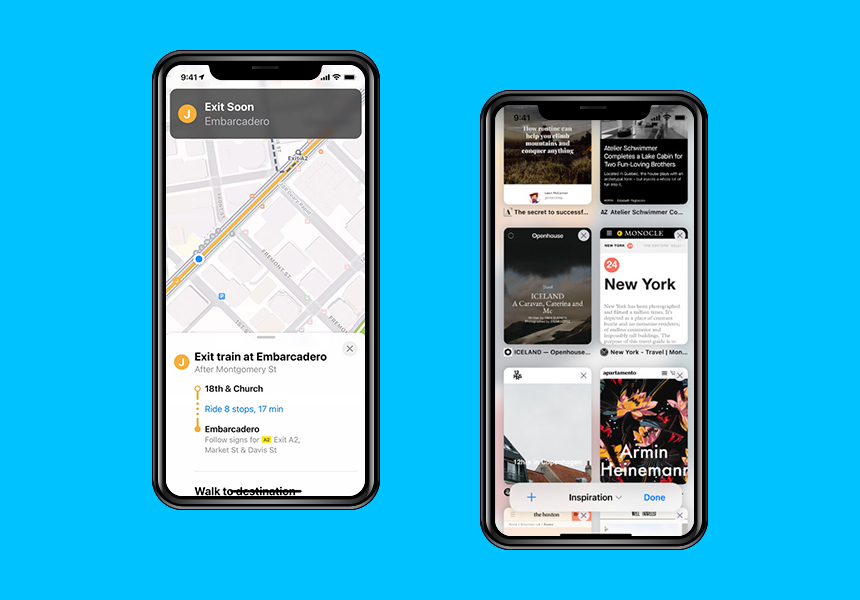 (Image credit: Apple.com)
Apple is known for bringing innovative technologies into its products, and it doesn't disappoint here either. iOS 15 comes with an augmented reality feature, which lets the phone scan the nearby buildings and environment and brings up the appropriate routes to reach your destination. 
It will be a new feature, that will allow you to quickly find songs, photos, articles, videos, and more content across iOS quickly, without worrying about keeping a track of that stuff. It is Apple's revolutionary method to surface everything that has been sent your way by your known people.
Find My –
Apple offers this feature, that will help you to keep track of everything. It enables you to find something that's been erased or turned off, it will also let you Livestream locations to your families and friends. It will raise separation alerts if a user leaves an Apple device behind at an unknown location.
Health –
The health application will be equipped with analysis features in iOS 15. This feature will help a user to capture, analyze and share the health data with a doctor or family members. 
Home –
Apple has also modestly updated the Home application with some tweaks in the functionality. It will also allow Siri to use with 3rd party devices. Though you may still want to use HomePod, you will be able to engage with Siri via other devices.
Home is also getting equipped with a package detection feature, which utilizes HomeKit Secure Video. This will allow your video doorbells and security cameras to recognize packages and raise notifications when someone delivers them at home.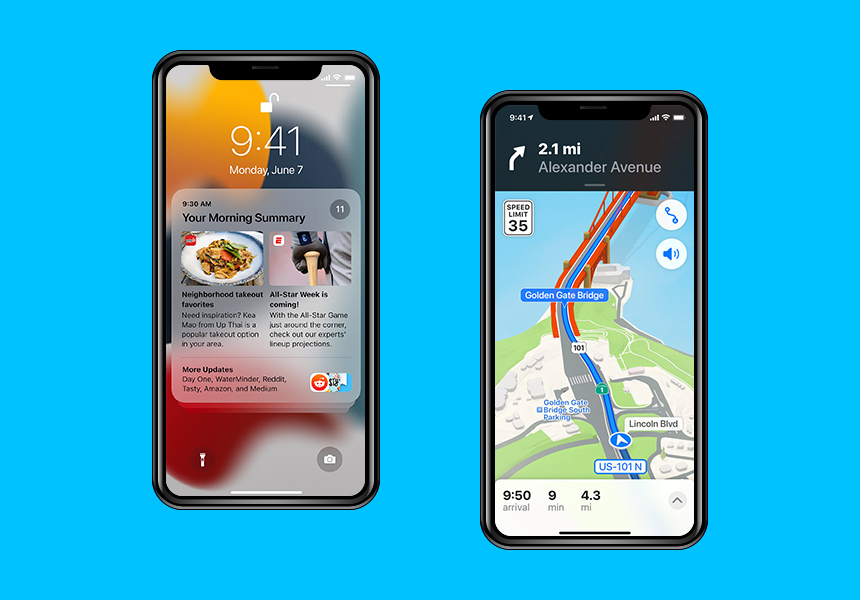 (Image credit: Apple.com)
Translate-
iOS 15 will come with some amazing capabilities, which will help Translate feature to perform seamless translation across various languages.
Accessibility-
iOS 15 will enhance the accessibility options within the operating system, it will include an amazing improvement like VoiceOver, which comes as big assistance for disabled people.
Notes-
Apple has redesigned the Notes application, which will allow the use of user-created tags, that can help categorize the notes with ease. Users can easily notify other people about the updates on shared notes and observe the recent activities as well.
Privacy –
As we said before, the iOS 15 will have more emphasis on privacy, and here Apple provides better privacy features and control mechanisms. Speech recognition is managed and handled on-device, including Siri queries. Mail Privacy Protection ensures that no one can see your emails and grab your IP address to make any sort of privacy breach. iOS 15 also offers a feature of Application Privacy Report, that allows users to determine the applications that have accessed a specific set of permissions within the last seven days so that users can take appropriate actions to prevent any privacy issues.
New Widgets –
Apple has made substantial improvements in several widgets such as Find My, App Store Today, Sleep, Game Center, People with Family Sharing integration, and Mails.
Related- A Complete Guide for Widget Development for Mobile Apps
iCloud Plus –
Although it is not directly related to the iOS 15, iCloud is also getting an upgrade. The paid subscriptions will now be called iCloud Plus, which will provide some unique features to the users. Its iCloud Private Relay will help users to connect to websites, while not revealing their IP address and having strong encryption in place.
Games

 –
iOS 15 will ensure you have an exceptional experience while playing games on iPhones. It will offer a plethora of controls that will cover the entire iPhone's touch screen to help you enjoy mobile games like never before. iOS 15 will also let iPhone and Mac users record gameplay videos using Xbox controller and PS5 DualSense.

Final words – iOS 15 
Apple is known as the torchbearer of Mobile and Information Technology. It has developed a niche space due to its exceptional offerings in the recent past. iPhone is certainly among the biggest success stories in the last 2 decades and Apple has been enhancing this platform with each passing year. iOS 15 is a massive upgrade the world was eagerly waiting for quite some time, and there is no doubt that Apple lives up to its reputation.
iOS brings a plethora of innovative features, which will certainly make its dedicated user base happy and excited. We are pretty much sure that developers will make good use of the Beta version and enhance the services further. It won't be an exaggeration if we say that Apple knows the nerve of its customers, and it offers a brilliant mix of features and capabilities, which will ensure the success of iOS platform and iPhones. 
Let's

build something great together!

Just take one step forward and we can build history.

Want to build something good for the business but still good for the customers?
You know the answer is, Yes!