In this world where everything is gradually picking up an artificially intelligent medium to do stuff, digital face-swapping is a technology that has gained wide popularity among the audience using social media now.
Face swapping is a technology through which you can digitally paste your face on another person's face or in other words, swap your face with another person's face.
There are a number of online free face-swapping apps available on android as well as iPhones that provide amazing effects and enable real-life-like face-swapping features.
In this article, we will read about some of the best free face swap apps of 2022 available both on the android play store and Apple Appstore.
15 Best Free Face Swap Apps for Android and iPhone (2022)
| Name of the app | Built Year | Play Store Link | App Store Link |
| --- | --- | --- | --- |
| Snapchat | 2011 | | |
| B612 |  2016 | | |
| Reface App | 2020 | | |
| FaceApp |        2017 | | |
| Cupace |       2009 | | NA |
| Face Swap Booth |       2015 | | |
| Photomontage |       2016  | | NA |
| MRRMRR |       2017 | | |
| Face Swap Live |        2015 | | |
| Face Blender |        2019 | | |
| Meitu |        2008 | | |
| FaceOver |        2010 | NA      | |
| Aging Booth |       2010 | | |
| YouCam Perfect |       2014 | | |
| Faceplay |       2021 | | |
1. Snapchat- Top Free Face Swap App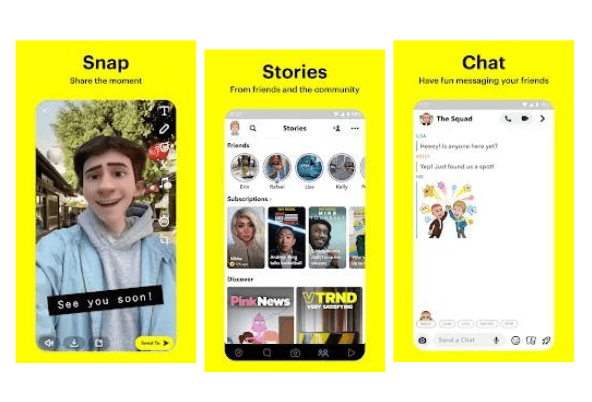 Snapchat is among the most famous and best face-swapping apps available on both android and iOS. Snapchat has a wide audience of almost 200 million users who use the incomparable features of this app for making their photos more interactive and funny.
This app offers several features that provide tools and filters to change your photos and the background.
Additionally, this app also allows users to capture a whole video instead of one single picture. This way, the users can paste their faces into any available video and enjoy.
It is very easy to use. You just need to place your finger on the capture icon and hold and your face will be modified. When you release your fingertip, the photo will be swapped and you can save it.
Snapchat is available free of cost on Android and iPhones.
2. B612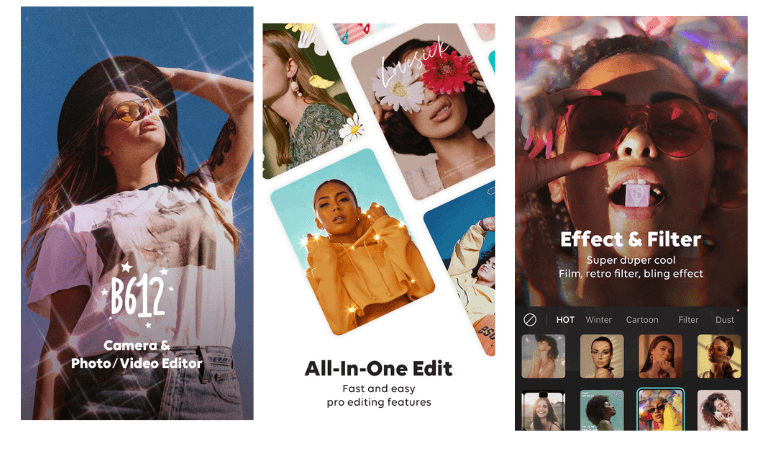 B612 is another free face-swapping app available both on Android and iOS. The best feature of this app is that it has an in-built beauty filter so that you can enhance the quality of your photo in minutes.
This beautifying feature is very easy to use and apart from just face-swapping, it can also make your photos brighter and more beautiful by removing unnecessary backgrounds.
After you download the app, you just need to click on the smiley icon, and you are done. It is one of the best face app alternatives compatible with both Android and iOS devices.
3. Reface App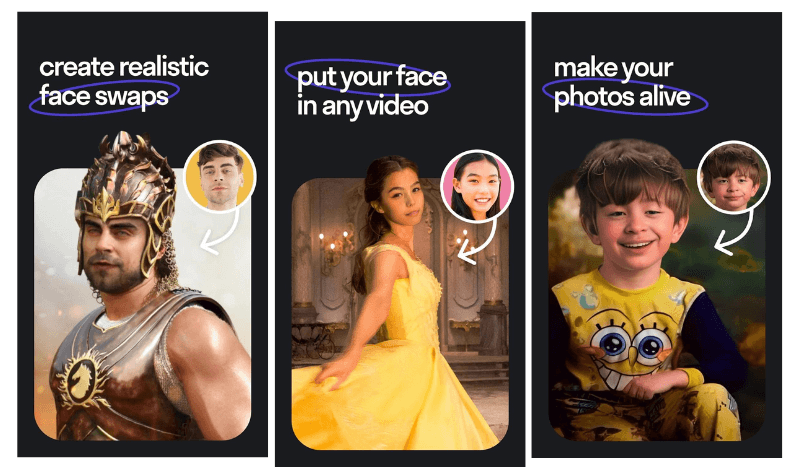 Face swap app like Reface is among the most immersive face swapping applications, allowing you to create deep fake images. Using this application, you may swap the faces of celebrities with your friends and easily share photos across your social media network.
You may utilize a wide variety of GIFs, memes, movie clippings, and footage from classic movies in Reface to create your own custom face-swapped GIFs and animations.
Amazingly, the developers continue to introduce new templates on a daily basis. As a result, using this app, you'll never miss out on any fresh stuff. Apart from face swap app alternatives, you can also check which celebrity you look like?
4. FaceApp
Face App is another free face-swapping app available on Android and iOS devices. This is the best app for face-swapping photos and can be used to see how you would look if you were of the opposite gender. It has gained wide popularity among youngsters because of this unique feature and is one of the best apps available for face-swapping alternatives.
This app is free of cost, but for a few additional features, you might need to upgrade to another version which might cost you a few bucks. So, next time you want to try a filter that shows you what you would look like if you exchanged faces with your friend, try this app and enjoy.
5. Cupace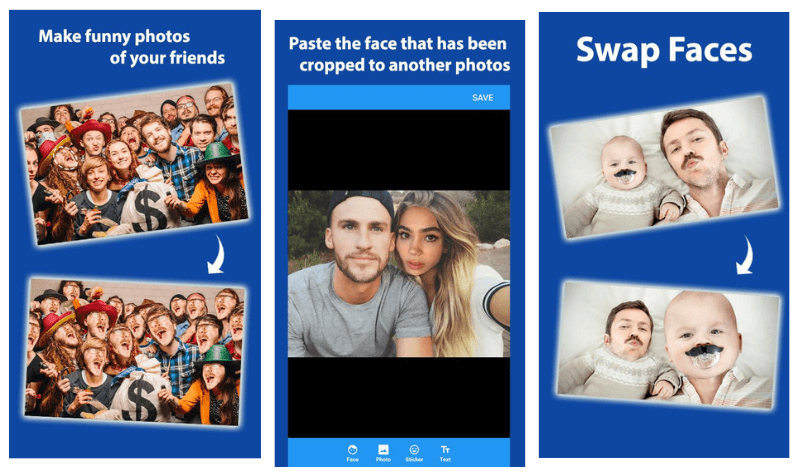 This application is used not just for creating face-swapped pictures or videos but also to create interactive and funny memes. If you are a social media buff and love checking out and creating memes, this app is the best choice for you. Cupace is particularly famous among the younger crowd, who are mostly in their teenage. The app is freely available for Android and iOS devices.
6. Face Swap Booth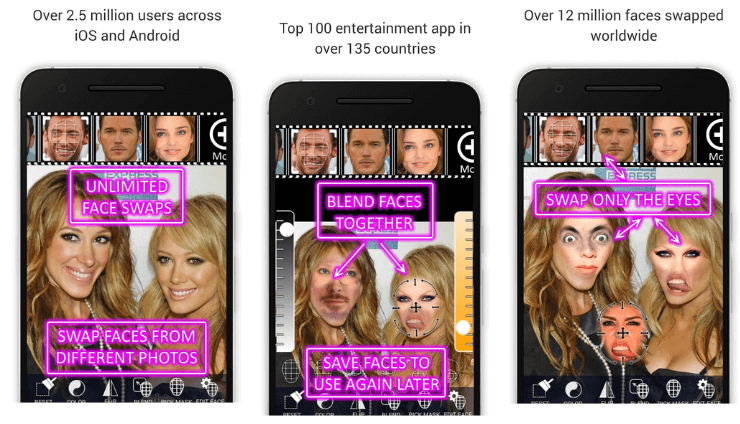 Facial switching applications like Face Swap Booth are among the most useful on the market, thanks to their wide range of functions and attractive design. This tool allows you to add faces, either manually or automatically, and shift them around.
Moreover, this application features a library of famous faces preloaded on it. Even if its algorithms make mistakes, you can repair them using its editing capabilities.
Your photo library is a great place to save all of your faces. The app's functionality is identical to that of MRRMRR. It can act as a substitute for Android users. If you want to get rid of adverts and have access to all the features, you may upgrade to the premium version.
7. Photomontage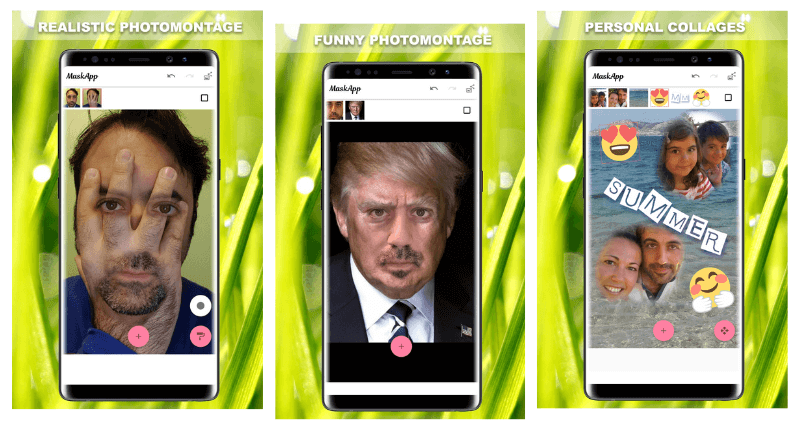 Last but not least, Photomontage is one of the best Android picture editing applications for making high-quality face swap photos. In spite of the app's lack of automation, you'd be an expert in no time because of the app's simple UI.
Simply submit one image to switch faces. After uploading, use the rubber tool to remove the face. Replace the old picture with a new one and then drag it behind it. You'll have a beautiful face-swapped picture by now.

8. MRRMRR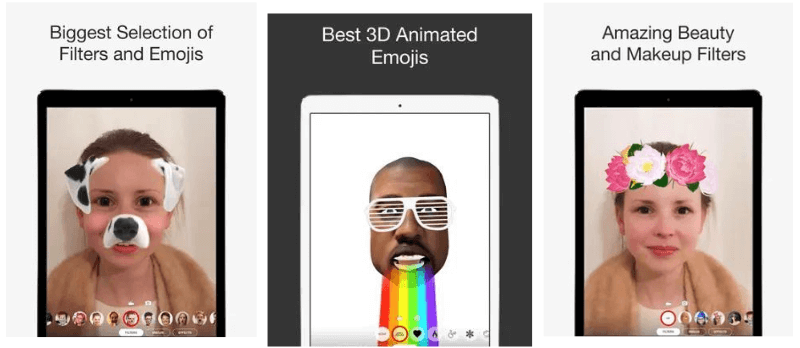 Although the name of this application may appear to be a typo, MRRMRR is an extremely useful tool for changing looks. This application is a huge hit for iPhone users.
MRRMRR is distinguished by a wide range of special characteristics. Once you're in front of the camera, you can be anyone, from Tom Cruise to President Obama.
With various edits and face-swapping approaches, MRRMRR's face identification system has a distinct advantage over the competition. You may also quickly save and share your edited photos and videos.
9. Face Swap Live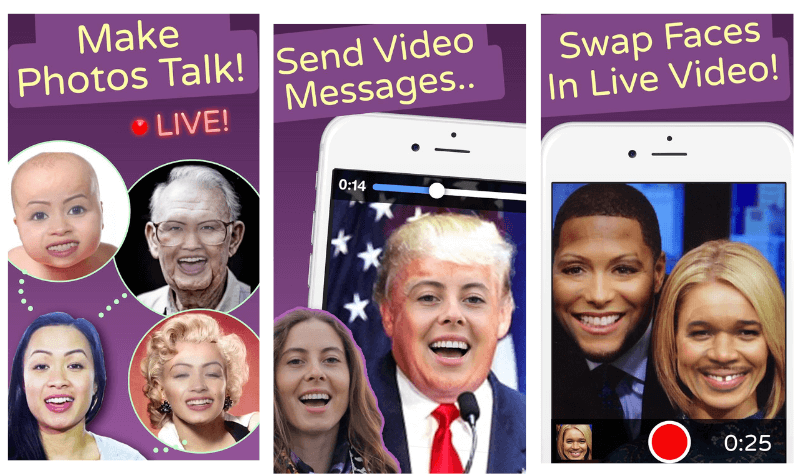 Face Swap Live is widely popular for its interactive face-swapping features. Through this app, the users can swap a single photo as many times as they want.
Additionally, this app is popular because of its peculiar features, which include – swapping faces across various photos, swapping faces with different celebrities and movie scenes, etc. Face Swap Live also allows adding filters to your solo selfies.
Using this app is very easy. You just need to download the app, and its advanced face detection technology will swap the faces across all your photos by default in one single click. This app is so precise and perfect that no one would even notice that your face is swapped.
10. Face Blender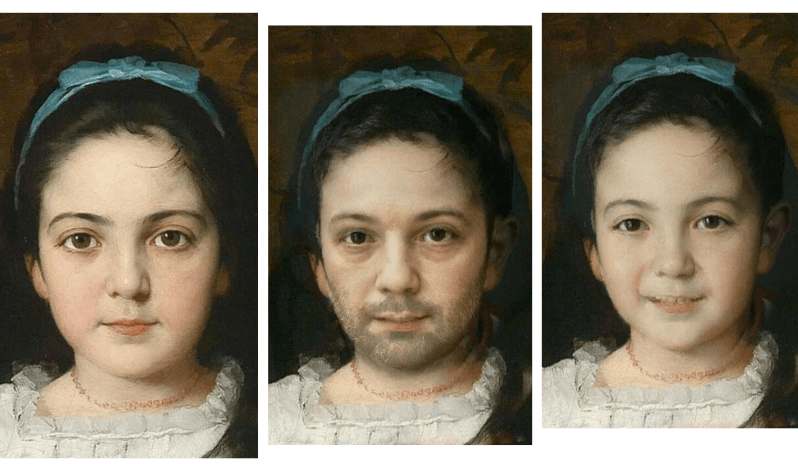 Face Blender is a selfie poster generator tool that helps you create amusing posters by switching your face with any photo.
To make things even simpler, the application uses a template to automatically recognize a user's face. The face is then reoriented and angled to match the frame.
Simple to use, all you have to do is upload a photo and choose a template to apply your new look on. Further, if you believe the design to be satisfactory, you may add images from your image collection.
In most cases, the resulting photos with people's faces swapped around are amusing.
11. Meitu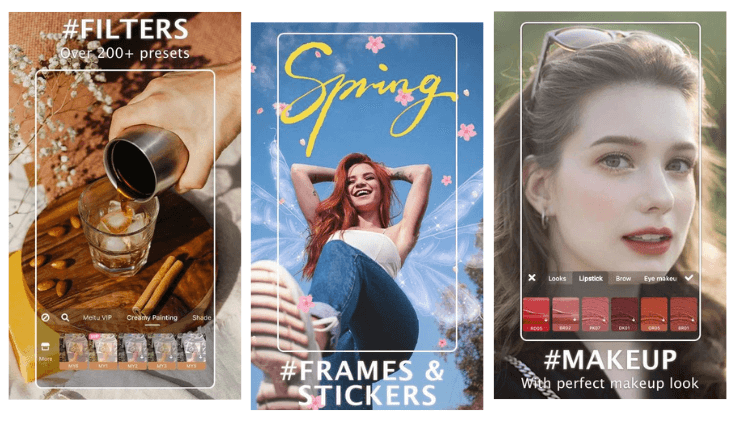 Meitu is another free face-swap app available on Android and iOS devices. This app has a core ideal of adding 'beauty' filters to all your regular photos. Once you download the app, you can check out all the free features this app contains to make your photos interactive and beautiful.
This app has in-built software that is as good as Photoshop. By using this app, you can creatively edit your pictures and do much more. You can remove spots and blemishes from your face, even out the skin tone, and apply virtual make-up as well.
There are so many exciting features in this app that make this collection one of the best face app alternatives available on Android and iOS devices. Although Meitu is mainly known for its face beautification features, you can do much more by changing the backgrounds, swapping your face, etc.
12. FaceOver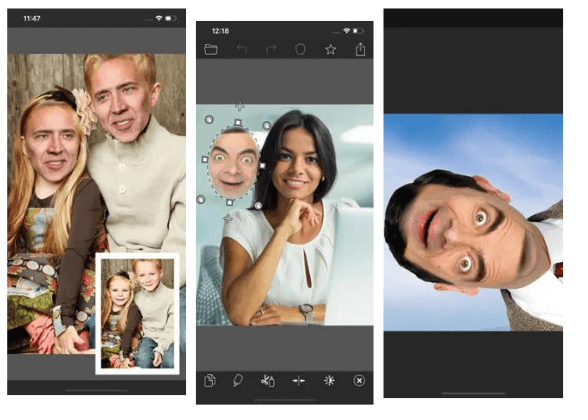 As the name itself suggests, you can use the FaceOver app to apply layovers and filters to your photos. You can use this app as the best face swap alternative for modifying your photos and making them interactive and creative. This app also has in-built options wherein you can use the best face swapping tools.
This app has a unique feature that enables you to not just use the tools for face swapping but can also paste a picture of your own choice on another picture.
This means that you can use an existing photo from your gallery and paste it or overlap it with another picture enabling face-swapping-like features. This app is the best choice for Android and iOS users to use filters for swapping faces.
13. Aging Booth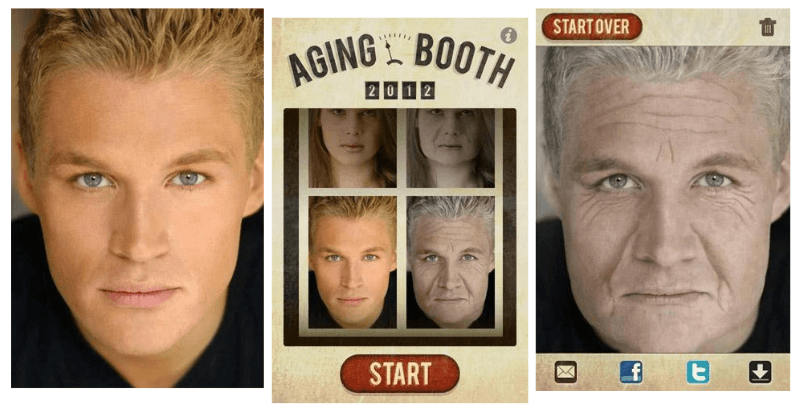 AgingBooth is like an aging machine. This app is freely available for download on Android as well as iOS devices. Through this app, you can 'ageify' your face and figure out what you would look like when you are older.
Apart from a hundred different interactive and creative features that this app carries, this can also be used to make your photos older.
Also, this app offers some of the best virtual beautification features that you can use to make your aged photos look brighter and funnier. If you are looking for the best face swap alternative, you can try this app to make your pictures interactive and funny for uploading across all your social media platforms.
14. YouCam Perfect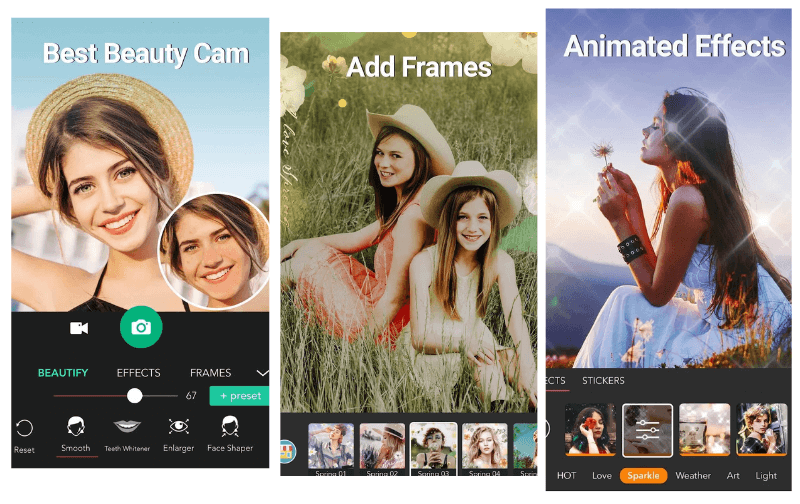 YouCam Perfect is a very old and known name for photo editing features. Using YouCam, you can edit your photos creatively. The best feature of this app is that you can either choose a previously clicked picture from your gallery or you can click a fresh picture and edit it then and there.
This app is easily available on the play store and the app store for downloading and is absolutely free of cost. You just need to click on the round icon that appears on the bottom of the screen and tap and hold on to it for a minute till the app recognizes and analyzes your face and further modifies it accordingly.
15. Faceplay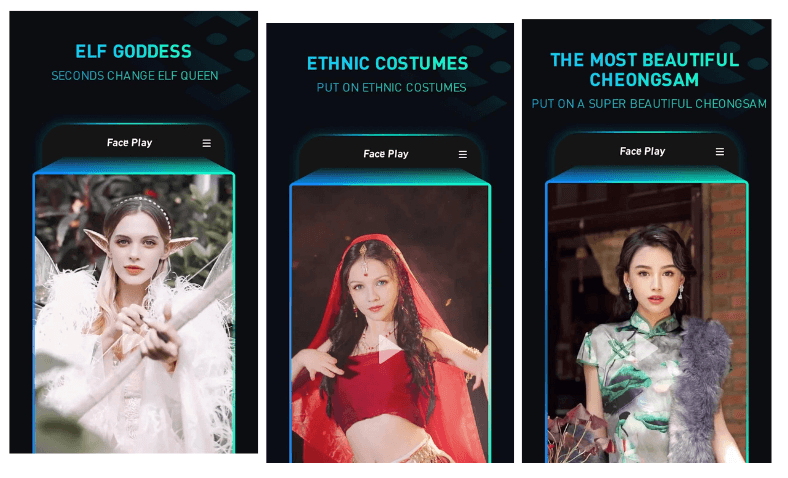 Faceplay is another interactive and free face swapping app available on android and iOS devices. This app is extremely trending on Instagram especially.
However, many people use it for many kinds of filters, it is mostly famous for its face-swapping features. Faceplay simply picks up a photo from your gallery, analyzes it, and then turns it into a very interactive and creative photo by face swapping, changing backgrounds, and editing it by adding beautification features.
This app is highly recommended if you want to stay up to date with what's trending on Instagram and upload pictures accordingly.
Conclusion
There are plenty of apps available on the Android and iOS platforms to edit videos and photos. You can use some of the best free Face Swap apps available to create an interactive band of photos and make your social media accounts fun and interactive.
Let's

build something great together!

Just take one step forward and we can build history.

Want to build something good for the business but still good for the customers?
You know the answer is, Yes!