Our brain is probably the most complex machine to ever exist in the world. To ensure its smooth operation, we incorporate various exercises and routines to train our brains. These exercises could be learning new skills or language, or they could be solving complex puzzles.
In order to be able to do this cardio for our brain, we need to have a decent attention span and memory retention capabilities. But here is the problem, the modern world.
Yes, in the modern world, there are countless distractions available around us. These distractions offer us access to information that we might never utilize. But the information is not the actual reward from these distractions.
The real reward is the dopamine boost that we receive and the serotonin boost that we get from this information. And the result is poor attention span and low memory retention. The culprits are none other than smartphones, televisions, computers, and other gadgets for media consumption.
This is the problem of our modern world, therefore, the solution will also be provided by the same world. Lumosity is a mobile application that allows its users to play little games that help them by increasing their cognitive abilities and memory retention capabilities.
However, these claims could sound theoretical but Lumosity claims to have its own team of scientists and researchers who have published around a dozen of research papers that claim the efficacy of the Lumosity app.
Hence, a mobile app that enhances your brain functions sounds like a lucrative business model.
If you're reading this then you probably want to develop an app like Lumosity. In this detailed blog, we will talk about almost all aspects of brain training apps like Lumosity.
What is a Brain Training App?
Brain training apps are specifically designed mobile apps that help their users to enhance their cognitive abilities, attention, memory, and intellectual edge.
These commendable results are achieved by in-built brain training exercises that are turned into engaging games. There are many brain training apps are available on both Google Play Store and Apple App Store.
Lumosity is one of the most popular brain training mobile apps on both smartphone platforms. If you too want to build a brain training app like Lumosity then sit tight because this is going to be a long and rewarding read. But before we move forward, let's talk about Lumosity.
How does Lumosity Mobile App work?
Lumosity is a freemium brain training mobile app. That means it's free to download and use to a limited extent after a certain level you need to pay for the premium access.
In the beginning, Lumosity requires users to register to the app, so that they can use either their email account or their social media account like Facebook. The next steps are:
After successfully registering to the app, you will have to take a beginner's test that will measure your existing cognitive and mental capacity. Your lessons or brain training games will be curated according to your scores.

Once completing the test, if you're a free access user then you will be allowed three brain training games per day. Each game has a duration of 10 minutes. You can play these games one by one.

 If you are a paid user then you will be given unlimited access to the Lumosity brain training games. All these games are almost equal in duration and focus on visual learning. It is said that visual learning has the ability to grab the attention of a learner for the longest period of time. Therefore, visual learning is the best type of learning out there.

In the profile section, you will see your name, your score, the number of games played, your rewards, and your current level. All this information is essential for a user to keep the track of their progress.

Apart from the basic business model, Lumosity also allows social media integration as well that allows its users to invite their friends on the mobile app and post their progress on their social media profiles. This helps users to adopt a competitive mindset and it helps them to achieve higher levels more quickly.

There are push notifications within the app that remind users of their time to play the next games and earned rewards, etc.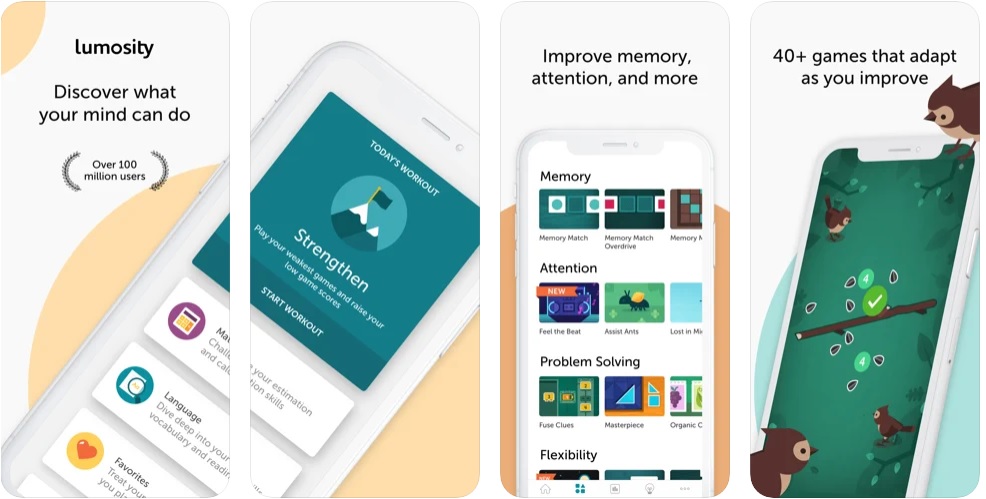 In a broad sense, Lumosity is a well-designed and feature-rich brain training mobile app. Maybe that's why it is so successful among its users.
If you want to develop a brain training mobile app like Lumosity then you need to apply a similar approach. And what is that approach? Keep reading and by the end of this blog, you'll know.
Lumosity Market Demographics
In 2005, Lumos Labs was founded by Kunal Sarkar, Michael Scanlon, and David Drescher. But the Lumosity.com was launched after two years in 2007. By the end of 2021, Lumosity had more than 100 million registered users in 195 countries around the globe.
Therefore, the app is available in English, Spanish, Portuguese, French, German, Japanese, and Korean languages. There are more than 10 million downloads of Lumosity on the Google Play Store and around 100,000 reviews on the App Store with a 4.7 stars⭐️ rating.
Apart from the success among the general public, Lumosity has been working with researchers from 40+ universities around the globe.
Lumosity offers free tools and access to Lumosity to qualified researchers so that they can explore new areas of human cognition and invent new methods and exercises to improve cognition power among humans.
To help people sharpen their brains, Lumosity offers around 60 interactive games on their platform. Users can access either 3 games a day for free or they can get unlimited access to all the games by spending $11.99 USD/month or $59.99 USD/year.
There's one more thing, apart from brain training games, Lumosity also helps its users to improve math and boost their vocabulary with its simple, yet interactive games.
Now, what do you observe from these market demographics? The simple observation is that Lumosity understands its target audience and it helps them to design new games and activities in the app to make users learn new stuff like problem-solving and quick brain processing.
Lumosity is doing the same thing that other apps do to attract more users to their platform, i.e., creating an all-inclusive platform for their users. Including math and vocabulary, games are a sign of this strategy.
It is quite a conventional strategy and it helps users to get all that they want within the same brain training mobile app.
So, if you're looking forward to your brain training mobile app development like Lumosity, then make sure you design an all-inclusive strategy for your mobile app. Because, in a world where Swiss Army Knives are so popular, people love things that can do more than 2-3 things.
What Lumosity is doing the best?
The numbers make the popularity of the Lumosity app quite evident. Popularity simply means that people trust the app to be effective and love to use it. Where does this trust come from?
If you check the Lumosity website, app store, or any place where Lumosity is advertising its services, you will see that they will always talk vigorously about how brain training programs are research-based and have scientific value behind them.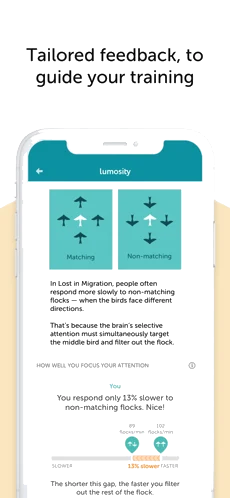 When they say they are working with 40+ universities from around the globe then they are invoking trust among their users.
And this is the best marketing strategy as well. By applying a scientific approach to your brain training services you too can grab the attention and trust of millions of users from all over the world.
So, remember, for such brain training apps to have significant value among their users, they first need to show the credible results of their programs. This is the only way people can actually get paid subscriptions to such apps.
Otherwise, they end up becoming yet another game in the app store. Applied science and research are the two things that set a brain training app apart from the rest of the games. Now let's dive into our main goal.
How to Develop a Brain Training App like Lumosity?
Lumosity has achieved some incredible success in the world. Now, it's your time to achieve something similar by doing something of your style. Here are the steps for developing your own brain training app like Lumosity.
Testing the Waters
Testing the waters simply means you need to understand the market. Thorough market research can turn a hopeless ambitious idea into a successful practical approach.
Check market demographics, run some surveys, get help from public research, consult multiple market experts, and basically do everything you can to get a near-perfect sense of the market.
This is the only factor in the beginning that defines the success of your brain training mobile app development. What can you get from this market research?
Well, for starters, you can identify:
 Customer problems and their impact

 Market risks 

Your existing rivals

Strategies of your rivals

USP for your business

Solutions to existing market problems
Remember, studying your rivals is a crucial part of this market research. The more keenly you observe your competitors, the easier the success will be for you. The in-depth observation of their moves, inspirations and marketing approach can help you imitate those strategies for your business as well.
This will help your business to stand right by your side. Now, your unique approach is the factor that can give you a revolutionary advantage over your rivals.
Do everything that has already been done and apply your approach as well and you will be unstoppable. Make sure you remember this lesson before you opt for brain training mobile app development like Lumosity.
The global brain training app market is going to reach $30.5 billion by 2028. Your mobile app could be the Next Big Thing.
Selecting the Right Mobile App Development Company
There is a difference between a wonderful mobile application that soars on the app stores and wasted time and money. This difference is called a mobile app development company.
If you have conviction in your vision then you must select a brain training mobile app company that is committed to turning your vision into a lucrative reality.
Spend some time online or asking for references for well-reputed companies that take their work seriously. If you have shortlisted a couple of companies for your brain training mobile app development then you must have a set of right questions that can help you identify the company that will fit the best for your project.
These questions could be:
How long have you been developing mobile apps?

Have you ever developed a brain training mobile app like Lumosity?

Can I see your portfolio?

How many clients are you currently working for?

Are there any big projects that you've finished recently?

If yes, can I see them?

How can you help me with my project?

How long will it take to develop a brain training app like Lumosity?

How much will it cost to develop a brain training app like Lumosity?

What after-project support do you provide?

Do you also provide product scalability solutions?

What is your project management style?

How will you send me the reports of the project progress?

How will you communicate with me about my project?

Do you sign NDA?

Will I get complete ownership of the source code and other deliverables of my project?
I know this might seem like an extensive list of questions. However, these are the ones that are absolutely necessary to ask your potential app development company, there could be many more questions.
For the higher success of your project, make sure you spend adequate time selecting the right company. Once you have selected the company you can move on to the next step.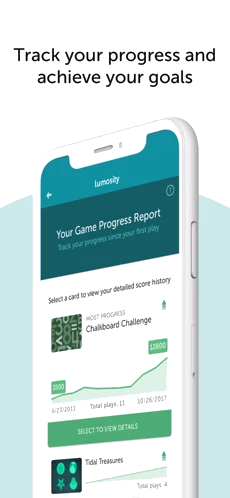 Team Structure for Brain Training Mobile App Development
Once you have the right company, the next step will be defining the team structure for your e-learning mobile app development like Lumosity.
More or less, the company will do it for you based on the scope of your project. Still, you need to have an idea of a basic mobile app development team. Forming a versatile team is crucial because it is the team that is going to define the efficiency of your project.
A team will make sure your project completes on time with optimum quality of work.
For any mobile app development, you might need to follow the members of your team.
Note: the number of members may vary based on your project scope.
Business Analyst

Project Manager

UX/UI Designers

Android App Developers

iOS App Developers

QA Professionals

Delivery Manager
Make sure you have them on your team. Masterfully skilled team members can do wonders for your project. So, always choose the best of the bunch. Now, let's talk about a very important part of an e-learning mobile app like Lumosity.
Features of an e-Learning Mobile App like Lumosity
Amazing features have everything to do with a phenomenal customer experience. More useful and creative features will attract more users to the platform. And features are also one of the biggest reasons behind customer loyalty. Let's talk about these special features in separate categories.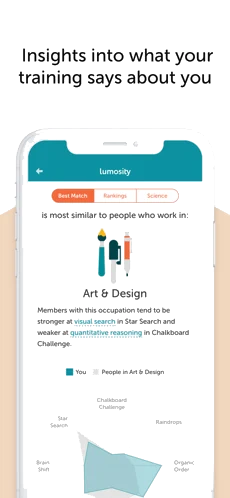 Features for Users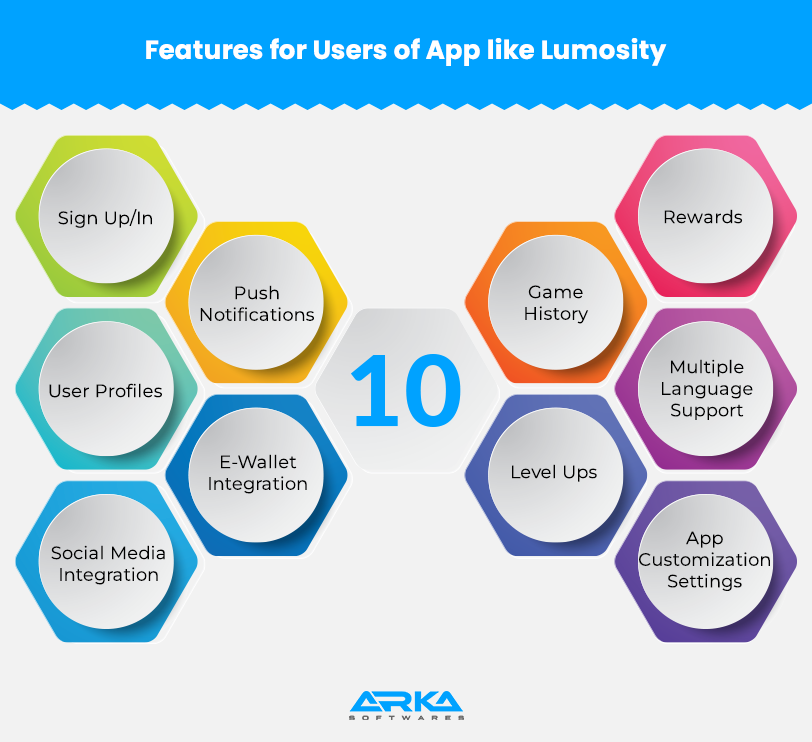 Sign Up/In
Sign up and Sign in are the most common features of any app that is available today. These options allow users to register to the app for first-time use.
If the user is using the app for the first time, then they need to register to the app via the Sign Un option. If a registered user wants to use the app, then for them the Sign In option will take them straight into the app.
These features may sound basic but they serve a great purpose in giving every user an individual identity. Plus, it also tells the admin about the correct number of registered users.
User Profiles
User profiles are the separate section of an app that contains personal information of the users and their interaction with the app. This section helps users to see their progress and game stats in one place. Users can also check their reward points and the total number of friends added to their profiles as well.
These profiles also allow users to select a distinct username for them to stand out. Therefore, make sure you don't skip this feature in your brain training mobile app development project.
Social Media Integration
Social media is a place where people connect, talk, and interact with each other. Social media integration in an e-learning mobile app allows users to invite all their friends to the app. It also allows them to play with those friends and share their scores straight to their social media feeds.
Social media integration is a great way to increase the engagement of users on the application. It adds thrill, excitement, and rewards to the gaming experience.
Push Notifications
Speaking of engagement, push notifications are a great way of increasing user engagement with the mobile app. Studies have shown that by the end of 3rd month, push notifications can increase app engagement by 66%. And these are some really impressive numbers.
Usually, push notifications are used as alerts about new games, level completion, receiving rewards, adding new friends, and many more. A creative approach with push notifications can help users hooked on the brain training app. Such mobile app ideas could revolutionize your app marketing strategies.
E-Wallet Integration
An e-wallet is one of the best and flawless payment methods for modern apps. Users need to top up their app's e-wallet with their debit/credit cards and then they can use that amount whenever they want for in-app purchases. It is probably the fastest and the most efficient way to do the payment for in-app purchases.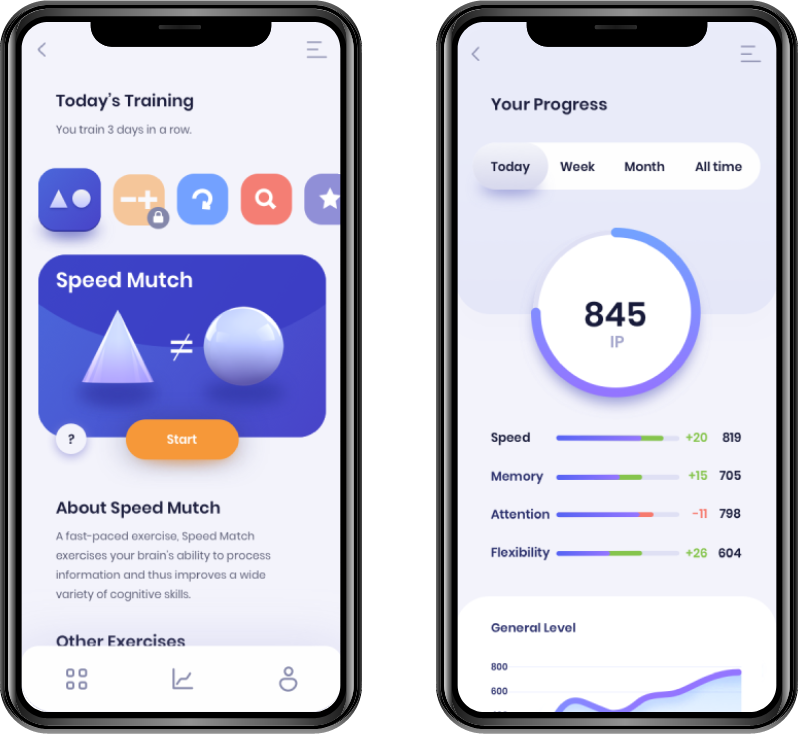 For your brain-training app like Lumosity, you might need an e-wallet integration in your app so that users can easily subscribe to your services to streamline all those recurring payments.
Game History
People love to see how far they have come. Visible progress makes them feel motivated. Game history is one of the features that encourage users to achieve more. Game history allows users to check what games and what levels they've played so far. This way they can easily track their progress and keep achieving new goals.
Level Ups
If you are building an app like Lumosity, you will never want your users to feel bored and quit playing games after a while. To overcome this challenge, level-up features are available.
As the user progresses in their games, they keep on getting level-ups. These level-ups take users to the next level, which is new and slightly difficult, of the game so that they can improve their cognitive abilities further ahead.
Rewards
Cognitive ability, problem-solving capability, memory retention, and many more. There are many benefits of a brain-training mobile app like Lumosity. However, all these benefits will be experienced by users in their long-term usage of the app's services.
Therefore, rewards like in-game coins, awards, and power-ups provide them an instant reward at the time of playing the game.
This way they get engaged with the game even more in the search for more rewards. There is one more psychology behind these reward systems.
Once the users have attained a certain level in the games, it becomes hard for them to leave the app and switch to another app. Therefore, these rewards also help in customer retention and customer loyalty.
Multiple Language Support
If your target audience exceeds geographical boundaries then you will have to enable your app to have more than one language support. People with different language preferences will appreciate this feature and you will be able to penetrate a broader market with your brain training app.
Multiple language support may seem a basic feature but its prevalence shows it is an effective feature that helps your business to go beyond English-speaking users.
App Customization Settings
People love personalization, it gives the feeling of their own. Changing the wallpaper on your smartphone is an example of this effect.
You can take inspiration from this effect and implement it in your e-learning mobile app as well. If you allow users to change the theme, sound effects, notification preference, etc., then chances are, they will engage with the app more and they can refresh their experience with the app whenever they want.
Features for Admins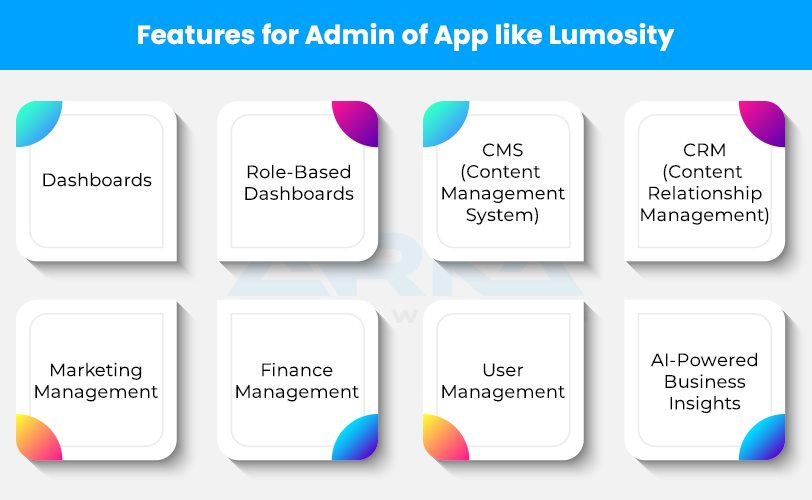 Dashboards
Admins should be able to keep an eye on every activity on the application. Therefore, these dashboards show different analytics, stats, and performance in visually represented form. This way admins can understand the complex data of the app with just a glance at this digital dashboard.
Admins can access these dashboards via any device and on the go. It is one of the most essential features for admins.
Role-Based Dashboards
Not all dashboards are relevant to every designated admin. Therefore, role-based dashboards allow admins of different designations to see visual information of only their department.
Thus, a particular admin of the finance department will see the visual information of the only financial performance on their display.
This feature encourages efficiency and productivity among admins. Plus, this way no useful information gets ignored.
CMS (Content Management System)
As the name suggests, a content management system or CMS is a must-have part for the admins of any app or website. This fully-customizable tool helps you manipulate entire content on your website and mobile app – this includes graphical designs, fonts, sections, etc.
This powerful tool helps you customize your mobile app experience according to your own way. There are many CMS available in the market. But the right mobile app development company will help you design and develop a custom-designed CMS for your personalized business needs.
CRM (Customer Relationship Management)
Customer Relationship Management or CRM is just like CMS, but it manages your relationship with your customer. A powerful and feature-rich CRM helps you offer your users a personalized user experience.
A CRM stores your user data like their identity details, user behavior, app interactions, interests, and much more useful information. With this information, CRM helps you understand the mindsets of your users.
It will allow you to design your business plan according to your users to ensure the highest success rate. CRM also helps you to send users notifications and offers based on their interests. Therefore, a great CRM is going to be an essential part of your business.
Marketing Management
A separate section for marketing channels management allows admins to create, execute, and monitor their marketing campaigns. Based on the data derived from CRM, admins can create effective marketing campaigns for maximum user interactions.
Therefore, make sure you get a powerful marketing management system for your e-learning mobile app.
Finance Management
Finance management allows admins to monitor all the debits and credits of the mobile application. It allows them to efficiently maintain all the income, billings, taxes, and investments through this part of the mobile app. Feature-rich finance management can automate the whole process and would require little to no attention.
Therefore, embrace automation and accuracy to save time and effort so that they can be invested somewhere useful.
User Management
The user management portal helps admins to manage registered, active, inactive, and deleted users. With this portal, they can see the number of active users, and new registration, and monitor the activities of the users to ensure everything runs smoothly on the platform.
AI-Powered Business Insights
Any app available on the app store collects an enormous amount of data from its users. This data is used to evaluate user inclinations and interests. Which is further used in the enhancement of the app's services and business model.
An AI-Powered business insight does that automatically. It utilized the entire data of the mobile app and provided important business insights that could help you to achieve exponential business growth. Microsoft Power BI is one example of such a product.
So, find the right mobile app developers who can provide you with personalized Power BI solutions that could take your business operations to a new level.
Advanced Features of Apps like Lumosity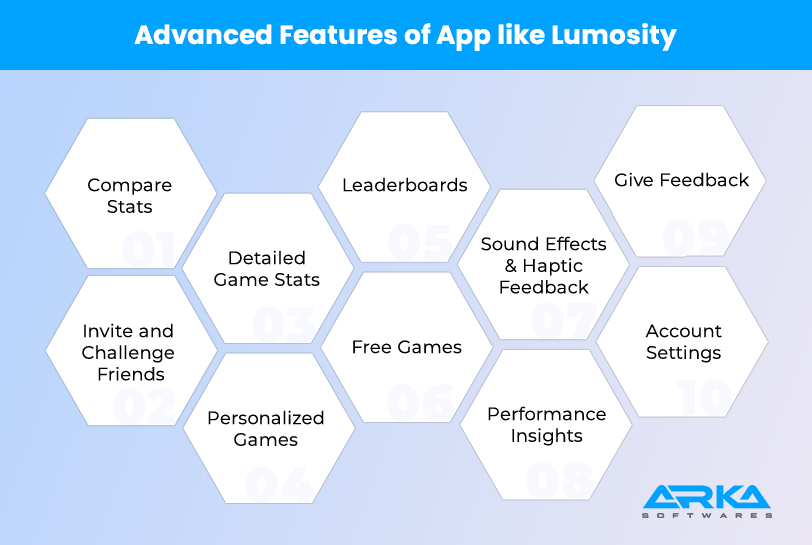 Invite Friends and Challenge Them
Social media integration comes with a lot of perks. This feature is one of them. If users are allowed to invite their social media friends on the brain-training apps then they can virtually join their friends and challenge each other on any particular game and level.
This feature builds a competitive spirit among the players and keeps the thrill on. The reward received from challenges is far superior to that of normal game completion.
Online multiplayer games are the biggest example of this effect. People love to play with their friends and it builds overall engagement. And this is what business wants.
Compare Stats
When you play with your friends, you would want to compare your game stats with them to see where you stand in the competition. This is an extension of the 'inviting social media friends' feature.
Comparison builds motivation and motivation builds engagement. This simple formula can change how the users interact with your mobile application. Make sure you observe these little nuances of customer engagement and apply them to see how your users react to them.
Detailed Game Stats
Online multiplayer games must have shown you the importance of detailed stats of their performance. The same goes for the e-learning gaming app as well.
Therefore, make sure you must have a feature in your app that shows users detailed stats about their games played, scores, time spent, growth achieved, a competition won, and many more.
This feature ensures that users know everything they want to know about their progress and compete harder with their friends.
Personalized Games
Based on the results of the initial test of cognition abilities, users must be provided personalized games so that they can get over their weaknesses and sharpen their strengths. This way you can offer your users visible growth and a phenomenal user experience. Users will feel smarter and empowered, it will help the app to gain a loyal fan base which is invaluable in today's world.
Free Games
Lumosity allows users to play three games every day for free. Now how this is going to help your business? Because all the earning is done by paid subscription model for your brain training app.
Well, playing three games each day is enough for users to get used to games and it would create curiosity in them to play more and more games. But since they are limited to free three games a day, they will not be able to play brain training games past the limit.
The free games feature works in two ways, it creates curiosity about playing more games and it creates frustration for not being able to play more games. And the result is they end up buying your subscription. This is how small but important features can make the whole difference,
Leaderboards
A leaderboard is a great feature for any competitive gaming app that shows which player has scored the highest in a particular game. This is an entire table of ranking of players from top to the bottom. Any player can know their place at this table and try to improve their ranking by playing dedicatedly with more and more practice.
Sound Effects & Haptic Feedback
Visual learning is amazing as far as brain training goes. However, if we add sound to this learning, we can achieve an even higher level of attention and engagement.
Users love to play games with captivating sound effects and haptic feedback. If we include more senses into the learning of users, they have fewer senses to get distracted by. Therefore, sound effects and haptic feedback can go a long way in improving your user engagement.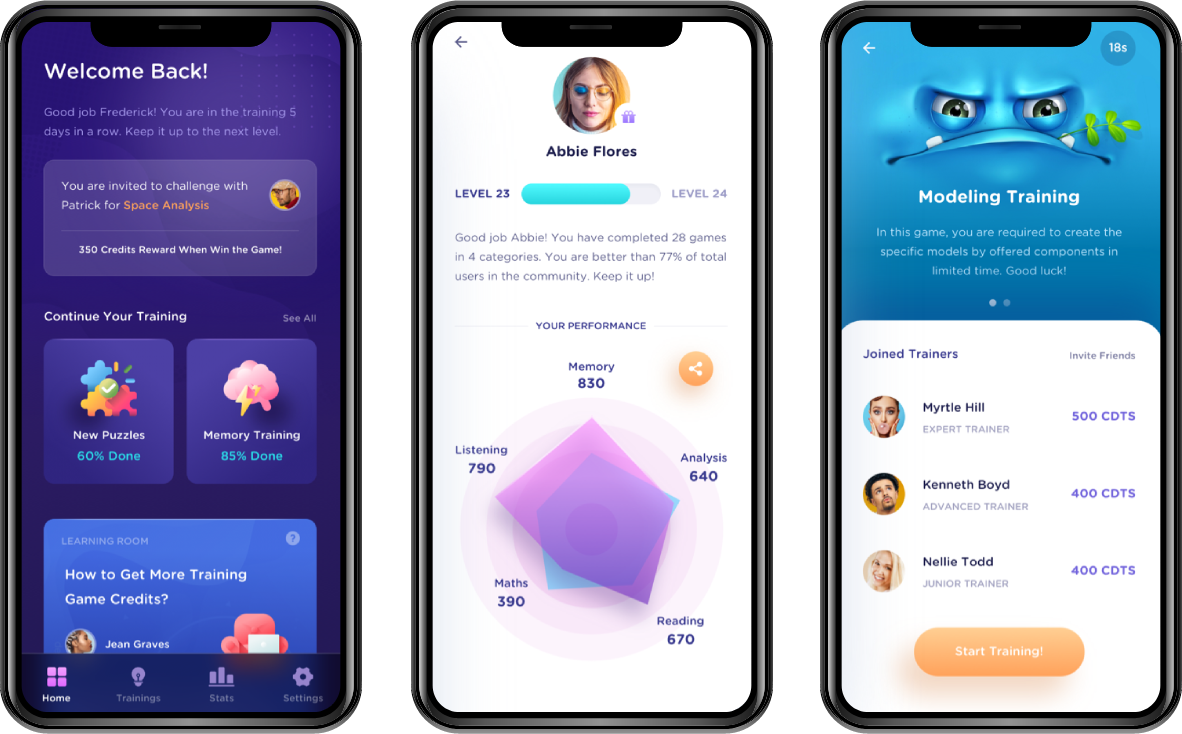 Performance Insights
Performance insights are different than stats. Stats are the scores and numbers of the games played. But insights show the percentage of success, growth rate, targeted growth, goals, and many more details to get involved with the app in a little bit of depth.
The measurable growth is the biggest perk of such e-learning mobile applications. They show fast and successful a player is and what they need to do to improve their performance. Such features are blessings for the dedicated players.
Account Settings
We have talked about how customization and personalization are two important aspects of user engagement in an app. Account setting is one step closer to the same goal.
It allows users to change their credentials, email preference, mobile number, payment info, etc. More customization means more familiarity, more familiarity means more interaction.
Give Feedback
Not everything can be seen in the analytics and numbers. Sometimes we have to ask our users what is something they are having a problem with or what is something that they want.
Here feedback feature comes in handy. It allows the app users to send their suggestions and complaints straight to the admins or app developers. You can go through them and take appropriate action in order to offer your users a phenomenal experience.
Help
Anyone can need help at any time. If this is the case with your app users, then you need to have a solution for it. There could be new users who don't know their way around the app, they might need help. Or there could be old users who might have problems with an unexpected error.
For such events, having a dedicated section that allows users to seek help from your customer support could be a great feature. This feature alone can enhance your user experience in a long run.
So, these are the features that if implemented perfectly within your brain-training mobile app then it could do wonders for you. But here is some advice for you, don't be limited to these features only.
Your market research and your vision would tell you a lot about what features you need to include in your app to make it extraordinary. Now let's move forward to the next sections of our brain-training mobile app development like Lumosity.
Have an idea for your brain training app but want to know its cost? Ask out our experts.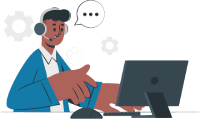 Tech Stack for Brain-Training Mobile App Development Like Lumosity
Now that you're building your own e-learning mobile app, you must know that picking the most suitable technologies for your project is going to matter a lot in the future.
Technologies that are used in the development of any app determine its performance, responsiveness, 3rd party integration, ease of integration and customization, scalability, and security.
Now considering your vision, you must consult with your mobile app development company that is going to help you pick only the best technologies for your project.
When you are discussing with your app development company, you must ask them all the questions that you have about your business trajectory, scalability, and security. Shifting to other technologies after the development of your mobile app could cost you a fortune.
Therefore, be careful while selecting the right tech stack. This is the foundation on which you will be building your business. Make sure it is solid and firm.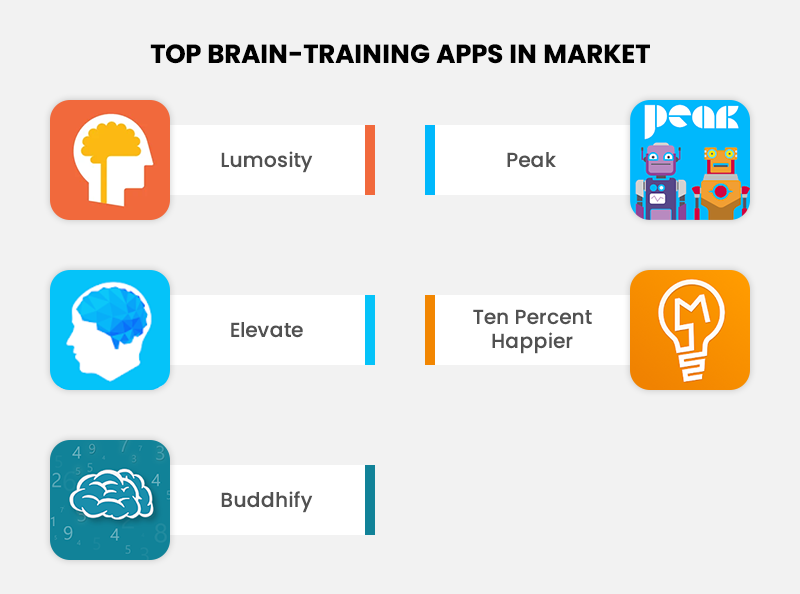 Name of the app
Features
Play Store Link
App Store Link
Lumosity

Multiple Language Support
Social Media Integration
Push Notification
Rewards

Elevate

Flexible Training
Performance Tracking
Unlimited Access
40+ Games

Ten Percent Happier

All the Meditation Courses
Meditation Reminder Notification
Understandable
4.8 Star Rating

Buddhify

Easily share images
Low in Cost
Available for Android & IOS
User Friendly
Cost to Develop a Brain Training Mobile App like Lumosity?
Now let's talk about the question you have been waiting for. It is a quite complicated question to answer. Because there are various factors that could affect the cost of the app development. Some of these factors are:
Region of App Development
The geographical location is one of the biggest factors that could affect the cost of your mobile app development. The cost varies according to the different economic conditions of different countries.
For example, the hourly cost of app development in the USA is around $180 – $200 USD, whereas in the UK the hourly cost is $140 – $160 USD, in Australia $90 – $120 USD, and in Asian countries like India it is somewhere around $60 – $80 USD.
However, the quality of the app is the same all over the world. If you wish to develop a brain-training mobile app like Lumosity then outsourcing it to a reputed company from India could save you a fortune on the development cost.
Number of Platforms
If you are developing the mobile app only for Android then it will cost you less than developing the app for both Android and iOS.
Developing the mobile app for more platforms means it will take more time and effort, which simply means more money. If you want to develop the app for both major smartphone platforms but don't want to spend a lot of money then you could opt for cross-platform mobile apps.
These apps are the ideal choice if your initial budget is low. However, these apps will not be as powerful as native mobile apps.
Number of Features
More features mean more work and more work means more money. This is the simple calculation that you need to keep in mind while developing your brain-training mobile app like Lumosity.
If you don't want major or advanced features in the beginning then you can develop an MVP of your app idea and present it to potential investors for getting funding.
These are some of the biggest factors that could affect the mobile app development cost. But it is not the answer to your question yet.
Well, to answer your question, let's say you want an MVP for Android with only essential features, then it would cost you somewhere around $60,000 – $80,000 USD for the brain-training mobile app development like Lumosity. And it might take 6 – 8 months to develop the entire mobile app.
Final Note
This is everything that you need to know if you are planning to develop a brain training mobile app like Lumosity. Lumosity has achieved some remarkable milestones.
The secret is understanding your target audience and providing what they seek. And then keep on refining the user experience along the way.
If you still have some questions, please feel free to talk to our experts. It's completely FREE!