Celebrity lookalike apps, that use facial recognition technology to make you appear like your favorite celebrities, are becoming increasingly popular among today's generation.
If you're curious about what celebrity I look like, simply upload your photo to the application and select the proper filters to find out who you resemble.
Even in 2022, these user-friendly applications are acquiring immense popularity, and there are now a number of celebrity twin apps accessible for both Android and iOS.
However, there is still room for improvement, and if you are interested in developing an application, you will find this blog quite useful.
Celebrity Do I Look Alike Apps- Market Growth
Most individuals are accustomed to using smartphones and social media messaging applications such as Snapchat, Instagram, Facebook, and Twitter in their daily lives.
Sharing photographs and places on social networking sites with friends and family is an ongoing trend, with studies indicating that 246 million Americans utilize social media networks for this reason.
By 2023, this number is expected to rise to 257 million. As a whole, the photo-taking obsession is rapidly sweeping over the entertainment business.
Top 12 Celebrity Lookalike Apps of 2023
Name of the app

Built Year

Play Store Link

App Store Link

Gradient

2019

Celebs

2020

Star By Face

2018

My Replica

       2016

Y Star

      2018

N/A

Lookalike Application

      2019

Looky

      2018

Facer

      2019

Celebrity Face Morph

       2020

                    N/A
Like star

       2019

 You Look Like
      2019
                   

N/A
1. Gradient
"Gradient" is a popular celebrity look-alike application that has been downloaded millions of times on mobile devices. Several years ago, a Ukrainian business with the same name came up with a unique application idea.
When the app first launched, it was a basic type of machine learning that created celebrity clones. They later added more features to help users find which celebrity do I look like, and the development team is always refining their product.
Key Features of Gradient App
Using a picture or photo of the user, this service generates AI portraits for them to view online.
A wide range of hairstyles and colors may be created with eye-catching hair collages.
Users benefit from a wide range of built-in beautification functions.
2. Celebs
The Celebs app is another well-known celebrity look-alike mobile app in this category. Using machine learning, this software identifies users' closest celebrity look-alikes.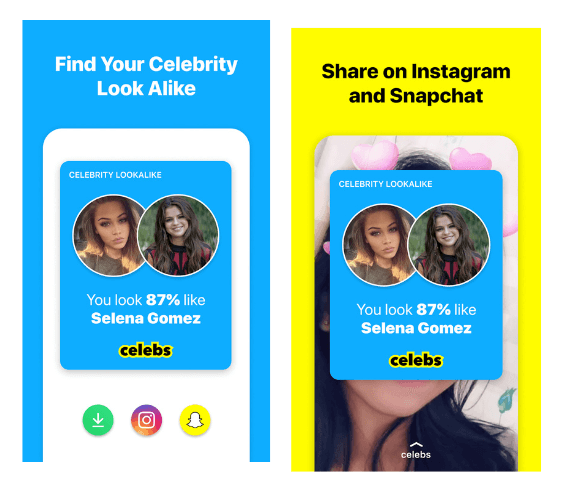 This application has a high level of accuracy. The app helps users get the optimal experience by first identifying emotions and then using facial recognition algorithms.
Key Features of Celebs App
Pictures created by artificial intelligence are just stunning.
It is available to everyone and is free of charge.
Using the app, users may find a celebrity match that looks just like them.
3. Star By Face
Another app that has grown in popularity over time is Star By Face, whose name encapsulates the app's purpose. First, you'll need to upload a photo to their app or website, and you may also add the photo by URL.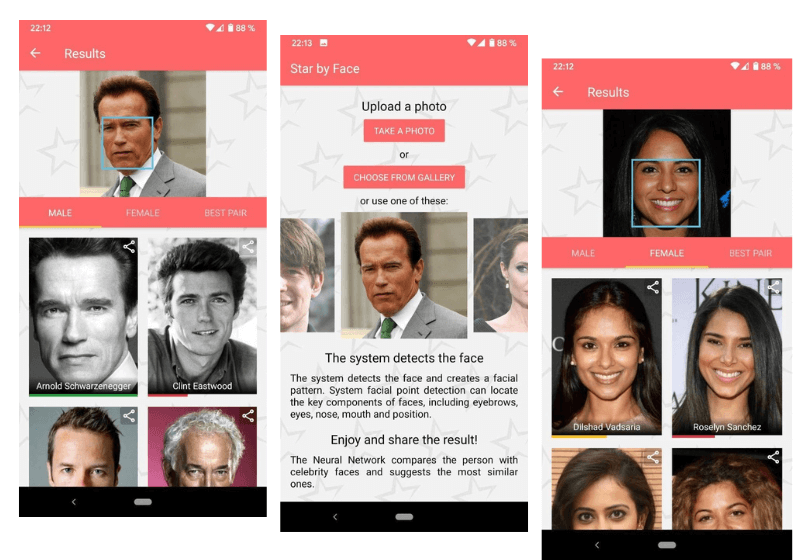 Use a clean, full-face image while using this celebrity-lookalike android app in order to receive the most realistic results.
Key Features of Star By Face App
Data security is a significant priority for the company.
The altered photographs are displayed in their greatest possible resolution.
A free download is available to users.
4. My Replica
Anyone looking to give their images a more polished touch may use this celebrity lookalike application. Filters in the app allow you to make the shot appear like it was taken with a camera.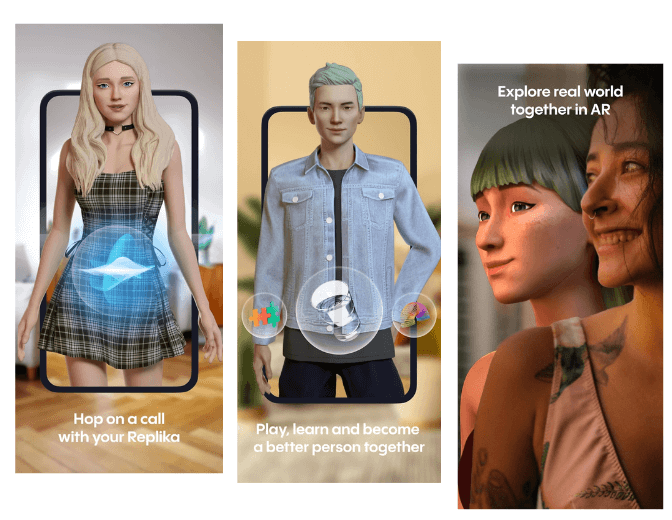 To make images appear more like photos of famous people, this application may apply a variety of filters to enhance the retouching process.
Facial recognition technology is used to help users identify what celebrity do I look like, and powerful machine learning is employed to modify the images.
Key Features of My Replica
Image editing technology is based on advanced machine learning techniques.
Your celebrity twin is much easier to find using such algorithms.
The accuracy of the results is impressive.
5. Celeb Twin
This celebrity look-alike app is mostly accessible to iOS users and boasts a slew of cutting-edge and eye-catching features. You'll be able to track down your favorite celebrity.
A distinctive feature of the celeb twin is that it not only delivers one match for the submitted photo but also shows similarities between the three celebrities.
Key Features of the Celeb Twin App
Post photographs to Instagram and Snapchat with ease.
Compare compatibility to find the best celebrity.

6. Y Star
Using the Y star app, you may find out if you look like a celebrity in seconds. Using this app is as simple as taking a picture using your phone's camera.
Simply take a photo of yourself with the Y star camera and wait for the results to see which celebrity you look most like. You may use this Best Celebrity Twin App regardless of whether you're male or female, how old you are, or how many scars you have on your face.
Key Features of Y Star App
Automatic findings are generated using data from the front-facing camera.
In regard to celebrity appearance, results are both accurate and of exceptional quality.
A unique algorithm for machine learning.

7. Lookalike Application
This is among the best celebrity look-alike mobile apps freely available for both Android and iOS users. You may choose from a broad range of celebrities to discover the perfect match.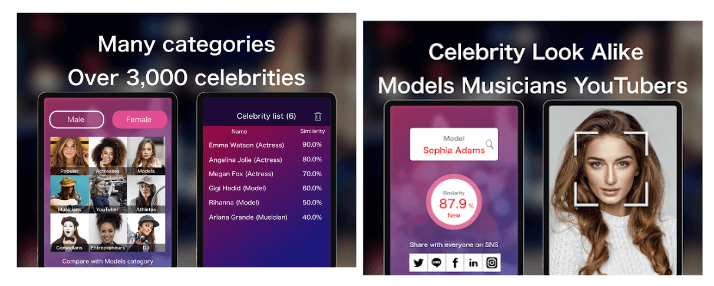 Just upload a picture of yourself and it will be paired with a variety of celebrities. You may use the app to identify the person who looks the most like the person in your photo.
Key Features of Lookalike Mobile App
In addition to a vast number of celebrities, it boasts a user-friendly interface.
For an exact match, this tool provides recommendations for twins.
Sharing the results on social networking networks is easy.
8. Looky: Celebrity Look-alike Mobile App
Using Looky, you can create your own celebrity lookalikes in no time at all. Taking a selfie is as simple as pointing your phone's camera at yourself, and the server will choose the ones that are most similar to your image.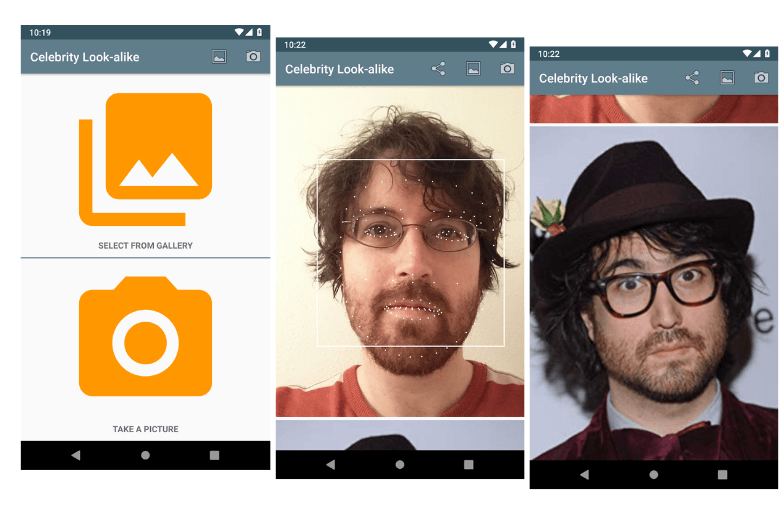 You have the option of taking another picture if you're not happy with the results. You may post your achievements on social media after you get the look of a celebrity you resemble.
Key Features of Looky App
Face recognition is based on AI.
Professional photo editing services are available.
Sharing through social media is also supported by the app.
You have the option to add stickers or filters to your images.
9. Facer
Facer is another app that is in great demand among users. Using this software, users may select three of their favorite celebrities, each with a percentage of resemblance to the other two.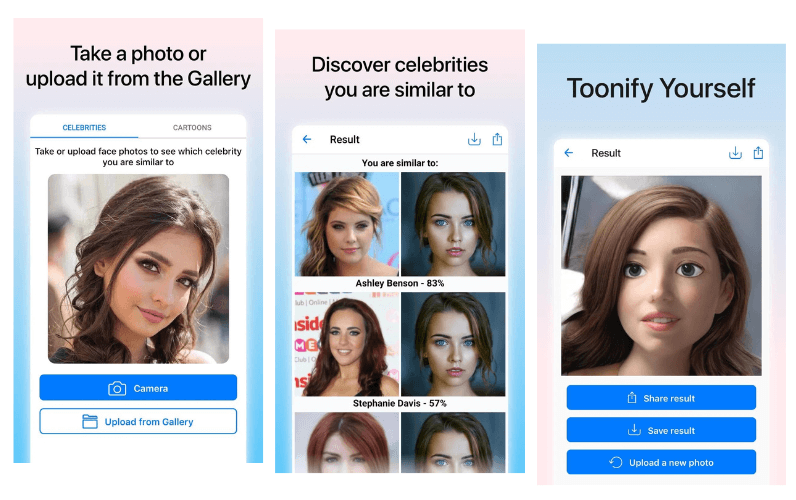 Famous celebrities including actors, singers, and politicians may be found in Facer's extensive celebrity database.
Key Features of Facer App
An artificial intelligence-based facial recognition system.
The most advanced facial recognition system.
10. Celebrity Face Morph
Simply take a selfie and edit it to your liking; you may even import a picture from your smartphone's photo library. Face morphing, mixing faces, and a simple UI are all included in the Star Face Morph app, which allows you to swiftly turn yourself into a celebrity.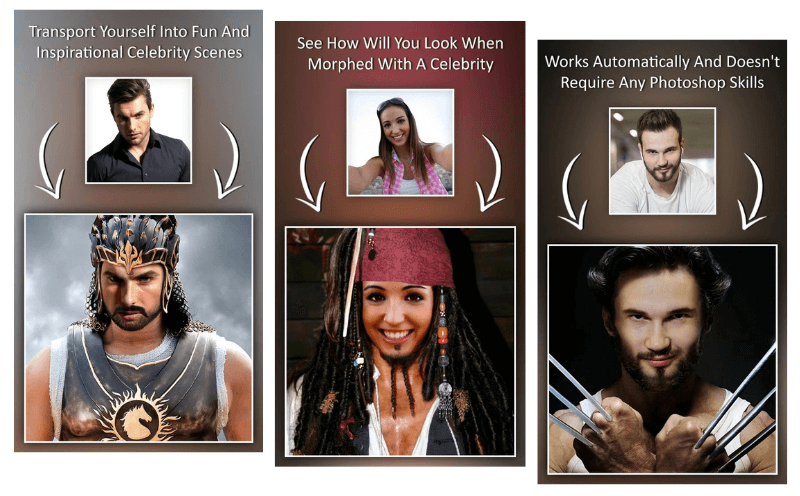 Key Features
Images that are appealing to the end-users will be created.
High-definition photos are supported.
Make the perfect celebrity match by choosing from a variety of facial features, such as the eyes, nose, and mouth.
11. Likestar
In some respects, we all aspire to seem like prosperous and famous people. As we watch them go about their daily routines, we occasionally wish we could be a part of it.
Like star is the best celebrity lookalike app for users. If you want anything, just ask and it will be granted.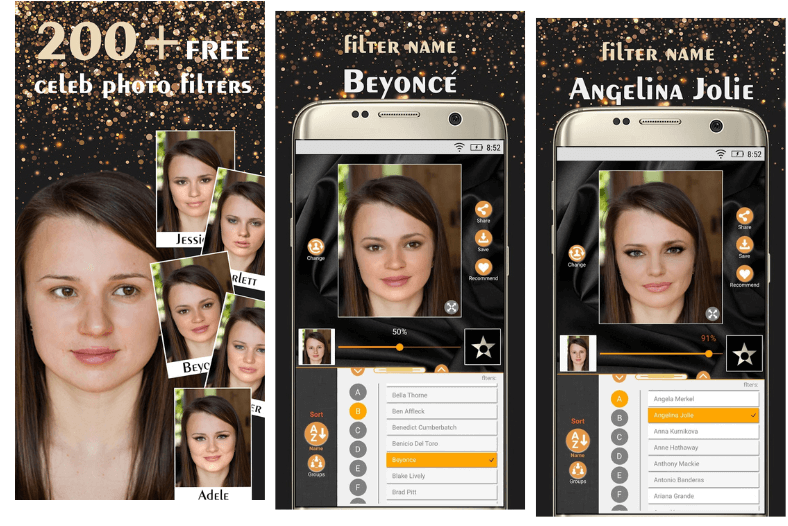 Within a few seconds, you'll see a noticeable improvement in your appearance. Any social media site, such as Facebook or Twitter, would be a good place to share your match.
Key Features
There are over 200 free celebrity photo filters available.
The app supports in-app purchases, but basic features are free.
12. You Look Like
If you're looking for an easy-to-use selfie app, go no further than this one! It begins searching for matches as soon as an image is taken from an in-app camera.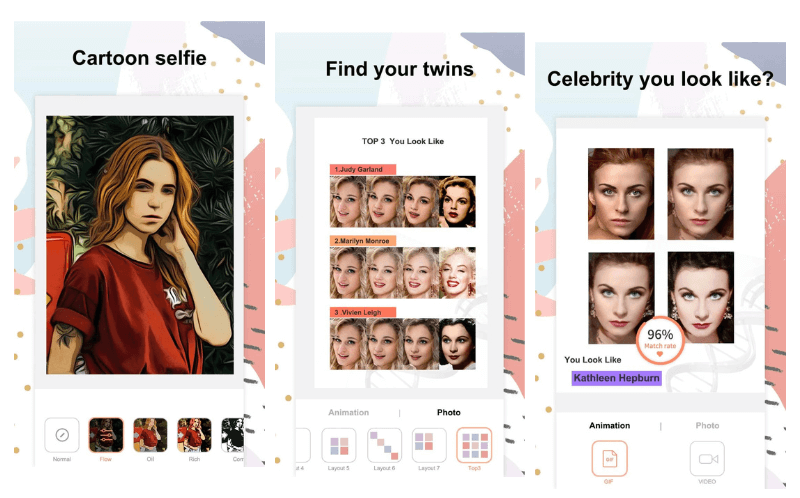 Users can try again if they aren't happy with the initial results. It is popular among users because of its ease of use, and it also permits the sharing of findings across other social networking sites.
Key Features
You may compare any face to the most famous ones.
You Look Like app is ad-free and has advanced functionality.
HD technology recognizes human faces in digital pictures.
Want to Launch Your Own Celeb Look Alike Mobile App? Your mobile app could be the next big thing.
How to Develop a Celeb Look Alike App for your Business?
Discovery Stage
When you and your application development team sit down to discuss your application and the market, you must look at the strengths and shortcomings of your competition.
At this point, you must choose your app's target demographic, such as whether it's children or adults. Make sure you know who you're competing with and what unique thing your app can do for your customers.
App Development Stage
This is the time for your app developers to get a clear picture of what they need to build. In order to integrate necessary functionality, app developers should work on both the front end and the back end of the code.
It is the whole group's responsibility to develop user profiles, authorize options, share options, and integrate needed services and APIs. It is the developers' goal to provide high-quality code and avoid compatibility issues at all costs.
UX/UI Design
An app's primary goals should be to draw in new users, keep them engaged, and make their experience as pleasant as possible. Design components like icons, typefaces, and buttons can improve greatly by having a skilled app designer on board to provide input.
App Evaluation Phase
Quality Analysts then evaluate the app's performance, interoperability with other devices, battery consumption, and bugs. Prior to the app being released on app stores like the Play Store or the App Store, this is a critical step that must be addressed.
Apps that have bugs are returned to the creators for rectification, and the cycle repeats until they are found bug-free and ready to be released to the app stores.
App Launch Stage
When the app testing is complete, it's time to submit it to the app stores for deployment. In order to be accepted by app stores, developers must adhere to a number of guidelines, such as those regulating app descriptions and screenshots. Make sure to read the app store's regulations before submitting the app.
App Maintenance Stage
After a new app is released, many businesses believe that their work is done. However, the real effort is just beginning. The app must run a number of tests on a regular basis to ensure that it is functioning properly and satisfying its customers.
Updating and adding new features to your app on a regular basis will keep it fresh in the minds of your users. As a result, it's a good idea to discuss app maintenance with your mobile application development partners early on in the project.
Important Features to Incorporate into Celebrity Look Alike App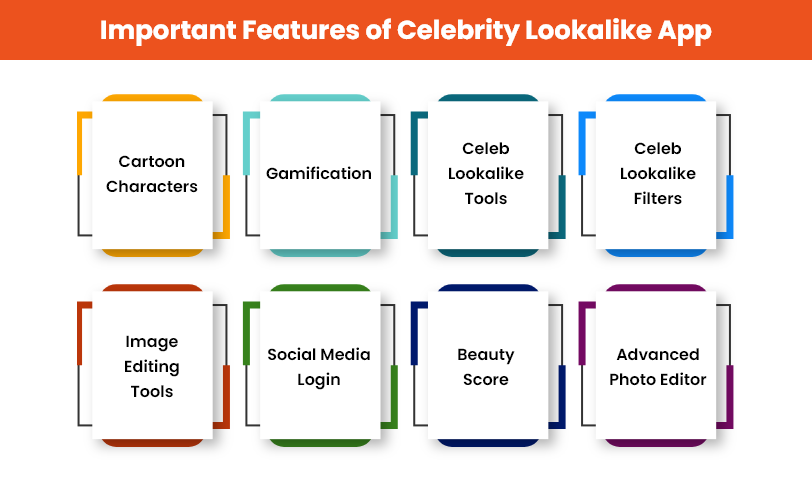 Cartoon Characters
Attracting children is easy with this feature since it transforms an image of a face into their favorite animated character. The AI-based technology generates a foundation of cartoon characters and enables users to continuously adjust the app's theme.
Gamification
Allowing users to utilize the software for recording hilarious videos, taking a quiz, or making greeting cards is made possible by integrating gamification features.
Celeb Lookalike Tools
It is beneficial to automatically detect renowned faces that resemble the users, as this is a required feature for this kind of app. Artificial Intelligence and Machine Learning are two examples of cutting-edge technologies that incorporate this capability.
Celeb Lookalike Filters
Aside from emulating the looks of their favorite celebrities, users like experimenting with new filters, stickers, and effects on their photos, which they can then share with their social networks. Adding these features to your application raises it to a new level.
Innovative Image Editing Tools
If you want to use your app to post images to social media, it's a good idea to incorporate photo editing features. Those who enjoy publishing photographs on social media will be able to change the hue and alter the images before they are posted.
Social Media Login
Signing up via social media, such as Gmail, Twitter, Facebook, or Instagram, makes it easy for users to get started right away with the app, which is something that every user appreciates.
Social media integration also enables users to post their results and recommend the app to others via their social networks.
Beauty Score
Artificial intelligence is used to create this functionality, making it a lot of fun to use. With Beauty Score capability, the app can assess a variety of beauty indices and provide users with a witty opinion on their overall beauty score. However, you should carefully incorporate this feature to avoid offending others.
Advanced Photo Editor
It's a good idea to have a sophisticated picture editor in your application that allows users to edit and directly post their photos to social media. Users should be able to fine-tune the hue and tone of their photographs before sharing them elsewhere.
Conclusion
Young people are enthralled by the idea of downloading an app that lets them seem like their favorite celebrities. To discover the perfect celebrity match, these applications rely on a neural network that has been programmed to be more accurate.
Future generations will only get more obsessed with taking selfies and experimenting with different effects. If you are planning to develop a celebrity look-alike app, this is the perfect opportunity to launch it in the market!
FAQs for Celebrity Lookalike Apps