Investing in a fantasy football app is like having a gold mine. The genuine fan following itself drives the popularity of the fantasy football app which translates into a successful business model that goes on for the ages.
Football, also known as Soccer, is the most popular sport in the world connecting more than 4 billion die-hard fans from all around the globe. Their love, passion, and dedication towards the sport make football less like a sport and more like a religion. Hence, popularity and loyalty must never be part of the question when it comes to football.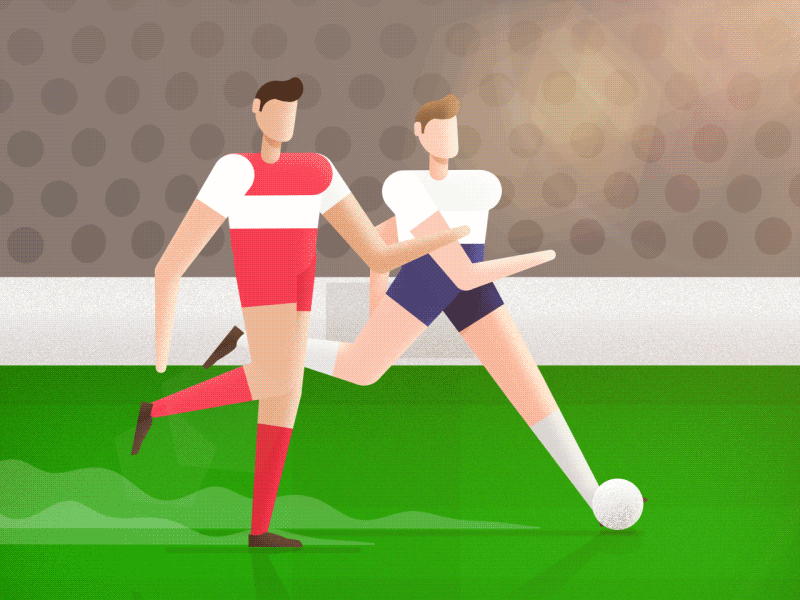 Football has a fan following and fantasy sport enhances the sports experience of the fans. The possibilities are unlimited.
In this article, we will try to cover everything you want to know about fantasy soccer app development from the business model to the Football app development process and from features to the revenue model with the app's development cost.
But before that, let's get a closer look at the market sizes of both fantasy sports and football.
Current Status Of Fantasy Football Market Demographic
According to a report by Allied Market Research, the fantasy sports market size was valued at $18.6 billion in 2019, and is expected to reach $48.6 billion by 2027, registering a CAGR of 13.9% from 2021 to 2027. The football segment led in terms of the fantasy sports market share in 2019 and is expected to retain its dominance throughout the forecast period.
However, football is a world-famous sport and its popularity exponentially increasing beyond the borders. It is receiving love from the highest populated countries on the earth, India, and China.
The Financial Outlook of Fantasy Football
Worldwide Football (Soccer) Market
29.5 billion Euros! Yes, this was the revenue of European Football in the season of 2021-2022  by Statista. It is clear that football has come a long way.
Not to mention the 4 billion fans worldwide and counting. This magical sport exceeds expectations in every aspect of demographics.
Because brand promotions and advertisement and merchandise are the areas that affect the overall revenue, and it is controlled solely by the audience. Football is simply amazing.
A sport like football is a great atmosphere for businesses like fantasy sports to thrive. For a successful fantasy football business, you need a fantasy football app that enhances the sport experience of the fans and makes them feel more connected to the game, and not forget the rewards.
Business Model of Fantasy Football (Soccer) Mobile App
It takes a little bit of time to get used to fantasy soccer games. All it requires is a team. A user is given 100 million euros to make a squad. A squad consists of 15 players (2 Goalkeepers, 3 Forwards, 5 Defenders, and 5 Midfielders).
From the squad of 15 players, the user needs to select 11 players to make a team, which can enter the game. The team must be formed before the Game week deadline. When the match starts, the user can observe the performance of her team throughout the match.
After the match finishes, the points are distributed to the players of the user's players according to the real performance of the players in the match.
These games are played in certain leagues. There are some leagues, which are free, and to enter premium leagues, there are certain charges a user has to pay to win premium prizes. A user can also create her own fantasy football league as well and set the number of users who can enter and play.
It is as if the user is the manager and she is introducing her team to the championship. Hence, the actual football match gets even more personal. The user can also play fantasy football with her friends and other users of the world as well.
Features of Winning Fantasy Football (Soccer) Mobile App
1. Features for Users
A fantasy football mobile app has many exciting features to its users. These features establish a special bond between the app and the users. These features are
Home Screen
It is the very first screen a user sees after logging in the fantasy soccer app. This screen gives information about on-going football matches and other live updates related to the team. A user can sign up for the app via social media accounts and mobile number as well.
Leader Boards
It is not a major feature, but it makes the whole difference in the enhancement of the game for the user. When there is a dedicated leaderboard of the players then it gets easier for the users to draft a team that has the potential to win.
User Profile
As the name suggests, everything about the users is here in a very user-friendly manner. User's teams participated leagues, joined leagues, and many more data can be found here at a single glance.
Player Info
 Users want to know everything about the players of in their teams. This feature is a dedicated section in the fantasy football app that provides detailed information about every football player.
Create League
Providing special controls on their own games gives the users special kind of fun and thrill of the football game. Here, users can create their own leagues, set numbers of participants and can set the point distribution for different types of scores and penalties.
Join League
 If users want to join a global or another private league, then this feature helps them to enter into the leagues and see how their teams perform in the ultimate football showdowns.
Reward Points
The excitement of a fantasy football app grows exponentially if there are rewards. After all, everybody loves rewards. Users can collect and spend their reward points by winning and buying special abilities within the app.
Live Score Board 
The point is, to make an app that does not let users go anywhere. Need to check the live score? Here are detailed live scoreboards available for the fantasy football app users on the go.
e-Wallet
It is an essential feature for users when they want to purchase some reward points to buy in-app stuff or transfer their credits to their bank accounts. A dedicated e-wallet within the app makes these transactions seamless and lightning fast.
Follow Friends and Group Chat
How good is a sports game that cannot be played with friends? This feature allows users to invite and connect their friends and let them play along. The dedicated chat feature brings real fun to the fantasy football app
2. Features for Admin
While the users enjoy the exciting features of a fantasy football app, admins take care of all the essentials and background activities to make sure, everything works fine. These features are smart and intuitive and help in a great magnitude. Here are some of them:
Dedicated Dashboards
 One of the most essential features, these dedicated dashboards show users every stats of the fantasy football app and web application. These stats could be, a number of active users, active leagues, etc.
Manage Bank Transactions
An admin can see the bank transactions performed by the users using a fantasy football app. Hence, the admin can approve and refuse the transactions made between the app and banks.
Total Earnings
All earnings at a glance help admins to measure the activity on the fantasy football app.
Real-time Activities
 Real-time activity feature offers surveillance capabilities to the admins. It helps to check overall activity and finding user behavior patterns and many more.
Manage Leagues 
Admins can create and manage both public and private leagues. Admins have full control over these leagues and they oversee every activity in those leagues.
Manage Users
It gives the admin control over all the signed up users on the fantasy football app. It helps them to suspend, remove and add users.
Reward Point Management 
Assigning rewards points to the match activities and defining the rewards disbursal fall under this section for the admins.
Content Management System (CMS) –
All visible content on the fantasy football app can be managed by a smart and efficient content management system.
Customer Relationship Management (CRM)
This feature helps admin to manage user feedback, emails, tickets, push notifications, and many other features that are designed for effective customer relationship management.
Now let's get to the development of the fantasy soccer app.
How to Develop a Fantasy Soccer App Development?
For a winning football mobile app, you need an experienced fantasy soccer app development company. There are multiple stages and important decisions involved in the development of a fantasy app.
It all starts with getting together a team of experienced fantasy football app developers who can understand your vision and share their ideas as well to develop the app that sells itself.
Since it all starts with an idea, the next step is to develop several prototypes, choosing the best one, refining, and polishing it with some tweaks until it becomes the result that you had anticipated.
But for a user, it doesn't matter how much time did it take to build the app or how much effort were put into its development. In the end, it is a stack of features that the app offers matters. These features are not the same for the users and the administrators. Let's talk about these features in detail.
Team Structure Required for Developing Fantasy Soccer App
The development of fantasy software that makes room in the daily life of football fans is not an overnight task nor it can be built by a single person. It takes a dedicated team of developers, designers, UI/UX designers, and many more.
Such a team knows the user behavior. They know what drives the audience and what engages them. Here are some essential members of such teams,
Project Manager

Android Developers

iOS Developers

Backend Developers

UX/UI Designers

QA Professionals
Tech Stack for Fantasy Football/Soccer App Development
Revenue Model of Fantasy Football Mobile Application
For a sport like football, the money is flowing in the market like a flood. But how can someone capture this flood? Well, that's why we are talking about some of the possible ways from which investors can make and increase revenue by fantasy football mobile app. Let's talk about these ways and means in detail.
Entry Fees
By far the largest chunk of the revenue comes from the entry fees. According to research, in the first quarter of 2018, fantasy sports collected $750 million by only entry fees in the US region.
It is no brainer that the market of football is much larger and filled with opportunities than other sports. These entry fees are paid by the users to enter and play in private leagues in order to win big rewards.
In-App Purchases
It is most famous among all freemium apps. Though the fantasy football app is free to download and free to use no user wants to limit his/her ability of free gaming. Hence, in-app purchases are there so that users can buy reward coins to unlock special features and abilities to maximize the fantasy football experience.
According to a survey in the US, by the year 2020, iPhone users are likely to spend around $88 on mobile app purchases. Hence, in-app purchases unlock many doors for revenue collection.
Advertisement
Advertisement will never get old in attracting users to use your fantasy football app and increase the revenue. In addition, showing niche-based ads within the app from various vendors also increases the overall revenue from the app.
Merchandise
For a fan, the expression of love for his/her favorite team is very important and personal. For people, merchandise is the number one way of showing their love for their teams.
And the market for merchandise is as ridiculous as it can be. In the year 2015, the global revenue, which was accumulated by sport merchandising, was $20.07 billion.
The market is as big as it can be. Hence, having an e-commerce section in the fantasy football app is going to add some extra numbers in the revenue.
How Much Does It Cost to Build a Fantasy Football Mobile App?
The direct answer is not possible as the cost is relative. There are various factors that play vital roles in affecting the development cost of fantasy football mobile app. Some of them are, number of features, number of platforms (iOS, Android, and Web) for which the app is going to be built, and the region, where the app is going to be built, also affects the cost of development drastically.
However, working with a prominent fantasy soccer app development company. may increase the cost a little bit but it will ensure to be a great application that possesses the ability to perform fabulously among the audience.
Even having so many variable factors, an average fantasy football app having essential features can cost somewhere between $35000 to $50000. However, having additional features and functionalities may increase the price.