Most people love playing games and they tend to be a great escape from everyday busy, stressful lives. However, it is not always possible to simply head out and play, as often you could be in the middle of work needing a few minutes to escape to relax, or the weather outside simply might not allow you to go out and play.
There can be myriad reasons for you not having this opportunity to head out and that's where Fantasy sports apps like Fanduel, Dream11, ESPN Fantasy Sports, and many others come to your rescue.
These season-long fantasy apps allow sports enthusiasts to get engaged in their favorite games anytime they desire, and they turned out a great escape during the gloomy times of the pandemic and subsequent lockdown.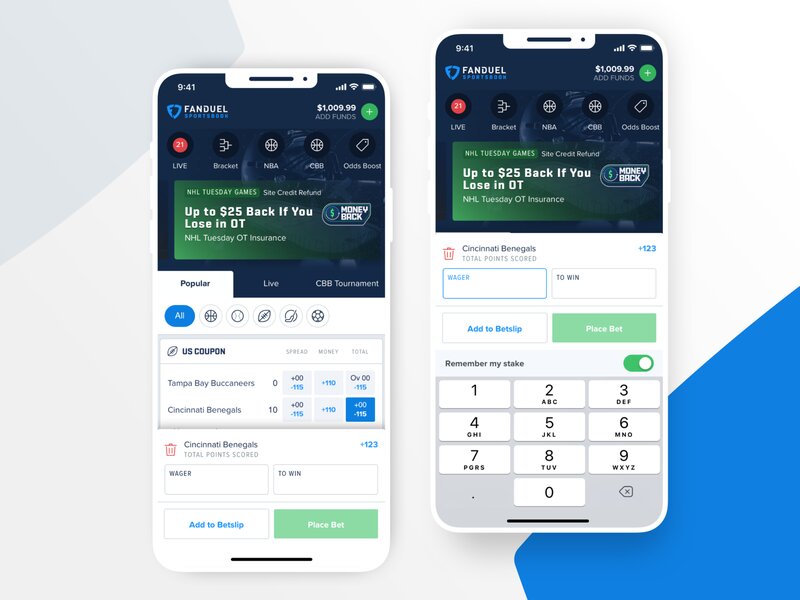 And today even when the lockdown is practically over, people in a way have started loving being at home, or at least they are used to staying at home and this is the reason that the popularity of these games is not going to end anytime soon.
So, if you are someone planning to join the bandwagon of fantasy sports then the time is just right for you to get in touch with a Fantasy Sports App Development company to get going with the making of the app.
What is the popularity behind the Fantasy Sports apps?
Well, let's first understand what exactly is Fantasy sport. This basically is a game played over the internet where the participants create virtual teams consisting of real players and then these teams compete on the basis of the statistical performance of the players in the actual games.
Then, the performance of each of these players is converted into points that are then totaled to the final points of the Fantasy team's manager. 
Also,  Fantasy sports apps like Dream 11, FanDuel, and DraftKings have been amazingly popular, but the concept of Fantasy Sports is not new and had been existing for years.
The model of picking the players and running contests on the basis of their statistics goes back to the World War 11 era. However, it was in 1995, that Molson Breweries released first fantasy hockey sports website and by the 1990s people close to 30 million in the USA were playing this kind of game.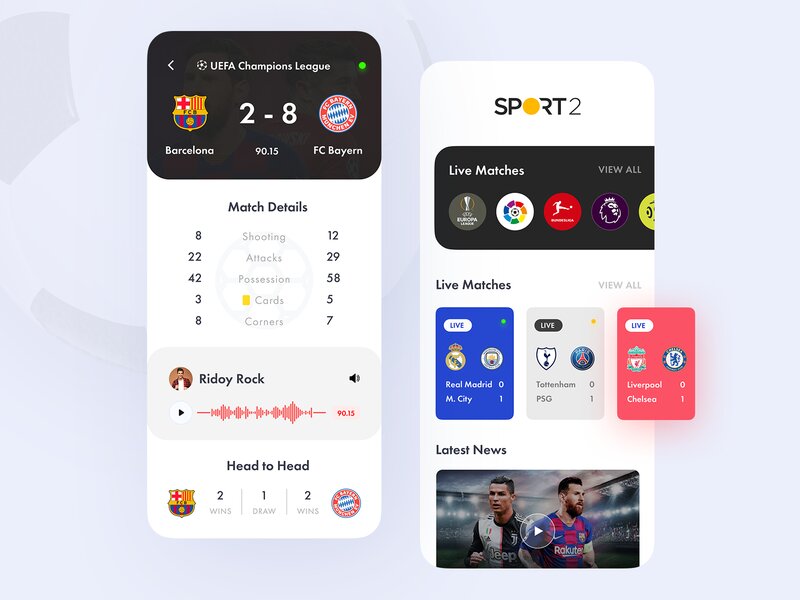 Today season-long fantasy sports apps are attracting millions of players across the globe and these leagues allow the participants to be in charge of their team and compete with the best sports minds in real time. 
Here we mention some reasons why people love playing Fantasy games:
Competition:
Sports fans love competition as that is what playing a sport is all about and with Fantasy Game apps come to a lot of strategy & unpredictability of the result. Even a single blunder at the last moment can impact the outcome of the entire league. And these leagues are very competitive and they have the smartest sports fans competing against one another.
Player-in-charge:
In the life of a sports enthusiast, it happens many a time, when they say, I could've managed this team better". And with Fantasy Sports you actually get a chance to do so. These leagues allow the users to buy players, create lineups, plan a strategy, make adjustments during the season, and do a lot more. 
Make friends:
While playing these long Fantasy League seasons, often people even form friendships that last a lifetime. After all, there are people sharing similar interests and thus while fighting and competing with each other, they get this opportunity to socialize and meet people. 
Thrill:
It is not easy to win a Fantasy league, as here people are competing with the smartest of sports brains. And in the end, whether you win or lose, the entire experience is still thrilling and there are very few activities that offer such an experience. 
Fun & Rewarding:
There are times when life can be pretty boring with the everyday hassle, however, playing these sports brings a lot of fun and thrill for you. 
Why should you develop an App like FanDuel?
Well, if figures are anything to go by then by the year 2026, the Fantasy Sports Market Size is expected to be at $43,370 million.
According to reports fantasy sports market is expected to grow by USD 6.11 billion between 2021 and 2026. Besides that, the market's growth momentum will accelerate at a CAGR of 6.51% between 2021 and 2026.
The usage of smartphones & internet users is increasing every day and this is why there are a lot of hidden opportunities in the global Fantasy Sports app market. 
Reports state that today there are 60 sports fantasy operators solely in India against the demand of 50 million years. On top of that, the laws all across the world are in favor of Fantasy sports Apps, hence here lies a great opportunity for app developers to grab a market share and build their user base to earn billions. 
In the last four years, there has been rapid growth in the Online Fantasy Sports (OFA) segment and this sector is on the undeniable rise because of mainly three reasons
The user base it has that it works around

Its massive popularity, and

The kind of income that it generates.
Owing to these reasons, investors are more than willing to invest in the Fantasy Sports market. And this is surely helping the Fantasy Sports apps to grow and scale way faster. There are also apps in this segment attracting users in local languages to enhance engagement.
This is the reason that eSports pioneers, such as Tencent and Nazara are also investing in this kind of Gaming. So, if you are worried about investments coming in, don't be, simply create a robust Fantasy Game app and investors will come from all quarters.
Also, today even big brands are using Fantasy Sports for promoting their brands & products. These brands are using Fantasy Sports for targeting the high-income groups aged between 25-50 years as they have substantial spending capacity and love for sports. 
Meanwhile, the five common sports in Fantasy leagues are:
Cricket

Hockey

Soccer

Baseball

Basketball
Also, the biggest Fantasy Sports Markets in the geographic segmentation are Europe, APAC, South America, North America, and MEA. 
Now, there are many Fantasy Sports Market apps out there, but the few that gain the most popularity tend to be Fanduel, Dream11, and Draftkings. And below let's discuss what FanDuel is in detail and how you can create an app like that. 
FanDuel: This is a New-York based gaming enterprise offering online Daily Fantasy Sports, Online Casino, Sportsbook, Online Casinos, and Online horse race betting products & services. It was in July 2009 that this firm was founded by Nigel Eccles, Lesley Eccles, Rob Jones, and Tom Griffiths. 
And today, the company is operating sportsbooks in a number of states in the USA, including Indiana, New Jersey, West Virginia, and also Pennsylvania. With FanDuel comes Sportsbook betting & Fantasy Sports in the segments, such as NBA, CFB, NFL, Tennis, Golf, MLB, NHL, Soccer, CBB, WNBA, and NASCAR.
By the year 2019, FanDuel was having more than six million membership subscriptions and a staff of over 1000 people. And today the firm exceeds the value of $1 billion with annual revenue of more than $10 million. 
How Do Fantasy Games Apps work?
It is because of the speed and thrill these apps bring that they are so popular, and along with that just how simply they work. Here we explain step-by-step how the fantasy game apps work:
It generally starts with the participants paying a small entry fee for joining an ongoing league. Once they join the league, participants can choose real players from a draft for assembling a fantasy team.  As the real games take place, the real-game performance & statistics of each of the players are derived.
After that, Fantasy Games platform automatically draws parallels for determining whose fantasy team scored the most points. As the game ends, the final scores are updated on the dashboard of each participant. Winners receive rewards that can be redeemed for real money.
During the game, participants would be able to track how the team is performing through a real-time score tracker on a fantasy platform. As the game is over, the league collapses. And now participants are required to enter a new league every time they are keen to participate in a new game. 
So, as the workings of Fantasy Gaming are clear, let's focus on the business model.
What is the business model of Fantasy Sports Apps?
Now even though Fantasy apps come with a lot of thrills, most people are still doubtful about getting indulged in them. And their concern is genuine, despite the fact that it actually is a game of skill and not gambling, but at the end of the day, it involves players risking their money. And thus, persuading people to put their fear aside and start playing can be challenging.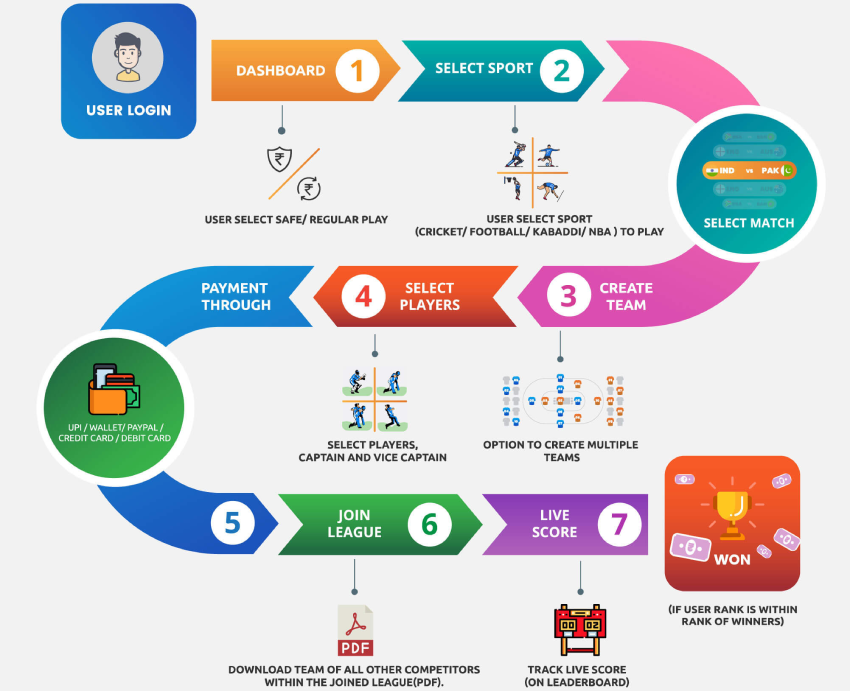 So, to overcome these challenges, Fantasy Game app owners rely a lot on heavy advertising. For instance, FanDuel is spending $20 million each year on TV advertisements. Also, the average customer acquisition cost for FanDuel is $68, which again is a little high.
However, it is estimated that FanDuel to make $100 off each customer per season, and this way FanDuel has an annual revenue of $10 million (2018).
Next, let's explore the revenue models working for the app.
How do apps like FanDuel make money?
There are a few monetization models these apps follow to make money, and here we discuss them in detail:
Advertisements:
This is a commonly used monetization model that Fantasy sports apps depend on. For that, the app needs to have a huge user base, so that way you can allow brands to advertise their product in your Fantasy gaming app and in turn, generate huge revenue for your app. 
Participation Charges:
There is some daily fantasy and season-long fantasy sports app that organizes contests and they set massive payouts for winners of these special contests. And for these contests, they charge the contestants a participation fee and this becomes another source of earning for the apps. 
In-App Purchases:
This again is a lucrative option for generating revenue from fantasy games apps, where the app can have paid features, such as changing teams in the middle of the game, and other valuable functionalities, such as getting the game insights, statistics, premium add-ons that can allow them to win. Sports fans love these opportunities to win and often are ready to pay extra to get an advantage over the other players.  
Engagement Models:
Top fantasy football game Apps offer several opportunities to their users to take part in a number of challenges on a weekly note. They charge a one-time fee from the users and allow them to take part in the contests for a complete season. Resultantly, this strategy ends up boosting the revenue of the game apps.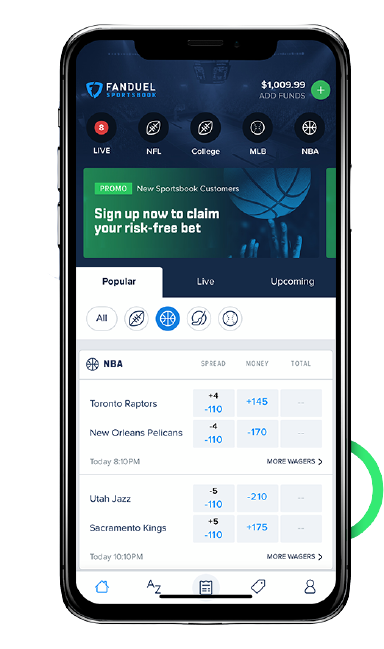 Now that we have covered the ways in which your Fantasy game apps can make money, next let's focus on the important features that make your Fantasy game apps special. 
Features of Fantasy Sports App
Onboarding:
In the case of Fantasy game apps, special attention needs to be given to the app onboarding functionality. It is not ideal to ask your users to fill in long forms when they are eager to start using your app. Rather, allow them to sign-up for the app in just a few taps. They can even be allowed to social sign-up or register in-app using a one-time password (OTP).
Landing Page:
As users opened the app, show to them a list of sports being played at present so they can decide which game to take part in, like football, basketball, cricket, etc. In fact, it would be better to add a search bar to the home screen so to allow the users to look for the game using filters like type of match, date, players, etc. 
Socializing:
It is crucial in the case of fantasy Sports apps that the users feel connected to each other, as that way they engage more with the app and this helps in retaining them.
Often it happens that businesses in this particular industry feel that here the users are playing against each other and this is why they do not provide this option to interact with other players and this affects the engagement rate. 
Contest Details:
This section offers details of the sports that users have chosen to play. They can see details regarding these chosen games, and they would be able to filter this content as per Content-Type, Contest Size, Entry Fee, Winning Range, Winners Count, etc. 
Easy Payments:
As here the users will be indulging in real-time games, it is crucial that the in-app payments are made hassle-free for them so they can take an active part in the game. It is advised to integrate multiple payment options in the app, like Debit Cards, Credit Cards, Paytm, PayPal, and BHIM, so the users can choose their preferred most popular payment method. 
Achievement Badges:
This is a useful feature to keep the users hooked on the app. It makes user retention easy by making them keep coming back to the app. Usually, users are more likely to come back to platforms where they have a badge allocated to their profile.
And on top of that when they are given a chance to share the accomplishment badges on their social media platforms, it further delights them and enhances engagement. At the same time, the social sharing feature also does the job of attracting new users (social media friends of the app users). 
Live Game Feeds:
Sports enthusiasts love it when they are able to change from dream mode to real mode so easily on a Fantasy game app. They really love this functionality where they are able to audit their virtual team's performance and also experience the live feeds on real matches.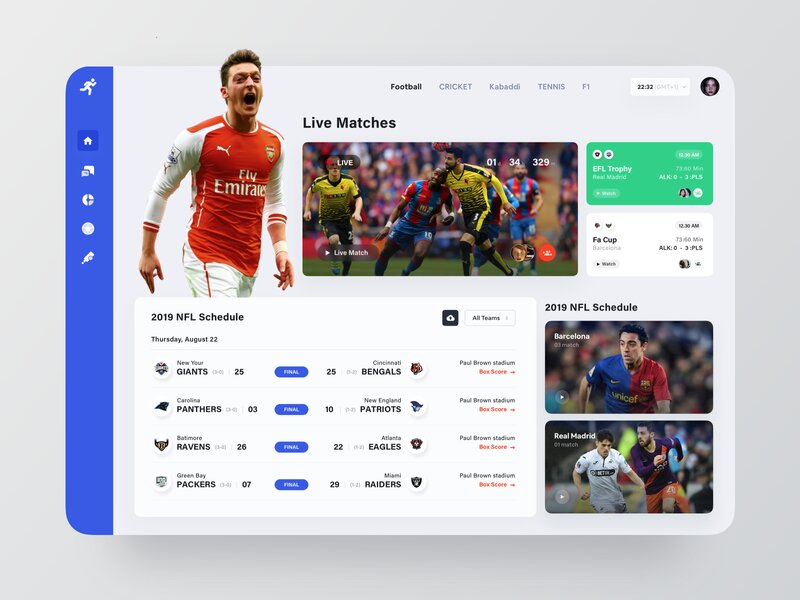 App Analytics:
It is necessary that the app admin has all details regarding the happenings in the app on a single dashboard. This includes everything from factual figures around a number of ongoing matches and information regarding a number of players, and so on. It must also show the total income generated by app users in the app. 
Contest Management:
This feature is useful for the admin to manage and plan ongoing contests in a mobile app. It allows the admin to manage the category of contests, and add, delete, and deactivate contests whenever needed. 
Earnings Reports:
Earning is a crucial aspect of a Fantasy Sports app and this feature allows the admins to see and track the earnings of every individual user. 
Reports:
This functionality allows the admin to access different report types, such as player ranking reports, earning reports, and a lot more.
Push Notifications:
Integrating the push notifications functionality is quite useful as it allows to notify users regarding important events by easily sending alerts.
Loyalty Programs:
These programs are quite useful to ensure that the users stay with you and do not get lured by the other fantasy games platforms & offers.
Analytics:
Real-time analytics help in attracting more users. Data Analytics functionality allows the users to determine which players performed exceptionally well, and also the existing form & record of players. This way participants can make more accurate predictions and this boosts engagement. 
Advance Features
AI/ML-based Algorithm:
Today Artificial Intelligence (AI) and Machine Learning (ML) have reached almost every industry, and through the integration of these algorithms, it gets easier to know which users are spending more time on your app and which users are spending less. Thus, by tracking user behavior and preferences, tailored solutions can be offered to them. 
Chatbot Integration:
These human-like chat devices are capable of engaging in real-time conversation with app users. While integrating this technology, you can be innovative and integrate a cheerleader-like Chatbot that offers secret tips to the users helping them choose the right team.
Merchandise Sales:
Here the app owners can get in touch with several sports teams offering them to use your platform for selling their merchandise.
It goes without saying that sports enthusiasts are crazy about the merchandise collection of their favorite teams. By partnering with the teams, the app owners make way for affiliate sales and open another income source for their app. 
These were some of the features that can be integrated into the fantasy sports app like FanDuel to make it more exciting for the users. Next, let's explore the necessary technology needed to develop such an app.
Technology Stack
Database: Cassandra, Postgres, MySQL
Push Notifications: Twilio, Apple Push Notifications
Security Features: Retrace, Duosecurity, Twilio Authy
Frameworks & Programming Languages: Kotlin, Swift, PH, React Native, Flutter, Java, C, etc. 
How much does it cost to create an app like FanDuel?
The craze for Fantasy sports apps is quite huge all across the world and this is the best time to jump into this business by creating your own Fantasy app.
However, developing a Fantasy game app can be quite challenging for businesses and they need to ensure that the app they are making is able to handle a huge amount of traffic. And, for that, the businesses require investing in high-quality backend and servers.
Other than that, these platforms need a smooth user interface that is easy to use and intriguing. The estimated cost to create a sports app like FanDuel might fall anywhere around $20000-$30000 if you choose to make an app with basic features and for a single platform.
However, to create an app with advanced features for more than one platform, you would need to up the investment game and take it up to $40000-$60000.