The 2022 FIFA Men's Football World Cup is going to energize you for sure. From November 21st to December 18th, Qatar will host the world cup for the first time. The event is estimated to be worth $220 billion.
Already, there is a buzzing sound all around. Sports fans everywhere are feeling the football fever as 48 teams prepare to battle it out from the end of November through the middle of December. The World Cup in football will alter the sport's trajectory and provide more arenas for its most devoted followers to drum up their support.
New business owners may find it worthwhile to support the creation of fantasy football apps, which have the potential to reach and excite millions of sports fans across the world.
We've compiled the list of top fantasy football apps so that you may find out which is best fantasy football app for your own company and see whether it turns up the competition.
The Upcoming Era for Fantasy Football Apps
The creation of fantasy sports applications has increased by leaps and bounds in 2012. The result is an unprecedented increase in the annual rate of new app releases.
There have been more than a million new fantasy applications developed by programmers all across the world in 2022. From 2015's low of 100,000, that's a phenomenal growth rate.
This is due to the fact that smartphone applications have revolutionized the fantasy football industry in USA and all over the world in recent years. Now more than ever, you can keep tabs on your team's performance and your own in real-time, from any device.
Over the years, WorldCup fantasy football app has developed from a simple game in which fans choose their favorite players to a multibillion-dollar industry infused with big data, analytics, and even AI. As a result of this development, fantasy football players increasingly rely on applications to assist them to make well-informed choices.
According to a new study, the worldwide fantasy sports industry will grow by $6.11 billion in value between 2022 and 2026. Additionally, the report predicted a CAGR growth of 6.51% throughout the time of analysis.
As a result, if you are a football aficionado, it appears to be a great opportunity to invest in the creation of the best fantasy football app in 2022.
Top 10 Fantasy Football Apps
Fantasy app
Price
Play Store Link
Apple Store Link
 

ESPN Fantasy Football

Free

Yahoo Fantasy Football

Free

CBS Sports Fantasy 

Free

NFL Fantasy Football App 

Free

 

DraftKings Fantasy Football App

Free

Sleeper: Fantasy Football

Free

Draft Punk – Fantasy Football

Free

Rotowire Fantasy Football Draft Kit

Free

N/A

Fantasy Football Draft Wizard

Free

FanDuel Fantasy Sports

Free
1. ESPN Fantasy Football
When it comes to sports news, everyone turns to ESPN first. ESPN is proud to present ESPN Fantasy Football or soccer. The majority of the data you need to manage a successful fantasy team is just a mouse click away. It's a breeze to utilize ESPN Fantasy Football.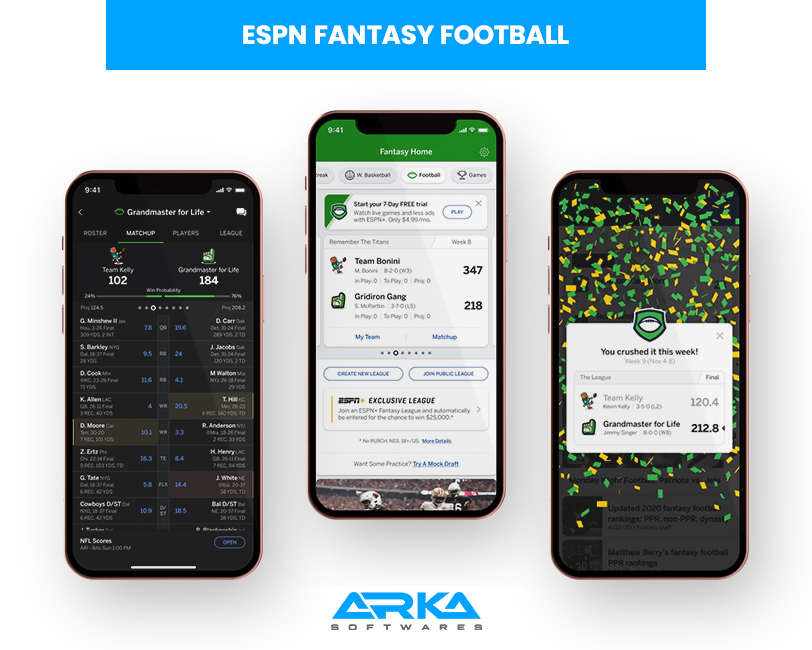 ESPN Fantasy Football is an easy-to-use platform that prioritizes the core aspects of fantasy football. Users frequently criticize the ESPN Android Fantasy Football application for its unappealing user design.
Similarly, ESPN Fantasy Soccer app lacks personalization options. As a result, few football fans may find other fantasy football apps more engaging than ESPN's offering.
| | |
| --- | --- |
| Owner | Disney |
| Price | Free/ in-app purchase |
| Installs | 50L+ |
| Android. iOS ratings | 3.9/4.7 |
| Availability | Android and iOS |
2. Yahoo Fantasy Football
When it comes to digital news, Yahoo is unrivaled. As a pioneer in the field of fantasy sports, it set the bar high for its competitors. Get in on the action of fantasy football with the Yahoo Fantasy Sports app, where you can form and join leagues with ease.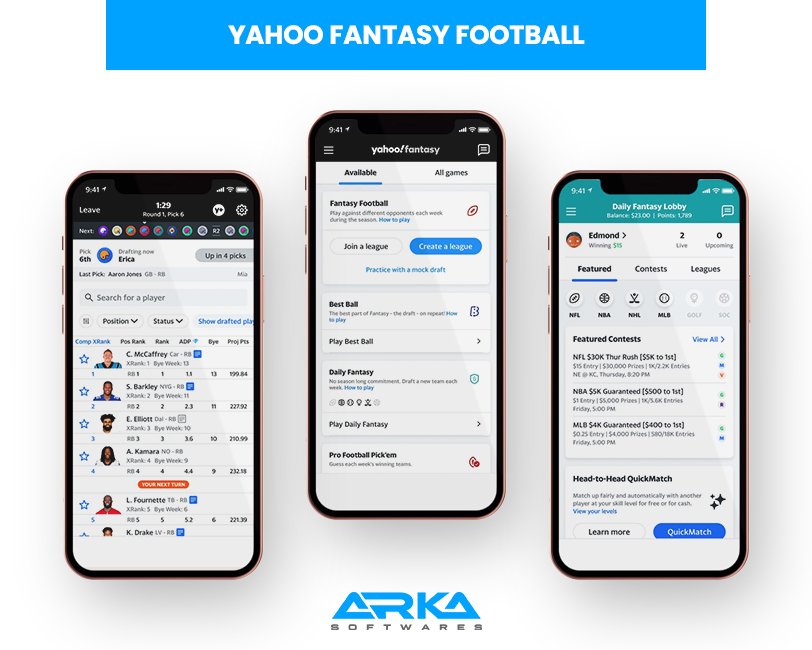 Yahoo also features other fantasy sports, such as soccer, basketball, and hockey. Using Yahoo Sports and Rotoworld, you can get both written and video news snippets about your favorite teams in one convenient place.
You can get in-depth player analysis and stats from Yahoo's fantasy football experts right in the application.
This popular fantasy football application is one of the smartest fantasy apps for play that gives you the opportunity to compete in daily or weekly contests for actual cash prizes.
| | |
| --- | --- |
| Owner | Verizon |
| Price | Free/ in-app purchase |
| Installs | 1Cr+ |
| Android. iOS ratings | 3.9/4.3 |
| Availability | Android and iOS |
3. CBS Sports Fantasy 
This application is similar to Yahoo Fantasy Sports and features a variety of fantasy sports, not only football. CBS Sports Fantasy, like its competitors, lets you join leagues and compete against other users with the help of professional analysis and connected data.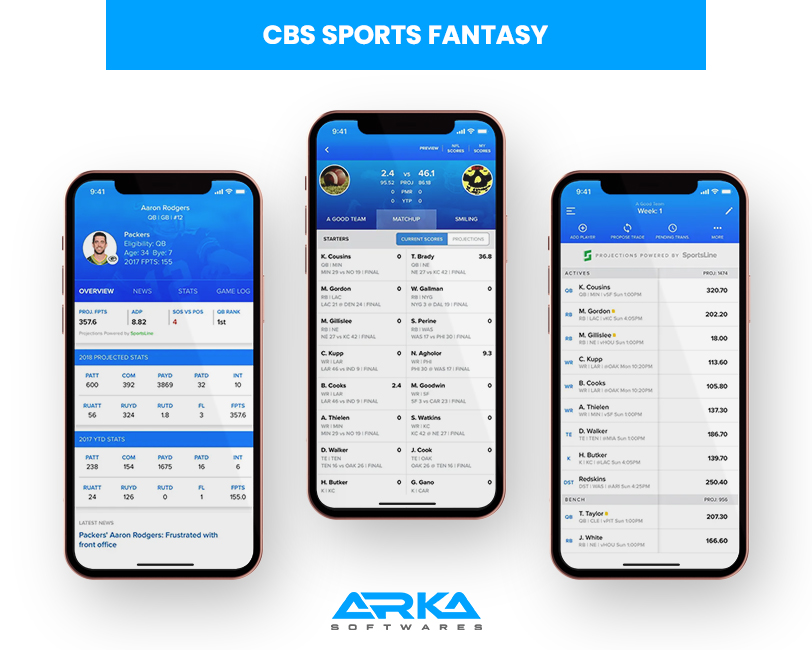 CBS Sports Fantasy provides users with a wealth of information not seen in competing for fantasy football applications, including detailed statistics, forecasts, player news, and rankings.
Even if you choose to run a league on another platform, you may utilize CBS Sports' analytical and prediction capabilities to guide your play in other top fantasy football apps.
| | |
| --- | --- |
| Owner | CBS Interactive, Inc. |
| Price | Free with in-app purchases |
| Installs | 10L+ |
| Android/iOS ratings | 4.4/ 4.6 |
| Availability | Android and iOS |
4. NFL Fantasy Football App    
If you're looking for a good fantasy football league app, go no further than NFL Fantasy Football. Since the NFL officially sponsors the NFL Fantasy Football app, all of the most recent news and player stats come straight from the NFL.
Each week in NFL Fantasy Football, you'll receive the latest news and videos highlighting your players' best achievements.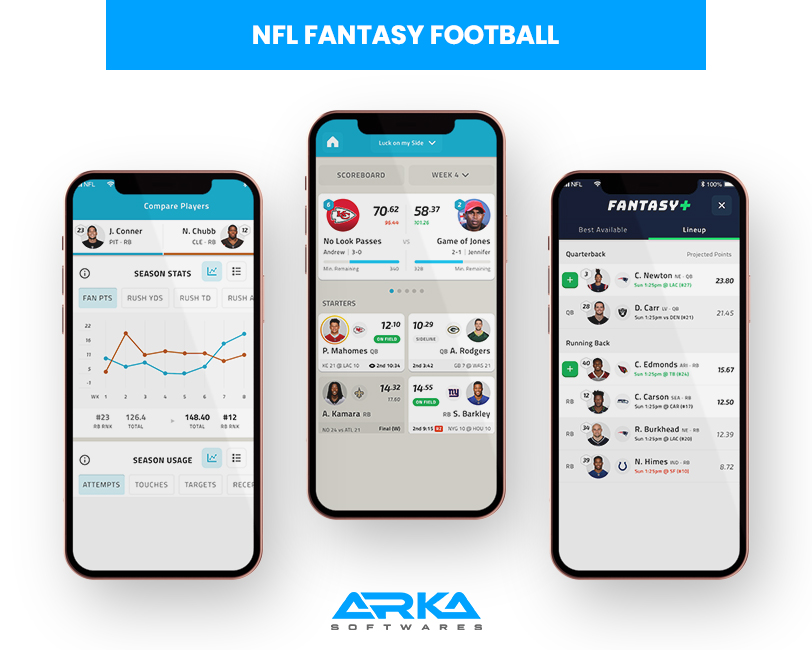 The NFL Fantasy Football platform enables users to join pre-existing leagues. Another option is for them to organize their own league and welcome their buddies. While the draft process can be complex and difficult to understand for new players, a practice draft is available to assist.
There are a few different types of drafts you may participate in: the regular, the auction, and the live lobby draft. Even if you have no idea what you're doing, the mock draft feature should give you plenty of time to prepare for draft day.
The flexibility of setting up deals and crafting optimal lineups are some of the advanced features of the NFL Fantasy Football app that every fantasy sports app development company should adopt.
| | |
| --- | --- |
| Owner | NFL Enterprises LLC |
| Price | Free with in-app purchases |
| Installs | 50L+ |
| Android/iOS ratings | 4.1/ 4.6 |
| Availability | Android and iOS |

5. DraftKings Fantasy Football App
DraftKings has launched an entirely free-to-use online application for games. You may quickly and easily join the app by downloading it from the App Store or Google Play and then signing in with the same details you used to join your fantasy league online.
DraftKings Fantasy Football's user interface mimics a real football field, making it intuitive and simple to use. Teams are symbolized by their colors, and players are portrayed by their positions; offenses are broken down into tight end categories, while defenses are further broken down depending on defensive backs strategies employed in games played throughout the previous season.
If you're looking to get into the online fantasy sports business, then developing an app daily fantasy app like DraftKings is a great way to do it. With our help, you can launch your own app in no time!

| | |
| --- | --- |
| Owner | DraftKings, Inc. |
| Price | Free |
| Installs | 50L+ |
| Android/ iOS ratings | 4.7/4.9 |
| Availability | Android and iOS |
6. Sleeper: Fantasy Football
Sleeper is an accessible fantasy application that is enjoyable for both professional fantasy gamers and those who have never tried the game before.
When compared to other popular fantasy football apps, Sleeper's UI is far more intuitive. It enables more customization of football league elements and settings.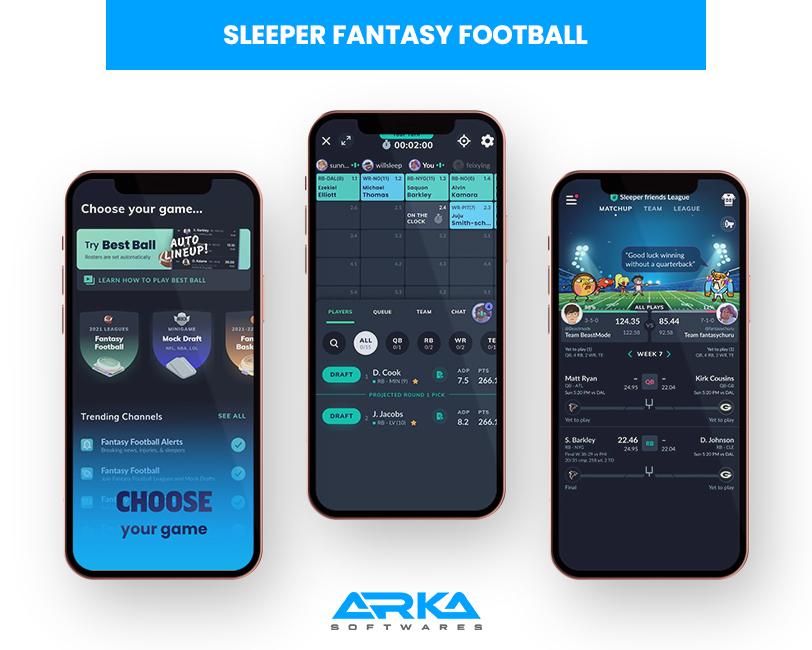 This gives you the freedom to design the perfect football league experience for you and your friends. The app's development team has been working hard to enhance its functionality and make it more fun to use.
When compared to similar fantasy applications, this one is a bit behind the times when it comes to delivering the latest and greatest news and updates.
Various notifications are provided to keep users abreast of recent events. When using the auto-draft feature, several users have complained about their teams being stacked with absurd picks.
| | |
| --- | --- |
| Owner | Nan Wang |
| Price | Free |
| Installs | 10L+ |
| Android/ iOS ratings | 3.9./4.3 |
| Availability | Android and iOS |
7. Draft Punk – Fantasy Football
DraftPunk is a smartphone app that assists fantasy football players in scouting, drafting, and managing their sleepers and rankings. It's the best football application for fantasy draft companion tools, cheat sheets, and simulations.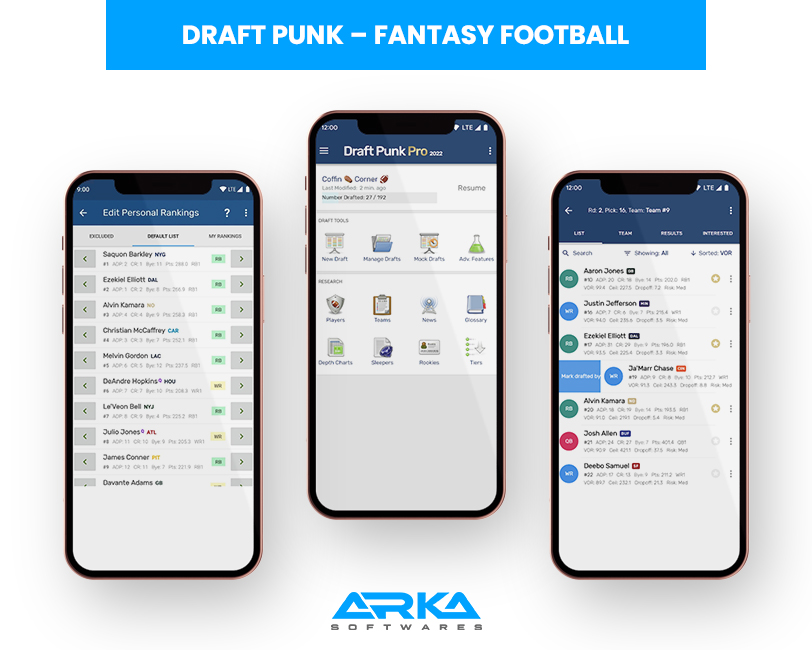 You may use the app to arrange the players in order of worth, rather than rely on the app's standard replacement or ranking systems. To ensure that the player you're considering drafting is performing at an adequate level, you may compare their stats across all categories and against players at different positions.
| | |
| --- | --- |
| Owner | Thomas Bangalter |
| Price | Free |
| Installs | 1L+ |
| Android/ iOS ratings | 4.2./4.7 |
| Availability | Android and iOS |
8. Rotowire Fantasy Football Draft Kit
The only catch with this fantasy football application is that it's only compatible with Apple products. Unlike its biggest competitors, downloads are not free.
In spite of this, Rotowire Fantasy Football Draft Kit comes up with a plethora of uses that justify the price. Their competitive pricing is warranted by the product's long-standing reputation.
The features in the "kit" allow participants to create unique rosters for intricate leagues. This contains weekly scoring options that will provide an easily digestible "cheat sheet."
In the end, this kit provides a significant improvement to your team's performance regardless of the platform you choose to play. Among fantasy football draft apps, this one stands out as the top choice.
| | |
| --- | --- |
| Owner | Roto Sports |
| Price | Free |
| Installs | 50k+ |
| Android/ iOS ratings | 3.9./4.3 |
| Availability | iOS |
9. Fantasy Football Draft Wizard
Fantasy Football Draft Wizard is an application that assists you in preparing for your fantasy football draft through the use of mock drafts, calculations, and cheat sheets to assess and improve your lineup. By simulating a real draft, you may get a sense of which players other people are targeting in your pick.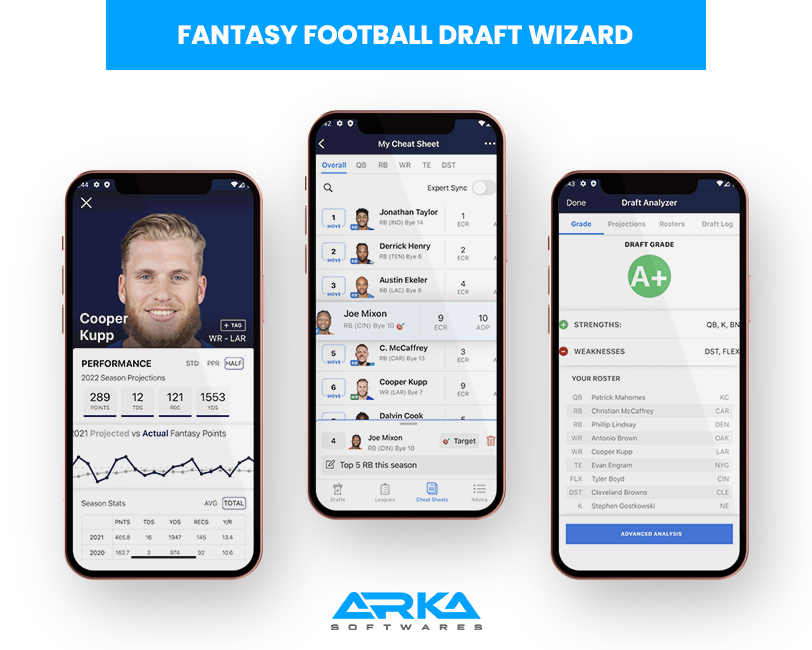 After that, the app will provide an overall team rating based on how your roster stacks up against the other teams in the mock draft. The program also allows users to generate rankings based on other criteria, such as points per game average or player health.
On top of that, it suggests players for you to select in a live draft based on your current needs. Moreover, it contains an artificially intelligent coach named "Draft Dominator" who offers guidance according to your league and draft position.
| | |
| --- | --- |
| Owner | FantasyPros |
| Price | Free with in-app purchases |
| Installs | 1L+ |
| Android/ iOS ratings | 3.9/4.6 |
| Availability | Android and iOS |
10. FanDuel Fantasy Sports
FanDuel allows customers to boost the stakes to whichever level they like. They let enthusiasts wager on the outcomes of games and individual players. Users can place wagers as low as $5 and as high as $7,000. Users and critics alike have praised FanDuel's user design and variety of games.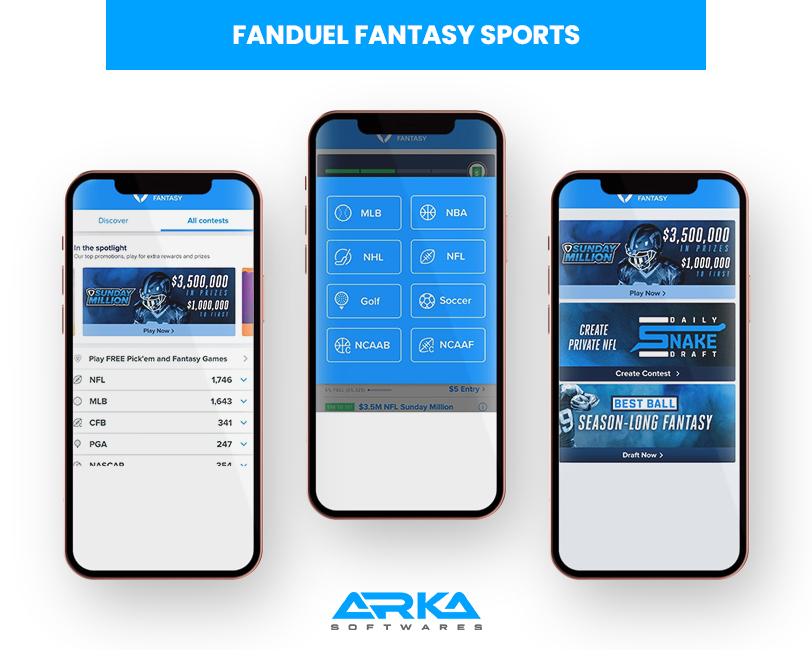 There is a wide range of competitions available to players, from head-to-head duels to multi-player tournaments.
FanDuel also provides safeguards for new users to help them get their feet wet and improve their experience. Overall, there aren't many drawbacks to using FanDuel, but it does offer a fun and novel experience for its users.
| | |
| --- | --- |
| Owner | FanDuel |
| Price | Free with in-app purchases |
| Installs | 10k+ |
| Android/ iOS ratings | 4.0/4.4 |
| Availability | Android and iOS |
Cost To Develop Fantasy App
Creating a simple platform with standard features for fantasy football would cost between $30,000 and $35,000. Costs could reach up to $200,000 if you want to build a fully-featured Fantasy Football app that works on several platforms.
Challenges in Developing Fantasy Sports app
The hardest part of making a fantasy sports app isn't making the app itself. Keeping up with the competition in today's industry can be challenging. Only the most successful platforms can afford and dedicate the necessary resources to advertising. The challenge is figuring out how to get users to download your app.
Building a solid foundation is not enough. Users need to be interested and kept around. Include interesting features like video predictions and match recaps on your platform. One alternative is to use influencer marketing.
If you're on a limited budget, don't worry you can still do it. Micro-influencers are those who have amassed a loyal fan base of 10,000 to 100,000 people. They may want a nominal price, but there is undeniably a devoted following that looks to them as a reliable resource.

To Conclude 
With over 40 million people taking part annually, fantasy football is likely to be a huge business in its own right. There are a lot of people playing, therefore there's a good chance that many of them would appreciate an app that gave them advice on who to draft and which free agents to sign.
When you decide to create your own fantasy football application, there are a ton of helpful resources you can find online. That being said, it is imperative that you network with the best mobile app development company to develop the most effective application.
FAQs
for Fantasy Football Apps
What are the fundamental characteristics of fantasy sports mobile applications?

1) Permit the user to modify the weekly roster of players.
2) Manage your league and organize practice matches with your friends.
3) Gamers may get live data on how they're performing in their games.
4) Users may have conversations with other fantasy football players in their leagues and from around the country.
5) Make new acquaintances and stay up with old ones on social media and their actions.

How long does it typically take to create a fantasy football app?

The answer to this question is highly context-dependent. The time required to create a fantasy sports app is very variable and will rely on the specifics of the app, the frequency with which updates are desired, and the developer's skill level. Nonetheless, expect to spend anything from three months to a year on the process.

How can your fantasy sports applications generate revenue?

1) Paid memberships – Despite its seeming ease, this strategy has a significant potential drawback: it leaves you with no means of financial support if no one is willing to pay you for your application.
2) Advertising – To maximize your earnings, it is important to focus on impressions rather than clicks.
3) In-app purchases – If your application has tiers or optional upgrades that users may choose to pay for, this strategy can be quite effective.