It is certain that the market and popularity of Fantasy Hockey Mobile App is destined to grow in an ascending staircase manner. I understand this statement may seem a little vague to you. But before you question the credibility of the statement. Here are some facts; according to Statista, the total league revenue of NHL was $4.86 billion in the 2017-2018 season, which is almost double of what it made in the season of 2006-2007. Take a look at the graph of the revenue made by NHL and you will see how hockey is making its way all the way up every season.
National Hockey League – Total League Revenue From 2005/06 to 2017/18 (in billion U.S. dollars)*
The substantial growth of hockey translates into a successful fantasy hockey business, which further opens the floodgates of possibilities for fantasy hockey mobile applications development. Let's talk about the market size, opportunities, app features, and development cost of fantasy hockey mobile app in detail.
Market Size of Hockey
Hockey is a global sport. It is famous in those countries that influence the rest of the world. You guessed it right; it is famous in, United States, Canada, Europe, and Russia. Apart from these countries, the popularity of hockey is widespread in Belarus, Croatia, the Czech Republic, Finland, Sweden, and Switzerland. National Hockey League (NHL) of the United States is the largest and most popular men's ice hockey league in the world. On the other hand, the Kontinental Hockey League (KHL) is the most famous ice hockey league in Russia and Europe. Just to give you a look at the bigger picture, there are ice hockey federations in around 76 countries.
Surprisingly, the multi-billion-dollar revenue we talked about was accumulated by just NHL alone. In addition, ice hockey is also a part of the Winter Olympics. Therefore, the popularity of hockey is unquestionable and opportunities in the market are unlimited. Therefore, it is worth developing a fantasy hockey mobile app for all those fans around the world to give them a whole new way of experience hockey.
Fantasy Hockey Market Opportunities
Ice hockey is most famous in the USA and Canada. According to the Fantasy Sport Trade Association (FSTA), in 2017, the number of fantasy sports users was around 60 million in USA and Canada. This lucrative coincident let us know how big the market is. Moving towards the money, the fantasy sport itself is a multi-billion-dollar market. According to a report from FSTA in 2017, fantasy sport is $7.22 billion industry.
Observe that we are talking about just the USA and Canada market here. Two huge markets (Europe and Russia) are still excluded from the statistics. Hence, it takes no effort to figure out that fantasy hockey mobile app is a worthy investment.
Business Model of Fantasy Hockey Mobile App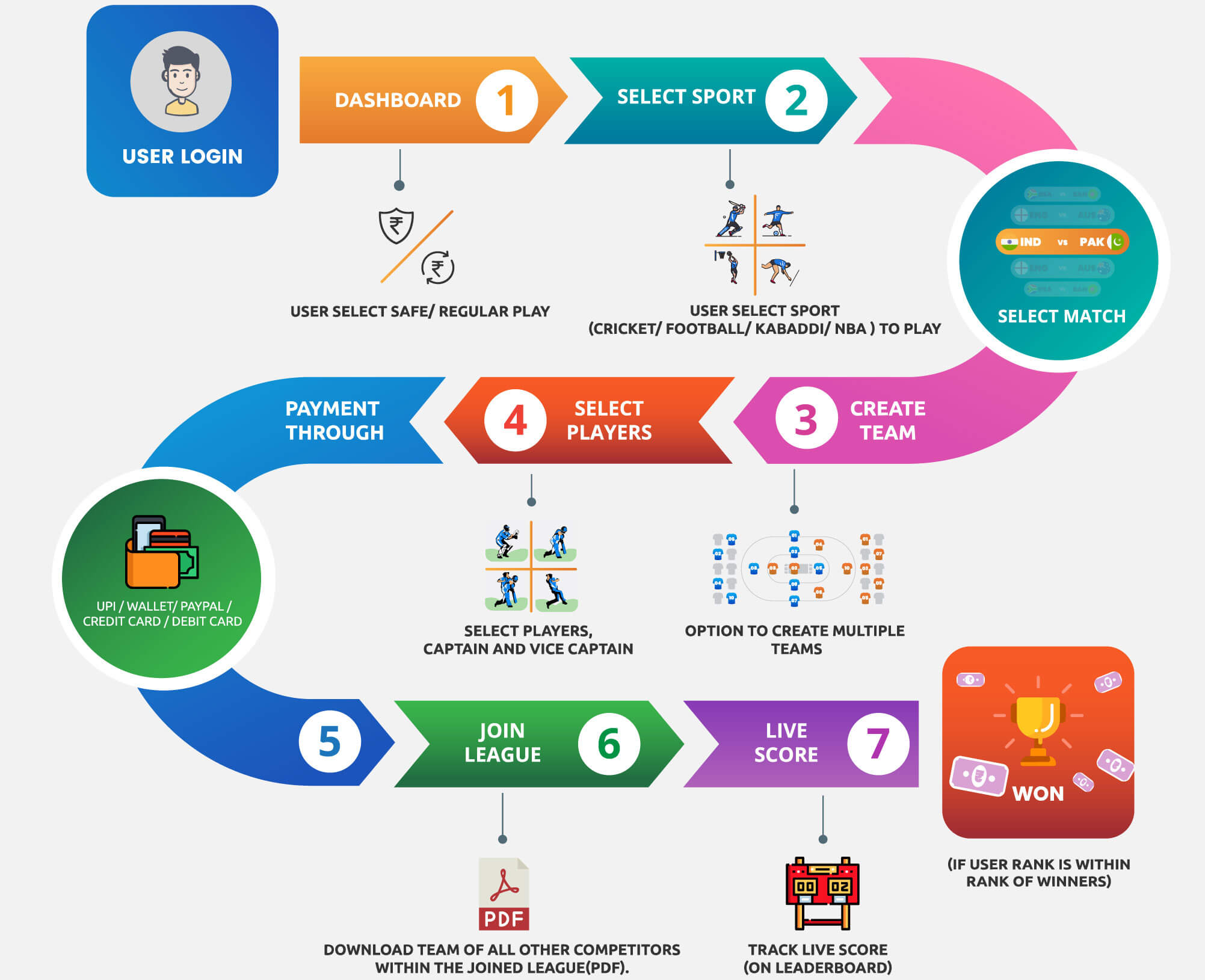 PROCESS FLOW OF FANTASY APPLICATION
To play fantasy hockey or use fantasy hockey app, a user must sign up to the app. The user can sign up from his/her social media account or email ID.

If the user has referral code then he/she can enter the referral code while signing up to earn extra credit points which helps in purchasing in-app items.

In order to play fantasy hockey, a user needs to enter into hockey leagues. These leagues are basically a pool of players whose teams compete to win the top place.

Usually, there are two types of leagues, head-to-head and Rotisserie. Head-to-head is a league in which even number of users participate and they compete for one-to-one. It also has a special point system which is defined by the creator of the league. Whereas Rotisserie league may have various users, a user with maximum points wins.

According to the way of participation, there are generally three types of leagues, Private League, Public League, and Premium League. Private leagues are those leagues which can be created by users and user can decide the number of users who can enter in those leagues. Public leagues are basically those leagues in which any users can enter and play and it does not require entry fees. In the Premium League, users are required to pay entry fees to play and the winner gets the cash prize.

After entering a league, a user needs to draft a team. A fixed budget is provided to the user and each player has his/her own price tag. Therefore, the user can only build a team, which is within the budget.

One can draft a team in several ways because there are types of drafting as well. Manual and auction-based drafting are most common drafting methods.

The user must know that the user can only make changes in his/her team before the lock-in period before the season starts. If the user wants to make any changes after the lock-in period, he/she may have to purchase in-app items that allow making modifications in the team.

This is the part where the real game starts. The users watch the real hockey game and they can see how their team players are performing.

When the hockey match ends, the players' performance points are distributed to them. The user having the highest points wins and gets the prize.

Why Should You Invest in Fantasy Hockey Mobile App?
The market of fantasy hockey is in the favor and so is the audience. There are several apps that are dominating the market right now like DraftKings, FanDuel, ESPN, and Yahoo. In the first quarter of 2018, these apps managed to bag $750 million from the fantasy sports market. These facts are enough to show that there are some working business models in the area of fantasy hockey mobile app and they are making millions every month. Hence, it is a lucrative opportunity to enter the market with a fantasy hockey mobile app that is perfect from every aspect with cutting-edge features then you can be assured that the revenue will flow towards you.
Not to mention that to capture the broader audience, one must respect the choices of every user. Therefore, fantasy hockey applications must be built for all platforms (Android, iOS, Web, and wearables).
The cross-platform availability surely paves the path for user attraction but it is the collection of exciting features that turns the tables. Therefore, fantasy hockey must have the features that not only enhance the user experience but also make the app stand out from the rest. Let's shed some light on some common features that are integral parts of a fantasy hockey application.
Essential Features For Fantasy Hockey Application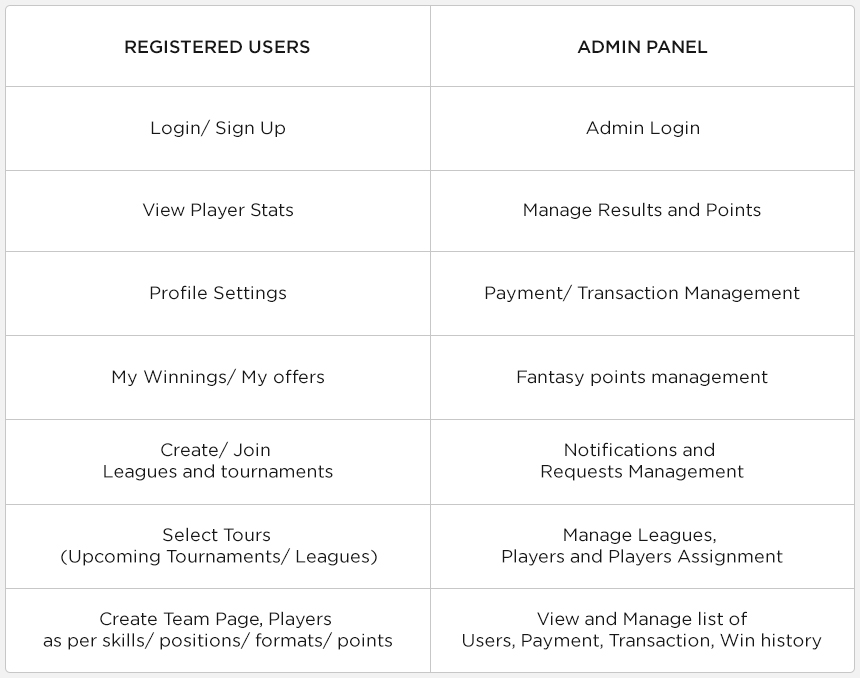 Features for the Users:
The users are the center of an application ecosystem. Therefore, the features for users are very carefully chosen. The point is to provide only necessary and simple app features that enhance the hockey match experience not make it complicated. Here are some features, which are essential and as simple as they can be while having maximum values.
When a new user signs up to access the fantasy hockey app, this welcome screen shows up at first. Usually, this screen contains all relevant news and updates of a hockey match, teams, and drafting. It also has all shortcuts to every menu of the app.
A fantasy hockey app is social media in itself. A user can connect with friends and make groups. Therefore, a user profile is necessary; where user can set his/her username, check all the statistics of total games played and earned reward points, etc.
Fantasy hockey is a skill-based game. It takes skills to draft a winning team. The knowledge and strategy for drafting a hockey team come from having a deeper knowledge of hockey players. This feature helps users to know more about career, performance and other details of the player.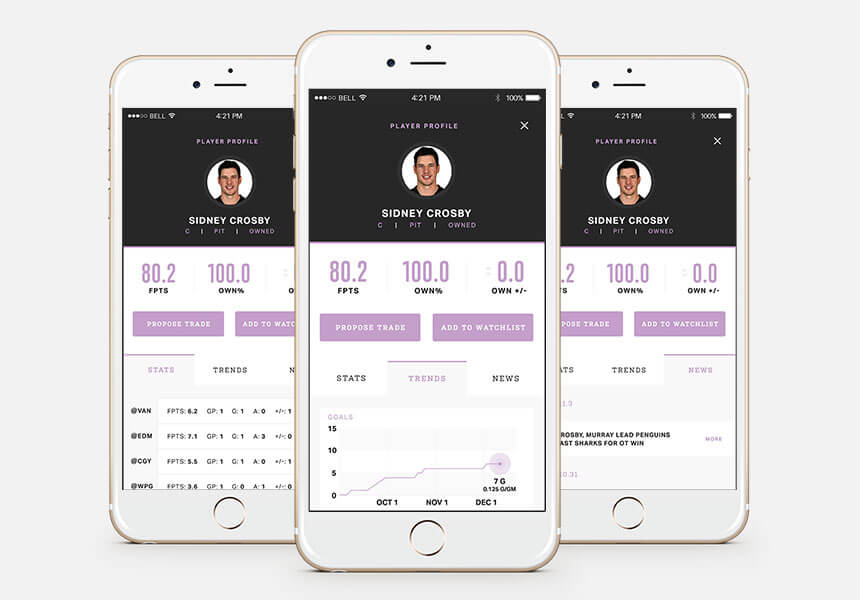 The joining league feature allows users to join or enter various leagues and draft teams. Users can join leagues of their friends or other public or private leagues too.
Fantasy hockey app user likes to do things their own way. By creating their own fantasy hockey league, they organize a game the way they want. It brings a personalized touch to the fantasy.
This feature allows users to draft their own team after entering the leagues. The additional features like providing player prediction while drafting team also help users to draft a team for maximized winning chances.
Not just player information but hockey news and updates are also necessary to make winning strategies as they help in forming a better team.
If a user cannot watch the live match then this live scoreboard feature helps the user to keep an eye on the hockey team score within the fantasy hockey app.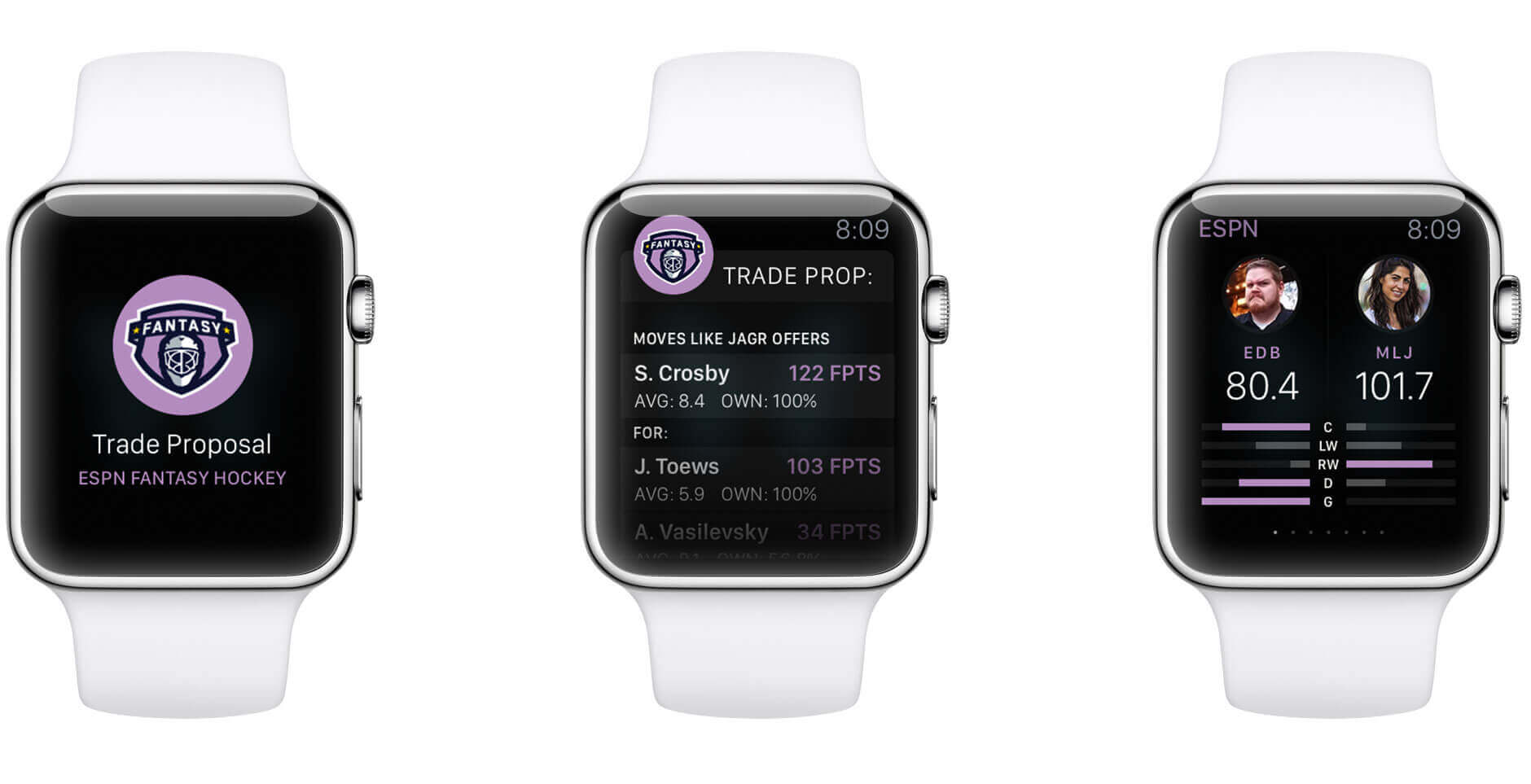 Reward Points
Reward points/credits/coins are the inner currency of the fantasy hockey app. This currency is used to purchase in-app items and they can be converted into real money. The user can win these points by winning in leagues or referring the app to friends and family members.
The user is the manager of the team. Therefore, this feature of fantasy hockey app allows users to manage his/her team and make necessary modifications as well.
For a seamless and convenient transaction, e-Wallet integration within the fantasy hockey application is a must-have option.
This feature never let users miss any important update or news about fantasy hockey. These push notifications provide updates about latest breaking news, leagues updates, lock-in time alert, and many more updates.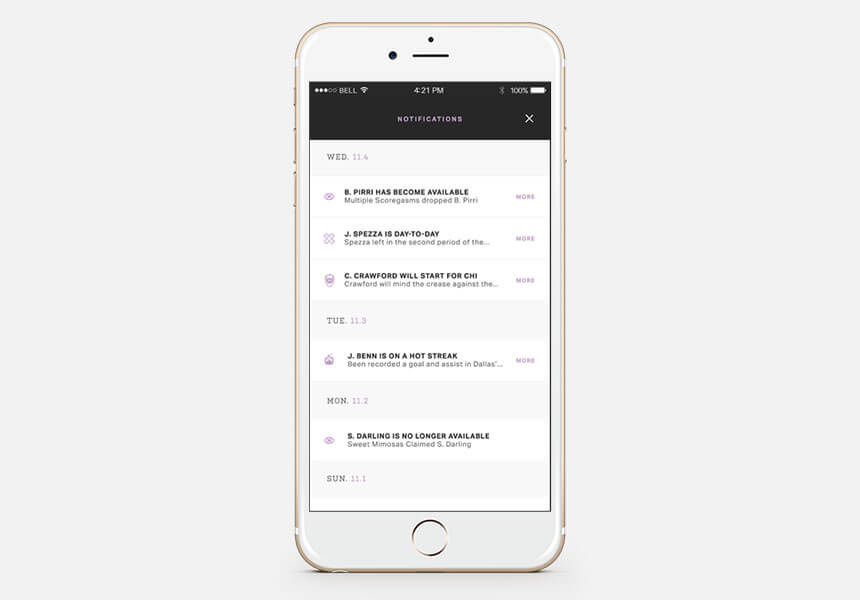 Features for Admins:
While having so much going on the user end it gets challenging to manage everything. In order to keep things running flawlessly some smart and intuitive features for admins can help them to keep track of every activity on the app.
These dashboards are categorized according to their niche. The admin can select the particular dashboard and all relevant information will be in front of him/her.
All the income and outcome related information is here. This feature also has some smart sorting options that help admins to get specific financial data of the fantasy hockey app.
It is one of the powerful features that admin have. This feature allows admins to manage Fantasy Hockey app's overall user base. They can also add, remove, and ban users from the application.
There are various leagues on the fantasy hockey app at a time. This feature makes sure that the admins reach out to every league and make sure everything is running fine and there is no rule and policy violation whatsoever.
This feature enables admins to manage, assign and distribute reward or prize to the winners of the leagues.
Content Management System (CMS)
The content management system allows admins to manage all visible content on the fantasy hockey app.
Customer Relationship Management (CRM)
CRM is a bridge between customer and client. With the help of an intuitive CRM, admin can manage feedbacks, email marketing, push notifications and many more actions that enhance the support system of the app.
Bank Transaction Management
Bank transactions are sensitive tasks and admin must have control over every transaction made by users. The transactions made from app to bank require admins personal attention and only after approval of admin, these transactions can be made.
So these are the crucial features that every user will celebrate after using. Of course, there are many more features that can make a fantasy sports app addictive.
All right, so far we have covered market, money, audience, and features of fantasy hockey application. Now it is time to talk about what you need to build a fantasy hockey app that rocks the application marketplace. The answer is a prominent team from the best fantasy mobile sport mobile app development company.

Team structure required for the best Fantasy Hockey App Development
A team can take your app development from point A to point B. On the other hand, the right team of developers can take your project to great heights. The professional fantasy hockey app developers understand both sport and user behavior. Therefore, they are able to develop that simply slips into the interests of the users and later, in daily life. Here are the core members of this team of developers.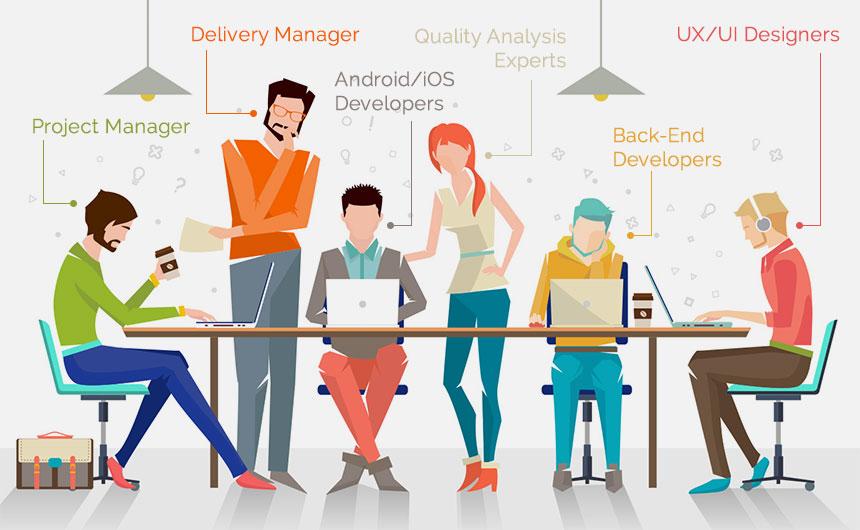 Project Manager
Backend Developers
QA Professionals
Revenue Model of Fantasy Hockey App
It is time that we talk about the revenue model of the fantasy hockey app. Let's talk about some mainstream ways by which existing fantasy hockey applications are funneling revenue.

As mentioned before, $750 million was the revenue of top fantasy sports apps in the first quarter of 2018. And this made possible by only the entry fees. It is obvious that the users are willing to pay for the entry fees if there is a big prize to win. The magnitude of the prize amount determines the number of attracted fantasy hockey app users.
Total Handle (entry fees) From Daily Fantasy Sports in The United States From 2016 to 2018 (in million U.S. dollars)*
A survey held in the USA found out that by the year 2020, average iPhone users would pay $88 annually. This prediction is affirmative about increasing per capita expenditure on smartphone apps and their in-app features. The in-app features and items are there to enhance the fantasy hockey experience for the users and the fans can easily spend a couple of dollars on special features to win in the fantasy hockey league.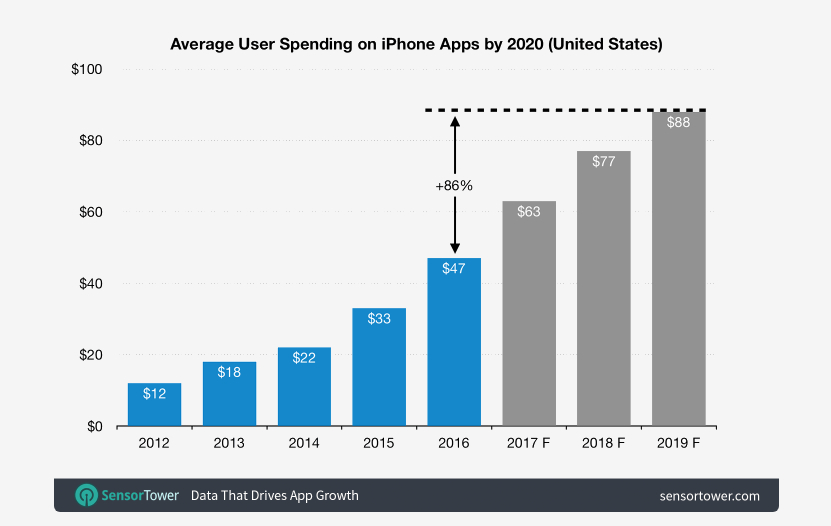 Hold your seats, because the Global sports merchandise market is as big as $25 billion. And I don't think we need these stats to comprehend the dedication and passion of hockey fans for official merchandise of their favorite team. Therefore, having a dedicate e-Commerce portal within the fantasy hockey app will add some extra numbers in the revenue.
An owner of a fantasy hockey app can promote his/her application among the sports fan to get brand awareness and increased user base, which further translates into more revenue. In addition, showing in-app advertisement of 3rd party apps also adds extra juice to the resultant revenue.
Finally, it's time to answer the inevitable question.
Tech Stack for Fantasy Hockey App Development

How much does it cost to build a fantasy hockey app?
The cost of fantasy ice hockey app development app depends on various factors such as, the number of platforms (Android, iOS, Web, Wearables) for which it will be available, number of features, and especially the region of app development plays a huge role in the overall cost of app development. For example, the hourly fantasy hockey app development cost in the USA is $150-$200, whereas, in India, it is only $20-$80.

However, if we talk about a fantasy hockey app with all essential features, it may cost from $35,000 to $50,000. It all depends on the technology and region of app development.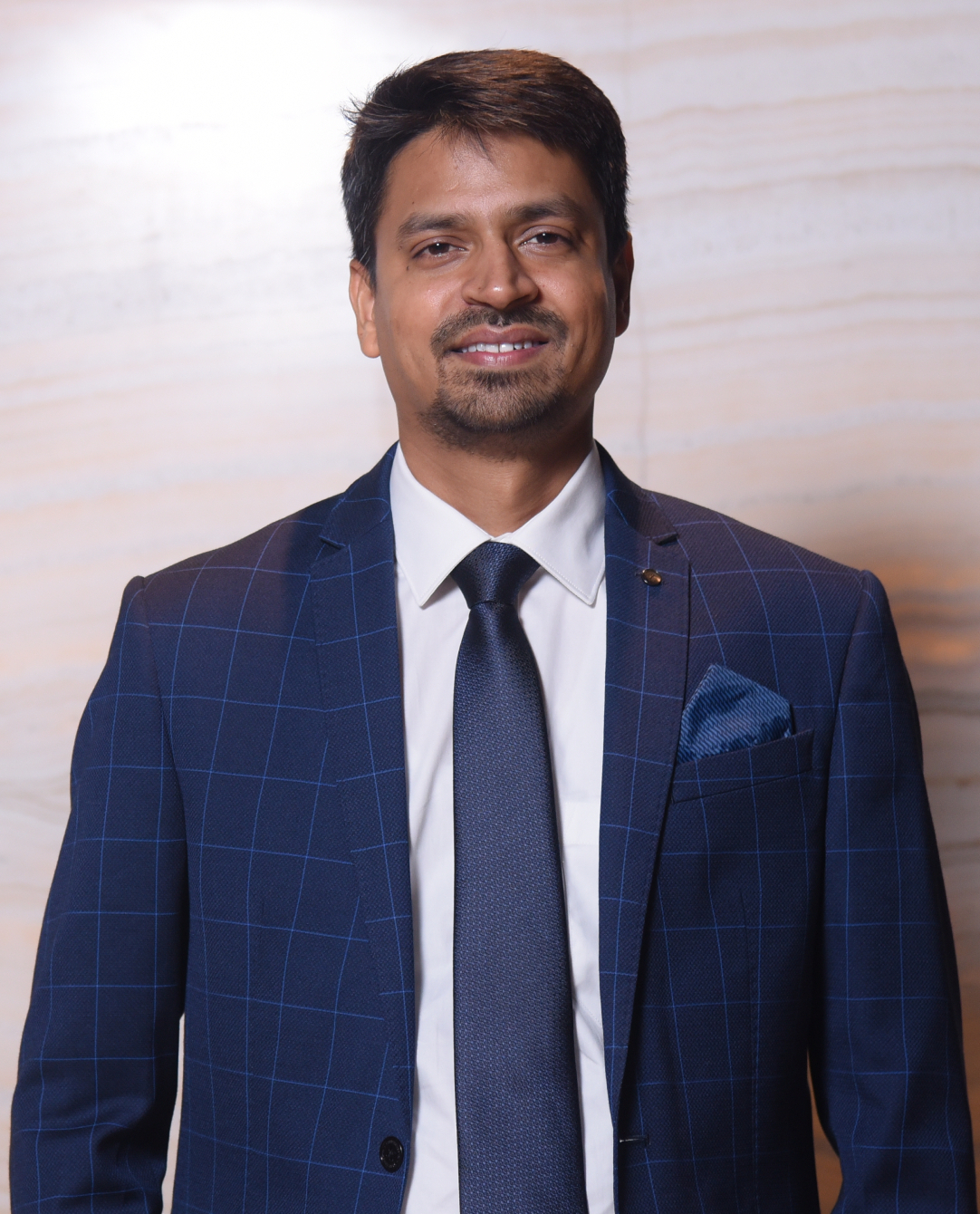 Rahul Mathur is the founder and managing director of ARKA Softwares, a company renowned for its outstanding mobile app development and web development solutions as well as specialized in Android and iOS app development. Delivering high-end modern solutions to all over the globe, Rahul takes pleasure in sharing his experiences and views on the latest technological trends.