Just about everyone has a favorite store to visit. It's the one you think about when driving around or daydreaming during work. The place where there's cool stuff to see and the people just "get" you.
A place where spending money feels like doing them a favor. And, in today's world, that's more and more becoming a digital space where you may never view a clerk, but still want to feel seen.
Are you that store to any of your current shoppers?
Putting modern eCommerce into perspective
Every eCommerce store wants to be memorable to its customers, but that's a tall order. With more competition than ever before, it's getting that much harder to have eCommerce store ideas stand out and create a lasting impression. But you can do it. It just takes some focus and prioritizing what your customers want and need.
To make an impression, highlight what makes you interesting. This could be a tip on its own that's repeated for every aspect of your store, but we want to use it as a framework for the other eCommerce store ideas. Just about every store will tell you that it's unique.
That's great for internal marketing. But what customers care about is what makes you interesting and enjoyable to shop with each time. That might be a cool-looking site, ads that stand out, a simple message, or even stellar customer service.
To figure out what might serve you best or identify where you could be lacking, let's dive into those options and explore eCommerce store ideas designed to help you stand out from the crowd.
Design to engage
Many eCommerce store ideas prioritize products and flashy items to add onto pages but make minimal adjustments to overall site design after launch.
It's time to change that and use modern design to reinforce how cool you are. At the same time, you want to use current best practices to help people engage with you. We're building on the advice of making your page load faster to have it load in a more engaging way, too.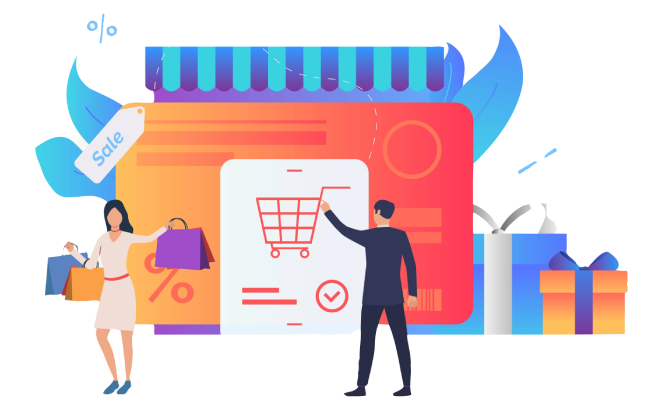 Help your page come alive. This can be direct with movement and color gradients that adjust as someone scrolls or simply having lines and images that naturally slope down to encourage someone to keep moving.
Funnel people to your main product on a given page and the most relevant CTA. Keep them engaged by making site actions have a purpose. If you're unsure how to achieve this look, there are many walkthroughs based on different themes and website designs.
Sometimes, you can achieve this with a new theme for your site. Here's a sample from Qode Interactive that highlights different size and shape options plus movement within image blocks that makes you want to keep scrolling to see what's next on the page.
Prioritize one selling point per page
All that design work driving people down your page to CTA buttons needs a clear direction. Ensure that your audience knows what you want them to do by minimizing options and buttons.
When possible, give them a single purchase button above the fold. Remove distractions and simplify the decision process.
Thankfully, that same approach works for your copy. Stick to a core selling point for each of these sales, products, and landing pages. You can tug at the heartstrings, make the case of affordability, or hype scarcity on your timed pages. Set a single tone and anchor that to your goal.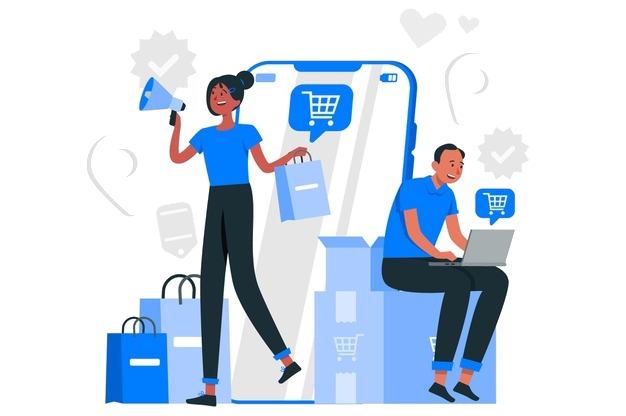 If we take the scarcity approach, everything should scream, "Act now, before it's too late!" Copy should discuss how the product works best right now.
Make the reader want it immediately, instead of thinking of it as an investment. Grip them, keep them hungry, and minimize all the other menu, search, and 'related product' content so that your audience has just one outlet for that drive.
Your audience is intimately familiar with the hamburger menu. It's okay to park your navigation elements behind that on your sales pages, and especially useful on landing pages.
If you're considering a refresh ahead of holiday or seasonal sales, consider running temporary pages that highlight your deals and make it hard to navigate away.
Make payment and shipping options stand out
Want to lose sales no matter how exciting your eCommerce store ideas are? Hide shipping options, costs, and fees until the very last step in the checkout process.
Hidden and high shipping fees remain one of the leading causes for cart abandonment because they push people past their budget and can even make people feel bad or ripped off by a service.
So, you want to be upfront on every page where your shopping cart is visible — which should be every page on your site, in most cases. Add cost estimates when possible or note your standard fees.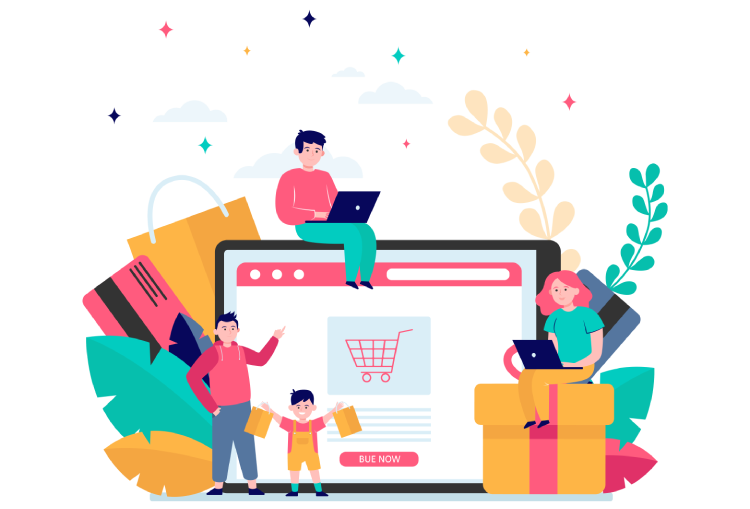 If you offer free shipping above a certain order value, highlight this in your header and on the cart. Give people as much information as possible to prevent sticker shock.
Thankfully, it's become easier to make free shipping offers profitable by tailoring the deal to your shoppers and their behavior. Broadly speaking, younger shoppers will spend more than other groups to reach a free-shipping minimum.
Men are twice as likely to spend a minimum of $150 for a free shipping offer, while women are willing to wait longer for orders to arrive. Finalize your approach by studying your audience specifically to discover the best offer.
Take this mindset to your payment process, too. As people hit your first checkout steps, show them what payment options are available. Some options can not only improve your chance at landing a sale but may also make the process easier for your customers.
PayPal, for example, knows and can provide your customer's default shipping address. Offering it at the start of checkout can move your customers through the process faster, giving them less of a chance to change their minds.
Plus, the company says that more than half of the people who use its credit services would not have made some eCommerce purchases without the option.
Match today's consumer desires
Remember to match your offers and options to your audience. It's possible to offer both fast and free shipping services, but your audience dictates which is most valuable. The same is true for what payment methods to accept. Research your audience. If they typically use Venmo, Apple Pay, or other more recent fintech options, consider adding it for a more user-friendly store.
One growing way to help your store stand out is to introduce layaway options, now often called buy now, pay later (BNPL). According to research, BNPL options are liked by customers, especially those who do not have current credit cards. That tends to be younger shoppers. The good news for your store is that people familiar with BNPL tools are more willing to use them for high-ticket items. 
Nearly two-thirds of shoppers would use it to buy something they want without fear of overspending. Offering BNPL could help you be seen as a company willing to support your customers' choices and offer compelling products. That's a stellar way to build trust and encourage repeat business.
Add excitement to your PPC
Take a moment and head to Google. Search for a product and look at the PPC ads that display. The chances are that you're going to see a lot of things that look very similar.
Even if there are differences in the products, the way they're displayed can quickly feel monotonous. Look at this search for sunglasses in early September.
There are rows and rows of images of sunglasses with photos taken straight on or from the side, with transparent or semi-white backgrounds. There's not a lot of differentiation.
However, we can see some elements that may draw your audience's attention. Some are using all caps to highlight a product or brand name.
The Jollynova pair breaks the mold with both a dark background and the inclusion of the case. The Pacific Grace pair leaves a significant amount of blank space that could play well with high brand recognition. But it could fall flat by not making its case in that space.
We see two different notices about deals, but the text-only ad is the only one where we get a discount amount and any sense of scarcity.
Essentially, these ads are competing based on up to one image and a couple of lines of text. However, some draw us in and can make you want to click. Review your ads and the competition. Then, ask yourself these two essential questions:
What is everyone doing?

What can I do instead?
It may be as simple as a new background color or showing a product accessory. Scarcity may make you seem like a more immediate deal.
Or, highlighting your returns policy or a free shipping offer could set you apart even before people click. Like with all our eCommerce store ideas and tips, have fun, try something new, and get out of old habits.
Prioritize after-sale care
Some of the most useful eCommerce store ideas to help you stand out will impact the after-sales experience. People want to shop with you once because a product looks cool.
They want to buy from you a second time because the experience was pleasant, and they got what they wanted. Engage with your audience after their purchase through their receipt of the order.
Consider a chatbot or self-service area for initial interactions, such as troubleshooting a problem or providing tracking numbers. Allow people to take an immediate step to get an immediate response.
These options need a way for the visitor to escalate an issue on their own. Live agent support is easy to integrate with many chatbots, but you can also provide phone and email assistance depending on your budget.
High-quality service can make the difference between a long-term relationship and a request for a refund. Treat your customers well so that they want to come back — they're also more likely to give you a positive review, which can lead to even more sales.
You want to stand out in as many ways as possible. Consider customer service to be your last chance to make an amazing first impression. Focusing on quality here is an eCommerce store idea that's sure to generate returns.
Get some outside hype
Some work to make your products and store more exciting happens outside of our sphere of control. Word of mouth is not only compelling marketing, but it establishes a broader feeling of your brand.
Companies can't manage this directly, but you can impact it by partnering with influencers and affiliates.
Affiliate marketing can serve as an option to reach more customers with a new message that has a certain feel. For example, partnering with a wellness influencer will give your marketing and products a focus on health and wellbeing, which may be different from the exciting and action-packed video ads you create for your own Instagram or TikTok account.
Remember that you're paying out a commission here for these sales. So, use affiliates and influencers to target new areas of growth or non-standard demographics for your brand.
They're a smart way to grow into new segments. Plus, these partners do the marketing and heavy lifting, so you're only spending money when these partners are successful.
And don't forget to pair this with smart, native ads where you gain free media. Influencers and affiliate sites are great places to help you understand and build out a lookalike audience. Partnering with brands like Outbrain can make this simpler, no matter how new or established your eCommerce operations are.
Bring it back to yourself
If you're reading this, you're likely an eCommerce shopper yourself. So, when looking to update your store and deliver a compelling experience, think about what you've enjoyed recently.
When shopping in the recent holiday season, what worked for you? Which company created an experience you remember positively? Who was frustrating enough that you'll remember not to shop with them again?
These are some of the best lessons you can learn for your store. While we've discussed a few options that can make you more enjoyable and engaging to your audience, there's definitely something that's been left out of this list.
Comment below to share what you've seen and enjoyed recently, where you think you shine, or what frustrations make you never want to shop from an e-tailer again.