Everything in the modern day revolves around technology. Imagining a world without technology and its many advantages is impossible.
With the internet at our fingertips, we have the luxury of accomplishing nearly anything. On-demand applications have emerged in the recent decade as a new trend.
The grocery sector is one that is steadily but gradually expanding. Groceries are an essential component of human life, and as a result, individuals will often go out and spend hours shopping for them.
The beginning of on-demand applications has shown consumers that grocery shopping does not necessarily have to take hours, despite how important it feels at a particular time.
There are several Grocery delivery app development company that specializes in developing apps from scratch for different types of platforms (iOS and Android).
Top Grocery Delivery Apps encourage customers to buy from the comfort of their own homes, merchants to sell their goods before they expire, and part-time employees to earn extra money.
On-Demand Grocery Business Models
1. Aggregator Model
The app serves as a middleman in this arrangement. No stock is held, no workers are employed, and it is only a platform for other vendors to offer their goods.
These types of online grocery delivery solutions make it possible for customers to shop from a variety of vendors while reducing branding and storage expenses to a minimum for retailers.
2. Single Store Model
Using this approach, the app displays all of the different divisions of a store. There is just one store associated with these applications, and all of the things offered in that store may be purchased in a single place.
Grocery shop operators that intend to go online are likely to utilize this type of model.
3. Pick-Up-In-Store Model
Consumers may order online and then pick up their purchases at the store using these applications. The advantage of this approach is that consumers may check ahead of time whether or not anything they want is in stock, choose certain items, and then pick them up in-store without having to wander the shop for hours or stand in line.
4. Hybrid Model
A grocery store's business strategy can be a blend of any of these. Aggregator and store pick are two typical hybrid models that may be used together.
You may either have the things delivered directly to your home, or you can order them in advance and pick them up from the store.
Top Grocery Delivery Apps in the USA
| S.No | Name Of App | Play Store Link | App Store Link |
| --- | --- | --- | --- |
| 1.  | Walmart Grocery | | |
| 2. | Instacart | | |
| 3. | Shipt app | | |
| 4. | FreshDirect | | |
| 5. | Peapod | | NA |
| 6. | Amazon Prime Now | | NA |
| 7. | Hungryroot   | NA | |
| 8. | Boxed   | | |
| 9. | Kroger | | |
| 10. | 7NOW     | | |
| 11. | Postmates | | |
| 12. | Amazon Fresh   | | |
| 13. | Safeway   | | |
| 14. | Thrive Market | | |
| 15. | CheckOut51    | | |
1. Walmart Grocery
The Walmart food delivery application is a digital extension of the physical Walmart store. Since Walmart has been a household name in the United States for quite some time, the development of its own delivery service was a complete surprise.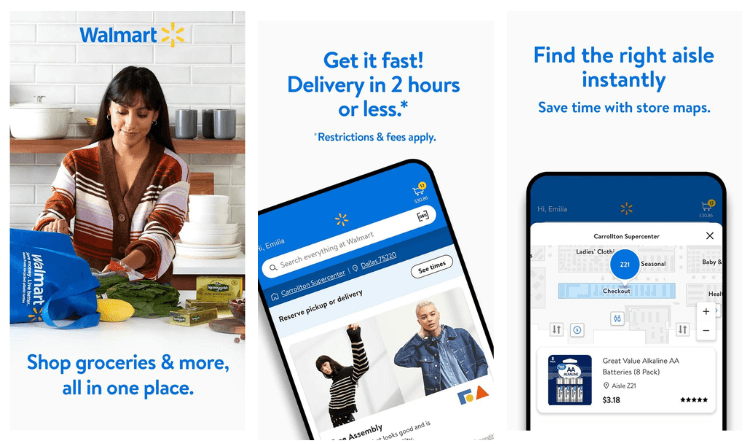 Almost all of the store's items may be found here. The convenience of having your favorite items delivered right to your home makes this an excellent option.
Using Walmart's delivery service, you may quickly schedule a delivery time that works best for you. You'll have to pay an additional $8-10 to receive the goods. You may also pay $13 a month or $100 a year for a membership and get free delivery.

2. Instacart
If you're looking for an online grocery delivery service in North America, Instacart is one of the Best Grocery Delivery Apps available. It spans 85% of the United States and 66% of Canada.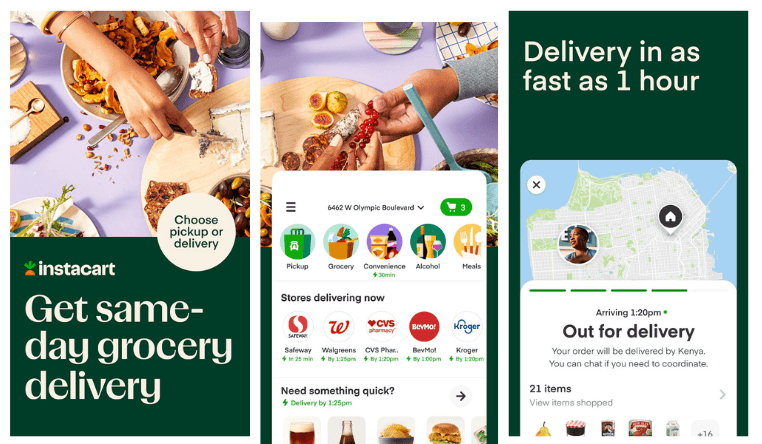 More than 300,000 goods may be delivered via Instacart's partnerships with major supermarket chains including WholeFoods, Safeway, and others. Instacart has collaborated with over 250,000 retailers and completed six investment rounds.
You receive your first delivery for free when you sign up with Instacart. This is an excellent reason to sign up for the app. Almost every major supermarket chain in the United States has agreements with the business.
One of the finest aspects of the app is the ability to buy food from many locations at once. Using this service, clients may shop around for the greatest deals on various items.
3. Shipt    
This is another company that provides grocery delivery services across the United States. An estimated $120 million in yearly income is generated by more than 50,000 visitors to the business each year.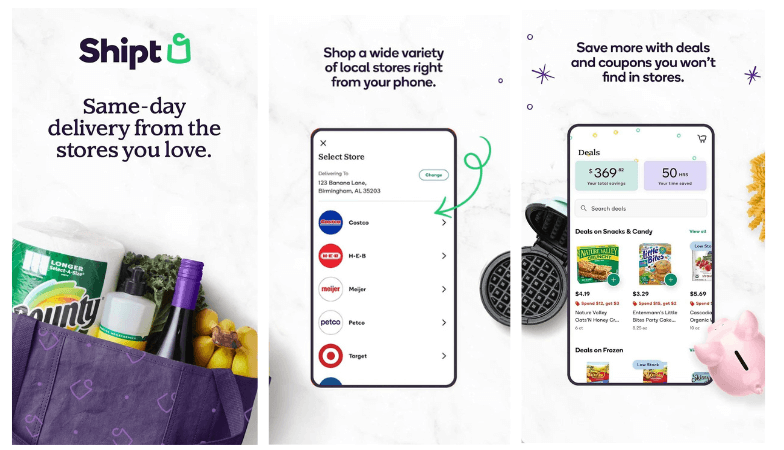 Companies including Whole Foods, Costco, and Publix have worked with this company. 604+ professionals work hard to meet the grocery demands of the company's consumers.
Shipt is a fantastic application since it provides a wide range of unique capabilities not found in any other app. Its innovative business concept enables users to check out what's on offer and request things that may not be listed in the app's storefronts.
Customers may repurchase products they've already purchased by using the 'buy again' function. This means that they don't have to go through the process of deciding what to buy each week over and again. An annual subscription fee of $99.9 or a monthly fee of $15 is required to use the app.
4. Peapod
Peapod is a Chicago-based delivery service for groceries. Customers in Boston, New York City, Chicago, and Indianapolis are able to shop for groceries at the company's 24 outlets around the United States.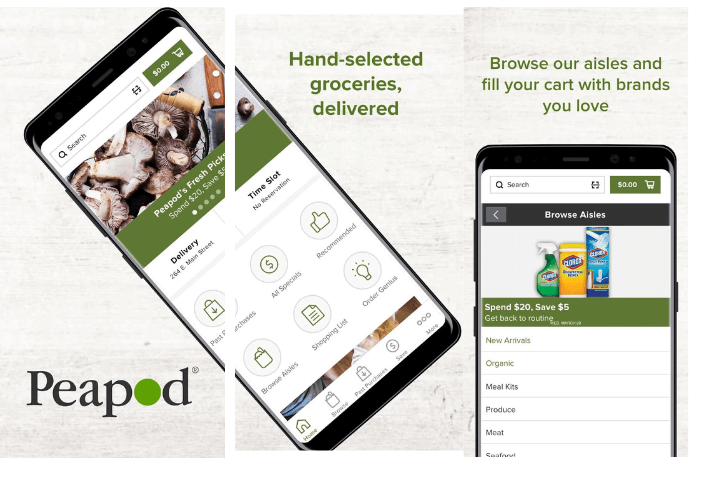 Customers may create shopping lists through the app. The company allows consumers to make recurrent purchases and offers several tools that make this feasible.
Their "Order Genius" functionality records clients' purchases and provides them with recommendations based on their consumption habits. The app features a superb algorithm that knows the users and provides them with filtered results based on their specific requirements.
Meal kits, available through the app, allow customers to purchase everything they need to prepare a certain dish. With its unique characteristics, Peapod aims to simplify the cooking process for individuals.
5. FreshDirect      
FreshDirect is a popular choice for East Coast consumers who need groceries delivered to their homes and offices. A number of well-known cities in the northwest and the northeastern United States have FreshDirect as an option for their residents.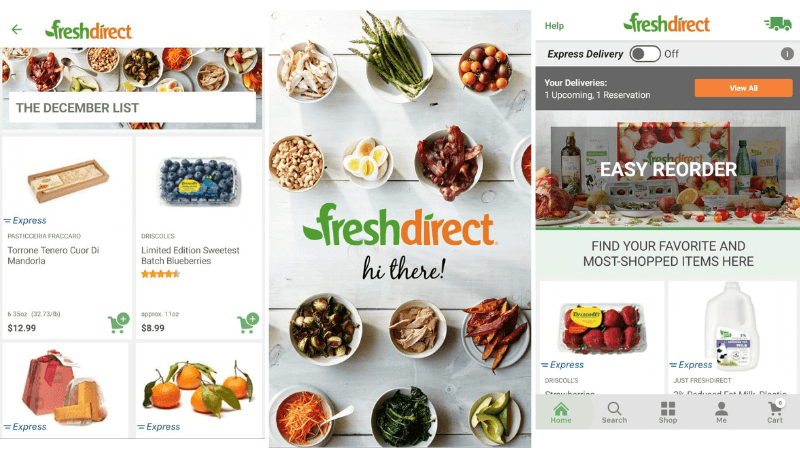 This grocery delivery service works with local farmers, dairies, and fisheries to ensure that you get the freshest products possible. FreshDirect's grocery shopping and delivery app offers a wide choice of items depending on the season.
FreshDirect permits consumers to order items far in advance and as late as 11 pm, in order to accommodate users' scheduling restrictions. If you spend $30 or more, you should expect your item to arrive within one day.
6. Hungryroot  
Hungryroot is a platform that started in 2015 and is based in New York. It offers meal subscriptions and grocery delivery services.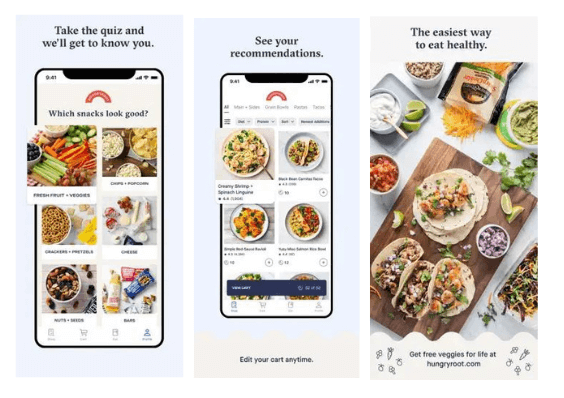 Due to the fact that it sells essentials, it makes it possible for you to mix and match products while still creating a nutritious meal.
Due to its strict three-point criteria, it is regarded as one of the most popular grocery delivery businesses on the west coast of the US. The minimum delivery price charged by Hungryroot is $59.94 and includes three two-serving meals.

7. Boxed  
Boxed provides same-day grocery delivery as well as bulk purchases delivered right to your home. Boxed is the best app to use if you want to get your milk, eggs, and fresh produce from the best grocery delivery providers.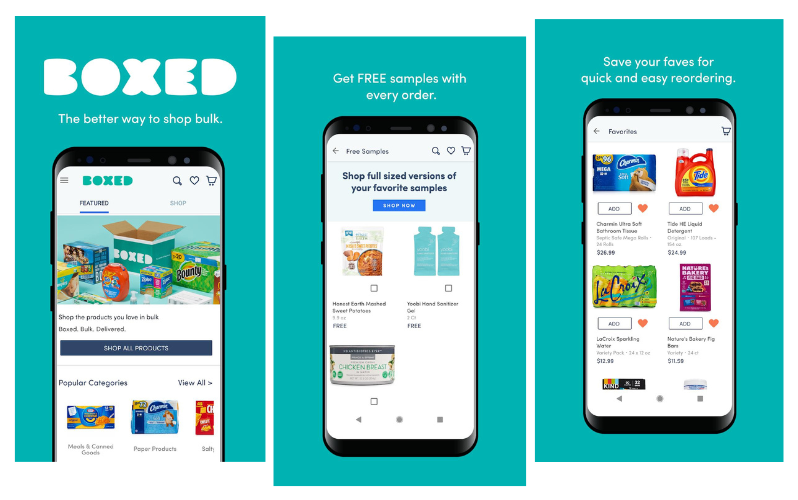 With Boxed Express, you may purchase a large quantity and have it delivered at a convenient time. There are minimum orders and delivery costs for Boxed Express packages, so the cost can quickly mount.
Due to the COVID-19 pandemic, Boxed's delivery times have lengthened, yet the company continues to provide grocery delivery services. Orders under $49 will be charged a shipping cost of $7. Over this amount, delivery is free of charge to the customer's location.
8. Kroger
It's no surprise that Kroger is one of America's largest grocery chains. Saving money is easy with their shopping app, which offers exclusive deals and discounts tailored to each customer's individual needs and wants.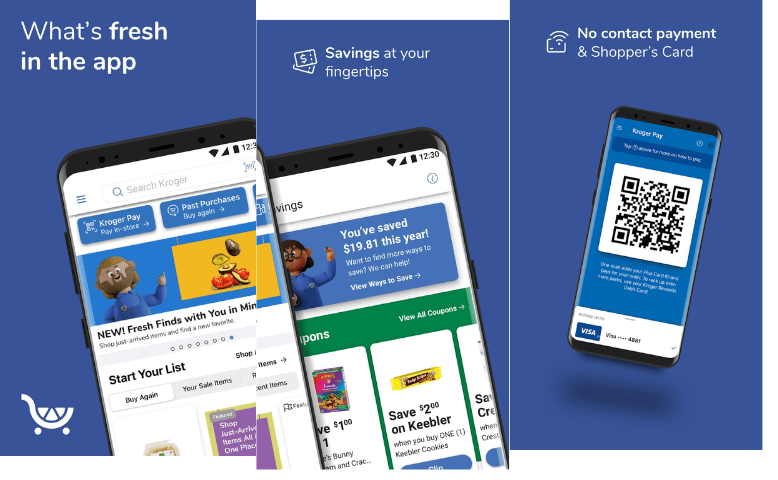 Shop online or in-store with the convenience of creating an online shopping list right there. The Smart Suggest feature of Kroger helps you to save money on specific products by recommending them to you.
9. Amazon Prime Now
Amazon Prime Now is Amazon's most popular grocery delivery service. There are more than 40 major locations where Amazon's top grocery delivery services are accessible, and you may buy nearly anything on your shopping list, from food to cleaning supplies to pantry essentials.
Customers may also order a wide range of grocery and non-food products, such as household supplies and clothing. If you're a large family looking for year-round food shopping services that can deliver enormous quantities of groceries, this is the solution for you.
Amazon Prime Now has teamed up with some of the most popular supermarkets in the country to offer customers exclusive discounts and promotions.
The annual fee of an Amazon Prime membership, which includes access to Amazon Prime Now, is $100. Two-hour free delivery is available, while one-hour delivery costs $10 more.
10. Google Shopping
Online grocery shopping in the United States is made easy with Google Shopping, the most popular grocery app in the country. It's now possible to have your daily necessities delivered directly to you via a free app from the Google Play Store.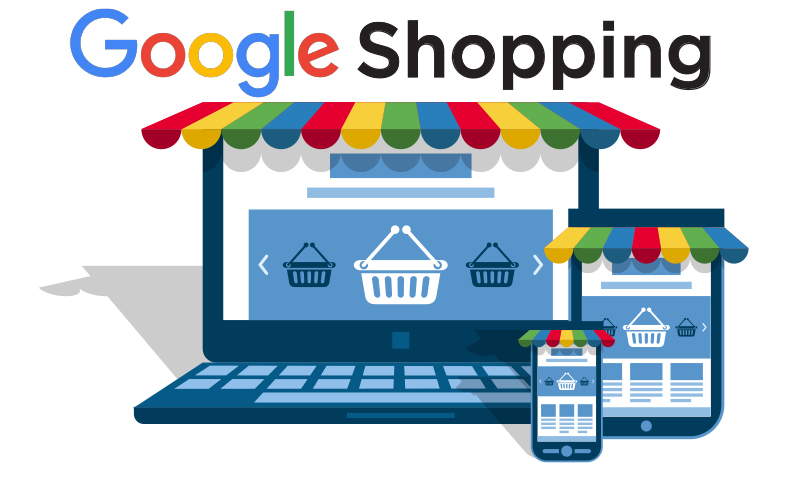 Google Shopping! With this service, you may shop at thousands of retailers throughout the globe without any bother at all.
Your Google account is all you need for the grocery delivery app's safe checkout. Therefore, whether you are searching for everyday necessities, a present, or something unusual, you can find it all within the application.
Aside from that, you can shop with confidence, knowing that all of your purchases are covered by Google's guarantee, allowing you to take advantage of convenient returns and round-the-clock service. Use your Google history to find the greatest offers and recommendations.
11. 7NOW
Products including groceries, baked goods, personal care items, etc., are available to customers via the 7NOW service.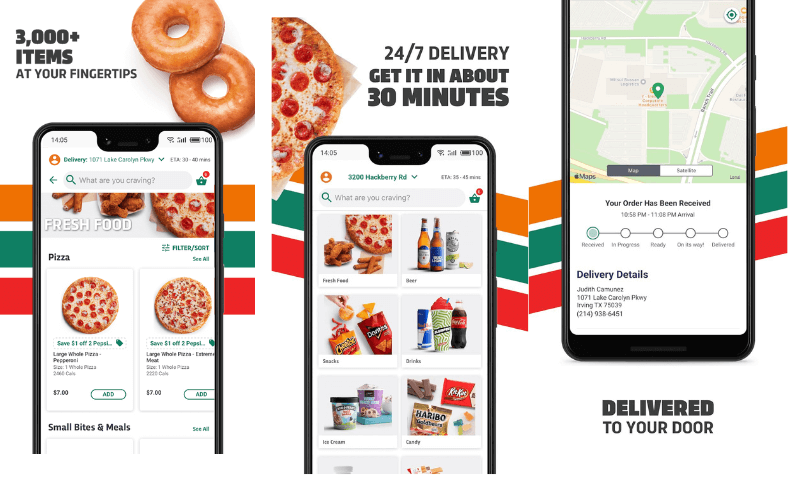 You may get your items delivered to your home in roughly 30 minutes with 7NOW. This app may be found in over 200 cities and 40 major metropolitan regions across the United States.
12. Postmates
Postmates was launched in May 2011 as an on-demand grocery delivery application. You might think of the app as a sort of tech-driven delivery service for your everyday requirements.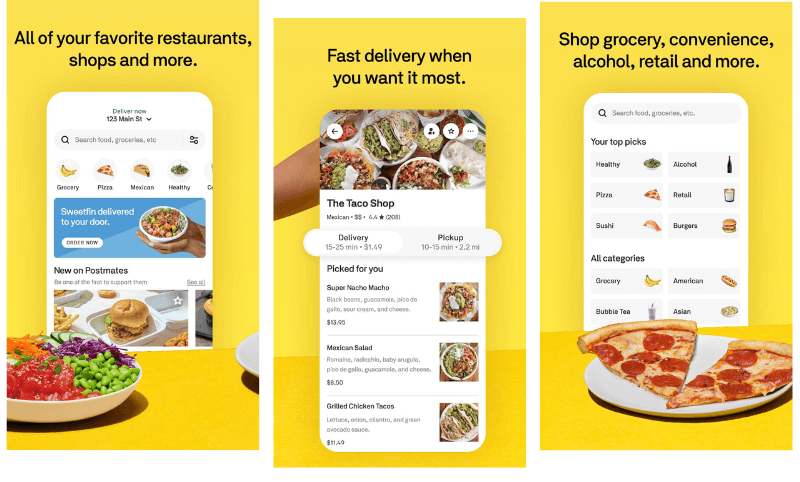 In order to find items that meet your needs and bring them to you, the app uses mobile devices and GPS technology. The firm has formed partnerships with McDonald's, Panera, Starbucks, and Chipotle, among others, and can fulfill more than 8 million orders every month.
More than 3500 cities are served by the company's 250,000 merchants. As of now, the corporation is worth $1.85 billion.
While most supermarket delivery businesses focus on delivering goods, Postmates focuses on providing a wider range of services. People may buy anything within the town, and it will be delivered within an hour. It is also a popular app for ordering meals from major restaurants and cafés.
A little delivery cost is charged by the firm, and it is determined by the distance the person delivering your item has traveled.
13. Amazon Fresh  
AmazonFresh is a revolutionary delivery service offered by Amazon as an add-on to the Amazon Prime subscription. If you're already a Prime member, AmazonFresh is a simple way to get groceries delivered right to your door.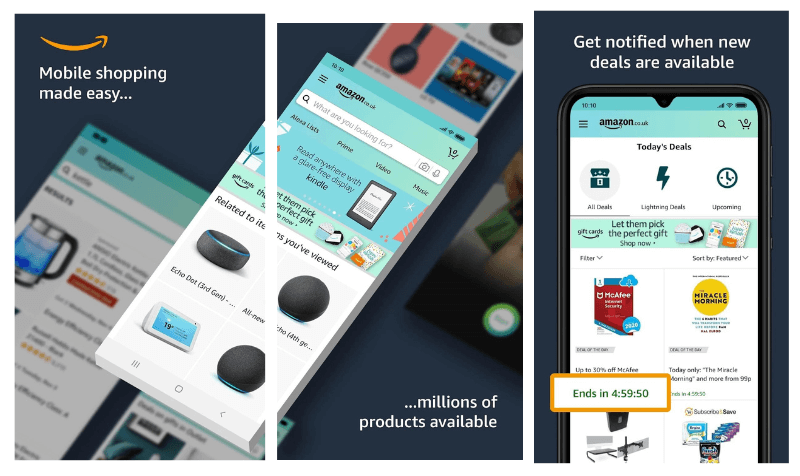 AmazonFresh exclusively offers grocery delivery to existing and new Prime members at this time. AmazonFresh is well-known for its grocery delivery service, but it offers much more.
In addition to fruits, vegetables, frozen foods, snacks, and fresh meat, you can also get chargers, stationery, cleaning supplies, grooming items, etc.
If you're a Prime member and your transaction totals more than $35, AmazonFresh offers free delivery. There is an extra shipping cost of $10 for orders under $35.
14. Safeway    
Safeway is a household brand in the United States and has been a prominent supermarket business in North America for decades. Safeway, like other major supermarket stores, has launched a grocery delivery application in an effort to reach new consumers and boost its market share.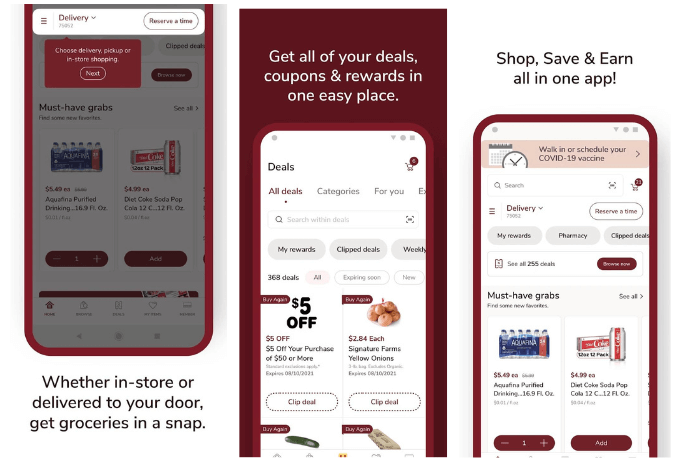 One of the reasons this chain is so popular is because the firm provides a wide variety of products to choose from. Safeway offers a wide range of suppliers, distributors, and facilities.

15. Thrive Market
One of the top grocery delivery services is Thrive Market, which is run by its members and provides carbon-neutral delivery of organic food.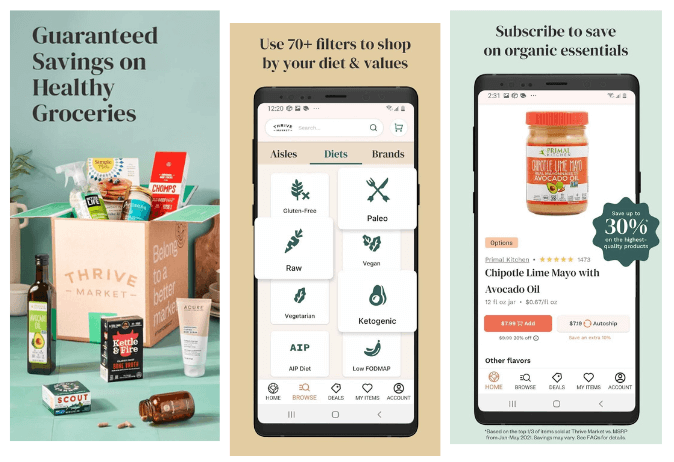 For those on a keto, paleo, or vegan diet, raw and packaged meals are available. Orders may be fulfilled using either the Thrive Market application or a web browser.
Thrive Market memberships are available for $9.95 per month or $59 per year. To qualify for free shipping, an order must meet the $49 threshold.
16. CheckOut51
CheckOut51 is an amazing grocery delivery application in the United States, available on both Android and iPhone. Those who utilize the app can earn awards and loyalty points.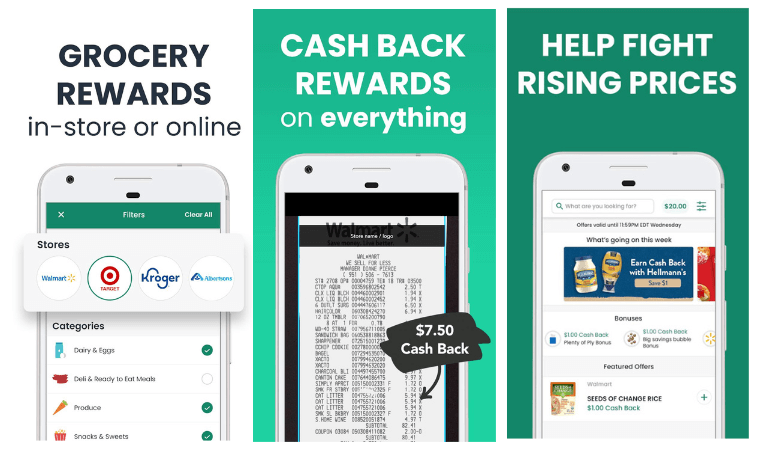 The delivered products come from the company's brick-and-mortar stores, and customers have a high possibility of taking advantage of a few spectacular discounts each week. Many well-known grocery retailers, like Walmart, have teamed up with CheckOut51 in the past.
Cost to Develop Grocery Delivery App
It is expected that top grocery app development companies will charge between $10,000 and $30,000 for a single-platform grocery delivery app, including the expense of employing an experienced developer team. Adding more advanced features and a higher technological stack might raise the price.
Conclusion 
Our rundown to find the best grocery ordering app in the USA has come to a close. The procedure of having groceries delivered, as well as the associated costs, might differ from one grocery delivery business to the next.
Just have a look around and see which one best fits your needs.