With the expanding usage of the internet, there are various industries that are thriving in today's competitive market. The on-demand grocery app is one such example that has undergone major developments.
There is a lot of demand for online grocery applications. In 2021, it accounted for 45% of the U.S. grocery delivery market, only surpassed by the retail giant Walmart.
The US Instacart Grocery Sales will be estimated to be worth $35 billion by 2023.
Market growth is mostly attributable to shifting consumer preferences and an expanding urban population.
There is a growing trend of people buying groceries online. With busy schedules and more disposable incomes, shoppers are increasingly turning to online grocery shopping platforms rather than visiting actual stores to get their daily necessities.
People who have never purchased groceries online have begun to do so and said they will keep ordering in the future as well.
InstaCart's Grocery Sales Value in the U.S. in 2019-2023
According to Statista, In 2021, the grocery delivery service generated about 26 billion U.S. dollars in sales. By 2023, the company's sales in its home market could reach 35 billion U.S. dollars. Also, the latest Instacart receives funding of $232 Million.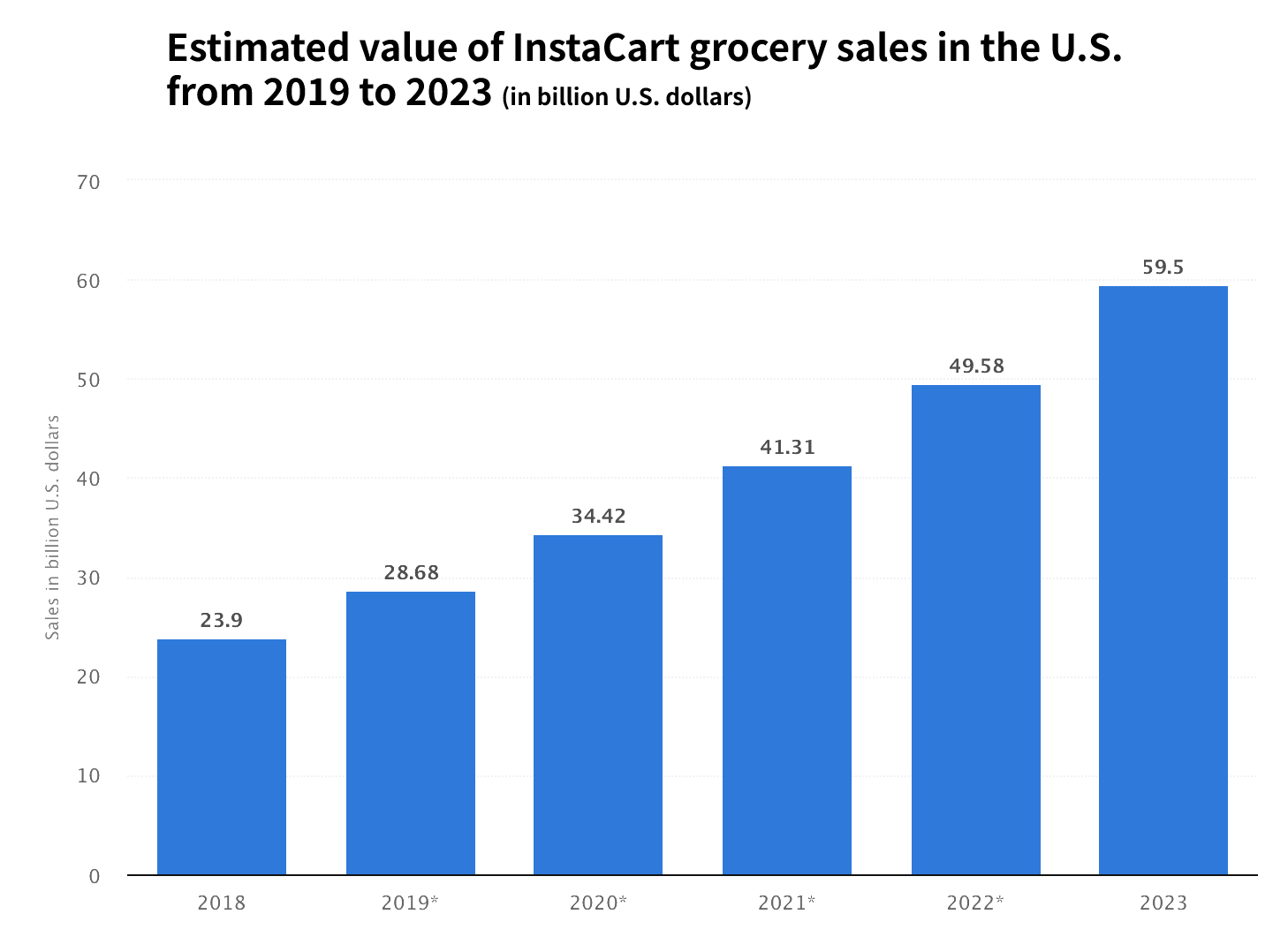 Instacart App: Overview
Instacart, a supermarket delivery start-up, has dominated the online grocery delivery market for the last several years because of its distinct and successful business strategy.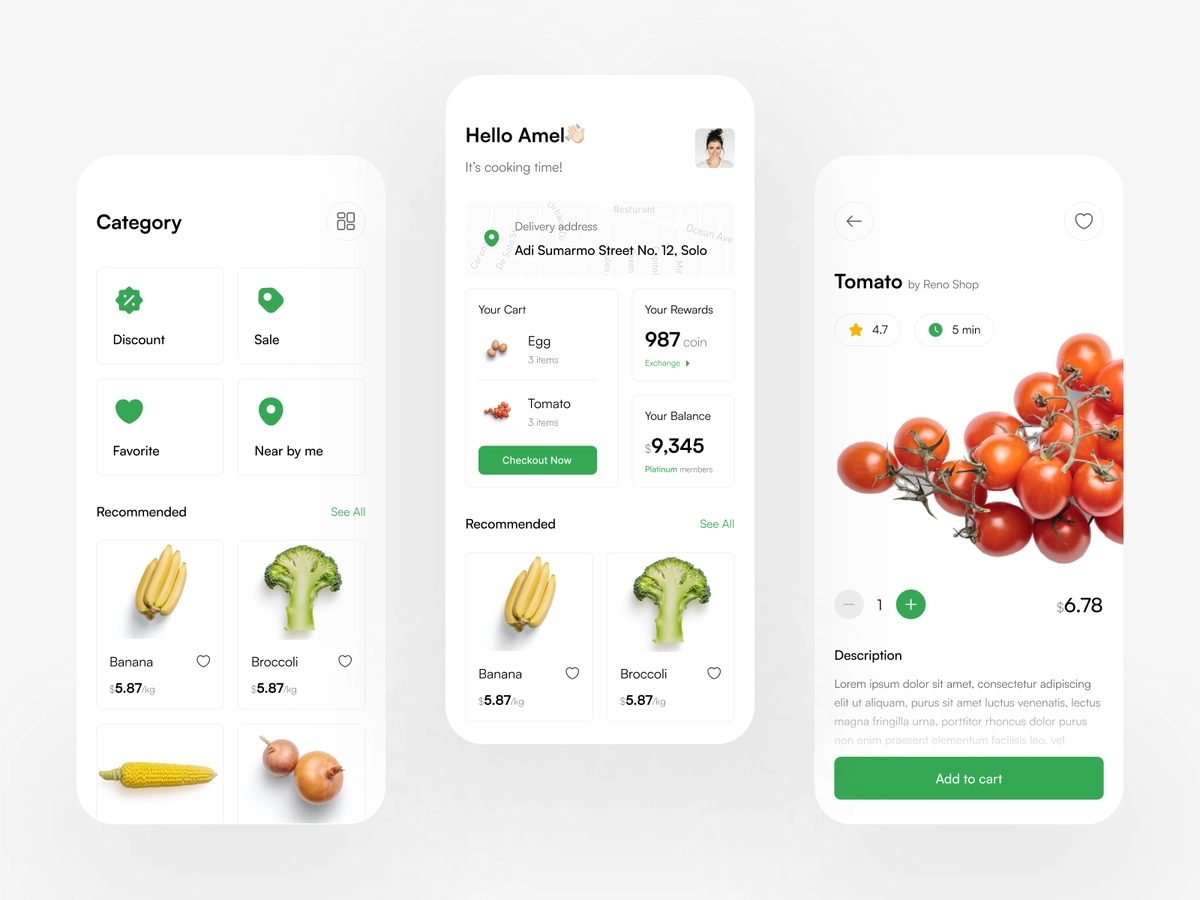 Instacart has been a popular choice for top investors because of its rapid development and reliable business plan. 
The latest stats from Statista also show that 85% of USA homes and 60% of Canadian households utilize Instacart for food purchases.
How Does Instacart Work?
Instacart app business model strategy is based on the sharing economy, and it connects clients with sales associates to deliver groceries on-demand in their local area.
Instacart does not operate its own grocery stores; instead, it provides a platform for retail merchants to sell their items.
Shoppers may select their preferred grocery shop using the mobile app, go through the available products, enter the desired quantity, and then complete their order.
When consumers purchase groceries through Instacart, the retailers are either sole traders or part-time Instacart workers who go out to deliver the items to the customer's doorstep.
Customers may order and pay for their orders right from their phones, so they don't even need to leave the house.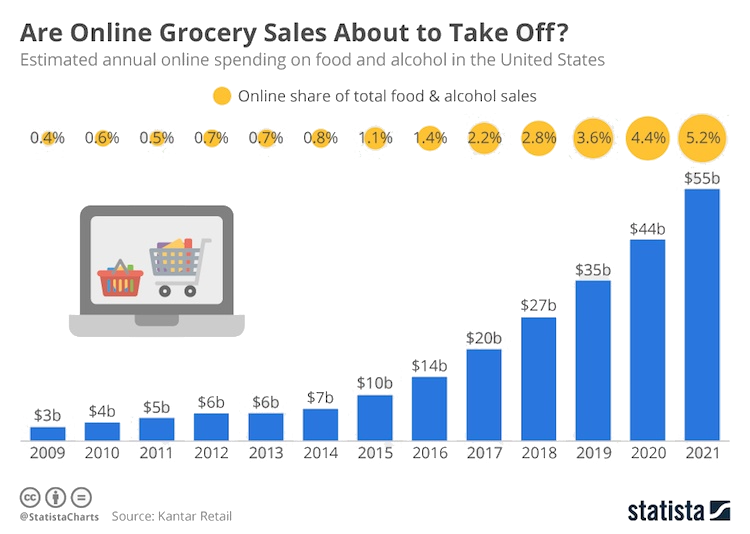 Instacart's Value Proposition
The inspiration behind a company's start is what sets it unique from other market rivals. Instacart was not created to or to establish a business.
It was launched in San Francisco, USA in 2012 and become one of the biggest grocery delivery market leaders in the United States and Canada with a motto that people could get their groceries without having to deal with the trouble of going to the grocery store themselves.
A company's value proposition is derived from its ability to meet a market demand that no one else is meeting. Instacart's distinctive characteristics set it apart from the competition and add to its overall value proposition:
Established chain of well-known grocery stores.

There is no need for storage or warehousing.

Stocks come from a variety of places.

Customers receive their orders within 2 hours.

Flexible working environment.

Multiple shopping options at one location.
Different Segments of Instacart
Instacart's whole ecosystem relies on its three main client groups: Users, Shoppers, and Business owners. To meet the demands of all consumers, they must work together easily.
Each group of clients interacts with the application in a unique manner, and each group derives unique benefits from mobile apps.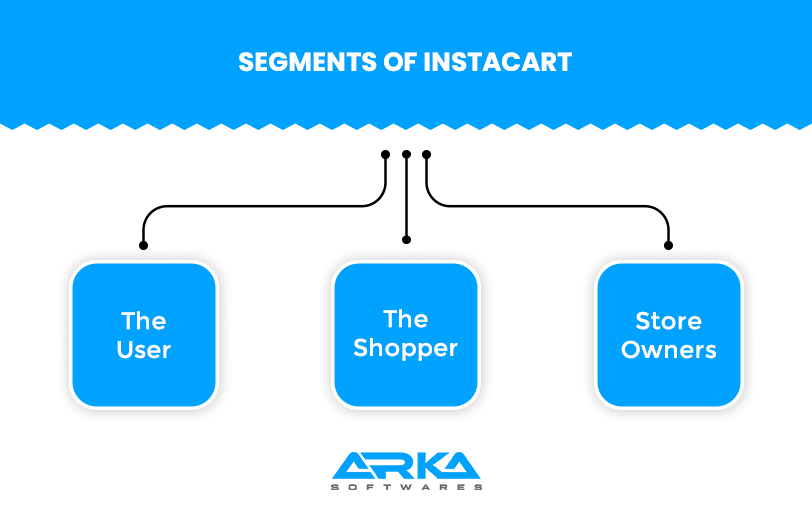 #1 The User
The app's "users" are the individuals who have expressed an interest in using it to make grocery purchases. They are an essential element of the ecosystem since they generate demand for the items.
Without the involvement of a user, the roles of other consumer groups will become obsolete. A user's responsibilities include the following:
These individuals use the application to purchase groceries from various stores simultaneously.

In order to pay for goods and services, they use an online payment method. As a result, they generate the app's income.

The app asks users to enter their location, which is then used to locate nearby retailers.

Customers are notified as soon as an order is placed to ensure a seamless transaction.

Using the app, users can prepare their shopping lists in advance and schedule their purchases for the future. Alternatively, users may set up recurring orders.

25,000+ retailers are available to these users. Discounts and special offers are also available to them.
#2 The Shopper 
If the app's users are the ones who generate demand, then the app's shoppers are the ones who satisfy those requests. They tend to be flexible employees who are paid on a per-project basis.
The following is a breakdown of how the app's users contribute:
Whenever a user places an order, they immediately get to work as soon as they receive an alert on their mobile devices.

To ensure that they don't waste any time, these shoppers are situated close to the supermarkets.

Two sorts of shoppers exist full-service and in-store. Both the former and the latter shop for and deliver goods to customers. In-store shoppers are engaged by both Instacart and individual retailers. They remain in the store until the order is ready for pickup.

Shoppers are compensated on a daily basis and might earn $5 to $10 for each order.

Besides the money they get via the app, they may also get money from tips given to them via users.
#3 Store Owners
With the help of Instacart, grocery store owners are able to sell their goods online. They are able to reach a larger audience because of the app's popularity.
Grocery delivery app like Instacart helps these store owners to market their business on the app.
Instacart 
Business Model
and 
Revenue Model 
Instacart has a market share of 68.8% in the United States, and its success is largely due to its innovative business strategy.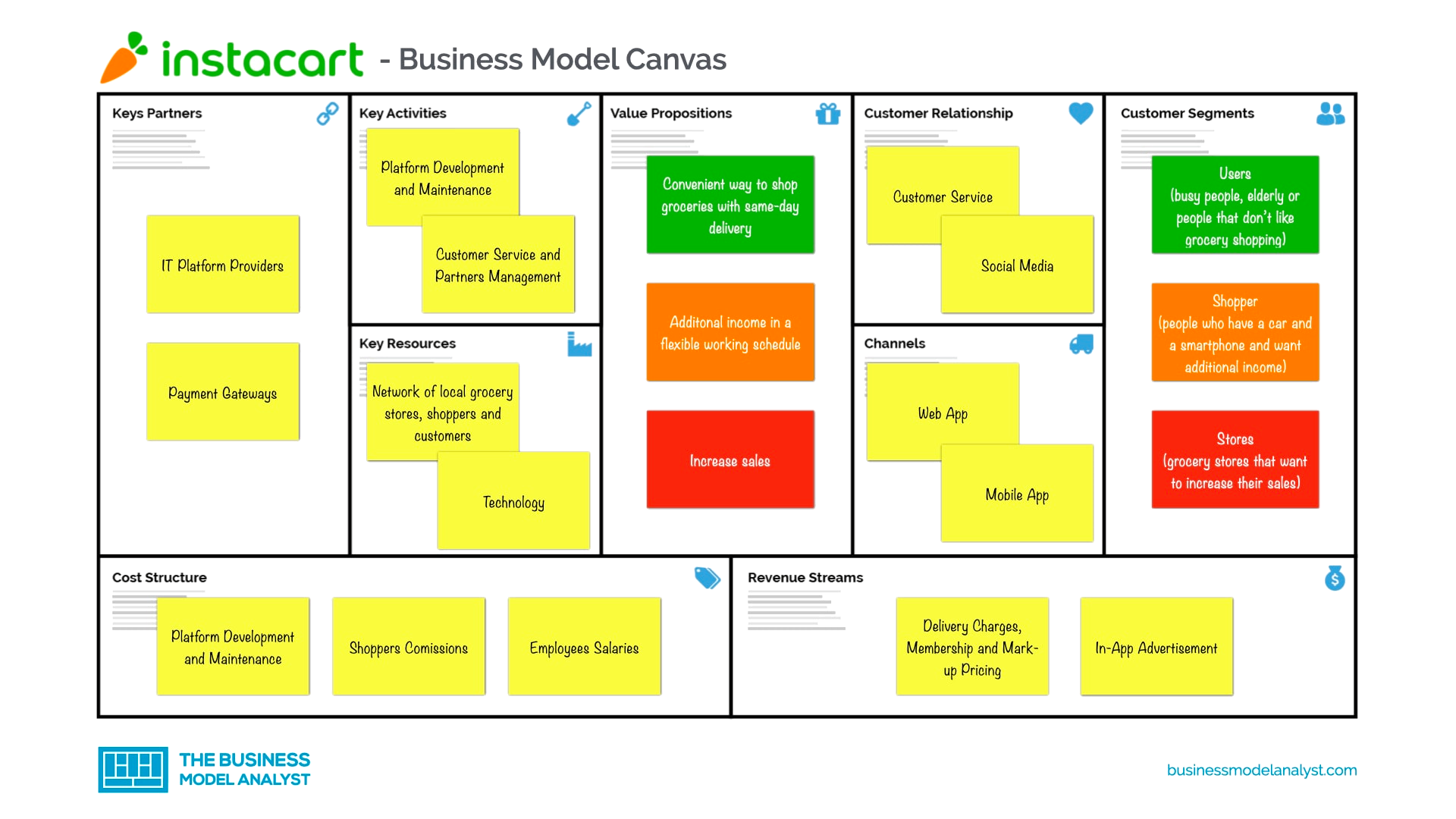 Only a few businesses have been successful in implementing the on-demand model in a seamless manner, despite the fact that many have done so. The business model of Instacart was developed by taking into account the demands of the sector and personalizing it.
Fulfillment of an Order
First, the user specifies the items they want to buy from the grocery store.

These people use the application to shop for groceries by putting their current location into the address bar. They then use online payment methods to place orders from any and all nearby shops.

The order is subsequently forwarded to the shopper, who begins acquiring things manually.

After that, the personal shopper visits the customer's specified address to deliver the groceries.

The customer can then give the shopper a tip if they want.
Moreover, the app gives users flexibility by allowing them to pick up their items from the store. When users arrive at the store, a shopper will have the order waiting for them, so users don't have to lift a finger to get it done.
Revenue Model of Instacart App
An important consideration when beginning a business is the source of income. Without a steady flow of cash, no firm can continue to operate.
There must be a surplus to cover the firm's fixed and recurrent costs, or the company will collapse. The business's long-term viability depends on its capacity to maintain itself, and this is enabled by the efficiency of generating income.
Instacart's income comes from a variety of sources, including its customers and the merchants it serves. Instacart's income streams are as follows: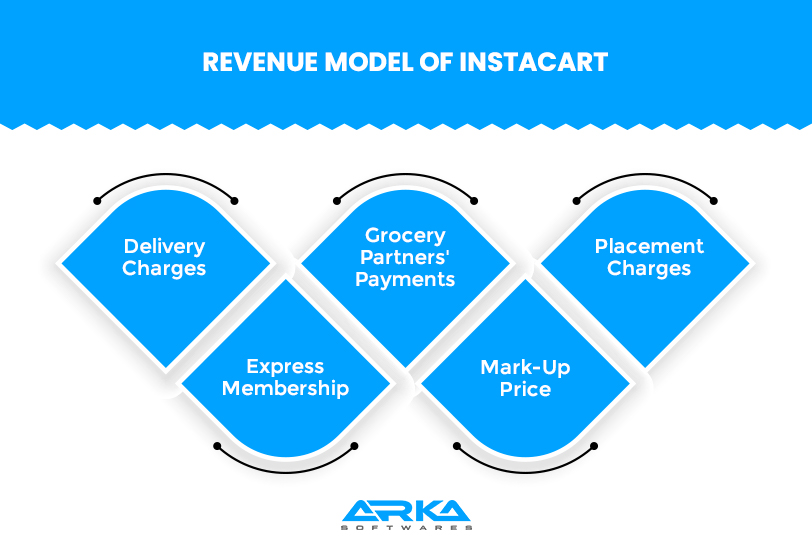 #1. Delivery Charges
Deliveries made through Instacart are subject to a flat fee. These fees vary based on the length of time the consumer requires the items. If the order totals $35 or more, consumers will be charged $3.99 for 2-hour delivery and $5.99 for 1-hour delivery.
There is a $7.99 delivery fee for orders under $35 and a $9.99 fee for orders over $35. The retailer and the firm split the shipping fees.
#2 Instacart Express Membership
Instacart also offers an annual subscription option for its consumers. A one-time fee of $99 entitles customers to free delivery on any orders above $35 for a whole year.
#3 Grocery Partners' Payments
Using Instacart, grocery shops can sell their goods online. In exchange for the same, these partners are charged a fee. The fees are based on the amount of money the shop has made.
As a fee for managing payments, order fulfillment, and advertising the business, Instacart takes about 3% of each order.
#4 Mark-Up Price
Most of the time, the app's pricing matches the prices that are quoted in the store. However, these costs might often be 15% more than those found in-store.
Depending on the popularity of a certain company's product, a markup may be applied. Instacart receives the additional money charged to these items and distributes it to the shoppers.
#5 Placement Charges
These are extra revenue streams that the firm has implemented. Generally, these are employed to promote the shops, who are then charged for the services.
As an example, when you start the app, you'll see some adverts, and some stores will constantly be at the top of the list. It's because of the fees that these merchants pay to Instacart for their presence on the platform.
According to research published by Fortune, Instacart generates an average profit of $4.29 for each order in Chicago, $6.96 in Atlanta, and $2.45 in San Francisco.
On the other hand, the company incurs loss per transaction in New York City and the Bay Area.
What makes Instacart Different from other Delivery Services?
Customers may download the Instacart app on their iOS or Android device. It's simple to use, and it's clear exactly what you're getting for your money.
Instacart's success is largely due to the fact that they are extremely honest about plainly indicating when certain items or certain retailers have a markup compared to others.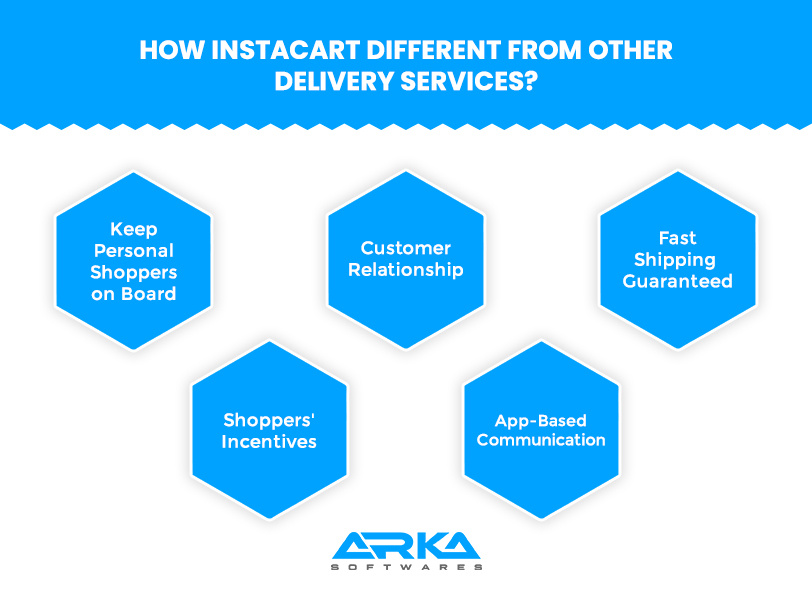 Their unique selling proposition consists of their outstanding online grocery ordering system and customer service. Pricing, location marketing campaigns, and procurement agreements are all functional considerations that make up Instacart's business strategy.
Furthermore, Instacart's business model is founded on the sharing economy, which benefits both user shops and businesses.
Keeping personal shoppers on board
Despite the fact that the shoppers are not full-time employees, Instacart permits them to get bonuses, which in turn raises their income.
Shoppers aren't simply rewarded for using the app; they can also get tips from consumers and earn extra money.
Customer relationship
Instacart employs a variety of strategies to enhance client connections. In addition to special offerings that give discounts and bargains, they also feature referral programs in which existing customers may earn $5 in credit for each new user they bring.
Those who sign up for the app get free delivery on their first order, as well as the opportunity to take advantage of several deals on their following purchases.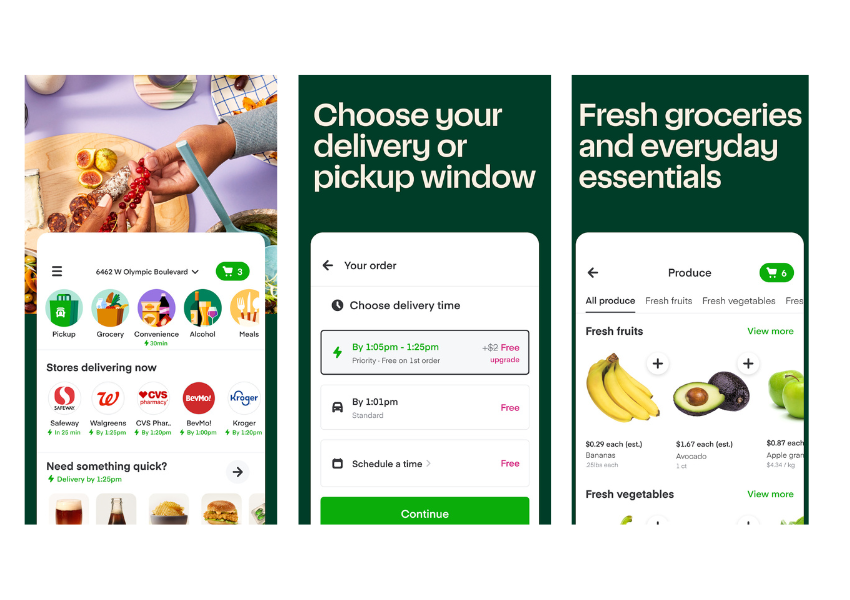 Fast shipping guaranteed
Instacart makes a 2-hour delivery guarantee and keeps it. The corporation ensures that the shoppers are always near the store so that they may pick up any order and deliver it as fast as possible.
This is really time-saving. The positioning and order allocation is dependent on demand at different retailers.
Shoppers' incentives
Instacart uses a variety of incentives to encourage its workers to stay on the job longer. Delivery costs are increased when demand is higher than normal. This encourages the shoppers to work quicker and earn more money.
App-based communication
The application helps direct communication between shoppers and users. Order-related concerns can be solved with this.
If for whatever reason, a requested item is not available in the store, the shopper may simply send a message to the user requesting them to substitute something else. This is an excellent way to decrease customer complaints. Also, it may be used to notify users of any delays.
All of this leads to the conclusion that Instacart is a well-executed app. Both the app's features and the business strategy are frictionless and well-designed to ensure that customers are completely satisfied.
A regular improvement of their application has helped them achieve this goal; they respond to their consumers' feedback and make changes based on it.
How to create a Grocery App Similar to Instacart?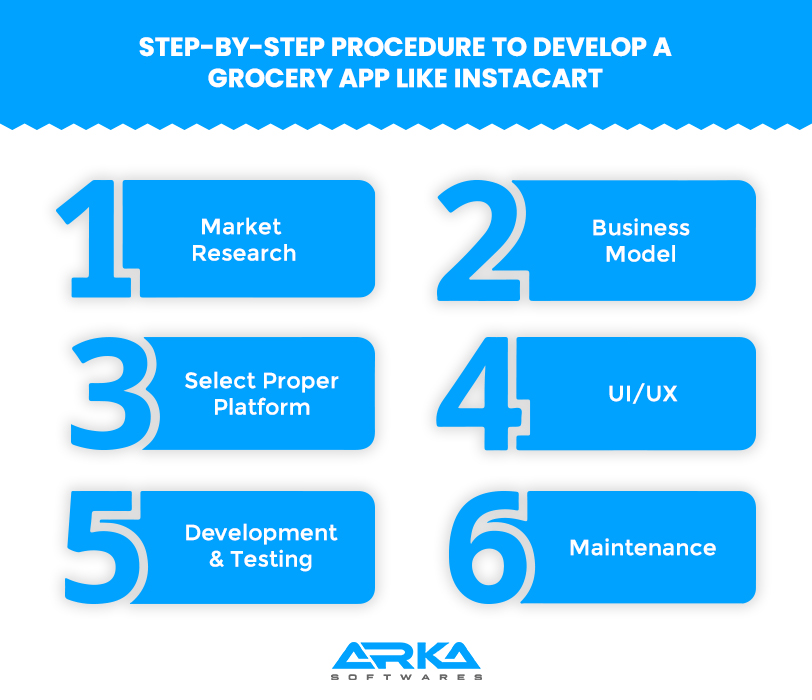 Market Research
Analyzing the market and the competition is the first and most important step. Answering a handful of these questions will help you conduct a successful investigation:
Do you know what your consumers anticipate from your business?

Is it possible for your competitors to keep up with this rising demand?

What is the business strategy that your opponents are employing?

What's the latest trend?
Market research helps you gain a better understanding of your clients' buying habits and the marketplaces in which they operate.
From the outset, it will help you optimize your app in a similar way as Instacart. It's more beneficial to understand the mistakes of others than to learn from your own.
Decide on a Business Model
Choosing a business strategy that addresses all your needs is the most essential factor to consider.
While there are several models to select from, make sure you pick the one that will allow you to continue running your grocery delivery service for a longer period of time.
Selecting the Proper Platform is Crucial
Have you selected which platform you want to use for your grocery delivery app? You have the option of selecting one platform or having it deployed on both.
Keep into consideration your audience, regional location, and other factors before making a decision on a single platform for grocery mobile app development. It's also possible to select whether you want to use a native or hybrid development approach.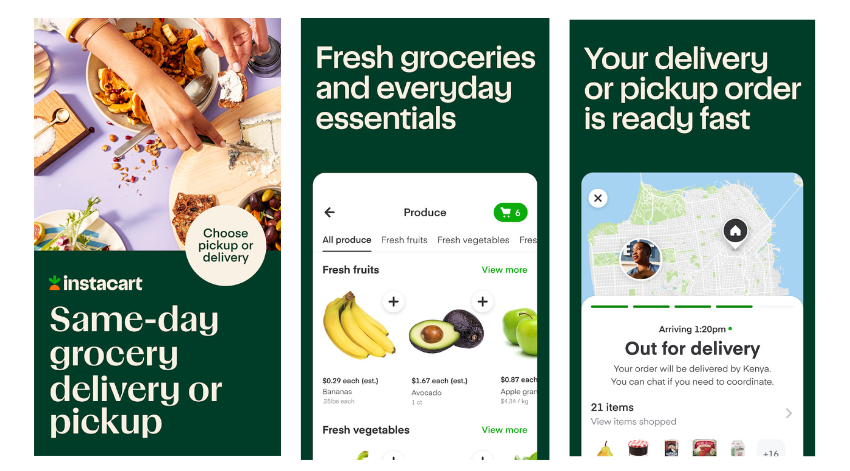 UI/UX
After completing the pre-design process of your grocery delivery application, it is time to move on to the design step.
Simple is better when it comes to your grocery delivery application It's a good idea to keep things easy. If you want your clients to use your application like Instacart more frequently.
Development and Testing
Once you've concluded the design phase, you may begin the development cycle. Create a practical solution compared to what Instacart is doing by making your idea a reality and implementing an efficient development plan.
Ensure that your application runs well on all devices by running it through a series of tests.
Maintenance
After your grocery delivery service, comparable to Instacart, is released to the app store, the ongoing process becomes more prominent.
When your ideal consumers begin using the solution, it allows you to identify any concerns that could arise. Client comments and reviews are very beneficial in enhancing the efficiency of your solution.
Conclusion
Millions of people want to purchase groceries online and have them delivered to their homes, making the on-demand groceries delivery industry a bright future prospect for the sector.
With a greater understanding of Instacart's business strategy, you may develop your Grocery marketing strategy and enter the market.