People love their convenience, and anyone who can add to their convenience is rewarded handsomely. Shopping is one thing that most people like to do when they are excited, celebrating, or even want to vent their frustration. An online marketplace is like a bazaar full of variety and options for their users to 'stroll' and soak in whatever is on display.
 The increasing trend of online shopping and customers' willingness to experiment with their fashion, beauty, and lifestyle means that an excellent eCommerce app will have an enhanced market value. Easy access to smartphones, mobile Internet, and secure payment options have made the customers more comfortable accepting digital shopping.
An online marketplace app like ETSY, Amazon, Flipkart, or Artfire – allows multiple sellers to sell their products and services independently as an online vendor. A customer gets the choice to browse, select, and buy multiple products of her choice at great prices. 
An eCommerce marketplace is a cool business option for entrepreneurs as they get the chance to help the sellers and customers connect so that not even the biggest player can think of.
The flexible opportunity for doing business comes with an affordable and value-for-money development cost and invaluable support. You can also sell your branded products along-side selling other vendors' products.
The eCommerce industry is growing by leaps and bounds. During times of social distancing, it has rocketed beyond the wildest imaginations of anyone. Sellers and customers can now connect through a virtual entity; various technical aspects must be considered while building a marketplace website.
A modern digital marketplace needs one of the most competitive and technically advanced technological support to connect thousands of suppliers to millions of users. Use of an Artificial Intelligence software and knowledge graph with superb UI/UX can provide you with the necessary tools.
What is an Online Marketplace App?
An online marketplace is largely useful for small and micro sellers who get a global reach by simply setting up their online storefront on a marketplace. As the number of mobile users grows, business opportunities also expand. An online marketplace can be in an eCommerce website or app or both, bringing sellers and buyers together in one place, virtually.
It is also known as an electronic marketplace or a digital marketplace where all transactions take place digitally. Some of the best examples of online marketplaces include Amazon, ETSY, Flipkart, and Artfire.
The first eCommerce marketplace came up in the mid-1990s when Craigslist and eBay were founded. While Craigslist was a yellow-pages like listing website, eBay brought in the auction (or reverse auction) model for sales. Today's online marketplaces have multiple models in addition to the ones listed above – inventory, aggregator, and marketplace models.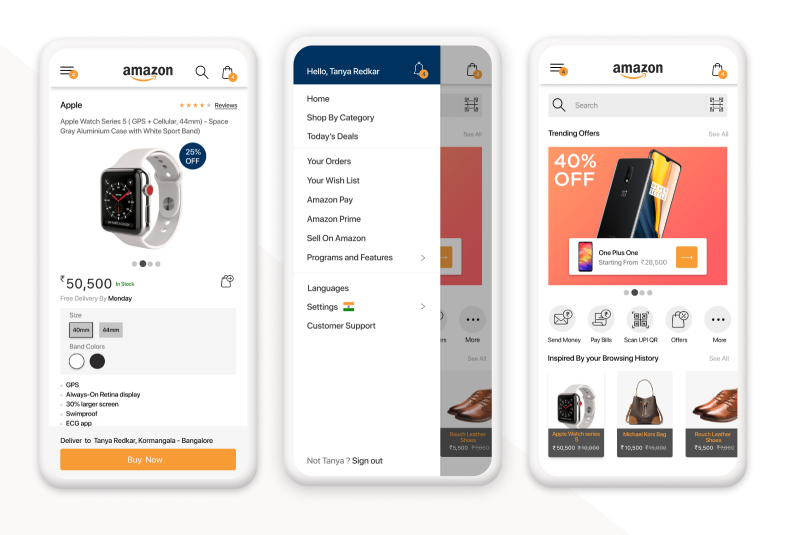 Source: Dribble
Reasons That Make an Online Marketplace App Popular
The power that an online marketplace gives in a customer's hands is liberating and convenient for them. This power is to choose from a wide range of products at a great price that is easy on their pockets.

You can call such marketplaces "Departmental Store 2.0" because, just like a traditional departmental store, with multiple sections and variety in each of them, these online stores cater to a large need base. The difference is that you cannot touch the items on display and need to rely on images, videos, reviews, and 3D animations to learn about the product you are going to buy.

The marketplaces are popular for one more reason because they provide users with many options, unlike an eCommerce app of a single brand. Consumers do not like downloading apps from multiple retailers if they choose to download only one app that can offer products from most retailers.

An eCommerce app like ETSY, Flipkart, Amazon, or Artfire can see a business growth early and very promising for a long time. In the OECD or developed economies of North America, Europe, the Middle East, Australia, and Japan, eCommerce sales were more than half of all the sales to a retail customer in the year 2019. The figures for even the emerging economies were very promising – touching 35% in Southeast Asia and BRICS economies.

These numbers are encouraging for a seller who can tap this burgeoning market and customers, as they get more choices and entrepreneurs as they get to be the bridge between them. Global online marketplaces' share in retail sales is poised to attain a growth of more than 2.5x times in 2021 compared to 2020.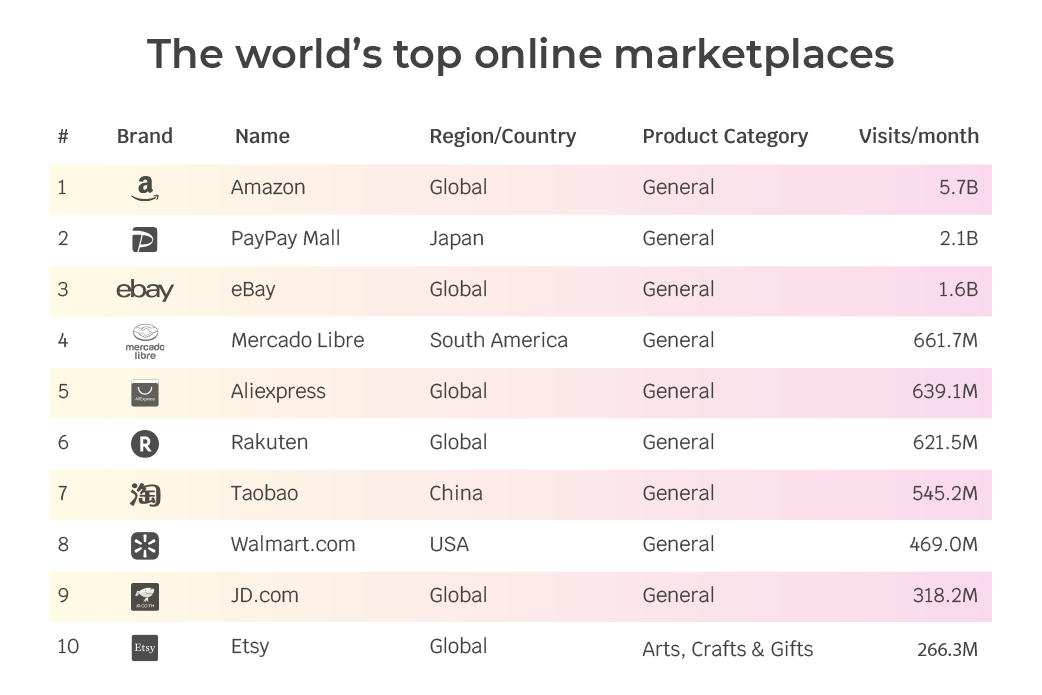 There many obvious advantages of launching an online marketplace, and some of them are as follows:
A great business

A source of great revenues

Reduce marketing costs a lot

Take your business global

Manage inventories transparently with real-time data on stock levels and prices

Customers can easily compare prices

The store is open 24X7, working for you and your customers

Generate brand recognition, recall, and trust among customers

Provide your customers with the best and widest range of options

Give your customers the best prices and great deals
An online marketplace allows you to be ahead with changing lifestyles, the latest gadgets, the best deals on home appliances, and the trendiest outfits. But shopping for them in the physical world can be time-consuming and even exhausting, but a great online marketplace can help you with all that.
The bonus is that all the stuff gets delivered to your home. The neat and minimalistic design of the modern apps and websites make them attractive to customers from all backgrounds, countries, and age or income groups.
If you can find the niche for your business and invest in designing a great marketplace, then you are assured of customers literally 'lining up.' Customers love convenience, the power to them, transparency, and an easy-to-use navigation system. Amazon and Flipkart in the general horizontal domain and ETSY and Artfire in the vertical domains have set the bar too high.
And there are many ideas that they are not working on. The chance to beat these giants with technological superiority and unlimited resources works as a major motivating factor for many startups with great ideas.
Why developing an Amazon or Flipkart like Marketplace App is a profitable idea?
As an entrepreneur, you must always be on the lookout for new opportunities to start a new business and add more revenues to your already strong revenue stream. If you plan to develop and market a new eCommerce marketplace website like Flipkart or Amazon, a lot of market research and evaluation will be needed.

If you have an idea that can put power in your consumers' hands and gives them convenience, you go ahead and convert it into a reality. Customers need a fast, easy to use, and secure shopping experience to select and buy products & services they desire and deserve.

With the increasing need, acceptance, and popularity of e-commerce among users, developing and launching such an app for a new idea and a niche sector will be a great business idea. A great app that gives convenience and is a value proposition for consumers, like ETSY or Artfire, will witness tremendous growth.

According to the latest research from Statista.com, the US market alone will witness retail eCommerce sales of over USD 740 billion by 2023. A multi-seller marketplace like Flipkart, Amazon, Artfire, etc. is a sure shot winning proposition for your business partners and investors, only if you take the initiatives to enter into newer markets, geographies and domains.

As an entrepreneur, you get to enter the coveted Unicorn club, with a market valuation of more than USD 1 billion, when investors in multiple rounds of investments take up your idea. The India version of Amazon, the Flipkart, was recently valued at USD 16 billion when its largest store retailer Walmart invested in it.

Deals of this nature are a very stamp of approval by investors and players like Walmart, in the potential that this sector holds. It has only encouraged more enthusiastic and adventure-loving people, like you, to leap of faith.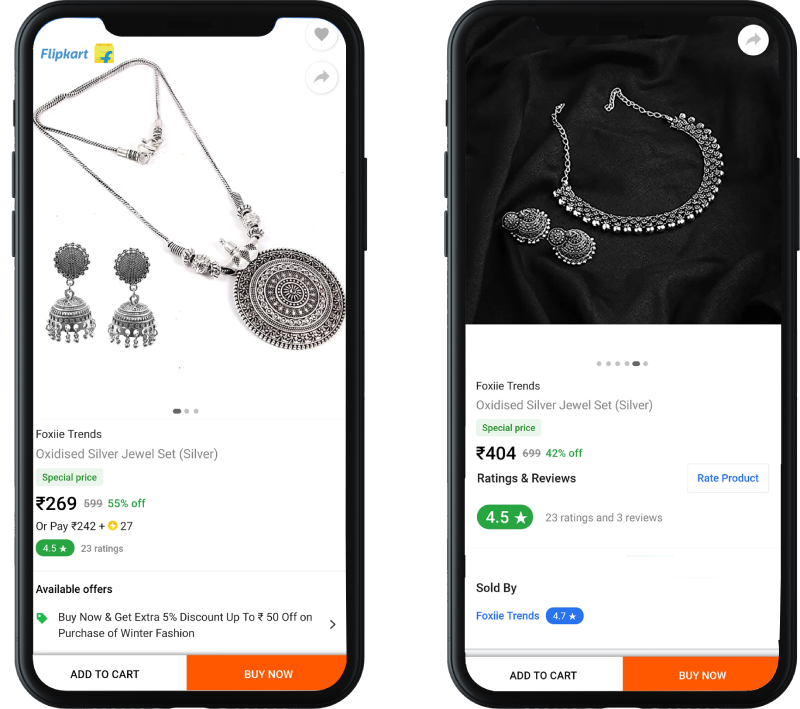 Source: Flipkart
Market Share of different eCommerce Marketplace Apps
The statistics for market share, revenue growth, future projections, and value of the business conducted using online eCommerce and through marketplaces are not only amazing but sometimes unbelievable. If you do not believe us, then read on:
In 2018 more than 1.8 billion people or more than a fourth of the global population made online purchases.
In the same year, global online marketplace retail sales amounted to USD 2.8 trillion.
The online marketplace retail sales are projected to grow to cross USD 4.8 trillion in 2021.

The biggest online marketplace for 2018 was not Amazon, but a Chinese platform Taobao with a Gross Merchandise Volume or GMV of USD 515 billion.

Amazon ranked second with close to USD 432 billion in annual third-party GMV.

Analysts predict that worldwide online marketplaces will corner more than 40 global retail trade-in 2020.

More than three-fourths of the USA's marketing experts suggest retailers sign up on online marketplaces to grow your revenue significantly.

Alibaba has its biggest market as mainland China with the geography commanding over 58% of its online retail sales.

Alibaba recorded USD 25.4 billion worth of sales orders on a single day in 2017!
According to Statista, in 2019, Amazon was installed on more than 450 million smartphones and sold more than 4000 items every minute.

Amazon has set such high benchmarks that people trust it more than any other marketplace, and only 23% of them move to another shopping cart after checking the Amazon store.

More than 30% of global markets have no or very little eCommerce presence of any kind, making them a lucrative market for new players to get the first-mover advantage.

65% online seller says that they are generating five times more revenue than their offline stores. It makes onboarding new retailers much easier now.

More than nineteen in every twenty buyers will make most of their purchases online by 2040.

Flipkart claims to have more than 150 million monthly active users in India, its primary market.

Online marketplaces have become dominant players in most key geographies like India, Europe, North, Central, and South America, most of Asia, and Australia.

The Indian market had more than 50 marketplaces in 2015 that has come down to only the top four control more than 90% of the general retail online business.

Many sellers achieve record daily sales during the festival period and life-changing times.
Business Model of 
Marketplace Apps
The business model of online marketplaces belongs today and to the future. If you want to make sure that your business is working, you must set up an online store on a

marketplace platform like Amazon

, Flipkart, ETSY, or Artfire and let the magic happen even when you are not.

Your lucrative revenue-generating business idea gets a boost of nitro when you decide to put your business online and set up a store. You need to find the most promising marketplace and list yourself as a retailer on that and start making money.

As an online marketplace owner, you stand to gain more than all the retailers combined on your marketplace. You get the recurring commissions on each sale they make; you get the best deals from stores to offer to customers who come to buy there, and you get a big brand name that anyone can recall.

With sophisticated AI-enabled analytics, data management, customer profiling, and great storefronts, you can offer everyone associated the best what eCommerce has to offer.

The online marketplaces allow you to offer your customers products that you do not have but are available with your store partners. You can save on inventory costs, a network of dealers and offline stores, and pass all the savings directly to your customers.

A dependable logistics partner, a supply chain, and a fulfillment center are needed to procure, package, and ship ordered items to your customers in time, every time! A SaaS-based marketplace solution will put everything on a cloud to make it an accessible solution for your retail partners, customers, and logistics partners. You also need a secure and fast payment gateway with incredible UI/UX to gain your users' trust.
Must-have Features for an Online Marketplace
Monetization Model/Methods
An online marketplace app like Amazon, Flipkart, ETSY, or Artfire will be used extensively by your retail partners, customers, and marketers. It will have a central database of customers, orders, transactions, inventories, and shipping details that everyone can use to speed up the process. It results in faster communication, error-free interpretation, and reduced returns & refunds due to mistakes.
You can offer lower prices on all products that you directly source from the manufacturers as factory-gate prices, even with retail Shipping, will be 30% to 60% cheaper than the usual network of dealers & distributors.

Online retailers can earn a handsome difference between the wholesale prices (plus Shipping) and the usual retail prices in the conventional multi-tier trade. As an online eCommerce retailer, you will no longer need to maintain large stock. You will order your suppliers when there are orders for you.

A marketplace can instantly earn handsome commissions on all the orders and payments you will process for your retailers and e-stores. You can also charge them for dependable logistics, over and above that your delivery partners will charge you.

Like Amazon, Flipkart, ETSY, or Artfire, you can become an enabler for small retail stores dealing in unique products in every city by providing a leading platform for their merchandise. They can have cheaper and legal working capital funds from you, through your investors and financial institutions, on which you can earn interest.

With your customer's and merchants' transaction history over a long period, you can easily ascertain their creditworthiness and preferences. This way, you can offer great deals on products, premier them on your marketplace, and give access to them cheap personal or working capital loans.

In the end the with the control over the complete value chain from the producer to the end-consumer – a combination of the electronic marketplace, logistics, and Shipping, lending, payments processing, etc. – you can evolve into building a full-stack platform for small and medium enterprises of any nature.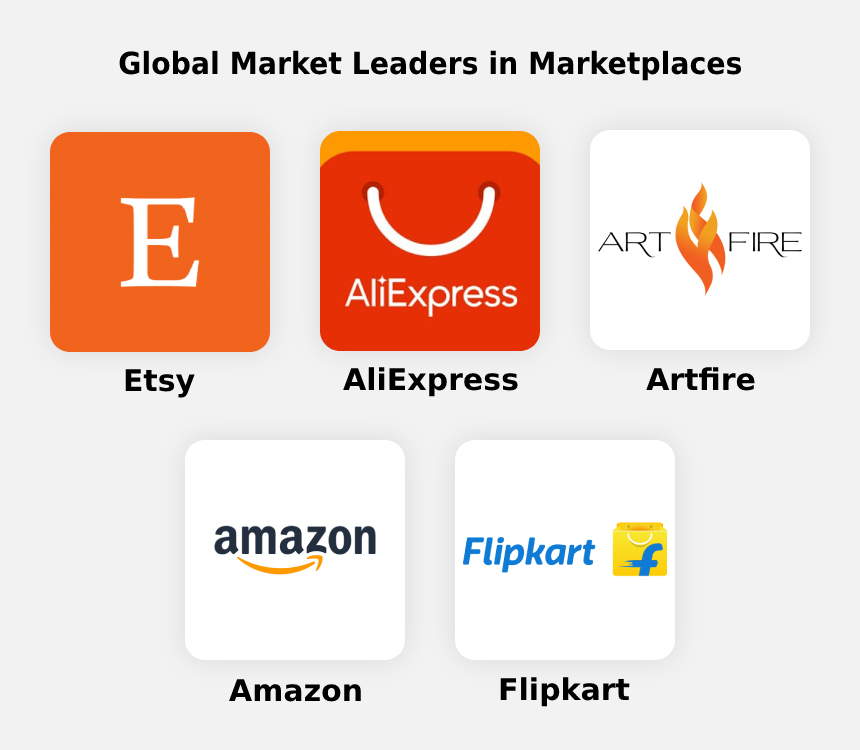 Must-have Features for an Online Marketplace
Great eCommerce apps like Amazon or Flipkart can have hundreds of simple & little, complex & important features. We can provide you more than 750 features that will help you transform how your multi-vendor online marketplace functions. Many features in an online app or website like Amazon, ETSY, Artfire, or Flipkart, are listed below:
Wish List

Support for multiple international languages and multicurrency transactions

Unlimited products, categories, and sub-categories

Review and Ratings for products, services, and retailers

Catalog with search, filters, sorting, and navigation options

Shopping cart for the guest session, and saved cart for multiple device check-out

Easy, fast, and simple Check-out process

Stock management – real-time inventory, ordering, and pricing

Tax management – GST, customs, TDS, etc.

Admin, Seller, and Customer Dashboards

Automated newsletter, email, messages, alerts, and push notifications

Deals, offers, and discounts management

Digital and social media marketing and promotions

Social media, email, mobile-based logins, and single sign-on feature

Vendor Management: creating store, category, product, pricing, inventory, order status & tracking, and vendor reviews.

Order Management: sales tracking, pending orders, dispatched orders, completed, returned orders, stock, and fulfilment.

Commission Management: Marketplace owner can create multiple commission rules.

Catalog Theme and Templates: Great UI/UX support with multiple themes and templates for displaying your products in the best light.

Highly responsive and feature-rich front-end with fast load times

Fully customizable front-end with themes, templates, and layouts

Support for a rich library of icons and images in different sizes and resolutions

Multiple background options with graphics for attractive design

 Products Management including products images (Multiple images per product, Auto resize, product video)

 Product View with product option selection grouped products view

 Stock Availability with related products and up-selling

 Orders Management to create, modify, and fulfill orders or invoices through the admin panel.

 Print invoices, packing slips, and shipping labels.

 Targeted Shipping for Shipping to multiple addresses in one order

 Cash on delivery authorization and charge upon shipment.

 Shipping carrier management – label printing, receive real-time shipping rates, and on-site order tracking from the customer account.

 Shipping taxes and estimates for order or an item, based on express or standard Shipping, gift options, weight, and destination

 Payment Integration with multiple secure gateways, PayPal, and direct debits

 Transaction management, history, refunds, and charges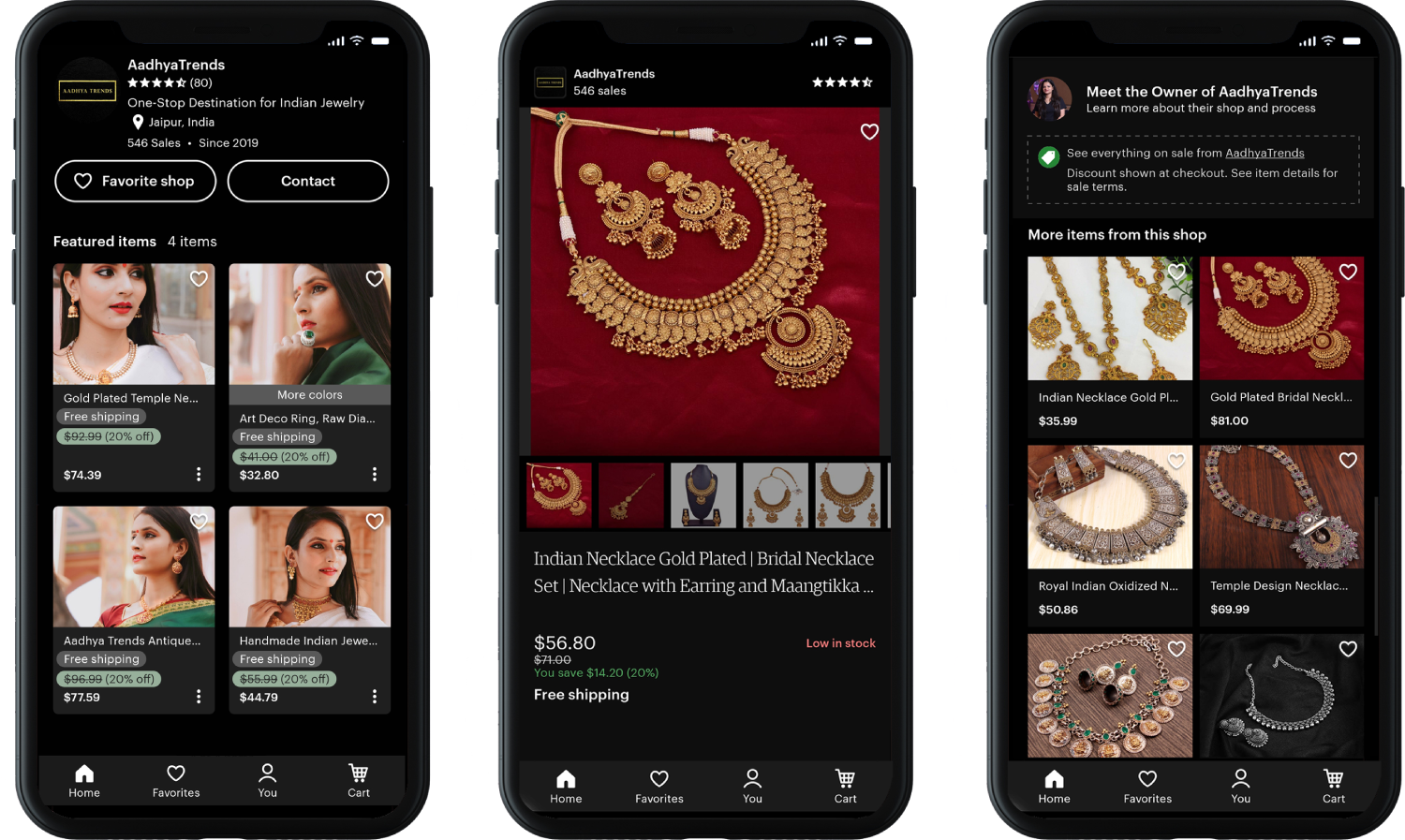 Source: Etsy
Advanced Features
Artificial Intelligence Analytics
Artificial intelligence algorithms to scrutinize all listed product images to ensure that there are no brand rights violations. AI is also used to help the sellers identify trends, sales analysis, and marketing campaigns to drive sales.
Sales report and analysis – support for Google universal analytics, sales and tax reports, abandoned shopping cart report.

Product Analysis Report – most viewed/purchased product report.

Product review and rating report.

Analytics reports for low stocks, search terms, tags, coupon usage, sales invoice, and sales refund reports
Instant Messaging
An IM or live chat feature allows customers to directly connect with the suppliers for discussing bulk orders, delivery schedules, and customization needs. Chat and customer support with live chat, FAQs, return and refund policy, email, and alerts.
Image Recognition
Image recognition helps customers upload the pictures of items they are looking for and provide the closest options with the best prices.
Multi-lingual Chat and Information
International retailers and customers need support for real-time translation between multiple languages, for the information and data on the app or the website. All communication with users must be in their chosen language as far as possible. The SEO must also be optimized for multi-lingual support to allow your store to be compliant with Google's multi-lingual SEO best practices.
Customer Dashboard
Our responsive multi-seller Online Marketplace allows buyers to compare offers on a product from multiple sellers and grab the best deals. These features appear are on the customers' dashboard on the app or website to provide them with more control and more power in their hands.
Compare products based on vendors, ratings, and reviews on the seller list page.

Give and view the ratings and reviews of the product and sellers.

Detailed product brochure and information

Loyalty benefits

Image Gallery

Product shopping

Order history

Location-based recommendations

Special offers and coupons

Package tracking

Chat with suppliers and logistics partners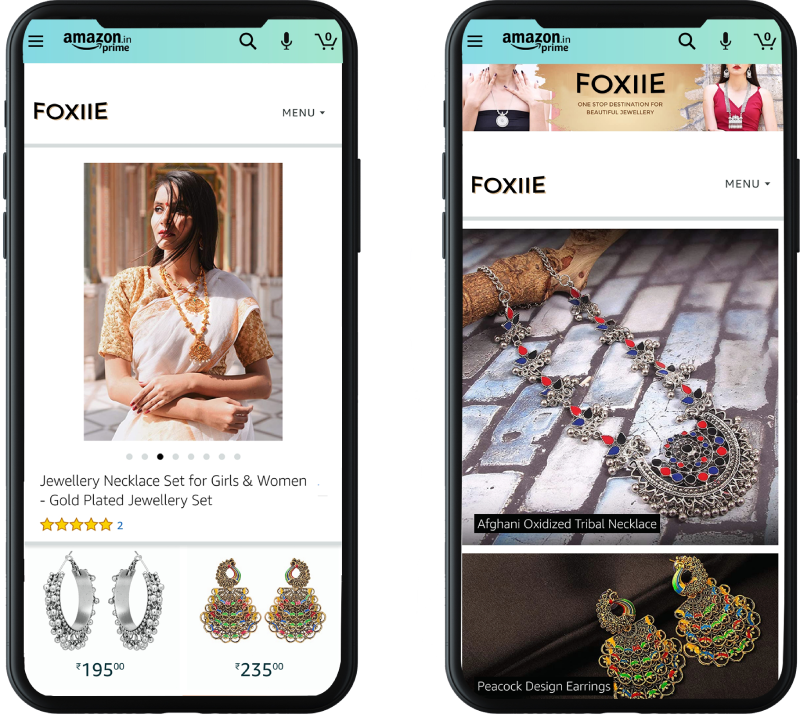 Source: Amazon
Retailer Dashboard
The responsive vendor panel for a marketplace manages profile, sales, products, reports, settings, etc.
Different product types

Edit the shop URL for the Profile page, collection page, review page, Location page.

Retailers can add, update, delete or modify the deals on products from their dashboard

Track their sales, profits, taxes, commissions, charges, orders, comment and reviews, and other reports

Acknowledge, confirm or reject customer orders

Product catalogs

View all orders – pending, shipped, completed, cancelled, returned

Manage inventory

Transaction history

Deal management and discount coupons

Package tracking

Returns and Refunds

Customer complaints and claims panel

Provide customer support
Admin Dashboard and Control Panel
You, the system's admin, need a super dashboard to monitor, manage, and control all aspects of your app and website in real-time. They must be able to provide customization, retailer management, customer management, and many more services that form the backbone on which the app's entire structure and the website hinges.
Modify, add, or remove retailer profiles

Allow sellers to add up-sell products to boost sales.

Customize different layouts for landing page

Configure landing page elements like banner, banner content, button label, and icons

Supplier management

Customer management

Catalogue management

Logistics management

Payments gateway management

Generate analytical reports

Digital marketing management

Generating unique QR codes

Auto email, message, and push notification settings

Multi-lingual support

Instant Chat or Messaging

Transaction management
Benefits
With the growing popularity of eCommerce marketplaces, you need newer and innovative ways to keep your customers coming back to your platform. Most marketplaces go to great lengths to make their retailers and brands easy to market, sell, and fulfill customer needs.
Fast launch times: Once you are approved as a retailer on the marketplace, you can upload your product details and start selling.
Established programs: Retailers can make use of established programs and marketing plans of online marketplaces to help you in marketing, selling, and order fulfilling. For example, Amazon provides Amazon Advertising support to its retailers. These digital marketing programs have tools to help you promote your products to the right customers.
Large customer bases: Established online marketplaces provide a very large customer base who regularly shop on these sites.
Extended Reach: Marketplaces allow retailers to sell products to any customer anywhere in the world without having them in the store physically.
Level Playing Field to Small Retailers: It provides the sellers with a level-playing field to compete with big players and transfer the savings directly to the users. The sellers need not pay exorbitant commission charges and still can sell their products cheaper on your platform. A fair marketplace where both the sellers and buyers get benefits.
No active inventory needed: Retailers can maintain zero to very little active inventory, and your contracted supplier can ship the products straight to your customers. You can eliminate inventory costs by 100%.
Work from anywhere and at any time: You can start and manage your online retail store, on an eCommerce marketplace, for fashion apparel, electronics, and almost anything, as long as you have an active internet connection with a computer.
Least Starting Costs: When you start a traditional online eCommerce store, there are many expenses to start one – like hosting, web development, branding, etc. When you create an online retail store on a marketplace app like Artfire, Amazon, Flipkart, or ETSY your costs are the least compared to other options.
Factors that should be considered in developing such an application
Many factors affect your online marketplace app development. Some are pure business in nature, while some others are purely technical, and others are a bit of both.
Have a Business Plan
You are not just starting a website; you are starting a business. And every business needs a viable and proper plan to succeed.
Choose the Right Business Model (B2B/B2C)
Different eCommerce business models are suitable for different sectors or different customer bases. A B2B online store requires more robust enterprise-grade features, streamlined workflow and business processes, and a managed dashboard for manufacturers, distributors, brand owners, and retailers. B2C stores require more user-friendly features than a B2B store to attract potential customers and handle higher loads.
Target Customers and Markets
Choose your target market, audience, and products wisely. If you do not offer correct products to correct people, they do not expect anyone to buy them. Once you have identified the audience and geography for your business, design your complete strategy around them.
Select the Platform
Many platforms and frameworks are available for the marketplace website development and app. The target audience must direct you in choosing the appropriate one or target most/all platforms using a hybrid app.
Build a Store
Building an online eCommerce store in a marketplace is an easy process. A well-designed storefront can help you pull a lot of customers.
Integrate with a logistics solution
To ensure timely and safe Shipping of orders to your customers, tie-up with the best logistics companies like UPS, Aramex, FedEx, or DHL. They provide an API to live track your shipments.
Payment Gateway
Major responsibility will ensure that your customers trust you with their money. Provide them multiple but safe and secure options.
Onboard Retailers
To build a scalable and profitable marketplace, onboarding as many as possible reputed retailers is a necessary step. They will drive your online marketplace with their product offers.
UI/UX Design
For any great and successful app or website, a great UI/UX design that eases navigation, search, filtering, and check-out process is necessary. The catalogue design, featured products, offers, and discounts need to be highlighted and presented beautifully. The UI/UX must consider responsive design and allow for older devices for a broader audience.
Support & Maintenance
A dependable team of developers and maintenance engineers is needed to provide 24×7 to suppliers, logistics partners, and customer support for their technical problems and needs.
Technology stack that is to be used for Marketplace App
The proposed technology stack is tested, reliable, and open and has been used to develop many apps. At Arka Softwares, we have many skilled and experienced developers who rely on this stack for hundreds of different successful apps. Remember that the choice of the tech stack affects the development cost of Marketplace App like Etsy.
These are the technologies that experienced developers at Arka Software have relied on:
Push Notifications: FCM and APNS
Powerful Programming Mandrill: GWT
Database: MongoDB, Cassandra, HBase, Postgres
Cloud Environment: Google and AWS
SMS, Voice as well as Phone Verification: Twilio, Nexmo, or Sinch
Universal Operating System: Debian, Macintosh, Ubuntu, CentOS
Data Management: Datastax
Available payment options: Stripe and PayPal
Real-time Analytics: Apache Flink, IBM, Spark, Hadoop, BigData, Cisco
Required Team Structure
Your investments in time, effort, and money all can go down the drain if an inexperienced team is chosen for a project of this complexity. Whatever the features, type, and complexity of the mobile app and website, you must ensure to hire the best and experienced professionals like Arka Software. The team must have a good portfolio of app and web solutions, including scalable eCommerce and drop shipping apps.
A typical experienced team will have:
App Developers: Includes back-end app developers, front-end app developers, hybrid / Android/ iOS app developers – as per your needs.
Project Manager: Project manager with the requisite experience and managerial skill set.
App Designers: Includes graphic designer and expert UI/UX designers.
App Testers: Includes team to run manual and automated tests for quality assurance.
What is the development cost of such Apps?
Estimating the cost for a mobile app development must consider many factors – a list of features, tech-stack, design elements, monetization model to be integrated, deployment options, management options, and many more.
Simply put, you do not want to incur high costs initially to start an online marketplace platform. Therefore, consider some factors:
Choice of B2C, B2C, or any out-of-the-box business models

Project complexity and customizations

Choice of the answer – custom-built, turnkey solution with plugins, fully-hosted and managed multi-vendor solution

Additional requirements like mobile apps etc.

App features, including both must-haves and advanced features

The selection of the platform, that is, iOS or Android or both

Front-end app development

Back-end app development

UI/UX development

Website connectivity

Third-part API integration – for payment gateway, social media log in, etc.
At Arka Softwares, we have successfully built and deployed many eCommerce apps, and therefore, we are in a unique position to help you with this complex estimation process. We can develop, test, and deploy the app, its SaaS solution, and the website within a timeframe of 12 to 18 weeks.
 Depending on the features that you will decide the cost of marketplace apps like Amazon or Etsy might lie between USD 25,000 to USD 50,000 with an India-based development company like Arka Softwares.
With a development team based in Eastern Europe, it can be 1.5 times, and in OECD countries in Western Europe, the USA, or Australia, it will be anywhere between 2x to 2.5x of this cost.
Conclusion
Creating an appealing, easy-to-use, and powerful online marketplace app like Amazon or Flipkart, ETSY, or Artfire is our business at Arka Softwares. Making the company grow by marketing, creating a network of suppliers and logistics partners, and attracting users with the best products and deals is yours. 
When you partner with us, our complimentary powers can combine. With a digital solution, you can attract customers, provide them with the comfort of shopping from anywhere, at any time, and the best rates possible.
If you have any queries or doubts, please contact our customer support managers by filling up the information request form.
Some good reasons to choose us
Experienced in setting up online marketplaces.

Best designs, responsive marketplace website.

More than 10 Years in Industry

150+ satisfied Clients