The days of having to physically travel to a food stand or restaurant in order to satisfy your hunger are long over, and so are the days of having to physically travel to a store in order to get your desired clothing, medical supply, or whatever else it may be.
The on-demand services are quickly replacing traditional means of conducting business. Such services along with on-demand business ideas work together to facilitate the seamless distribution of goods and services.
Changes in consumer preferences are driving the rapid growth of the on-demand app development process. People have limited time and want their demands to be handled efficiently. Overall, the need for on-demand software development is only expected to increase. Analysts predict that by 2023, this industry's overall revenues will have increased to $161.74 billion.
At Arka Softwares, we can help you get the perfect mobile app for your brilliant startup idea. Most likely, as a budding entrepreneur, you are full of great business ideas and would like to launch them at the earliest.
But before leaping faith, you must read the article to understand the factors that you need to keep in mind, the market size and share of your biggest competitors, and the factors that you can leverage to boost your business.
What is On-Demand Service App?
An on-demand service app is a type of software application that allows users to request and receive services in real time through their mobile devices. These types of apps are designed to make it easy for users to access services such as transportation, food delivery, and home maintenance without having to call or visit a physical location.
On-demand service apps have revolutionized the way that people access and receive services. They offer a convenient and efficient way for users to access a wide range of services, and they have the potential to transform traditional service industries.
On-demand service apps typically operate using a platform business model, in which the app acts as a facilitator connecting service providers with users. Users can browse through a list of available services, view prices, and ratings, and book the service they desire through the app. Payment is typically handled through the app as well, making the process of accessing services convenient and seamless for users.
One of the key benefits of on-demand service apps is their ability to offer services in real-time. This means that users can request and receive services within a short period of time, often within a few hours or even minutes. This is in contrast to traditional service models, in which users may have to wait days or even weeks to receive a service.
Market Stats-  What Is the Potential of On-Demand App Development
There has been a recent growth in the number of apps that offer on-demand delivery services. Since the start of the pandemic, on-demand services like Uber, Bolt, and Lyft have seen a nearly 100% surge in revenue. According to Statista.com, the yearly revenue for the platform-to-consumer delivery market is expected to reach $222.5 billion in 2023.
With the rise of on-demand apps, shoppers can get just about anything, whenever they want it. One-click gets you everything from food delivery to housekeeping services and even dog walkers. Moreover, the adoption rate of on-demand app solutions is at 9.5%, and investment in this area is on the rise across all industries. Isn't that just incredible?
Some of the biggest startups across the world are on-demand app-based businesses that identify customer pain points, provide doorstep delivery of solutions, and have become irreplaceable in their lives. They have become the agents of a radical shift in consumer preferences and behavior.
This is reflected in the stunning growth, market share, investments, revenue, and profitability statistics from the historical data. The projections for the future are even more bright and more promising.
Uber raised USD 10.2 billion in its sevens stages of funding and is valued at USD 120 billion before its IPO.
Ola Cabs raised nearly USD 3.96 billion over 26 rounds of investment and is valued at more than 10 billion at the end of 2022.
Airbnb raised another USD 1 billion in a new funding round in 2020 after the COVID-19 pandemic crisis hit. Its valuation fell to USD 26 billion from USD 31 billion due to the pandemic.
Coursera, a leading EduTech on-demand app startup raised more than USD 130 million in the series F up round and is valued at USD 2.5 billion in July 2020.
Entrepreneurs with great ideas and delivery models can take great pride in these instances where investors show deeper faith in on-demand app startups.
The on-demand app builders have the wherewithal to give solutions at your fingertips and generate great returns on investment.
Why On-Demand Apps Are Gaining Popularity?
People have come to associate a wide range of options, transparency, assured quality, accuracy, speed, and utmost customer satisfaction as the hallmarks that drive the on-demand markets and best business ideas.
There are multiple reasons for on-demand delivery apps to gain more space on the smartphones of users, their minds, and their importance in their lives.
1. Convenience
On-demand apps allow users to access products or services from their smartphones, anytime, anywhere. This means that users don't have to go out to a store or wait for a traditional service to be available, they can simply place an order through the app and have the product or service delivered to them.
This is particularly appealing for busy people who don't have time to go out and shop or for those who live in remote areas where it may be difficult to access certain products or services.
2. Variety
On-demand apps often offer a wide range of products or services, allowing users to easily compare and choose the one that best suits their needs. This is in contrast to traditional stores, which may only offer a limited selection of products or services.
3. Customization
On-demand apps often allow users to customize their orders or requests, which is not always possible when shopping in a physical store or using traditional services. For example, a food delivery app may allow users to customize their order by adding or removing ingredients, or a transportation app may allow users to specify their preferred route or type of vehicle.
4. Speed
On-demand apps allow users to get what they want quickly, without having to wait in line for a store to open. This can be particularly useful when users need something urgently or when they are short on time.
5. Price
On-demand apps can often offer competitive pricing, as they can eliminate many of the traditional costs associated with brick-and-mortar stores, such as rent, utilities, and staff. This can allow on-demand apps to offer lower prices to users, which can be appealing.
6. Personalization
On-demand apps can use data and artificial intelligence to personalize recommendations and offer a more personalized experience for users. For example, a streaming app may recommend movies or TV shows based on the user's past viewing history, or a shopping app may recommend products based on the user's previous purchases.
7. Multiple Payment Options
On-demand apps often offer a variety of payment options, such as credit card, debit card, or mobile payment, which makes it easy for users to pay for their orders. This is in contrast to traditional stores, which may only accept cash or a limited range of payment methods.
8. Social Distancing:
During the COVID-19 pandemic, on-demand apps have become even more popular as they allow users to access products and services without having to go out in public or interact with others in person. This can be particularly important for those who are concerned about their own health or the health of others. If you don't have a development team for your business, first, we suggest reading our article about hiring app developers.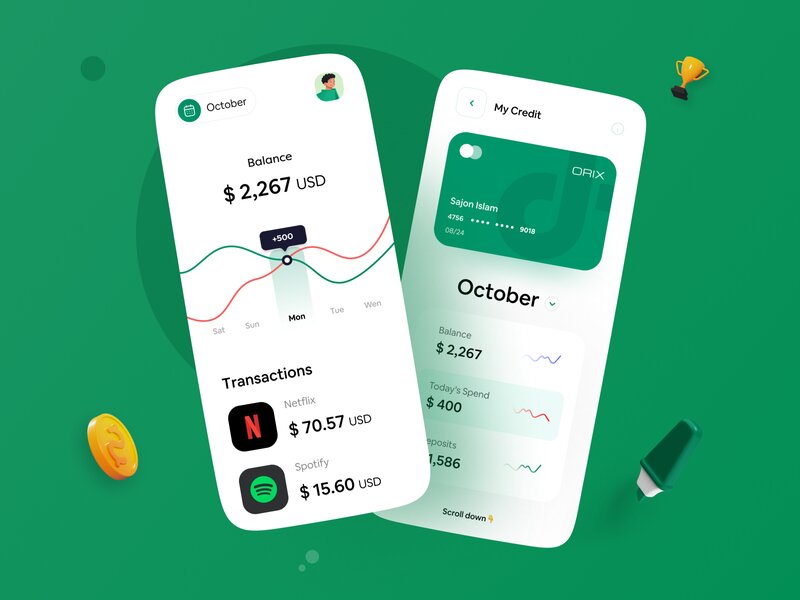 Types Of On-Demand Delivery Apps
As the nature of modern business has become more complex, the roles of service/product consumers and providers, and the relationship between them can change.
In most cases the relationship is straightforward and direct – the business is offering something the consumer wants and pays for it.
Sometimes this relationship can change. Let's study the common types of on-demand apps with examples.
Business To Consumer (B2C)
B2C on-demand apps connect the largest number of consumers with the widest variety of merchants and service providers. They make it easier for vendors to list their products and for buyers to purchase them. In business-to-consumer (B2C) markets, the customer is the central focus.
One example is McDonald's, which just launched its own delivery service called McDelivery. It's a straightforward B2C transaction without any third-party facilitators. Examples of B2C on-demand apps include Ola Cabs, Zomato, Urban Company, and VistaJet.
Business To Business (B2B)
Business-to-business (B2B) services and products cover a wide range, from mass-produced cookware for restaurants to laundry detergent and tools for handymen. According to research conducted by Project44, nearly all business buyers (94%) expect their purchasing experience to be on par with that of a business-to-consumer (B2C) on-demand delivery transaction. Companies like Metro, Instacart, Bolt, etc., that offer on-demand delivery, have stepped up to meet this need.
Bolt's B2B service provides same-day deliveries and several drop-offs per run. With the B2B eCommerce market expected to grow to $1.8 trillion by 2023, developing an on-demand B2B application could be a lucrative business move.
Some popular on-demand apps in the B2B segment are Cargomatic, Delhivery, Postmates, Uber Freight, and FedEx in the logistics segment Shopify, Field, Uber for Business in the marketplace segment; WebEx, and Zoom in the virtual conferencing space.
Consumer To Consumer/P2P
Sellers on the C2C market are regular people just like you, looking to make some extra cash or make some room by getting rid of their unused old belongings. It can also refer to the practice of renting out unused space or offering underutilized services for a nominal cost.
These on-demand apps function as a marketplace for users to offer and trade a wide variety of goods and services, from temporary lodging to used pianos, and baseball card collections to private tutoring.
If the buyer intends to deceive the seller, the payment mechanism acts as an escrow to protect both parties from losing their money. Online marketplaces (such as eBay or Etsy) are one type of P2P on demand service app, as are peer-to-peer lending apps (such as LendingClub or Prosper) or peer-to-peer renting applications (e.g., Airbnb, VRBO).
Many successful platforms use this model and have their websites and on-demand apps. These include Airbnb for sharing living space, BlaBlaCar and Sidecar for car-pooling, and eCommerce platforms like noon, eBay, and Etsy for marketplace or auctions.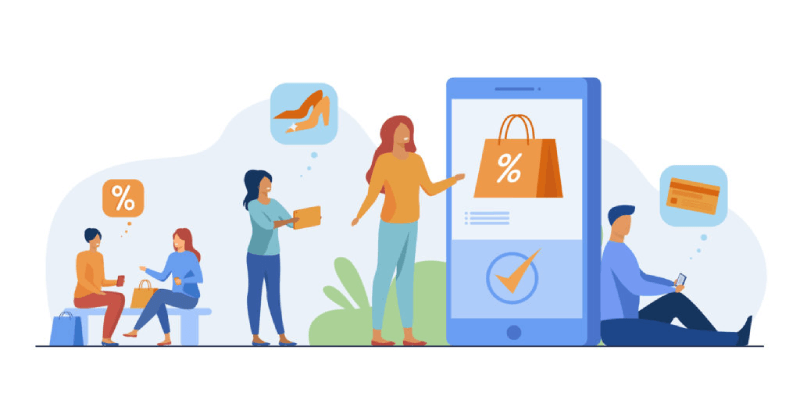 Consumer To Business (C2B)
The Internet has made it possible for talented individuals sitting at any place in the world to offer their skills for hire to the biggest of corporations. They can do it as freelance contractors without becoming a full-time employee of the business. 
The on-demand apps for C2B services include services in the domains of creative work like content writing, marketing, social media influencers, graphic and game designers, and analytics engineers.
These platforms allow freelance contractors to list their areas of expertise and skills with a profile of their projects. Businesses can list their requirements and the platforms can provide matching results to them both.
The on-demand app for C2B can charge a nominal fee from either of them or both for the projects executed and payments made. 
Some of the best on-demand C2B apps include Shutterstock and Unsplash for photographs Fiverr, UpWork, and Freelancer for graphic designing, web and mobile development, and music creation.

On-Demand Apps for Different Industries
Many industries have leveraged the on-demand business to expand rapidly at a rate higher than 50 percent per annum. These industries have a first-mover advantage.
That does not mean new sectors cannot adopt on-demand solutions, or new players cannot open these industries. It simply means that you will have to find a market where your app will serve the real needs of customers.
1. On-Demand Apps for Taxi Service Industry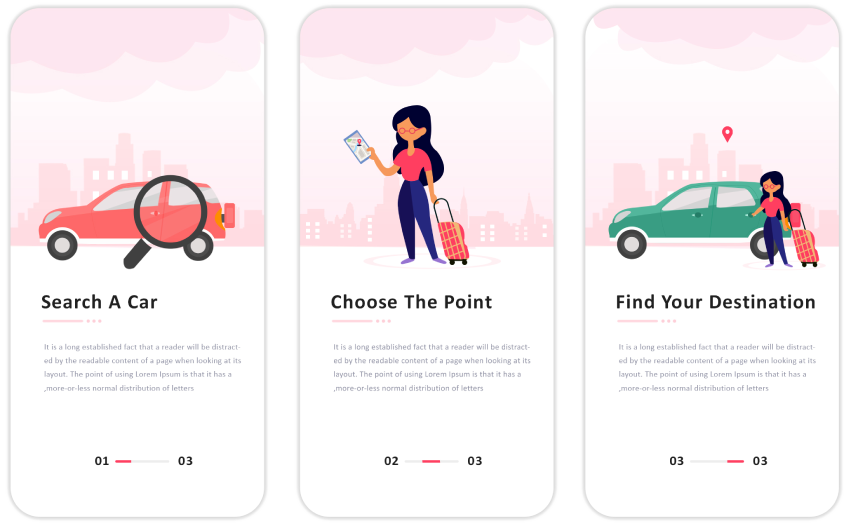 Taxi services on-demand apps, also known as ride-hailing apps, allow users to book and pay for a ride with a licensed taxi or private car service through a smartphone app.
Taxi app development has revolutionized the taxi industry by making it easier for users to book and pay for rides and for drivers to find and accept ride requests.
Here is some popular Ride sharing service app:
2. On-Demand Apps For Restaurant Delivery
It's one of the fastest-growing parts of the on-demand economy and has quickly become an indispensable service. Every new app that promises to deliver meals to your door makes a sizable sum of money. Different kinds of cuisine are ordered and eaten by diners frequently.
As a result of this trend toward variety, there are now almost endless business possibilities if you create a food delivery app.
You can find the best food delivery app:
Uber Eats
DoorDash
Zomato
GrubHub
Talabat
3. On-Demand Apps for Car Wash & Service Industry
We may all agree that clean cars are more pleasant to ride in, but no one likes the effort required to keep their own cars clean. Cleaning your car is a tedious and time-consuming task, whether you handle it yourself or visit a car wash. Most people wash their cars three times a month on average.
Consider the time and work required to keep your car clean in such a situation.
Utilizing an on-demand car wash service is quick and simple. You don't have to wait in line for an appointment or hang around for the vehicle wash to finish. It is much easier to schedule a vehicle wash with the help of an app designed by an on-demand car wash app development firm.
Here are the top apps in the industry
Keno
MobileWash
Washe
Spiffy
4. On-Demand Apps for Household Services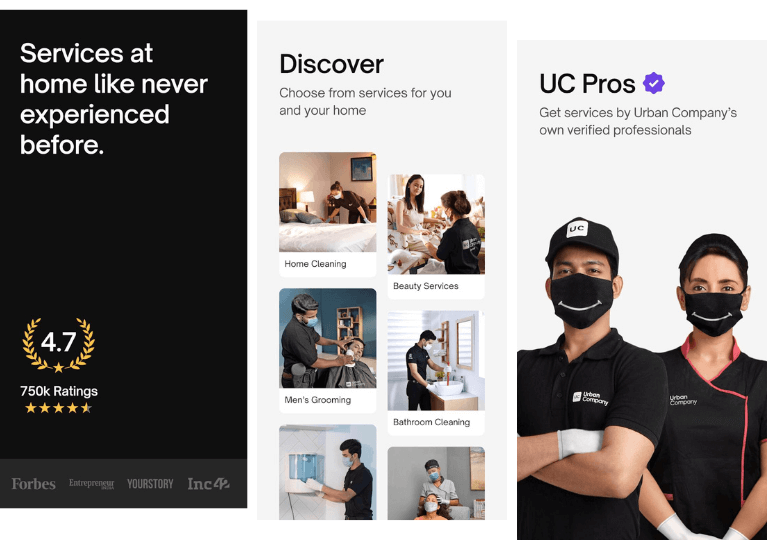 Household services like cleaning, handyman work, and lawn care may all be booked and paid for using on-demand household apps. Users can make service requests by choosing the desired service, setting a time and place for the service to be performed, and providing any other details or preferences they may have.
The app will provide an approximate price for the service and allow consumers to include any extra options or services they desire.
TaskRabbit, Handy, and Homejoy are all on-demand handyman apps that help with domestic chores.
5. On-Demand Apps for Gifts and Flowers Industry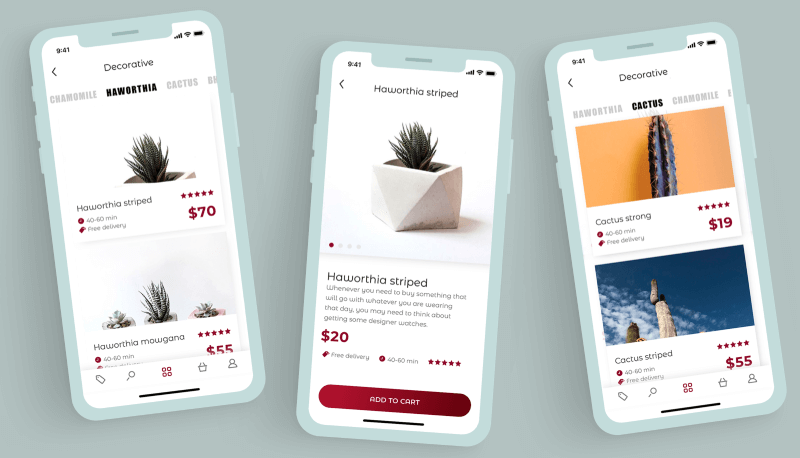 On-demand gift and flower delivery applications make it easy to purchase and send gifts and flowers to loved ones. Users can shop for and send various floral arrangements and other gifts. The whole price, including any applicable delivery or service costs, will be displayed in the app before the user confirms the order.
People who wish to send a last-minute present or who don't have time to go out and purchase a gift in person may find gift and flower on-demand applications helpful.
Some examples of gifts and flowers are on-demand apps.
FTD
Urbanstems:
ProFlowers
1-800 Flowers
6. On-Demand Apps Healthcare Industry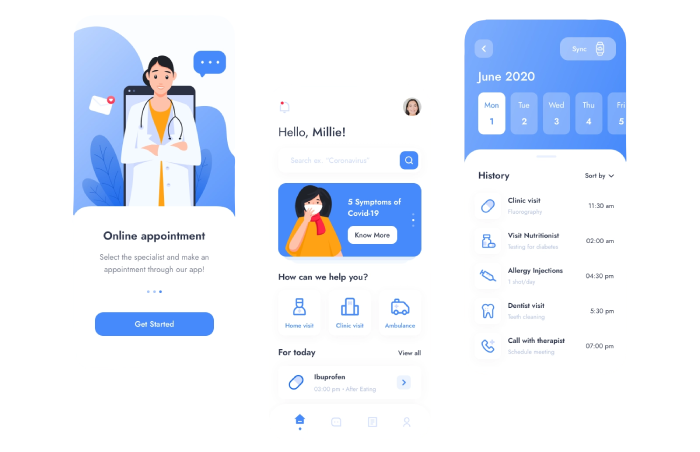 The healthcare market is anticipated to reach $52.2 billion by 2026. The telemedicine industry has lately undergone a period of rapid innovation, with state-of-the-art technologies being rapidly incorporated to ensure the highest quality standards in the final products.
Telemedicine applications, sometimes known as "doctor on demand" apps, connect people in need of medical advice with doctors in a timely manner.
Users can now find experts, check their credentials, schedule appointments, and even consult with them remotely through video chat thanks to on-demand apps. Among their many benefits, telehealth apps allow users to quickly consult with a doctor.
Numerous healthcare-related tasks, including remote patient monitoring, data collecting, appointment scheduling with doctors, wireless testing, prescription administration, and more, might benefit from apps designed by an on-demand app development company.
We have identified the Top healthcare apps for patients.
Teladoc
Epocrates
Heal
Amwell
7. On-Demand Apps For Logistic Industry
Recently, logistics-based on-demand delivery apps have seen a meteoric rise in user adoption. Over the past few months, Uber Freight's popularity has skyrocketed among individuals who require a reliable, on-demand, long-distance delivery service.
The on-demand logistics market is expected to grow to $75 billion by 2030.
8. On-Demand Apps for Education Industry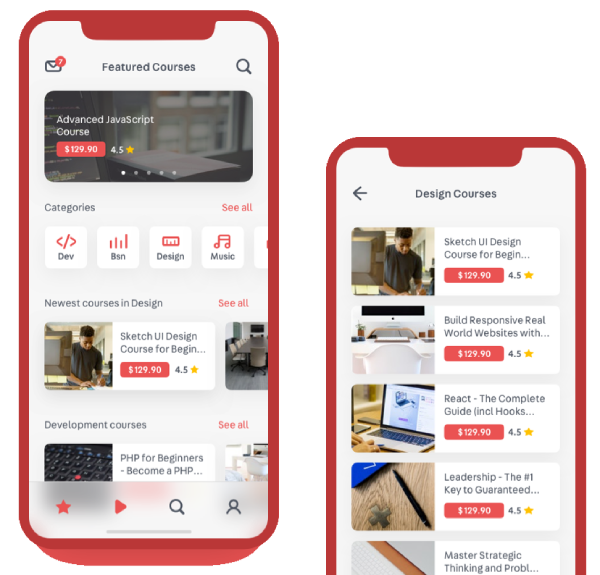 eLearning on-demand applications enable individuals to access educational content and programs via a smartphone app. Learning a new skill, studying for a certification exam, or finishing a degree are just some of the many diverse uses of such apps. The app serves as a portal through which users may search for and choose the courses or content they're interested in.
Those who prefer learning at their own speed or who lack access to conventional educational resources may find eLearning on-demand apps especially helpful. Udemy, Coursera, and Khan Academy are just a few of the many examples of eLearning on-demand applications.
Best free educational apps for students
Google Classroom
Epic
Remind
edX
9. On-Demand Apps Grocery Delivery Industry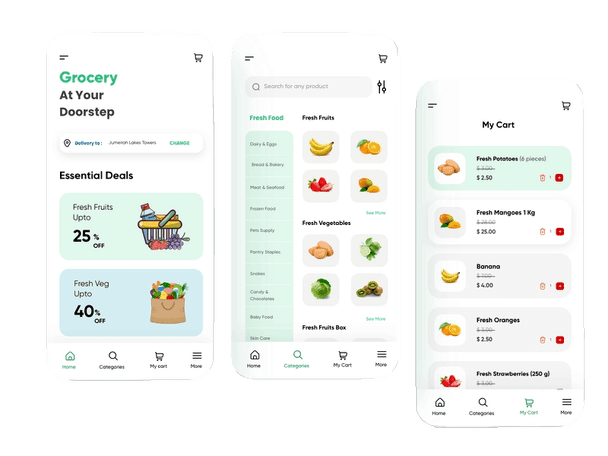 During the peak of the COVID-19 pandemic, it was difficult for people to venture out of their homes in search of food and medicine. The convenience of having everyday necessities delivered to your home, including milk and bread, has been greatly facilitated by the proliferation of on-demand grocery applications in past years.
In addition, the convenient functions of supermarket delivery applications on demand have drastically decreased the time spent waiting in line. Hyperlocal on-demand income opportunities have grown in popularity to meet the surging demand for grocery-related services. If you hire on-demand app developers, they may create an app that will increase your brand's credibility, trustworthiness, and openness to feedback from customers.
Here is the Top Grocery Delivery App:
Instacart

Postmates

Walmart Grocery
Shipt
10.
On-Demand Apps for Payments and eWallets Industry
On-demand payments enable users to make payments electronically from their eWallets for as little a sum as well as for big-ticket spends. On-demand pay or on-demand salary allows staff to withdraw income as it is earned, and not wait until the next salary day.
eWallets are linked to your cards and bank account to make instant payments to bank accounts or eWallets of the recipient. You can also use them to make payments for online purchases and service payments.
The Arka Softwares team can deliver a secure, efficient, and easy-to-use Ewallet and payments app with its eWallet app development service for any market and business.
11. On-Demand Apps for
Fitness Industry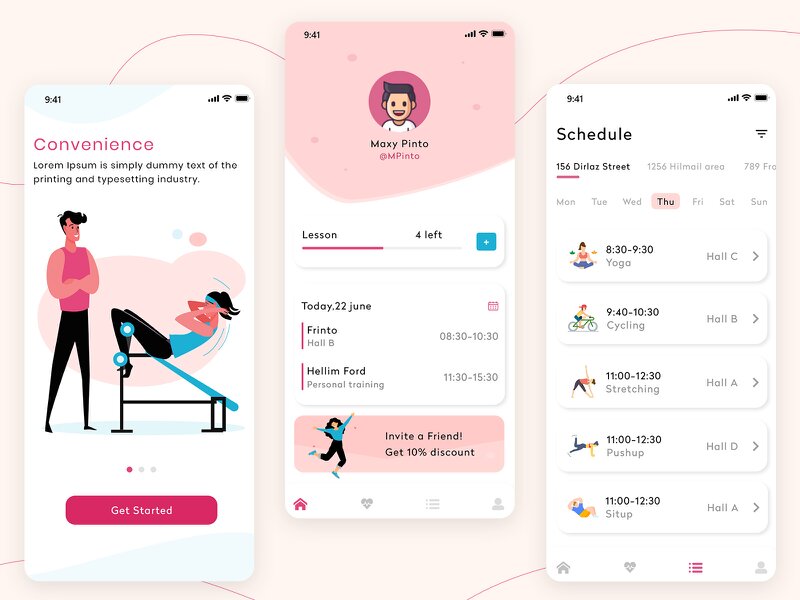 Personal training apps and wearables can help you monitor your key statistics and vitals. With the help of these apps and gadgets, you can design your diet and workout regime. But a personal trainer who can come on demand to adjust to suit your specific bodily needs is still necessary.
If you join a fitness club to get the services of a personal trainer, it will be expensive, and you will be stuck with the trainer they have hired.
With an on-demand app for hiring personal trainers for specific goals or limited time, you can optimize your fitness goals with the least burden on your pocket.
An on-demand app will match you with an appropriate instructor who will help you get fit at your location and your time.
These apps can also sync with wearables to share the data with your trainers to get regular updates and instructions from them.
12. Caregiver Industry 
The biggest challenge for the elderly living alone with other elderly people in the home is the absence of a full-time caregiver because of high costs.
A working couple or single parent faces the same problem with their young kids or a sick person at home. with the help of the on-demand caregiver app, you can request caregivers like babysitters, on-call nurses, physiotherapists, cooks, etc., for yourself or your loved ones with ease.
An on-demand app for home caregiver services can allow you to call for help when needed at a minimum cost. The caregivers must be trained, licensed, and verified with the assurance of police verifications, as people will leave their most loved ones and their homes at their disposal.
Caregivers can provide services like engaging the elderly or children and provide physical, mental, social, and emotional support and companionship.
They can take care of the personal care, dressing, personal hygiene & bathing, housekeeping, meal preparation & feeding, and needs of the family members.

Factors Affecting An On-demand App
Before you start the development process for the on-demand app for your business idea, you must be aware of multiple factors that have a bearing on success.
Some of these factors are overwhelmingly complex and some are too obvious that they can be easily ignored.
We will try to present them logically to help you understand them better:
1. Commoditization of the Services:
The degree of commoditization of any service decides how much it can be delivered online via an on-demand app. It is a factor that if managed properly can make a significant contribution to the success of an on-demand app. Commoditization refers to the degree to which a process can be made automated and self-paced.
If you can identify the variables involved and make a proper flowchart of the workflows and processes, then you can easily identify the processes to automate in the app.
Products are already commodities, so you need to bring differentiation to your products to make them stand out. Once your service or product has been commoditized, you can take them to the automation process and offer them via an on-demand app to your consumers.
2. Competition:
The level of competition in the market can affect an on-demand service app, as it may be more difficult to attract users if there are already many similar apps available. In a crowded market, it can be challenging for an app to stand out and differentiate itself from its competitors.
To succeed in a competitive market, an on-demand app may need to offer unique features, competitive pricing, and a high level of service quality.
3. Pricing Structure:
The pricing of an on-demand app can affect its success, as users may be more likely to use the app if it offers competitive prices. If the prices offered by an on-demand app are too high, users may be more likely to choose a cheaper alternative, while if the prices are too low, the app may not be able to sustain itself financially.
It's important for an on-demand app to find a balance between offering competitive prices and generating enough revenue to cover its costs.
4. Quality of Service:
The quality of service offered by an on-demand app is important, as users are more likely to use the app if they have a good experience with it.
This can include factors such as the reliability and speed of the app, as well as the professionalism of the service providers. If an on-demand app is slow or unreliable, or if the service providers are unprofessional, users may be less likely to use the app.
5. Fleet Management:
Many on-demand businesses requiring physical movement for food, groceries, or other articles from point A to point B need a fleet of vehicles with qualified licensed drivers.
The fleet can be company-owned, like in the case of established courier players DHL or FedEx or flight charter service VistaJet, and the last mile software. Alternatively, the vehicles in the fleet can be owned by the drivers themselves or a third-party contractor. Regardless of ownership, using fleet telematics tools to manage and automate maintenance tasks can ensure the smooth operation of the fleet, prevent breakdowns, and reduce costs.
Depending on the business model, the clients you serve, and the urgency and importance of the order, you may want to work with one of these models and not mix them.
6. User Experience:
The user experience of a goods delivery app is important, as users are more likely to use the app if it is easy to use and intuitive.
This can include factors such as the app's design, navigation, and overall usability. If an on-demand app is difficult to use or navigate, users may be more likely to choose a different app.
7. Marketing:
Marketing efforts can affect an on-demand app, as they can help to increase awareness and attract users. This can include paid advertising, social media marketing, and other forms of promotion.
An effective marketing campaign can help an on-demand app to reach a wider audience and increase its user base.
8. Customer Support:
The quality of customer support offered by an on-demand app can affect its success, as users are more likely to use the app if they can easily get help with any issues or questions they have.
If an on-demand app has responsive and helpful customer support, users are more likely to have a positive experience with the app and be more likely to use it again in the future.
On-Demand App Development Services: Development Stages
The development stages describing how to make on-demand app typically include the following steps:
1. Idea generation
The first step in developing an on-demand app is to come up with an idea for a product or service that can be delivered on demand. This may involve market research to identify a need or opportunity in the market. For example, an on-demand app might offer a service such as food delivery, ride-hailing, or grocery delivery, or it might sell a product such as clothing or electronics.
It's important to conduct market research to ensure that there is a demand for the product or service and that it is viable as an on-demand offering.
2. Prototyping:
Once the idea has been developed, the next step is to create a prototype of the app to test its feasibility and gather feedback from potential users. This can involve creating wireframes and mockups of the app's user interface and user experience.
A prototype can be created using tools such as Sketch or InVision, and it should include all of the key features and functionality of the app. Testing the prototype with potential users can provide valuable insights into what works and what doesn't, and it can help identify any changes that need to be made before the app is developed.
3. Design:
The next step is to design the app, including the user interface, user experience, and branding. This can involve creating visual assets such as logos, icons, and graphics, as well as defining the app's color palette and typography.
The design should be consistent with the brand and the target audience of the app and should make it easy for users to navigate and interact with the app.
4. Development:
After the design is complete, the app can be developed using a programming language such as Java or Swift. This may involve writing code for the app's backend and front end, as well as integrating any necessary APIs or third-party services.
The backend typically includes the servers, databases, and other infrastructure that are required to power the app, while the front end includes the user interface and the code that runs on the user's device. It's important to ensure that the app is scalable and can handle a high volume of users and transactions.
5. Testing:
Once the app is developed, it's important to test it to ensure that it is functional and user-friendly. This can involve testing the app on various devices and platforms, as well as gathering feedback from users. Testing can help identify any bugs or issues that need to be fixed before the app is launched.
6. Launch:
When the app is ready to be launched, it should be submitted to an app store (e.g. Apple App Store, Google Play Store) for review and made available to users. The app store will review the app to ensure that it meets its guidelines and standards, and if it is approved, it will be made available for download.
7. Maintenance and Updates:
After the app is launched, it's important to continue maintaining and updating it to ensure that it remains functional and relevant. This can involve fixing any bugs that are discovered, adding new features and functionality, and making changes based on user feedback. It's also important to monitor the app's performance and user engagement to identify any areas for improvement.
Benefits of On-Demand apps
Many businesses are getting on to different on-demand apps to expand and serve more customers. To get the best outcomes you will need to pack your on-demand apps with the best features. With a feature-rich on-demand app, you can get many benefits.
1. Costs Reduction
On-demand apps can help reduce costs in a number of ways:
Elimination of physical infrastructure: On-demand apps can eliminate the need for physical stores, warehouses, and other traditional infrastructure, which can reduce overhead costs such as rent, utilities, and staff.
Increased efficiency: On-demand apps can use data and artificial intelligence to optimize routes, schedule deliveries, and match demand and supply, which can increase efficiency and reduce costs.
Increased competition: On-demand apps can increase competition among service providers, which can drive down prices and reduce costs for users.
Reduced need for inventory: On-demand apps can reduce the need for businesses to hold large amounts of inventory, as they can order products as needed, which can reduce storage and carrying costs.
2. Simplified Process
On-demand apps simplify the process of accessing products or services by providing a convenient, one-stop platform where users can browse, select, and pay for what they need. Some specific ways in which on-demand apps simplify the process include:
Easy access: On-demand apps can be accessed from a smartphone, which allows users to browse and order products or services anytime, anywhere.
User-friendly interface: On-demand apps are designed to be user-friendly, with intuitive interfaces that make it easy for users to browse, select, and pay for what they need.
Streamlined payment process: On-demand apps allow users to pay for their orders through the app, using a variety of payment methods such as credit card, debit card, or mobile payment. This simplifies the payment process and eliminates the need for users to carry cash or write checks.
One-click ordering: Many on-demand apps allow users to save their preferred products or services and order them with a single click, which further simplifies the ordering process.
Personalized recommendations: On-demand apps can use data and artificial intelligence to make personalized recommendations based on a user's past orders and preferences, which can help users find what they need more easily.
3. Business Opportunities
On-demand apps offer a variety of business opportunities for entrepreneurs and established businesses alike. Some specific opportunities include:
Starting a new business: On-demand apps allow entrepreneurs to easily launch and scale a new business without the need for physical infrastructures, such as a store or warehouse.
Expanding the reach of an existing business: On-demand apps can help businesses reach new customers and expand their geographical reach, as they can sell and deliver products or services to users anywhere.
Offering a new product or service: On-demand apps can allow businesses to offer new products or services that may not have been possible before, such as on-demand delivery or personalized recommendations.
Improving customer experience: On-demand apps can help businesses improve the customer experience by providing a convenient, one-stop platform for accessing products or services and by offering personalized recommendations.
Generating new revenue streams: On-demand apps can help businesses generate new revenue streams by providing new ways to sell and deliver products or services.
4. Transparent
Transparency is an important aspect of on-demand apps, as it helps users understand the terms and conditions of the service, the costs involved, and the process for resolving any issues that may arise. On-demand apps can be transparent in a number of ways:
Clear pricing: On-demand apps clearly display the cost of each product or service, including any delivery fees or service charges. This allows users to understand exactly how much they will be paying for their order.
Detailed terms and conditions: On-demand apps provide detailed terms and conditions that outline the rights and responsibilities of both the user and the service provider. This can help users understand what to expect from the service and how to resolve any issues that may arise.
User reviews and ratings: On-demand apps allow users to leave reviews and ratings for the products or services they have received. This can provide valuable feedback for other users and help them make informed decisions about which products or services to choose.
Responsive customer support: On-demand apps have responsive customer support teams that are available to answer questions and resolve issues in a timely manner. This can help ensure that users have a positive experience with the app.
Features of on-demand apps
The features that you need to choose for an on-demand app will be specific to the actual business needs. But there are some generic needs that most on-demand apps will require.
The following are typical features of apps that provide on-demand services:
Customer's App Panel
1. Push Notifications
Any app needs to push notifications to alert the user about some important trigger or event. These notifications can let them know about special offers, discount deals, and real-time tracking of their orders.
An app with active push notifications has far more active users than one that doesn't have push notifications.
2. Order Details
The order status and history of a customer is information that must be readily available. This will help them recall their exact order. Moreover, customers may easily see their order history and reorder the same product with no effort.
3. Real-Time Tracking of Orders
Monitoring in real-time is essential for giving up-to-date data to users. This feature can be made more credible by using the Google Maps API.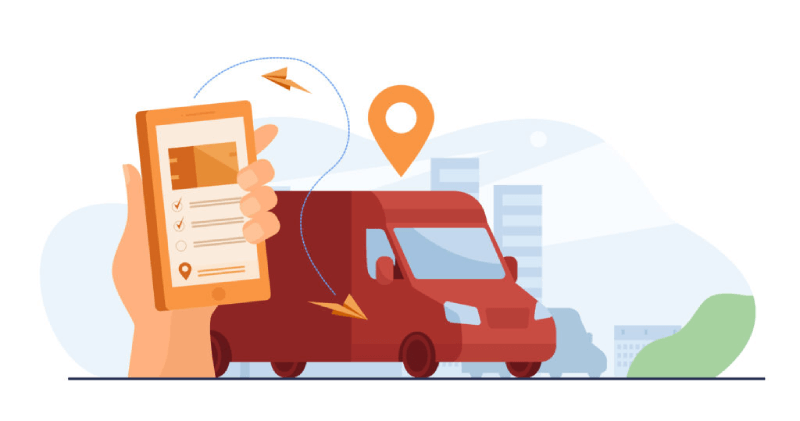 4. Activity and Wish Lists
You must keep a detailed browsing and search history for each customer to understand their preferences and build a persona for them. The customers can rest assured that the app has taken care of preserving the relevant information about them.
A wish list is something that the app allows a customer to actively add items that they wish to order in the future.
5. Integration of Payment Method 
For customers to make purchases with your app, it must accept a wide variety of payment types. If you offer reliable payment methods, your clients will feel more comfortable making purchases on your platform.
6. Feedback and Evaluations
Having this option gives your users a direct line of communication to the system administrator. They'll have a better sense of being heard if feedback is provided instantly. In addition, it will help you refine the features of your app.
7. In-app Calling
With in-app calling, you can call the rider who is delivering your parcel, or you can call the service provider or restaurant, about any specific instructions related to your orders. You can also guide them when they are on the way.
8. Customer Support
A consistent customer support system is crucial to the success of any application. The app's functionality necessitates prompt responses from your support team. Maintaining accessible customer support is critical to the security of your users.
Service Providers' App
1. Order's History
The delivery team must have access to data regarding their previous deliveries. This could give you a summary of the delivery team's previous work. Furthermore, you may use this information to track their development over time.
2. Transactional Record
This makes it much easier to keep track of monthly pay. Bonuses, commissions, and other kinds of remuneration will all be detailed here. The delivery personnel will find this helpful when figuring out their paychecks.
3. Vehicle Details
Vehicles for making deliveries are typically provided by the businesses themselves. Better fleet management will result from keeping track of vehicles.
4. Accept or Reject Delivery
The drivers must have the option to take or reject deliveries at their own choice. That way, individuals may tailor their work schedules to their individual preferences and needs.
5. Google Maps Compatibility
This will ensure that the delivery team always knows the shortest or quickest path to take. This is done to ensure their safety during the move. Furthermore, by following the app's guidelines, individuals can increase their productivity.

Cost To Build On-Demand App Development
What is the cost to create an on demand app? There is no easy way to answer this question because the cost of an application that may be accessed on demand is dependent on several factors. After hearing your project's requirements, objectives, features, and scope, an on-demand service app development firm will provide you with a precise quotation.
However, in most cases, the initial price for an on-demand app development project is around $30,000. Factors affecting the cost of on-demand applications are:
1. Basic Features
Such features include the ability to see and modify previously placed orders, view and modify purchase histories, offer numerous payment options, etc.
You can't launch your on-demand app deployment without these features. As a result, the resources required to create a mobile app revolve mostly around these factors.
2. Advanced Features
There's no need to go overboard with features when making an on-demand app. You must include these if you want your application to stand out.
Examples include in-app phone calls, augmented reality with push notifications, and so on. Each additional premium feature will result in a higher total cost. Therefore, be selective in this aspect.
Mobile App Development Platform
You may create apps for both iOS and Android. The Android market just requires a one-time payment to gain access. However, on Apple's iOS, you'll need to pay a recurring membership fee.
Future of On-Demand Apps
On-demand businesses and service providers need a technological solution to connect them with millions of customers. Customers need a technological solution that can give them services at their doorstep and affordable prices.
The on-demand apps bridge this gap and connect the providers with clients with their efficient, secure, and easy-to-use mobile apps.
Any business that is future-oriented and leverages futuristic trends, needs, and tools, is bound to succeed with the right technical solution and a successful business model. The need and demand for on-demand apps will continue to increase as more people take to them in these uncertain times for receiving services and more providers get on board to supplement their incomes.
The estimates of growth projects presented earlier were conservative and not more realistic. There can be multiple tectonic shifts in the market dynamics in the coming 3-5 years that the growth in on-demand apps may well exceed the projected 39-45% CAGR by the year 2025.

Our Experience In On-Demand Application Development
If you've read thus far, you already know that the need for on-demand apps is massive. Users can access any and all of the features they need from the convenience of their smartphones. Among the best on-demand app developers, Arka Softwares stands out for the amazing and scalable range of services it provides to its customers.
Our service approach will unquestionably assist you in designing sophisticated on-demand application solutions for your users, who are anticipating quick and immediate responses to their expanding needs.
Arka Softwares employs a staff of expert and highly qualified on-demand application developers who have been in the business for over ten years. Numerous organizations, ranging in size and scope, have benefited from the apps they've developed.
Employing developers on demand enables you to design a customized application that meets the specific needs of your organization. Our professionals are well-versed in the most recent technologies and strive to develop creative solutions that you will surely appreciate.
Wrapping up
On-demand apps provide a crucial service to consumers and providers directly. With these apps, ease and convenience are delivered to your doorsteps with efficiency, quality assurance, and security.
So, instead of waiting any longer, call our professional consultants to discuss your business idea and develop it into a successful business.
When you delegate your development needs to the professional on-demand development team of Arka Softwares, you will get more time to focus on multiple pieces of the business puzzle.
FAQs for On Demand Apps