There are paid apps – one pays to download and use them – for example, 1Weather, Bouncer, Scanner Pro, or MediaMonkey.
And then there are free apps – like WhatsApp, Facebook, Twitter, Instagram, Ludo King, Adobe Scanner, and millions of others.
Most Android and iOS users rely on "free" apps to connect to the world, entertain themselves, play games, and even for making their daily lives more comfortable.
Most of the excellent quality apps with great features have millions of downloads on the Play store and the App Store. So how do these apps make money?
And more importantly, if you have a great idea for a killer app, and wish to let it be used for free, how could you make money with it in 2023?
Do you ever wonder how free apps make money? Let us unsolved this mystery and find the most promising ways in which a great app can make money.
In many cases, some apps employ more than one approach to make money. The income from the apps could not only be your passive income but can become your biggest blockbuster.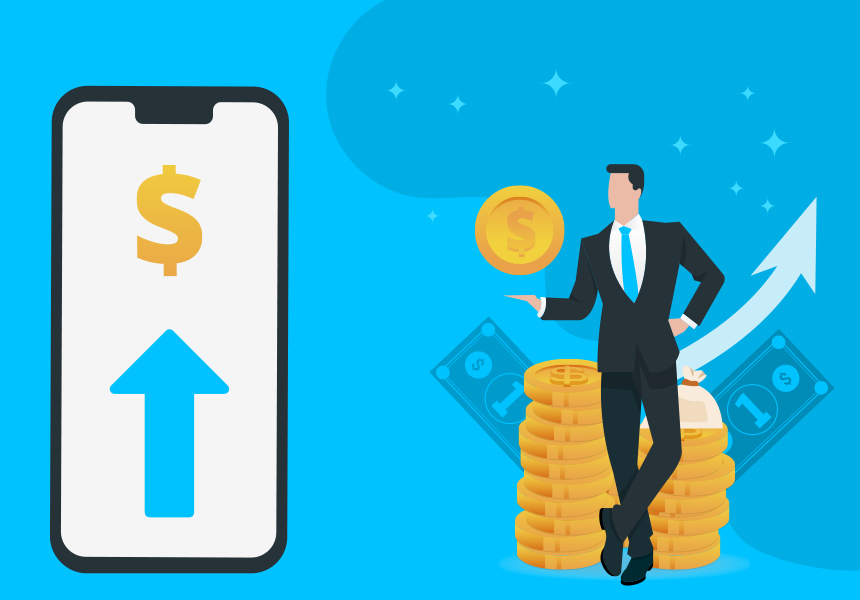 The Free App Ecosystem
According to Statista, report the total number of apps – free and paid – downloaded is increasing every year. In 2016 it was at 140.68 billion downloads, and that has gone up to 218 billion in 2020. A stunning growth of close to 55% in just four years!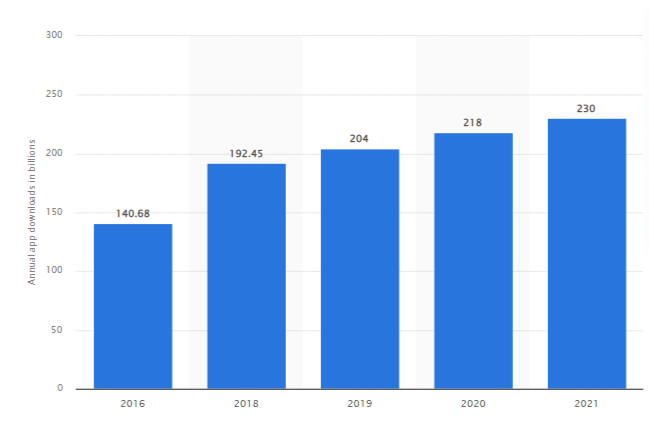 Like anything free, free apps have always outnumbered the premium apps market by many times over, as far as downloads go. The profits and revenue earned may be a comparison of apples and oranges.

According to SensorTower

, the report even if you take the biggest money spinners of 2020 then you will see the top-grossing apps including a combination of free and premium apps, with the top two places going to TikTok and YouTube – both free.

Also, one has to remember that an average person spends more and more time on their mobile phones daily – that increased from 4.9 hours/day in 2019 to 5.5 hours/day in March 2020 and jumped to 6.9 hours/day in April 2020. This was revealed in a study sponsored by Vivo and conducted by CMR, and

published in Business Today

.

On average, an American checks her mobile phone

every 12 minutes – that is at least 5 times each hour – when they are not using it!

Ofcom, the UK telecom regulator, found that

of the total time they spend online, close to four-fifths of them do it via their mobile devices.

Smart insights have compiled multiple reports

on mobile phone usage and according to one of them, close to 90% of the time people use their smartphones, is spent using apps of some kind – Facebook, Instagram, Netflix, Games, eCommerce, and many more. The best news is that the share of mobile Internet traffic and usage is bound to increase exponentially and leave the desktop market behind.

Another survey from Statista found

that the percentage share of paid apps in total app market revenues has almost halved from 76 percent to 37.8-percent over the last 3 years, signifying the growing market for free apps.

SensorTower estimated

that the global app revenues only in the Q3 (Jul-Sep) of 2020 were USD 29.3 billion with 36.5 billion new downloads. The gross revenues marked a whopping 32% y-on-y increase over Q3 of 2019.
So, all these statistics point to one thing – free apps are big money-churners for their developers and owners and if you thought otherwise, then you must change your stance.
You need to find the killer combination of a great app offering a value proposition for its users and a sustainable monetization model for your free mobile app.
We believe you are reading this article because, you already have a great idea for developing a mobile app – a game, an OTT service, a utility, a social media rage, or any other thing.
But probably, you are wondering what are the different monetization models for free apps and how could you make money from them in 2022, aren't each one of them already milked to the extreme?
Do not worry, you have come to the right place and we will show you the different monetization models and how to use the most suitable one (or combination) of them to make money from free apps in 2023.
The Future of Free Apps
As of 2022, report 96.7% of apps on Google's Play Store were free, compared to 92.7% on Apple's App Store. Free apps dominate the app market and will continue to do so for a long time.
The following table summarized from Business of Apps, shows the growth that Apps are witnessing in their revenues over the years:
Year
App Revenue

2016

$

43.5 billion

2017

$

58.1 billion

2018

$

71.3 billion

2019

$

89.0 billion

2020

$

111.0 billion

2021

$

133.0 billion
As is clear as day from the above dataset, the growth in revenue for mobile apps is going to be phenomenal at a CAGR of 26.39%. And if the same trend continues, which we expect to be faster than in the past years, then by 2025 the app revenues are going to cross $398 billion!
Factors to consider before you build an App
You may have a great and awesome idea for free app development, but that alone cannot make you money. You will need to consider many factors to make it user-friendly, popularise among users, and then finally make money from it.
The idea must be unique or should fill a vacuum that is left behind by existing popular apps in the same category. For example, when TikTok was banned in India in 2020, many short video apps came to fill the void.
Read Also: Cost and Features to Develop a Mobile App like TikTok
Or like despite having too many wallets, PayTM is the clear market leader as it was present in critical mass way before any other micro-payment app was.
PayTM also offered person-to-person transfers before any other app could think of it, making it immensely popular.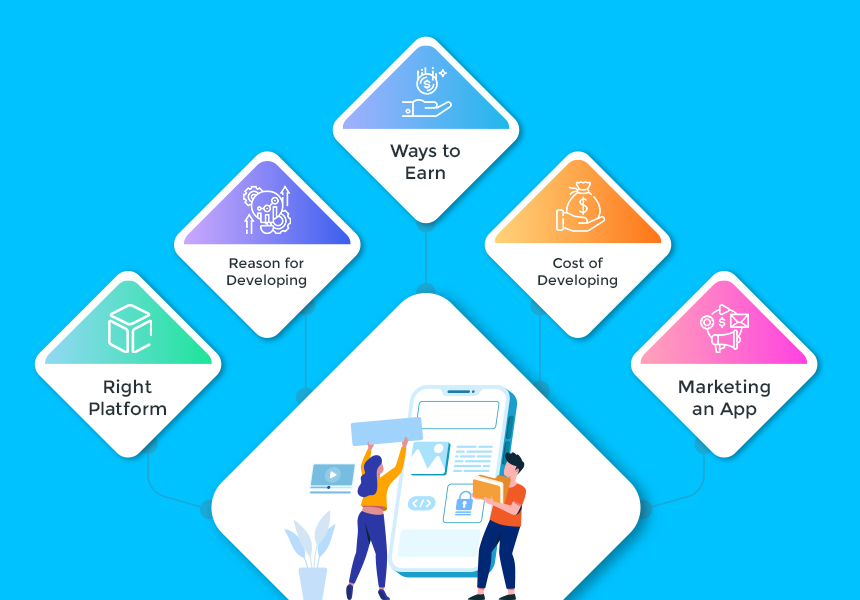 There are some crucial factors that you must factor in before you launch your free app to make money:
Proof of Concept for your idea is necessary before you invest in servers and other technological tools. If the concept is proven to be successful, then only should you move ahead.

Market and audience research is absolutely necessary as if you are going to target and grow your audience then you very well must know about them beforehand. It will also help focus your marketing spend.

The app's design, its look & feel, UI, and UX make or break any app's fortunes. Your app may be a nest in functionality, but if the users do not like it, then everything is in vain.

Security and privacy are the issues that can bring down even the most popular of apps – case in point the sudden uninstalls of WhatsApp after their supposed privacy policy change earlier in January 2021 and the resulting spike in installs of Signal and Telegram.

Functionality is the soul and the core of any app and you cannot compromise on them. Whatever you are offering must be the best in its class.

The supporting infrastructure for the app – server, network bandwidth, design, database, all affects the security, efficiency & scalability of the app.

Online payment gateway and other third-party tools may be integrated with the app so that your users can make purchases, log in using their social media accounts, and use other services without leaving your app.
App Monetization Options
Following are the most popular app monetization methods, in order of total revenue generation, according to a survey and research by Statista:
Advertisements

In-app purchases

Subscriptions

Merchandising

Sponsorships

Referral marketing

Monetizing Data

Freemium upselling

Physical purchases

Convenience charges

Crowdfunding
Let us discuss in detail the features, suitability, pros, and cons of each of these methods to monetize your free apps, one by one.

1. Advertisements
In-app advertising is the most common and most recalled manner in which one could make money from free apps. It is also the easiest method to build into the design of your apps, as it is also the oldest method on the Internet to monetize digital properties.
Because of the humongous number of apps and advertisers, who wish to market their wares on them, advertising is now managed by specialized third-party ad networks. According to a

Statista survey among digital marketers

, the respondents believed that on average 29% of apps generate revenues from advertisements, which is set to increase to 35% in two years' time and up to 425 in five years' time.

A report on

Smart insights quotes Statista's report

that mobile ad spending will reach an equal level with desktop ad spending for the first time in 2020 at 50% and by 2021 they will surpass it by one percent. This growth in mobile ad revenue is set to continue until something drastic happens.

Another

Statista report indicates

that more than USD 186 million were spent on mobile ads in the year 2020. As mobile ads are all geared to drive the digital market, you can advertise for affiliate services & products within your app and earn not only advertising dollars but also affiliate commissions.
Networks like Flurry, the all-powerful Google's AdMob, Facebook Ads, and AdColony are the top picks. The ads can be placed within your app in many forms – like banners, in-app native ads, video ads, interstitial or full-screen ads, animations, and rich media ads.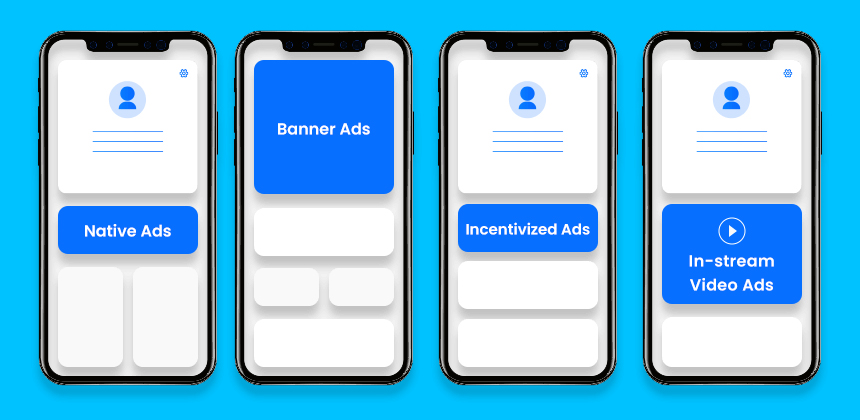 As an app owner, you must integrate the third-party Api of the ad-server you have partnered with. You can define various levels, moments, and events when an ad will be displayed. You can control its placement, type, total duration, minimum duration, genre, category, and other such parameters to manage what your users see.
The ads can be used to generate direct revenues, based on the impressions they make, as well as you can partner with them as an affiliate to earn commissions when users click on them and make purchases on the sponsor's app or website. If an ad is clicked, you get paid; if the user installs the app of the advertiser, you get paid; simply put the monetization opportunities are infinite.
Interstitial ads:
A full-screen pop-up covers the entire screen, and the ad is displayed for a limited duration. These ads can appear at specific intervals or when an event is triggered.
Banner ads

:
Banners are like posters that are displayed in assorted sizes at different locations on the screen. These are often smaller in size than the full-screen ads and less obstructive too and let the user use the app while the ad is shown.
In-app video ads

:
Free video sharing sites like YouTube, and MX Player use in-app videos, as well as many games, use them. In games, the users can 'earn' some reward points by watching these ads. Users get an option to skip the commercial after it has played for a minimum duration.
Native ads

:
Native ads are integrated as internal elements in the app and showcase the benefits of using the product or service being marketed. Go a step further and optimize your creatives to reach even more of your target audience. With the exact results apps provide, you've got an opportunity for improvement (and more profits) at every click and turn.
As the advertising becomes part of the app 'storyline,' they cannot be skipped or closed and therefore are becoming more popular.
However, integrating them into the app can be challenging as building a story around an unrelated product or service is not an easy task.
Pros of Mobile Ads
Offers an added revenue stream if your app also has in-app purchases or other models integrated.

Ads can reach a larger target audience as usage statistics with apps are very exact.

 User interactions are measurable with precision.

In-app videos can generate a greater level of traffic to the website or app of the marketed item, compared to social media marketing.
Cons of Mobile Ads
The apps must have a large user base or a real potential to reach there in a very short time.

Requires regular and frequent use of apps by the users for ads to be repeated.

Many users see irrelevant ads as marketers exploit the medium.

As users get wary of too many ads, they simply ignore them or subscribe to the ad-free version.

The ads create a hindrance to in-app navigation and use.
2. In-App Purchases
As the name implies, when a user makes any purchases from within your app, for non-eCommerce apps, the app developer gets either the complete revenue or at least a commission on the proceeds.
Such purchases are simple and typically done to access special features, benefits, or contents within the apps. These may include data packs, powerups, more lives, cheat codes, special weapons, avatars, stickers, and access to restricted content.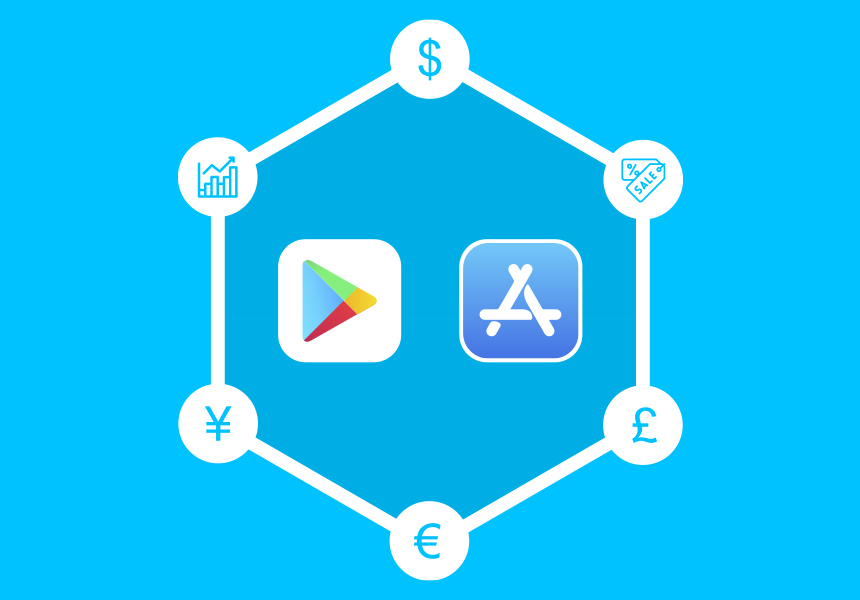 Most gaming apps, video apps, research providers, and news portals have started using this model as regular subscriptions are considered costly or a waste of money by the users.
According to Forbes, this method is the highest revenue generator for original content developers/publishers including games and gamers.
Although the gaming business takes away the lion's share, other original content publishers also use this model very effectively like publishers of scientific journals.
The best-suited apps to deploy this method and make money are the apps that offer limited access to a set of features, levels, tools, and content to users for free and then sell additional wares via in-app purchases.
Pros of IAP
The chances of almost infinite revenues are remarkably high if the app becomes popular.

Best suited for original publishers such as game developers, research publishers, and the likes.

You can supply advanced services through the app.
Cons of IAP
The security of such apps is always a potential risk.

If the IAP process is poorly implemented, then it can result in bad reviews.

User expectations for added services are great compared to the free services, and if they are not met, then users will stop using the app and uninstall it.

The app development and maintenance costs will be much higher.
3. Subscriptions
Subscriptions are the go-to model for original content publishers, especially for news and entertainment content. Popular video streaming apps like Netflix and Amazon Prime as well as Business Standard and The New York Times all use paywalls to protect their content.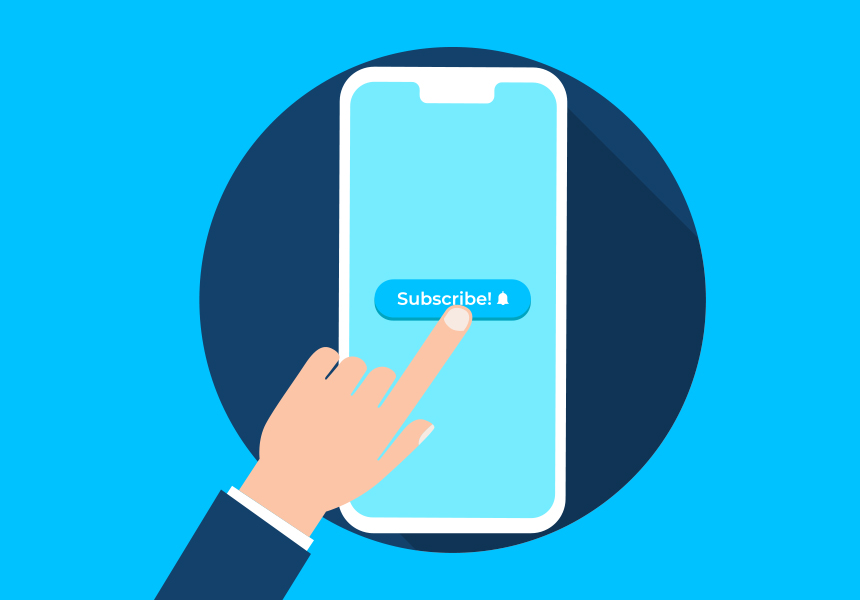 If the user wishes to consume their content, they must subscribe to their services through apps. Subscriptions can be annual, quarterly, monthly, and even for any custom range of duration depending on their usability.
Some app publishers supply limited free content for either a limited period or access to a number of articles/episodes/hours.
The difference between the subscription model and in-app purchases is that users get access to all features during their subscription period instead of to limited elements as in the case of the latter.
Pros of the Subscription Model
The best-suited model for long-form content with regular consumption like news portals or OTT services.

A loyal base of consumers of the content with more engagement and regular viewership.

A steady and reliable cash flow for the period of subscription.

App Store and Play store rankings improve as a result of longer user engagement.
Cons of the Subscription Model
Continuous innovation and content generation are needed.

Many users may find it prohibitive to transition from one-time fees to monthly or annual subscriptions.

Usually, a free trial period and an easy cancellation policy are needed.

A startup may not command respect and trust to generate regular subscriptions.
4. Merchandising
If your app has unique features, such as avatars, characters, and quirky quotes, then you have an excellent opportunity to sell merchandise based on them. This merchandise can range from t-shirts to wrist bands, from mugs to pens, and from jewelry to caps.
You will have to partner with quality manufacturers of such merchandise and must ensure your suppliers can deliver reliably to customers who have placed the order on the app.
If the popularity of your merchandise is very high you can also enter into distribution and sales agreements with retail chains and start selling them on eCommerce platforms.
Pros of Merchandising
Your brand, characters, and quotes stay with people longer creating an emotional bond.

People can use your merchandise as gifts and thereby increasing the reach of your brand.

You can gradually enter different segments and enter into royalty agreements for exclusive merchandising rights.
Cons of Merchandising
App integration with backend ERP for inventory and distribution management may be tricky.

Poor shopping experience may result in disenchantment.

Security and privacy concerns are the big issues with users.
5. Sponsorships
It is one of the less used models of app monetization but can give you impressive results if you find the right set of patrons. In the case of a sponsored app, the developer earns by publishing the app by getting sponsors to promote their offerings exclusively on your app.
For example, you publish an app in the food genre and then a restaurant chain, a fast-food chain, or a frozen food manufacturer, may sponsor various elements in your app.
Customers may receive sponsored notifications about their latest offers, special discounts on booking via the app, and even discount codes on referrals or reviews.
Another example is Home depot sponsoring the Weather Channel App by putting an animated background where their appropriate ad is played according to the climate and season.
Pros of Sponsorship
The principles and values of the app publishers and the sponsors are aligned so it results in a long and durable relationship.

The app users and the consumers of the sponsoring brand may both benefit from the partnership.

The sponsor may be responsible for generating much of the content to be published.

The sponsorship commitment is fixed with a steady flow of income, with an upfront fee.

Minimal disruption to navigation and user experience.
Cons of Sponsorship
Finding a suitable sponsor and integrating their message into the app is a challenging job.

Sometimes more revenue through multiple sponsorships may be barred by the original agreement, and you may lose the opportunity to make It big.

Even if the messaging and communication of the sponsor change and do not resonate with your app, you will be forced to showcase them.
6. Referral Marketing
When you promote third-party products and services and users use a unique code linked to you to buy them, you will get a commission on such purchases, app downloads, and app usages. This is called referral or influencer marketing which requires your app to have sufficient influence over its users to nudge them in a direction.
The most common form of referral marketing apps is the ones in which you compare similar products or services and then go on to buy them from within the app.
For example, PolicyBaazar is a leading portal for buying insurance policies where a user can compare different policies from all insurers.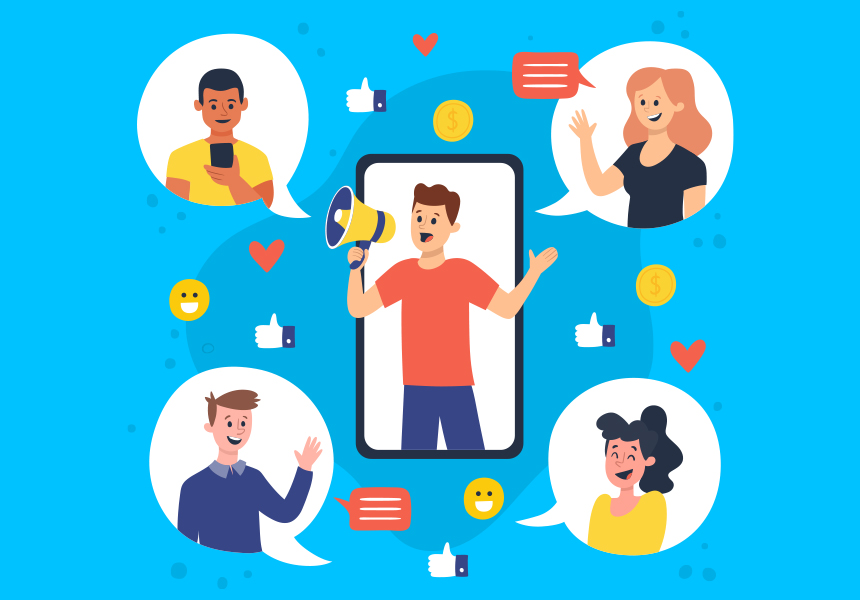 Once the user enters her details, she is presented with the most appropriate policies to choose from, and when she buys a policy online, the PolicyBaazar app earns a referral fee. It can be considered similar to the direct sales commission where each sale is tied to one of the multiple marketing channels.
Because the app works on providing choices, they can also make some listings to show before all by taking in sponsorships from the providers of those listings.
Different models of referral marketing are used by publishers, including:
Cost per acquisition (CPA)

:
The acquisition means that the users signs-up for the promoted services via the affiliates app.
Cost per click (CPC):
The affiliate will earn a small amount with each click by a genuine user on the advertisement by the promoter of the services. Upon clicking the ad, or the link, the users are taken to the app or landing page of the promoter.
Cost per view (CPV)

:
In this model, the number of impressions of the ad by the promoter will earn you money. These impressions can be of static images or full-screen animations and videos.
Cost per install (CPI)

:
as the name implies, if the users download the app and install it on their mobile phones, your app will earn. It is similar to the CPA model but with a more tangible acquisition and more tangible monetary rewards for your app.
Pros of Referral Marketing
A suitable way to market and promote a popular product through your app.

One of the most networked models with great monetization opportunities.

Users that make use of the referrals are your most loyal users.
Cons of Referral Marketing
It takes time to build trust so that people will actually need what you recommend.

Referral campaign tracking is tedious and may require additional costs.

Usually, an app cannot run multiple referral programs from competing sponsors.

7. Monetizing App Data
Every app collects loads of data about its users, their usage statistics, their phones, networks, movements, and even transaction history. If you can find a secure way to hide sensitive details such as email and phone contacts, names, and credit card details, and sell the bulk data, you can have a great monetization tool.
In fact, each app does sell the data directly or indirectly to others or to other branches of its own businesses. For example, Facebook or Google may not sell data to others directly but it will use the data to decide the rates of advertisements on their vast networks.
In this case, the users are the product that the apps are selling to their marketers – categorizations, consumer preferences, usage statistics, etc. are also very valuable for market research and statistical companies.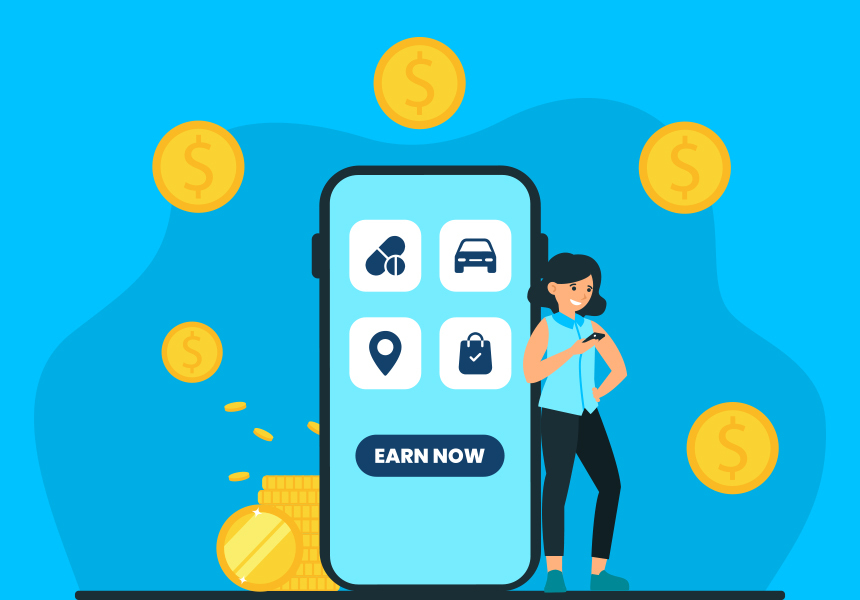 Pros of Data Monetizing
Exact consumer preferences can help you build greater market reach by offering the best services before anyone else could.

The data could be sold to many bidders many times over separately as well as by bundling with other relevant data.

You can build your own marketplace to start a new revenue channel.
Cons of Data Monetizing
Privacy and security concerns are paramount.

Accountability towards users is compromised due to a conflict of interests.

The users may start losing their trust in the app, like WhatsApp, if your privacy policy undergoes drastic changes.
8. Freemium Upselling
Freemium is coined by joining Free and Premium and means exactly that – some features of the app are free for all to use an unlimited number of times, but to access other advanced features, you must pay up. This payment can be one-time like IAP or recurring like with subscriptions.
For example, with Spotify, you can use most of its features for free, and this way they can make you fall in love with them. But to gain ad-free access to its greatest audiobooks, exclusive labels, and popular podcasts, you must subscribe to its premium services.
This is an exceedingly popular strategy in the case of educational content, professional certifications, health check-ups, and news publishers.
Pros of Freemium Upselling
Ads appear only till you are a free user, no more intrusive ads once you become a premium user.

Most compatible with advertising, IAP, subscription, and sponsorship models – offering multiple revenue channels.

Results in wider reach with the free ad-sponsored version of the app and a loyal base of premium users – best of both worlds.
Cons of Freemium Upselling
Revenue fluctuations are remarkably high as in some months you may have a ridiculously small subscription or in-app sales.

Continuous pressure to generate original content for users to want to come back to your app.

As free users have no tether to your app, they can easily uninstall it and move on.
9. Physical Purchases
Online and offline retail stores launch their free apps as a gateway for their consumers to browse and shop the products they sell. This is also applicable to service providers such as telecom or financial services.
The customer always has the choice to visit the store online on their website or a physical store but may choose the app for more convenience as well as for exclusive offers available on it.
An app also offers the convenience of making payments via conventional modes as well as their mobile wallets.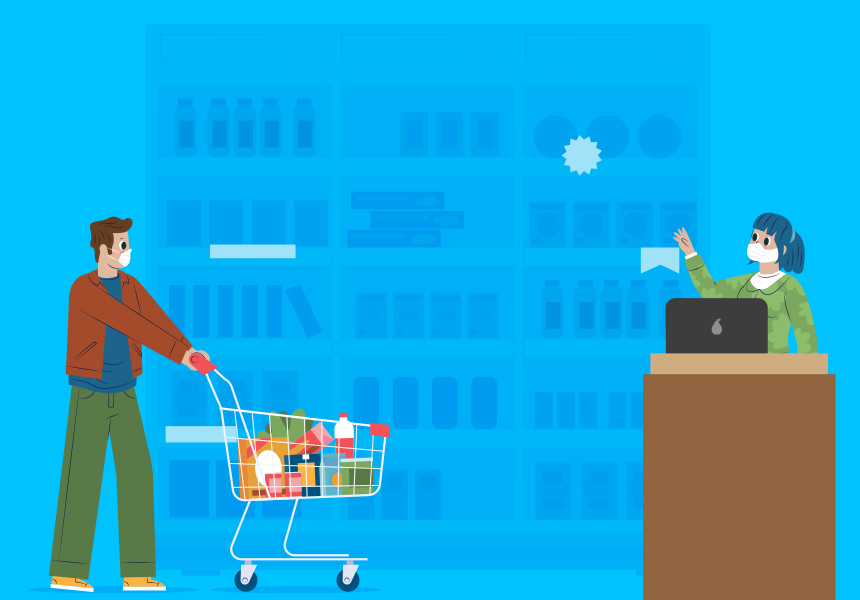 Pros of Physical Purchases
A flexible model and adaptable for every business vertical.

It can help promoters and marketers to offer their wares in one more channel and tap that consumer segment.

Easier for online eCommerce players to design and launch an app and promote it among their existing customer base.

Easily adaptable to affiliate and IAP models.
Cons of Physical Purchases
Apps with physical purchases need to follow stricter policies on app stores.

They are governed by the local jurisdiction in the case of local deliveries.

The model has to face the same challenges as setting up an eCommerce portal.
10. Convenience Charges
If you are offering an important and irreplaceable intermediary service, then you can charge a convenience fee or transaction fee from your customers.
For example, payment gateways make money on each transaction, PayPal and Western Union make money for each remittance, and utility providers charge for providing you added bandwidth.
Pros of Convenience Charges
The income generates indirectly and in disguise.

As the entry to such services is controlled and regulated, once you enter, the competition is not infinite, like in other models.

Promotes cashless transactions and proper recording of each transaction.

The credibility of users is enhanced.
Cons of Convenience Charges
Many merchants (receivers of payments) may not pay the convenience charges, and the users may have to bear that burden too.

As these services require regulatory approvals, entry of fresh players is very challenging.

Incompatible with all other models.
11. Crowdfunding
As the name suggests, the publisher of the app appeals to a large crowd of people to support their app and make monetary contributions. Against the donations made by interested patrons, the app publisher may give them exclusive rights, premium access, or beta access to new features of the app.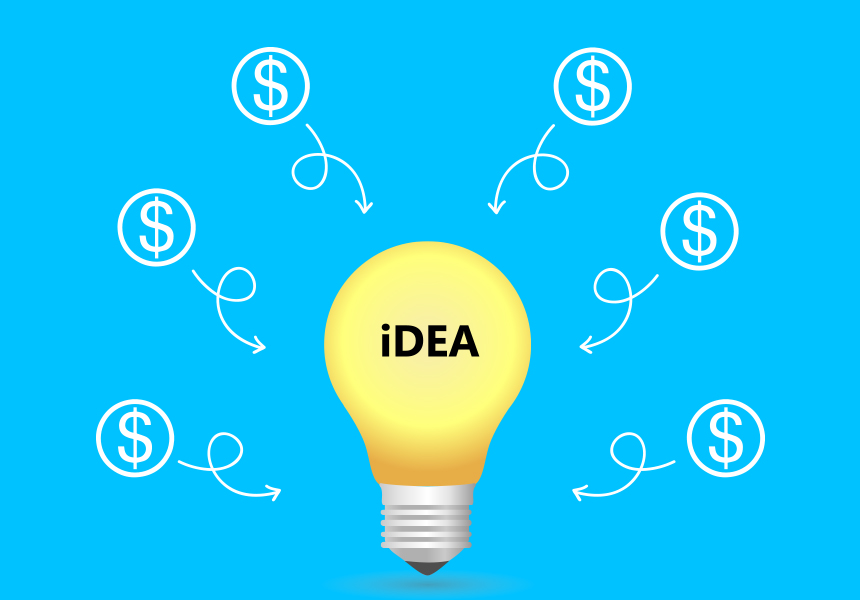 Startups and students who are passionate about their apps, ideas, and causes make use of the model and register themselves on various platforms like Patreon, Kickstarter, Fundable, GoFundMe, Crowd Supply, and Chuffed to look for donors. They may use their social media links to promote the app.
Pros of Crowdfunding
Access to free money from multiple donors.

No investors, therefore, no liquidation of stakes or control.

Early and pre-funding of your projects if the earlier apps were a success.

Easier to attract angel investors and VC funding.
Cons of Crowdfunding
More transparency is needed as funding is a function of trust and confidence in you.

Fundraising is expensive as crowdfunding platforms may charge heavy fees.

The funds may not be available on time or are inadequate quantity to properly develop and launch the project.
Tips to choose the most suitable App monetization model
By now, you must have already had a fair idea that which monetization model is most suitable for you. Still, if you are confused that which model is best suited for you, or if you must go for a hybrid model, then follow these simple tips to clear any remaining doubts.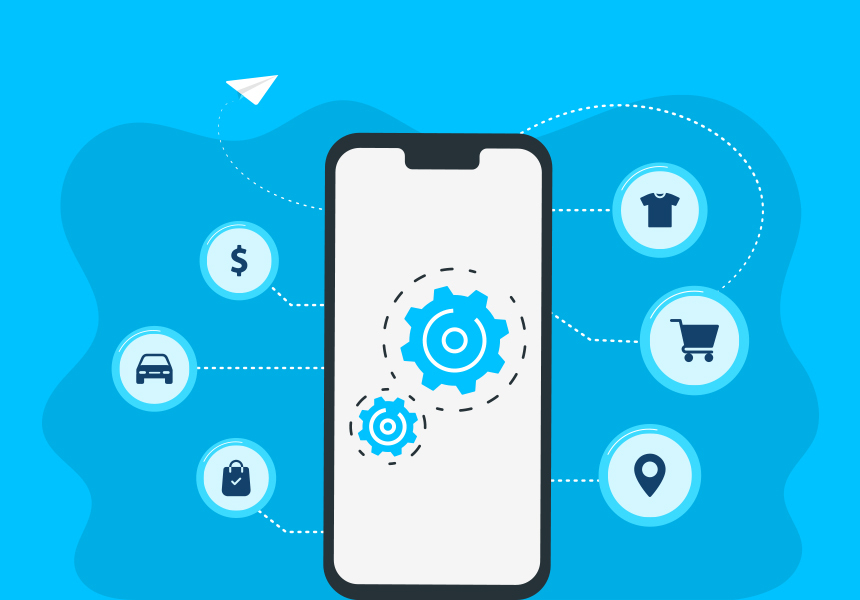 Each model is suitable for some apps and not for others. Do research that other apps in your app's category are using which model(s) to monetize.

Do not oversell by integrating too many monetization methods in the beginning. Too many third-party APIs will not only affect the navigation and security, but users may also get irritated.

Offer in-app purchases only if they really add value to your users.

Too many ads or too few features without IAP will again irritate your users.

Keep the app as your central focal point – not the monetization part. If the app is a hit among users, money will follow automatically.

Always analyze your competition and make long-term strategies to stay afloat. Sometimes, to win big requires only staying above the water level in tough times. Amazon became what it is today as it did not succumb to the Dot-com bubble of 1998-2000 and stayed focused on its core operations.

Market and user research are as much important. If your users are willing to pay for your content, then only IAP, subscription, merchandising, or freemium models will work. If the user is not capable of paying up, then referrals, advertisements, and sponsorship models are suitable.

Bottom Line
As a mobile app publisher, you must understand that in the end, any app that makes money adds some value to the lives of its users – entertainment, education, socializing, convenience, or some other such value proposition. If you do not bring your own unique value proposition, then no matter what you do, you cannot make money from it.
If you realize soon that your app can make money only people use it, then your focus will not be on the money it makes, but on the benefit, it has to offer to its users. Your users are always the kings and queens and they may vote by foot by uninstalling your app the moment they get a better value proposition from your competitor. 
In case, you have any queries, doubts, or questions about apps, their development, and monetization models, feel free to contact the experts at Arka Softwares by filling up this query form.