Do you manage a business and find it difficult to stay up to date on the newest trends, and market circumstances, and respond quickly to innovation? Or do you find it extremely difficult to optimize internal business processes, drive decisions, and receive critical business reports?
If you answered yes, you must continue reading. Using Excel to handle massive amounts of data is a real problem for data-driven businesses. So, how can you make a rational decision when presented with a massive amount of data?
Power BI may be a lifesaver for small and large firms looking for ways to improve their operations by harnessing the power of  Power BI development. This Microsoft power bi guide will help you understand your data and make better business decisions, giving your company a competitive advantage.
Microsoft's Power BI is a data visualization and analysis tool that allows users to engage with their statistics. For better market tracking and decision-making, you may use the Power BI  tool to gather data from many platforms and generate reports.
Power BI platform helps a diverse range of enterprises to improve their graphical analysis and decision-making processes, which eventually results in increased profitability.
In this Power BI beginner's guide, we'll explain everything you need to know about Microsoft Power BI and how it may benefit your company's growth and profitability.
What is Power BI?
Cloud-based business intelligence solution Power BI helps you display and analyze data with improved speed, precision, and superior expertise.
The dynamic Power BI data visualization capabilities of Power BI make it easy to communicate data throughout the enterprise and provide valuable insights for making rapid and well-informed business choices.
To gain a better understanding of the market, it transforms raw and unprocessed data into relevant insights. It provides a 360-degree perspective of the business by allowing you to access customizable reports and interactive dashboards. Dell, Metro Bank PLC, Wipro, and a slew of other well-known companies are already reaping the benefits of Power BI Development Services.
Who Can Benefit From Power BI?
For Business Analysts and IT employees, Power BI, and power bi features can be used to construct interactive data visualizations from numerous data sources and deliver real-time insights to the whole business.

For businesses, this Power BI data analysis tool is useful for streamlining management operations while also generating accurate data, spotting irregularities, and pinpointing bottlenecks. With the Power BI REST API, expert developers can automate all aspects of an app's lifecycle and build visually attractive experiences across a variety of mediums.
However, the question is how individuals may access it. There are three distinct ways to do so:-
Power BI Desktop
Power BI Desktop lets you interact with the data via numerous data sources, blend them into a data model, and create engaging visualizations. This Power BI dashboard guide will give you depth knowledge 
Power BI Service
It is a cloud-based solution that allows teams and enterprises to collaborate. Shared reports may be reworked in the Power BI service, making it possible to create new reports from scratch. The Power BI implementation solution enables you to design custom dashboards based on your data and the reports you've generated.
Power BI Mobile Apps
You can access your Power BI data from your smartphone or tablet using applications for iOS, Android, and Windows. Reports, panels, and other data may be accessed and interacted with without concern of a data breach.
So, to sum up, the desktop is where you create the information; the service is where you share it, and applications are where you can easily access that information on any device. But to have a better grasp of the Power BI architecture, you first need to study it. But first, let's take a look at Power BI's key components.
There Are Several Components in Power BI
The Power BI dashboard solutions are made up of a number of components, each of which plays a critical function. Users may generate and exchange data reports using this tool. The components of Power BI are as follows:-
Power Query
It makes it easier to search for and integrate data from many sources quickly. Using Power Query, you can easily gather, manipulate, and analyze data from many sources.
Power Pivot
It enables extremely efficient data storage and incredibly fast aggregation and processing. Power Pivot is a data simulation tool that leverages the Data Analysis Expression (DAX) syntax to generate both simple and complicated data models. It aids in numerical calculation and the establishment of connections between various data sources.
Power View
It's a drag-and-drop UI that allows users to interact with the data. Visuals like maps, charts, and graphs may be created using Power View's simple drag-and-drop capabilities on SQL Server or SpreadShare. In order to develop an analysis on a single device, Power View can connect and navigate through numerous data sources.
Power Map
It is a 3D visualization tool for geographical data. Power Map lets you create 3D representations of several rows of data on Bing Maps. Complex business data may be shown in precise geographical visualizations based on nation, longitude, and latitude. This is especially useful if you want to see sales data from a particular place.
Power Q&A
It's a question-and-answer algorithm that works with natural language. Once you've installed and configured Power BI, you can begin analyzing your data. It is possible to communicate in your native language and receive visual replies to your requests.
Data Catalogue
It makes it easy to find and reuse queries. Metadata may be utilized to improve the efficiency of online searches.

Power BI Desktop
Using the Power BI Desktop app is free, and you can set it up and have all of the tools you need, including Power Pivot and Power Query, on one platform. Charts and reports may be generated by installing them on your PC or laptop.
Using the free edition of Power BI Desktop, you can save up to 10 GB of data, but you can only upload 1 GB of data at a time. Furthermore, it enables access to all of the Power BI graphical templates and frameworks' capabilities. Using Excel, you may create and publish reports via the internet.
Power BI Service
You may publish reports to the cloud and exchange them with other coworkers using Power BI services deployed on Microsoft Azure Development. Live reports may be generated and linked to Power BI Workspace dashboards using this tool.
Using Power BI Service, you may link various components of Power BI to the Power BI Workspace, including Power Pivot, View, and Power BI Report Server. It gives you the ability to access your data from any location at any time.
Microsoft Power BI Architecture
Using Microsoft Power BI, users may quickly and simply grasp the information without having to learn about the technology. To assist users in quickly grasping the present status of the business and the steps needed to enhance it, it makes use of charts and graphs. Let's have a look at the overall architecture of Power BI:-
Creating a Network to Connect Data
Using Power BI, you can link data from a wide range of sources. The two primary data sources are as follows:

Data import into Power BI.

Making Use of the Direct Query.
When the file size is less than 1 GB, you can use Power BI to import the file, but if the file size is more, you can utilize Direct Query.
Using Data in a New Way
After connecting the data, you now have a wide range of options for transforming your dataset. You have the option to customize it to meet your individual needs. You may alter the names of columns and tables, convert text to numbers, remove rows, rearrange rows, edit headers, etc.
Developing a Dashboard
A Power BI dashboard consists of a single page, sometimes referred to as a canvas, on which data is represented visually. To create a dashboard, you may pin any widget or live report page. One of the benefits of a well-designed dashboard is that it may be built as a one-page summary.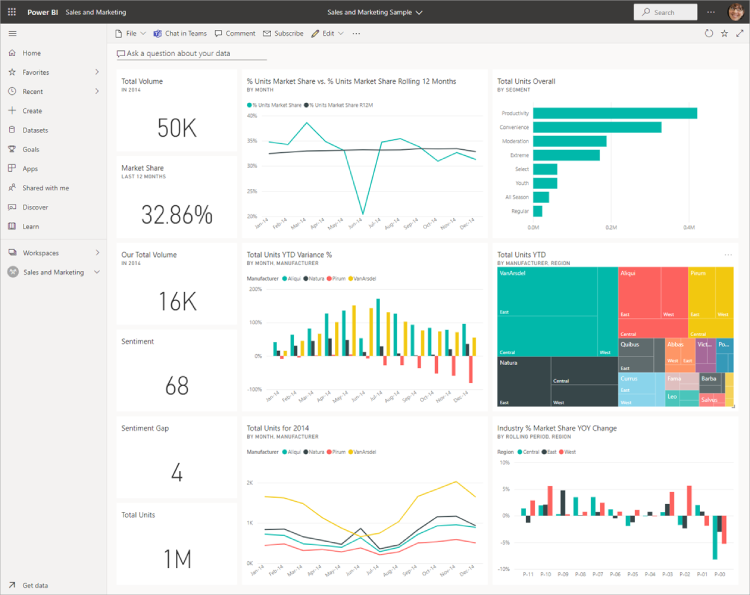 Compiling Information and Publishing It
It creates reports, which depict and translate enormous amounts of data into useful insights in the form of charts and graphs, and so on.  A report may then be published to Power BI Implementation services once it has been generated.
What Are the Benefits of Power BI for Business?
Power BI is a powerful business intelligence and data visualization tool developed by Microsoft. It has several benefits for businesses, including:-
Gathers Data from a Variety of Sources
You can simply access data from several cloud services, such as Dynamics 365, Salesforce, and Google Analytics using Power BI. In order to make modifications to your data, Power BI allows you to use a wide range of data sources. It allows you to create and distribute graphic reports.
Dashboards Make Informed Decisions Easier
Custom dashboards built with Power BI let you keep a close watch on your whole company's operations in real time. It provides a comprehensive perspective of the business, allowing you to rapidly solve any issues that may arise and make educated decisions.
Get Real-Time Responses
How does it feel to be able to ask questions in your primary language and receive answers in an engaging visual format?
Exciting! Right? Any question you could have can be answered visually with Power BI, thanks to its interactive charts and graphs.
It also has search capabilities to assist you in swiftly uncovering information that could otherwise remain obscure.
Storytelling using Interactive Reports
It's possible to display data that changes over time in Power BI using a timeline narrative. Using bespoke shapes like circles, grids, and spirals, this data may be represented graphically.
In addition to the layouts, it has capabilities for filtering, outlining, and annotating, as well as several scale representations including logarithmic and relative. In your timeline, you may choose how the data is represented and how it looks.
Make Business Decisions Anywhere, Anytime
Using Power BI's mobile applications, you can access your data securely and conveniently from any location and on any device running Android, iOS, or Windows. Power BI dashboards and reports may be accessed and seen on any device.
If you have data on-premises on a SQL server or in the cloud, you may simply and rapidly access it from any location you choose.
Power BI's Additional Advantages
You don't need any technical knowledge to utilize Power BI. Power BI implementation demands little help from a professional.

You may easily integrate it with your other Microsoft business products such as Office 365 (Excel), Azure, and SQL Server.

It's easy to include in your current workflows and business processes because of its open architecture.

It allows you to schedule automatic data refresh.

You may share your visual reports with the world via social media and email, where anybody with the right permissions can view them.

In addition to connecting with tools like Spark, Hadoop, and so forth, Power BI allows users to consolidate all of their data into one dashboard.
Limitations of Power BI
Power BI has a lot going for it, and that's undeniable. But let's look at the other side of things:
Dashboards and statistics are only viewable by Office 365 subscribers with the same e-mail addresses or e-mail addresses registered with the company.

There are so many Power BI components that it might be difficult to figure out which one you need.

Microsoft Power BI does not allow you to set up automated reports, customize user notifications, visualizations, or encryption.
In spite of a few shortcomings, the Power BI platform offers a wealth of useful tools and features that may help you make better business decisions ASP.NET Development may help you give your app's features and functionality more flexibility and enhance them.
The Big Picture of Power BI
Power BI data visualization solutions are adaptable, inventive, and affordable, and they can be effortlessly integrated with other systems. If you're on the go, you'll be able to set it up quickly and access it from anywhere.
Using all of these tools and functions, you can make rapid business choices with Power BI. As a result, Power BI appears to have a promising and long-term future.
Conclusion 
Power BI makes it simple to analyze large amounts of data and gain deeper business insights by providing a plethora of useful tools and Power BI consulting services. As a novice, you may use it to do complicated analysis, design interactive dashboards, and produce real-time reports to display the data you require.
Because Microsoft is a market leader, Power BI allows you to effortlessly link with other services and obtain real-time insight.