When you were a child, your parents may have warned you never to ride in a vehicle with a stranger. However, does this statement still hold true in the present day?
Getting into vehicles with strangers is a prevalent business concept that is projected to reach $305 billion USD in market value by 2029.
Taxis have been a common mode of transportation when it comes to getting from point A to point B.
Now that smartphones are held by the majority of the world's population, a slew of new rideshare apps and best carpool applications have been released, altering how consumers hail taxis and share trips.
Today, people are more concerned about the environment than ever before, and everyone wants to do their part to help. Top taxi apps like Uber and Lyft allow this to happen.
The carbon footprint of each ride may be reduced by 50% or more with the use of these On-demand carpooling services.
Several reasons have contributed to the recent increase in the use of popular ridesharing apps. One of the most significant reasons is that urban commutes have gotten longer and more expensive over the years.
However, people can save money and time by sharing a ride with a friend or coworker instead of taking a cab. The world changes fast with technology, as Now people can save their money by comparing taxi fairs to these ridesharing apps.
Uber, Lyft, and other significant ride-sharing services like careem have business strategies that must be studied and analyzed if you want to compete with them.
Before developing your own ridesharing app or online taxi booking app, you must carefully examine what has made them successful.
Top Carpooling App Startups to Follow in 2023
1. Uber- The Rideshare Giant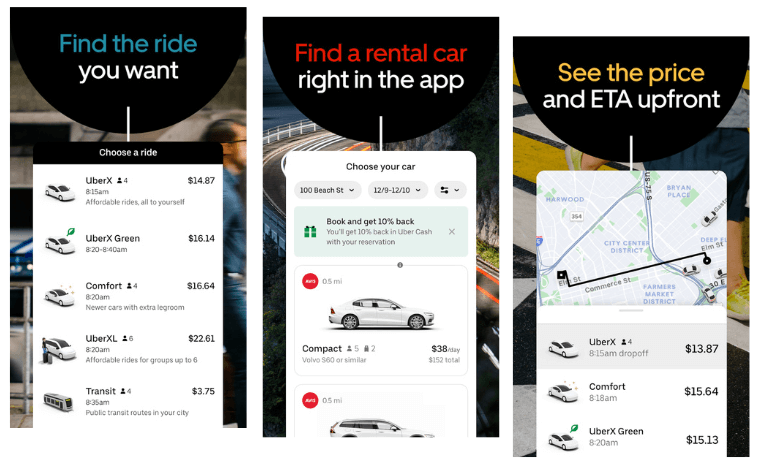 If you don't know what Uber is, you must be living under a rock. This is the firm that transformed the taxi industry at the beginning of the 2010s by developing a private cab booking application that connected passengers with taxi drivers, hence facilitating travel.
Garrett Camp, the company's founder, discovered the benefit of an online app-based platform while he was living in California, and getting a cab was a terrifying experience.
With Uber, we've seen a shift in the way people hail cabs. It became the brand associated with requesting a taxi. When it came to exporting its services outside of the U.S., Uber was a huge success.
It operates in more than 900 cities throughout the world, with more than 5 million drivers and an average of 18.7 million rides completed daily.
Toward the end of 2021, Uber acquired $25.9 billion in gross bookings, including $11.3 billion in mobility bookings and $13.4 billion in delivery bookings.
In 2021, their income increased by 83% year-on-year to $5.8 billion, proving that they had recovered well from the devastating effects of the epidemic.
2. Lyft- Friend with a Vehicle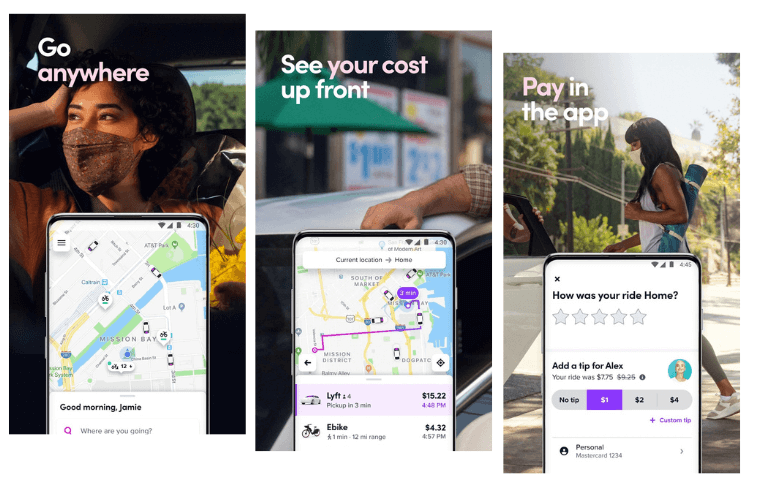 The closest competitor to the popular car booking app Uber is Lyft. A year after Uber showed up, Lyft was able to set itself apart from the competition. While they both provide a similar basic service, Lyft differentiates itself by focusing on the customer experience.
Lyft marketed itself as a friend with a vehicle, delivering a more personal driving experience with more interaction and a friendlier ambiance. It is also important to note that the transparency of online cab service Lyft's pricing and invoicing attracts a large number of regular clients.
Despite the fact that Uber appears to be more technologically advanced and covers more geography, Lyft clearly displays all the pricing, billing details, and duration of the journey as well as regular tariffs and extra costs so clients know exactly what they're paying for.
This transparency is what truly keeps Lyft consumers loyal and has allowed the ridesharing app to thrive despite Uber's intense rivalry and larger market share.
3. Ola- Best Indian Multinational Ridesharing Company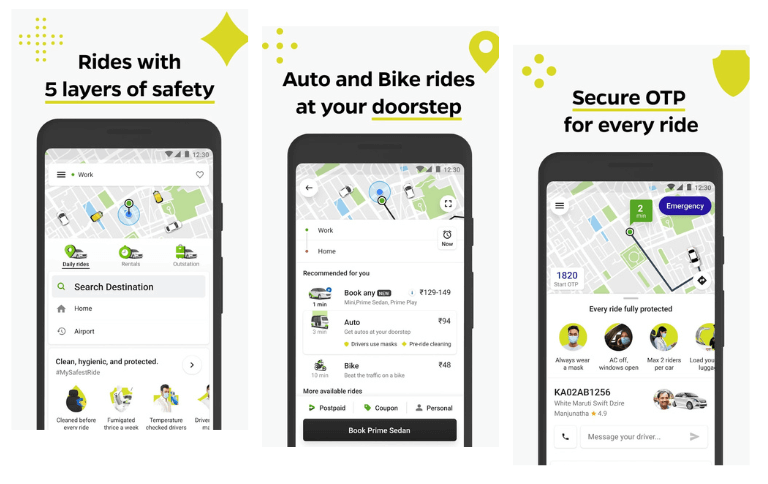 As one of India's most popular ride-share apps, Ola is now competing with Uber in the Indian market. For the convenience of their passengers, this transportation service provides them with free Wi-Fi during their trip.
There are roughly 4,50,000 Ola cabs to choose from in India, which can be accessed using the Ola app, much like other ridesharing services.
One of the fastest-growing and most affordable online taxi app firms in rivalry with Uber, this ride-sharing startup has recently started enabling auto-rickshaws and motorcycles. It's worth noting that the firm just raised $1.1 billion, funded by Tencent, to bolster its fight against Uber in India.
Ola was founded in 2011 and presently operates in 110 Indian cities, with more than 125 million registered users. Recently, Ola announced that it has begun operating in Sydney, Melbourne, and Perth, Australia and that it was looking to hire drivers in these cities.
4. BlaBlaCar- Share your Ride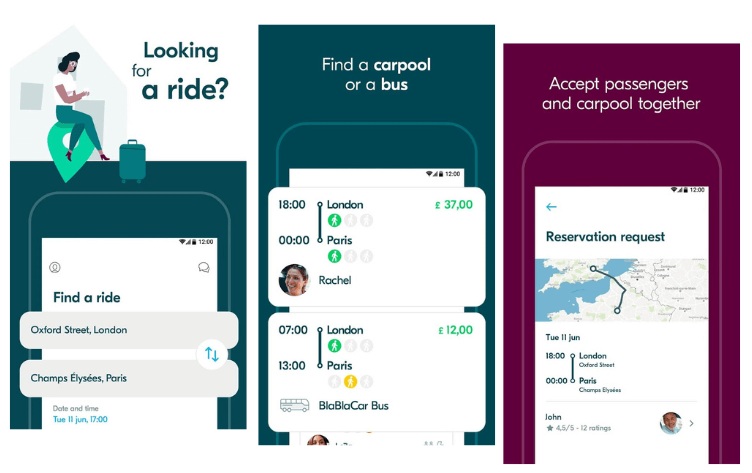 There is no other business model like BlaBla Car's. Instead of focusing on full-time drivers, the app allows anybody with a car to add their vehicle and specify their route. Anyone who wishes to ride along can do so and split the cost. You can use BlaBla carpooling service as a long-distance ride-sharing app.
BlaBla earns a 12% commission on every successful booking made through their service. In addition to saving money and time, it's also good for the environment.

5. GetAround- P2P Carsharing Service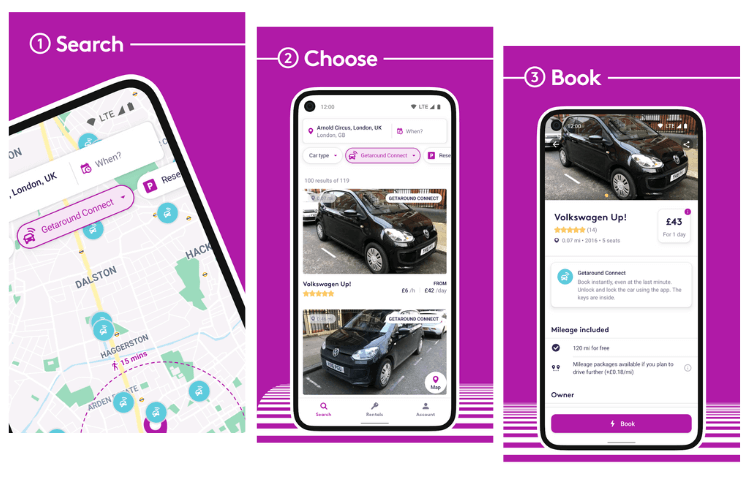 Most ridesharing app businesses park their own vehicles in various parts of a city so that customers who need a taxi can simply order one using the smartphone app and be on their way.
GetAround, a San Francisco, CA-based carsharing company, operates in a distinct manner. It is based on the concept of strangers sharing personal vehicles.
GetAround might be compared to Airbnb for automobiles, a business that allows users to rent out their vehicles rather than their residences.
GetAround is a car-sharing app that lets people hire out their vehicles to total strangers. Those who are prepared to share their automobiles pay $99 to GetAround for the installation of a gadget that can unlock their vehicle using the company's mobile application.
In order to use GetAround's automobile rental service, car owners must pay over $20 a month in fees to join the network.
6. Via- Quick, Small, and Proud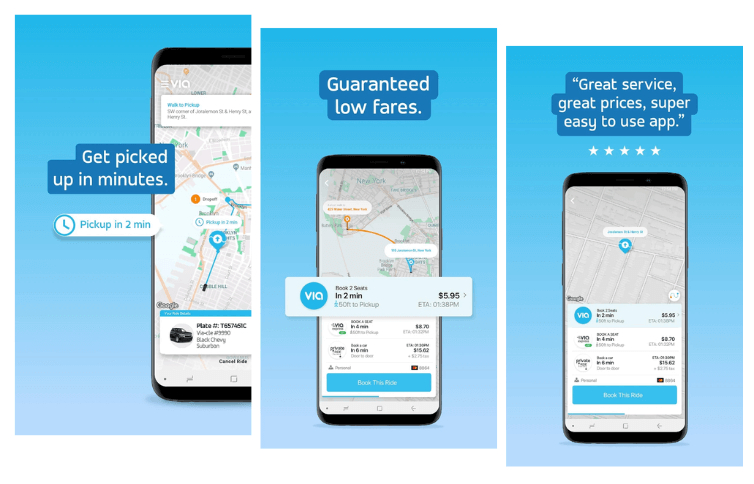 Via, The best rideshare app service with its headquarters in New York, maintains offices in over 20 countries throughout the world. Currently, it only operates in six countries under its own name, and in the rest of these nations, it operates in conjunction with local firms.
When a user books a ride, they are immediately connected to other passengers on the same path. This car sharing app is proud to assist consumers in reducing their carbon footprint and saving money by sharing journeys.
7. Gett-
Israel-Based Cab Service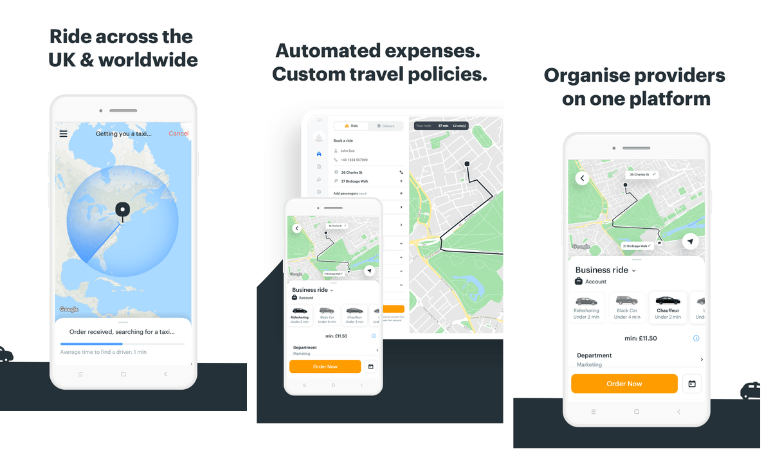 One of Israel's top on-demand mobility providers, Gett, was once known as GetTaxi and permitted passengers to transport products and services in the vehicle's back compartments.
However, the Gett is currently accessible in more than 100 countries. And Gett's recent deal with Juno shows that it is ready to compete with the industry's two behemoths – Uber & Lyft.
8. Careem- Top Transport Sharing App in the Middle East & North African Market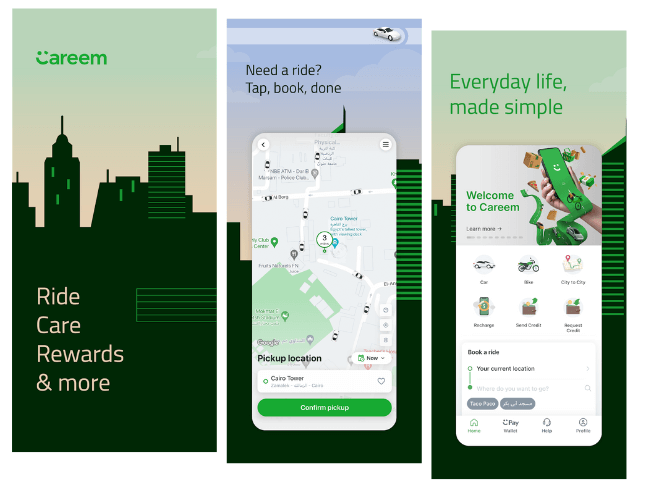 Careem is a ridesharing and food delivery business located in Dubai. With more than 100 locations across the Middle East and North Africa, the firm has done a fantastic job establishing itself in the region.
For those who want to take on Uber in their region, Careem can serve as a model for how an app might succeed by getting to know the people and the cultures that it serves.
Aside from providing employment and raising funds to aid more than 700,000 refugees, Careem gets a great sense of fulfillment in these countries through the Careem Rewards contribution program. If you want to know about How to develop a taxi booking app like careem at an affordable price you can visit here.
9. GoJek- More Than Just a Ridesharing App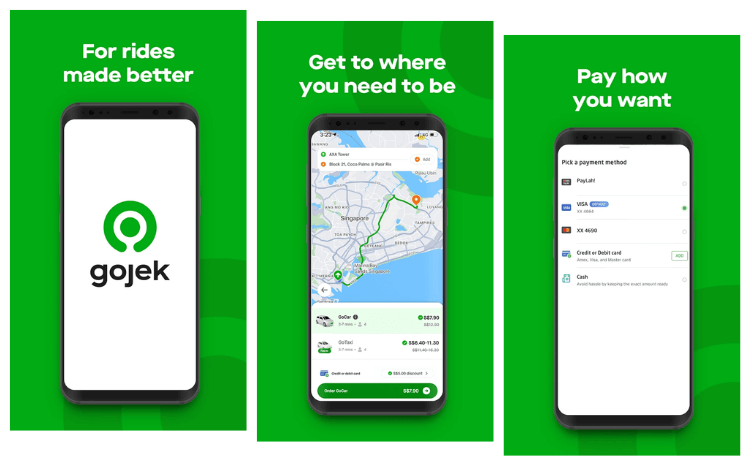 GoJek is an affordable ride-hailing app that currently operates in four countries. GoJek provides a wide range of services to its consumers, including ride-hailing, food delivery, motorbike trips, and more.
To remain competitive in the market, GoJek relies on its broad variety of services to generate consistent profits.
10. Scoop- Best Ride Share Service Apps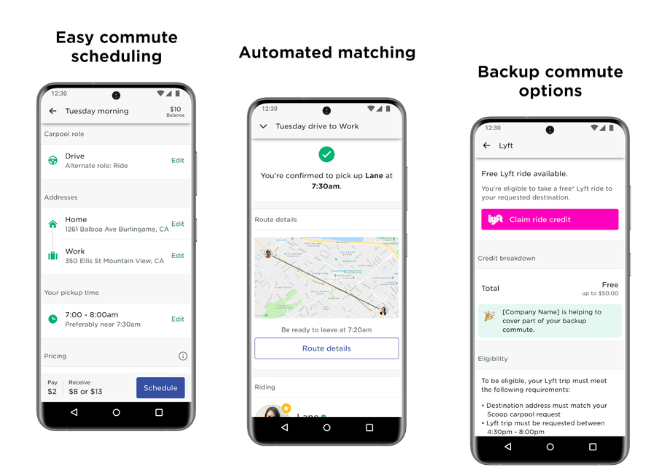 You may request a carpool the night before at 9 p.m. and be paired with a partner for the next morning's commute using the Scoop application.
This gives you the freedom to carpool on an as-needed basis, whether it's a single trip or a series of them, whenever it's convenient for you.
Drivers may earn up to an extra $12 per trip or more when using the Scoop incentive. Riders can pay as lowest as $1 for a one-way cab ride.
How do Rideshare Apps Operate?
Ridesharing apps link consumers who require a one-way ride with drivers who are available at any given time.
In contrast to typical taxi booking services, drivers are self-employed and use their own vehicles. In other words, ridesharing drivers are folks who want to make additional money while working a flexible schedule, so they sign up as drivers.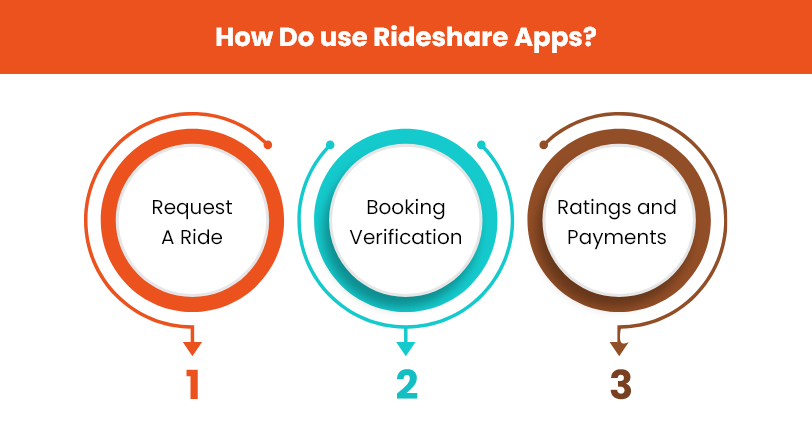 While each cab service or ridesharing app is unique, the majority of these applications operate in a similar manner. Here are the steps and you can know how taxi booking apps work:
1. Request A Ride
Once the passenger has entered his or her current location and desired destination, they may view various ride alternatives and pick the best one.
2. Booking Verification
When a nearby driver accepts a trip request, the ridesharing app immediately sends a notification to the passengers with an anticipated arrival time.
3. Ratings and Payments
The top carpooling app in the USA allows the user to pay in cash via the application at the end of the journey. Riders can also give feedback on their journey.

How to Build a Ride-Sharing Mobile App?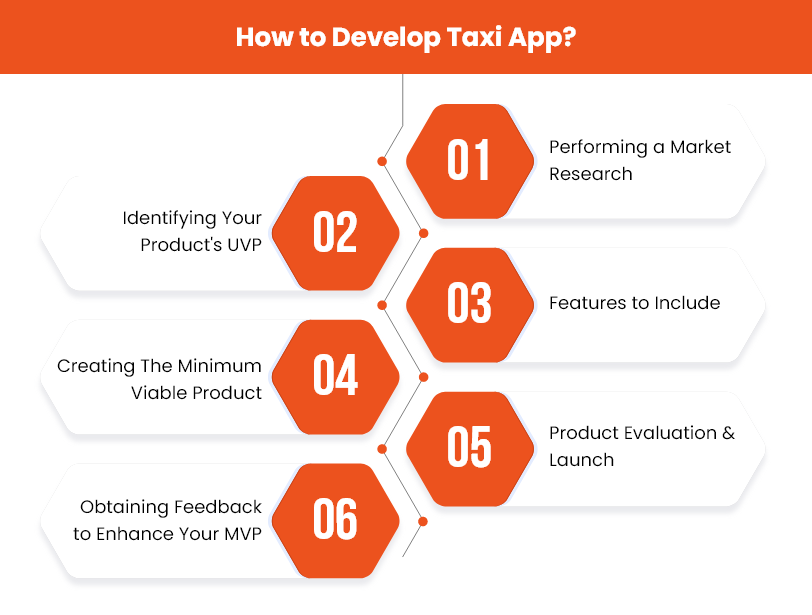 #1 Performing a Market Research
Conducting a market study is critical to getting things off to a good start. Look at the existing and future environment of ridesharing.
In light of the enormous need for affordable and convenient transportation, it's no surprise that this sector is expanding at a rapid pace.
A list of the most popular ride-sharing applications throughout the world may be used to do a competitive analysis. Identifying and meeting the needs of the people who will use your products and services is equally critical.
#2 Identifying Your Product's Unique Value Proposition (UVP)
Your ridesharing app's UVP demonstrates how it differs from the competition. In order to be successful, you must design an Uber/Lyft clone from the ground up. A unique selling point is needed to compete with the industry's best.
So, how can you come up with a unique selling point for your product or service?
When you do a thorough market study, you will be rewarded with a clear picture of the shortcomings and limitations of the current solutions and how your product may address those.
#3 Features To Include
1. Features For Passengers
Profiles of users
There should be information about each user's location as well as their past and future travel plans included in their profiles.
Search filters
Search criteria are vital since they enable passengers to locate drivers who are headed on the best route. Riders should also be able to sort options by price and driver gender.
Geolocation
Geolocation should enable travelers to construct a map of the route they select and communicate it to their loved ones as a precaution.
Booking and cancellation
This must be an option for users to be able to go whenever and wherever they choose.
Chat
Chat facilitates communication and exchange of travel information on both ends of the journey.
In-app payments
It is quick, convenient, and secure, regardless of whether consumers have to pay for tolls or driving services.
2. Features For Drivers
Registration
A driver must initially register in order to use the car-sharing application. The option of registering with a social media or Google account can be added.
Profiles of users
Name, phone number, driving license details, address, and most frequently taken routes should be included in a driver's profile.
Maps
Maps and directions are useful tools for identifying the driver's path.
Trip posting
Drivers can plan trips that are more convenient for them by advertising them on Trip posting.
Chat
The ability to chat with passengers while driving is a crucial function.
Reviews and evaluations
It is essential to develop a community of trust around your market using reviews and feedback.
Notifications
Drivers can be reminded to pick up passengers through push notifications.
3. Features For Administrators
Vehicle Management
Administrators have the ability to check and verify that the company's car-sharing requirements are being met by the vehicles they manage.
Management of Drivers
This feature allows for the verification and approval of new drivers, as well as the processing of payments.
Accounting for Payments
The administrator may see the commission rates and total profits of the drivers through this.
Management of Complaints
This feature assists in addressing and solving complaints and concerns. This is critical for retaining and gaining new customers.
Management of Reviews and Ratings
Ratings and client comments assist the administrator in keeping tabs on the performance of application drivers and services.
Revenue Report
Data from this feature may be used by business owners and managers to track and improve their operations.
Dashboard
With this feature, administrators have access to a variety of analytics, alerts, and email templates.
#4 Creating The Minimum Viable Product
You have two choices when it comes to building a rideshare app: an MVP or a full-blown product. It's best to start with an MVP if you have a limited budget in mind.
In order to attract investors and early customers, the primary purpose of an MVP is to develop a simple application with only the most important functionality. Real-world testing and feedback may be gained by using this method.
#5 Product Evaluation and Launch
Prior to launching your ridesharing application, it's essential to have the app tested by a qualified quality assurance professional. Your software can be released into the app store once all issues and bugs have been fixed.
The app stores generally have a review procedure in place and it might take days to launch your application to the market.
#6 Obtaining Feedback to Enhance Your MVP
After launching your ridesharing app, solicit feedback from consumers to see what changes are needed to acquire success. You'll be well on your way to creating a completely functional product after a few tweaks.
Conclusion
Although Uber has dominated the ridesharing and carpooling app market since its inception, there are a number of other businesses that are challenging Uber.
They have effectively filled voids with inventive solutions, and as a result, their taxi booking services have become immensely popular among their most devoted clientele.
A single player is clearly not capable of taking on and executing a single idea. There's always a plan to make your imprint in a certain field if you're determined enough to pursue it.
Be mindful of your unique assets and the intricacies of your market.
FAQs regarding Ride-Sharing Apps