Over the last few years, the concept of traditional taxi services has become almost non-existent. The revolution of incredible online taxi booking apps has taken over the market by storm.
In a lot of places, especially metropolitan cities, the concept of hiring a taxi has become extremely prevalent. Hiring a taxi not only falls cheaper than owning your car but it also spares you from the troubles of jam-packed roads and car repairs.
Moving on, Taxi booking apps like Uber, Ola, Lyft, and more have made getting a ride just one tap away. These apps have dominated the market and are certainly here to stay.
So if you're thinking about starting your own taxi booking service app, Market indicates a great opportunity for your venture in the taxi booking service industry. In this Taxi booking app development guide, we will look at the various taxi apps available out there and how they are developed. Finally, we shall also delve into the cost aspect of building an app for a cab service business.
Market Size and Stats of On-Demand Taxi Booking Apps
Taxi booking on-demand mobile apps has grown significantly in recent years, and this trend is expected to continue for the foreseeable future. It's a business that'll never go out of operation since it provides so many advantages to travelers and app users alike.
According to Statista, The value of the ride-hailing and taxi-booking market is anticipated to reach a valuation of $332.5 billion by the conclusion of 2023, with a projected compound annual growth rate (CAGR) of 3.31% during the period from 2023 to 2027, aiming to attain a valuation of $378.8 billion by the end of 2027.
We may take taxi apps like Uber as an example, which has developed tremendously in recent years and is now utilized in a number of nations across the world.
When it is so simple and inexpensive to use a cab, why bother owning a car? As of now, Uber has a market value of $94.25 billion, making it one of the fastest-growing companies in the world.
How Does an Online Taxi Booking App Work?
Typically, a taxi booking app leverages the power of GPS (Global Positioning System) to identify the current location of a customer who is looking for a taxi and notifies the driver nearest to him.
Once the customer generates a taxi booking request, the action prods the nearby taxi driver with a ride notification. Upon acceptance, the users are informed of the precise taxi location along with the estimated time of arrival.
Benefits of  Taxi Booking Software
Taxi booking Softwares are a resolution to several issues, such as minimizing the time spent waiting on the road and searching for cabs in the sun. These applications provide a number of advantages. There are various advantages for drivers as well, aside from those for the passengers.
For Drivers
They don't have to waste petrol driving around the city looking for riders. Meanwhile, they might just wait in the car for a booking to arrive and then depart to the desired location.
As most payments are done online or through mobile wallets or online payment services, drivers no longer have to carry around huge quantities of cash or change.
It is up to the drivers to rate and comment on each passenger. Therefore, if there is a troublesome passenger in their vehicle, they may rate him appropriately and save the other driver's anguish.
Drivers can more easily locate their passengers using these GPS-enabled applications rather than having them wander about and ask others for help.
Due to the driver's ability to simply move his car to the specific area specified when a booking is made, there is little possibility of wasting valuable time.
For Passengers
The app tells passengers exactly where the cab is and how long it will take to get there. As a result, they are free to do something else with that time.
The passengers may book their journeys from the comfort of their own homes.
Since passengers do not have to carry cash, this is a very handy way to make payments. They may use their debit or credit cards to pay online, or they can simply attach their digital wallets to the taxi booking app.
With the use of the online booking system, passengers can also rank and review cab drivers. This provides greater transparency.
People don't have to wait on the street for a cab to come and pick them up.
Types of  Cab Booking Mobile Apps
Broadly, there are two types of Booking Mobile App:
1. Dedicated Taxi Booking App
The idea of an app for taxi services is an extension of your offline taxi business. It is suited to established taxi businesses that already own a fleet of cars and drivers.
By launching their very own taxi service apps, these business owners make it easy for their customers to book a ride. At the same time, they gain the opportunity to reach a wider base of customers.
In such apps, the customers simply need to input their location, pay the service's hourly tariff and select their preferred car. These types of apps require a server that can handle multiple customer requests at the same time and deliver taxis to the customers in the shortest time frame.
2. Taxi Aggregator Mobile App
Well, this is exactly the model Uber operates on. Meant for the newbies, this type of on-demand taxi booking service app is for people who are starting in the business of taxis and do not already own a fleet of cars.
In this, you can offer a mobile booking service for taxi drivers and taxi fare comparison for the customers. Now there are two primary ways of doing it – simple and complex.
3. Simple Cab Booking:
In a simple solution, you only need a single app for the customers that enlist the different taxi services along with their commercials.
Such an app requires the integration of features that allow customers to call and order a taxi for themselves directly. Additionally, such apps come with a map that shows all the destinations and provides an approximate fare estimate for the ride based on the price per unit, mileage, distance, etc.
One of the greatest benefits of these Online cab booking apps is that they do not require a server. However, you need to closely monitor and update the app's database regularly in order to account for price fluctuations.
4. On-Demand Cab Booking (Real-Time):
This type of app is much like Uber and calls for a server as well as a lot of investment. These apps are packed with a lot of advanced features, offered in the form of two discrete interfaces- one for the passengers and the other for the taxi drivers. Consequently, you will have ink coalitions with taxi companies or individuals for the same.
Top Taxi Booking Apps Across the World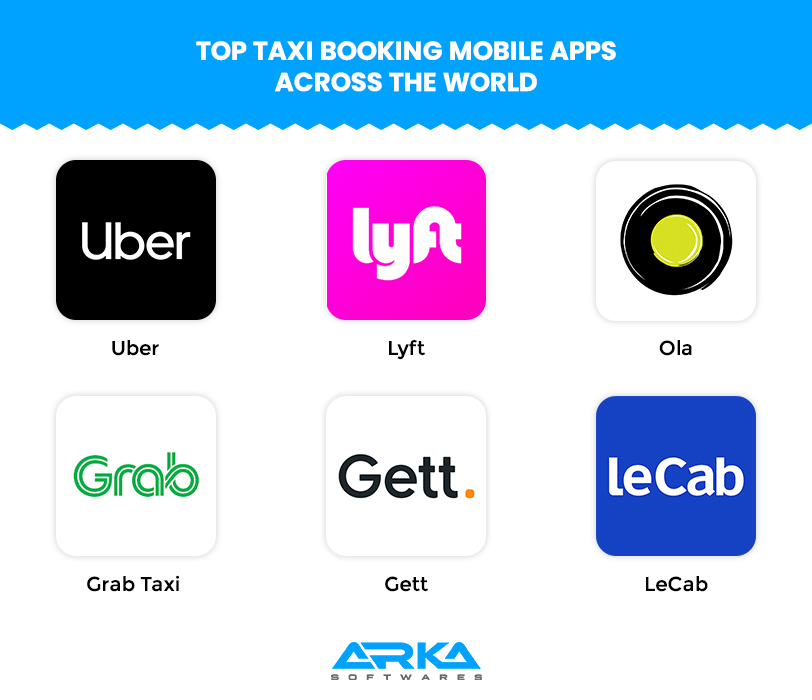 1. Uber
This popular ride-hailing service lets you submit a trip request and an Uber driver in your area will be notified of your request automatically. When you place a booking with Uber, a driver will be dispatched to pick you up and take you to your desired destination.
Schedule a ride now or at a later time.
Vehicle location tracking in real-time.
People may track your journey in real time if you allow them to.
Multiple payment options.
2. Lyft
There are more than 60 places in the United States where you may use Lyft, a US-based app that makes ride-hailing more convenient, safe, and trustworthy. It only accepts drivers who have a current, valid driver's license and have had their DMV and criminal records checked.
Appealing UI.
Users may keep track of their trips and the specifics of their drivers.
Riders have the option of riding alone or in groups of up to six.
3. Ola
There are currently more than 100 cities in India that are covered by the Indian cab booking app OLA. You may choose from a variety of vehicles: compact cars, metered cabs, and sedans of various sizes. Ola offers the quickest method to hail a cab from anywhere in the city, using a smartphone.
Fares are reasonable.
Offers clean, safe, and comfortable travel with drivers.
Quick confirmation of a reserved ride.
One of India's most widely utilized apps for getting a taxi.
4. Grab Taxi
Grab Taxi is a well-known Southeast Asian taxi service. Grab taxi booking app has one of the largest fleets of ride-hailing cars in the country, with over 75,000 drivers enrolled on the network.
Over 3.8 million people in Southeast Asia have downloaded the app.
Currently available in 21 cities across 6 nations.
It offers one of the smoothest taxi-hailing experiences.
5. Gett
Gett is another U.S.-based app for booking taxis. It was once known as Getting Taxi and is one of the most rapid-growing taxi services in the United States. Gett is accessible in more than 60 locations throughout Europe, including London, Moscow, and New York City. More than half of all black taxis in London use the Gett app.
Hires only TLC-authorized and certified drivers.
Cashless transactions are possible on the app.
A total of $520 million was raised through venture capital.
6. LeCab
LeCab, a top taxi booking mobile app service located in France, was founded in 2012. There are many tourists flocking to Paris, making it one of the world's most visited cities. In Paris, LeCab has earned a reputation for exceptional service. With over 70,000 active users and a rising number of car fleets, it is quickly becoming a popular ride-hailing service in France.
Utilizes the basic Peugeot 508 Made in France automobiles for transportation.
Your ride may be rescheduled with just one click.

Business Model of Taxi Booking App
What Feature List Should a Taxi Booking App Possess?
For Passengers panel
For Driver Panel
For Admin Panel

Social Login/Sign-up
Create and manage profile
On-demand taxi booking
View estimated wait time for taxi arrival
Real-time vehicle tracking
Flexible billing and payment options
Push Notifications, emails & SMS alerts
Rate and provide feedback to drivers
View rates and cab options
Schedule advance bookings
Auto-generated bill
Pay via in-app currency
View booking history

Update availability for customers

Accept/Deny customer booking requests

Push notifications

In-app call and chat with customers

Live map navigation

View reviews and ratings

Automated fare calculation

View trip routes

Accept online/offline payments

View/Manage drivers

Manage cab availability and scheduling

View trip routes

Manage rate card and surge prices

Manage discounts and offers

Track cabs

View/Manage reviews and feedback of drivers

Generate daily reports for revenue and transactions

Manage geolocation boundary
Advanced Features to Keep While Developing a Custom Taxi App
Social Login & Signups: This feature allows the customers to quickly signup for your app using existing social media accounts.
Push Notifications: Push notifications help to keep the customers updated about the driver's location, estimated time of arrival, along with other details such as car model, license number, etc. On the other hand, these notifications provide order alerts, order completion updates, and other taxi booking data (location, route, payment, etc.) to the drivers.
Heat Map Generation: This functionality helps in determining the busiest time of one location, making drivers aware so they can reach to their customers accordingly.
Loyalty Programs:

Digital codes or coupons are generated to offer timely discounts and deals to loyal riders.
Real-Time Analytics: This feature allows the admin to study every detail such as trip statistics, currently active drivers, weekly and monthly billing specifics, etc. Similarly, it can be used by drivers to get a fair idea about their earnings.
Automated Dispatch: Automated dispatch notifies the drivers with all the crucial booking data that can be easily managed with their smartphones. The feature helps in sending lucid booking order details and instructions to the drivers.
Real-Time Tracking: This feature helps to determine the precise location of the customers as well as the drivers. Also, it helps the riders in locating taxis nearest to them along with tracking the route.
Automate Driver's Payouts: Using this feature, you can set different payment methods and subscriptions that charge the driver on a daily/weekly/monthly basis. Or instead, you can set a fixed percentage that will be charged from the total earnings of the driver. On the other hand, this feature can also be used to automate the transfer of salaries to the driver's account on a set billing period.
Intelligent Queue Algorithm: This feature assists the taxi service providers to form a queue of all the drivers who can reach the customer within 5 minutes and then send job requests to the driver in a fair and rightful manner.
Panic Button (Driver & Passenger): To enhance the app's security, you can add the panic button feature to both – The driver and Passenger modules of the app. This button allows the riders as well as the drivers to quickly contact first responders in case something goes wrong during the trip.
Ride Tracking (Floating Window): As the rider books his ride, a floating window appears on the screen that enhances the transit experience by providing real-time GPS tracking on the mobile app.
Fare Calculator: This calculates the estimated fare before the customer books a ride from point A to point B with a particular taxi type.
Choose Preferred Driver: This feature allows the customers to choose their preferred driver, for instance, a driver they have traveled with before, for a smooth and improved ride experience.
Smartwatch Access: Booking taxis right from user's smartwatch takes convenience up a notch. Taxi booking, tracking drivers, and features like fare estimation can be accessed from a smartwatch.
In-App Calling: Once the taxi is booked, the customers can make free calls to their particular driver from within the mobile app itself.
In-App Chat: In-app chats further help the riders and drivers to be at a common touchpoint. Additionally, apps like Uber allow the drivers to quickly send a thumbs up to a reply, without getting sidetracked.
Number Masking: This feature facilitates seamless communication between the driver and the customers without giving out real phone numbers.
Architecture to Follow to Build a Taxi Booking App Like Uber
Technology Stack For Taxi Booking App Development
| | |
| --- | --- |
| Google maps | PostgreSQL |
| Swift | Jersey |
| Java | Twilio |
| AWS | Payfort |
| AWS | Redis |
| Visa | S3 |
| Paystack | Citrus |
| MTN | Braintree |
| Stripe | Orange Money |
| PayPal | Android Studio |
| Authorize.net | RDS |
On-Demand Taxi Booking Mobile App Development Process
What Kind of Team Do You Need to Develop a Taxi Booking App?
As you begin with the app development process of cab booking mobile app, it is important that you choose the right mobile app development company that suits your app requirements and budget and along with that offers a great app development team.
Your app development team should consist of the following:
Project Manager: This person is responsible to manage the app development process at all stages. S/he needs to be fully aware of the client's requirements with the app and should have exceptional management skills.
Android/iOS Developers: iOS app developers and Android developers are responsible for developing the front-end and back-end of the taxi-hailing app.
Back-end Developers: A couple of back-end developers to develop a robust application for back-end functionalities 
UX/UI Designers: These individuals play a crucial role in the success of an app, as they are responsible for the look and feel of the mobile app.
QA Experts: It is the responsibility of quality analysis experts to ensure that your taxi booking mobile apps run smoothly and is entirely bug-free.
How Much Does It Cost to Create an Online Taxi Booking System?
As it comes to determining the cost of a taxi app development, it basically depends on four major factors, i.e.
App Complexity: It consists of how complex is your app, like whether you have chosen a simple design or a complex design, as the latter adds to the cost.
A Number of app platforms: Choosing multiple mobile app platforms will surely enhance 
Features & Functionalities: The number of features and functionalities would definitely affect the overall app development cost. 
Development Region: The cost can hugely vary as per the development region you choose for your taxi booking mobile app development.
In-case of developers in the US, they charge $150-$250/hour, 
Developers in Eastern-Western Europe charge $40-$150/hour,
Whereas India-based developers tend to be charged $10-$50/hour.
"Thus, if you choose to get the app developed by Indian sub-content developers, then the app development cost for a basic featured app for a single platform (either Android or iOS) is going to be around $20000-$35000. Adding more functionalities and more platforms can take the cost up to around $50000."
Conclusion: Taxi Dispatch System?

It's becoming increasingly common for people throughout the world to use more efficient ways of transportation. Every day, a number of people use online taxi booking systems. There are a plethora of alternatives available to your potential consumers.
If your on-demand taxi booking apps offer an upgraded service that is different from your competition, you may make a difference. Taxi booking app development necessitates a major financial and time investment, thus finding a qualified and trustworthy taxi app development company is essential.