Talabat is currently recognized as one of the most important and influential key players within the online meal delivery sector in the Middle East.
In 2004, Abdulaziz Al Loughani launched Talabat, a food delivery firm located across Kuwait that has now become a go-to app in UAE.
The company capitalized on the untapped prospects available at the time of the pandemic by bringing an exclusive new method of meal order to the Middle Eastern population.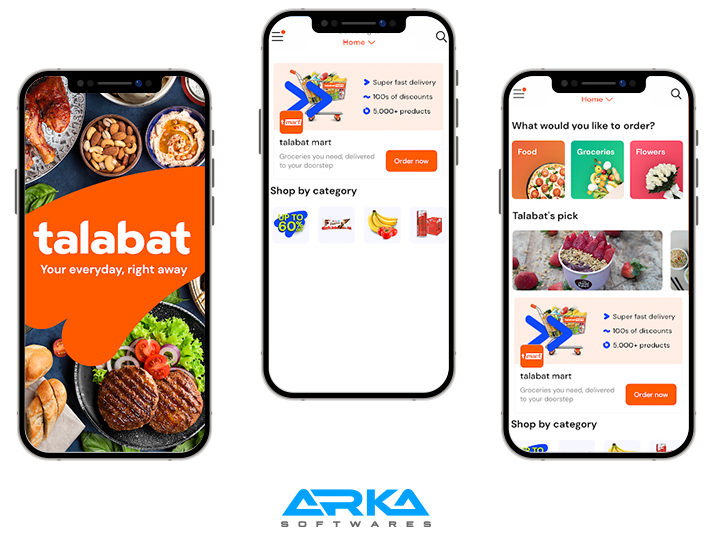 When it comes to meal delivery in the United Arab Emirates, the Talabat food ordering app is far and by the most popular choice. The expanding market for meal delivery apps in UAE is packed with possibilities because of the region's rising affinity for online food ordering.
In this article, we'll go through the fundamentals of what it takes to create a food delivery app like Talabat.
Food Delivery Market in the Middle East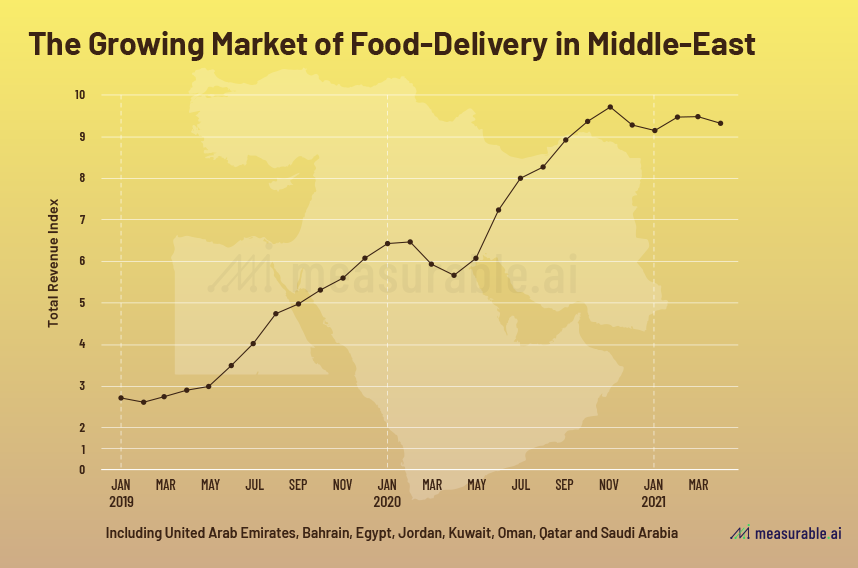 Why Invest in App Development Similar to Talabat?
Investing in the development of the top online food delivery apps like Talabat in the Middle East can open up a world of possibilities for business owners, entrepreneurs, and sole proprietors.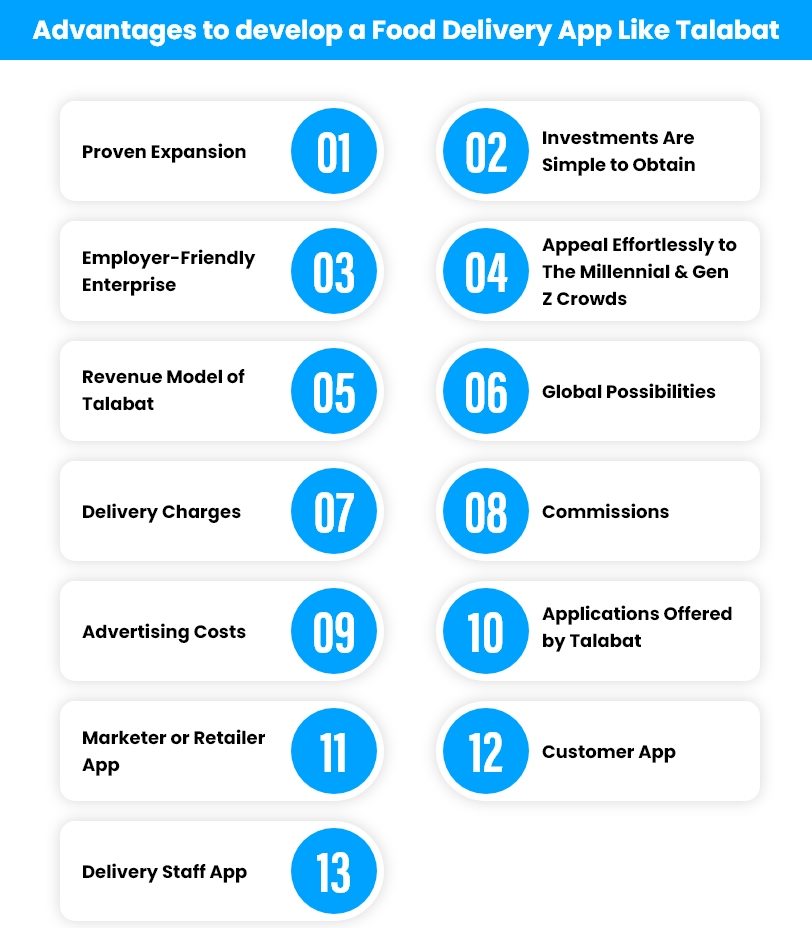 There will be significant opportunities for online meal delivery services over the next 4-5 years, as the food delivery industry expands. There are many compelling arguments in favor of funding the development of a food delivery app like Talabat.
Proven Expansion
The market for food delivery is growing rapidly, not just in the Middle East but all across the world. Although Talabat controls a sizable portion of the industry, new players are always welcome.
Intense expansion is possible if you can think of something truly original and useful to the world.
The rising popularity of online food ordering is another indicator that the food delivery industry is poised for growth. Considering the repercussion of COVID-19, few people now opt to eat in or get takeout from restaurants. Opportunities in the meal delivery industry have flourished as a result of the widespread adoption of online food ordering.
Investments Are Simple To Obtain
Zomato UAE had become a very popular online food delivery app in Dubai and could soon have surpassed Talabat in terms of popularity.
Talabat bought Zomato UAE to eliminate a rival. Venture capitalists are always on the lookout for new on-demand food delivery services. If you have a fantastic idea, you can get funding to sustain and expand your business.
Appeal Effortlessly To The Millennial and Gen Z Crowds
Today's youth population now outnumbers that of any other age group. In 2022, millennials will account for 1.8 million of the world's population, while Gen Z will have reached a total of 2.5 billion. Together, they constitute more than 50% of the world's population, totaling 4.3 billion.
Even more importantly, today's youth are the ones making the majority of purchasing decisions. As the majority of food delivery clients are under the age of 35, a meal delivery application is the best opportunity to reach this demographic. If you want to target the millennial generation, an on-demand meal delivery service is a good bet.
Employer-Friendly Enterprise
Introducing an on-demand food delivery app Talabat in UAE benefits more than just the businesses involved and the people who use it. Starting a meal delivery service is a great way to help the economy and create jobs for people.
Delivery staff is essential for any on-demand food service. As a result, you'll have a greater impact on employment in your nation and community.
More so, you can offer your workers more adaptable schedules. Your delivery agents have the flexibility to choose their own hours and are rewarded for successful deliveries whether they work full or part-time. Clients can also show their appreciation by leaving a tip.
Global Possibilities
The purchase of Zomato UAE by Talabat is just one illustration. One of the most popular meal delivery applications in the United States, Postmates, was recently purchased by Uber.
Online food delivery services are flourishing worldwide now because consumers value variety. So, if you're thinking about making a career change, entering the food delivery industry will open up a world of possibilities.
Revenue Model of Talabat
Talabat, like most food delivery businesses, makes money via three methods: commissions, delivery fees, and advertising. Now let's look into each of these aspects:
Commissions
The commission structure in Talabat is not uniform. A percentage of the food bill, typically between 15% and 25%, is added to the total. Talabat, on the other hand, stresses originality and privacy. The commission rates for restaurants that work exclusively with Talabat are reduced by 5-10%.
The commission Talabat charges for each order varies on a number of variables, including the locality of the restaurant, the frequency of orders, the establishment's dependability, etc.
Delivery Charges
Every order from Talabat has a flat rate delivery charge. The delivery fee is variable and depends on criteria such as restaurant distance and climatic conditions. In the event of a storm, overnight delivery, or high demand, the prices will increase.
Talabat has a minimum order value at which shipping fees are waived completely. Many other companies that offer food delivery also employ this tactic.
Advertising Costs
Talabat provides restaurants with two forms of advertising: featured listings and banner ads. For a little fee, the restaurant can secure a spot near the top of the list of available dining options using the priority listing concept.
As you may already know, banner advertising entails showcasing banner adverts within the application itself. These two methods are used by Talabat to make income from advertisements.
Applications Offered by Talabat
Building a food delivery app like Talabat necessitates some familiarity with the inner workings of the food delivery business.
With three distinct apps, Talabat makes it simple and convenient for a wide variety of customers to place and track delivery orders for their favorite foods. There are three distinct apps available, and they are as follows:
Marketer or Retailer App
The merchant app makes it simple for business owners to run their restaurants from their mobile devices. Owners of individual eateries or of a restaurant chain might use a centralized dashboard to coordinate operations.
Customer App
Users can browse available dining options and contact restaurants directly from the customer app. Customers can use their mobile devices to register for an account, look for restaurants and dishes, browse the comprehensive menus of listed restaurants, make their selections, place orders, pay for their meals, monitor their delivery status, and rate and evaluate the restaurants' services.
Delivery Staff App
The application notifies the delivery staff of requests, and they can choose whether or not to accept them. The application also makes it easy for delivery personnel to monitor pickup orders and customers' delivery addresses.

Essential Features For A Food Delivery App Like Talabat
If you want to start an on-demand food delivery app Talabat in UAE, you should know that your app needs to be able to communicate with restaurants, customers, drivers, and the company's back office.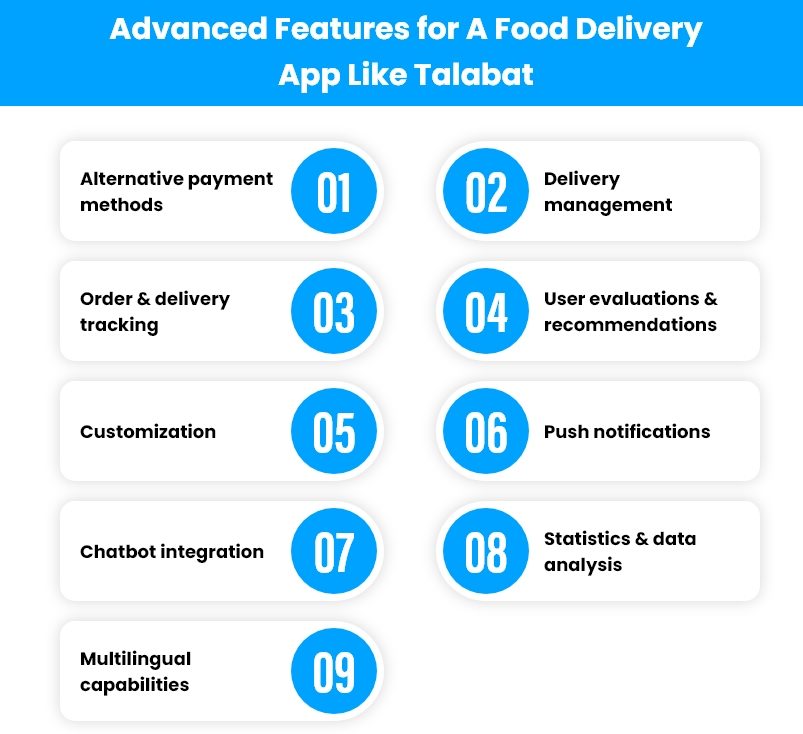 Talabat's standout features and emphasis on user-friendliness have made it the go-to app for UAE residents looking to have meals delivered. Key features that cannot be skipped for an online food delivery app in Dubai are as follows:
Alternative payment methods
With the use of numerous secure payment gateways, a food delivery app like Talabat can offer a wide variety of convenient payment methods, including net banking, debit, and credit cards.
Delivery management
The management of deliveries is a crucial part of any online food delivery service. As a result, the app's delivery management feature is crucial for streamlining the administration and execution of orders. Using this functionality, the admin and the restaurant owners can distribute food deliveries to the delivery staff.
Furthermore, this approach enables the delivery man to accept or decline the delivery request based on his availability.
Order and delivery tracking
The order status should be updated in real-time, allowing restaurants to keep delivery people updated on their order's progress and allow them to pick it up whenever it's prepared.
In addition, from the moment customers make an order until the moment, it is delivered, users may monitor the status of their meal via real-time delivery tracking.
User evaluations and recommendations
The user experience can be improved by enabling customer feedback in the form of ratings and testimonials for the restaurants.
Customers should be able to rate and review the restaurants they've ordered from within the app. Restaurants may improve their services and attract more customers by listening to their feedback. There is also the added benefit of assisting first-time users in making informed decisions about where to eat and what to order.
Customization
As a means of providing superior optimization for users, an app's design should be adaptable to fit the brand's aesthetic.
Push notifications
After consulting with the brand and making necessary adjustments to the app's visual design and user interface, the developer can go on to focus on the app's core features.
Push notifications are essential for keeping track of the user's continuing orders, offers, and personalized communications so that the customer never misses out.
Chatbot integration
You should implement a chatbot into the application if you have the means to do so. It can be automated with AI or managed by experts to answer any questions customers may have about their orders, products, and more.
Statistics and data analysis
The administration needs access to analytical data so that it may devise novel approaches to enhancing services and overseeing supply and inventory management.
Multilingual capabilities
A food delivery app like Talabat needs to support multiple languages if its owner wants to market it internationally. Having the option to use the app in one's native tongue is very useful in locations where a number of different languages are spoken.
Steps To Building An App Like Talabat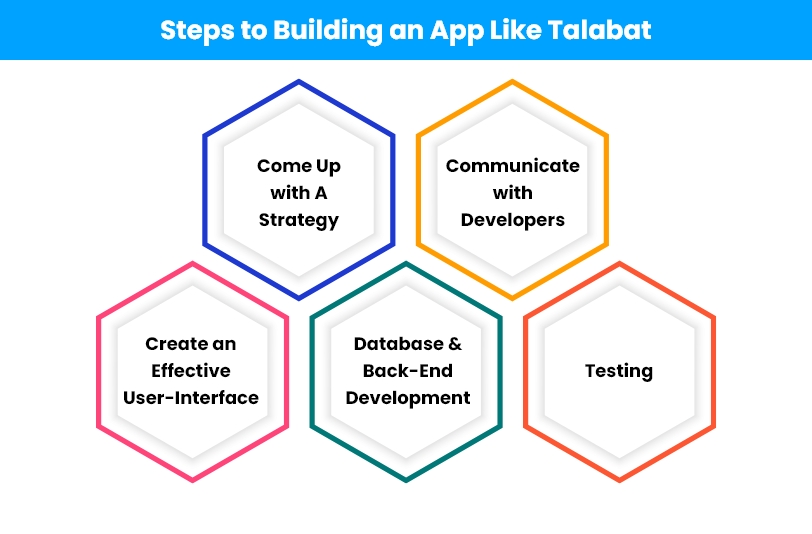 Come Up With A Strategy
First and foremost, you must establish a plan that details not just your company's primary assets and value propositions, but also its cost framework, revenue streams, and distribution methods. It will be much simpler to put your plans into action once you have a distinct vision for the future of your business proposition.
Finding financial backing to develop a food delivery app like Talabat before beginning operations is recommended to avoid any potential roadblocks.
Communicate With Developers
This application may be your brainchild, but you still need capable technical hands to help you bring your ideas to life. When looking for a dependable team of developers, it's important to communicate all of your demands and expectations up front to avoid any confusion and ensure your satisfaction with the final output.
If you want to create a food delivery application that can compete successfully in the market, it's important to find a reputable app development firm like Arka Softwares to help you out.
Create An Effective User-Interface
You should focus on the application's user interface before you create a database for it. Given that the UI is the first point of contact between the product and the end user, it is crucial that programmers, designers, and brand strategists all give it their full attention and perspective in order to create something truly remarkable.
Database And Back-End Development
When the UI is complete, you can move on to the back end and database architecture. It is recommended that you start with tiny data sets and create an MVP or prototype to get a feel for the app's functionality in the early stages of food ordering app development. Since the application hasn't yet been released to the public, any changes you recommend will be simple to make.
Testing
When you're satisfied with the application's functionality and presentation, the project team can begin testing it to see if any bugs have been encountered.
Now that you've reached this point, you may push the "deploy" button and your food delivery app like Talabat will be available to users.
Cost to Develop Food Delivery App in Dubai
If you're searching for a rough estimate, it can range from $10,000 to $100,000. The final price tag may be considerably less than $10,000 or significantly more than $100,000, depending on your specific needs. There are a number of variables that contribute to total food delivery app development costs.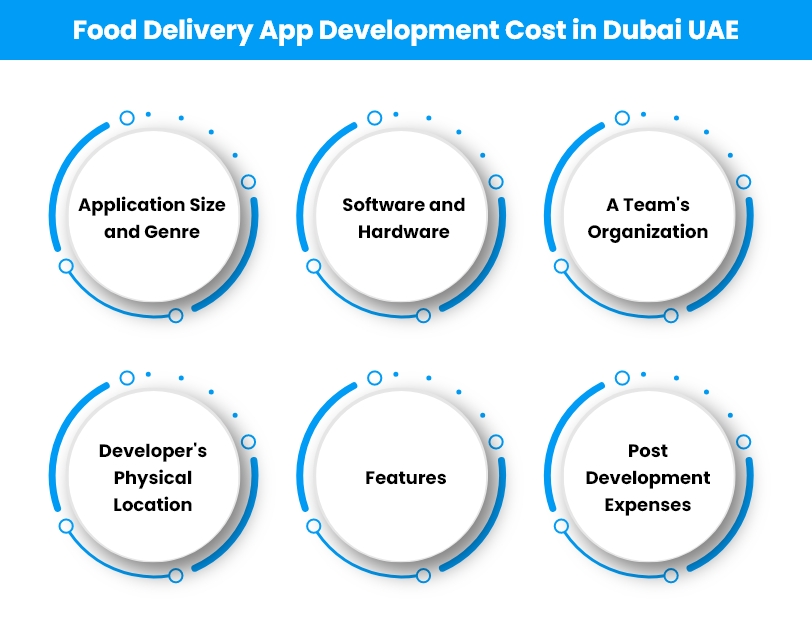 Application Size and Genre
food delivery mobile app Development costs will depend on the nature, scope, and complexity of the project. If you only need a few core features in an app, consider a hybrid solution; native apps with more advanced features will cost more.
Software and Hardware
A food delivery app like Talabat can be made for a wide variety of operating systems and hardware, including but not limited to Android, iOS, Windows, and wearables.
The costs will increase proportionately with the number of devices selected. If you decide to set up a website for your company, you'll have to factor in the ongoing expenditures of developing and maintaining it.
A Team's Organization
You can work with an independent programmer or an established on-demand app development company in Dubai like Arka Softwares. When working on a large-scale project, it's best to avoid using freelancers because they're cheap but often unreliable.
However, businesses have a whole team at their disposal, consisting of not only a project manager but also app developers, quality assurance engineers, user experience designers, and more. 
Developer's Physical Location
The cost to have a high-quality app developed ranges from $10-$80 an hour in South Asian nations like India and Malaysia, $50-$150 in West Europe, and $100-$250 in the United States.
Features
As was previously mentioned, a standard meal delivery app will include four sections: customer, business, delivery, and administration. The features vary between panels. Adding extra screens and functionality to an app will increase its development cost. 
Post-Development Expenses
Creating an application is only the beginning. Launching, advertising, and regularly updating the app will be necessary to keep users happy. Based on the developer, you may have to pay extra for all of these features.

Why Choose Arka Softwares for Developing
Food Delivery A
pp like Talabat?
Do you have an innovative concept for an app that provides instantaneous meal delivery? But is your concept feasible? What about a competitive analysis? And even if you resolve these issues, you'll still be faced with the daunting task of designing a fully functional meal delivery application from zero.
You can certainly attempt to develop it in-house, but you will miss out on the skills and experience that outsourced experts bring. Furthermore, the cost of developing software in-house is usually higher.
With more than a decade spent perfecting the art of on-demand application development, Arka Softwares is here to lend a hand. We are the top food delivery app development company in UAE because of our unique blend of experience, creativity, and adaptability. Our customer-centric solutions will assist you in bringing your food delivery application concept to life.
Summing Up
As the online meal delivery market develops and competition increases, food delivery services are compelled to adapt and reinvent their procedures and offerings to stay ahead of the curve.
If you're an entrepreneur thinking about putting money into developing an on-demand meal delivery application, your top priority should be to provide extra value to your clients.
FAQs regarding Talabat App