Smartphones and the applications downloaded on them have facilitated and simplified our lives to such a degree that we have become reliant on them.
Everything from grocery shopping and restaurant delivery to cab reservations and clothing purchases can now be made with the touch of a button. The on-demand car wash booking app in Dubai is one of the most often utilized services because of obvious reasons.
People in the UAE lead very busy lives, making it difficult for them to take time out of their day to wait in line while their car is serviced.
The car industry in the United Arab Emirates is rapidly expanding, and the country is known worldwide for its high-end automobiles. As the industrial sector grows, so too do the businesses that serve it. In the UAE, there are numerous car-washing services accessible on demand.
Are you looking for a top car wash app? We've compiled a list of the best car wash service companies in the UAE so you can quickly choose the top car wash booking app to take care of your vehicle's washing and servicing needs.
Benefits of 
On-Demand Car Wash Apps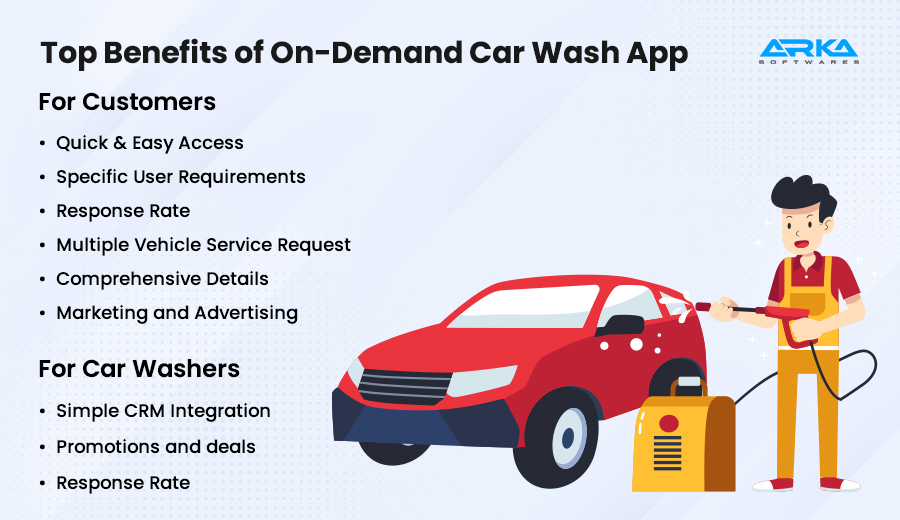 For Customers
1. Gaining Access is Quick and Easy
The top car wash booking app can be used whether the user is connected to the internet or not, ensuring a smooth experience regardless of circumstances.
Once users regain internet access, they are able to review the status of their offline car wash bookings and verify their most recent financial activities.
2. Specific User Requirements
Users receive information according to their needs and the price of the car wash they want. The application takes the hassle out of finding a vehicle wash by connecting users straight to the websites of the most convenient and nearby service providers without bombarding them with irrelevant questions.
3. Response Rate
High levels of engagement are seen in an app that attempts to match car wash vendors with customers in need of their services. You may find a vehicle wash on any number of websites, but it may take a long for them to load, whereas an app will give you instantaneous results.
4. Multiple Vehicle Service Request
It's possible to schedule maintenance for many vehicles at once. Using the application, he may book as many or as few cars as he needs.
5. Comprehensive Details
Specific information about the car cleaning services offered and the associated costs can be obtained. This will guide users toward the most appropriate service option.
6. Marketing and Advertising
A top car wash booking app keeps customers up to date on the most recent sales and promos. The information is useful for clients as they decide which plans to purchase using the application.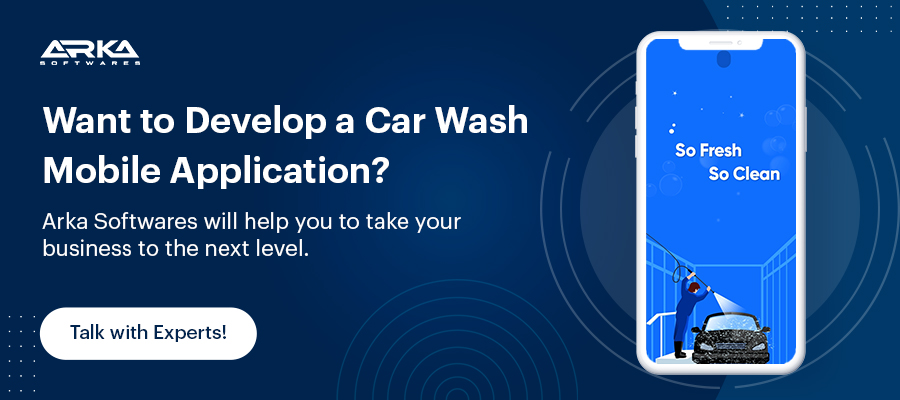 For Car Washers
1. Simple CRM Integration
Customer relationship management (CRM) is the most appropriate mechanism for companies of all sizes. Data and client information can be better managed with the help of such solutions. The long-term scalability is ensured by the inclusion of trustworthy statistics, an engaging dashboard, and promotional tools.
2. Promotions and deals
One of the greatest advantages of having a top car wash booking app is that it allows businesses to advertise their discounts and other promotional offers to their customers all in one convenient location.
3. Response Rate
The response rate for a top car wash booking app is strong because it allows car washers to communicate with users who are actively looking for their services in real-time. Due to the app's convenient accessibility and speed, many car wash businesses now opt to operate exclusively online.
Top Car Wash Apps in UAE
1. Keno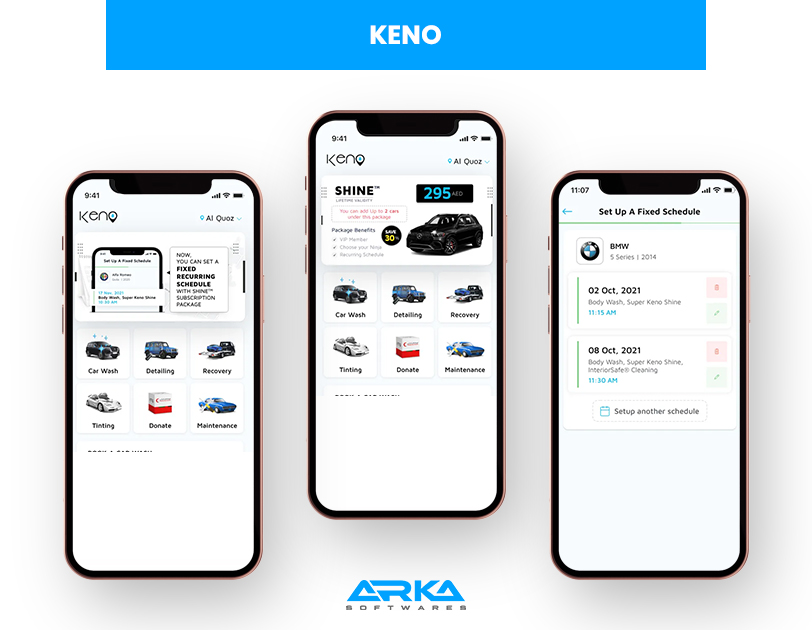 The convenience and ease of use of Keno car wash have made it the go-to on-demand car wash application in the United Arab Emirates (UAE). Without having to wait in line or take time away from work, you can easily receive high-quality servicing and upkeep for your vehicle.
All of Keno's automobile cleaning services are of the highest possible quality. They'll thoroughly sterilize the interior and outside of the automobile, removing any lingering odors or unsightly stains from multiple days of use.
Keno is available on both Android and iOS for free.
2. MySyara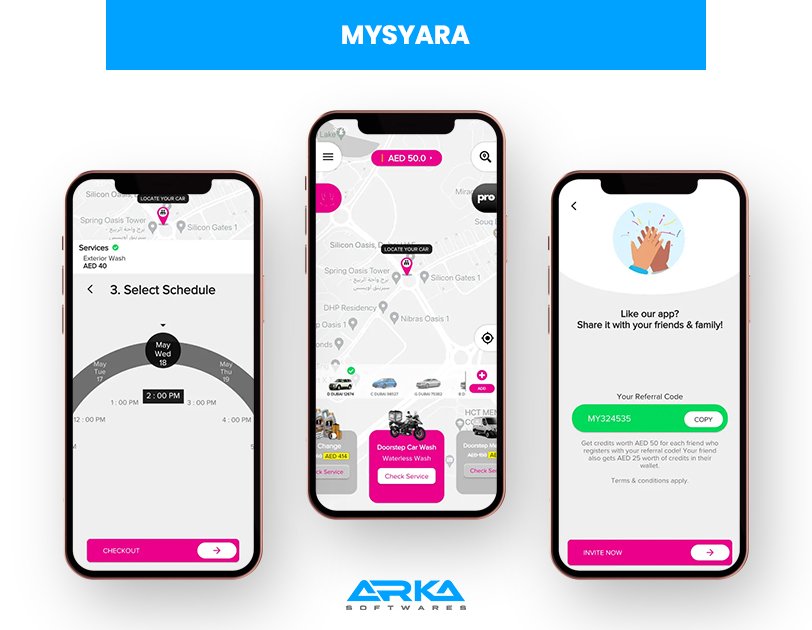 MySyara is the first comprehensive digital app for car maintenance in the United Arab Emirates. It's designed to make owning a car easier by using a convenience model in which services can be delivered directly to your home or arranged for a pick-up and drop-off.
This Dubai-based business wants to shift the focus from "corrective maintenance" to "preventive maintenance" by incorporating comprehensive 360-degree inspections with every car service.
MySyara is available on both Android and iOS for free.
3. Jino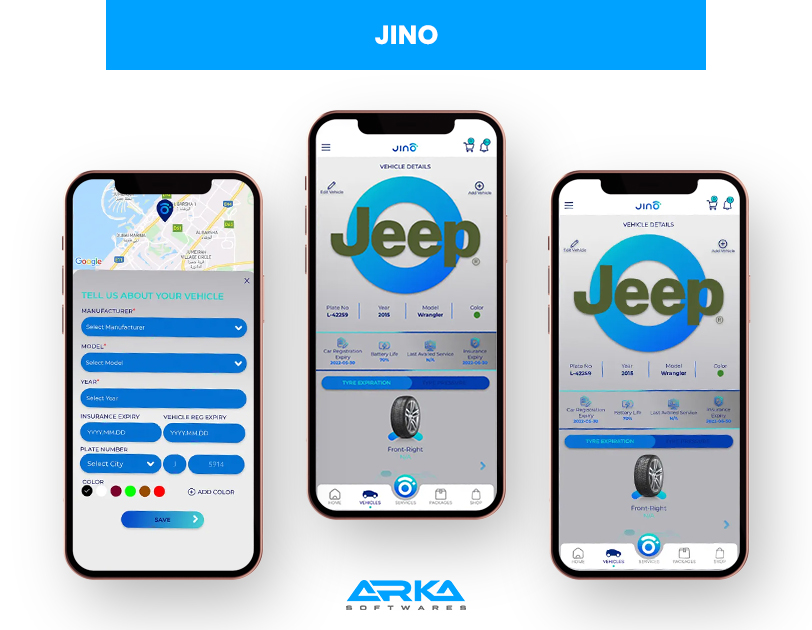 Jino's innovative mobile car wash service, powered by a cutting-edge car wash application, guarantees high-quality features and services for cleaning vehicles.
Because they care about their consumers, they've developed an app for both iOS and Android that streamlines the car wash booking process and accepts a variety of payment methods.
Jino uses state-of-the-art microfibre clothes treated with safe and environmentally friendly solutions to restore your vehicle's showroom shine.
In addition to a top-notch car wash, customers may take advantage of a broad variety of other services, such as tire inspections, battery tests, and reminders before batteries' expiration dates.
Jino is available on both Android and iOS for free.
4. Geo Wash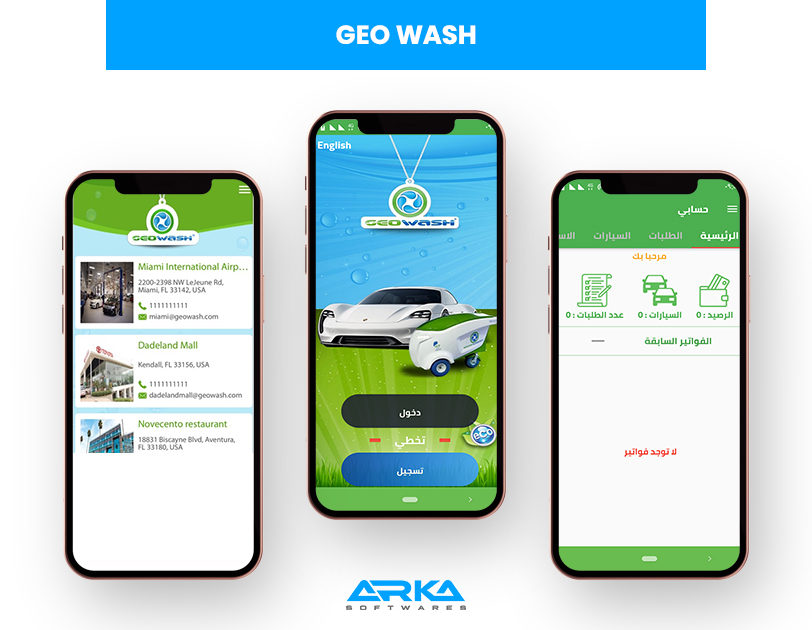 Due to their commitment and team of competent operations management, Geo wash is consistently ranked among the best car wash applications in Dubai. Established in 2008, the United Arab Emirates is home to this regional powerhouse.
They provide a broad variety of additional services, one of which is the application of a high-quality sealant designed to shield your car's roof from environmental hazards including pollutants, bird droppings, sunlight, and so on.
Geo wash is a carefully crafted mixture in which identical polymers cover and weaken dirt particles in liquid form, making them easy to remove with a simple touch.
Geo wash is available on Android.
5. CAFU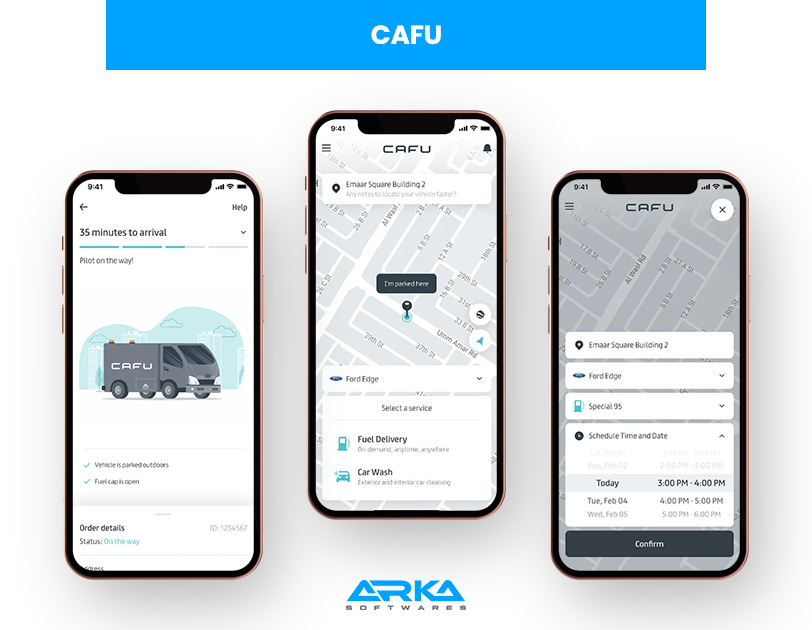 CAFU is a new kind of automobile service that was born in Dubai and is powered by cutting-edge technology to meet the specific requirements of each individual customer.
CAFU, which first opened its doors to the public in 2018, employs cutting-edge technology and creative problem-solving to simplify the lives of its clients by providing them with a whole spectrum of convenient services, from fueling to washing and maintaining their vehicles.
The wax sealant used by CAFU is of the highest quality, so the shine and protection it provides your vehicle will last for a very long time.
CAFU is available on both Android and iOS for free.
6. AutoPro
AutoPro has simplified and elevated routine car care, making it easier than ever to keep your cars looking like new. AutoPro, which can be accessed at many ENOC and EPPCO service stations, can readily supply you with the experts, resources, and knowledge you need to keep your vehicle clean and well-maintained.

How do Car Washing Apps Make Money?
Curious about the business model behind the popular car wash apps? Certainly, there are numerous ways in which they bring in money. Let's examine some of them: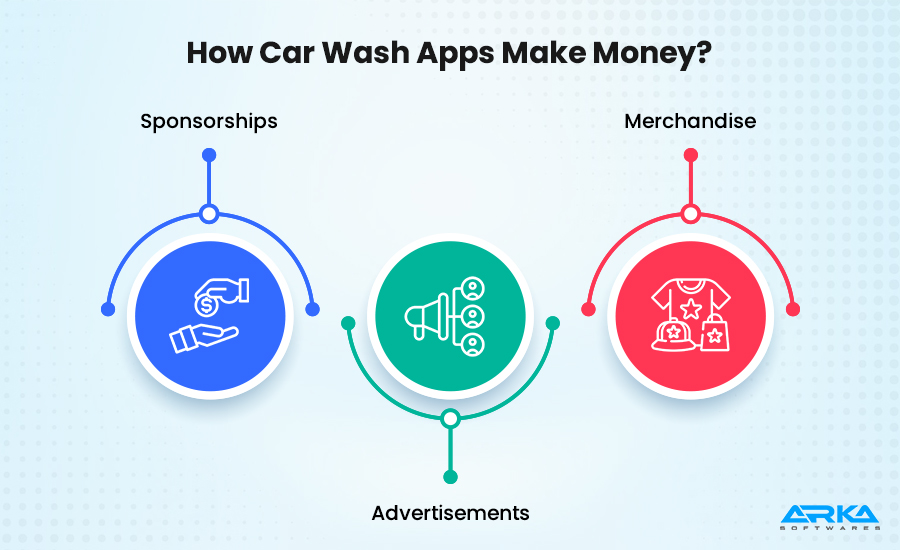 Sponsorships
Sponsorship and promotion are proven and true methods of generating revenue for a top car wash booking app. Incorporating ad placements for popular brands or items into your application is one way to make money with it.
Advertisements
You might earn a lot of money by promoting third-party services within your application. However, before counting on this method as your sole source of revenue, you should be sure that you are only displaying relevant advertisements to clients and are not annoying them.
Merchandise
Another effective method of making money off of your app is to sell tangible products. It's a good idea to let clients buy products like high-end car-washing solutions, wax, wiping cloths, and surface paint to provide the best possible outcomes. This is a brilliant method of advertising your business while simultaneously making a profit.
Car Wash App Development: Step-By-Step Guide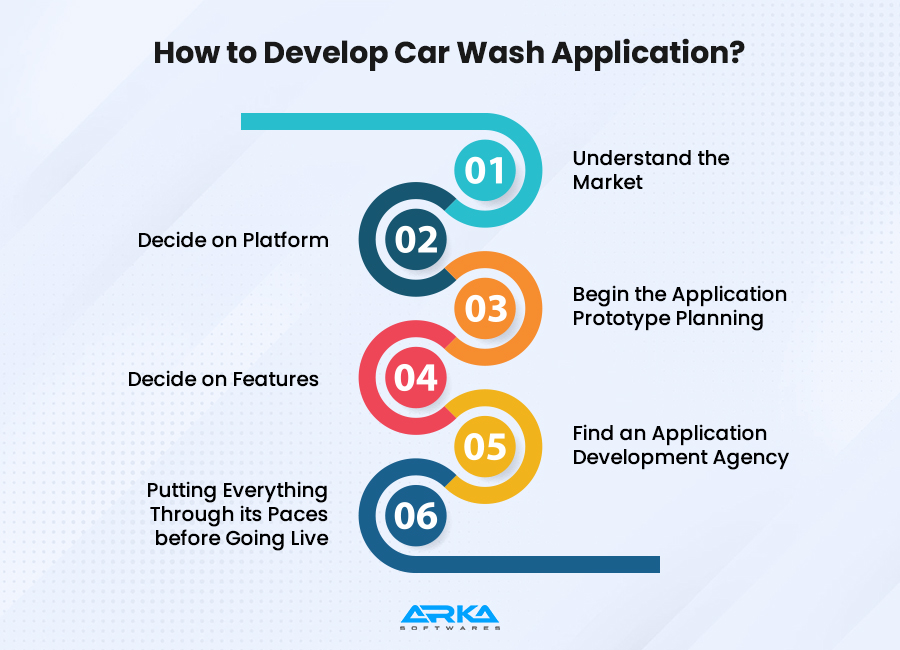 1. Understand the Market
It is essential to research the scope and makeup of the car-washing app market before proceeding to develop a working prototype.
Therefore, one must devote a substantial amount of time to this process. Determine how many potential clients are actively searching online for a car wash business.
Gradually, widen your investigation by considering factors such as geography, population, vehicle type, etc. Many different methods exist for accomplishing this.
Before starting on your car wash app development, it's a good idea to find out how many potential users there are and how often they'd use the app or the online portal to schedule their car washes. The scope of what you really need to create can then be narrowed even further by this. 
2. Decide on Platform
At the outset of developing a car wash app, you'll be presented with a number of different options for development environments. These could be apps for the web, Android, or iOS.
Your application's launch platform choice should be carefully considered, as these platforms serve a wide variety of users. If you've made a choice, you should back it up with data and market analysis.
3. Begin the Application Prototype Planning
Once you have an idea of the scope, dynamics, and data of the marketplace, you can begin developing the top car wash booking app you intend to sell.
You have a few options, including an on-demand car wash service where consumers may schedule washes whenever they'd want, and an automated reminder car wash service where customers will receive a reminder before their next scheduled washes are due based on their most recent service.
4. Decide on Features
Choosing which features to include in an application is the most crucial part of the car wash mobile app development process. It's important to consider all available options before settling on a car wash solution. This aspect can either make or break your app in the eyes of potential customers.
Your car wash application's selling points, unique selling proposition, and other selling points can all be derived from the features you choose. However, in this stage, it is crucial to document each feature and convenience you intend to incorporate into the app.
5. Find an Application Development Agency
Attempting to achieve everything on your own is impossible. You should collaborate with professionals to develop a car wash app. Now comes the time to bring in the car wash app developers.
Communicate with developers, get a sense of how they work, and only then employ a car wash application development company to create a reliable app for your organization. 
6. Putting Everything through its Paces Before Going Live
The reputation of your company may be severely damaged if you released an application without first testing it. This means that once you have a prototype of the car wash application ready, you should put it through various tests. Make sure it works in all major browsers and devices in the real world.
Find the bottlenecks, glitches, and usability issues by testing the application in a variety of settings. Release the application to the public once all issues have been fixed.

To Conclude
Due to technological developments, the market for applications that provide on-demand services has expanded quickly in recent years. It's conceivable that these car wash apps will be successful in the coming years because the automotive software marketplace is growing.
Working with a reputable mobile app development company is essential for businesses of all kinds, from startups to conglomerates, who want to have a top car wash booking app.
FAQs regarding Car Wash Apps