The advent of smartphones has simplified and streamlined many aspects of daily living. In today's modern world, consumers can effortlessly access a wide range of service options. Do you want to eat? Get your food delivered right to your doorstep with a few taps on your smartphone.
There are numerous applications for services such as house cleaning, cab booking, shopping, etc. Among these options, the on-demand car wash app has seen particularly high demand around the world.
The scope and possibility for various businesses have expanded by the growing demand for vehicle wash solutions accessible via mobile apps.
Market Size & Stats of Car Wash Apps
According to research, the Car wash and service industry is inclined to around 12.8 billion dollars in the US in the year 2022 and the figures are continually increasing.
The market is expected to expand at a compound annual growth rate (CAGR) of 3.1% from 2022 to 2030.
An On-demand car wash app Washe generated around 3.3 million dollars since its launch, and now is one of the most powerful apps in the niche.
With over 1,000 licensed professionals, the company has witnessed a growth of 25% with every passing year.
As per the study published by the Business of apps, the UAE and the Middle East are the most dominant regions for the car wash app development business.
It is approximated that by the year 2022, the revenue in the automotive industry will rise to more than 10,000 million US Dollars.
Car Wash App: Overview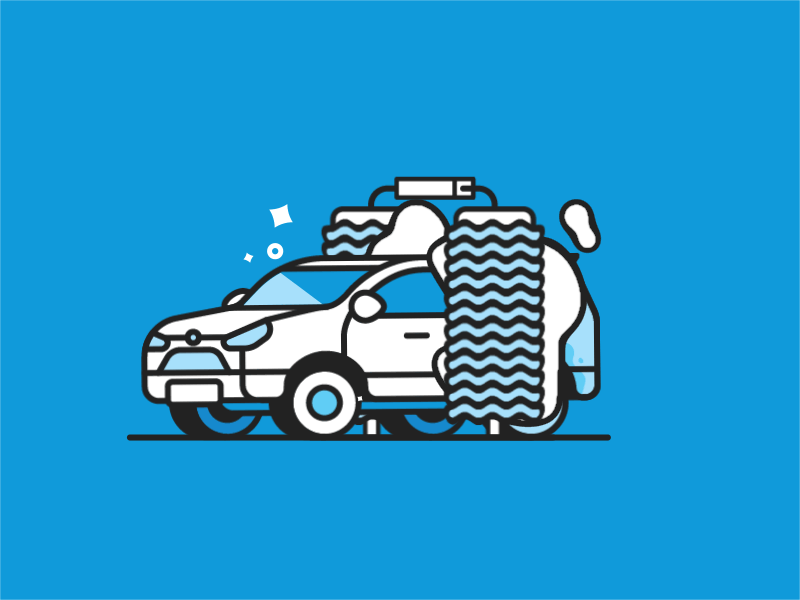 App development for car washing and caring is the simplest method to organize a car servicing business with a substantial increase in foot traffic. People don't have time to wait around for their cars to be cleaned at a store for several hours.
Driving the car to the service shop and having it washed is not only time-consuming but also requires some work on your part. Naturally, very few people will intentionally commit something so extreme.
You may save time and make your customer's life easier by providing them with the option to schedule a vehicle wash using an on-demand car wash booking app.C
The car wash service app includes booking functionality and Cas wash appointments, scheduling time, payment options, cancellations, coupons, rewards, and so on.
Is It Worth Investing in a Car Wash App?
As a result of the on-demand solutions, new businesses and entrepreneurs have seen a huge rise in profits. The increase in smartphones has spawned a plethora of innovative concepts for mobile apps for the different industries that entrepreneurs can employ to get a foothold in the market.
The rising popularity of car washing and care services can be attributed to the growing desire for both convenience and affordable pricing.
The International Carwash Association (ICA) reports that fewer people are washing their cars at home because of the emphasis consumers place on convenience and the care of their vehicles.
On-demand car washes have grown rapidly as a result of their popularity among drivers who, due to time constraints and hectic schedules, increasingly rely on mobile apps to clean their vehicles. Let's look at some numbers to get a feel for the market:
According to the

research market for vehicle washes in the United States is expected to develop at a CAGR of 4.8% till 2028.
The worldwide demand for vehicle washes is expected to increase to $375.26 million by 2029, according to research by Data Bridge Market Research.
In the United States, 72% of drivers make use of vehicle wash services.
Washos, the industry-leading mobile vehicle wash app, has seen exponential growth in recent years, with yearly revenues now estimated at between $500,000 and $5 million.

The number of people who regularly have their cars washed is now estimated to be over 3 billion strong, with the majority of that number living in North America.
Top Players in On-demand Car Wash App Market
1. Keno– Top car wash app in UAE
Avoid the hassle of taking your car to a central location and waiting in line for a long time by using Keno's luxury car wash services, performed by trained professionals. Customers can choose from a variety of flexible options to meet their requirements.
The convenient app provides access to dependable water wash or waterless wash services, as well as various optional extras. Keno Car wash service app is the top car wash apps in UAE and provided quality service to UAE people. 
2. Washé- On demand car wash app
Washé is the quickest and easiest method to get your automobile cleaned whenever you want. When you use the car care app to place an order, a skilled professional will come to your area to complete the requested work.
All of the cleaning, polishing, and sanitizing needs for a user's vehicle can be met right at their front door.
The app provides a steam wash service to eliminate germs and unpleasant odors from hard-to-reach areas of the car.
3. Spiffy– On-demand car care
Spiffy, an on-demand car wash service was founded in 2014. Its website and mobile app allow customers to arrange a wash in a matter of minutes. When you schedule a wash, a group of experts will come and clean your vehicle in the way you specified.
While providing service, technicians can keep consumers up to date on progress via a dedicated technician app. 
4. EasyCarWash- Cashless solution for clean cars
Maintaining a spotless vehicle is a breeze with EasyCarWash. Why? For a low monthly rate, subscribers can use the vehicle wash as often as they desire, without worrying about additional charges.
When it comes to washing your car, EasyCarWash is the quickest and most hassle-free option because there is no need to wait in line.
Single-use purchases and digital prepaid cards called WashWallets are also available in addition to subscription options and can be used to save money with each and every wash
Types of Car Wash Mobile Apps
1. Aggregator app:
An aggregator app is a standalone business model. The application provides a well-versed online infrastructure to the detailers and customers where detailers can enlist and advertise their services and customers can choose the one that suits them the best.
Hence the only capital invested by the app owner is the development cost of the application.
2. Dedicated Apps:
Such type of car detailing app is very appropriate for the business that runs its car wash services. The business can think of getting its service personalized via the dedicated app.
This is the best digital option you can go with. The dedicated car washes mobile app proffers plentiful benefits, such as-
Helps in increasing the user engagement ratio.

Delivers the services at the time user, requires clock support by delivering updated news.

The users can select the desired category of car wash services they are interested in.

Augments the overall ROI.
Revenue Model For On-Demand Car Wash Apps
Majorly there are plenty of revenue models via which the car wash mobile applications make money.
let's talk about the most conventional models:
1. Sponsoring
Sponsoring and promoting different car wash service providers and monetizing this service adds a handsome amount of weight to the revenue chest.
2. Advertisement
Car cleaning service apps business can advertise 3rd party businesses in their apps to raise a significant amount of revenue.
Benefits of On-Demand Car Wash Service App
1. It increases the efficiency of business
Serving via an On-demand car wash mobile app is great since it delivers the service right at the user's location plus also helps in increasing the efficiency of businesses (Both for the service providers and the car wash workshops).
It helps in augmenting the revenue standards and conserving the user base to a large extent.
2. Eliminate the user inconvenience
The On-demand solution simply eradicates the requirement of standing in a queue. It adds a lot of convenience to the people as they can avail themselves of the car wash services when required.
They can book the services in minimal time, thus there is no void in saying that, why people will not stick with your car wash appointment app.
How to Develop On-demand Car Wash App? 
A car wash company can boost the effectiveness and productivity of a corporation using Mobile car wash software. If you want to launch a successful car wash booking app you can do it by:
Appropriate planning and discussion are necessary to

optimize the application development

with different testing.

When beginning car wash app development, it's important to do research on the firms and teams you'll be working with.

Calculate the

app development time and car wash app development cost right before beginning work on the application.

After having this discussion with the team, it becomes very evident how to initiate app development and car wash app design. While conversing with technical experts, you are exposed to more concepts.

Create an inviting UI and user experience from the very beginning for your car care appointment app.

Regularly evaluate your application for errors.

As soon as you've finished developing your app, you can release it to the public.
Car Wash Mobile App Features-Customer Panel
1. Personalized Pricing
The app shouldn't only provide a menu of services; rather, it should let customers pick the one they want and pay for it accordingly.
2. Monthly Packages
In order to keep its users happy, apps should provide them with a unique set of perks. Having to pay a set fee every time a consumer books a service could be an annoyance.
In light of this, car wash and care services ought to provide customers with a variety of discounted monthly, yearly, and biannual plans to pick from.
Prepaid service packages allow customers to access their benefits at their convenience during the contract's duration.
3. Logins and signups
This is a standard function that all apps should provide. Each program must store some user data in order to maintain user profiles. As a result, a customer must register and join the app, making future logins far more convenient.
For added convenience, app creators should let users sign up with their existing social network accounts (like Google or Facebook).
4. Find Near-By Detailer
Users should be presented with a list of available car washes in their immediate area.
5. Real-time monitoring
It facilitates communication between the client and the detailer. Users can then use this data to follow the route laid out for them by the app's detailers and head directly to the vehicle wash.
It's become an essential component of any decent mobile car wash software.
6. Chat and calling
The ability to phone and communicate with the detailers should be integrated into the application. It's possible for a user to get stranded at any point in the process, from making an appointment to dropping off his vehicle at the car wash.
This means that he can quickly reach out to the car washers and have his question answered.
7. Video calling
The app's built-in video calling functionality is also a great convenience. Using this functionality, customers can speak with detailers over the phone and give them detailed instructions on their vehicle and the required services.
8. Estimating the Price
Many customers choose to limit their spending on car washes. There needs to be a cost calculator so they can figure out how much everything will cost. This aids them in prioritizing which services to add to their repertoire.
9. Various Methods of Payment
In order for customers to make quick and easy online payments, the app should support a variety of online payment methods.
With the proliferation of digital wallets and the users' propensity to sign up for several wallets, it's important for apps to accept not only debit and credit cards but also as many digital payment methods as feasible.
10. Choose a service
A car wash detailer's customers need to be able to pick and choose whatever services they employ based on their budgets and availability.
11. Post a demand
To better understand how the app stacks up against the competition, users may get a comprehensive list of all the car services it provides. When a user has settled on an application, they may place an order and pay for it.
12. Feedback and rankings
This is a critical component of any on-demand car wash service app, as it helps establish trust in its offerings. Every consumer researches a service's reputation via user reviews before making a financial commitment.
Car Washer/ Detailer Panel Features
1. Service location
Most car wash businesses only operate in a given area, thus they must be set up to receive requests for service from customers in that region.
2. Accept/reject requests
An on-demand car repairing and washing business must be able to accept or decline requests depending on the availability of its resources.
3. Status of service
Depending on the vehicle wash's setup, customers may be given updates at various points in the process. This will assist them to create confidence in their clients.
4. Push notifications
Push notifications need to be enabled in the on-demand application. This facilitates communication between customers and vehicle-washing businesses by alerting them to servicing requests.
It is also important that the screens accurately show the transaction facts.
Admin Panel 
1. Manage the time zone of the service
The admin is in charge of linking customers with local car wash businesses. This facilitates communication between users and adjacent car cleaning services.
2. Manage registrations
Users of the app should be able to reach out to a support team for assistance. The support staff's other duty is to oversee customer registration at each car wash location.
This is useful for determining the number of people using the application at any given time, as well as the overall number of car washing solutions used by those people.
3. Manage payments
When a customer pays the administrator for a car wash, the administrator is responsible for depositing the money into the car wash's bank account.
The admin is in charge of overseeing these monetary exchanges. Furthermore, they retain some of the money earned from the vehicle washers as their own fee.
4. Managing Reviews
If a customer is happy with the service they received, they will leave a positive review and give the car wash a high rating. If they are unhappy, however, they will leave a negative review and give the car wash a low rating.
The administrator is responsible for handling and displaying these ratings and reviews in accordance with their own preferences.
5. Heat-map view
This is a protected function that can only be accessed by the app's administrator. Here, one can see which parts of the app get the most attention and which services inside the organization are being utilized to the greatest extent.
6. Embedding CRM Systems
A CRM helps a car detailing app to streamline its customer and service information with minimal effort and maximum frequency. It also assists in giving trustworthy analytics.
7. Loyalty programs
Does your mobile car wash software have any special features to pique the interest of repeat customers? If you haven't already started offering them perks for using your on-demand car service, you should start doing so immediately. 
8. Marketing & Promotional Tools
Integrating the stated feature helps in augmenting the user retention rate. Via campaigning, advertisements, and other online promotion techniques, the business can promote them on a broader scale to keep the users glued to the app.
User Panel
Detailer Panel
Admin Panel

Signup and Login Social Accounts

Select car location – Via GPS

Real-Time Tracking of Detailer

Opt for the car wash package

Choose the location

Check availability at preferred location

Book the service

Pay online

Track the service

Schedule your Cash Wash

Monthly Subscriptions

Multiple Payment Option

Receive Alert Notifications

Estimate Detailing Cost

Signup and Login Social Accounts

Add service location

Notification regarding user's request

Accept/Reject the service

Update the service status

Complete user profile

Upload car picture

View history

Request for the payment from Admin

Registration of the technician

Manage technicians- User Profile

Manage services

Time zone manageable

User payment history

Transactions history details
Advantages Of On-Demand Car Wash App
For Customers-
1. Very quick and simple to use
The app provides users with both online and offline access, so they can enjoy a seamless experience regardless of their connection status.
Users can schedule car washes and services in advance even if they don't have access to the internet, and review their most recent transactions once they're back online.
2. Accommodating user needs
Information is provided to consumers based on their preferences and the amount of money they are willing to spend on car cleaning services, all through the usage of these mobile applications.
The program skips the needless steps of finding a service provider and instead directs the user directly to the page of the nearest and most convenient service provider.
3. Response rate
An instantaneous response time is a key feature of any good car wash software, allowing users to immediately connect with local car washes when they have a need.
Many car washes have their own websites, but consumers may have to wait a few moments for the page to load, whereas an app provides instant access to all of the information they require.
4. Request for several car services
An individual may make service requests for many vehicles at once. The application lets him handle bookings for whatever number of cars for which he desires the service.
5. Information
Detailed descriptions of what a vehicle wash offers and how much it costs are readily available to users. With this information, he'll be able to settle on the best service for his needs.
6. Special pricing and promotions
The most up-to-date deals and discounts for various services are made public via the application. Therefore, app users may make more informed choices regarding the packages they wish to buy. You might be interested to know about the car parking app development cost, here is an ultimate guide.
For Car Washers-
1. Optimizing productivity
Boosting your company's efficiency will result in increased output. As the popularity of these apps grows, detailers gain a deeper insight into what their customers need.
What features of the service are most appreciated by customers can be noted.
2. Eliminate the inconvenience
Using these apps, service stations can increase their credibility in customers' eyes. Word-of-mouth promotion can be vital to their success in a certain market.
Feedback from online users is also useful in fostering urban development.
Read More:– Why Waterless Car-Wash Apps Demanding Nowadays
Technology Stack and Required Team for Car Wash Mobile App Development
Building a solid technological foundation is essential before launching any new app. Therefore, it is essential to thoroughly examine all relevant technical areas and app specs.
It's also important to hire the correct personnel to work on the app if you want to succeed in the face of fierce competition and keep things running smoothly at your company.
The app development team for the car detailing mobile app development includes:
Team leaders

Project managers

Marketing and sales specialists

Business analysts

Designers

iOS app developers

Android app developers

Hybrid app developers

Expert analysts and testers
Tech stack for car wash application development:
Database: Datastax, MongoDB, Cassandra
Cloud: AWS, Azure, Google
Navigation: Google map
Push notifications: Push.io, Twilio
Mail: MailChimp
Phone verification: Nexmo, Twilio
Real-time analytics: IBM, Apache Flink, Cisco, Spark
Operating System: Ubuntu, Debian
Payment: PayPal, Stripe, Braintree
How Much Does It Cost to Develop a Car Wash App?
Undeniably, it isn't easy to figure out the exact cost of the car wash booking app. However, the cost of development depends on three factors such as complexity, the location of the app development company, and the selected platform.
How Geo-location of your development partner affects your development cost?
U.S. Based Developers: $50-$250/hour
Eastern Europe-Based Developers: $30-$150/hour
India Based developers: $20-$80/hour
Precisely, if we go through the technical aspects, the cost of:
Technical Documentation lies between $1000-$2500
UX/UI Design: $1.500-$3.5000
Front-end & Back-end Development: $9000-$14000
QA & Testing: $4000-$5000
Summing up, the car wash mobile app development charges between $20000-$40000. However, the cost can augment in case, some additional features as infused.
Conclusion
As the need for car washing improves, so does the market for on-demand car wash apps, offering businesses a golden opportunity to cash in.
You must choose the best mobile app development team and provide the professionals with your specifications.
Make sure the application provides satisfaction, is simple to use, and is responsive to the needs of its customers.
Questions Asked By Customers About The Car Wash App Development
How much money you can make with a mobile car wash business?

The more vehicle washes you complete, the more money you'll make. After the first car wash, you can charge $10. 65-70% profit can be anticipated from each car wash session.

What is the demand for car washing?

By 2029, global sales of car-washing services are expected to exceed $3500, and 72% of drivers will have used them. A thriving industry can be built around a reliable on-demand car wash application.


Is a monthly subscription to a car wash worth it?

One must be sure to make sufficient use of a monthly vehicle wash membership in order to justify the expense. If you join but never use the car wash, your membership is a waste of money. However, the time savings and money spent on the app's membership will be well worth it if you're serious about maintaining a clean vehicle.