There has been an enormous shift in the way enterprises and organizations throughout the world do business because of cloud computing.
A lack of IT infrastructure for a long time meant that businesses couldn't grow. To keep more clients, companies had to go through a lot of adjustments.
In order to support their operations, companies either bought or built software programs from the ground up, and these applications required extensive upkeep before they could be put to use.
Traditional IT deployment models were a major roadblock for any company's success, and here is where cloud computing comes into play.
The way IT companies provide computer services has been completely transformed by the advent of cloud computing.
Cloud services provide a reliable, consistent, and seamless platform that is constantly accessible and available online. The SaaS model is one of the examples showcasing the capabilities of cloud services.
What is 
SaaS
?
Software-as-a-service (SaaS) is a well-known kind of cloud computing. In this license and delivery model, the software is housed on the servers of a third-party vendor or provider.
Furthermore, it allows access across numerous devices and users. Therefore, it is a reliable replacement for traditional software deployment methods and a perfect option for your business to adopt the cloud service model. Professionals may now work from anywhere and at any time thanks to SaaS solutions.
In addition, this technology has allowed employees to do tasks more quickly and effectively.
SaaS applications may be simply installed by users with a stable connection and the necessary credentials.
A further benefit of SaaS apps is that IT departments no longer have to worry about maintaining them because the provider takes care of them. 
SaaS vs Cloud Computing
The term "cloud computing" is frequently used to describe SaaS. Considering SaaS falls under the umbrella of "cloud computing," this is true to some extent.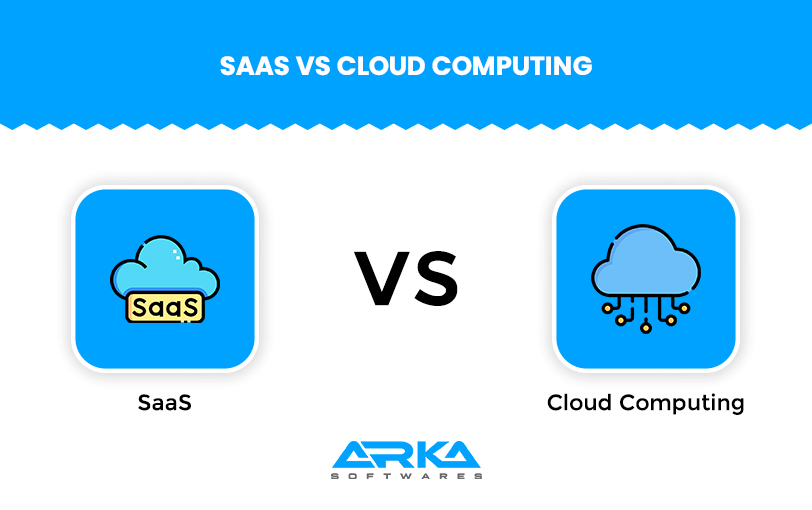 Cloud computing is a broad category of computer services in which certain features are handled remotely rather than entirely on the user's PCs and servers.
Software as a service, on the other hand, can be defined as a piece of software that is accessed remotely via the cloud.
When utilizing SaaS, the software provider often holds all of the client's data on their servers, rather than on their own PCs.
The Microsoft Office Suite is a valid example in this context. If you purchase the classic MS Office program and save some of your files online to facilitate easier collaboration, you are using cloud computing but not SaaS.
SaaS is when you have migrated to their "Office365" monthly paying plan where you can use the entire MS office on the cloud or have your software automatically upgrade to the most recent version.
What are the benefits of moving to a Software-as-a-Service Model?
Business-to-customer (B2C) companies use SaaS to centralize and automate tasks, and business-to-business (B2B) companies utilize this model to generate the same results. Whether you have a digital marketing agency, an eCommerce business, or a business that outsources or offers IT solutions in Exeter or anywhere in the world, moving to a software-as-a-service model can provide enormous benefits, delivering the output you desire.  
This technology has been adopted by many B2C and B2B companies in different industries to accelerate their digital transformation journey. Performing multiple tasks for various clients and projects is more seamless using SaaS applications, boosting your productivity and overall business revenue.  
Furthermore, below are the key benefits of moving your system into a SaaS model.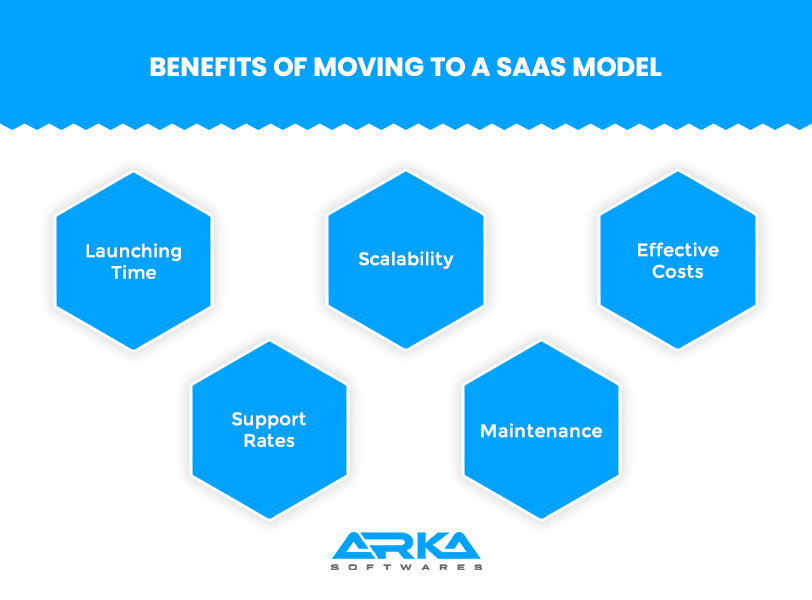 1- Launching Time
The cloud-based SaaS applications are already installed and set up. This reduces the amount of time lost due to the typical software deployment process, which can take a long time. The program is ready for usage after development is complete.
After the software is delivered, there is no further time spent installing or fixing unanticipated hardware concerns with the client's machine.
2- Scalability
In a SaaS model, enterprises don't have to worry about acquiring additional hardware and other system resources when they need to expand their capacity.
With a simple press of a button, customers may request more storage or bandwidth. When more user licenses are required, such as for new employees, they can be obtained simply by generating a new user ID and password as opposed to purchasing additional software.
3- Costs
A) Ownership and Operation Costs
Despite the fact that customers are often focused on the recurring fees, the total cost of ownership is typically lower than the traditional software. This is largely a result of low hardware prices and the fact that conventional software does not lose efficiency over time.
Moreover, clients don't have to maintain a physical place to house servers or other gear, as well.
B) Pre-Deployment Costs
If any upfront money is levied at all, it will be substantially lower than the current level of software cost. Aside from that, the customer saves money by not having to replace outdated gear or build a new building to house it.
4- Support Rates
Support efficiencies generate further cost savings that the product owner may either retain as profits or pass on to the customer in the form of better prices. 
5- Maintenance
Reduced maintenance and downtime due to the elimination of client-site hardware are significant advantages of cloud computing.
Hardware updates and repairs don't have to disrupt the client's system; instead, the product developer may use the same backup system for several applications.
Performing preventative inspections to maintain the system stability and reduce downtime is another area where the client's IT staff may save time and money.
Advantages of SaaS for Software Owners
Software owners continuously find ways to improve their desktop software programs and applications. However, they usually face challenges with technology stack issues, innovation, data privacy, ever-changing software requirements, hidden costs, and inefficient project management. In addition, they face challenges in nurturing a long-lasting customer relationship and sustaining the market value and demand of the software solutions they offer.  
Saas can provide software owners with short-term and long-term advantages to help them thrive in the competitive business world. 
Below are the advantages of using SaaS for software owners:
Increased Value for the Long Term
SaaS solutions have built-in opportunities for upselling and cross-selling. Offer a selection of features instead of just one and give the client an opportunity to decide.
It is possible for customers to upgrade their services if their demands change or they discover that you provide a simple solution to a problem.
Even if the consumer simply picks your most basic plan on the first sale, you can still earn more revenue.
Better Relationships with Existing Customers
SaaS organizations get a variety of methods to enhance client retention. Benefits like free features or storage, the possibility to earn discounts, and gifts and contests may all be added. Moreover, you and your customer may be able to communicate directly through the app.
Maintaining a continuous discussion with the customer might help you build a strong relationship with them and keep them away from considering alternative possibilities.
Improved Metrics
When you adopt a SaaS model, you may see analytics in real-time about how your customers are interacting with your product.
If you are able to anticipate your customers' requirements before they do, you will be able to boost the lifetime value of your customers. With greater data, you'll be able to determine when to scale or reposition your service.
Increased Market Value
Companies are often valued based on sales, cash flow, and profitability. This contains both the most recent data as well as predictions for the future.
On-premises software suppliers frequently experience a sales plateau as existing customers stick with their original program and do not make new purchases.
A SaaS development company, on the other hand, often anticipates an increase in revenue as long as they manage client turnover. SaaS businesses tend to trade at substantially higher multiples than traditional providers because of various growth forecasts.
Benefits of SaaS Products for your Clients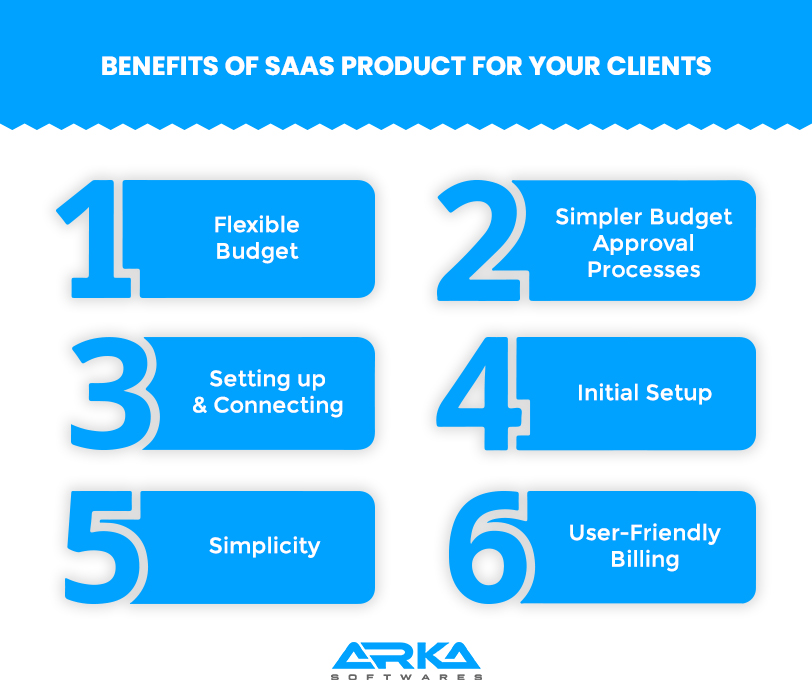 Flexible Budget
A subscription model allows customers to switch or terminate service at any time without incurring a hefty upfront payment, making it more appealing to buyers. There are no long-term contracts, so clients can add or remove features as needed.
Simpler Budget Approval Processes
One of the reasons that many organizations continue to use obsolete and inefficient software is the challenge of convincing management to authorize a big one-time investment. To put it another way, this might be due to a lack of funds or the unwillingness of management to suffer a knock on the company's profit margins.
Senior managers may be more receptive to a low monthly or yearly charge that comprises a tiny part of a company's total costs.
Setting up and Connecting
Embedded options enable the customers to tailor the program to their own needs. It is possible to provide customers with a solution that is tailored to their individual needs through the use of third-party or in-house integration services.
Initial Setup
SaaS applications may be up and running in a matter of minutes. No special development is required and no installation is required. This means customers may often get started immediately after signing a contract by creating an account and logging in to their chosen software platform of choice.
Simplicity
Custom-built on-premises software or program built to anticipate future requirements might be too complicated and difficult to maintain.
Subscription software and services are considerably more user-friendly as they focus on key functionality, current demands, and gradual improvements.
User-Friendly Billing and Usage Tracking
Customers can quickly see how much they're using and how much they're receiving for their money, thanks to built-in analytics. It is possible to guide customers who feel overcharged but aren't using their services to downgrade instead of canceling their subscriptions outright.
Users exceeding their usage restrictions can opt for an upgrade in just one click.
Top Examples of SaaS
(
Software as a Service
)
Products
Lumen5
Lumen5 is a drag-and-drop video-creation SaaS platform that organizations can use to produce stunning presentations. It instantly generates a movie from any URL or text.
Using tools like text placement, library pictures, keyword highlighting, and brand colors, the content is transformed into a movie that may be further customized.
Buffer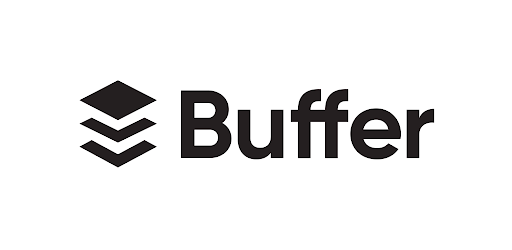 Buffer is an excellent SaaS solution for any SaaS company. Businesses of all sizes may use this simple yet powerful solution to streamline social media administration and planning.
Dropbox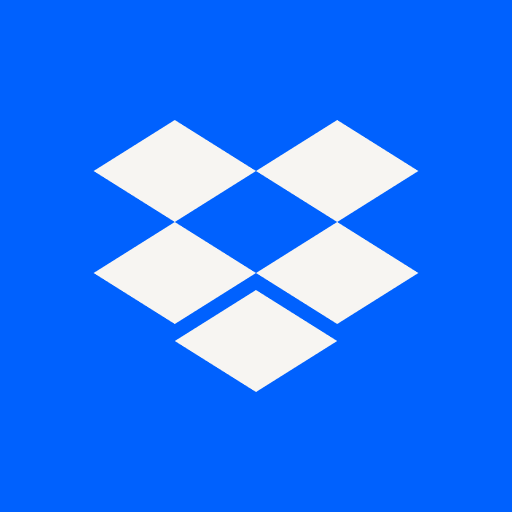 Dropbox is a prominent cloud storage SaaS provider that makes it easier for organizations to organize, share, and collaborate remotely on files and data.
It provides a smart workspace that enables your staff to work remotely. Dropbox is an ideal SaaS solution for firms with a large contingent of freelancers and remote workers.
Salesforce
Salesforce is one of the most prominent SaaS providers that excel in cloud technology. Businesses may use a single dashboard to gather, maintain, analyze and evaluate consumer data.
You don't need to be an IT specialist to administer and maintain this cloud-based CRM system.
Slack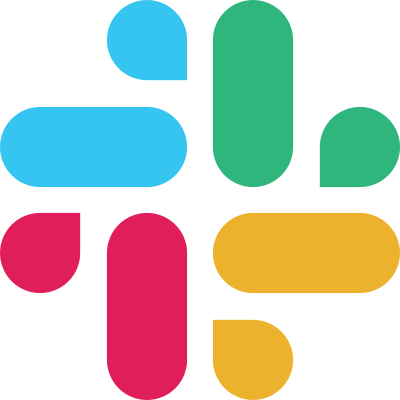 Slack, a cloud-based commercial communication application, is an outstanding example of a SaaS. It's marketed as an email alternative. Scheduling, communication, and team management are all made easier using Slack. 
Each project, job, or assignment in Slack can have its own channel. Messages submitted through a channel are accessible to all channel participants, making communication simple and efficient.
Is SaaS Appropriate for your Business or not?
It is not possible to use SaaS in every firm, and not all applications are suitable for SaaS distribution. Consider these factors to see if SaaS is right for your company:
What kind of business process or function are you looking to outsource?

What level of customization of a SaaS solution do you require?

To what extent must SaaS be integrated with the other processes?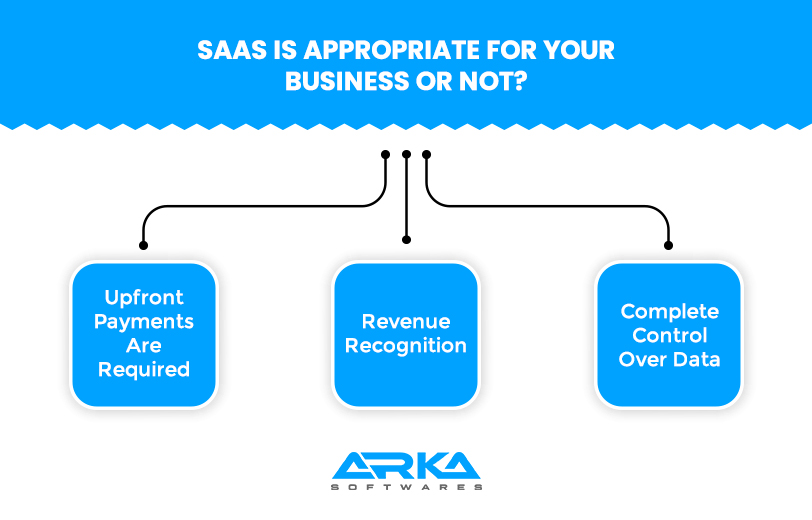 If you're looking to outsource non-critical procedures and tasks, SaaS solutions are a good fit for you and your company.
This comprises cost management, employee performance management, etc. that are basic, straightforward, and not heavily dependent on or connected with other corporate processes and systems.
 Moreover, SaaS works well for automating operations for the first time since it does not entail replacing legal processes, resulting in fewer change-management obstacles.
However, SaaS models may not be appropriate for you if you fall into one of the following categories.
Upfront Payments are Required
Revenue forecasting and cash flow forecasting get simpler with time, although short-term cash flow shortages might still occur.
A SaaS model may not be a good fit if you're depending on upfront fees to repay development costs or cover ongoing operating expenditures.
Streamlined Revenue Acknowledgement
Revenue recognition for On-Premise Software (OPS) suppliers differs significantly from that for SaaS since OPS sellers can often record the licensing charge and installation service fee upon delivery.
SaaS models postpone up-front licensing and implementation fees that do not have stand-alone value and then collect them over an expected client lifetime.
Even though cash flow is not a constraint, if you need to increase your income through accounting, a SaaS model might negatively impact your bottom line.
Complete Control Over Data
Enterprises have more control over their own internal software than they have over hosted solutions, which are managed by a third party.
Typically, everyone is required to utilize the most recent version of the software program and cannot delay updates or feature modifications. A software development company may lose critical data or features as a result of this process.
SaaS Pricing Models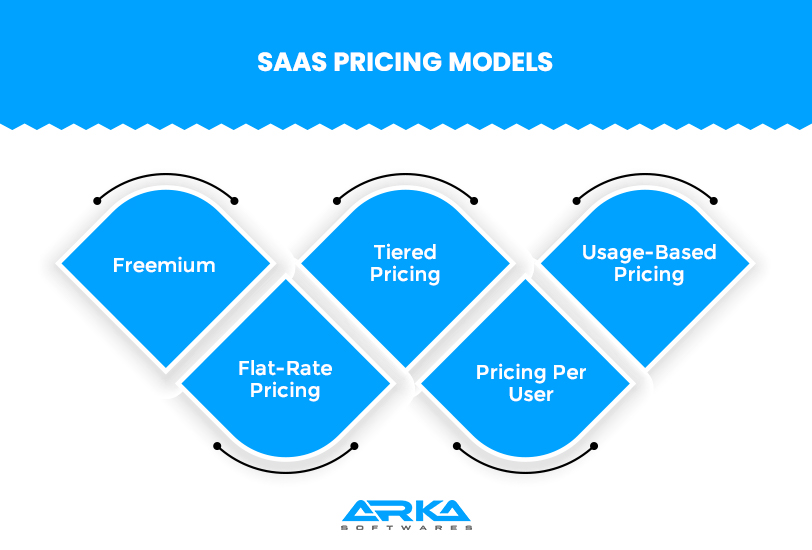 Freemium
The freemium model provides a substantial number of functions for free, with the option to upgrade to more options. Examples of freemium SaaS products include Slack, Dropbox, and Airstory.
They're free for the majority of people to utilize. However, if customers want more features, they'll have to pay for a premium subscription.
Flat-Rate Pricing
In this pricing model, a single product with a predetermined feature set is offered at a fixed price by a single vendor. For example, Basecamp charges a single monthly cost of $99 for all of its services.
Tiered Pricing
Multi-tiered pricing is a standard practice among SaaS companies. Each bundle has a varied collection of features that are tailored to meet the demands of different users.
Pricing Per User
Some SaaS providers provide different options based on the number of users. Rather than paying a fixed rate or selecting a feature package, businesses might pay per user.
For example, Asana charges businesses a fixed fee for each user they add to the application.
Usage-Based Pricing
Last but not least, there are SaaS solutions that charge based on consumption rather than by the number of features or users. Stripe, for example, charges a fee for every transaction.

Bottomline
Suppliers and customers alike benefit from SaaS's various features and functionalities.
Even while some companies may opt to build their own cloud infrastructure from the ground up and leverage data orchestration across devices, SaaS capabilities are preferred by the majority of small businesses instead.
There's no better way for enterprises to grow, develop, and provide more value than through SaaS solutions.
FAQs related to SaaS