2020 taught the whole world the power of collaboration and the role software could play in that. Collaborative software helped everyone stay in touch, connected, and carry out work from home like never before.
When offices and schools shut down and physically meeting people for work or attending classes became impossible, virtual meetings and online virtual classrooms filled the void.
Students' learning in schools and colleges remained mostly uninterrupted because Universities and schools quickly adopted virtual classrooms and learning management systems (LMS) software. Education would never be the same, at least shortly, even when everything goes back to an earlier routine.
 Though they tried to provide maximum leverage, regular zoom like WebEx or Zoom doesn't fulfill a classroom's needs from a learner's, a teacher's, an administrator's, or a parent's point-of-view. They did not fit the requirements of online education and teaching.
At first glance, this software has features like screen sharing, chatting, recording, annotations, etc. But when used by educators, it became clear that they didn't provide enough 2-way interaction, assignment, study material, and many other essential features to make a classroom.
Virtual online classrooms app must provide the near-real experience of a real classroom online by covering all the necessary functionality and providing support for many more features.
What is a Virtual Classroom?
A virtual classroom is an online system to emulate a real classroom. It allows participants (teachers and students) to communicate, play videos, show presentations, interact with fellow participants, make smaller workgroups, submit assignments, and take roll calls
.A virtual classroom has an interactive whiteboard that can be shared, allows for discussions to occur in real-time, conducts online tests, presents reports, and uses the resources digitally.
Many of the virtual classroom system's features include audio & video streaming and recording, voice and video calls, group calls, instant chat, screen sharing, etc.
The benefits for such systems now need no more advocacy as the COVID-19 pandemic, and its shutdowns made people take notice of such systems closely.
How do Virtual Classrooms Benefit Users?
Virtual classroom systems are technology platforms facilitating the delivery & consumption of e-Learning content within a virtual learning setting. The benefits are many, and critical advantages are listed here:
Online classes:
Anyone can host online live classes from their home, offices, or even outdoors. Individual trainers, school teachers, and professors can start their channels for teaching.
Institutions like schools, tuition centers, colleges, and universities can offer virtual online classes for all students in every class.
Anywhere & anytime teaching:
The training and teaching can happen even when instructors and learners are moving. They can access online e-Learning content and can attend live sessions from any connected device.
Employees training:
Virtual classrooms have made it easy for businesses to deliver training to their workforce in remote areas, including agents, employees, partners, and vendors in a real-time face-to-face manner.
Host Virtual Seminars:
Host web-based seminars or webinars for a select audience with invitation-only access. These sessions can be technical webinars, academic or business conferences, product launches, or online meetings with regional managers
Virtual offices:
Office collaboration becomes much more convenient, with all team members simultaneously working. You can conduct office scrums and meetings conveniently at any time of the day.
Live help desk:
Virtual classroom systems are deployed in live customer support where the client and the company representative meet online to resolve their issues.
A virtual classroom system is a dream-come-true scenario for numerous people – students, teachers, businesses, and employees – and delivers immense benefits to all of them.
What Is Virtual Classroom App?
Students and instructors can join a virtual classroom using a website, desktop software, or increasingly a mobile app. They all are different interfaces for the same system centrally hosted on a web server and deliver all contents to its users.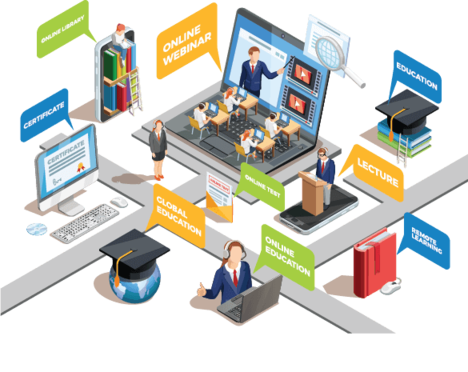 A mobile app is the most popular way among the students as they are passive receivers of the instructor's content. The mobile app has almost the same features and functionality as the website or the desktop app but still has a few limitations.
The shared screen shows very small in any orientation; scribbling anything is difficult, you cannot see all participants simultaneously, and if a call comes, you may experience disruption.
Submitting assignments using the app may be difficult for the students, especially in junior classes. One can conduct live quizzes and image editing with relative unease.
However, a virtual classroom mobile app is your best bet if you are on the move and don't want to miss any classes. As an instructor, if you have prepared your class resources, you can also conduct a good class online from your mobile from anywhere. As the attendance is automatically recorded, your complete responsibilities are taken care of.
How to Deploy Virtual Classroom Software?
Deploying a virtual classroom system requires a heavy-duty server with massive bandwidth and top-of-the-class IT infrastructure.
If you are an IT company, you can do it on your premises but for non-IT companies or schools and universities, hosting such a webserver is not a good idea from a maintenance point of view. 
In any case, the following two options are available for deployment:
In-house and on-premise deployment
If you decide to keep things under physical control, then on-premise deployment of virtual classroom software is preferred. Usually, this kind of system is built in-house with the local IT team, and its complete maintenance is their responsibility. This kind of deployment is considered more secure than the ones publicly hosted on a cloud.
The system availability is dependent on the Internet connectivity you have from your local ISP, and any local disturbances or outages will bring the whole system to a standstill.
However, you have complete flexibility to customize and tune the platform for your needs.
It is also a massive capital investment and recurring expenditure and requires long-term vision and dedication of the management, IT team, and users.
The time needed to bring such a system from the idea stage to a live, usable system may be from 6 months to 2 years, depending on the features included.
Cloud-based deployment
The cloud-based or off-premise deployment uses SaaS, or Software as a Service, paradigm.
As the complete system is hosted on a public cloud, none of your users need special hardware or software other than a basic PC or smartphone with an Internet connection.
The customizations are done by your service provider, and you may not get 100% of what you need. Most users' needs are met as the service providers do extensive market and requirements analysis.
The time to launch such a system is usually within a few days to weeks, depending on the amount of customization needed.
It works like an online subscription to a virtual meeting platform like Zoom. Again, with SaaS-based virtual classrooms, you have two options – open-source and free platforms and closed-source but paid systems.
Open-source platforms
Open-source systems are freely available for you to deploy, customize, and use. But you might struggle with the intricacies of customizations, user management, content management, and deployment.
You will have to rely on the community of open-source developers, which can be unreliable, or hire an IT expert, who can be ill-trained, for support.
Proprietary SaaS platforms
Proprietary virtual classroom systems are a paid service, which may seem an unnecessary expense in the beginning. But when you get on-time delivery, reliable customer support, customizations, regular maintenance, and updates, the costs are worth it.
You can now focus on your core operations – teaching and learning – while your service provider takes care of the rest. Usually, the support is available 24/7.
So, what is SaaS?
In cloud-based services, SaaS, or software as a service, is a delivery model where software hosted on a cloud is licensed to clients for use as they go.
The license fee is usually in the form of a subscription fee. Any individual or business can subscribe to such software online and needs a basic PC and stable internet connection to use it.
Being a web-based service, it is most readily available on any device – PC, laptop, tablets, and smartphones. Being accessible from the Internet, SaaS applications can be used by users on the go and, therefore, are used by organizations whose executives are always traveling.
SaaS is a way of delivering applications over the Internet as a service, and nothing is installed on the user machine. The user data is also stored securely on the cloud but can be downloaded or saved in private cloud storage.
The service provider ensures smooth access to the application and provides security, availability, and performance assurance as QoS parameters in the SLA (service level agreement).
SaaS Characteristics
Just like a bank, SaaS software protects the privacy of each client while providing reliable and secure services on a massive scale.
Like a bank, the users all use the same systems and technology and don't have to worry about anyone else accessing their personal information without authorization.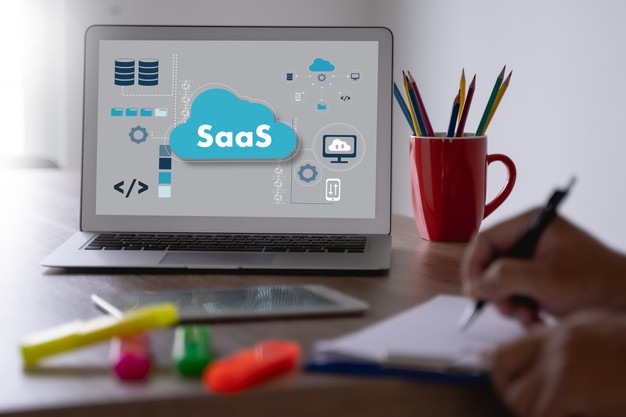 The key characteristics of the SaaS model are:
Simple deployments
They don't require the latest or too much hardware equipment, allowing clients to outsource most IT responsibilities.
Scalable
A school or university using SaaS-based virtual classrooms can accommodate any number of student batches and that too very quickly. Even if all the batches are running concurrently, the system does not break down or slow down.
Expanded Geography
Schools and universities can now take courses and learning material available to their students at any geographical location. They simply need a computing device with a stable Internet.
Simple and intuitive
Almost all virtual classrooms have great and easy-to-understand intuitive designs. They are easy to use and don't require any training to use the system.
No one-time purchases
SaaS systems are usually subscribed to and paid a subscription fee. On-premise software, on the other hand, is paid for upfront. The regular subscriptions allow schools and businesses to link their expenditure with their recurring incomes spread over a long period.
Multitenant Architecture
All users and applications share a single infrastructure and code base maintained centrally. The SaaS vendor can update easily, maintain readily, and innovate quickly.
Easy Customization
Most SaaS applications provide the facility to each user to customize them according to specific needs and preferences. These customizations are unique to each user or group of users and do not affect the common codebase and services. SaaS also allows us to turn on or off many business processes as needed.
Better Access
SaaS assures 100% access to data from any connected device. It does not allow unprivileged users to access with the use of strong authentication tools. The updates to a central database ensure that everyone sees the same information at the same time.
What is the SaaS-based Virtual Classroom business model?
The SaaS-based virtual classroom model has the following actors – the service provider, the institution or client, and the end-users.
The SaaS service provider company has the responsibility for the development, customization, maintenance, and updates.
It maintains the servers, database, IT infrastructure, load-balancing, and other issues. They are generally paid every month a fee from customers called a subscription.
The client can be an individual, a school or a university, or any business that needs to conduct online sessions, classes, assessments, training sessions, etc.
They provide their associates – teachers, trainers, executives, etc. – devices to prepare and deliver an online live session or assessment.

The end-users include the teachers, students, and administrators who use the system for teaching and learning. They also use the system to share resources, take attendance, submit assignments, and meet in breakout rooms.
The SaaS-enabled virtual classrooms' business model is that the complete system is hosted on a cloud and accessed on a web browser.
The clients -schools, universities, training institutes, and businesses – pay the service provider a monthly or annual fee for access. The end-users just log into their accounts and get full access.
Recurring payments
The primary source of revenue for a SaaS business is a recurring membership fee. It gives the clients and their end-users access to the software's services, products, and features.
Clients do not buy expensive hardware, nor do they license software. As a service provider, you need to be concerned about receiving payments every month or year as opposed to only once.
Customer retention
The SaaS business model's most beneficial aspect is that your clients become dependent and loyal to your services. If your solution truly solves an integral business problem and core functions, they will not go anywhere soon.
This loyalty can make them your clients for years and become a steady revenue stream. In SaaS businesses, customer retention is often more important because it is the only thing to keep your business profitable.
As a result, the SaaS model puts immense value on developing long-term customer relationships, upselling, services, and referrals.
Consistent updates
SaaS providers regularly provide frequent and small updates to their services to fulfill customer demands and introduce new features.
These include security patches, bug fixes, better interface, faster load times, more flexibility in reporting, support for more devices and form factors, etc.
As SaaS provider hosts their products, they can update all instances consistently simultaneously at a time of their choosing. With proper communication with clients, service providers can assure their clients that their needs are served regularly.
Customer relationship
As each client is only renting your software, it means that every cycle, you must earn your revenue from them. Therefore, an excellent customer relationship is needed at the forefront of all their operations.
The client managers must nurture and develop individual relationships with their clients' key contacts to ensure continuity in revenues.
No Infrastructure
Customers need not invest, run, and manage expensive hardware and network infrastructure. Similarly, as a service provider, you need not build the cloud infrastructure to host your SaaS virtual classrooms.
Like your solution, the cloud provides Infrastructure as a Service or IaaS, where you can rent as advanced systems as needed and scale them almost instantly. That leaves you to focus on what you do best and outsource the rest.
Easy Integration through APIs and Web Services
Integration with other applications and offline systems is needed in many situations. For example, to receive the students' payments for tuition, you need to integrate the payment gateway for all major banks and cards.

With an open API from the beginning, your users can easily integrate your services with other applications and their legacy systems.
It also opens the possibility to extend your ecosystem to a third party and independent developers to start using your APIs and create a robust value system for your solution.
Web services will also help you launch your desktop and mobile apps more efficiently at a later date to provide your customers with more options to access your services.
Key Business Metrics
With a SaaS business model, you need to understand the key metrics to indicate if you are on the right path. With their knowledge, you can plan to improve them. The following are key business metrics to determine the shape of a SaaS business:
1. LTV:
Lifetime value is the total revenue you will earn from one client over the life of their account. Monthly and annual retention-rate numbers are significant but don't focus on how much each retained customer contributes each month and the success of your upselling efforts.
2. CAC:
Customer acquisition cost is the total expense incurred on sales and marketing efforts to acquire a new client. Each new customer costs considerable time, effort, and money to sign up for your solutions.
If the additional MRR (discussed later) offsets the CAC for that customer, then you may be on the right track for LTV to outpace CAC. Being too careful about controlling CAC could mean fewer efforts and, therefore, missed opportunities for additional revenue.
3. MRR & ARR:
Monthly or annual recurring revenue are the lifelines of a SaaS business. They indicate the assured income that a business expects on a monthly or yearly basis. It is a crucial statistic that allows management and investors to monitor the current state of your business and for you to plan for future growth.
4. Churn rate:
The ratio of your clients leaving your services over a period – month or year. For a startup SaaS business, even a low churn rate can be extremely devastating.
A high churning can be fateful for even large companies indicating that everything is not as good as you believed it. Either your customer service is inferior, or you are not able to keep up with the changing demands, or simply there is a competitor with a better and less expensive solution than yours.
5. Retention rate:
Opposite of the churn rate, it indicates your ability to retain clients with each cycle and is the firm basis for growth.
A high retention rate over a period may mean satisfied customers, but it could also mean that customers don't have a viable alternative yet. So, you must keep it high and improve with each passing billing cycle.
6. Build or Buy?
SaaS-enabled solutions are available for many of our modern business computing problems. For virtual classrooms, they are almost a tailor-made solution. So, should you buy (lease) a solution from a third party or build your own SaaS solution?
There are clear advantages of developing your software and SaaS solutions, but not everyone can avail of this option. It takes a considerable commitment in terms of resources, human resources, financial investments, time, and in-house expertise.
7. The Build dilemma
Even if your business has the muscle to gather all the above, there are still some important questions you need to ask before deciding to build:
Is this the main operational area that we deal in?
Does our development team have domain expertise and core competency in this area?

Are the investment and time constraints clearly defined?

Is the return on investment better in this route than the lease option?

Are we able to manage and account for time and cost overruns due to unforeseen reasons? If yes, then by how much?
The answers to most of these questions will rarely come in the affirmative, let alone to all of them. The need for virtual classroom solutions is mostly for schools, universities, colleges, training institutes, and businesses that need to deliver training and education.
Only a minuscule percentage of such clients may have the capacity to even "think" of building a solution, let alone pull this off.
Benefits of Buying/Leasing
There are too many benefits to buying or leasing an off-the-shelf solution:
1. Clearly defined costs
Most SaaS development teams have extensive experience in software solutions development and are prepared for cost escalations, time overruns, and many other contingencies that may come up. 
Sometimes, these contingencies can be positive also, like a sudden traffic growth that was not expected at all, straining all resources. The most evident benefit to clients when they buy is predictability in up-front and recurring costs for budgeting and setting long-term business goals.
2. TTM
The time-to-market represents the time needed to bring an idea to a stage where end-users can use it – internal or external. When you lease a solution, your TTM is almost zero, or a few weeks are needed for customization and training.
After deployment, onboarding, integration, and user training, the new solution can be launched immediately. There is no wait involved.
3. Relief of resources
Software solutions of the scale of a virtual classroom put a massive strain on other resources of the business too. You also don't need a dedicated team of expert developers to maintain and update the solution from time to time.
4. Consistent updates
As the service provider services many clients, their domain knowledge and market-needs assessment will be better than yours. They can provide you with updates that even you can't think of.
They can quickly scale to accommodate technological or regulatory changes or launch new complementary products with no burden on your resources.
5. High ROI
As the costs are clearly defined, the business can formulate and implement strategies to get a quick and high return on investments. More business for you means more revenue for them, so the SaaS providers help you grow and expand.
6. No organizational change
With the lease option of the SaaS virtual classroom solution, you may need only a handful of new employees to manage the operations. Even someone in your existing IT team can undergo training and manage the affairs internally.
7. Customization, maintenance, and security
Off-the-shelf SaaS products need customization, even though they are made with the most common features in mind.
Maintenance of systems involves regular backups, clearing the cache, identifying data issues, and creating an updated schedule. Security is critical in Internet-based solutions and is monitored continuously.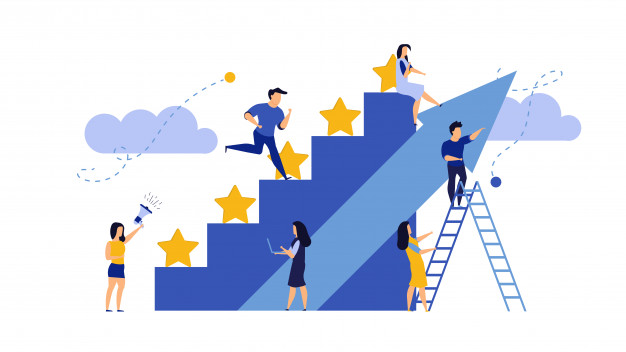 Why invest in a SaaS virtual classroom system?
Virtual classrooms are useful not only in times of pandemic and for remote students but also for regular students who expect high-quality development opportunities.
With online training and access to a virtual classroom, training can take a new form, even for regular students and learners. Their teaching can be augmented with the help of the tools provided by these systems.
Online course delivery through virtual classrooms is more cost-effective than the traditional method of chalk-and-talk. It has a more flexible schedule and has less risk of cancellation.
Online education platforms or LMS with integrated virtual classrooms offer learners and instructors a valuable resource base for their training.
The reasons to invest in a virtual classroom system are:
As LMS and virtual classrooms are usually integrated, teachers can design a 360-degree learning experience that is more convenient for their students. Teachers can add any educational resources they may like and use them in classes.

In a simple remote meeting and video conferencing system, structured and systematic interaction between learners and instructors is impossible. A virtual classroom solution facilitates discussion between course participants by allowing students to be in contact with their classmates. They can discuss, share doubts, help each other, talk, and practice with other students.

SaaS-enabled virtual classrooms allow learners to study wherever they are and at whatever time. Live classroom sessions can be accessed from anywhere with any Internet-enabled device. As recorded lessons are available for viewing later, they can become part of the training resources and practical exercises.

A virtual classroom allows businesses to create a permanent and reliable training center for their employees to access anytime. This repository of resource materials and recorded lectures can be used by other students to gain knowledge on the topic.

An investment in a virtual classroom solution is that it saves a lot of time for students, teachers, and education administrators. Homework, assignments, tests, quizzes, marks sheets, subscriptions, profiles, everything can be accessed and updated by users themselves. A paperless backend results in an efficient workforce and is healthy for the environment.

Students whose studies were disrupted by lockdowns of relocations will stay committed if a reliable and accessible online learning alternative is available. The level of engagement for them increases significantly, and they have more time to learn any subject. It leads to increasing the retention rates of learners and encourages them to be more committed.

In traditional classrooms, student and teacher absenteeism are high because of multiple reasons, including the conveyance. Online virtual classrooms help them save on travel costs and time.

Online virtual classrooms are green and healthy for the environment. A typical classroom session has a significant impact on the carbon footprint of all involved. It is due to multiple factors – transport, lighting and air-conditioning, paper books and notebooks, paper-based assignments and assessments, noise, etc. In comparison, an online virtual classroom's carbon footprint will be minuscule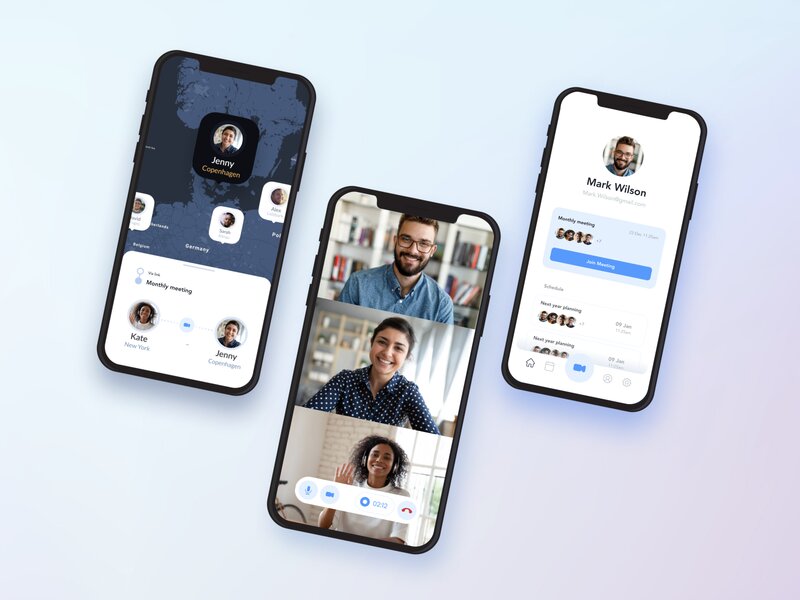 Virtual Classroom and LMS – Market Statistics
A Learning Management System (LMS) integrated with a virtual classroom is an excellent tool for any organization engaged in teaching, training, or coaching.
LMS makes the course and user administration easy, and virtual classrooms provide the infrastructure to deliver the learning.
The global demand for the virtual classroom and LMS has been rising steadily over the last two decades due to advancements in technologies, accessibility, affordability, and push from governments to use them as a tool for the last-mile delivery of education.
Market research from Global Opportunity Analysis, and projects the market for LMS will touch an annual revenue of USD 28 billion by 2025.
Policies and factors such as extensive government initiatives in digital education, its increasing adoption, the bring-your-own-device (BYOD) policies, and the use of artificial intelligence (AI) and machine learning (ML) have resulted in the growth of LMS and virtual classrooms.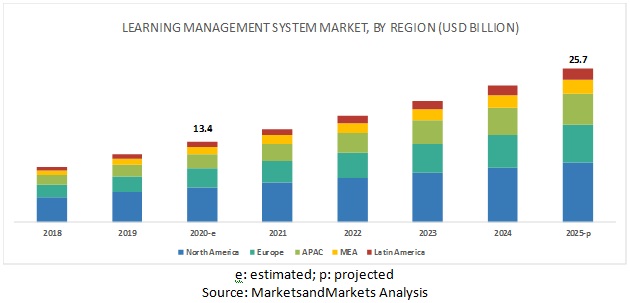 The annual revenue for LMS solutions is expected to grow from USD 9.2 billion in 2018 to USD 22.4 billion in 2023 – a CAGR of 19.6%.

The global LMS markets will increase to

USD 15.72 billion

by

2021

.

An investment of

USD 252

is expected in education technology in 2020.

Before 2018, the global eLearning market grew at

14% CAGR

.

In 2019, the number of LMS and virtual classroom users was estimated at 73.8 million, which has grown phenomenally in 2020.

Nearly 87% of active users access their LMS using web browsers on desktops, laptops, or mobile phones.

More than 90% of learners, who have taken at least one course, now prefer learning online to traditional methods.

More than 4.5 million college students took online classes in 2019.

The mobile app-based learning market is valued at USD 40 million in 2020.
Why Online Virtual Classroom is succeeding
The only need for both learners and instructors is the availability of reliable back-end infrastructure, their laptop or smartphone, and a stable Internet connection. It allows them to conduct or take classes from anywhere in the world, at any time, saving them money and time.
Some most essential factors that make virtual classrooms useful are:
Ability to conduct 2-way Video & Audio Conferencing

Session recording

Instant messaging, chatting, attention-grabbing, sharing documents, live quiz, etc.

Interactive and shared online whiteboard

Online searchable and indexed library of resources and learning material
Workflow Chart
When you want to design your virtual classroom solution, the following steps need to be taken in the same sequence.
Step 1: Define your Virtual Classroom Model
You can choose from the given five types of virtual classroom models:
Rotation model – students learn in online and offline classrooms in rotation for all subjects
Flex model – Only for a few subjects, online classes are provided, for others, regular classes are conducted
A-la-carte model –a student can choose to take a course entirely online; generally preferred for electives at high-school or college-level studies
Enriched virtual model –students start the course in offline face-to-face mode, and then complete the remaining work remotely
Fully online virtual classroom – all teaching and interaction is done remotely
Step 2 – Set Goals
Clearly defined goals will help you maintain control over the development process and schedule. Some tips to set effective goals are:
Know your target audience

Be aware of desired outcomes

Communicate your objectives

Goals must be S.M.A.R.T – Specific, Measurable, Attainable, Realistic, and Time-based
Step 3: Pick a Website-building Method
You can build the virtual classroom website in the following ways:
Do-it-yourself website builders – You can use Wix, Weebly, or Squarespace to develop a website economically and easily. You have limited customization options, shared hosting, less scope for SEO, and limited support as limitations.
Use WordPress – A robust CMS to design any type of website, WordPress comes with many plugins and widgets. Its templates and themes are also very large and there is an active community to provide support.
Design a website from scratch – if you have an in-house IT team with the desired skill set then you may want to opt for this option. You will have complete control over each aspect of the website, but there will be only yourself and your team to blame in case of glitches or crashes.
Outsource – This is the most reliable option, but an expensive one. Trusted and reliable website development companies that have been working for a long are always providing you with the best designs, features, integration, and latest in technology and trends.
Out of the above four methods, we will recommend you outsource the task as a virtual classroom as a very feature-rich and complex project. An experienced player can provide you with even those features that you didn't even know were needed.
Step 4: Design a Virtual Classroom Website
Once you have finalized the outsourcing partner to develop your website, there are still many things to do:
Register the domain name that is also your brand name

Finalize a hosting service provider, the outsourcing partner can help with this decision 

Identify essentials features – course management, user management, attendance, assessment, communication, content management, and so on 

Finalize UI/UX elements and theme 

Virtual classroom development

Deploy and test

Launch
Architecture
There are three models of virtual classroom architectures and each has different benefits and limitations. In each of the architectures, there is a Teacher-End (TE) that is the central location that will transmit live lecture/discussion videos to the Student-End (SE). SEs can be located anywhere.
The TE may use the system with or without a group of students – when the TE engages with students, it simulates a real classroom for the SEs.
#1   Virtual Classroom of Groups (VC-1)

The students at various SEs are in a group and SEs are places like learning or extension centers, school or college classrooms, auditoriums, and seminar halls. In this structure, the video feed from TE is projected on a screen or streamed on a large screen TV. The audio feed is connected to a home theatre system.
Students are allowed to raise doubts and they clarified as in a real classroom. There is a local moderator at SE to manage students and take their attendance and discipline them. This architecture creates a sense of attending a real class or seminar in a physical environment, as they are in a group.
#2  Virtual Classroom of Individuals (VC-2)

Individual students from different locations listen to lectures and discussions and participate in them. Each student's location becomes an SE and each Se uses the student's personal device to connect and attend the class. This architecture allows the students to participate from anywhere, using any device.
The privacy of the participants is protected, and they are not dependent on others (moderators). There is more freedom for the students – they can disconnect anytime. The teacher has to play the role of the moderator. She has to take attendance and use virtual classroom tools to maintain discipline in the online group.
#3  Hybrid Virtual Classroom (VC-3)

This is a hybrid or a combination of VC-1 and VC-2 architectures. it allows the participation of groups as well as the individual students; to benefit from both of them.
Streaming Architecture
Streaming is a complex, real-time, and multi-process activity involving three layers of data management:
Encoded bits to be transmitted

FLV – A Container for the encoded data

RTMP or real-time messaging protocol to transport the stream data
The source sends an audio/video stream of data to the encoder via a mobile network. The encoder, a dedicated device with an encoding program for data compression, uses video codecs to compress/decompress the broadcast. The most used codecs are VP6 and H.264.
H.264 (or AVC or Advanced Video Coding) codec allows streaming HD videos even with compression. Audio compression and decompression take place just like the video using AAC and MP3 codecs.
An online video file (usually .flv or .fl4) is sent to the CDN (content delivery network) through an RTMP connection. A CDN is a group of servers to deliver video content to users in proximity.
Monetization Model for Virtual Classroom Solutions
There are different ways to monetize and protect online educational content including videos, live sessions, and other material. Some of them are discussed here
Subscription Model
The most common approach taken by solution providers is to implement a subscription business model. Subscriptions require paying a normal monthly or annual fee in return for limited or unlimited access to all resources.
The limitations could be in the form of a number of classrooms, number of students, number of classes, video quality and recording, etc. if you opt for an economic plan.
If you subscribe to the premium plan, then you get full access to all the resources and content library.
Subscriptions are better suited if you are a school, university, or a company involved in regular employee training. It is also suitable if you wish to study a variety of courses over a period.
The main challenges for this model are (a) growing the monthly revenue (MRR), and (b) reducing the churn rate.
Churning can be voluntary, where users purposefully cancel their subscriptions, or involuntary, where users could not re-subscribe as their payment method expired or a transaction was declined.
Advertising Video-on-Demand
The AVOD model allows free content for the users, but they have to view the paid ads between the video content. Advertisements can also appear on the app or the webpage where the content is hosted or accessed.
The revenue is uncertain and needs a long gestation period before advertisers take notice of you. Supportive educational content like e-books can also be used for advertising opportunities.
Pay-Per-Course
Based on the pay-per-view model of cable TV, you pay for each course individually and do not take a periodic subscription.
The learners pay a one-time fee for a course and all its related content a playlist of videos, support material, and learning resources. 
This model is transactional and is easy to manage for users as they pay only for what they learn. The rates for courses can vary very much, depending on the course creators and platform's pricing terms and the learner has no negotiation power.
The pay-per-course model allows the creators to upsell, bundle, and offer multiple related courses at a more bargain rate or to offer discounts on the next purchase by applying a coupon.
Group Accounts
Many online classroom platforms provide group account subscriptions, in which all or registered users of a company or school are granted access for the subscription period.
Schools and colleges can get more discounts for academic licenses and use their vast toolset and content library.
Selling Additional and Support Material
Many programs need support materials such as workbooks and worksheets, flashcards, drawings and graphics, experiment toolkits, classroom tools, special software, etc. These can be sold to individual users or institutions for additional revenue.
If you partner with third-party suppliers of such material, then they can pay you a commission for advertising and sales. You can offer these products directly from your e-Commerce platform and bundle them with subscription or premium access benefits.
Benefits of the Virtual Classroom App Development
If you are planning to offer a Virtual Classroom solution to your users, then do not forget to provide them a reliable mobile app as well. A mobile app offers another means for students and teachers to access the LMS and classroom.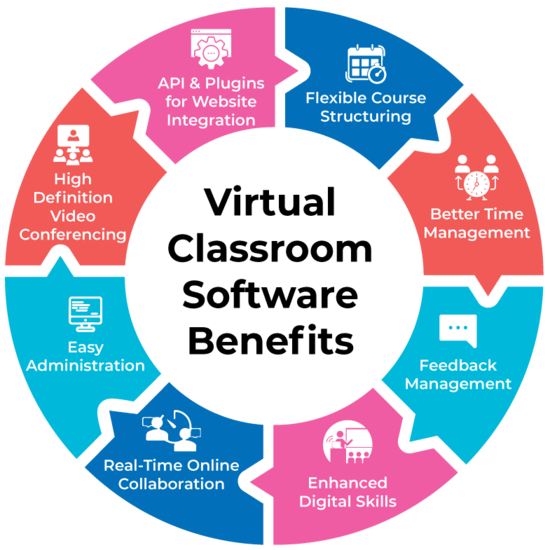 Security restrictions
On mobile devices, there are many security restrictions on web browsers that may hamper the effective use of all the features in the virtual classroom solution.
A mobile app, on the other hand, will provide access to local storage and unrestricted access to resources of the device once permission is granted.
Anywhere, anytime access
With the mobile app, you can provide the option to download the recorded sessions and course material and look up them later.
The app will properly organize them as per the course and lecture plan and make accessing them intuitively. A student can then access and study anytime and from anywhere, even without active internet all day long.
Branding
The mobile apps are a neat and subtle way to brand your virtual classroom among users and their friends. It is a tendency among learners to show their progress to others, and in doing so, they automatically promote your brand.
Data and resource lite
Mobile apps usually consume fewer data and resources like the battery on smartphones, compared to websites. Their interface is not painted and rendered every time a new link is clicked, and only the relevant content is delivered and not the whole page.
Essential Features to look for in any Virtual Classroom System
Any next-generation virtual classroom must come with a host of essential features for seamless synchronous and asynchronous learning and teaching.
It must emulate the essence of physical classrooms with face-to-face audio/video conferencing, interactive whiteboards, and breakout group facilities.
Common Features
A comprehensive list of essential features for an online virtual classroom solution is as follows:
Interactive and shared whiteboard – to write, annotate, or draw effortlessly with responsive design, with features like clipping, zoom, focus, etc.
Video conference – Enlarged video conferences to allow up to 10 simultaneous video streams on the screen with auto voice detection.
Lines, shapes, and figures – Easy to use tools for drawing lines, shapes, and figures, and inserting geometrical elements with a ruler and angles data.
Document reader and annotation – Documents of any common format – Word files, PDF, Excel sheets, PowerPoint slides, images – can be directly opened and inserted into the whiteboard or classroom. You must be able to annotate them, rotate them, or highlight contents in them
Media player – An online media player to play local and online media with control with the instructor to play, pause, adjust volume, and seek.
RTL script support – Support for scripts for languages written in a right-to-left direction such as Arabic, Persian, Urdu, and Hebrew.
Responsive design – To allow users to join virtual classrooms from any Android or Apple device without installing any app from a web browser.
Brand customization – The solution must be themed in your brand's colors and use your logo & name everywhere – on the server, on clients, and on apps.
Support for LaTeX equation editor – Mathematical equations, formulae for physics, and chemical procedures need proper help from the LaTeX editor.
Wolfram|Alpha support – The Wolfram|Alpha answer engine gives facts, data, and answers, unlike a search engine, on diverse topics like science, nutrition, engineering, mathematics, history, geography, sports, finance, music, etc.
Share multiple screens – Instructors and students must be able to share their screens simultaneously in a tabbed form that can be switched easily.
Support of multiple languages – The user interface content and commands must be available in various international languages for easier understanding.
HD video conferencing and VoIP – WebRTC must be used to allow Ultra HD audio and video conferencing without installing plugins.
Integrated content library – teachers must be able to access and add to the library their course in Word, PowerPoint, Excel, and PDF formats. It must be searchable and indexed for students to access quickly.
Session recording – Server-side session recording to save local space and make the video downloadable in multiple formats and quality.
Session recording and editing – Allows editing of recorded sessions online, adding credits or slides, and concatenating multiple recordings in a single video file.
Attendance and reports – Automatic attendance recording and analytics-powered reports to ascertain learner progress, attentiveness, duration, time in/out, and attendance report.
SSL certificate – SSL certificate helps in prop

er encryption of hostname and all data on the host for improving your security, boosting performance, increasing customer trust, and improving SEO.

Class moderation tools – Instructors must be able to control the camera, microphone, chat, screen sharing, and writing access for participants. They can allow or disallow any learner to enter or remove them from the class.
Integrated e-Commerce – Most online learning resources are freely available to all registered users. However, there may be some premium content for which they need to pay extra. The online virtual classroom solution must allow proper e-Commerce integration with payment gateways and shopping carts. This could also be used for payment of subscription fees by individual users.
Draw attention – Students must be able to draw the attention of the instructor by "raising a hand" during the session.
Prepare and schedule classes – Instructors must be able to upload presentations, documents, and other resources in advance in a categorized manner for each session. The class scheduler must allow the scheduling of one-time or recurring classes with the instructor and learner groups.
Online surveys – Many institutions survey their students about various aspects of the system like user interface, grading policy, instructor effectiveness, etc. The solution must provide live or deferred online polls and surveys to get feedback.
Break-out rooms – Instructors must be able to split their classes into smaller groups for discussion and collaboration. They can peek into any of the rooms, interject, call a group and merge all batches once again into class.
Calendar integration – integration of online calendars from Apple (iCal), Android (Google Calendar), and Microsoft (Outlook Calendar) can make the scheduling easy and simplified for all users.
Secure email – The solution must allow you to send a secure email to invite participants for a webinar or a regular class with an auto-generated secure link.
Instant messaging – Instant and group messaging between participants to exchange ideas is a must-have feature to interact in real-time. The chat transcript must be automatically saved on the server with the class master details and available for download on local devices.
Share files – The solution must provide multiple ways to share even large files – in chats, in downloads sections, as of course resources, or in emails.
Developer API – The solution must expose developer API and plugins to allow fast, secure, and easy integration with the client's website, CMS,

LMS, or mobile app

. They must support both JSON and XML formats.
Easy administration – Easy backups, storage and bandwidth assessment, subscription fee collection and dues, defaulters, user rights and roles, class schedules, live sessions, and automated reports are some of the features needed by the administrators.

Of these features, many of them are used by learners, many by instructors, and many by administrators. Let us see which feature is used by which category of users; remember that there will be overlapping usage in the list below.
Learners Panel

Instructors Panel

Administrators' Panel

Concatenation of recorded files

Countdown Timer

Screen Sharing and Remote Control

Raise Your Hand' Feature

Group Chat

Save chat transcripts

Prepare Classes in Advance

Schedule Recurring Classes

Integrate E-Commerce

Share files in chat

Integrated Content Library

Record Session

Attendance Reports

Virtual Classroom Software Development

Rich Markup & Annotation Tools

Break-out Rooms Support

Secure Email Invitation

Robust Moderation Tools

Online Polls & Surveys

Multiple-Language Support

Calendar Integration

Group Screen Sharing
Top-5 Players of Virtual Classroom Software in 2021
The online virtual classroom market has seen many phases of development and growth, with many players coming and going.
Over the years, providers who did not cater to consumer needs or could not withstand momentary market shocks were either absorbed by bigger and efficient players or simply dropped out of the race.
Here is a brief assessment of the top five global players in the virtual classroom solutions space, who have defined the market on their own terms in the past decade or so.
Top-five Virtual Classroom Solution Providers
Let us look at each of them more closely and find what they do differently and why they stand, where they are.
1. Virtual Classroom
The name "Virtual Classroom" was trademarked by this company as its own brand name as it was one of the first players in the market.
It provides a platform for online learning and teaching through desktop, web, and mobile clients at any location and time. It is the market leader because it covers everything from live classes to recordings.
Key features are:
Conduct and attend live classes

Interact using live audio and video

Add and delete a whiteboard.

Use multiple whiteboards and tools.

Use Media Player to play audio and video files.

Transfer audio, video, and writing controls to attendees

Access existing content in the Content Library

The presenter can extend class duration while a class is in progress

View and share files, including documents, presentations, and multimedia files

Use the Raise Hand feature to ask questions.

Communicate using text chat

Use Content & Presentation players to view and navigate documents / presentations

View recordings of past classes

Use the Free Hand tool to annotate documents with various colors

App invocation through the browser
2. BrainCert
Another great solution is to set up your virtual classrooms and teach, learn and collaborate online. Its 'Teacher accounts' feature allows instructors to create personal classrooms for inviting their students, set up and manage tests, and conduct live courses. It has three main sub-platforms for course creation, content management, and an online testing system.
Key features: 
Video Conference in HD

Interactive Whiteboards

High-Quality Voice Over IP

Integrated Content Library

Session Recording & Playback

Concatenate recorded files

Attendance Report

Countdown timer

LaTeX Equation Editor Support

Prepare Classes in Advance

Schedule Recurring Classes

Multiple Language Support
3. Virtual Blackboard
This is an innovative tool intended to replace the traditional blackboard or digital Smart Boards in traditional classrooms. It is simple, easy to use, intuitive, and has many quick options to create engaging tutorials.
You can turn any screen device into a virtual blackboard with wireless casting or cable connection. Teachers can simply use a finger or stylus to write or draw, record narration, and capture live video to be replayed later. It does not need a separate video camera or editing tools to make interactive lessons.
Key features:
Download the shared Virtual Blackboard file from WhatsApp and view it on App.

Replay videos in high quality.

Compressed video files to save data and storage usage.

Create and save any number of lecture videos.

Connect or wirelessly cast to any TV/projector for viewing videos on a larger screen.

Image slide maker to capture book pages, and notes, and add image slides.

Enhance each slide using crop, rotate, resize, and adjust brightness & contrast.

Directly load or jump to any slide on the blackboard page with a slide index.

Slides are easily accessible while creating videos.
4. Eliademy
Eliademy virtual classroom solution allows instructors to share, create and manage courses on the go. It is a very user-friendly platform with an intuitive interface. The customer service and customer care team provide excellent service and support.
Key features:
Novel ways of creating courses and inviting students

Sync notes and calendar easily

Easily access and share learning materials on your device or internet

Certifications are provided with visibility in social media
5. Google Classroom
It is a free service from the technology behemoth for schools, non-profits, and anyone with a personal Google account. It makes it easy for learners and teachers to connect, saves time, makes it easy to create classes, distribute and submit assignments, communicate, and stay organized.
This simple and paperless assignment workflow allows teachers to create and review easily from a single place.
Key features:
Easy to set up and invite learners

Saves time in sharing material, assignments, grading, and attendance

Improves organization of material and assignments

Auto integration with Google tools:

Calendar

Meet – with the option to record meetings and take attendance

Hangouts

Gmail

Drive

Docs, Sheets, Slides, and Forms

Enhances communication

Affordable and secure

Contains no ads

Absolutely free.
Tech Stack Required for Classroom App
The technology stack needed to build a robust, secure, efficient, and intuitive online virtual classroom solution for modern-day remote learning has many components.
1. MVP specifications
A minimum viable product or MVP provides a working prototype to be launched and tested with a large user base. It can have basic essential features like video conferencing, user management, and content library but may lack an interactive whiteboard or group video. The limited set of tools that it will provide will be enough for the initial launch.
2. LMS module development
An integrated learning management system provides the backbone for an online virtual classroom. Many of the requirements of a classroom solution are automatically fulfilled by the LMS. It may be more expensive but will address all needs of a school or university.
3. Using APIs
For many of the features like HD video calls, content library, etc. secure and reliable open-source third-party APIs are available. They are the quickest and cheapest way for product development but can be a significant drawback for the end-users and integrators.
4. Back-end technologies
Many mature server-side technologies and platforms like Java EE, Node.js, PHP, and .NET are available. Each of them has its own advantages and limitations. Your main selection criteria must be scalability, stability, security, and support for large traffic.
5. Front-end technologies
It is easier to choose the UI/UX technology for designing an engaging virtual classroom frontend. React, Angular, and Vue.js are great options to design the interactive, simple, and functional frontend.
These JavaScript frameworks have high usability, provide the simplicity of integration, and deliver good performance, and productivity.
6. Video/Audio communication solutions
Any video solution must account for the number of participants in any given call with video streaming on. In any case, video streams must be of the highest quality, have minimum lags and buffering, and support a large group for the simultaneous stream.
Auto recording and closed captioning are also desired features with support to download or view recorded videos in any format or quality.
Required Team Structure
Designing, developing, and maintaining a Web-based online virtual classroom solution is not a one-person effort. There are many complex tasks that need to be assigned to experts in a domain or technology.
Some of these specific skills personnel are graphic designers and animators, CGI programmers, UI/UX designers, systems analysts and quality assessment managers, software engineers, network architects and engineers, database administrators, deployment and maintenance engineers, support, and service team are only a few of them.
The expertise and professional skills needed to develop a robust solution require a team from an experienced company.
How much does it Cost to Develop a Virtual Class Mobile App?
The cost estimates are simple if broken down into major efforts and functionalities. The estimated cost and time for each function are given below and India rates are used. For a comparable job in the USA or the UK, the rates will be much higher.
Video and audio streaming




For all the aforementioned details regarding audio and video streaming, recording, and playback requirements, the development process can take up to 3 to 4 weeks and may cost USD 25,000.

Screen sharing




Screen sharing is created alongside video streaming modules, but it is a different module and requires additional work. It could be developed in 3 to 4 weeks with a cost of USD 15,000.

Collaborative whiteboard




The whiteboard is the one feature that may raise compatibility issues on many devices and hence require extensive testing. Because of this, the development cost of the collaborative whiteboard can be USD 10,000 and may need 2 weeks of work.

Live quiz and assessments




Integration with the LMS to enable performance tracking for students is needed. It can be developed for USD 10,000 charges and takes up to 3 weeks.

Content Library and Recordings




The development team could deliver it in approximately 2 weeks, and it will cost you USD 10,000 for this feature.

 Live notes and Annotations


All notes must be immediately available, and you can download them later as PDFs. The average cost to implement this functionality is up to USD 6,000 and takes one week.

Learning materials




Learning materials must be organized, encrypted, secure, and available to authorized users to access, view, upload, or download. They will come in different formats and sizes – documents, presentations, audios, videos, images, and spreadsheets. The development costs usually start at USD 15,000 and take up to 4 weeks.

Calendar and email integration


Integration of personal calendar and email would add to user convenience. Calendar and email integrations can take up to 1 week and cost on average USD 3,000.
Taking all the above together, you can conclude that the development team will need up to 5-7 months of work and it would cost you in the range of USD 80,000 –120,000.
Why App Development Partner is Important?
Working with a reliable development partner, like Arka Softwares, makes your life simpler and takes things a step ahead.
When you work with a partner, their complete expertise and services are available to you. A good partner will suggest you include only the features that are really important and in a phased manner, even when it means revenue loss for themselves.
The best mobile app development partners help you envisage the business model and technical architecture, and how they both complement each other.
They make a point to realize your vision while keeping costs under control. Delivery of value, functionality and impeccable user experience is their main drivers.
Partners like Arka Software apply their experience, domain expertise, and deep understanding of technology and industry nuances to assist you with ideation, product strategy, product-market fit, MVP development, and launch, ongoing development, and product feature and infrastructure expansion.
Conclusion
Education is no more limited by the four walls of classrooms and the boundaries of institutions. It has changed irreversibly and is now more open, inclusive, democratic, competitive, and technology-driven.
Learners and educators both are open to new learning approaches and adopt new technology relatively easily. Virtual classroom software provides the near-real feeling of a physical classroom and has emerged as the most sought-after online tool in COVID-19 lockdowns.
Their adaptability and flexibility to conduct lessons and sessions for anyone, anywhere, and anytime make them popular. We can definitely say technology has changed the learning and teaching landscape forever and for the benefit of all.
If you have an idea for a virtual classroom and want to develop it into a viable business model, or you are an institution and want to use your own solution for students, then feel free to contact us.
We are a trusted and reliable outsourcing solutions company with extensive experience in designing, deploying, and maintaining online learning solutions.