We are living in a world, where people are going gaga over mobile applications, and there are rightful reasons for that as well. Mobile apps can help us perform virtually everything – from getting a hotel or flight booked, to entertain ourselves or schedule an appointment with doctors or specialists. Now, the question arises, that why can't we have a mobile app to find us a soulmate for us?
Well, we do have online dating apps in the market, that help stranger to search for their match and then date them online or may meet physically as well. The mobile dating app market is expanding exponentially as millennials are using them to find their perfect matches online.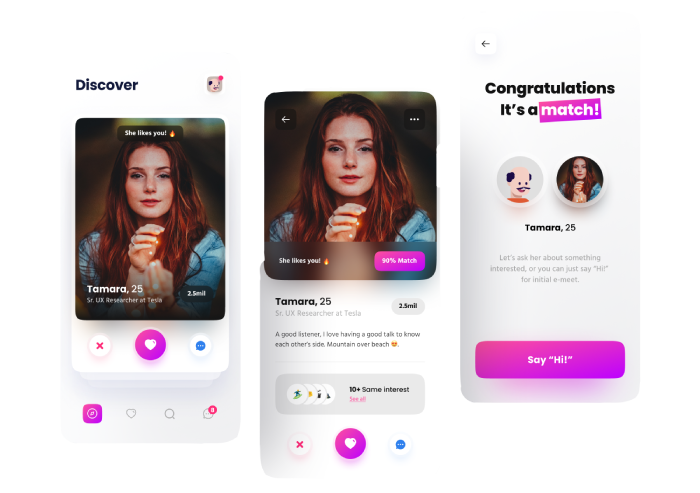 We have many popular dating applications in the market, such as Bumble, Tinder, and Hinge. These apps are massively popular due to their innovative features to keep the users engaged and explore the people with same interests online. 
These apps are generating massive revenue as well, as a greater number of users are now using them frequently. This unprecedented success has captured the imagination of many startups and medium businesses, which are investing and trying to develop such dating apps to engage more users and improve their revenues. 
If you want to develop an application like Bumble, then we would say that this blog is your perfect point of reference, as we will provide you adequate information about the features of Bumble, the cost of developing a Bumble clone app, and technology stacks needed to build such an app.
What is Bumble App and Why it is so Successful?
Bumble is a free dating mobile application that is available for both iOS and Android platforms. It is founded in 2014 by Whitney Wolfe, who worked for another massively popular dating application 'Tinder'.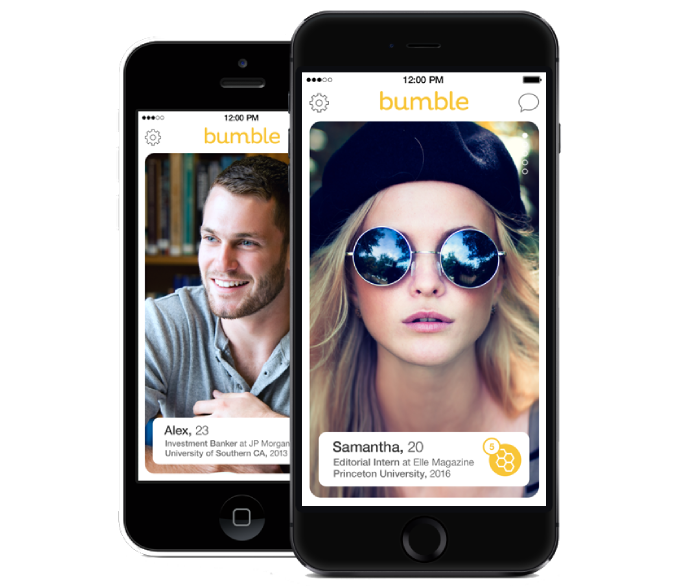 It is considered as the hottest online dating app in recent times. It's a location-based social and dating app, that offers some unique features if we compare it with other dating apps. It got overwhelmingly positive reviews and ratings, and it has taken the US dating industry by storm and is currently considered as the fastest-emerging dating industry in the USA.
The Bumble app gives the right to female to initiate a conversation, in event of a heterosexual match. It also supports same-sex relationships, and it allows any partner to make the first move. Such unique features have made Bumble such a popular dating app among millennials and youngsters.

Why developing a Dating app is a Beneficial Decision?
Developing a Dating app is a win-win proposition for any app owner. As per Statista research, the online dating app revenue has touched US$1,754m in 2020 and it is going to attain a healthy annual growth rate of 9.3%, which will increase revenue up to US$2,505m by 2024.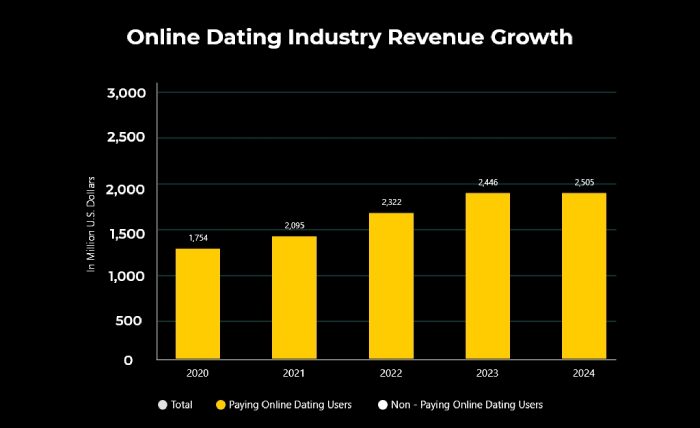 By 2024, the number of Dating app users is expected to be more than 250 Million, which gives a massive opportunity for any app owner to venture into this domain to earn moolah. It is quite evident that Online Dating app industry is going to witness unprecedented growth in next decade. 
People are also swaying away by dating apps, as these apps help them to connect with someone who lives nearby and has similar interests.
How does Bumble app work?
These steps can give you a brief idea about the basic functioning of Bumble application : 
Swiping

:
It displays the profiles on the user's homepage, which is based on the age and location of the user. Once the users get the profiles, they can either swipe Right to accept or Left to dislike a profile before making a connection.
Matchmaking

: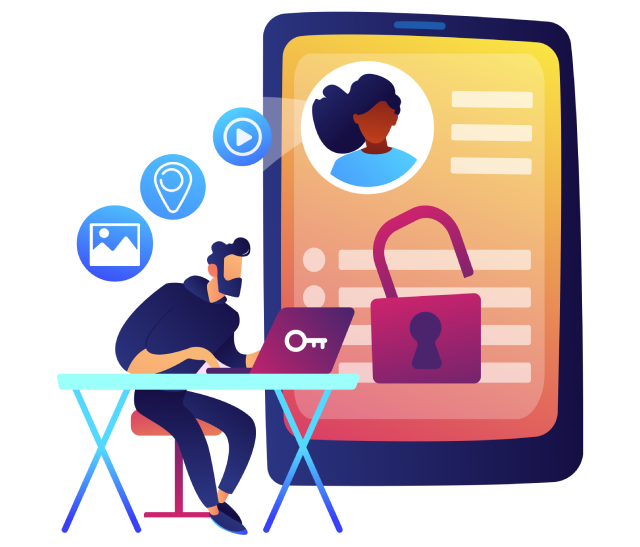 If two users swipe Right to each other, they are considered as matched. Once two users swipe right to each other, then they can initiate further communication and dating. 
Messaging

:
If both the users have swiped right to each other and belong to a similar gender, then anyone can initiate the conversation. In case of a heterosexual match, only female user has the authority to start the conversation. Once the match is made, the female user must send the message within 24 hours, or else the matched profile will be removed instantly.
Female-Centric app

–
Bumble is a female-centric application, it has gained massive popularity because it keeps women's security and privacy concerns in check. It is also equipped with innovative features to assist users to initiate seamless conversations and stop ghosting.
Pay Extra for additional feature

–
Bumble also offers an option to increase the 24 hours window if a user hasn't received a communication from the profile they want to date, but this comes with a cost, as a user must pay extra bucks to avail this feature.
Match Queue

:
This is a kind of list, which shows the matched profiles at the upside of user's conversation page. It displays the list of all the people who have swiped via user's profile along with the yellow circle surrounding it. This yellow circle automatically disappears within 24 hours. The green circle shows the users who have swiped right on someone's profile. But this feature is only available if a user purchases a Bumble boost.
How does Bumble's Algorithm work?
A typical dating app follows a logical algorithm to match users. It is necessary to be familiar with a dating app algorithm before we can start the development lifecycle. Bumble's algorithm is really very simple and transparent in its function. Here is how it works to make this app work :
Top right-swiped users will always appear first on user's screen.

Bumble usually doesn't keep a track of user's swiping patterns it shows profiles of people in random manner.

If any user swipes right on all the profiles, then Bumble will treat that as a 'Bot' and it will diminish the visibility of that profile, and won't list the profile for other users of app.

A user can anytime pause the account to take a break. 

If a user deletes his/her account, then it doesn't leave any adverse impression and won't deter the user to re-join the platform again.
We believe, now you have a fair idea about app's functionality and its backend logic. It's time to learn about the basic feature of the Bumble app, it will help you to identify the features you must incorporate in your dating app
.
Top Dating Apps excluding Bumble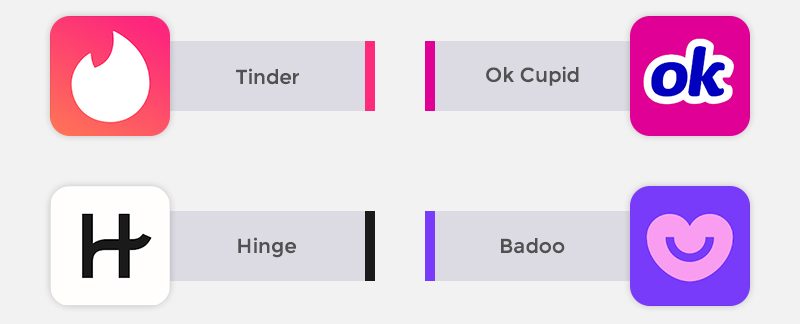 We did some research and found that we have several online dating applications available in the market, that are doing an exceptional job of connecting the people. These apps are quite popular among millennials and youth. Here we have the list of 5 online dating applications, that are worthy competitors of Bumble as far as popularity, revenues, features, customer feedback, platform ratings, are concerned.
Tinder

–
It was started in 2012 and in less than 10 years it has become one of the most popular online dating apps with 75 million active subscribers across the world. Tinder was incubated under Hatch Labs, which is a renowned business incubator organization. 
Ok Cupid

–
It is managed by the Match Group. It has been listed in Time's coveted "10 most popular dating websites" list. Currently it has a user base of 1.7 million in the US itself and it has witnessed an exceptional increase of 23.4% in the 4th quarter of 2020.
Hinge –
It is famous for its unique slogan "Designed to be deleted". It digs deep into user's preferences to ensure genuine matches are made and it also offers most impressive and sleek UI/UX to the app user. Hinge currently has 10 million active users.
Coffee Meets Bagel –
It is a free mobile app for iOS and Android platform, that portrays itself as a place for strong and long-term relationships. The app is known for offering suitable matches for its users, famously called "Bagels". It currently has more than 10 million active users.
Badoo

–
It is certainly the most used dating app, which is utilized by more than 60 million active users in more than 190 countries in approx. 50 different languages. It has made its huge name in the online dating apps market with its astonishingly large network. 

Monetization Strategy for Bumble Application
Bumble application generates revenue primarily via three methods : 
Freemium Version

–
Bumble offers a free version, that comes with some basic features along with advertisements. In this version, the company can earn revenue once the user clicks or watches an advertisement. In case user opt to upgrade the plan, he/she can avail of a subscription plan, which starts at $8.99/ week.
In-App Purchases

–
It offers Bumble coins, which is a kind of in-app currency, that can be used to avail few essential features like Spotlight and Super Swipes. Super Swipe allows you to send a message to the consumer with whom you want to develop a connection. 
Subscription model

–
The subscription model is quite simple, it comes with 3 months, 6 months, and a lifetime subscription plan, which is directly proportional to the subscription cost. 
As you are planning to develop an app like Bumble, you can employ the following strategies to monetize your app and generate revenue.
Advertisement

–
You can engage brands and place their advertisements inside the app. By clicking on them the user will generate revenue.
Subscription model

–
Different subscription plans could be launched for the users so that they can avail them as per their requirements.
In-App-Purchases

–
Different items can be incorporated within the app so that users can make the purchase.
Sponsored Profiles

–
Revenue can be generated via sponsoring user profiles.
Bumble App – Basic Features 
Bumble offers a bouquet of basic and some innovative features to its users.
Login and Sign Up

–
The login process is quite straightforward, where users can utilize either their mobile number or Facebook profile to access the app. The app gets user info from Facebook to enable them to create their profile.
Profile Setup

–
This feature imports the user details from Facebook automatically, or users can add their detail manually as well. The app enables users to add a bio-description of up to 300 characters and upload their photos as well. A profile will display user-specific information such as Age, Description, Location, and mutual friends on Facebook.
Chatting and Video Calling

–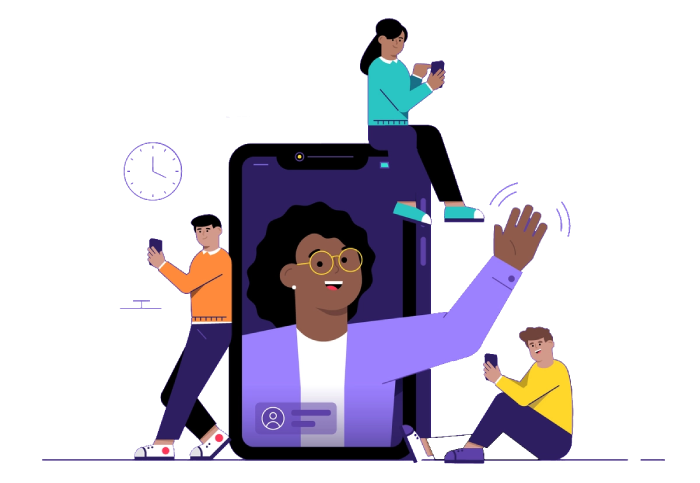 This feature enables users to initiate an instant chat with others after getting a perfect match. Women can initiate a video call instantly upon getting a good match, whereas Men can use this feature only once a woman begins conversation.
Geo-Location

–
Geo-location and Proximity is certainly the most important feature for any app, as it helps the users to connect with other users based on their location. Geolocation is used for fetching the location of the users and offer them to connect with potential friends from their location.
Discovery

 –
This feature helps users to discover their match based on sex, age, and location. In free version, the app enables users to set a search radius of maximum 10 miles.
Swipe

–
This feature is like the Swipe feature of Tinder app. This feature helps users to find their perfect date with ease. A user can simply swipe if he/she like a profile, or swipe left to show dislike towards a profile.
Matchmaking

–
The app makes a match once two users like each other by swiping on the right side. Once a match is established, users can initiate chatting or video call. 
Backtrack

–
This enables users to undo left swipes that may happen accidentally. However, this feature is available in the premium version of app.
Instant messaging

–
Once the matchmaking is established, users can initiate instant chats with each other. However, in case heterosexual connection, a female can initiate the conversation, whereas if both the users are of same-sex, then anyone can initiate the conversation.
Push Notifications

–
This is an essential feature for Bumble app, as it sends regular reminders to the users and improves user engagement. It is push notification, which enables the pop-up messages on user's device in event of a new match, important updates, or instant messages.
Bumble Spotlight

–
This is another important paid feature, which is utilized by consumers to display their profile upfront for wide number of singles in a specific locality by enabling the Spotlight feature. This feature like the Boost feature on Tinder app.
Super Swipe

–
This feature allows a user to inform others that they like them straightforwardly. This notifies the person in which a user is taking interest, all they must do is tap on the heart icon.
Photo Verification

–
Bumble has also introduced a photo verification feature to make sure that all the users of the app are adding their actual profile photo. For verifying their profiles, users are requested to upload their selfies, and then it is matched with all the other photos.
Bumble Bizz

–
With this feature, users can expand their professional network by connecting with other matches in their location. With the help of this feature, a user can expand their network.
BFF mode

–
It allows users to swipe and initiate dating with other users, however, the conversation must be initiated within 24 hours of finding a match. Also, there is no restriction on who initiates the conversation first.
Bumble App Development Process
You can follow the below development process to build an app like Bumble :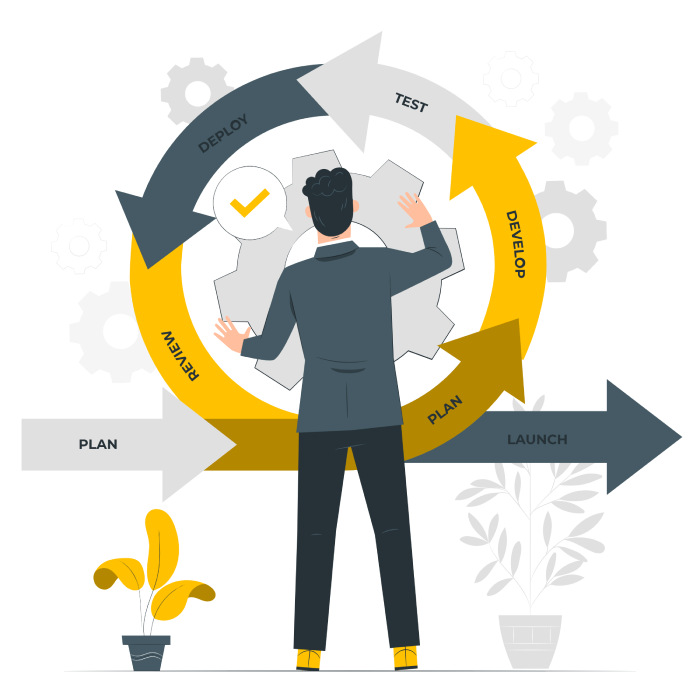 Ideation

:
it's all starts with an idea, isn't it? So, let's envisioned an idea of your dating application like Bumble.
Unique Features

:
We always recommend you don't make a clone of any other application, instead, you can build an app with some additional and innovative features.
Market Research and Target your Audience:
You should conduct thorough market research and understand the market, demand, and potential customers of your application. Always remember, you can't make a successful product unless you understand your customers and their requirements.
Documentation

:
List down all the functionalities and features you want to offer your users, along with the application workflows you want to include in the MVP version of the app.
App Wireframing

:
It is important to have a user-friendly and effective software design to develop a successful application. Therefore, you should pay more attention to the app design and internal workflows. You can start building an app prototype and then create a mockup of a real-time application.
Coding

:
Software design acts as an input for this stage. In this step you should start building the app for respective platforms (Android or iOS), using a suitable Technology stack and tools. This is the most time-consuming step in entire application development lifecycle. 
Quality Assurance and Testing

:
To ensure a flawless and error-free application experience, it is necessary to employ a robust quality assurance and software testing strategy. You should perform multiple tests on your app to iron out errors and loopholes.  Here, you must check and fix the bugs in app design, coding, and its functionality.
Debugging

:
After initial development, there is a probability of having lots of errors in the application. Hence you must engage in a robust cycle of fixing all the errors and then proceed with making changes until the app becomes error-free.
Launch an MVP

:
Once you develop the MVP version of your app, which contains the basic features and functions, then you can launch the app on various application marketplaces.
User feedback

:
Once you launch the app, you will start getting user feedback about app functionality, features, errors, and several other aspects. It is important to record and keep a track of that feedback, as it helps to make necessary amendments in the app code later.
App Upgrade and Maintenance

:
In this stage, we can incorporate new features into the application as per the user feedback and requirements. You can also push the frequent updates to make applications secure from vulnerabilities.
If you are building a dating application for the first time, we would recommend you launch an MVP version of your application initially. Once you get favorable user feedback and success, then go ahead with the development of a full-fledged dating application.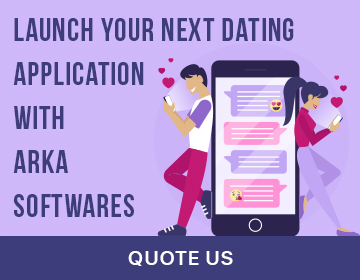 Technology Stack to Develop Bumble App
You can select the Technology stack for Bumble app development based on the project complexity and application requirements. We believe the combination of the below Technologies could be used for app development :
Technology

iOS Platform

Android Platform

Programming language

Swift 5 or Objective-C

Kotlin or Java

Target Operating System

iOS 12+, tvOS 12+, watch OS 4.0+,

Android 10 or above




Minimum supported OS: Android 5. (Lollipop)

IDE

AppCode or Xcode 11+ 

Android Studio

SDK

Cocoa Touch, iOS SDK

Latest Android SDK

Database

MySQL or PostgreSQL,

PostgreSQL or MySQL

Webserver

Apache or Nginx

Apache or Nginx

Cloud storage

Amazon services S3, EC2, Rackspace, or Heroku

Amazon services S3 & EC2, Rackspace, Heroku

Social Media

Twitter SDK, Facebook SDK, Instagram SDK, or Google+ SDK

Facebook SDK, Google Play service, Instagram, or Twitter Core SDK

Chat

ActionCable websockets or SwitActionCable websocket

Recycler View

Push Notification

User Notifications Framework

Firebase Cloud Messages

Analytics Module

Analytics SDK

Fabric Firebase Analytics

Payment Gateways

Paypal, Stripe, or Braintree

Paypal, Braintree, or Stripe

Other tools

Twilio, Google Analytics, Google Maps, Optimizely, or Elasticsearch 

Twilio, Google Analytics, Elasticsearch, Optimizely, or Google Maps 
Cost to Develop Bumble Application
The cost of building a Bumble type of app is totally dependent on the Features and complexity of the project along with the hourly rates of the team you are going to hire. 
Now, let's see how many days it takes to develop different app features.
| Feature | Days (Minimum) | Days (Maximum) |
| --- | --- | --- |
| Sign Up & Logging in | 4 | 8 |
| Profile | 4 | 8 |
| Location | 5 | 10 |
| Discovery Settings | 5 | 10 |
| Swipe | 5 | 10 |
| Matchmaking | 5 | 10 |
| Real-time messaging | 10 | 15 |
| Video Calling and Video Chatting | 10 | 15 |
| Push Notifications | 5 | 10 |
| Backtrack | 5 | 10 |
| Spotlight | 10 | 20 |
| Super Swipe | 8 | 15 |
| Photo Verification  | 10 | 20 |
| 2 Factor Authentication | 5 | 10 |
| 24X7 Support | 4 | 8 |
| Data Encryption and Safety | 10 | 20 |
| CMS and Blog | 10 | 20 |
| Admin Panel | 10 | 20 |
The cost of app development can be calculated by a simple formula
Cost of App development = Efforts * Charges per hour
However, we must state that this will fetch only an estimated cost, the actual cost could be higher or lower, depending on the features and technology used to develop the solution. This estimate does not cover other costs and efforts, such as time spent on communication, project preparation, project release activities, project promotion, and several other activities, which can certainly influence the project cost.
Conclusion
As a startup or an SME, you might be giving it a try to develop an application like Bumble. However, we always recommend our readers to not completely clone any application, instead develop an app from scratch, make some tweaks, incorporate some innovative features, and target their audience effectively. Once these aspects are completed, it will be easy to determine the cost of developing an app like Bumble. 
You must keep in mind the kind of flexibility and ease of use Bumble offers to its consumers. You need to understand that a dating app is much more than a social media app or a hookup place to get in touch with new people. It is also important to perform robust profile verification to ensure secure and safe platform for your customers. As far as Bumble is concerned, it is known for staying truthful on its conscious and values for women empowerment. You can take a cue from the same and incorporate additional features to avail the success like Bumble app.
Last but certainly not least, if you really have an exciting idea and want to taste the success like Bumble, then you can shed all your inhibitions and contact us. We have a team of seasoned software developers, who can understand your idea and vision and transform them into a top-notch dating app, which can give you the edge to outclass your competitors. 
FAQs for
Bumble Application Development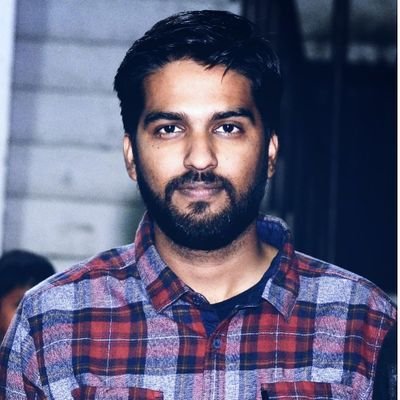 Satyam Chaturvedi is a Digital Marketing Strategist at Arka Softwares, a leading mobile app development company dealing in modern and futuristic web and mobile app solutions. He loves to spend his time in studying the market trends and helping startups and enterprises in achieving their business goals.