Nowadays, you can find an app to do just about anything. While technological progress is being made every day, there is more room for creative app ideas that address real-world issues and end up being widely available.
In the past few years, the number of applications available for mobile devices, the frequency with which they are used, and the demand from businesses of all sizes have all expanded dramatically. Consequently, this motivates companies and investors to put money into the best app ideas for 2023 as a means of generating more income.
Do you want to start your own business? The hardest part of being an entrepreneur is thinking of unique ideas for apps to launch your startup and then develop it into a multimillion-dollar business.
Check out our blog for the most profitable mobile app ideas that your startup may want to create in 2023
Trending Mobile App Ideas For 2023
We have listed some of the most promising mobile app ideas for 2023 that you can follow for your new startup. 
I. Education Apps
The COVID-19 epidemic was a key motivator for the education industry. Many across the globe have enforced lockdowns to halt the transmission of the virus.
This has necessitated the use of educational applications by academic institutions and organizations in order to enable distant online classes.
These e-learning apps are transforming education worldwide as more individuals see the need for flexibility, they are gravitating toward digital modes of learning.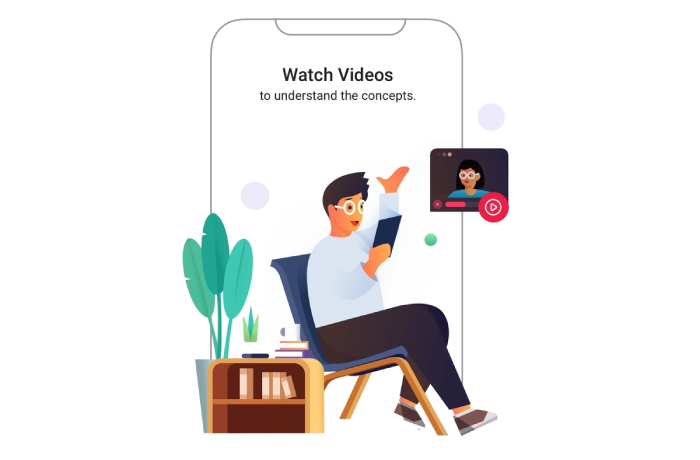 The fact that the worldwide eLearning industry is growing at a quick pace assures that there is tremendous potential in this sector.
According to Statista, the worldwide eLearning industry is expected to reach a value of $325 billion by 2022.
As per another set of forecasts from the data source Grand View Research, the global education industry is expected to reach $525 billion in 2027. This is a 300 percent increase over the 107 billion spent in 2015.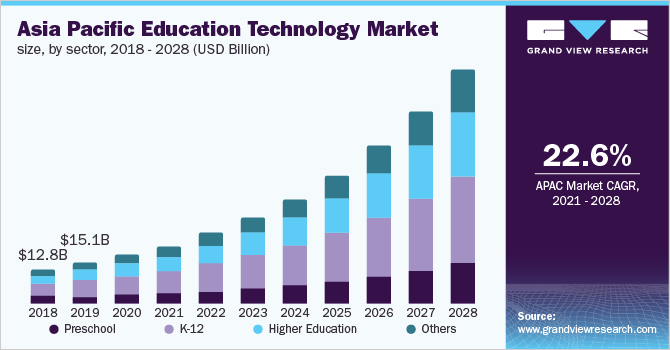 Education applications must cater to a variety of student levels and include help materials for anyone who has difficulty. Moreover, it should incorporate movies, images, and music to keep the information as easy as possible. The inclusion of chatbots to guide the consumers through the modules of the app can be really helpful as well.
1. Language Learning App –
Previously, we need a range of books or spend hours attending online lessons to learn a new language. Language learning apps developing today to facilitate the development of language skills.
These types of applications are ideal for anyone of any age who wishes to learn new languages. Everyone can acquire proficiency in other languages by studying them in a variety of locations.
2. E-Learning App

–
This type of mobile application is time-efficient, cost-effective, and handy. Schools, institutions, colleges, as well as every web-based learning website worldwide utilize this cutting-edge technology.
By enabling students to learn online and distantly, eLearning applications are assisting in simplifying the educational process. Mobile learning is rapidly advancing as the educational future.
3. Tutor Searching Apps-
Locating a tutor can be simplified with the use of a smartphone app like this one. Teachers can pick their own students based on a variety of criteria, including fee, location, availability, and subject matter.
4. Online Group Study App
Schools and institutions cannot function without requiring students to work in groups. To assist students' study for exams together, you can create a virtual study application.
Think about things like study forums, study manuals, and even free online resources.
5. AI Picture Translation App
Do you ever use Google Lens on your smartphone? If yes, you already understand how convenient this app is for converting text superimposed over an image into your mother tongue.
Similarly, you may help individuals who are having trouble deciphering the language placed over the photographs by creating an app like Google Lens.
II. Food App ideas
Food is one of the few things that consistently delight the majority. Since COVID-19 made its way to our shores, In covid-19, the food delivery industry has exploded in size and prominence. With social distance becoming the new normal, such applications are critical.
They operate on both fronts; this benefits customers since there is nothing better than having food delivered directly to the door. For restaurants, this translates into a broader reach and more sales via such delivery services.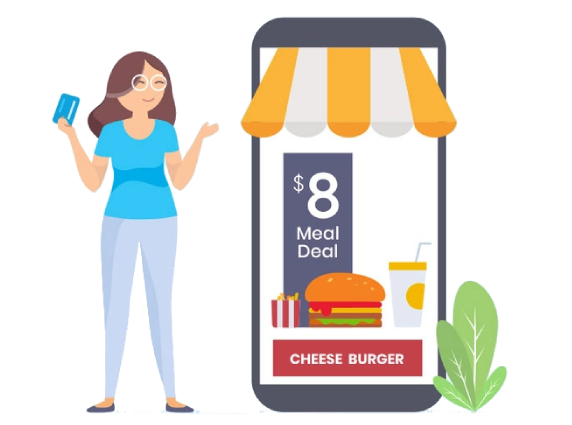 By 2021, the food delivery business will be worth almost $96.7 billion. According to statists, the sector is anticipated to expand at a CAGR of 13.67% between 2022 and 2027, reaching a valuation of nearly 1.45Tn by 2027. Zomato, an Indian meal delivery business, purchased Uber Eats' Indian operations for $375 million in January 2020.
The combined company of Zomato and Uber Eats is likely to command a share in the market of more than 60% to 65% in terms of order volume and value.
For the food delivery sector, it's an exciting time. There is much to be done in terms of innovations with new technologies such as ML and AI.
6. On-Demand Food Delivery App

–
The food delivery application enables customers to place meal orders from any restaurant in any location using their laptop or mobile device.
Food is delivered directly to the consumers' doorsteps. Moreover, consumers may pay for their products online or by any payment method.
Top food delivery apps in different countries.
7. Food Recommendation App
App ideas for food app that provides reviews and recommendations can be used as a tool for determining the quality and reliability of a given food item or service.
The ability to "follow" trusted reviewers is a must-have feature.
8. Food Charity App
There are about a billion hungry people in the world, yet 33% of the world's food supply is wasted. That's shocking, right? For this reason, food donation mobile apps like ShareTheMeal might be developed where people may sign up to have their leftovers picked up and delivered to the hungry.
III. Healthcare Apps
The healthcare industry's requirements will never be met. People will always want assistance with medical concerns, and you may take advantage of this. While it is common to believe that healthcare applications are designed only for the benefit of patients, they are also actively employed by clinicians.
Physicians can monitor various facets of their patient's health by utilizing mobile apps. Certain applications even enable physicians to conduct direct assessments of patients using a mobile.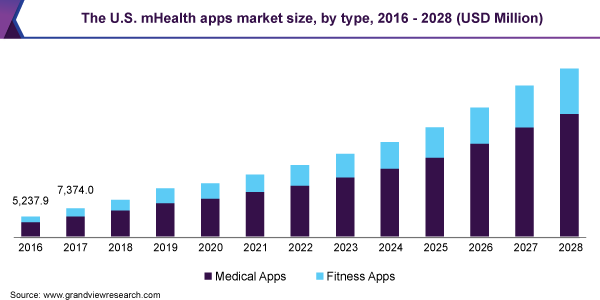 Globally, the digital healthcare market was valued at $110 billion in 2019. It is anticipated to expand at a 30.2% compound annual growth rate from 2021 to 2025, more than doubling the market's size! By 2026, the market for digital healthcare will reach approximately $750 billion.
Medical applications assist in diagnosing a variety of diseases, doing all essential measures, and receiving test results much more quickly than other more traditional instruments.
Combining mobile technology and data analytics has the potential to enhance patient lifestyles. Medical and healthcare professionals can provide improved decision assistance.
9. Health Monitoring App

–
Health monitoring systems and apps actively monitor your well-being and schedule appointments for routine medical tests effortlessly. This eliminates the need for manual appointment scheduling.
Nowadays, everyone strives to maintain a healthy lifestyle; such health monitoring applications aid in this endeavor. This is the type of app that would be ideal for entrepreneurs.
Pulsepoint

my Therapy

mySugr
10. Fitness Tracker App
 In today's hectic environment, it's getting increasingly difficult to maintain our fitness levels. Due to our hectic schedules, it's difficult to make time for the gym. This is when a fitness tracker application comes in handy.
It is optimal for those wishing to reduce or increase weight through aerobics, yoga, calisthenics, and other activities. Moreover, these applications provide meal plans that the user may follow in order to achieve his or her fitness objectives.
Runkeeper

Yoga Studio

FitNutro ( Developed by Arka Softwares )
11. VR Fitness App
The creation of cutting-edge fitness apps in the virtual world is a step in the right direction. A user of this kind of mobile app would be transported to a completely interactive environment in which they may act like they might in actual life.
12. Doctor Appointment Booking App

–
This application is also expected to be the future of sophisticated medicine. It enables patients, physicians, and pharmaceutical brands to interact, exchange, and obtain reports and consultations from almost anywhere using a powerful and simple digital tool, such as a smartphone.
These doctor-on-demand apps are beneficial for both physicians and patients who want to schedule appointments with their physicians.
13. Meditation App

–
Through a guided program, the meditation applications teach users fundamental meditation methods. As a result, these applications guide you through the meditation process while simultaneously increasing your focus and concentration.
Further, in the present pandemic, this is one of the advantageous mobile app ideas as it can help people get rid of stress.
Simple Habit

Unplug

Headspace
14. Period Tracker & Notifier App

–
Lately, since we are more confined to our residences, an increasing number of medical and health applications are developing to address our health-related concerns while remaining at home. Menstrual Cycle Notifier is one of best app ideas in healthcare.
These women's healthcare applications enable women to track their menstrual cycle depending on their own information. As a consequence, such applications provide reliable data and place a premium on women's healthcare requirements.

15. Pregnancy Tracking & Helper App
These ideas of applications provide pregnant mothers with a wealth of useful information that is critical throughout pregnancy. Such as what they might eat, how to care for them, and what they should abstain from.
Only a healthcare professional should validate the information supplied by a pregnancy monitoring app. Such an app would be ideal because people are avoiding going out in the current epidemic crisis.
Baby Bump

Sprout

Hello Belly
16. E-Prescription App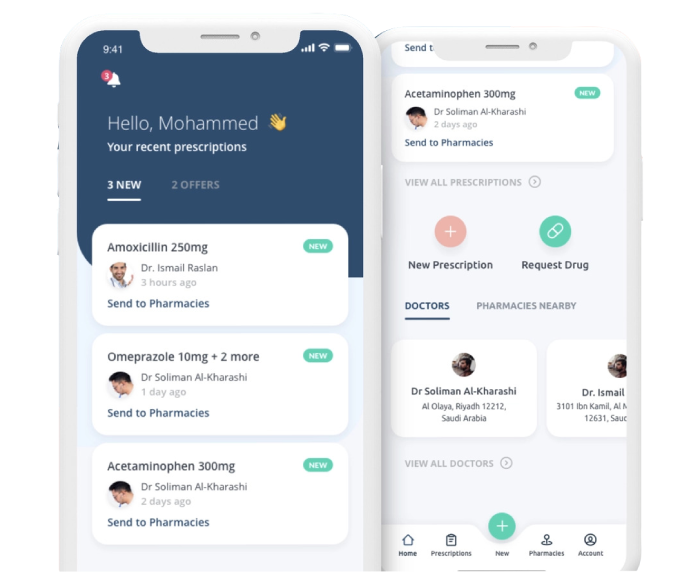 E-prescription apps are gaining traction in the market because of the medical convenience they provide. It mitigates the possibility of human mistakes and ensures that the appropriate medicines are administered.
It becomes feasible to link digitally with an e-Prescription smartphone app, which enables access to the clinical history of patients, error-free prescription transmission, and viewing prescription coverage policy data.
Kareo Clinical

DrChrono

MDToolbox-Rx
Read Also:- On-Demand Medicine Delivery App Development Cost and Features
17. Medicine Delivery Apps
These smartphone applications assist users in ordering medications by allowing them to upload prescriptions. They can monitor the status of their medication order and may be aware of the anticipated delivery date.
Moreover, these applications provide 24/7 customer assistance to assist users in resolving their issues effectively and expeditiously.
18. Blockchain Medical Support System
The healthcare industry is just one of several that stands to be profoundly impacted by the arrival of the Blockchain era of technology.
The blockchain-based healthcare app ideas can ensure the privacy of patient-doctor data exchanges.
19. Stress Relaxing Apps
Among the most important factors to think about is how you handle stress. About one-third of the global population is exposed to stressful events that have an adverse effect on their physical or mental health.
Consequently, do you not agree that it could be beneficial to create a mobile app that assists people in managing stress?
IV. Real Estate Apps
The real estate industry is being reshaped by technological advancements. And, like with any other business, real estate presents a huge opportunity for application development. From clients to agents, everyone may profit from applications.
With rising home prices, real estate is a lucrative sector. Thus, it makes more sense for the IT industry to digitize different elements of commerce. Thus, a unique app idea for real estate is an excellent method to increase both exposure and income in the housing industry.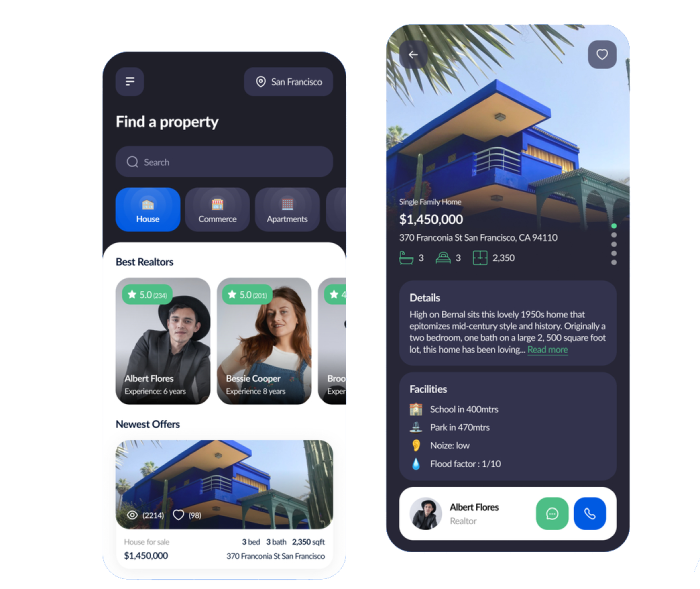 While COVID-19 had a significant influence on a wide variety of businesses the year before, real estate performed very well. In the US, housing prices reached a new high of just over $450,000 in 2021, while the UK's average house price increased 7.6 percent from 2019 levels.
By requiring professionals worldwide to work from home and kids to study from their rooms, many people began to flee cities for greater space on the outskirts. This resulted in 2.5 million and 3.7 million overall downloads of the top real estate and property applications in the UK and the US in 2021, respectively.
20. Property Listing App
The property owner may easily sell his property using this sort of application by simply inputting all of the pertinent facts about his property together with his contact information.
On the other hand, the buyer who is interested in purchasing the property approaches the owner after reviewing the property's data. In this manner, both the landowner and buyer have an easier time completing their tasks.
Zillow

Xome Auctions

Redfin
21. AR-Based Real Estate Apps
AR-based real estate app development is a win-win for everyone in the real estate business. Users of the app can view your listings from anywhere with a mobile device, increasing your exposure to potential purchasers.
This kind of app can really help the real estate business flourish in the modern digital age.
22. VR-Based Interior Designing App
Having the opportunity to exercise creative control over one's living space is a long-held goal for many. Decorating the inside of a house or an office may be a real pain.
Creating a VR-based interior design app can help ease this burden significantly.
23. Home Security App
Home security apps can provide you with a sense of peace of mind, something we could all use more of. Using IoT in the apps, you may create a home-monitoring app that alerts you in the event of an emergency and provides other helpful data.
24. Tenant Finder App
The landlord and tenant can find one other with the help of the tenant finder app. Tenants can use the app to identify rentals that fit their needs in terms of price and amenities.
However, the landlord will eventually find a good tenant.
V. Booking Apps
The majority of commodities have been digitized, and this is more important than ever before considering the pandemic scenario, as it provides not only comfort but also safety, which is a requirement of the hour.
When it comes to booking applications, no one wants to stand in long lineups and risk contracting a virus just to have their tickets purchased.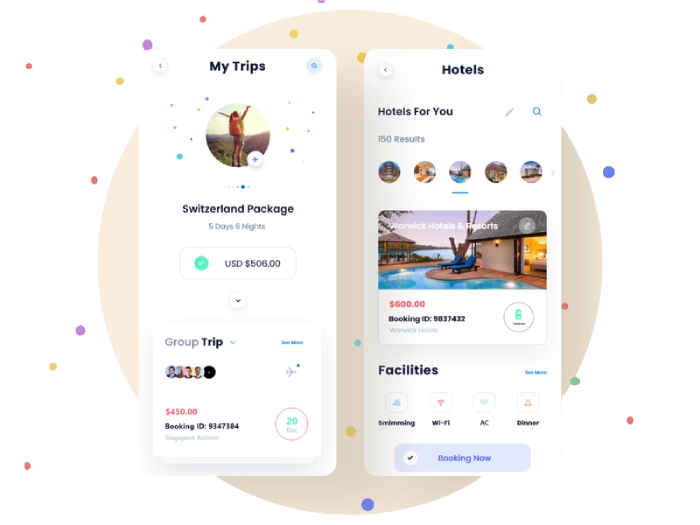 Even prior to the epidemic, there were just a few well-known ticket booking applications. However, its relevance has grown exponentially, and as a result, many new enterprises are venturing into this space, all of which necessitate an online presence.
With mobile phone users reaching 3.12 billion by the end of this year, it is estimated that mobile apps would generate $268.52 billion in income this year from ads, in-app sales, and installations.
This indicates that the growth of online booking ideas for apps is extremely bright, with the industry anticipated to generate $817 million in sales by the end of 2021. Furthermore, booking apps are becoming an integral part of technological advancements in a variety of software solutions nowadays.
25. Hotel & Restaurant Booking App
We dislike waiting at a cafe or motel for an extended period of time and just want speedy hotel and restaurant bookings with the highest quality of service. That is why, in order to provide this fast service, a Hotel & Restaurant booking app idea may be a feasible alternative.
This application benefits both hotel and restaurant owners and visitors. It enables customers to choose their favorite hotel and restaurant using artificial intelligence and rewards them with a discount in exchange for their loyalty and confidence.
Yelp Reservations

Reserve

Nowait
VI. On-Demand Service Apps
On-demand service implies that a customer may request and obtain access to a product offering without requiring a superintendent or other support staff to physically fulfill the transaction.
The whole request and fulfillment procedure is computerized. This benefits both the supplier and the service user.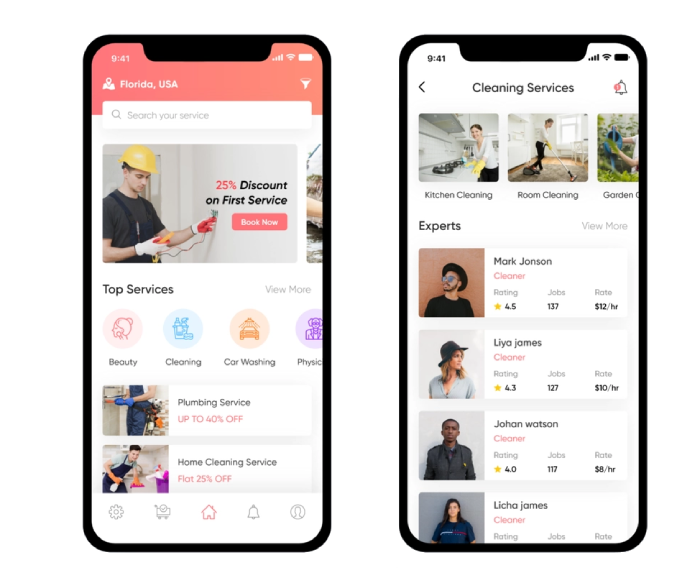 On-Demand app ideas have gone mainstream due to their capacity to cater to the unique requirements of each user.
As per the Global Innovation Capability Survey, the on-demand industry in the United States expanded by 32% between 2020 and 2021. Also, it was shown that the volume of on-demand users more than doubled between 2020 and 2021. Certainly, we could expand with other industry-specific information.
However, there is no reason to do so as, throughout all on-demand service types, the upward tendency is readily apparent. People are more eager to employ on-demand solutions, especially in the wake of the COVID-19 epidemic.
26. Cleaning Service App
Users may explore and filter for cleanup services based on their price, quality, and other criteria. They may select a time window that is convenient for them and book home cleaning services such as toilet cleaning, sweeping, vacuuming, and kitchenette cleaning.
Also, customers may monitor the utility provider's position using the app's real-time location function.
ChoreRelief

Justmop

Housecall Pro
27. Car Servicing App
Automobile servicing applications are in great demand in the market nowadays. We often utilize offline vehicle services, which tend to be rather chaotic for us due to the fact that we must pick up and drop off our cars at the serving area. This procedure takes a considerable amount of time.
However, with a car service application, we no longer need to worry since the car service companies registered on the smartphone app will pick up the car. Users only need to set a time and location anytime they want this assistance.
Fuelly

Simply Auto

Openbay
28. Online Fuel Delivery App
Consumers may use the fuel delivery app to obtain gas or fuel for their automobiles at their doorstep or their preferred location.
These fuel delivery apps require minimal registration, and users can book online orders for gasoline delivery by giving their location wherever they want it delivered. Later on, the user may also monitor the fuel delivery.
VII. Mobile Wallet Apps
Digital payment methods have taken the world by storm over the last several years. Mobile wallet applications have dominated the digital payment marketplace and are increasingly chosen for rapid and hassle-free purchases.
A mobile wallet is a more sophisticated version of a traditional wallet in which one may store money for the purpose of purchasing various products and services.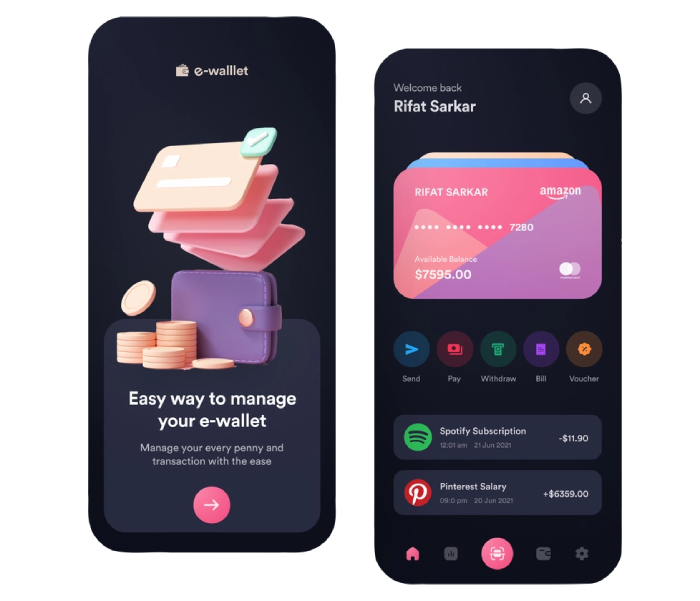 By allowing users to pay anywhere with a simple tap, a mobile wallet may completely replace payment cards and banknotes. Also, it's a convenient method to avoid waiting periods while paying bills or transferring money.
As a result of the growth of mobile wallet apps, several entrepreneurs have developed their own payment systems to meet this expanding need.
According to Industry Research Future's International Report, the e-wallet market is anticipated to grow at an 18% annual growth rate and will hit approximately $350 billion by 2023. From 2019 to 2026, the market is anticipated to expand at a 33% annual rate, reaching $598.2 billion in 2026.
29. E-Wallet App
These ideas of digital wallets enable people to pay quickly and securely using their savings account cards. With e-wallet apps, users can pay for anything online, pay bills, transfer funds, and exchange money from anywhere.
You just need to employ its one-tap functionality and lightning-fast processing in one easy step.
30. Blockchain-Based Money Transfer App
With today's sophisticated tools, it's not risky to pay online; what's more important is protecting your financial information.
A blockchain-based money transfer app will allow for a direct, safe transaction between the sender and the recipient, eliminating the need for a third party like a bank to facilitate the transaction.
Read Also:- How Much Does It Cost To Develop A Mobile EWallet App Like Paytm
31. Loan Lending App
A loan lending mobile application enables you to take loans at a specified interest rate. These applications enable you to evaluate lending rates and choose which one is the best fit for you, as well as contact lenders that can lend you funds for a specified duration.
32. Blockchain Tax App
Tax preparation is a costly and time-consuming process. One major advantage of adopting a blockchain-based tax app is the predicted reduction of transactional costs and the resulting streamlining, efficiency, and effectiveness of the tax function.
33. Price Comparison Apps
Everyone has a natural tendency to want to save money. Building a pricing comparison app will let customers quickly and easily see how various vendors' offers stack up against one another.
Your Customers can save money while still getting a high-quality product through this price comparison app idea.
VIII. Gaming Apps
With highly advanced mobile devices, and a growing number of game designers, the evolution of gaming apps is enormous. In recent years, mobile gaming applications have increased in popularity, providing a more robust gameplay experience than before.
Technology's progress from cell phones to the web has demonstrated that mobile apps will eventually be the optimal method to play both online and offline.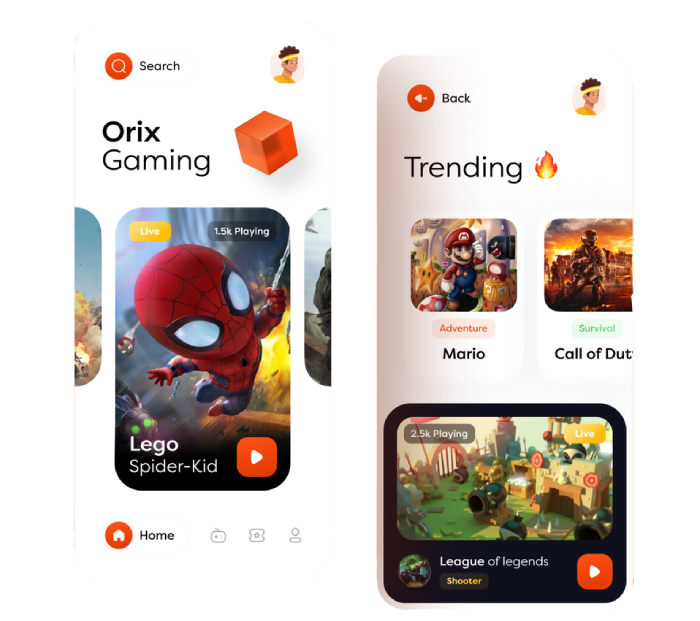 In 2022, the mobile gaming market will have 28 percent more players than in 2021, totaling over 2.7 billion. During the final quarter of the last year, Lockdown caused a spike in the number of players and gaming enthusiasts who spent more than $21 billion on smartphone games.
The gaming business will keep evolving as new technology is implemented, and casual players who appreciate the ease of mobile gaming may eventually join.
While some of the most famous games have already adapted to small displays, the pattern will only tend to escalate as many new popular game designers begin producing mobile game applications.
34. Fantasy Sports App
Fantasy Sports applications are online prediction games in which you assemble a virtual team of real-world athletes. You gain points by converting actual data into fantasy points.
The more effectively your athlete plays in real life, the more fantasy points you get. You face off against other leaders and their own squads. Here are some top fantasy apps. 
Fanduel 

DraftKings 

FanFight
IX. Transportation Apps
It is a well-established truth that logistics influences the conduct of several businesses globally. This becomes critical when considering how many entrepreneurs wish to expand their reach into new geographic areas. It is a sign that the transportation and logistics industry performs.
Integrating transport and logistics processes with app development has shown to be a successful strategy for firms that have embraced innovation.
Not just transportation firms require the development of a transportation application. Any business with a network of suppliers can benefit from developing a transportation app.
Implementing logistics management transportation app ideas would enable smooth movement by optimizing supply lines, vehicle tracking, cargo dispatching, and delivery schedules.
35. Taxi Booking App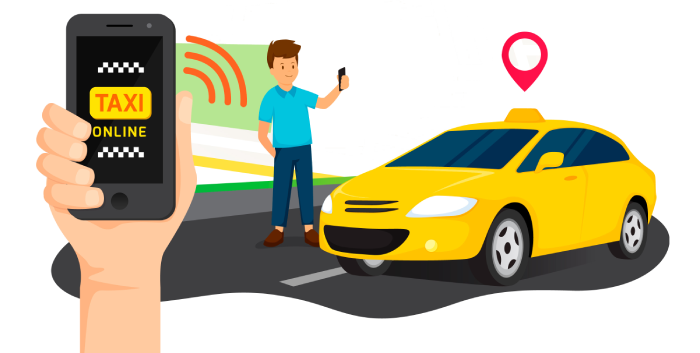 You may quickly call a cab using your smartphone from anywhere and at any time. A cab booking mobile app has a variety of options that enable you to book a cab based on your preferences. Furthermore, the passenger may track the car prior to boarding and while traveling.
36. Transportation App
Transportation is a sizable business that has embraced the mobile application culture. For transportation firms, transportation mobile applications have shown to be a cost-effective way to extend the user's reach and region.
Also, this app has the potential to be effective and profitable because it aids customers by delivering all transport facilities conveniently.
Easyway

Cabify

OneBusAway
37. Try-and-Buy Car Mobile App
AR/VR can be used to realize the vision of creating a "try before you buy" vehicle smartphone app. Vendors of automobiles can benefit from such a smartphone app by providing clients with a digital showroom where the vehicles can be viewed from all angles and driven virtually.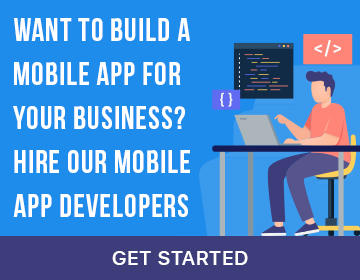 38. Parking Finder App
Is it not true that urban areas are shrinking? As the number of cars on the road rises, it becomes more challenging to locate a parking spot.
If you want to solve the problem of finding a place to park, you can develop a parking finder app.
Top parking finder apps

39. Shipment Tracker App
These kinds of applications are quite popular. shipment tracking apps aid customers in tracking their shipments and monitoring their deliveries on a regular basis.
These may be ideal for monitoring each individual order and tracking several deliverables concurrently for a large firm.
Parceltrack

Trackchecker Mobile

Aftership
40. Packers & Movers App
The Packers & Movers app ideas enable consumers to provide a moving service, and they can schedule any of the packing and moving companies featured on the app according to their region and financial choices.
The staff visits the user's house, packs their belongings, assists in moving them to their preferred location, and delivers the products securely within the period specified.
Nextdoor

Moved

Citymapper
Additional App Ideas
41.
AI and ML-Based Astrology App
The ability to foretell the future has always piqued human interest. The allure of astrology spans several historical periods and civilizations, from the ancient to the modern.
Because of this, the idea of astrology mobile app development incorporates cutting-edge tools like artificial intelligence (AI) and machine learning (ML) to improve forecasting accuracy.
42. Defi Lending Platform Development
The need for decentralized lending systems has skyrocketed, and experts expect that demand will be twice or even quadrupled by the last quarter of 2022. As a result, spending money in 2022 and beyond on the development of the Defi lending platform would be a good idea.
43.
AI and ML-Based Astrology App
The ability to foretell the future has always piqued human interest. The allure of astrology spans several historical periods and civilizations, from the ancient to the modern.
Because of this, the idea of astrology mobile app development incorporates cutting-edge tools like artificial intelligence (AI) and machine learning (ML) to improve forecasting accuracy.
44. 
VR Based Virtual Travel App
Is there anything you would really miss if a pandemic hit? The freedom to go wherever you choose, right? As a result, VR travel apps have emerged as a viable solution for tourists during global health crises.
Using this app, you may virtually visit any place in the globe and get the full experience, without ever leaving your couch.
45.
ML-Based Stock Trading App
Investors have long been interested in a system that can automatically anticipate the stock market. Machine learning and other technologies could be utilized to search through millions of stock market data points and place trades with maximum efficiency.
46. 
Weather Reporting App Powered By IoT
All weather data, such as temperature, humidity, precipitation, and more, can be sent online via an IoT-based weather reporting system.
While there is no shortage of weather reporting apps, only a select number actually leverage the Internet of Things to generate accurate forecasts. Consequently, there is a large potential market for creating this kind of mobile app.
47. An Online Virtual Assistant
Are you familiar with Alexa or Siri, two popular virtual assistant apps? In that case, you've undoubtedly experienced firsthand how helpful they can be. By 2023, this industry is expected to be worth $17.72 billion, with a CAGR of 38.82%.
Doesn't it make sense to capitalize on the market's expansion? In light of this, it seems like a wise choice to set up a business as a virtual assistant service provider online.
48. Toy Exchanging App
Are there any children at your place? As a result, there are undoubtedly a lot of toys lying around your house that your kids aren't interested in.
Every single parent can attest to this. Just picture being able to list your kid's outgrown toys for trade or sale for something new. Doesn't that sound cool?
49. Legal Apps For Current Laws
Besides the fact that new laws are created every day, there are already thousands of them in existence. You'll need a photographic memory to keep up with the ever-changing legal landscape.
To attract the attention of those who have difficulty remembering the laws, it is a good idea to create a mobile app that serves as a library of laws.
50. Dog Walking App
It's a revolutionary application concept for dog owners who enjoy meeting other dog owners and their puppies. Moreover, such a dog walking app provides a paid service for animal owners wherein the service provider walks their pets.
Individuals who don't have time to take their dogs out for a walk might benefit from such a service. These applications also notify users about dog-friendly playgrounds and cafés.
51. Pet Training App
Once a person brings a pet into their home, they expect it to do as they say. What you can do is create a pet training mobile app where you upload guides for people on training their dogs to follow their instructions.
52. On-Demand Pet Care App
Pet owners who want to take care of their animals without having to leave home might benefit greatly from the on-demand pet care apps.
Grand View Research predicts that between 2021 and 2027, the market for pet care apps would expand at a CAGR of 8.7%.
53. Job Recruitment App
These innovative app ideas assist lots of job searchers in locating an advantageous job depending on the info and CV they provide in the application. It becomes easier for businesses with open positions to recruit worthy individuals.
Both the job applicant and the company may satisfy their demands by utilizing such Job recruitment applications and specifying their choices, such as location, compensation package, and expertise.
54. Online Milk Delivery App
Why is it that we can get just about anything delivered to our homes these days except milk? To facilitate the ordering of fresh milk from local dairies by individuals, it is reasonable to develop an online milk delivery service.
55. Dating & Chatting App
Making dating and chit-chat apps for smartphones is a lucrative business, especially given the rising popularity of online dating in recent years.
With the help of these brilliant app ideas, users can easily find others with similar interests. Tinder is a great example of a mobile app for dating and socializing.
56. Matrimonial App
People create accounts on these applications and look for other accounts with the intent of marrying. Certain matrimonial applications leverage modern technology, such as artificial intelligence, to identify the most compatible matches for weddings based on matching profiles, hobbies, and regions.
Individuals are also provided with privacy protection to ensure that their personal information is not exposed.
57. Metaverse-Based Wedding Planner App
The term "metaverse" has recently become popular in the online community. Many modern couples are opting for a completely online wedding.
Take part in the competition to develop a wedding planner app that is based on the metaverse, complete with invitation card creation so that guests can RSVP online to a wedding taking place in the metaverse.
58. Social Audio Apps
Users may form a group and discuss audio tales with other users using social audio applications. These applications allow users to engage in real-time discussions with their relatives and friends.
These applications are the simplest solutions to transmit audio content.
Spotify Greenroom

Twitter Spaces

Clubhouse
59. Real-Time Voice-to-Text App
It's no secret that for a majority of people, typing is a tiresome process. Create a real-time voice-to-text converter mobile app, and you'll capture the attention of those who conduct typing-intensive tasks.
Among the best examples is the voice typing feature in Google Docs.
60. Meme & GIF Maker Mobile App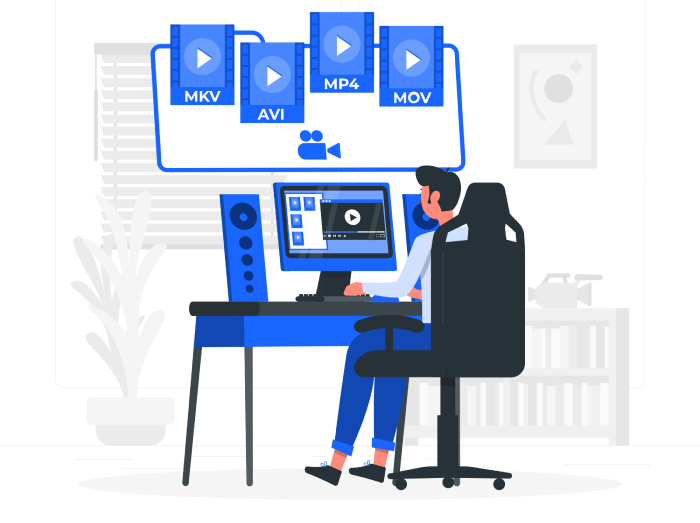 Memes and animated GIFs provide a lot of fun for people in today's online culture. You might be amazed to find that 63% of American adults often communicate via memes and GIFs.
Developing a mobile application that enables people to easily create and exchange GIFs and memes is a promising new industry. 
61. Fake News Tracker App
The existence of fake news and hoaxes predates the widespread availability of Internet connectivity. To help consumers identify and avoid sites that may contain inaccurate or misleading information, developers can create fake news tracker apps.
62. E-Scooter Sharing App
Whenever you travel to unfamiliar places, what annoys you the most? The ability to get around via personal automobile.
Create a platform where people can share electric scooters to go around in a green and hassle-free way. By 2022, the global market for shared e-scooters is predicted to be worth $1,752m, according to Statista. By 2026, this market is expected to reach $2,888 million, expanding at an annualized pace of 13.30%.
63. Song Lyrics Tracker App
Occasionally, when on the road, one will listen to a song that strikes a chord with them, but they will not know the name of the song and hence will not be able to download it.
Tracking lyrics can come in handy in situations like these. Simply launch the application and let it listen to the music; it'll identify the tune and display its title.
64. Grocery Delivery App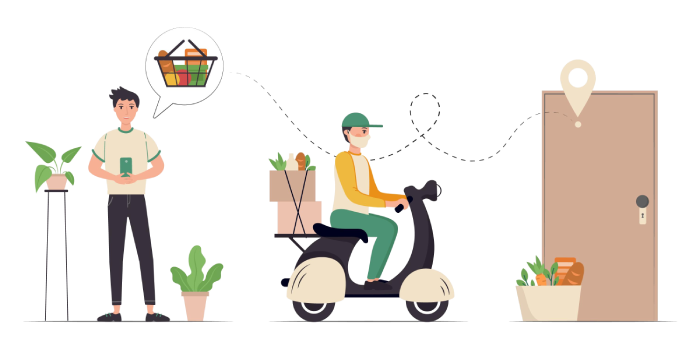 Grocery delivery apps assist users by delivering groceries directly to their homes from a local supermarket.
Grocery shopping applications link consumers with neighborhood grocery businesses, assigning shoppers to pick up and deliver orders. Furthermore, the pandemic scenario has contributed to its prominence.
Read Also:-  How To Develop Grocery Delivery Mobile App? Cost & Features
65. Air Pollution Monitoring App
Since rising levels of air pollution are a worldwide issue, several groups are focusing on finding solutions to this problem. At a CAGR of 7.05%, the market value of mobile apps used to monitor air pollution is expected to soar to $544.6 million by 2022. ( Source )
In this situation, you could create an app that helps users keep tabs on the state of the air around them.
66. Crime Alert Mobile App
Imagine if there was a social media platform where users could report crimes they witnessed in real-time, like Facebook or Instagram.
The community can learn about the crimes and take precautions to protect themselves from becoming victims because of these reports.
67. Scan and Shop Apps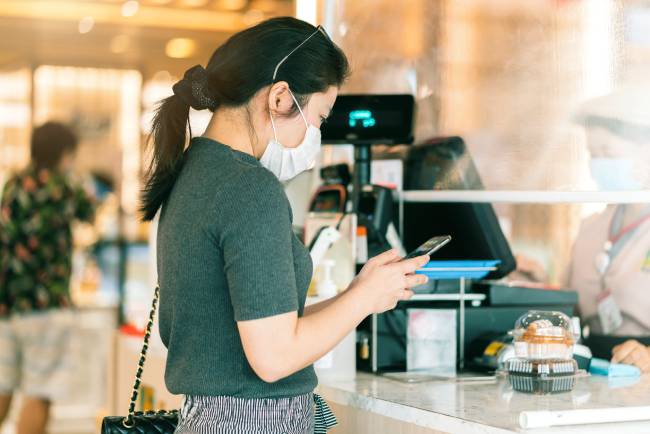 This is an innovative kind of online shopping app, that transforms your smartphone into a scanner. Customers can scan an image of a specific product via smartphone and the app offers similar options so that customers can proceed with the purchase.
This kind of app idea consists of various payment options and inbuilt wallets so that users can make seamless payments and collect some loyalty points as well.
ShopSavvy

QuickMark

PriceGrabber
68. Suicide Prevention Mobile App
The issue of suicide is one that affects people all around the world. Making a smartphone application that helps those dealing with depressive thoughts feel more secure is not just a good deed, but also a lucrative business opportunity.
69. Cryptocurrency Trading Apps
A cryptocurrency trading application is an online marketplace where users trade, sell or buy cryptocurrency. These apps support the most commonly traded cryptocurrencies and function like an online brokerage applications.
Users can deposit fiat currency and utilize the funds to buy numerous cryptocurrencies. Some apps do offer interest on the listed assets held within the exchange account.
70. NFT Marketplaces app
NFT Marketplace apps offer the easiest method to keep a track of your NFT assets and explore new assets as well. An NFT (Non-Fungible Token) is a cryptographic asset based on blockchain technology, it comes with metadata and unique identification codes that make every asset unique. NFT apps are developed on a blockchain network with a base trading exchange on cryptocurrency.
OpenSea

Magic Eden

Nifty Gateway
71. EV Charging Station Finder App
The need for recharging stations for EVs has increased in sync with the popularity of these vehicles. The number of electric vehicles on the road has increased, but charging outlets have not kept pace.
As a result, facilitating the search for EV charging stations through the development of an EV charging station finder app will facilitate the process of locating the nearest available facility.
72. On-demand Ridesharing Apps
On-demand ridesharing is an innovative service that organizes transportation on short notice. These ridesharing apps are getting huge traction among customers, as they can avail of the shared-ride facility without owning a vehicle.
These apps connect the customer with the service provider, schedule their rides, choose a vehicle at an affordable rate, and accept fares electronically once the ride concludes.
73. Warranty-Expiry Alerts App
You may now monitor your product's warranty status from the convenience of your mobile device. Consumers and organizations alike can use warranty monitoring apps to keep tabs on the various warranties they've extended to customers.
74. International Remittance Solution Apps
We live in a well-connected world where customers can make sales or purchase anywhere and remit money across the world.
The method of transferring money from your home country to abroad is known as an international remittance. These apps allow customers to execute a foreign remittance via an electronic payment system through different channels such as money transfer service providers and banks.
WorldRemit

PayPal

Western Union Money Transfer
75. Criminal alert app
The idea behind this app is to keep a record of the entry and exit of each citizen from and in the county, city, state, and country.
This information could be shared with the legal authorities so that they can catch a criminal based on the alert raised by these applications.
These applications not only help in saving innocent lives but also keep maintain the law-and-order situation in an area.
Citizen

Wildfire

Guardyman
76. Barter Exchange App
Many of us have products that we once bought but no longer use, and these things are just taking up space in our storage areas. Suppose you could trade in your unused items for something else.
This is a great app idea for those just getting started in the startup world, as it can be implemented at a modest cost.
77. Family Update Mobile App
All family members can communicate with one another through the family update smartphone app. Using these apps, users can broadcast their whereabouts, who they're with when they expect to return home, and other personal details to their family members.
78. Re-cycle helper app
This application may scan your trash can to verify if your biodegradable and non-biodegradable trash have been divided into their designated bins.
79. Interest Community
Each individual possesses a unique set of interests and hobbies. They seek out the community with those who share their views, especially on platforms like Facebook and Quora. With this knowledge, you may design a platform to unite people who share your passions under one virtual roof.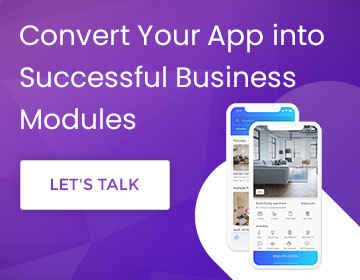 How to Generate New Mobile App Ideas in 2022?
Keep an Eye on the Latest Trends
With technology evolving at a breakneck pace, one of the most effective methods to generate fresh and distinctive app ideas that may help you earn money is to keep an eye on what's popular.
Analyze how you may effectively use trending applications to generate unique app ideas for your own app that could become the next big thing.
The reason for the large market players' popularity is that they just do not rely on legacy technology to build new mobile applications that become prominent after they are introduced.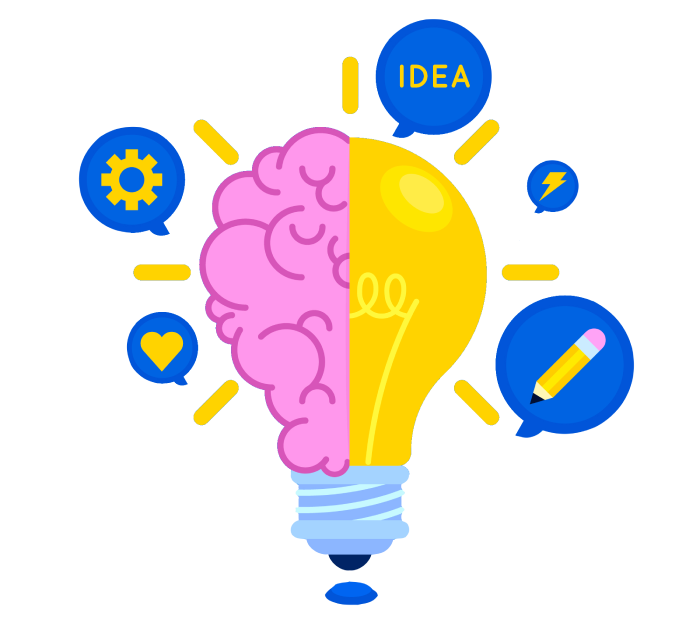 Enhance a Pre-Existing Application
It is obvious that not all apps produced to date are the ideal solution to a given problem or situation. Take extra time out of work and attempt to uncover and document what the major market players are overlooking. 
You could evaluate If you believe that developing an app is as simple as selecting the finest technology, techniques, and functionalities, you may be incorrect. The solutions created by the businesses to determine what they did well and where they fell short.
You may then combine your research and inspection to provide a more innovative proposal for improving an existing mobile application.
Focus on the Sector that is Lacking Innovation
The next step in developing innovative app ideas is to focus on areas that are highly popular but lack current innovation.
Obviously, this might be a challenging task for anyone, but always keep in mind that results are possible with effort. Carefully explore how you might enhance the accuracy, performance, and functionality of the present technology being utilized in a given sector with your new app ideas
Recognize the Market Need
Discover and comprehend the market's most increasing demands and how you can meet them. Always strive to narrow your market focus, since this, combined with recognizing the market's needs, would have a significant impact on the development of your new app concept.
There is a strong chance that by studying market requirements, you may generate a slew of new and original mobile application ideas that can fetch you good profits.
Conduct an App Store Search
All you have to do is browse the App Store and seek apps that are ranked among the top categories. Here, you may select the applications that pique your interest in order to learn more about what they do and how they really solve an issue.
How to Turn Your App Idea Into Reality With Arka Softwares?
You don't have to always surprise the world with brand-new, brilliant ideas. There is a potential that your application will be successful if your solution is superior to the current one and provides certain advantages.
There's no shortage of potential avenues to explore; all that's required is some serious dedication to generating new revenue streams through the development of an app and some careful market research and analysis.
Having an expert by your side to answer questions and offer guidance on your app development journey would be a huge benefit, wouldn't it? Arka Softwares provides assistance in conceptualizing and creating mobile apps to help businesses thrive.
Our number one priority is the complete and utter happiness of our clients, thus we work tirelessly to create innovative and engaging apps that not only succeed in the marketplace but also cover a wide range of needs.
We have a staff of over 100 qualified programmers, researchers, and designers with an average industry experience of over 5 years.
We have over 600 satisfied customers all over the world and we are devoted to providing excellent service and creating substantial value for organizations in more than 15 different domain verticals and 40 different niches.
Over the past 12 years, we've come a long way, establishing ourselves as a trusted industry leader in IT services and laying the groundwork for inclusive digital transformation and growth.
Final Words
A typical smartphone user spends 92% of their time exploring applications. The future of any organization is highly dependent on the development of a user-friendly mobile app.
By analyzing industry patterns and forecasting the future of app development in dominant areas, we've identified 50+ inventive mobile app concepts that have the potential to take over the world of business by 2022.