Artificial intelligence is emerging as a transformational Technology, that has shown the potential to play a major role in many business verticals, from Product design to Banking and from Cybersecurity to Healthcare. Artificial Intelligence offers infinite possibilities to any business and it will continue to influence the technology domain with its innovative nature.
One of the biggest revolutions of AI has been witnessed in the Healthcare sector, where it can impact both the healthcare service provider and the patients. Artificial intelligence offers countless benefits when exploring the healthcare service landscape, as it promises to incorporate innovation and technology in the healthcare system to provide unique services to consumers.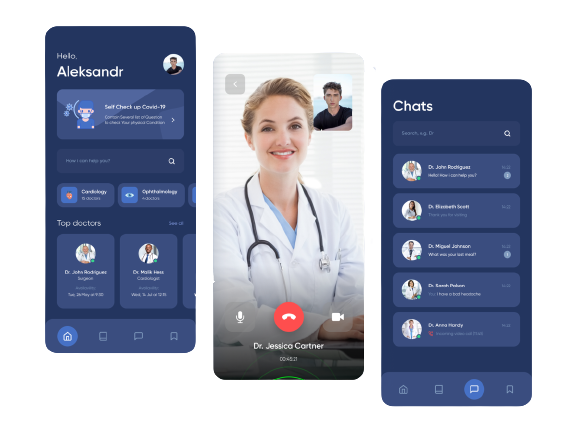 AI enhances disease diagnosis efficiency, vaccine development, information integration, reduces administrative burdens, and assists healthcare professionals to make better data-driven decisions. At the same time, it enhances the interfaces through which patients can avail better healthcare services at an affordable cost.
We have prepared this guide to provide you with information about all aspects of Artificial Intelligence in the healthcare sector. If you're looking for Artificial Intelligence's benefits, Healthcare industry insights challenge to AI adoption or other ways AI can transform the healthcare in future, then this is your reference guide. 
What is an Artificial Intelligence?
Well, Artificial intelligence refers to the Computer-based system that can exhibit or simulate a specific aspect of Intelligent behavior or Human intelligence, such as reasoning, learning, and problem-solving.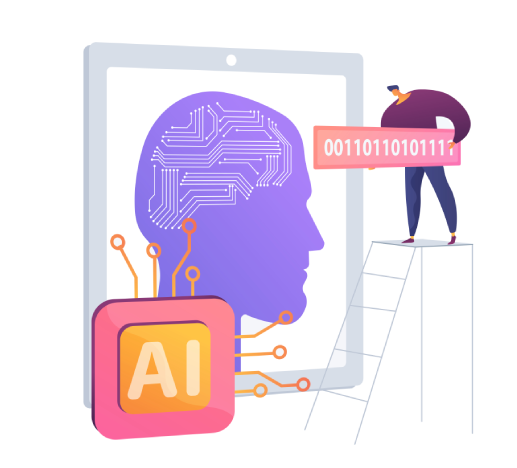 People may have a perception that Artificial Intelligence may be a single technology, but on the contrary, it is a combination of Intelligent Behaviors and Processes generated by computational algorithms and models. In recent years the capabilities of these AI Computational models and Algorithms have been improved with the usage of powerful computing and massive data. Artificial Intelligence as a group of Technologies has been enhanced with the introduction of Machine Learning, Natural Language Processing (NLP), AI assistants, Robotics, and AI voice technology. 
We have witnessed innovative and powerful AI-aided solutions, which can solve real-world problems such as big data analytics, speech recognition, image understanding, vaccination development, virus detection, and Healthcare.
Artificial Intelligence in Healthcare Industry – Insights
AI technology utilizes a computer to automate and perform a specific task, that is typically and conventionally executed by humans. With this increasing automation, we have seen the emergence of several other technologies such as Robotic Process Automation, Machines Learning, AI tools, and Big Data solutions. 
As per the market intelligence firm Tractica, the market for AI-aided Healthcare tools is going to surpass $34 billion by 2025. This observation is based on an in-depth assessment of several Startups and major Companies indulged in startup-level activity in the Healthcare Artificial Intelligence space.
The Global market is going to witness a mercurial rise of AI-related technologies such as Machine learning, Neural Networks, Deep learning, and Semantic computing. 
According to Accenture's Analysis, Report by 2026, the US healthcare economy may see a massive annual saving of worth $150 Billion due to usage of Clinical and Healthcare AI applications. Accenture performed an in-depth analysis on 10 key Artificial Intelligence apps and observed their near-term impact while assigning them a specific value. This value reflects the potential annual benefits incurred by each app by 2026.
This assessment cites the potential impact of each application, which also signifies the rate of adoption of AI apps by the Healthcare industry. The more the benefits, the more aggressive the AI adoption will be. It also indicates that as AI apps are going to gain more experience in the field, their capability to learn and act will lead to improvements in efficiency, outcomes, and precision of healthcare processes.

Healthcare AI acquisitions & IPOs – Driving Interest
As per MobiHealthNews, there were 53 new acquisitions of AI healthcare organizations in year 2019. This number is certainly going to rise in the years to come. Below are some of the IPOs and AI acquisitions took place recently in healthcare industry, which also shows the ever-increasing interest in Artificial Intelligence in Healthcare :
Top AI-Based Healthcare Apps You Can Try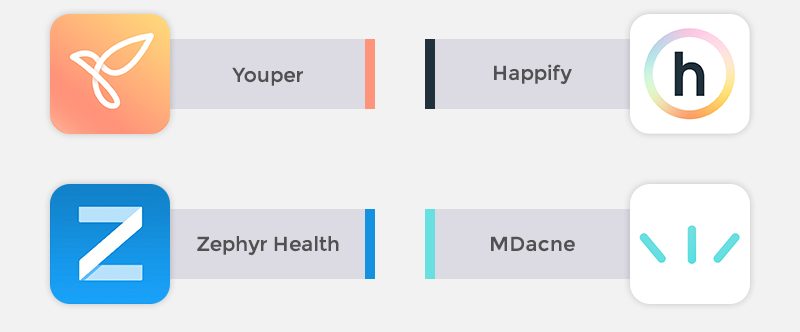 AI-based healthcare apps are a fantastic way to assist in health management. Here we have Top-5 highly popular AI based Healthcare applications in the market : 
Youper
It is an AI assistant (Chatbot) used to monitor mental illness. It employs AI technologies to facilitate compassionate, private, and empathetic interactions with patients. It also offers various coping approaches to help the patients to overcome interpersonal difficulties during the interactions.
Happify
It is another AI-based mental health application, that features a digital instructor Anna. This app offers engaging events, games, and other interactive activities led by Anna, which enables patients to gain control over their feelings and emotions.
Sense.Iy
It is an AI based virtual nursing assistant avatar, which keeps taking follow-ups with the patients frequently. This virtual assistant can ask patients to examine vital health parameters such as their blood pressure, SPO2 level, weight, as well as put any questions related to their health. 
MDacne
This app facilitates direct contact between a patient and a dermatologist. It takes care of consultation and schedules the appointments. MDacne has enhanced the availability of skin related ailments and users can get the right specialist for their skin treatment in less than 5 minutes. 
Zephyr Health
This AI-based tool helps patients by developing customized healthcare plans based on their medical history. This is a smart app, which monitors the existing system, and in even of any issues, it determines and recommends a better treatment protocol for the users.
Use Cases for AI in the Healthcare industry?
We have identified multiple Use cases for AI in the healthcare industry and structured them according to the day-to-day Clinical processes. This will help you understand the way AI is being utilized in hospitals these days.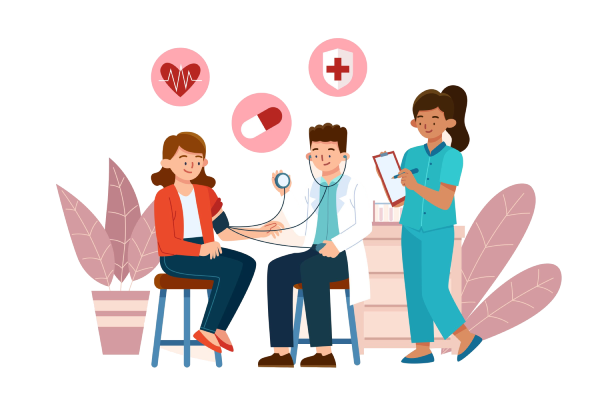 1- Patient Care
Consists of tools and technologies that can ensure adequate patient wellbeing.  AI can help us with the following :
Triage and Real-time prioritization:
Usage of Prescriptive analytics tools on patient data to enable real-time triage and case prioritization.
Prescription and Assisted Diagnosis:
We can use AI-Chatbot which allows patients to perform a self-diagnose or help healthcare specialists in prescription.
Pregnancy Management:
AI-aided tools can monitor the situation of fetus and mother to enable early diagnosis and unnecessary worries. 
Patient Data Analytics:
AI enables a healthcare service provider to analyze Clinical and Patient data to generate insights into patient health. This reduces the cost of healthcare, optimize resources, and manages healthcare effectively.  
Prescription Auditing:
AI-aided audit solutions help organizations minimize prescription errors.
Personalized Healthcare and Medications:
AI enables personalized delivery of healthcare and medication according to Patient's preferences.
Surgical Robots:
AI coupled with Robotics can help in effective and assisted surgeries. These robots can perform complex procedures that require repetitive movements without causing any fatigue. AI can help identify surgical procedures patterns to enhance surgical accuracy and control to sub-millimeter precision.
2- Medical Imaging and Diagnostic
It is a combination of various non-invasive methods of looking inside the body to identify the causes of an ailment and confirm a diagnosis. AI can help us with the following : 
Early diagnosis:
We can utilize AI to analyze medical data for chronic conditions, which will help healthcare specialists to diagnose the ailment at early stages.
Medical Imaging & Insights:
AI-aided medical imaging can be used to transform models for potential situations, which enables us to find skin cancer and other diseases at an early stage. AI-powered medical imaging has been utilized to diagnose COVID-19 cases and identifying people who may need ventilator support.
3- Research and Development
Gene Analytics and Editing:
Ai-aided tools help us understand the genome structure and its components, which also help determine the impact of any alteration in the genes.
Drug discovery:
AI aided tools help us find drugs based on medical intelligence and historical data. A new technology 'Artificial Intelligence for Drug Discovery has been developed, that leverages the capabilities of AI and Big Data to determine the relationship between diseases and drugs at a systems level.
Drug and Device effectiveness –
AI, Deep Learning, and Big Data are used to extract sensible and actionable information to design the drug and healthcare device components.
4- Healthcare Management
Marketing and Brand Management:
AI tools can be used to develop a robust marketing strategy for a healthcare service provider so that they can target a specific segment of customers.
Root Cause identification –
AI tools could be used to record and analyze piles of data to understand the effects and root cause of several real-world disorders.
Operations Management –
 AI along with Process automation technologies/RPA could be utilized to automate hospitals operations.
Risk Management and Pricing:
AI-based applications can be used to determine the expected price for treatment and other healthcare services.
Fraud detection:
This is one of the biggest challenges for Healthcare service providers, as Patients or suppliers can make false claims. AI-aided fraud detection tools enabled Hospital authorities to detect fraudulent claims and take necessary actions to prevent them.
Customer service Chatbots:
AI-enabled chatbots to allow patients to ask questions regarding appointments, billing payments, billing issues or medication refills.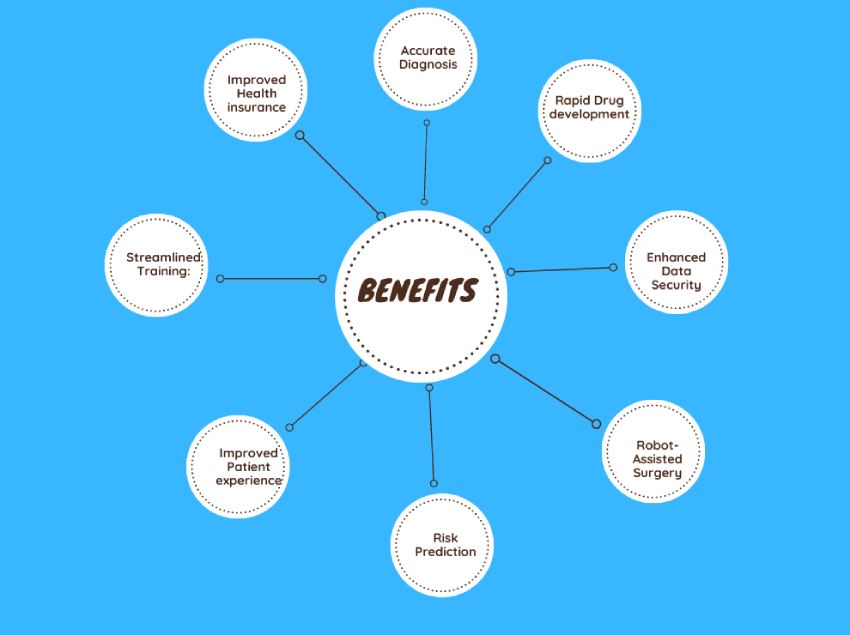 Benefits of AI in Healthcare sector
Usage of AI enables Healthcare service providers to avail multitude of benefits, including big data analysis, automating tasks, medicine development to deliver enhanced healthcare at a lower cost.
Here we have some common benefits of AI in Healthcare sector : 
Accurate Diagnosis

:
Conventional paper records can lead to multiple problems such as incomplete medical records, human errors, inefficient sequencing which lead to inaccurate diagnosis. Once reports and documents are fed into the computing system, advanced machine learning algorithms can perform accurate diagnoses, eliminate errors, and improve the overall efficiency of clinical workflows.
Rapid Drug development

:
The conventional drug development process is time-consuming and expensive as well, which acts as a hindrance especially during pandemics. However, AI offers several tools and data models to perform Drug development and Testing rapidly and with controlled cost.
Enhanced Data Security

:
One of the biggest concerns with Healthcare system is to protect the sensitive and personal information of patients. Rapidly advancing AI algorithms can help in encrypting personal information, diagnostic findings, and clinical reports, and thus preventing them from being altered or hacked. It also allows all stakeholders to access the information virtually from anywhere at any time.
Robot-Assisted Surgery

:
Critical and complex surgeries require utmost precision, extreme care, and expertise. AI-enabled robots are being used to perform successful surgeries and this trend is only soaring. These AI robots are equipped with mechanical arms, surgical instruments, and high-definition cameras.
Risk Prediction

:
AI is being utilized to recognize the patterns to identify potential risks to patient for a specific disease. Machine learning and Data analytics are used get vital insights, which help healthcare professionals to take timely decisions and actions.
Improved Patient experience

:
A hospital usually offers chaotic experience to the patient due to crowded facilities, insurance claims issues, and massive paperwork. AI is emerging as a big helping hand as it offers the right information to the users whenever required by preventing unnecessary confusion and overheads.
Streamlined Training

:
Training is an important aspect of healthcare industry, and it is important to impart professional training to medical trainees. AI offers simulation-based training, which is based on a massive database of scenarios and Data-models. These AI-aided training help trainees to make better decisions based on previous learning.
Improved Health insurance

:
Insurance service providers can use connected devices to capture medical data for health claims and risk operations. AI aided tools offer transparency between customers and insurers, which eliminates the probability of fraudulent claims.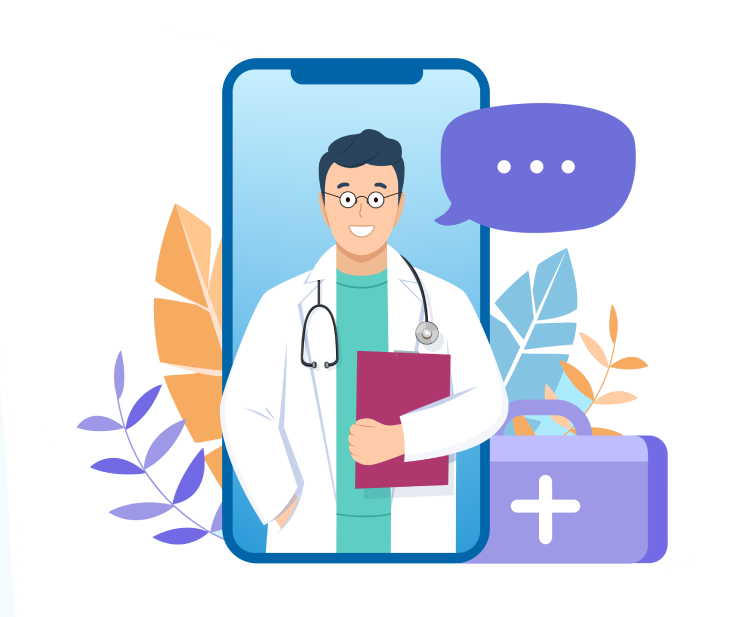 Limitations of AI in Healthcare sector
We have observed numerous applications of Artificial Intelligence in the healthcare industry, and it is going to be adopted exponentially with the technology advancements. However, Artificial Intelligence comes with its own set of limitations that hold it back from being integrated aggressively in various areas of healthcare systems.
Here we have few limitations of AI :
Lack of well-built AI infrastructure

–
The usage of AI is in nascent stage as far as developing or under-developed countries are concerned. AI infrastructure is not yet completely developed and that due to financial, logistical, and technological constraints, it is not possible for such countries to invest in AI infrastructure.
Probability of Defective diagnosis

–
AI aided tools perform diagnosis using a large quantity of data. In event of a lack of data, there are chances of defective diagnosis of a particular disease. If the doctors are properly trained to use AI tools to determine ailments, then they might administer defective diagnosis, that might turn fatal in certain cases.
Negative Side Effects

–
AI aided systems works on data models and while suggesting the patient with some treatment, it might skip aspects such as negative side-effects which may led to long-term hazards for patients.
High Initial Capital Cost –
AI is an emerging technology, and that's why it is quite costly and difficult to implement. It comes with a high initial capital cost for setup, which prevent organizations to adopt it without allocating a massive budget. 
Potential for Increased unemployment –
There is a misconception that AI will lead to unemployment of people, as it will usurp most of the routine jobs. However, this is not completely true, as AI will create niche jobs and several other opportunities for people, in almost the same proportion.
Deployment Complexities –
AI is not a single technology, it is a group of technologies and tools, that are integrated and deployed together as a solution. Due to a higher degree of complexities and dependencies, it is complex to deploy an AI-based healthcare system.  
Privacy and Security Concerns –
It is vital for any healthcare system to protect the sensitive and health data of customer while its is being transferred between different stakeholders. AI-based systems must incorporate robust security protocols and methods to address security and privacy concerns.
State and Federal Regulations –
AI solutions should be modelled according to several State and Federal Regulation norms. It is mandatory for any system to have strict adherence to these regulations to prevent any issues.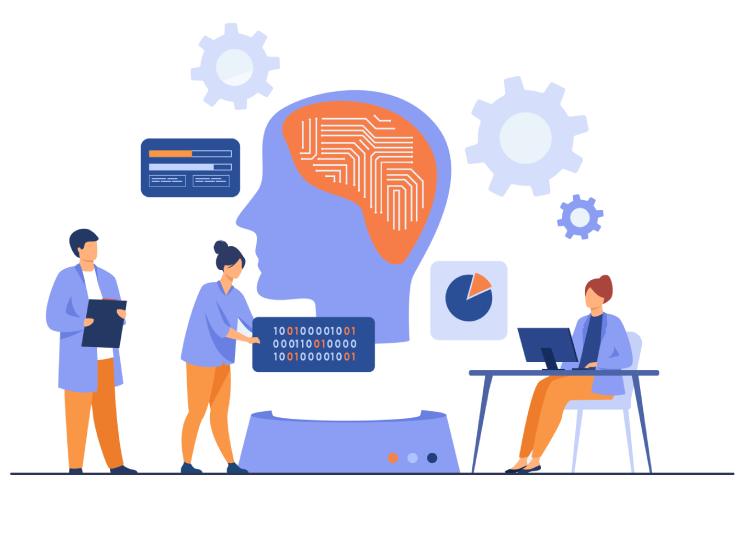 The Future of Artificial Intelligence in Healthcare – 2021 and Beyond 
The future of Artificial Intelligence is quite promising as Healthcare industry has started aggressive adoption of AI-based tools and technology in recent years. We are going to witness the use of Hybrid healthcare models, where healthcare professionals will be supported by AI technology in ailment diagnosis, treatment planning, and risk identification, while they can remain focused on providing patient care.  
Such a model will enable faster adoption of AI technology by healthcare service providers, as it will help them mitigating potential risks, avail measurable improvements in operational efficiency and patient outcomes.
The International Data Corporation (IDC) has made some startling predictions on the future of AI in the Healthcare industry :
These trends are evidence of AI's unlimited potential to transform the Healthcare industry.

Conclusion
Artificial Intelligence is a technology that has immense potential, and it is impossible to ignore its significance. We have witnessed countless examples and industry-specific case studies for seamless integration of AI in the Healthcare industry. 
AI not only promises to recognize behavioral patterns, interpret complex clinical data, provide better insights but it also acts as a 'decision engine' which can enhance the process efficiencies and workflow effectiveness of healthcare service providers. AI is going to play a pivotal role in the Healthcare industry in the future, and it will enable the service providers and patients to avail unheard benefits. 
Humans and Machines each have their own strengths and weaknesses, and it is recommended for them to complement each other to offer optimized healthcare services. Artificial Intelligence technologies act as a transformational tool to expand human capabilities so that they can serve the patients at the time and place they require. 
AI-powered solutions have started making gradual progress to address key issues, but we are yet to witness a meaningful impact on the healthcare industry, despite the attention created around it. We are pretty hopeful that most of the key limitations will be addressed in the coming years, and AI will play a pivotal role to provide a direction to the Healthcare sector.
FAQs for 
AI in Healthcare