People can't even take some time off to buy medicines, let alone take them on time. This is where the technology kicks in. On-demand medicine delivery applications have reduced the time taken in going to a physical medical store and buying medicines to a few taps on your smartphone screen and the medicines will be at your doorsteps.
No doubt these applications are spreading like wildfire. It is quite evident that any application that brings convenience to the lives of people (and saves them from stepping out of their homes) ends up being a successful business model.
This article is dedicated to on-demand medicine delivery app development for Android, iOS, and wearables. And we will also talk about the overall cost of medicine delivery mobile apps.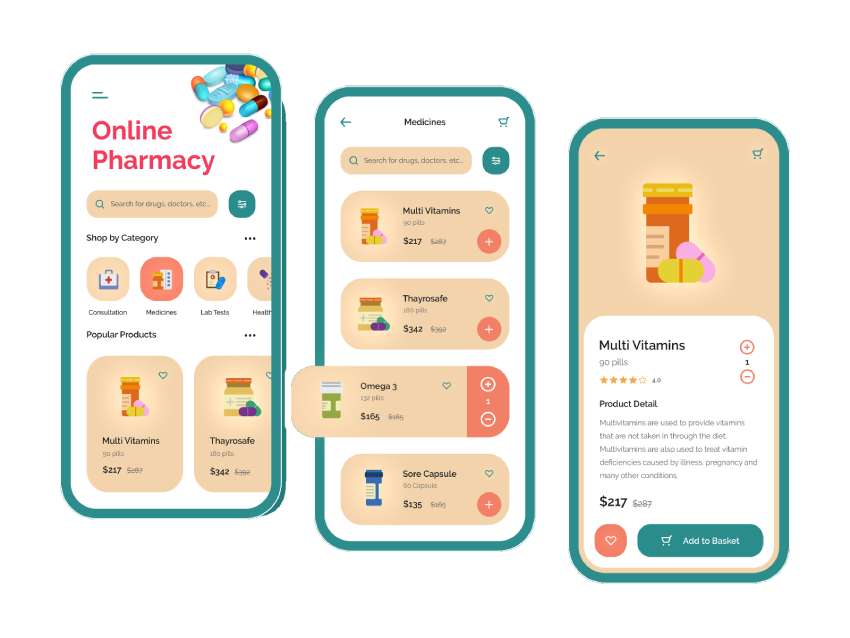 But first, let's talk about the market size of the m-Health market and its projected growth.
Top Medicine Delivery Mobile Applications in the Market
Name of the app
Features
Play Store Link
App Store Link
CVS Pharmacy

ExtraCare offers
Same Day Delivery

NowRx

Video Chat Feature
 Own Schedule

NetMeds

Doorstep Delivery
Free Health Information

1MG

Book Appointments
Medicine Refill Reminders
Why Medicine Delivery Apps are getting Famous?
The impact of medicine delivery apps is widespread and easy to witness. No doubt, it has changed many lives all around the world. But how did it happen? What are the qualities of an online medicine delivery app, which helped users to move from visiting the physical medical store to a platform confined within a smartphone?
Time-Saving
Convenience and time-saving are the foundations of the success of any customer-centric business. The medicine delivery app has both. It is a no-brainer that it takes hours to go to a physical medical store.
But on the app, all the medicines are just a few taps away. As a result, work that used to take hours now takes only a couple of minutes. This simple convenience has made medicine delivery apps a must-have app on everyone's phone today.
Cost Saving
An attribute of saving time attracts users towards the medicine delivery app but Saving Cost ensures that users keep on using the application. An online pharmacy app has various customer loyalty programs which provide users with discount coupons on their orders.
In addition, if not the discount coupons, the app provides a feature that shows many cheap substitutes of the medicine searched by the user in the app. Hence, the user can order cheaper medicine containing the same salts.
Informative
A medicine delivery app provides detailed information about the medicine searched by the user within the application. It helps users to know about the salts contained in their medicines. Right education about medicines spreads awareness among the users. This is a very much appreciated feature of the medicine delivery application.
Market Size and Stats of Medicine Delivery App Development
The medicine delivery application market has been growing progressively. In recent times, the Covid-19 pandemic brought a massive surge in the healthcare and fitness industry. As per Statists, the online pharmacy market could witness healthy growth with a CAGR of 13.65%. Further, this could push the projected revenue to approximately US$52.33 billion by 2027. 
According to Statista, the projected growth of the mHealth application market is expected to grow by nearly USD $100 billion. If this is a shocking projection for you then brace yourself, by 2025 the market is predicted to grow by around USD $332.7 billion.
Here we have some quick facts that showcase the potential growth of the medicine delivery app industry:
Increasing innovations and new product launches will drive market growth.

The expected ARPU (average revenue per user) could be US$18.32.

The user penetration is expected to hit 29.04% in 2027, which was 19.79% in 2022.

In global comparison, the largest chunk of revenue will be generated in China, followed by North America and Europe.
The above graph shows the whole growth pattern of this digital healthcare industry. It is certain that medicine delivery apps are destined to grow like anything. It makes it one of the most profitable markets right now. This is the reason the digital health industry is attracting investors from other fields as well.
Features of On-demand Medicine Delivery App 
User Panel

Retailers Panel

Delivery Panel

Admin Panel

Signup and Login
Profile
Upload Prescriptions
Filters for Category Search
Medicine Details
Expansive Search

Manage Drug Details
Order notifications
Digital prescriptions
Manage Discounts
Order Management
Payments
Reviews
Similar Medicines

Courier Profile
Push Messages
Tracking system
Delivery updates

Inventory Management
Marketing Tools
Manage suppliers and users
Track Profits
Access & Generate Reports
Advanced Features of Medicine Delivery Mobile App
Apart from all the above-mentioned features, there are some features that make a telemedicine application different from the rest. These features help in beating the competition and leading the app marketplace.
Communication (SMS, Mails, Push Notifications)
The idea is to keep communication flawless between the users and the medicine delivery app. The alerts, updates, and confirmations of orders sent via SMS, mail, and push notifications to the users help them to stay updated with their recent orders and upcoming discount offers as well.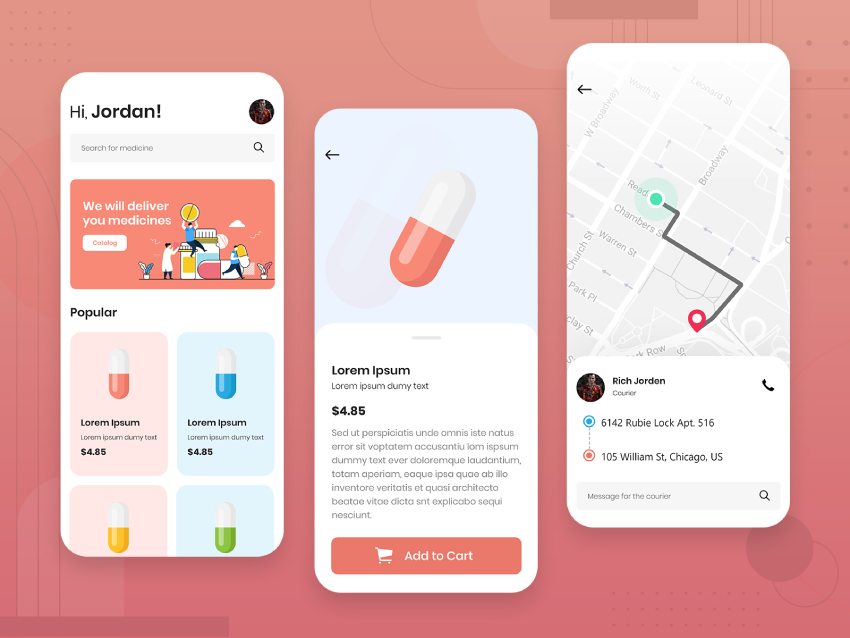 Expert Counselling
There could be a time when a user may need some expert consultation about the medicine or prescription. A dedicated expert counseling feature helps users to ask questions to the experts and get instant answers to their medical queries.
In-app Camera
While uploading the picture of a prescription the users do need to click a picture from another camera app then come back to the medicine delivery app and then search for the picture in the gallery and then upload it.
All this process is simply cut down to a simple in-app camera feature. If a user needs to upload a picture of a prescription, then click from the app and upload from there.
Document Upload & Scanning
This feature allows the user to scan the clicked picture of the prescription or any other document and then simply upload it to the app to get medical assistance.
Chabot Integration
Not all inquiries require a human to reply every time a user wants a question. To save human power the ChatBot integration within a medicine delivery app helps users with various FAQs and other important queries within no time.
CMS Integration
A versatile content management system (CMS) allows the admin to manage the entire content available on the medicine delivery application. Its smart and intuitive tools help admins to add, remove and manipulate content in the most efficient way.
Pharmaceutical CRM Integration
Pharmaceutical customer relation management (CRM) is an essential tool for app admins to maintain a successful business relationship with users.
Inventory Management Integration
A smart inventory management integration helps retailers to manage their products on the medicine delivery application.
Real-Time Analytics
This is yet another admin-exclusive feature. It helps admins to get real-time information on entire activities (user traffic, traffic according to region, income, etc.) going on in the application.
Role-based dashboards
Role-based dashboards are amazing tools for the admins of medicine delivery applications. These roles-based dashboards help admins to see the entire details of a particular category separately from other information. In other words, this feature allows admins to check everything on one screen while of the chosen category.
Behaviour Tracking
This feature is really helpful for users. This feature tracks the user behavior by saving the frequently ordered items from the applications and keeps them on the top the next time the user opens the app to order something.
Multiple Payment Options
A feature like this is an additional layer for the convenience of the users of the medicine delivery applications. Supporting almost all types of payment options helps all users to process the payment for their orders flawlessly. It improves the overall user experience too.
Marketing Tools
Marketing tools are available for both retailers and admins. Retailers and admins can run various marketing campaigns within the app to attract more users to visit the app frequently and buy more from the mobile application.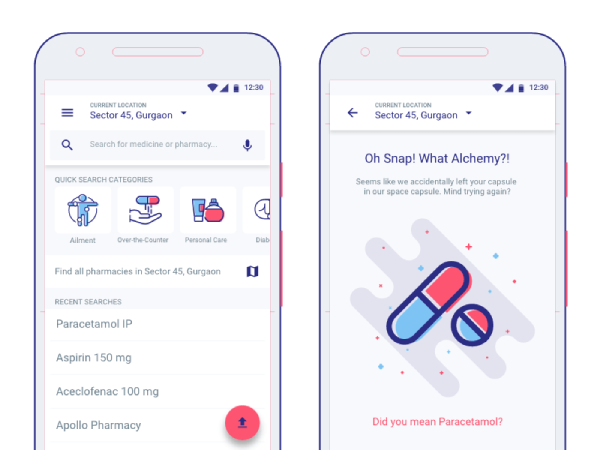 Lab Aggregation
Lab aggregation facilities checks on more point in the list of user convenience methods. With this feature, users can opt for any lab test and the experts will visit the user's place, collect the samples and send the reports at the user's doorstep. This is a whole new level of convenience.
Now, what does it take to build a medical reference app like Epocrates that reigns in the app marketplace? The answer is as simple as it can be. A team of experienced and adroit developers is all it takes to build a successful business model out of a medicine delivery application. Who are the essential parts of this team? Let's find out.
Team Structure for On-Demand Medicine Delivery App 
For developing a medicine delivery mobile app that attracts a wider user base, you require a medicine app developers team. It is wise to make sure the developers have prior experience with medical app development because medical apps require some extra compliance with the Govt. acts and norms.
One more thing you should look for in a healthcare mobile app development company or team is that they are visionary enough to cope with your vision and understand it profoundly. This way they will be able to incorporate their expertise to turn it into reality.
Here are the most essential members of an On-demand medicine delivery app,
Project Manager

Android Developers

iOS Developers

Backend App Developers

Graphic Designers

UX/UI Designers

QA Testers
The number of concerned developers or designers may vary according to the project requirement.
How much does it cost to build an On-demand Medicine App?
A straightforward answer to this question is not quite possible without understanding the project requirement and the geographical location of application development. As it is quite obvious that a medicine delivery application may have various features and it can be built for multiple platforms like Android, iOS, and wearables.
Hence, there are various factors that can affect the overall cost of medicine delivery app development. Geographical location is a decisive factor in affecting the cost of app development. For example, hiring a developer in the USA costs somewhere between USD $150-$250 per hour.
On the other hand, in eastern European countries, it will cost USD $120-$180 per hour. However, it is wise to keep Asian countries like India in focus for the development, as hiring a developer in India costs only USD $40-$80 per hour.
In addition, the number of features and the number of platforms for which the app is being built are also important factors affecting the cost of development.
Therefore, just to have an app we can assume an MVP (Minimum Viable Product) version of the medicine delivery app is being built in India then it may cost around USD $25,000 – $50,000. However, it should be kept in mind that including various advanced features and making the app available on multiple platforms may cause the development cost to go beyond USD $50,000.