Netflix is no way less than a leader in the video streaming industry which has become a craze among young viewers.
Netflix began this journey by providing the DVD-by-mail business in 1997 but today Netflix has a customer base of 118 million paid customers.
Forget about the world just in the United States it has more than 50% of families among the nation are using the services of Netflix. But how come Netflix gained so much popularity? What makes Netflix the leader of this business?
In 1998, Netflix introduced a web page. Also, video streaming app like Netflix evolved their services to a "monthly rental" from a 'Pay per rental' mode global video streaming business magnitude was worth USD 42.60 billion in 2019 and is stated to increase at a compound annual growth rate (CAGR) of 20.4% between 2020 to 2027.
Inventions, like blockchain technology and Artificial Intelligence (AI), to enhance video quality are stated to encourage market growth.
AI has an important contribution to, cinematography, script-writing, dubbing, video editing, and in other aspects of video production and upload.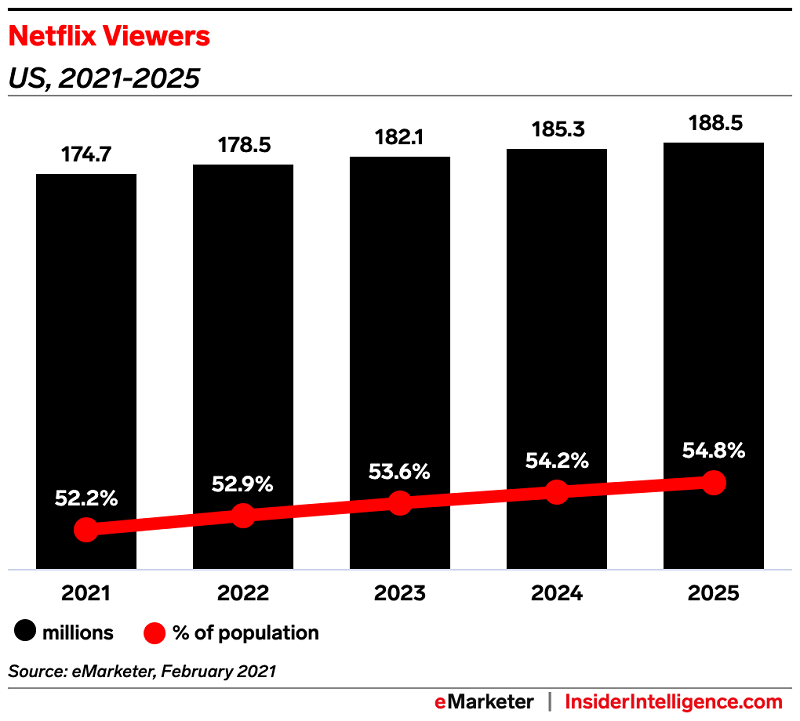 In 2019, Netflix is the most preferred video streaming platform in the United States, Netflix is leading the business, with 61.04 million subscribers.
Brazil is just below the United States with 15 million.
The United Kingdom, Mexico, and France are at the 3rd, 4th and 5th positions.
Latin America in particular is an evolving market for the SVoD provider, and subscriber numbers in the region hit 793 million in the first quarter of 2020.
Revenue in the Video Streaming (SVoD) segment is expected to touch US $27,143 M in 2020.
Revenue is going to show an upward trend in the annual growth rate (CAGR 2020-2024) of 4.1%, resulting in a predicted market volume of US $31,877 M by 2024.
User penetration will be 15.9% in 2020 and is all set to hit 17.8% by 2024.
What is a Video on Demand App?
VOD is a system by which the users can select their desired video content such as TV shows, web series, or movies and watch these as per their comfort and chosen time rather than watching it as per on-air broadcasted time. All you need to do is just plug in the device.
How does video streaming app work?
Video streaming app like Netflix allows users to select and watch movies, Web series, TV shows, and other video content at any time they choose and on whichever device they choose.
Content needs to be stored on a video server within a digital data format to avail video on demand. Just when a user chooses a specific video content, it gets compressed and dispatched through an Internet connection, When it reaches the target user's device it once again gets decompressed and decoded into its original state.
How does a video on-demand app
work vs. traditional cable TV?
When it comes to traditional cable TV, video content is compressed, digitized, and sent via the Internet or cable networks.
But here is the catch, traditional programming is facilitated on a schedule planned by the cable facilitator – users never had any choice in terms of time preferences or content selection, it was completely dependent on the cable facilitator.
How does video-on-demand work with user control?
As video on demand caters and outlet video to a user's device, users are allowed to stop, rewind, pause and fast-forward the video – this feature was never available in existing traditional TV programming.
How does video on demand cater to the hospitality industry?
The hospitality industry has always been keen to use video on request as a contending differentiator, facilitating customers with a more personalized viewing experience. video on demand apps can be perceived as a revenue stream in this industry, allowing them to charge the users for their choice of premium content.
How does video-on-demand work for mobile devices?
Services that offer video on demand for mobile devices transfer content wirelessly to the prescribed mobile device, tablets, and several devices, accommodating the content as per the device specifications to better the viewing experience, enhance system performance and lessen the impact on network resources.
Revenue in video on demand app:
SVOD:
In the Subscription Video On Demand, there is a fixed tariff which is the subscription fee to be paid by the customers.
So users will be able to watch the entire range of video content only when the user has paid the subscription fees.
There are generally several types of subscriptions like basic, semi-premium, and premium.
A user can decide to choose the type of subscription as per his choice.
TVOD:
The transactional Video On Demand model does require any fees at the time of login. In this model, the customer pays a fee as per their choice of series or movies they wish to watch.
AVOD:
Ads Supported Video On Demand is basically an advertising-centric digital video service that is being offered free of cost to users.
Featured listing:
Any specific latest content that has been just added on the online platform can be boosted and encouraged easily by showing short trailers or posting it in a different manner than it can grab the user's attention. The application provider can ask for a certain extra amount for that latest premium offering.
Advertising:
Completely relying g upon the user's interest or downloads, several advertisements can also be showcased on the digital content which leads to monetization of the app.
Features of VOD App like Netflix
USER PANEL

ADMIN PANEL

Register/ Sign Up
Mobile Number Verification
Manage Profile
Recently Added Shows/Movies/Series
My List
Films List
Similar program
Trending Now
Series List
Notifications
Search(by title, people Genre)
Filter shows (/Suggested shows Years/A-Z/Z-A)
My Account
Manage payment and billing details
Manage Language
Redeem gift card/ promo code
Update/Upgrade subscription plans
Subtitle appearance settings
Like/Dislike shows

Login
Manage Customers
Manage Shows
Manage Movies
Manage Episodes
Manage Program Categories
Hollywood/Bollywood/Horror/Suspense etc)
Manage Trailers
Manage Genre
Advanced Analytics and Reports
Manage subscriptions
Manage CMS
Manage Notifications
Manage Payments
Manage Languages
Manage Gift Card/Promo codes
Manage settings
Manage Filters
Manage Featured programs
Manage Downloadable shows
Additional Features of the Video Streaming App:
In order to avoid unwanted business risks, it is crucial to invest in MVP development instead of investing in a complete solution.
A theoretical perspective on application improvement will help in comprehension and organizing the required application advancement highlights.
MVP is created with the most essential component to check whether the item can support the market or not.
The main fundamental features of an on-demand video streaming application are as follows:
Login and Sign Up:
Simplified registration for users and login process is a significant characteristic of any given video streaming application.
Customers can sign up on the application with their email address or phone number and get their login credentials. Afterward, the user logs in using their rendered credentials and can easily access the application content and features.
Online Video Streaming:
The video streaming platform has to provide and facilitate content in real-time as it is happening so live video streaming is a vital feature when it comes to sports events, entertainment awards like Oscars and specific live tv shows, news broadcasts,s, etc.
Secured Transaction Model & Payment Gateway:
In order to ensure data security and privacy of the customers, a video streaming app has to have secure and protected payment options which are not vulnerable.
This will ensure that customers can securely make subscription payments without worrying about security concerns. A platform must offer many payment alternatives as it would eventually increase the number of users as well.
Multiple language Support:
Multiple language support is a bonus feature for a video streaming platform. Using this feature, customers can watch the content in their native or preferred language. This feature allows users to personify their viewing experience.
Support for various devices:
A smart app must offer multi-device assistance. It is a vital feature of a video streaming app and it should support several devices such as PC, iOS devices, Android phones, Smart TVs, etc.
User Profile:
Customers can customize their profile and modify the details as per their choice and interests like their preferred movie actor, favorite movie genre, TV program, documentary genre, etc.
Smart Search:
Customers can surf or go through the available content of the application to look for their choice of movies, TV shows, and sports events.
Using the filter one can separate their choice of content on the basis of, country, genre, language, etc.
Make a playlist for your preferred videos:
The video playlist feature allows users to pick out their preferred movies and shows to customize their own video playlists.
Settings:
One can alter the app settings and video streaming choices with several controls like subtitle on/off, volume,skip, play/pause, etc.
Review & Rating:
For an advanced and reliable video streaming platform, a rating & review feature has to be there in order to showcase user's evaluation of the content. Users prefer to choose movies and TV shows based on other viewers' ratings and reviews.
Advanced Features :
For better user experience and user engagement, the following additional features can be implemented in a video streaming app.
Watch Videos Offline:
Videos can be downloaded by the users so as to watch them whenever and anyplace without an internet connection. This component permits users to watch their preferred shows without being online.
The playlist can be shared with other users:
Customers will relish video streaming services if they are allowed to share their choice of TV shows and movies among their friends.
The aforementioned feature let the users share their chosen playlist with their contacts or known ones. These contacts could be either within the app or could be using different social platforms.
Social Login/Signup:
Social media login is a simple feature that permits users to sign in to the application with their respective social media accounts. It is a simple but quite useful way as all the user information is sync via their social media accounts.
Blocking on the basis of Geo-location:
There could be several shows or content that could be considered sensitive or inappropriate in all the regions or locations or countries. Hence by using the geo-blocking feature, the content can be restricted accordingly in specific areas.
Video Resolution:
The video resolution can be set accordingly by the user as per their internet speed. One can choose to watch the content in low resolution at a time when the internet connection and speed is inconsistent.
Push Notifications:
This feature prompts users about their subscription time validity, several discount offers, latest shows, upcoming shows, and movies.
Below are the key features of advanced applications like Netflix :
First-rate streaming

Incomparable content

Ad-free movies

Regards for the viewers — their ratings, reviews, and evaluations

30 days welcome bonus
With a robust and seamless video streaming application like Netflix, you would hardly miss your favorite shows or movie pictures irrespective of whether you are at home or not. Just go through the below benefits of utilizing a video streaming application:
Access for free:
You can surf and go through a video application anywhere and at any moment.
Tweak Shows:
You can watch and re-watch your favorite movies and TV shows without waiting too long as these are spared in the cloud for you. Similarly, you can choose the genre or type of content which you prefer to watch.
Efficient:
One doesn't need to worry about missing a sports event or a show. The application will store everything you like.
Advertisement Free Content:
Everyone prefers promotion-free content, so in the case of these applications, you can rest assured about the same.
Different Paying Plans:
It is easily one of the best benefits of choosing a video streaming application, it allows the user to pay the fee in several installment plans. So that you can choose the most fitting plan and pay in easy installments.
Design of the application:
It is important to keep the structure precise and standard. A simplified structure allows users to find the content they are looking for and ensures that the user status engaged and spends more time on the application.
Portable Wallets:
It is always beneficial to include several wallets in your application. It would require an initial investment to incorporate installment modes for clients however, disposing of a lot of installments can affect as well.
App developer's cost:
The fee of app developers is different according to their geographical location. If the app developers are living in the US, then the fee would be more, in case if you choose the developer from countries like India, the costs will be staggeringly lower.
Development Team Structure:
In order to build an effective and highly scalable On-Demand Video Streaming app, the important factor will be a proficient mobile application development team.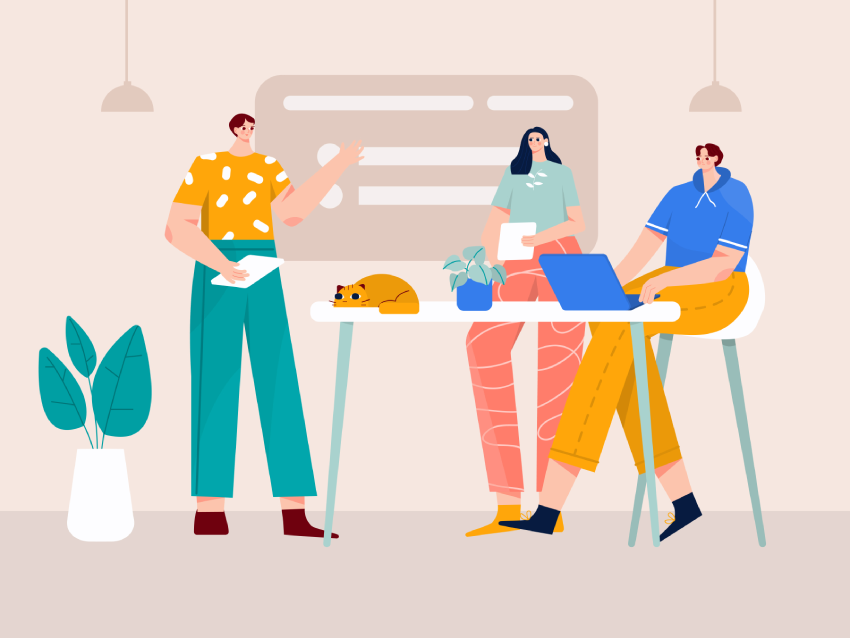 A squad of highly skilled professionals always brings forth amazing results. In order to develop an application, you would need several professionals with different skills and expertise.
So below experts would be needed to build an app as good as Netflix:
Project Manager

Android and iOS Application Developers

Business Analyst

QA Professionals

Front-End Developers

Backend Developers

Graphic Designers
Required technology Stack to Develop VOD Mobile App
Streaming-
The Developers would have to frame up the protocols so that the streaming part executes consecutively, HLS, RTSP, UDP, RTMP, and TCP are the set of protocols that are required in the process.
Other tools that could be used by app developers for streaming purposes tools like Contus Vplay, and Wowza SDK could be used by the app Developers.
Hosting-
As far as hosting is considered one can count on Amazon Cloud Services for the same.

What could be the hurdles or Challenges in building a VOD mobile application?
Scalability:
Scalability plays a very important role, as afterward the launch there will be an increase in the number of users, so the back-end architecture of the app should be scalable enough to facilitate a high number of users in real-time without any disruption.
Security:
Videos are as good as sitting duck for video pirates and hackers. In order to avoid piracy, it's always better to fetch digital rights, access control, encryption, etc.
Flexibility:
The application must be pliable enough to work on all platforms and devices be it a desktop, mobile or tablet.
Conclusion:
However, the exact cost of developing an application like Netflix can't be predicted. Nonetheless, with the features and factors aforementioned, one can go ahead and have an estimation of the cost. 
A video streaming app like Netflix would need a lot of passion and persistence in order to achieve desired results. Though it is a very promising venture looking at the trends and it is expected to flourish more.