In today's digital age, a company without a website is doomed to fail. When it comes to building a company's reputation and customer base, web app development services in UAE are now more important than ever. That is to say, it is typically the skill of web developers that determines the online success of a brand.
These days, more and more people look up a company's offerings online before buying anything. You need the assistance of e-commerce web development in UAE to establish an effective and profitable online store since they will design the website such that it generates the most revenue possible while also satisfying customers' other needs.
The UAE is home to a plethora of web development firms that can create a site for your business within your set budget. However, only a professional web development company in UAE can see the wider picture when it comes to their client's requirements, rather than making compromises for their short-term goals.
Finding the top web development team in Dubai necessitates a significant amount of research. If you end up working with a web development company that isn't a good fit for your needs, it could have lasting negative impacts on your business.
Hiring a reputed web development company in UAE can be a daunting task, so we've prepared some helpful tips to help you along the way.
Tips to Choose Web Development Company in Dubai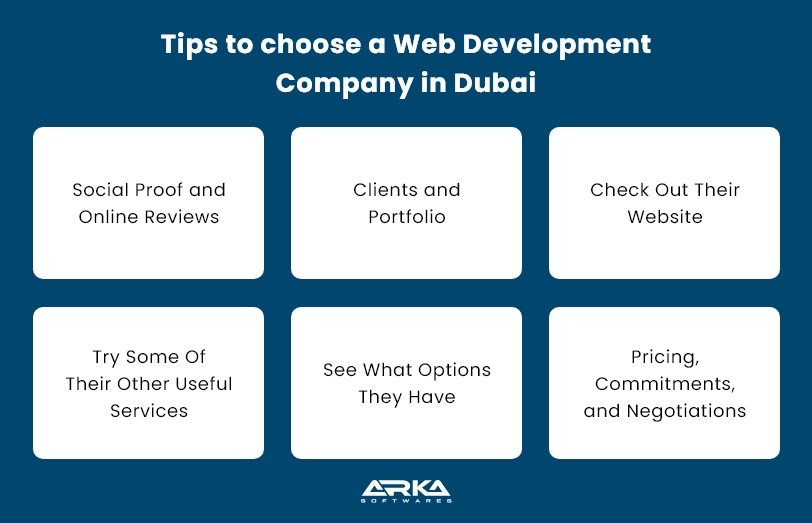 #1. Social Proof and Online Reviews
Customer feedback provided in the form of ratings and reviews posted online is among the most candid feedback you'll find anywhere. Any web development agency can be evaluated with the help of the information provided by these resources because the feedback they provide is objective.
For the most part, Google's business pages and ratings are among the most trustworthy resources for genuine feedback from customers. Google and Facebook recommendations are typically impartial, and the firm can't even delete them.
Not only do positive reviews on the web matter, but so too does an active social media presence. Due to the nature of their business, a web development firm dealing in digital goods and services needs to have a strong online presence. These days, a company's digital brand identity can't exist apart from social media.
You should look them up on various social media sites like Mewe, Facebook, Twitter, LinkedIn, etc. See how many followers and likes they have, how quickly they respond, and how engaged they are. Seeing their level of online popularity in this way is a useful indicator of their actual popularity.
A reliable web design firm will always take the time to create professional-looking social media accounts and pages. Read what they have to say as well.
How often they interact with their fans and followers, what kind of stuff they share, etc. The level of professionalism displayed by the web development firm can be gauged by looking at such details.
#2. Clients and Portfolio
If the web development team you're considering is pleased to feature examples of their prior work and a portfolio on their website, you may rest assured that they are a reputable firm.
You can tell if a web development firm is doing high-quality work by looking at their portfolio. The portfolio has sufficient samples for you to determine whether or not the organization can fulfill your needs.
Experience with relevant projects is of paramount importance. Although a web development firm may excel in producing top-notch work for one industry or one sort of organization, its performance may fall short when tasked with creating a site for completely other sectors.
Because of this, it's crucial to have appropriate work experience. Viewing the web design firm's portfolio can give you a good idea of the kind of work you can expect from them in terms of skill, creativity, and originality.
#3. Check Out Their Website
When it comes to web design and development, the best firms always have the best websites. They absolutely must have a well-made company website.
While the visual appeal of a website is important, the information it provides is just as crucial. Examine the site's features, content, and design to get a feel for what it's like to use.
The website's interface and how easily you may move around it are also crucial. Explore the site's various pages, tabs, and subheadings to get a feel for the organization.
A company's ability to provide a high-quality product mirrors the quality of the user experience they provide on its own website. You should also have a look at their blogs to get an idea of the content they're posting and how it benefits their users.
Finding a reliable web design firm is facilitated by such factors. Load time is also crucial, so be sure to check out how quickly each of their websites loads. For a satisfying user experience, quick page loads are mandatory.

#4. Try Some of Their Other Useful Services
Web development firms usually also provide related services like hosting, cloud computing, digital marketing, search engine optimization, etc.
It's crucial to do a search for any and all related services. Companies looking for website development usually enter into an Annual Maintenance Contract (AMC) and Service Level Agreement (SLA).
Since AMC is responsible for your website's upkeep, you can look to the SLA as some assurance of high-quality service. The SLA ensures that your hosting company will maintain a 99.9% or higher rate of uptime for your website. In the long run, these kinds of services could prove quite useful to companies.
#5. See What Options They Have
Nowadays, a website is much more than simply an online brochure; it has evolved into a potent communication and advertising tool that may bring in a lot of new customers.
Therefore, a website needs to be fully dynamic and mobile-friendly. Websites created with a Content Management System (CMS) are considered dynamic.
The CMS is a highly effective piece of software that enables businesses to routinely update their website by adding new pages, editing old ones, and uploading new images, videos, and content.
Furthermore, many other activities are being carried out online and via websites. For instance, HR may need to link the company's website to Applicant Tracking Systems (ATS) and other software.
#6. Pricing, Commitments, and Negotiations
Assuming all the organizations on your shortlist satisfy the aforementioned concerns, you can put them to the ultimate test and choose the best web development company in Dubai, UAE.
When looking to hire a dedicated developer for website in Dubai, look for one that provides reasonable rates. The costs should always be fair. However, bargaining is still required for the best price.
Be sure that the final price falls just below the one you've set aside. If you can keep the expense of developing your website to a minimum, you'll have more money to spend on any new bells and whistles that could come your way when you're creating your site. Prices are crucial, but contracts and agreements are as well.
Mark any provisions that could potentially hurt your interests in the future as you read through them. Obtain a detailed dispute resolution process and financial security in the event of contract cancellation from them.
You should give serious thought to these factors before committing to a web development firm for any project proposal.

Conclusion 
Nowadays, a dynamic website is a must-have for any business. Due to the ever-shifting nature of consumer preferences and industry fashions, organizations need a web development strategy that is both scalable and adaptable enough to let them maintain their content relevant without sacrificing efficiency.
Whether you're starting from scratch or updating an existing website, adopting the aforementioned guidelines will help you choose a web development company that will deliver the results you need.
FAQs for choosing Web Development Company in Dubai