This blog is for you if you are having or planning to start an online movers & packers business. This article will offer you everything that you need to know about movers & packers mobile app development – market size, opportunities, mobile app features, development cost, etc.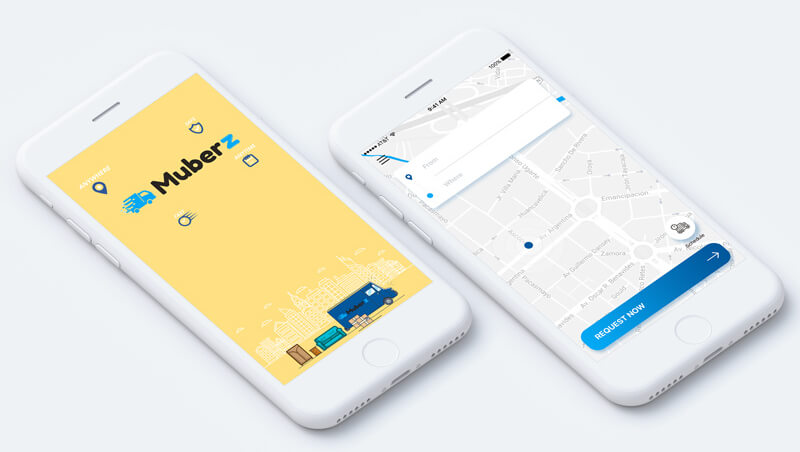 Living too close to society sometimes blurs our vision and it makes us oblivious to its numerous activities and paradigm shift occurring on a daily basis. However, we are aware of this erratic behaviour of our society but the realizing on what scale it is shifting the trend can simply blow our minds. It is same with the mover and packer industry. Hundreds of people move from one place to another every day and their belongings move with them. But this is a closer and blurry vision. The bigger picture says, on average 40 million people move every year in the US alone and in 2016, According to statistics, this industry's revenue in the US is expected to cross USD 26 billion by the end of this year.
Industry revenue of "used household and office goods moving" in the US 2011-2023 (in billion US dollars)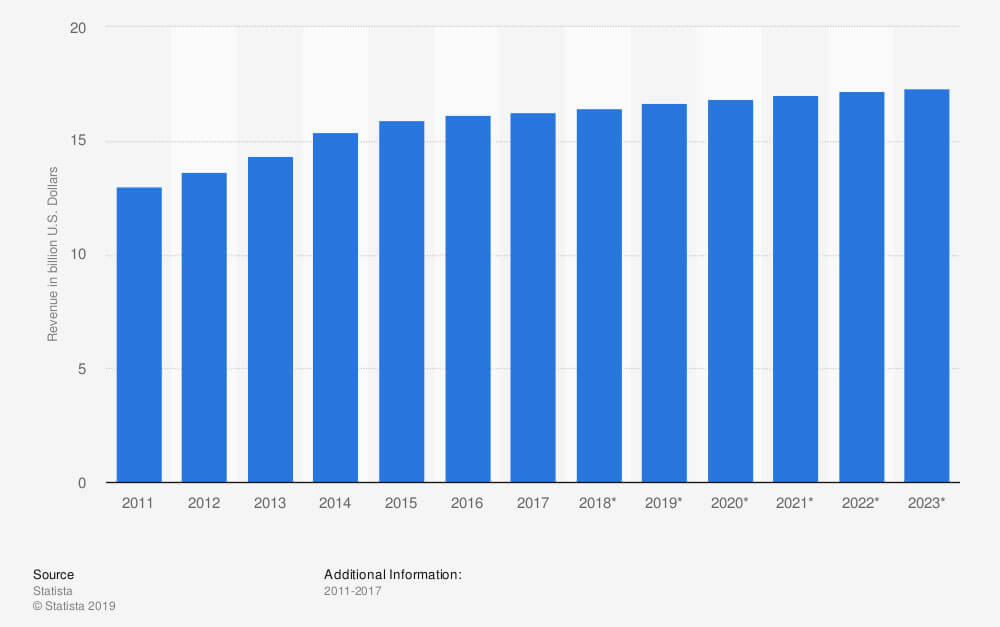 Now those are some moving numbers. But that's not it, a growing business industry seduces many investors and entrepreneurs from even outside of the industry. Again that's a blurry and closer picture. The bigger picture says, if you need to save a place for yourself then you have to at least offer a mobile infrastructure that makes your business accessible and easy-to-reach for your customers. How? The technology has got you covered. With the right mobile app development, you can give your mover and packer business unprecedented growth driven by convenience.
Largest moving companies in the US as of 2018, by fleet size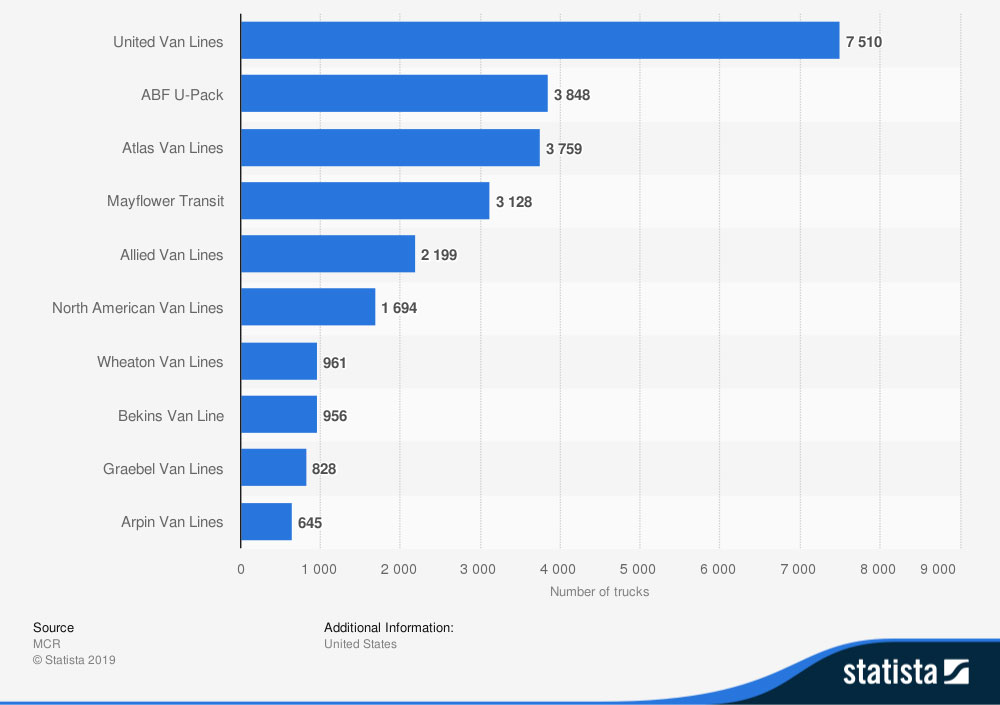 But does it help to have a mobile app?
Well, to begin with, the global market share of mobile users tops the chat with 55% which is literally more than half of the entire market share. Hence, developing mobile infrastructure for their users is like getting the bigger piece of the pie in the return. The main reason for the increased market share of mobile users is the level of convenience provided by mobile devices like smartphones and tablets. Even the modern age mobile devices are getting more powerful and efficient which allow users to carry so much potential in their pockets.
The inclination of consumers towards mobile devices nurtures a world full of possibilities. Therefore, developing a movers and packers mobile application can be significantly fruitful.
Some Moving Apps To shift Your Home or Office
Zoopla

Dolly

Moving Planner

Shyft Moving

Moving App – Moving Checklist

Shift Karado

Packerswala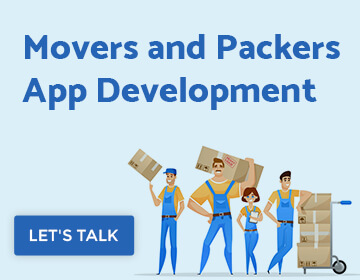 Why Do People move?

Business Model of Movers and Packers Mobile App
Internet is the market and a mobile app is the infrastructure of your business. Statistically speaking, in the US, the moving industry employs over 123,000 people. This industry is basically filled with small agencies and individual. A movers and packers mobile app offers a complete and resourceful infrastructure that connects customers to service providers.
In an MVP (Minimum Viable Product) version of a movers and packers app, there are basically three end-users, the customer, service provider, and the administrator.
The mobile app allows service providers and customer to sign with their email IDs or social media account. It allows provides dedicated profiles to both users.

The service providers can set up their accounts with all the relevant information of their vehicle fleet, hourly prices and for different moving and packing services.

The customers can browse through the profiles of all movers and packers in their local area and select according to the ratings, reviews, and price of the service providers.

Once the request is sent from customer's end the service provider receives a notification which allows them to connect and discuss the project.

The payment can be done via the application itself or it also allows to pay by cash.

After the work is done the customer can leave appropriate feedback on service providers profile.

The record to services and transactions are saved in the profiles of both customer and service provider.

The admin controls and oversees all the operations done by all types of users. The admins are also provided with dedicated dashboards to show all the quintessential information like active users, total income, finance dashboard, etc.
This business model pretty much sums up the entire basic business model of movers and packer mobile application. Now let's find out what are those features that make the mobile app a flagship that drives profit to your business.
Features of Movers & Packers Mobile App
Admin
Customer
Agency Panel

Dashboard Management

Manage Drivers

Add/Edit/Remove/Block Drivers

Manage Earnings & Commissions

Vehicle Management

Manage Customers

Accept/Reject Survey Requests

Report Generation & Weekly Statement

Assign Task to concerned staff

Social Sign Up / Login

View/Edit Profile

In-App Camera

In-App Communication

Request For Survey

Make Service Request

Get acceptance notification

Set Pickup & Drop Off Location

Users can schedule transportation

Multiple payment options

View Order History

Truck Drivers/Vehicle

Reviews & Ratings to Agencies

Fare Calculator & Easy Payment

Sign up/ Login

View & Edit Profile

In-App Camera

In-App Communication

View Order History

Change Availability

Accept and Reject Order

Rate and Review Customer

Receive Payments

Accept/Reject Task Assigned By Admin

Check Daily & Weekly Earning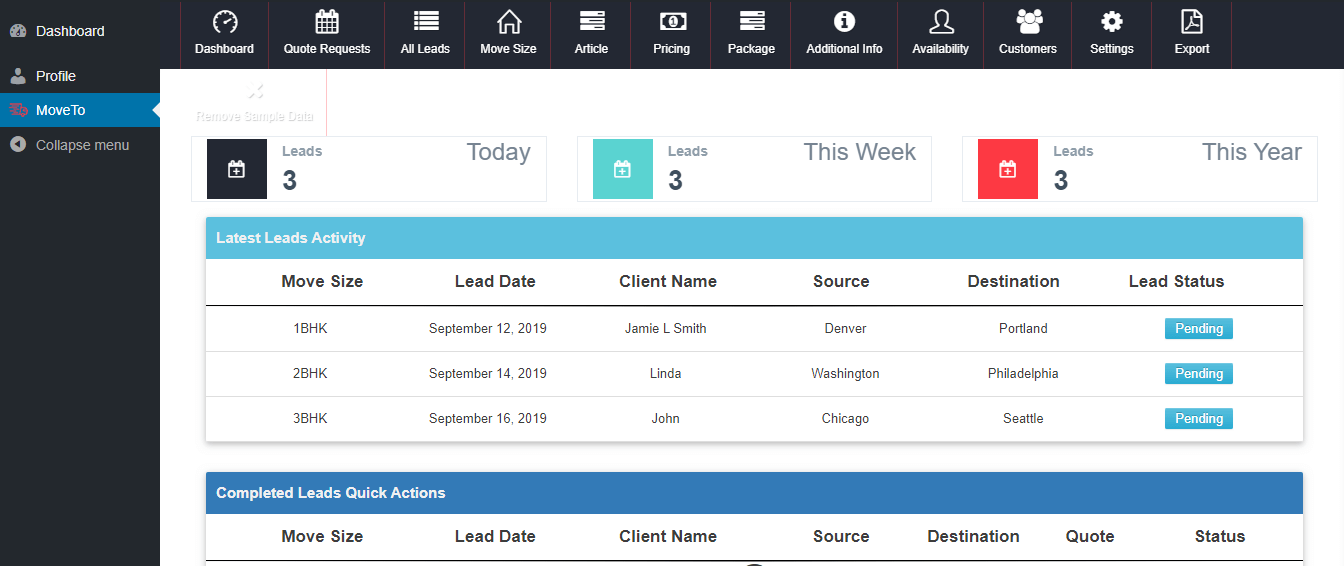 Advanced Features
Social Sign Up & Logins
Social media sign up and login feature allows app users to sign up and log in to the app with their social media account. This added layer of convenience saves time and user don't have to remember an extra email ID password.
Push Notification
Push notifications do not let users miss any necessary alert like and confirmed booking, task completion, successful transaction, etc. These notifications pop up on their mobile screens and provide essential information.
In-App Navigation
This feature allows customers to track the live location of the movers and gives estimated time of arrival and delivery. And for service providers, this feature helps them reach customer's place and destination of the shipment.
In-App Chat
In-app chat allows customers and service providers to communicate via chat. It helps in exchanging additional information about the moving project. Hence, more accurate cost estimation can be provided.
In-App Call
In-App call takes the convenience of communication between customers and service providers to the next level by allowing both parties to talk overs voice call for better communication.
In-App Camera
The in-app camera enables customers to capture images of the site and send them to the service providers to give them the idea of the scope of the project. It also helps in scanning bar codes and QR code for project verification at the site between customer and service provider.
CRM Integration
Customer Relation Management (CRM) is an additional, yet an essential tool that channelizes all marketing campaigns and reporting & analytics of the entire app for the administrator.
CMS Integration
A versatile content management system (CMS) integration within the app provides admins a deeper level of customization in the application. With CMS, admins can easily and efficiently modify or transform the available content available on the application.
Marketing Tools
For exceptional business growth and efficient management, execution, and analytics of marketing campaigns, marketing tools can be integrated within the app infrastructure.
Real-Time tracking
Real-time tracking allows customers to track the live location of movers and packers.
Cost Calculation
Cost calculation provides the estimated cost of the project to the customers so that they can figure out the cost of the project before assigning it.
Loyalty Programs
Loyalty programs can be run by both admins and service providers to attract more user engagement. It may comprise various types of discount offers and referral programs.
In-App Calculator
It is a simple and handy feature that allows users to calculate the cost of a couple of projects with features like calculating discount and tax, etc.
Ad Management
For promotional campaigns and advertisements, Ad management helps admins to get real-time information about their running ad campaigns while providing features like, manage, delete, create ad.
Real-Time Analytics
Real-time analytics allows admins to get real-time information (no. of online users, finance, no. of transactions, etc.) of the entire application on dedicated dashboards.
Fuel Usage
This additional feature helps movers and packers agency owners to calculate the total fuel consumption of each vehicle according to their respective moving projects.
Vehicle Performance Insights
According to the fuel economy of each vehicle for moving and shifting tasks, this feature provides essential insights about the vehicle's performance and recommends maintenance if necessary. It also saves all the maintenance record of vehicles as well.
Goods Insurance
Goods insurance covers the entire inventory which is being shipped. An additional 3rd Party API is integrated within the app which allows the service provider to ensure the objects that are to be moved or shipped. It covers all the damages occurred during transit, cyber risks, general liability, etc.
How to develop a movers and packers mobile app?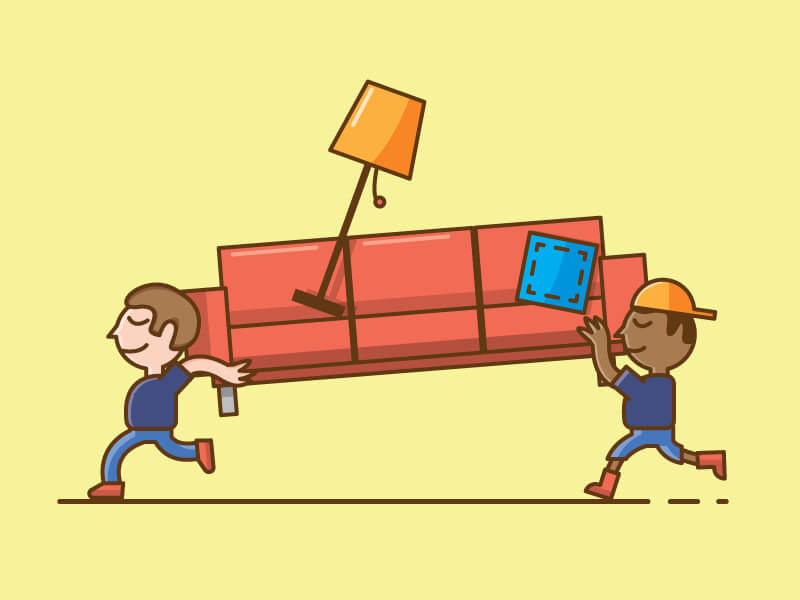 The development of movers and packers mobile application pretty much depends on finding the right people for development. Either it can be a mobile app development company or some competent and experienced developers to hire. So basically you need a team who can walk in shoes to understand your vision and are competent enough to deliver what you exactly need.

Team Structure of Mobile App Development
Mobile app development is a multi-channel process – development, designing, testing, etc. Each channel ensures overall smooth performance, stability, consistency, and aesthetics of a mobile app. Therefore, your team for movers and packers mobile app must experts of each channel that is being incorporated in the development. Here are the core members you should consider in your team of mobile app development.

Tech Stack Required for Movers & Packers Mobile App Development
Mobile platform – Android, iOS
Real-time Analytics: IBM, Apple Flink, BigData, Cisco, Spark, Hadoop
Database: Mail Chimp Integration, Postgress, HBase, MongoDB, Cassandra
Payments: e-Wallets, Stripe, PayPal, Braintree
Voice, SMS, & Phone Verification: Twilio, Nexmo
Push Notifications: Push.io, Twilio
Cloud Environment: Azure, Google, AWS
Development Cost of Movers & Packers Mobile App
Now coming to the point you have been waiting for. Figuring out the exact cost of a mobile is a complicated task. The application is developed according to custom business needs its prospective. Therefore, the overall development cost is subjected to the scope of work. However, there are several factors that may affect the cost as well. These are the geography of development, a number of features, and a number of app platforms (Android, iOS, etc.) for which the app is being developed, etc.
But let's consider the MVP app is being developed in one of the Asian countries like India and it is developed for one mobile platform, then the estimated cost of movers and packers mobile app development would be somewhere around $15,000 – $35,000 USD.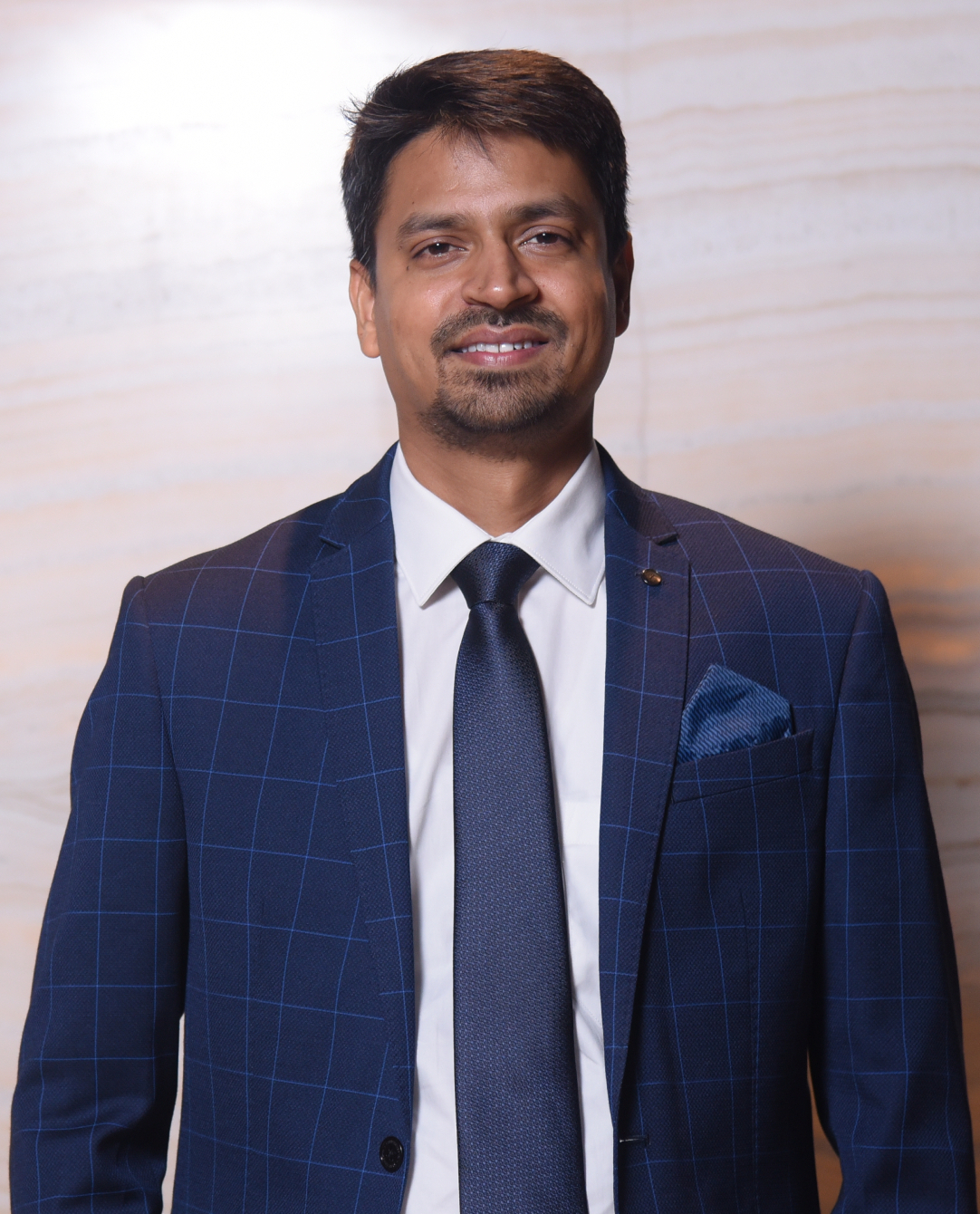 Rahul Mathur is the founder and managing director of ARKA Softwares, a company renowned for its outstanding mobile app development and web development solutions as well as specialized in Android and iOS app development. Delivering high-end modern solutions to all over the globe, Rahul takes pleasure in sharing his experiences and views on the latest technological trends.