Payment Gateways have become a crucial component of the E-commerce industry, as they offer an easy and highly secure method for customers to make online payments and other financial transactions.
If you are planning to build your online store in Australia, then it cannot be completed without integrating a full-fledged payment gateway that assures secure customer payment.
If you are in a similar situation and want to integrate or switch to a different payment gateway for your online business in Australia, then this is the right blog for you.
What is a Payment Gateway?
A payment gateway is a technology solution that helps businesses with processing their payments. These solutions are offered by either the financial transaction processing firm or a bank.
Payment gateways could be integrated into a business website with the help of an API (Application Programming Interface). It allows a business to accept credit card/debit card information and numerous other payment methods like Venmo, Zelle Paypal, etc.
The payment gateway sends authorization requests from the consumer's card provider and processes receipts if charges are approved. It also enables any adjustments to charges or refunds requested by either party.
5 Most Popular Payment Gateways in Australia
Here we have compiled a comprehensive list of the most popular Payment Gateways in Australia. This list will help you choose a perfect payment gateway that will complement your budget and business requirements.
1. eWay
It is among the most popular payment gateways used by Australian online stores. It facilitates the acceptance and transactions of payments for Australian merchants. eWay payment gateway offers an adequate security mechanism to ensure a secure online shopping experience for the customers.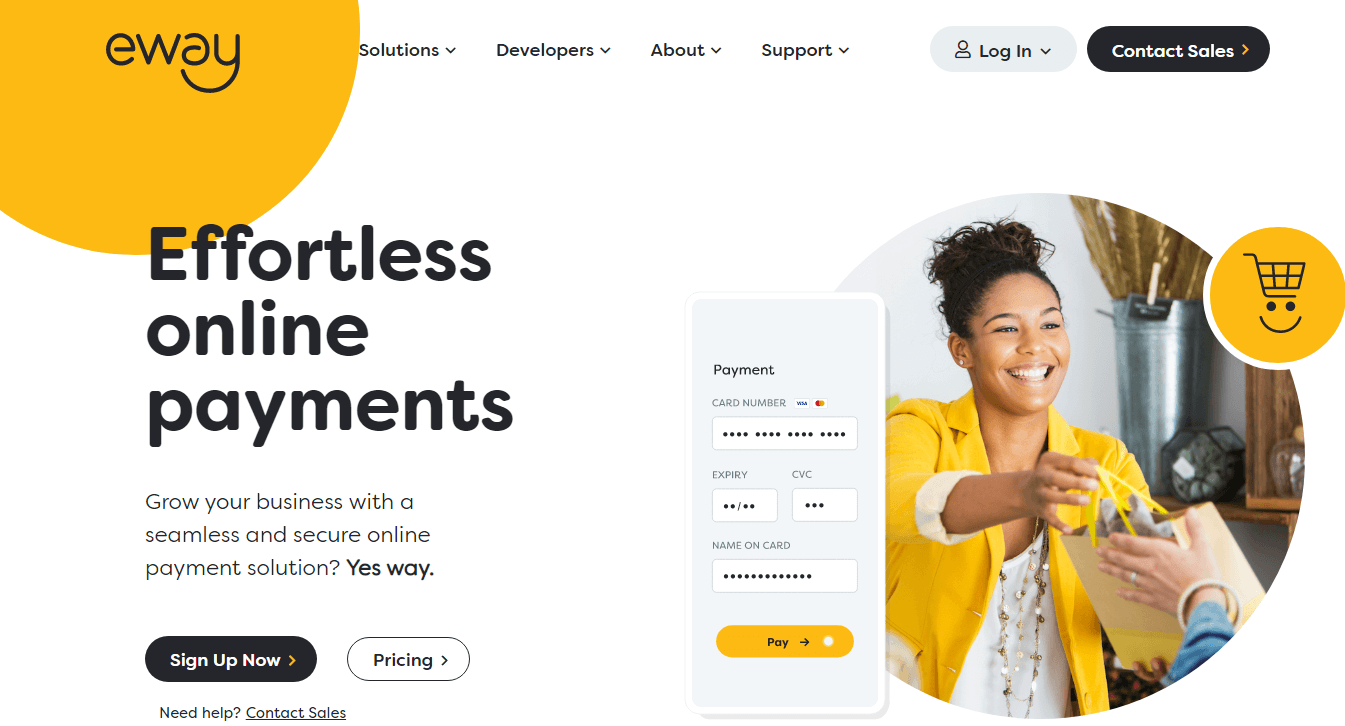 It accepts debit cards, credit cards, electronic funds transfers, online bank transfers, and more. It offers excellent security that safeguards your online store from fraudsters and hackers.
This makes it a preferred choice for businesses such as retailers, wholesalers, and even start-ups. eWay also offers round-the-clock customer and technical support.
Prominent Features of eWay
It could be integrated via a secured API. It protects sensitive information and never transmits it to the eWAY server from the merchant's end.

The integration is simple and does not require too many programming skills.

Seamless integration with 3rd party apps such as Magento, WooCommerce, Shopify, OpenCart, PrestaShop, and many other open-source apps.
Pros & Cons of eWay
| Pros | Cons |
| --- | --- |
| It is a PCI-compliant payment gateway | Fraud prevention must be activated manually from your merchant account |
| No set-up fees required | It is only available to Merchants having bank accounts in Australia, New Zealand, Hong Kong, Singapore, and Macau. |

2. 2Checkout (Verifone)
It offers merchants an efficient integrated checkout system. 2Checkout allows merchants to receive payments from all over the world as it supports international transactions. It enables merchants to create voucher codes and coupons that can be utilized by consumers while making a purchase.

It has been in the market since 1998 and since then it has witnessed massive growth in the payment gateway space. It has been managed by Braintree, which is an organization under the umbrella of payment system giant PayPal.
2Checkout offers strong security that allows sellers to process credit card and debit card payments without any hassles. It provides adequate protection against fraudsters and hackers to your business. It is capable enough to be integrated with various popular 3rd party software providers.
2Checkout is one of the simplest methods for sellers to set up a payment gateway for their online business without much technical effort.
Prominent Features of 2Checkout
It is PCI compliant and supports payment processing via Bitcoin and Ethereum

It supports recurring billing

The interface is responsive to mobile and other handheld devices.
Pros & Cons of
2Checkout
| Pros | Cons |
| --- | --- |
| It could be easily integrated with WordPress. | Digital wallets are not available. |
| It supports transactions for international customers. | The live Chat option is not available for merchants. |
3. SecurePay
It is among the most popular payment gateways in the world. It allows users to make secured online payments via a highly encrypted system. SecurePay is widely used in Australia and trusted by over 90,000 enterprises for its robust security and numerous innovative features.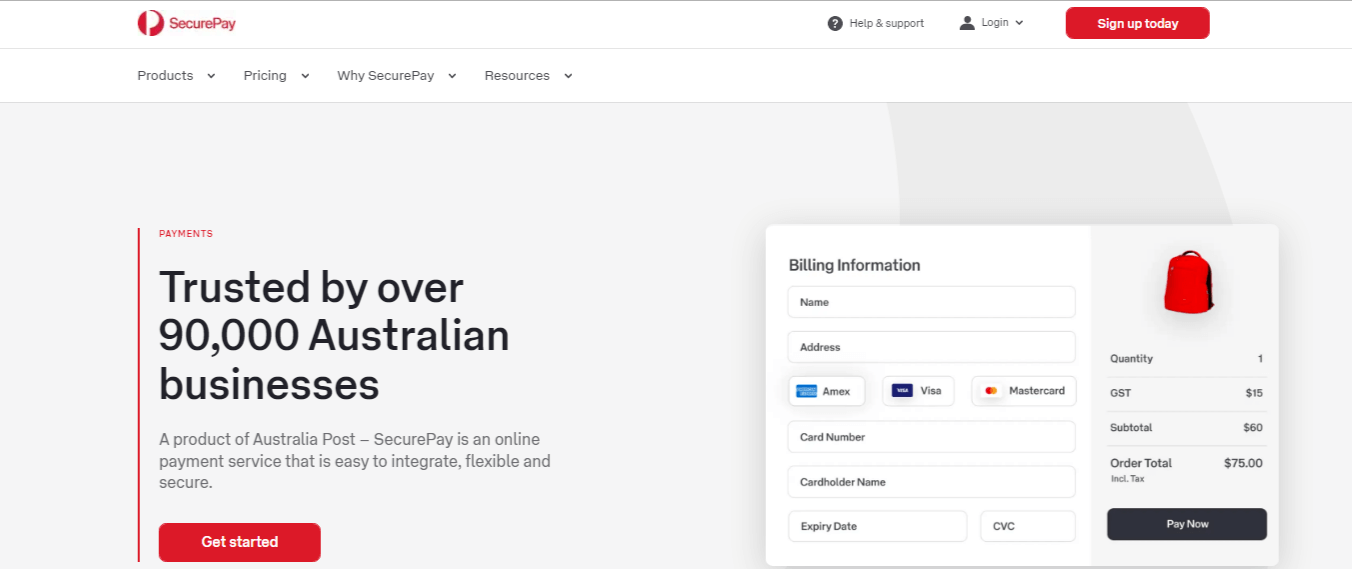 It supports recurring payments by frequency and amount. Users can view the reports and create dashboards for in-depth analysis. It is among the very few payment gateways which offer custom options such as tier prices or discounts for various customer segments.
SecurePay comes with a strong fraud detection system, which functions in real-time and monitors consumer transactions, and ensures they are protected against any fraud or hacking effort.
It also enables the business to send customized email notifications to their customers about their purchases and orders. It provides an extra layer of personalization that enhances the overall customer experience.
Prominent Features of SecurePay
Very easy to use and enjoys wider global acceptance

Comes with robust security features

It offers a Virtual Terminal and allows customization of the payment page
Pros & Cons of
SecurePay
| Pros | Cons |
| --- | --- |
| Provides advanced fraud protection mechanism. | Unable to process payments on mobile and handheld devices. |
| It provides sandbox mode for testing purposes. | It incurs hidden charges and is relatively expensive. |
4. ANZ eGate
It's a payment gateway that simplifies the transfer of funds from a customer's credit card to a merchant's bank account. It has been functioning since 2001 and is a division of the renowned ANZ Bank Group.

The ANZ Bank has developed an alternative to banks by offering its proprietary payment gateway system. It also offers services at more competitive rates than other competitors.
ANZ eGate enjoys the credibility and trust of ANZ Bank. It offers free fraud detection and protection system to keep your financial transactions secure. It can be easily integrated with various accounting software solutions.
It offers a Magento 2 ANZ eGate Payment Gateway extension for Magento 2 store owners, that helps them to capture online payments securely.
Prominent Features of ANZ eGate
The setup process is very easy.

It allows consumers to make payments from anywhere using their smartphone or tablet.

The UI/UX is very good and user-friendly.
Pros & Cons of
ANZ eGate
| Pros | Cons |
| --- | --- |
| It offers brilliant security features. | It is too expensive and not recommended for small businesses. |
| It is very easy to integrate with any shopping cart or online merchant account. | There are various challenges with the customer service |
5. Pin Payments
It offers an advanced API, which makes it easy for developers and web owners to integrate it with their existing platforms. It comes with various features that make it the most suitable payment gateway for e-commerce and online stores.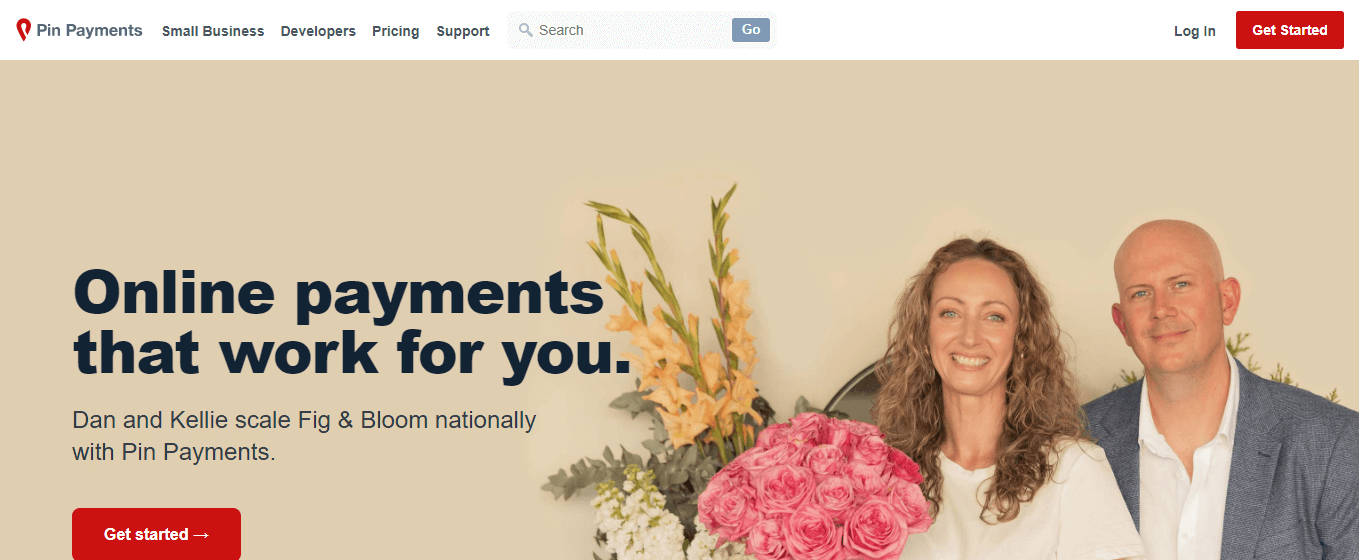 Pin Payments is a PCI-DSS Level 1 compliant solution, it guarantees maximum security while processing online payments.
Pin payments improve conversions by enhancing the checkout section, which encourages your customers to make payments at your site. It supports multi-currencies, while it does not need a merchant account in the first place. All you need is an existing bank account and an active ABN.
It offers a Magento 2 Pin Payments extension for Magento 2 store owners, that helps them capture online payments with utmost security.
Pin Payments can also be integrated as the chosen payment gateway of subscription software providers such as Chargebee: Subscription Management Software for Seamless Scalability.
Prominent Features of Pin Payments
It allows cardholders to reverse their unconsumed goods or services within 48 hours of the transaction.

It allows the cardholders to cancel their PIN at any time and stop account transactions in the future.

Offers real-time reporting of prevention purposes and fraud detection.
Pros & Cons of
Pin Payments
| Pros | Cons |
| --- | --- |
| Pin payments are safer, secure, and independent of network connection | It does not provide mPoS. |
| Need fewer resources to maintain a card terminal, which makes it suitable for small businesses. | The foreign currency payment may take up to 7 business days. |

Most Popular Payment Gateways in Australia – A brief comparison
Payment Gateway
Transaction Fees
Supported Payment Methods
Security Features
Support for Recurring Payments
Support for Split Payments

eWay

$60 per month for an annual plan, which contains 200 free transactions. It costs 40c per transaction after that limit.

Credit/Debit Cards: Mastercard, Visa, Discover, JCB, and American Express.

PCI DSS Level 1 compliant

Yes

No

2Checkout (Verifone)

The transaction fee starts at 3.5% + $0.35 per transaction

Credit/Debit Cards: Maestro, Visa, Eurocard, American Express, Bancontact, JCB, Discover, and Diners Club.

Digital Wallets: Alipay, PayPal, Apple Pay, Neteller, Webmoney, Skrill Wallet, and WeChat Pay.

Online Banking:  Giropay, SOFORT Banking, OP-Pohjola, iDEAL, Nordea, and more

Supports Offline Payments and Direct Debit

PCI-DSS Level 1 compliant, SSAE 18 compliant, BBR Accreditation, and PSD2.

Yes

Yes

SecurePay

For International Cards: 2.90% with AUD 0.30 additional charges per transaction

For Domestic Cards: 1.75% with AUD 0.30 additional charges per transaction

Credit/Debit Cards: Mastercard, Visa, JCB, Dinners, and American Express.

Digital Wallets: Ali Pay, Apple Pay, and WeChat Pay

Also supports PayPal and Phone Payments (IVR)

3D Secure 2 authentication compliant

Yes

Yes

ANZ eGate

Available at the Service Provider's Merchant Support website

Credit/Debit Cards: Mastercard, Visa, Diners Club, American Express

3D secure  and Level 1 PCI-DSS compliant

Yes

No

Pin

For Domestic cards: 1.75% of transaction + 30c

For International cards: 2.9% of transaction + 30c

Credit/Debit Cards: American Express, Visa, JCB, and Mastercard

TLS and SSL, HTTPS Secure, and PCI-DSS Level 1 compliant

Yes

No
Conclusion
We hope this comprehensive guide on the most popular payment gateways in Australia will assist you to select the best one for your business. You can evaluate various parameters such as cost, security, features, business requirements, and many more to determine the best option for your enterprise.
If you still have an iota of doubt, then you can contact our seasoned consultants, who will be hap[y to assist you with your Payment Gateway-related queries.
Arka Softwares is a reliable software development company from India, that commands unprecedented expertise in developing digital solutions and e-commerce platforms. We can certainly understand your requirements and build highly secured online payment solutions for your enterprise.
Payment Gateways – FAQs