Food ordering platforms are now being used by individuals worldwide and earning good ample profits. Their exponential growth has certainly grabbed the attention of various entrepreneurs.
Not only the leading players like Uber Eats, Foodpanda, and GrubHub have gained popularity, but also the local delivery vendors have gained popularity and are making their names in various other countries.
This blog will help you in understanding the ways how you can design a successful food delivery website. Therefore before digging in, you must understand how these websites earn money and how they work.
Business Model & Revenue Generation Strategies:
The leading food ordering app like DoorDash and UberEats use a simple business model which acts usually as a common platform between restaurants and customers. The users search the nearby restaurants as per their location, place their desired order with the selected restaurants and make the payments online or select the cash on delivery option.
Talking about the delivery, that is now majorly being handled by the food ordering systems only. They have hired a few workers who work with them day and night to deliver the food as per the location mentioned by the user.
Market Overview:
The absolute income in the online food industry adds up to US$22,073 million in 2019. It is normal that the income will develop at a yearly development pace of (CAGR 2019-24) $6.5, bringing about a market volume of US$28,398 million by 2023.
The figures don't amaze anybody by any stretch of expanding the number of individuals deciding to order their food from food ordering websites. Obviously, various cafés and delivery services have joined this fleeting trend and there is not going down for quite a while.
As of now, out of the all-out customary food requesting market, 47% is from the offline channel while 53% is led on the web. This figure is required to change in the following couple of years.
The biggest section of the food delivery market is restaurant-to-customer delivery with a market volume of US $58,008 million.
Read Also:- Why does Food Delivery Business Need a Delivery Mobile App?
Guide to Building Successful Ordering Website
Some major points to be considered before designing and launching a food ordering platform:
Customized Website vs Instant Website:
Purchasing an instant solution isn't a possibility for a genuine business. Present-day users are very spoiled. They need creativity, comfort, speed, and strong features. This is not really feasible without putting resources into a customized web design.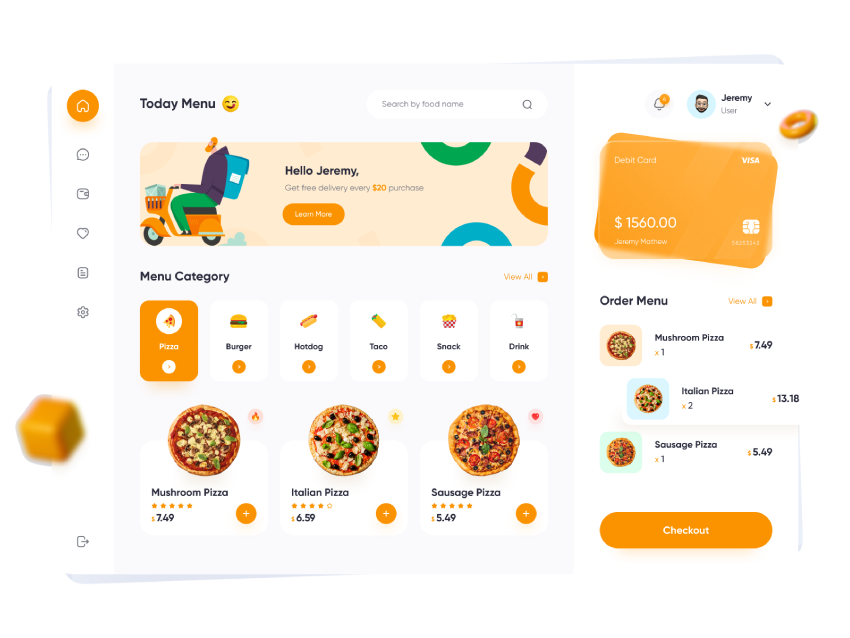 It's essential, to begin with, great usefulness, and security so as to make the users trust you. That is the reason for making a site that will follow all your necessity and targets is essential for your future result.
The Target Audience should be well defined:
The online food delivery market focuses on three major segments of the market working professionals, students, and parents. Every one of them has explicit requirements that you need to follow.
If students are your target audience then you should partner with various local fast food restaurants as students prefer fast food more in comparison with regular food in order to deliver the order faster.
If you are targeting parents as your target audience then you need to make sure that the delivered food is fresh and delivery is made on time. Generally, this group prefers mostly the delivery of groceries at their doorsteps so that they can cook on their own.
They tend to have healthy eating habits. Lastly talking about the working professionals, as they are busy in their work don't have much time to cook their meals on their own and prefer ordering well-cooked products from various popular restaurants.
As it is clear that everyone needs something extraordinary, so it's smarter to characterize your target audience prior to figuring out how to place your product in the market and accordingly design the value proposition and features.
An impressive UX/UI design:
The web design is the primary focus point of the food ordering website as the users prefer using those websites which are simple and user-friendly. Therefore the user should not be distracted from the key activity of food ordering. The designer inputs lots of effort to bring in the qualitative UX/UI.
Often the process is segregated into various stages so as to understand what is required to get the effortless user experience.
Social media presence and proper SEO techniques:
You have to ensure that your site has SEO components like easy-to-understand URLs, reasonable meta labels, picture alt labels, and so on. So ensure your web designing organization possesses immense knowledge in providing friendly SEO solutions.
When considering marketing channels it is impossible to ignore social media. Today many users are active on social media platforms like Instagram, Facebook, Twitter, YouTube, and Whatsapp.
Therefore it is important for every business to be available on these platforms so as to get the user's attention. Keeping into consideration creativity, users' needs should not be ignored.
Local demands should be addressed on the Website:
Successful food ordering apps like UberEats and GrubHub accept food deliveries from local vendors. Therefore few key points can be used from these food delivery giants:
Businesses should be formed keeping into consideration the various types of customers and the local market environment. It should be considered that any work that works in one city may not work in the other city.

Preferences for local cuisine may decide the categorization.

Multiple payment options should be provided to the user like Net banking, Credit/Debit cards, eWallet, etc.
Monetization strategies should be well planned:
While launching any digital product or service in the market money flow is the biggest concern of the entrepreneur.
A few ideas that can be considered are:
Third-party advertising is one of the prominent tools that is utilized all over the world. Certain ad space is offered to third parties in order to place their advertisements which in return generate huge profits.

Gift cards can be provided to the users at a certain amount which they can give to their loved ones.

Commission can be earned on providing extra additional services.
The Mobile version should not be ignored:
Everyone has a cell phone. Less individuals will in general use PCs for basic regular work. Obviously, creating both, a food ordering mobile application and a site simultaneously can be somewhat costly. Yet, there is a chance to streamline your site for cell phones with a responsive plan, and though it will surely increase the number of customers on a daily basis
.
Features that should be integrated for designing a successful food ordering website:
Interactive Dashboard:
The users appear to incline toward a progressively streamlined procedure of food ordering. Henceforth, a direct and easy to use dashboard must be actualized.
While the dashboard must be appealing as far as look and feel, you have to ensure that the dashboard can easily store the order history, menu's of restaurants, and delivery addresses. It will diminish the intricacies and simultaneously enhance the user experience.
Push Notifications:
In the present market, online food ordering is expanding at an amazing rate, it's very clear that individuals will have more than one food ordering application on their phones.
Therefore, the only way you can make perceivability and set apart yourself from the contenders is by sending pop-up messages.
This useful tool and with a drawing in message springing up on the mobile screens continually will keep your potential users continually notified about your extraordinary offers and discounts.
This will help you in gaining the user's attention and will keep them engaged with the application.
Cross Functional Capability:
With an ever-expanding market, openness ought to be your primary need. By empowering cross-platform compatibility features, you can expand your horizon across various platforms. No big surprise, with more reach, you are probably going to have more downloads within a limited time span.

What is the cost of developing a Food Ordering Website?
The website development cost varies on various factors like:
Features

Cross-functionality

API Integration

Front and backend development

UX/UI designing

Team size

Development company's location
By selecting an appropriate web development company you can easily get your website designed, developed, and can also initiate online marketing with them. This will, therefore, ensure you an online food ordering platform that would be better than a clone of the leading platforms like UberEats, FoodPanda, etc.
.Share your requirements with our web development team so as to get a product that would help you in beating the leading giants.