The world is becoming increasingly digital, and the need for utility apps has skyrocketed in recent years. Food delivery services are one such industry that has undergone a radical transformation.
Zomato and Swiggy are just a few of the food delivery mobile app ideas that cater to the demands of millions of people.
Consumers no longer have to deal with a constrained selection of restaurants offering meal delivery; whether it's a late-night hunger or early-morning starvation, individuals can get their favorite meal delivered through a popular food delivery app whenever and wherever they want.
On-demand meal delivery is not a new phenomenon consumers used to contact restaurants and request food, which would then be delivered by the restaurants.
With the rise of mobile devices, cutting-edge technologies, and simple access to high-speed internet, on-demand meal delivery via apps has changed the food delivery sector.
As per Statista, the online food delivery business model clocked $107.44 billion in sales in 2019 and is anticipated to expand to $156.82 billion by 2023.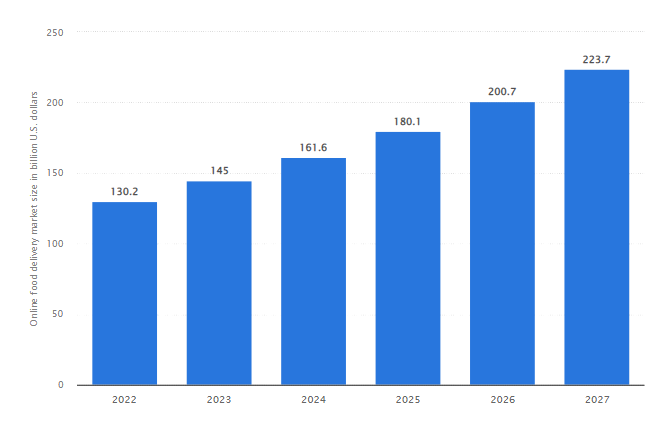 Top 5 Reasons Why Food Delivery Business Needs a Delivery App
1. Increased Demand for Door-to-Door Delivery During the COVID-19 Pandemic
The COVID-19 outbreak had a significant impact on our life. The virus necessitated lockdowns throughout the world, which meant that people were limited to their homes in order to counteract it.
As soon as the freedom to go out and buy necessities was taken away, life altered significantly. Essential services were the only ones that were not shut down.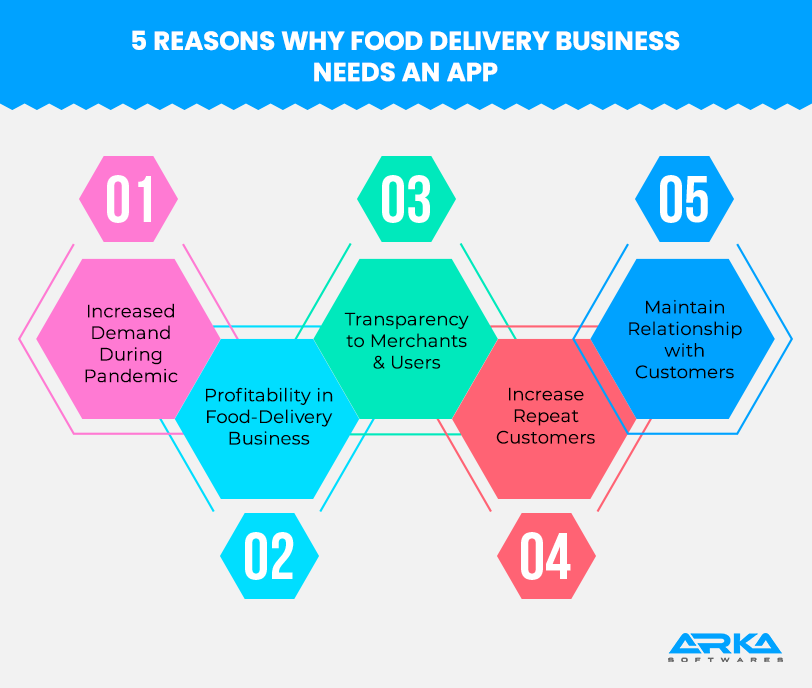 As a result, start-ups began investing in food delivery app development that could bring groceries in as little as 10 minutes.
Previously, people with busy schedules were the primary target audience for online food delivery businesses since they couldn't spare the time to go shopping.
However, the corona epidemic altered the target market for food delivery, since everyone now needed on-demand services for necessities and other items. on-demand food delivery firms offering groceries and restaurants were in high demand as more and more people stayed home and followed corona precautions, self-quarantine, etc.
If you currently run a food delivery service or restaurant, now is the time to develop on-demand food delivery apps like Talabat.
Instead of creating an app from scratch, you may work with an app development company to help you in the process.
Read Also: How Food Delivery Apps Help in the COVID-19 Pandemic?
2. The Food-Delivery Industry is on the Road to Profitability
The meal delivery industry's profitability is likely to undergo significant shifts in the near future. This sector is set to record enormous revenues in the approaching years. In today's world, ordering meals at a restaurant or ordering it online is the same thing.
There is nothing more frustrating than having to wait in huge lines at restaurants. The majority of customers prefer to have food delivered to their doorsteps quickly after placing an online order using an online food delivery service.
Food delivery's future development may be aided by a shift in customer behavior and the way that food is ordered. If you want to experience rapid growth in your food delivery business like doordash, develop an application and watch the revenues stream in.
3. Provides Merchants and App Users with Flexibility and Transparency
There is more to on-demand food delivery than simply finance it also relies heavily on technology. However, these aren't the only things that contribute to its expansion merchants and users alike like the level of transparency and ease it provides. 
Make sure you have a personalized mobile app because this industry has grown tremendously in the last few years.
4. Increase Repeat Customers
An online food delivery business model can benefit greatly from a specialized mobile app. Investing in personalized Food delivery mobile app development and integrating innovative features can help you attract more consumers.
However, do not overlook the fundamental features that help to increase the percentage of app retention.
5. Contact and Maintain a Relationship with Prospective Customers
You can't deny that an app is critical to the success of your business. You may encourage application users to place orders via your app by giving them push notifications.
You may give new customers a discount on their first purchase by offering them coupons.
As a result, a tailored app may help you identify and reach your ideal customers.
Your business will grow if you can establish a relationship with your target audience. Customers that require your top food delivery services or restaurant services may be reached via a mobile app, which can help you gain control of the market.
The application will also facilitate communication with other users. To increase your consumer base and their experience, you might provide attractive promotions and discounts.
Essential Features of a Food Delivery App
The first step in designing an outstanding online food delivery app is to become familiar with the main features that will guide your project. Here are only a few of the most essential functionalities that must be included: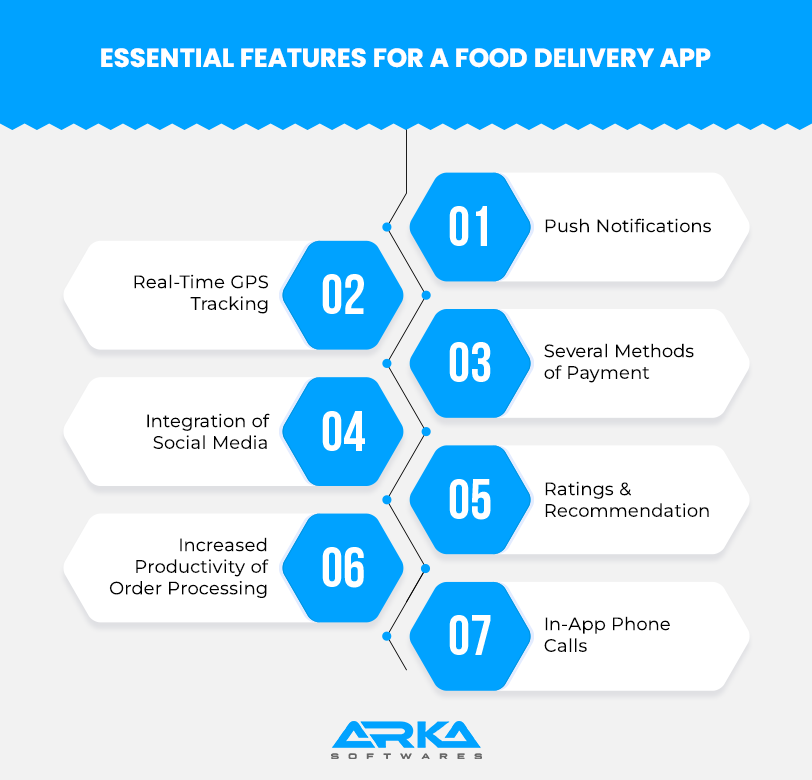 Push Notifications
Mobile phone users now have an abundance of meal delivery applications like aprons thanks to the fast expansion of online delivery services. If you want your brand to be seen by as many users as possible, then push notifications are the best option. It's a great way to stay in touch with consumers.
However, make sure your app notifications aren't merely a way to upsell to existing consumers.
The best way to strengthen relationships with customers is through special offers and promotions. Most app users are looking for savings, while 40% of them just want to earn points.
To attract new customers, incentives, discounts, and rewards programs should be offered often. Using this strategy, you may quickly catch the attention of a consumer.
Real-Time GPS Tracking of Food Delivery Vehicles
GPS tracking is a must-have feature for food-delivery services. The basic objective of GPS is two-way tracking and management. By detecting the user's location, it helps in the delivery of meals.
Moreover, the user will be able to monitor the delivery person's route and actions once the location has been confirmed.
Several Methods of Payment
It is critical for a business owner to get timely payments. Customers will abandon the payment process if they encounter any difficulties at this step. It is important that customers have a range of payment options available to them while making transactions.
To accept payments, you may employ any of the several payment channels or digital wallets available on the market. Coupon codes can also be offered as an additional option for clients to save money on future orders.
Integration of Social Media
Social media has grown in importance in digital marketing over the last few years, as predicted. It is essential to maintain minimalism while attempting to make the application attractive.
Sharing photos and videos with friends/relatives via social media should be a breeze for customers. Leveraging social media to spread the news about your application might also help you get additional users.
Customers may reap the benefits of social media if they use it appropriately. Loyalty programs may be used to encourage customer referrals and earn prizes via social media. It's a great strategy to bring in new customers and keep the ones you already have on a regular basis.
Ratings and Recommendation
Customers are the lifeblood of every business, and they are thus of the utmost importance to any company. We feel the same holds true for you, as well. You can learn a lot about the application's issues through client feedback. 
It is possible for businesses to assess their app from the point of view of the end-user by using this strategy. The higher the rating, the more people will choose to use your application instead of your direct competitors.
An online feedback system provides access to real-time data that may be used to enhance the overall user experience of your application.
Increasing the Productivity of Order Processing
The majority of people choose to purchase or order meals online due to its convenience. An app for food delivery has to be well-designed. The app's User Interface (UI) has a significant impact on how customers interact and purchase products through the app.
Users must be able to get the information they need quickly and effortlessly. When the User Interface (UI) takes an excessive amount of time to load, it degrades the user experience.
In-App Phone Calls
When a customer places an order, they must be able to use the mobile app to contact their designated delivery person for free to learn more about their location and other order details.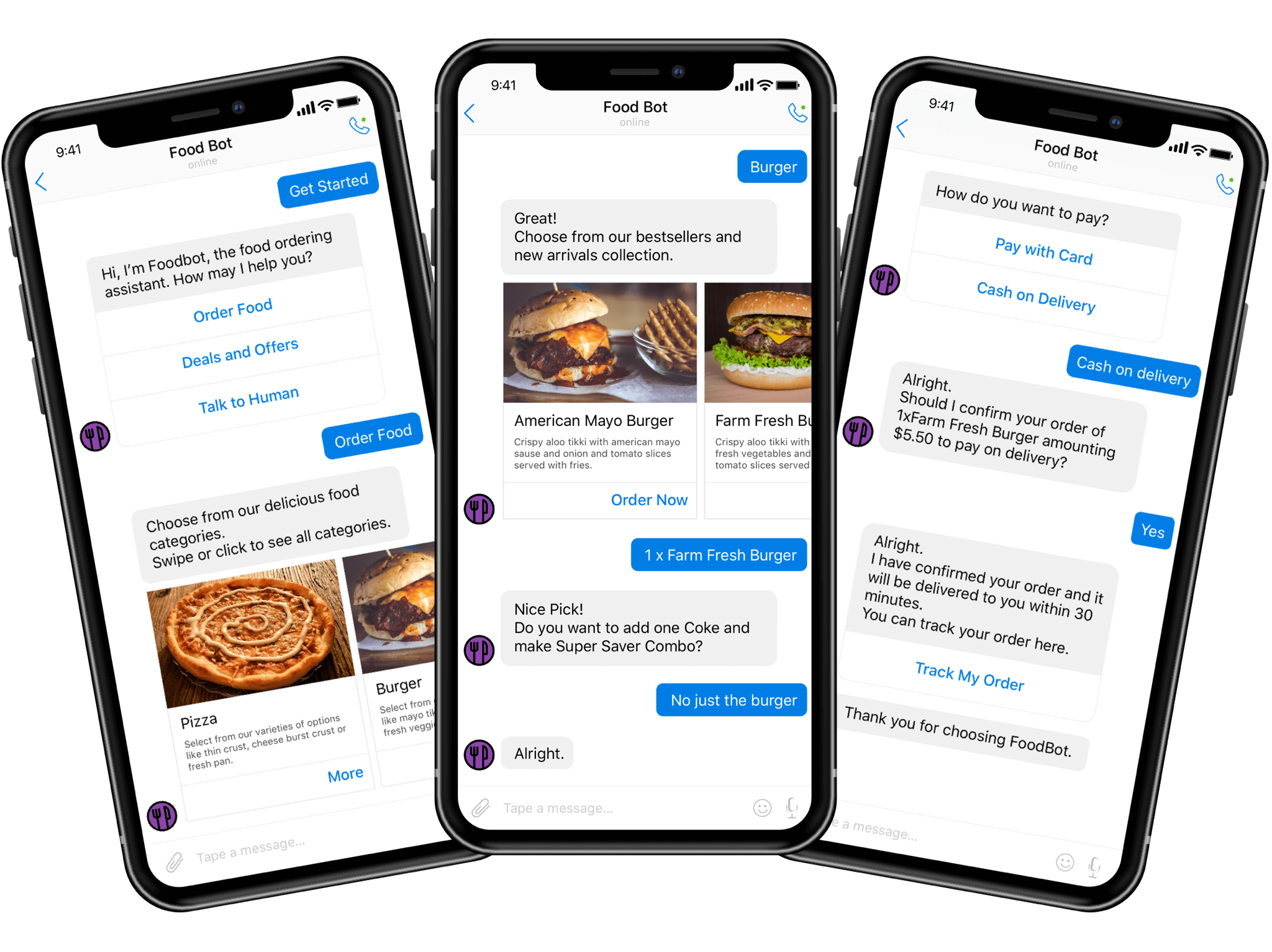 Built-In Chat
In-app chat makes it easier for consumers and delivery staff to communicate. Anyone with a question about meal customization or food delivery may feel free to contact the restaurant directly or the administrative office directly.
T
op 5 Food-Delivery Apps in 2023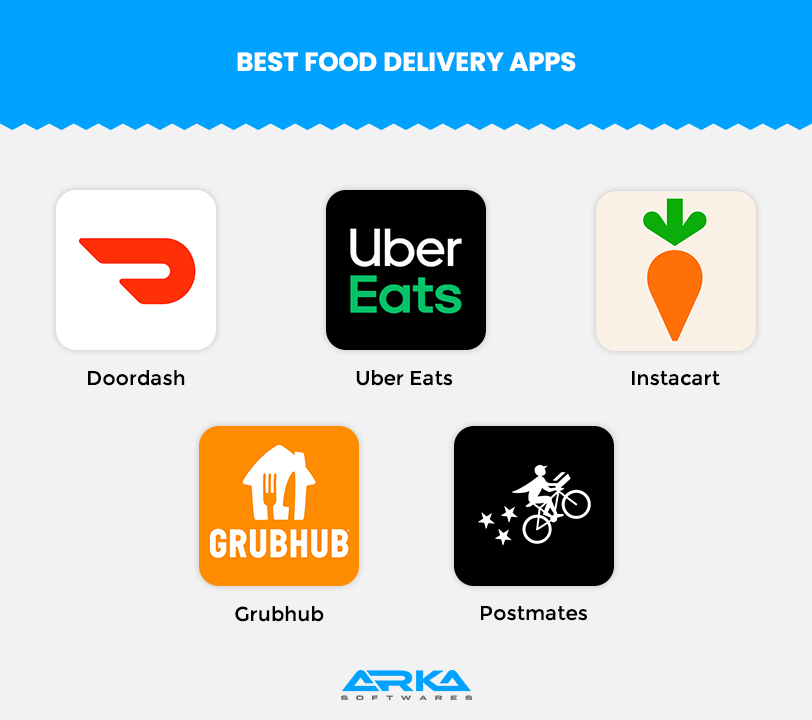 1. Grubhub
As far as meal delivery services go, Grubhub is among the first names that spring to mind. Grubhub collaborates with a wide range of restaurants, from national chains to your local mom-and-pop diner, to provide a wide choice of meal options that may be delivered at any time of day or night.
With Grubhub, you can look for restaurants by cuisine or area, instantly order meals from the menu, and monitor your order all from the application, all without any trouble or additional costs.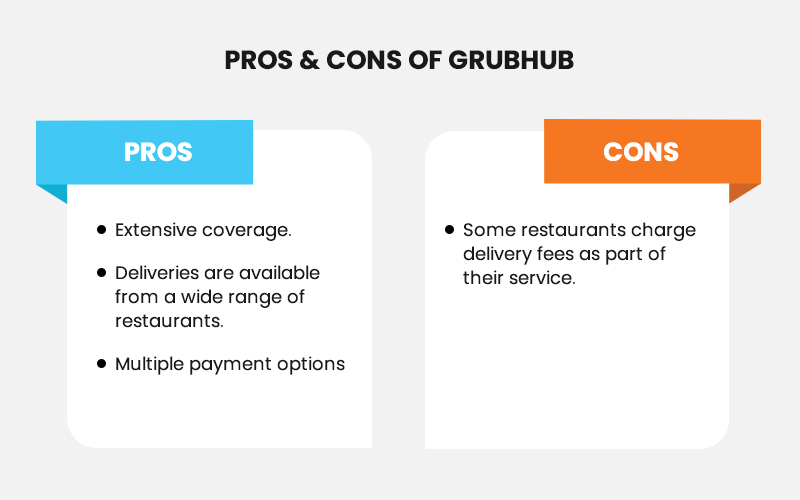 Pros
Extensive coverage.

Deliveries are available from a wide range of restaurants.

Multiple payment options are supported.
Cons
Some restaurants charge delivery fees as part of their service.
2. DoorDash
In North America and Australia, Doordash food delivery app presently operates in over 4,000 cities. DoorDash has a large variety of cuisines to choose from, including sushi and fast food, and it's easy to order, monitor, pick up, or reschedule your deliveries.
Using the app's "Yum Score," you can see how well a restaurant interacts with DoorDash and how promptly your meal will arrive.
Pros
A useful tool for finding new eateries to try.

Serves a variety of local and national restaurants.
Cons
In comparison to Grubhub, this service has a smaller market.

Delivery costs might vary greatly.
3. Uber Eats
Uber's food-delivery service is a logical extension of its ride-sharing application, bringing on-demand delivery to meals. Using the Uber Eats app, customers can quickly find their favorite restaurants or even discover new ones in their area.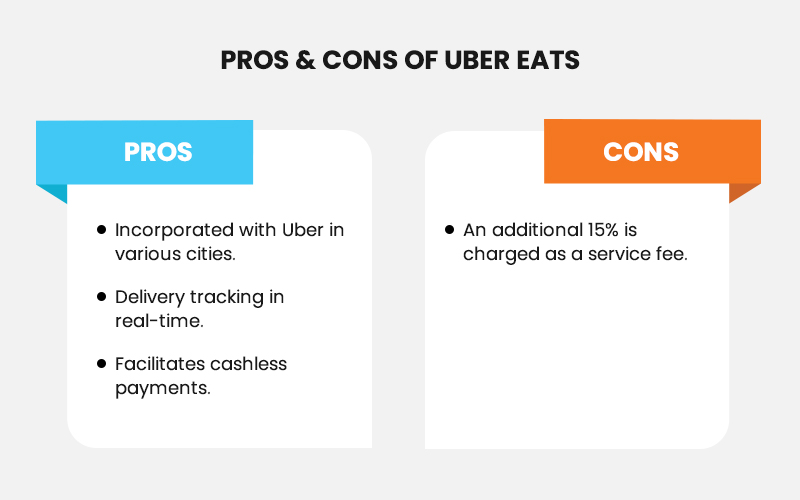 Pros
Incorporated with Uber in various cities.

Delivery tracking in real-time.

Facilitates cashless payments.
Cons
An additional 15% is charged as a service fee.
4. Instacart
Fast food alone is not enough to sustain a person's daily needs. Instacart may be a better option if your menu asks for grocery items, rather than the best online food delivery services.
Instacart is a grocery delivery service that also offers household items. Over 20,000 stores in North America are on board with Instacart, and if your local supermarket has premade meals, you can have them delivered right to your house.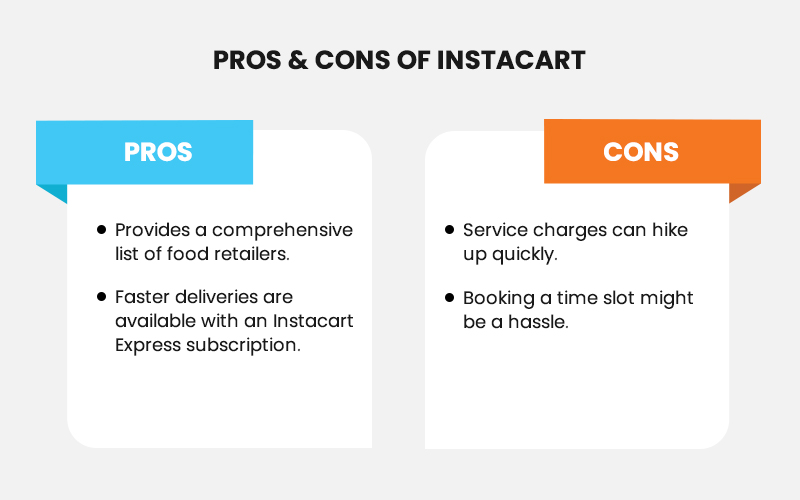 Pros
Provides a comprehensive list of food retailers.

Faster deliveries are available with an Instacart Express subscription.
Cons
Service charges can hike up quickly.

Booking a time slot might be a hassle.
5. Postmates
Even though Postmates is now owned by Uber, you can still order food from local businesses and have it delivered to your house at any time of the day or night. It's possible to get everything from pizza and burgers to proper meals from local eateries through the service.
Postmates includes a delivery fee and surge pricing during busy hours, but the $9.99-per-month Postmates Unlimited subscription eliminates surge pricing and delivery fees for orders above $15.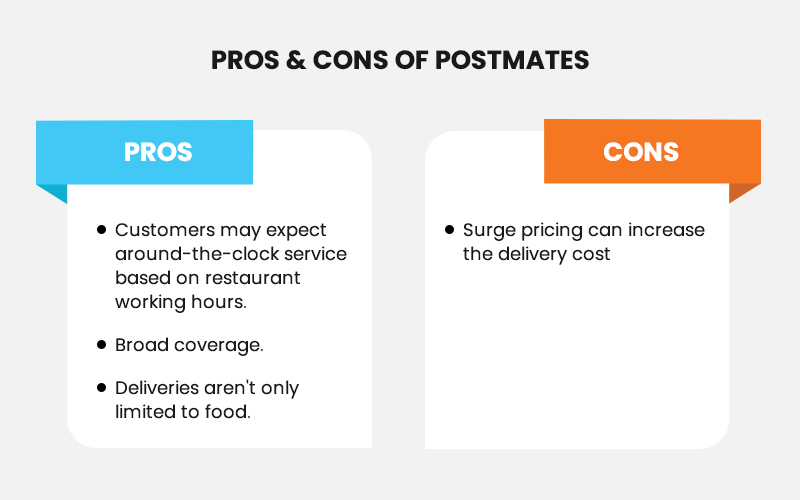 Pros
Customers may expect around-the-clock service based on restaurant working hours.

Broad coverage.

Deliveries aren't only limited to food.
Cons
Surge pricing can increase the delivery cost
Tips to Handle Food Orders Amid COVID-19 Pandemic
1. Offer a Variety of Nutritious Foods
Boosting the immune system is the greatest approach to the fight against COVID-19. For the same reason, a growing number of people are opting for healthier eating habits.
Eating nutritious foods like salads, fruits, and dishes cooked with olive oil is well-known for boosting one's immune system. People will choose your service over competitors if you offer healthier alternatives on your menus.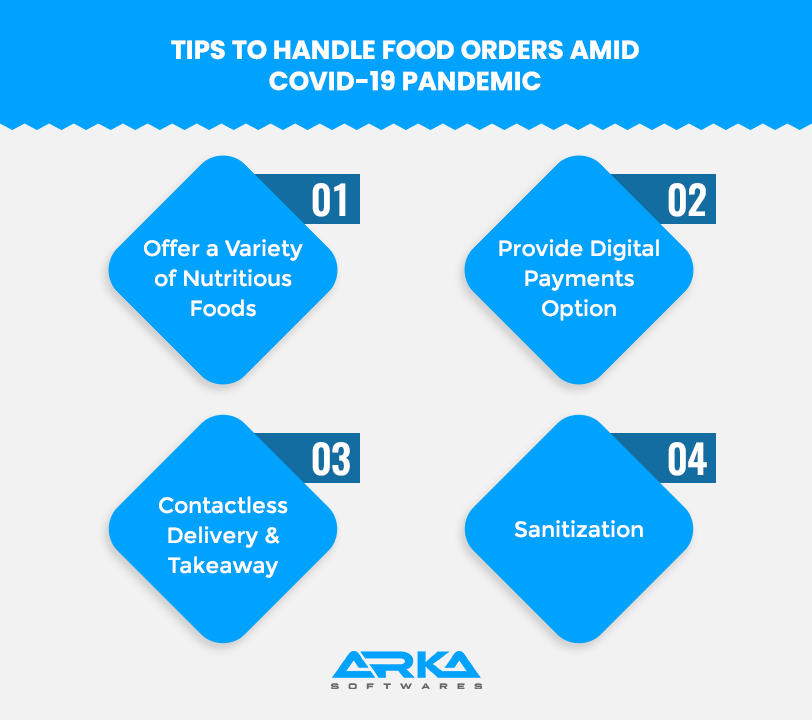 2. Provide a Digital Payments Option
The exchange of money may also result in the spread of disease. This is why you should include payment tools like an e-wallet app or credit card. 
People may order and pay for their meals online without having to contact the delivery person. Also, t There will be no complications with refunds or disagreements over money exchange as a result of this.
3. Contactless Delivery and Takeaway
You don't want the delivery staff or the clients to spread the virus to one other. Therefore, you need to shut off any communication between them.
Food packages must not be exchanged between them. Alternatively, the consumer can collect it from a restaurant's counter, or the delivery person might leave the package outside the customer's door.
4. Sanitization
It is possible to maintain sanitization with a variety of methods. To protect both your employees and your customers, food delivery executives must wear protective gloves and a mask that covers their nose and mouth fully.
How Much Does it Cost to Build a Food Delivery App?
The cost to build a food delivery app isn't constant or absolute; rather, they fluctuate depending on a wide variety of factors that we'll examine. The overall cost of building the application is estimated by integrating many high-level factors.
The Complexity of the App
App complexity is the key factor in determining the cost to build a food delivery app. As the level of complexity increases, so does the expense of creating the application itself.
Number of Integrated Features
The price of food delivery app development is directly proportional to the number of features it has. Since more functionality equals more money invested, and less functionality equals less money spent, features are critical in determining the pricing.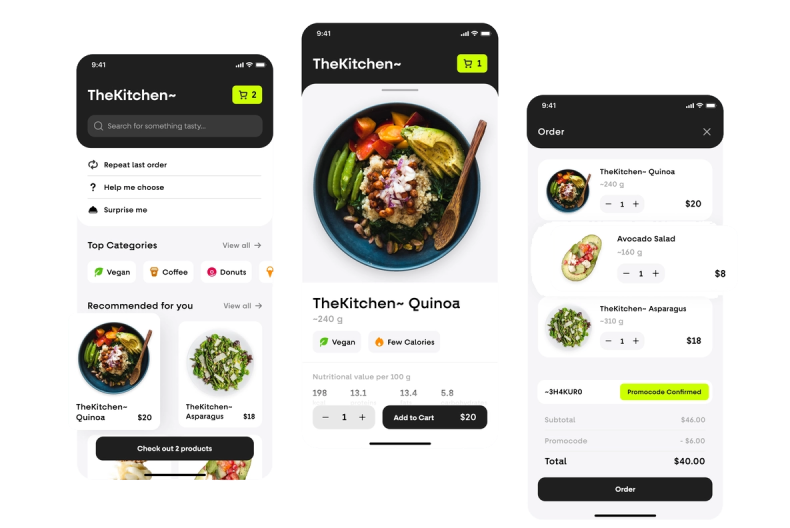 Therefore, only those features that are essential to the application's success should be included in its core.
The Application Development Platform
You may choose to release your app for iOS or Android, or both. Developing an iOS app is less expensive than developing an Android app since there are a greater number of Android devices in use.
If you're opting to design a cross-platform application, via a mobile app development company, you'll be able to better serve both groups of customers.
.
Development Location for the App
It is common for developers to quote between $90 and $250 per hour in the United States and the United Kingdom. Eastern European coders charge anything from $60 to $180 per hour for their services.
food delivery app Developers in India, on the other hand, charge anything from $25 to $80 per hour.
Consequently, an online food delivery business model with minimal functionality generally costs between $2,000 and $8,000, and applications with additional features cost between $20,000 and $40,000 on average.
Conclusion 
Creating a customized food delivery app will help you reach your goals and help your firm expand in an already flourishing market.
The concept of an online meal delivery business is nothing new. Once upon a time, it was normal to order fast-food items over the phone and have them delivered.
However, with the popularity of smartphones and economical internet access, it has never been simpler to order food through these restaurant delivery applications.
Now that you understand the value of an online food ordering application, it's time to develop on-demand food delivery apps of your own.
Professional developers can help you make sure your application runs well, but don't forget to add your own individuality to it.
Customers should be able to place orders quickly and easily. Once your application is ready, you're set to make huge profits!
FAQs regarding Food Delivery App