Mobile phones and technology have completely changed the lifestyle of society. Now every entertainment is available over the internet which can be easily accessed by smartphones, Smart TVs, and computers.
Televisions are getting fade out from the market as a large audience has already moved towards the digital platform of video streaming apps which can be easily accessed as and when required. This is the major reason why big players are now investing in video streaming app development.
What is On-Demand Video Streaming?
It is a system by which the users can select their desired video content such as movies, TV shows, and web series, and watch them at their desired time irrespective of watching on the television as per the on-air broadcast time.
You only require to plug in the device, download an online video streaming application and enjoy your favorite series, TV shows, or movies. Video streaming applications allow users to experience rich-quality videos.
Top Most Popular Video Streaming App
OTT/VOD Vs TV Streaming:
With the availability of the internet, video on demand has dynamically changed the way video content is viewed. There are many benefits that video on demand provides over traditional television. A few of them are:
In traditional television, the service or the content is limited to the cable or D2h provider. Television shows or movies can only be watched as per the broadcasting schedule only. Moreover, with on-demand video streaming, you just need to log in to the video streaming application to get instant access to videos, TV Shows, web series, or movies.

In traditional television, a cable setup or D2H connection is required which incurres extra costs whereas video streaming applications only require a high-speed internet connection for the better quality of the videos.

With VOD a large variety of content that includes various TV shows, web series, and movies of different categories such as comedy, thriller, action, romantic, etc can be viewed easily. Whereas in traditional television such variety is not available.

The cable or D2h setup is limited only to the television. Moreover, video streaming applications can be easily accessed from any smartphone, computer, or smart tv. The convenience of being able to watch your desired content from anywhere, at any time, and how many ever times you want to watch makes VOD applications more convenient.
What's the difference between OTT and VOD streaming?
What is Over the Top?
Over the top(OTT) is the most popular term that is used in the entertainment industry. The technological shift has brought many dynamic changes in the television industry too. Now the entertainment industry has shifted to the digital platform to capture the new and maintain their current user's interests.
OTT is the short form for over the top, which is widely used for delivering films, and TV content via the internet. It does not require users to subscribe to cable or D2h services. Examples of OTT applications are Netflix and Hulu.
What is Video On Demand?
Video On Demand service allows users to make choices and watch desired content such as movies, web series, or TV shows from a large collection of videos at any time. Examples of such applications are YouTube, Netflix, and Amazon Prime.
Now let's take a look at some differences between the two:
OTT is a subset of the overall VOD category and it is transmitted to the viewer via the internet without requiring users to subscribe to a traditional cable or satellite pay-TV service.
One of the biggest ways OTT differs from other video streaming is what it offers to customers. On-demand video streaming is a defining feature of OTT—the ability to give consumers constant easy access to video content. In contrast, traditional television requires users to either watch at specified times or record episodes. OTT can be viewed on any device, no download time is required.
Why Invest in VOD/OTT:
With the OTT service adoption around the world, online video streaming has seen tremendous rise and growth. At this time, OTT is in more than 51% of homes in the USA alone and is used for 100 minutes every day. As of 2019, there are 182 million OTT subscription video service users in the U.S.
Global OTT revenues are predicted to reach $129 billion by 2023 and $47.8 billion in the U.S.

According to a survey by the Interactive Advertising Bureau, 47% of live-streaming video viewers worldwide are streaming more live video compared with a year ago.

Live streaming is going to be a $70.5 billion industry by 2021.
In 2018, brands spent more than $90 billion on video content. By 2023, that number is expected to rise to more than $100 billion.
Consumers spend almost 83 minutes per day consuming digital video, growing to 92 minutes by 2020, according to eMarketer's most recent estimates.
Therefore, the above facts state that there is a great business opportunity that can be acquired by investing a handsome amount in video streaming app development and selecting skilled mobile application developers so as to make a big share in the VOD industry.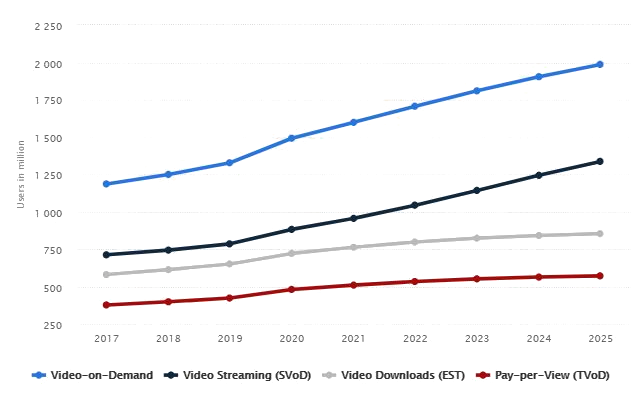 Monetization Models and Opportunities for Video Streaming Apps
1. Subscription Video On Demand (SVOD)
The subscription Video On Demand model charges a subscription fee from the users. The users are able to view the entire range of videos only when the subscription fees are paid.
2. Transactional Video on Demand (TVOD)
The transactional Video On Demand model does not charge any fees at the time of login. Here the users pay a certain amount as per the series or movies that they wish to watch.
3. Advertising Based Video on-demand (AVOD):
Ads Supported Video On Demand is primarily an ad-centric digital video service that is absolutely free for the users.
4. Featured Listing:
Any new content that is added to the digital platform can be promoted easily by flashing short trailers or posting it in such a way that it can seek the user's attention. The application owner can charge a certain extra amount for the premium listing.
5. Ad Management:
Depending upon the user's engagement or downloads various advertisements can also be placed on the digital content which helps in monetization.
VOD or Video Streaming App Business Model Canvas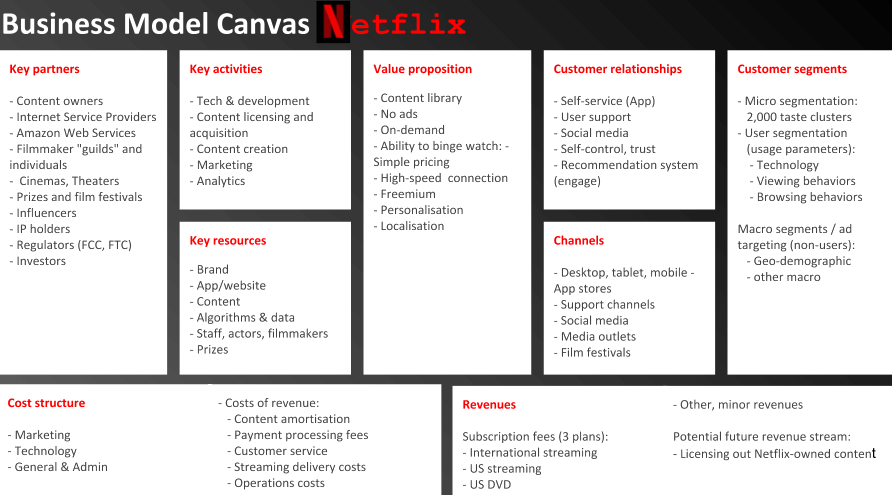 General Features of Video On Demand Mobile App
USER PANEL

ADMIN PANEL

Watch video streaming
Add video to a playlist
Counter plays video
Background remote control
Download video and listen offline
Sharing videos on social networks
In-app purchase (remove ad), add playlist, access to offline
Create Private and public playlists
Search style, album, artist, video name
Background play
Lockscreen info (artist, video, cover)
Search covers artists, albums & videos
User profile

Upload video (mass upload)
Prelisten video
Delete video, album, style, and artist
Manage Users
Manage advertising and promotions
Publication of the video in one click
Edit video, album, style, and artist
Add video, album, style, and artist
Manage subscriptions & memberships
Advanced Features of VOD Application
Social Login & Signups:
The users can log in to the application easily by completing the mandate details or may select social accounts such as Facebook or Google. They can select mobile numbers for OTP verification in order to authenticate the account.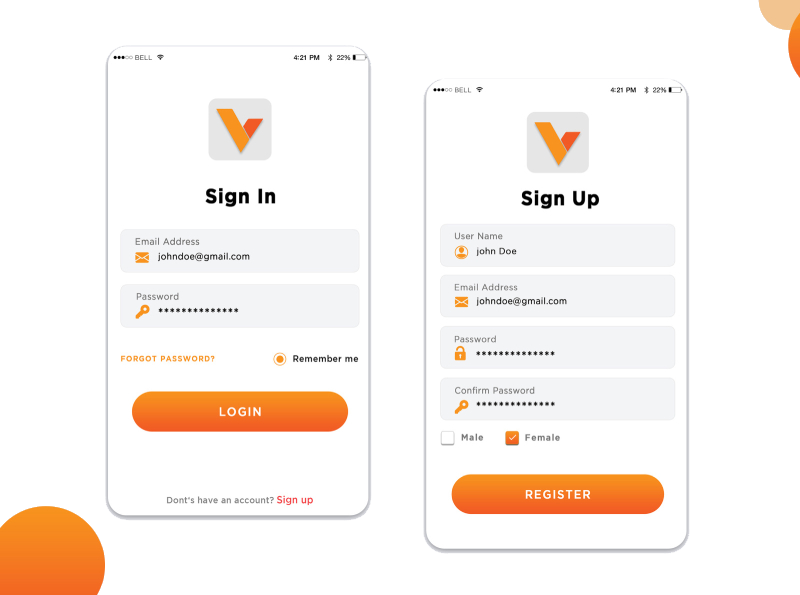 Onboarding:
Once the signup process is completed and the user is logged in to the application, a guide with certain tooltips is available so that the users can understand the complete navigation of the application.
Behavior Tracking:
Generally, the users browse various content over the application. If the application delivers the content as per their last search it adds up to personalization and users feel connected with the application. Due to this reason behavior tracking is really important. The last searches are stored and on the basis of it, some recommendations are displayed.
Push Notifications:
Push notifications have now been a great tool for engaging and keeping customers updated at the same time. It notifies the users of all the updates related to their subscribed channel or favorite broadcaster. Therefore whenever the subscribed channel or broadcaster has new content streaming the user gets a push notification on the device for the same.
Streaming Quality:
This is one of the important features to consider while video streaming app development. It helps the users to watch flawless still if the network bandwidth is down. It would be better to keep the lower option as for the video quality to 144p and the higher option up to 1080p or 4K. Let the app decide the quality of the video automatically as per the network flow.
Role-based Dashboards:
This is an important feature for the admin where they can monitor and analyze the real-time statistics of different users of the application. As per the different roles, the reports and statistics can be derived easily which are helpful in making business and marketing strategies.
Realtime Analytics:
Application integrated with advanced analytics features such as reports, pie charts, and live dashboards that can be viewed by the admin for sure returns.
Statistics associated with the number of live viewers and broadcasters, user acquisition, retention numbers, etc. can be rolled out in the form of charts. The admin will get a fair number of users and their usage type so as to form strategies and implement them to make productive business decisions.
In-App Voice Assistance:
This feature can be used to make the search experience more convenient. For example, a user can enable this feature and can speak the desired content that he/she wants to see. The application will search and display the content.
CRM Integration:
Customer Relationship plays a vital role in the success of an application hence its implementation is really necessary. Also, users can share their improvement feedback or the shortcomings related to the application which helps in enhancing the customer experience and adds perks to the business.
Loyalty Programs:
Loyalty programs play a vital role in the success and retention of the users of an application. Rewards and referral programs motivate the customers to share and use the application more and more in order to earn more reward points which can be converted into attractive discount offers.
Digital Asset Management:
Digital asset management is a system that stores, shares, and organizes digital assets in a central location. The digital video files that contain rights to use are considered an asset. A digital asset management system provides basic library services: a common (typically centralized) and secure place to store, organize, and retrieve files.
It also provides core process services, including specific facilities for the management, manipulation, transformation, security, movement, and processing of rich media files and their metadata. Most digital asset management systems can now integrate with other tools and systems, which, for a content marketer, can be particularly useful.
Data Storage and Management:
Data storage is a general term for archiving data in electromagnetic or other forms for use by a computer or device. In the context of the video streaming application, the broadcasting stream passes via the server to the user's device and stays there until the user is watching it.
After the usage, it is automatically deleted from the server side. The server will convert the broadcast and will do the transmission to the application. cloud servers are a must for video streaming applications.
Recommendation Algorithm:
A recommendation system is a subclass of an information filtering system that seeks to predict the "rating" or "preference" a user would give to an item. Recommender systems are utilized in a variety of areas and are most commonly recognized as playlist generators for video and music services like Netflix, YouTube, etc.
Recommender systems usually make use of either or both collaborative filtering or content-based filtering (also known as the personality-based approach), as well as other systems such as knowledge-based systems.
Collaborative filtering approaches build a model from a user's past behavior (content previously viewed or searched and numerical ratings given to those items) as well as similar decisions made by other users. This model is then used to make predictions that the user may have an interest in.
Required technology Stack to Develop VOD Mobile App
List of required technologies that will be useful in the development of video streaming apps..
Push Notifications – Twilio, Push.io
SMS, Voice, and Phone Verification – Nexmo, Twilio
Payments – Braintree & PayPal, Stripe, EWallets
GWT – for Powerful Programming
Datastax – for Data Management
Mandrill – for everything related to emails
Database – MongoDB, HBase, Cassandra, Postgress, Mail Chimp Integration
Cloud Environment – AWS
Real-time Analytics – Hadoop, Spark, BigData, Apache Flink, Cisco, IBM
Streaming Media System – Wowza Streaming Engine, Nimble Streamer.
Developers need to set up protocols to get the streaming part working in a flow. The set of protocols required is RTSP, UDP, TCP, HLS, RTMP, etc. Contus Vplay, and Wowza SDK are other tools that App Developers can use for streaming purposes.

Hosting – For hosting, one can rely upon Amazon Cloud Services. App developers can get a good idea from the below picture of the tools needed.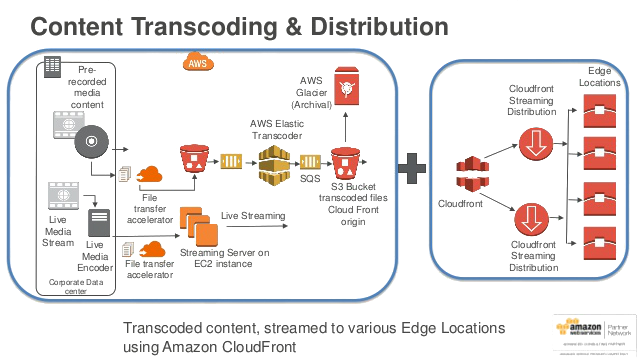 What are the Challenges in Developing VOD App?
Scalability: The back-end architecture of the application should be scalable enough to handle increasing numbers of users in real time without any disruption.
Security: Videos are one of the most stolen and plagiarized stuff on the internet. So to avoid such inconvenience better get digital rights, encryption, access control, and other safeguards.
Flexibility: The video streaming application should be flexible enough to support all platforms and devices ranging from desktops to mobile & tablets.
Large-Scale Data Transfer & Storage: Expensive, Slow & Bandwidth Intensive.
Live & On-Demand Video Streaming: Expensive Infrastructure, the reduced scope of reusability.
Content Trans-coding: Expensive for large data sets, multiple jobs to be processed in different formats.
Content Distribution Analytics: Usage analysis-expensive & lacks detailed analysis.
How much does it cost to develop a feature-rich video streaming app?
The cost of on-demand video streaming app development depends on the functionality, size, and complexity that it includes. Apart from it, the location of developers and the number of hours invested in the app development plays a very important role in deciding the development cost.
US-based developers: – $50 to $250 per hour.
Eastern-Europe-based developers: – $30 to $150 per hour.
India-based developers: – $10 to $80 per hour.
Moreover, a feature-rich video streaming application can cost around $20000 to $50000 for a single platform.