If you are running a start-up for an on-demand fuel delivery app, then this blog is for you. This blog is written on the basis of a brief conversation with one of the expert app advisors, who, like Uber, has on-demand and app experience. We analyzed some of the day-to-day services we use when discussing with him how Uberization is changing the genre of service delivery. 
People are using these facilities, from booking a taxi to laundry service, gas delivery to fuel delivery service. 

This can be a perfect opportunity for you to grow your company while you are in the fuel distribution business. 
As we are a fuel delivery startup, in starting we are facing complications like managing line, on-time delivery facility, amount and quality monitoring, and keeping count of daily automobiles. A simple answer to these problems is a mobile fuel delivery service. 
We, at Arka Softwares, analyzed a growing demand for on-demand fuel delivery services. Have a look at this blog and comprehend what lessons we learned for the launch of a fuel delivery app design.
In the form of instant services, the world of mobile apps is giving us affordable luxuries. It all began with Uber's on-demand taxi service, and now it's all the way from laundry to fuel delivery.
Yeah, you got it right, fuel distribution service on request.
What is the app all about?
Not only for the taxi industry but for every other industry, the arrival of Uber was a big occurrence. In order to achieve advantages in other industries and facilities, it provided the basis for others to reproduce its model.
For X programs, this is now referred to as Uber. The app for fuel distribution is nothing but an Uber for the delivery of fuel.

The process is similar to Uber, so you have to install and register yourself first to start requesting petrol.

Now, all you have to do if you want to refill your vehicle is making a fuel request at your location through the app.

The fuel distribution company will receive the order at your place and send a fuel tanker.
Fuel Delivery Startups should learn before Planning the Production of Fuel Delivery Apps
As a start-up in fuel distribution, you need to face issues such as queue management, on-time delivery service, tracking of quantity and quality, and keeping regular vehicles counted. The mobile fuel distribution service is an easy solution to these issues.
This rise explicitly states that people's expectations have been modified by the on-demand economy. 

Gen Z is addicted to the "delivery at home" concept. 

With your fuel delivery app growth, you, being a fuel station startup, can certainly rope into the online world.

With their on-demand gas distribution and fuel delivery solution, there are applications such as Booster fuels that are doing extremely well on the market. 
By developing a fuel app in which individuals can conveniently book a fuel delivery whenever they want, the start-up can also provide the convenience of on-demand delivery.
You should keep these lessons in mind if you are looking to build an online fuel distribution solution or a fuel delivery service network. We have given 3 lessons here that you should remember before creating a fuel app on demand.

The on-demand economy attracts more than 22.4 million customers annually, spending somewhere in the range of $57.6 billion, according to a survey by Harvard Business Studies reports.
The options for on-demand applications have taken over the transport industry and the fuel distribution app are waiting to be explored.
If it's a long weekend or a holiday, commuting is a must for anyone to carry out everyday chores. 

This implies a persistent need for fuel and gas, too. 

Now people are seeking ways to escape long queues at the fuel station in this digital world, pollution, bad operator handling can also make the experience of getting fuel-filled an uncomfortable one. 
You will provide your customers with sophisticated and structured service with your fuel delivery app, which will be a blessing for those who expect convenience at their fingertips.
Rise and requirements for a Fuel Delivery App
Kavish Gupta worked as a reservoir engineer at Shell, a global oil and gas industry pioneer based on the remote island of the African West Coast. With only one fuel station serving them all, the island has a meager population of 5000 inhabitants. People will travel 25 km each weekend and wait in a long line to get their cars refueled. The idea of developing an on-demand fuel app settled in the mind of Kavish, living in the same region for a decade and witnessing the difficulties between individuals and fuel stations. Kavish quit the job in early 2016 and returned to India to make his dream come true.

For people who observe issues and take care of minimizing them with the aid of technology, it is not a new phenomenon. The Uber story has a beginning that is close. Later on, Kavish Gupta also entered the group of start-ups working to make our lives easier to live, day and night.

Kavish discovered that there is a requirement of 85 billion liters of fuel per year after returning to India, but gas stations do not satisfy that demand. Also, it is worth noting that there should be more gas stations that need real estate and a massive investment to meet the demand. Plus, pilferage and adulteration are still at risk of remaining in the air.

On the one hand, all the obstacles seem like an obstacle in the relationship between people and fuel stations. But if you see it as a possibility, you'll find that there's an app to close the gap. As well as Kavish.

Kavish launched a commercial operations app called MyPetrolPump in September 2017, with his co-founder tech geek Naveen Roy (ex-Infosys and L&T). Since its launch, the app in Bengaluru (City of Karnataka, India) alone has delivered 3 million litres of fuel and produced $2 million in revenue in its last financial year. That is also without investing a penny on tactics for marketing.

Therefore, if you have any questions or uncertainty about creating apps such as Uber for fuel, how long it takes to build a fuel delivery app, the creation of on-demand fuel delivery apps, the cost of making a fuel delivery app, the cost estimate of on-demand fuel delivery apps such as Booster Fuels, then you can contact us by filling out our contact us form. One of our sales representatives will come back to you with an ideal solution as soon as possible. The consultation is entirely cost-free.

The consumer penetration of the on-demand app will cross 12.5 percent by 2024, according to statistics. We can claim that online delivery apps will definitely have a massive user base in the future, so you will see from this.

If you think Uber's on-demand services have covered anything, then get ready for a surprise. Since the on-demand market is rapidly growing and it has something different to deliver each time. This time, this market's latest product is the on-demand fuel delivery and on-demand cooking gas delivery app.

Until 2015, no one had imagined the doorstep fuel distribution idea. The incorporation of Uber for X has motivated many new players to start the business of fuel distribution. So, if you are also thinking of starting a fuel delivery company, then you first have to develop a robust fuel delivery solution on demand. If you can use it correctly, an on-demand delivery solution can allow you to produce greater revenue.

How to generate revenue by using a Fuel Delivery App?
As a start-up owner of fuel delivery, you face many challenges, such as fleet record keeping, quality control, prompt fuel delivery, and precise order management. These issues can be solved for you by an on-demand fuel delivery solution.
Also, it will help you have a convenient fuel delivery experience for your customers. But before you begin the creation of your fuel delivery app, you need to understand how to generate revenue from it:
In terms of the production process and business model, the on-demand fuel distribution system varies. In order to function in the market, every company needs a specific model or template. The same can also be said for the business of on-demand fuel distribution.
You need to be specific about your business goals in order to select a suitable business model. Often, you need to be specific about what your clients are going to give you.
While these models fall under the same category, i.e. distribution of gasoline, they still differ from each other. You should refer to the business model of the current companies such as Filld, Booster, Yoshi, Wefuel, etc. to get a better concept of business models.
Market Research of Fuel Delivery Apps
You need to do in-depth research on your local markets after selecting a suitable business model. Get an idea about the success of your fuel delivery app in your chosen market. There is no question that fuel distribution is an emerging market, but it is also not assured that it will be profitable for all.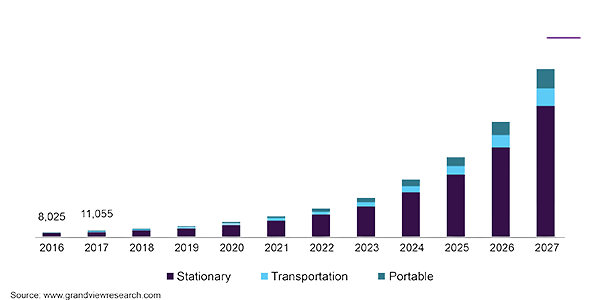 (Image credit: grandviewresearch.com)
So get enough information about effective and failing fuel distribution companies in your chosen market. You can visit their blogs, read their customer feedback, CEO interviews, and promotional campaigns to get more knowledge about your rivals. Even, in order to devise better business plans, get more information about top fuel production patterns.
Hire a Software Development Team
The efficacy and stability of the software is an important factor for any app-based fuel distribution start-up. So, you need to pay more attention to the demands of the customer. This might be challenging for you at first, but you can employ a software development team to get more knowledge about current trends in app development.

A software development team will direct you through the process of creating an app. What kind of UI/UX functionality you can incorporate into your app can be recommended by the product development team to help you provide a better user experience. They will also show you how you can cut the cost of making your app.
In this emerging fuel distribution industry, everyone is looking to make more money. And the easiest way to do that is with gig work. You can give the young population freelance opportunities by taking the assistance of the gig economy.

You have to ensure that the deadline is correctly met when assigning a gig to remote developers. You need to establish a proper channel of communication for this so that you can clearly communicate your plans to your developers. To create a clear communication channel, take advantage of email, skype, slack, SMS, and social media.

You can take advantage of the vast pool of talent worldwide by outsourcing software production to freelance developers. But if you're thinking of joining the gig economy, make sure you recruit talented designers. Since this may impact the app's consistency and goodwill.

The direct B2B opportunity for you is to supply fuel to commercial businesses. The logistics industry needs to accelerate its services and produce higher profits by having more companies with the rise in demand for speedy transport.

The logistics companies may avoid the visit to fuel stations by getting direct deliveries of fuel. Even, since they do not have to visit gas stations many times, an on-demand fuel delivery app will save a lot of their time.

The logistics companies can easily monitor their drivers and their efficiency with the aid of an on-demand fuel delivery program. Also, your fuel delivery app can easily reach its target audience in partnership with a commercial company and allow you to grow your business steadily.
Allow the customers with a fuel cap
What if in the middle of the night your fuel gets empty and there is no gas pump near your house? Now, what in such a vital situation would you do?
This was an issue earlier, but now you can provide your customers with overnight deliveries by incorporating the 'Fuel limit unlock' functionality into your app. This will work best for both you and your client.
Your customers can easily activate fuel taps with the app by using this feature. Also, the 'Fuel limit unlock' is like a boon for him if one of your drivers is handicapped or unable to make deliveries. He can quickly fill the customer's tanks by using this feature as the fuel is held open for him.
Integrate Customer Loyalty
The easiest way to get fresh customers and retain the current one is a fuel delivery app. But you need to incorporate customer loyalty programs into it to get the full advantage of your fuel delivery app.
Some of the powerful methods of adding customer loyalty to your on-demand fuel delivery app are cashback, discounts, redeemable points, discount deals, etc. This will allow you to improve your interaction with your clients. You'll get a chance to hear more about their interests.
An on-demand fuel delivery app provides your everyday purchases with a personalized touch. You will submit updates of customiZed deals to users of your app. Even, on their birthdays and anniversaries, you can send a greeting to your users.
Give your customers some games or competitions to engage more with your app. By doing the items listed above, you can improve the popularity of your app in the app stores.
Optimize your fuel app
If it cannot help you to get more customers for your company, there is no point in investing more money on the growth of your fuel delivery app. You have to continually develop it in order to draw more users to your fuel delivery app.
For any mobile app, scale matters the most. Make sure the size of your app is not too high, just add certain features that are essential for users of your app. More functionality can then be added to the app afterward.
The easiest way to enhance the software is through app optimization. Take advantage of Search Engine Optimization (SEO) to improve search engine apps. SEO would also make it simpler for your app to be browsed by Google. You will increase the rating of your application in the app store by doing this. So when optimizing your app, keep these things in mind.
Directly deliver fuel to customers
This is a direct opportunity for business in B2B.
With the rising trend of rapid transport and population growth, businesses in the logistics and transport sectors need to move at a much faster pace to generate more revenue.
What if you give them a monthly fill-up proposition?
It would be a convenient choice for a logistics company as they will save on an extra round trip to the pump.

It will sustain the engine life of the car, as drivers prefer to leave the engine running while waiting to make a pump available.

The transport company will be able to know their drivers' exact working pattern and can focus on their results as well.
On the other hand, the fuel distribution app can get its due target audience and steady market expansion by partnering with such fleets. Thus, you can conquer the travel, transport, and logistics industry with such a fuel app definition.
Hire a Software Development Team
By making a move online, you automate the company and invite customers to deliver bulk gasoline. Now, as we know, on-demand delivery apps such as Amazon, Seamless, and Instacart are renowned for their last-mile delivery service, so you need to have a time-slot facility in your fuel delivery app to handle this online tradition.
You can arrange time slots for the professionals as well as the customers with a fuel app, which can also plan the fill-up date, day, week, and configure the location where the fuel tanker needs to come and conduct the service in advance.
Everyone wants to earn a little extra in this rising economy. You should offer Gen Z freelance work opportunities with the gig economy. This will open up new market opportunities for your online platform and will engage your app with more users.
If you are looking to generate significant revenues through the creation of your fuel delivery app, make sure you recruit qualified workers. Their service is your app's online goodwill, make sure you curate the workers as per their capacity set in your "employee listing" section.
Choose a suitable business model
What if a user desires overnight refueling? You can easily combine "fuel cap unlock" features with technological development. This will work for you and for your client in both respects. By instructing the vehicle via the fuel app, the user can unlock the fuel limit at any time. And if you have a driver with an impairment, then he can quickly fill the tank as the fuel cap is held open for him.
By attaching the system at an API level, instructing a feature is done seamlessly. For this, through consulting mobile app developers who can direct you through the technical aspects of this specific in-app feature, you need to understand the technology. The technology can also be built into the dashboard of a vehicle, which can allow a car to activate a fuel limit at the right time.
Opportunities for businesses or start-ups
Only when it crosses certain substantial boxes for clients as well as for corporations does an app become a success. Here's what you're offering with the on-demand fuel app, and what your customers are able to take on hand.
Working according to the latest technology and trends
"The present era is the "now" era. It is the users' first preference if anything is available here and now. Uber provides doorstep taxi services. Within an hour, Domino's delivers food to fill the empty tummy.
Apps for on-demand fuel belong to the same age. Right on our doorstep, it delivers electricity. No need to take a taxi, go out, wait in long lines, and refuel the tank of your vehicle. The on-demand fuel app cuts through the long process and comes straight to the home to deliver the fuel needed.
You will become a part of this "now" age by creating an on-demand fuel app. Talking about the future, we all know that when we do not need to leave our cozy sofa at all, the day is close.
Opportunities for the revenue part
Your concerns are apparent when we talk about fuel here. Well, they charge $2.79 as a flat charge for 200 liters of fuel in the case of Kavish's app or Startup.
For large organizations with big criteria, it will be payments. They charge roughly 1-2 per liter after that. So, if you are concerned about revenue, with several doors to knock on, the on-demand fuel app is open.
The quality
For nearly all the oil and gas industries, fuel adulteration is a troubling problem. The main reason why you hear locals saying which places are good and bad for fuel is fuel adulteration.
You can reduce the problem of fuel adulteration to a great degree by creating an on-demand fuel delivery app. The distribution service of on-demand fuel requires trucks to complete the job.
And almost every day, you refill those vans, which avoids fuel storage for a long time and there is no adulteration problem at all. That means you guarantee a high-quality fuel that will remain the first choice over other petrol stations for consumers.
Saves time
Uber saves individuals a lot of time. At the appointed time, the cab-giant comes to your doorstep. Users don't have to think about getting to the main road, waiting for a taxi, and getting to their destination.
All the while thinking about whether they're ever going to make it on time. Uber takes out the whole process and saves a massive amount of time by delivering doorstep cab services. In the lives of consumers, on-demand fuel distribution plays a similar role.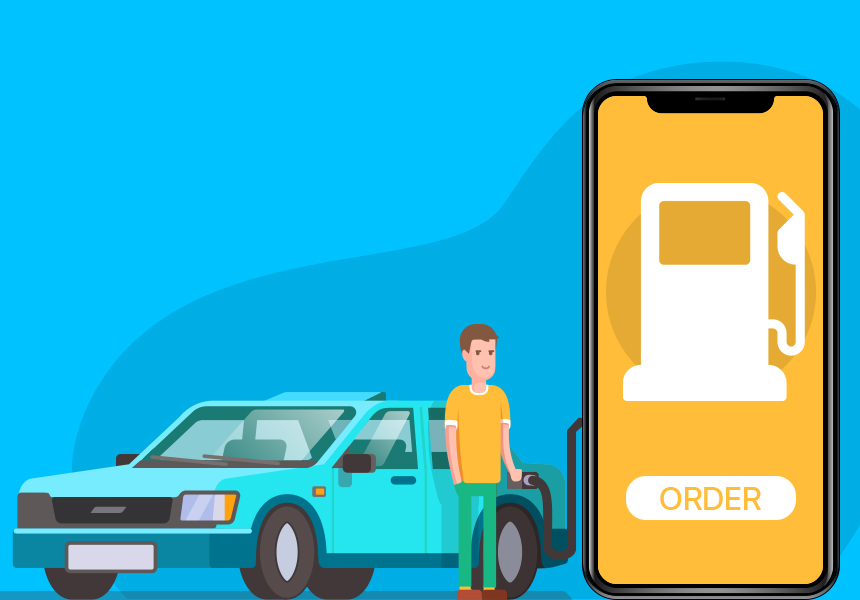 Fills for the emergencies
Emergency supply is one more requirement that you satisfy with the on-demand fuel app. In the middle of the lane, where there is no close access to fuel, people frequently face fuel problems.
Or in the morning, during working hours, people find their cars running out of fuel. In such situations, at the time of emergencies, you can deliver fuel 24/7 on request.
Features that can make your app surpass the rivals
Select the location where you have parked your vehicle
One of the main features that you need to consider is allowing your customer to choose the location where the fuel delivery service app is needed. To make it more accurate, you can allow them to specifically move the pin to the location of the vehicle.
In addition, make sure that the users of the app do not experience any inconvenience when entering the app venue. You need to pay particular attention to certain features, which must be specific and reliable, to give your users an enhanced experience.
Schedule the essentials 
Once the user selects the exact place where the vehicle is parked, allowing them to fill in the appropriate details is the next feature. This purpose must be simple, short, and convenient.
As it's all about adding the end-user details, including vehicle number, fuel type, delivery period, and card details (optional), and fuel cost per gallon, it can help you understand the fuel type requirements of your customers.
There has to be a button to order the service after filling in all the information. However, when creating an app for on-demand solutions for fuel distribution, such features are simple but necessary.
Integration for Gateways of Payment
Payment gateway integration that enables users to pay through various options such as credit/debit cards, net banking, e-wallets such as Google Pay, and Apple Pay is another integral feature that cannot be ignored while creating on-demand fuel delivery apps such as WeFuel and Booster.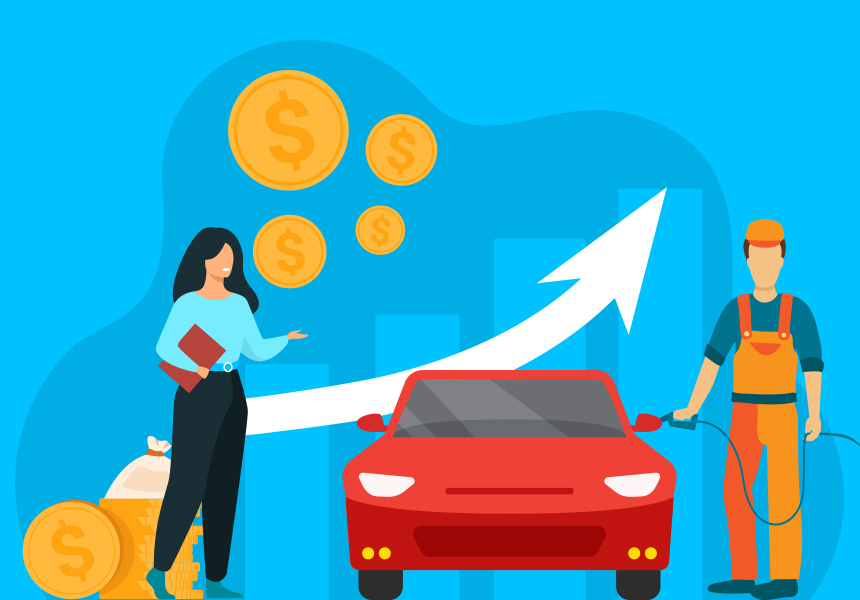 There are various kinds of payment gateways to choose from, including Braintree, Stripe, PayPal, Advent, HyperPay, and PaymentExpress. Make sure that your users make purchases by offering a convenient and stable site.
Real-time tracking
Without this key feature, it is difficult to develop a good fuel delivery app. This fuel delivery real-time monitoring allows users to track the delivery person and his live location.
It would be awesome to have such a feature that lets users learn about the delivery's real-time location. Also, if you let your users know about the estimated time of fuel delivery, it will be awesome. In addition, it is also important to include the contact details of the delivery person concerned or instant message options to speak to him/her.
Past Order History and Print Order Invoices:
To search previous order history and print order invoices, this app function is important. This will allow customers to monitor their past history and order invoices for their future reference.
Compare Fuel costs from various suppliers:
If you compare the fuel costs in one place, it will be useful for your app users. And, as per their preferences, users can contact the vendors.
As a start-up, you need to include the features listed above in your fuel delivery app and allow users to order fuel from anywhere and at any time.

Final Words
The fuel distribution solutions for on-demand apps are increasingly becoming popular in the delivery markets. But still, the demand for fuel delivery is unexplored. By making a robust fuel distribution solution for your business, you can explore the opportunities in this field.
Traveling is important for everyone, whether it is everyday tasks or a holiday picnic. It implies the increased use of gasoline. People are now skipping to the gas stations in a long queue.
Bad handling by the fuel operator can also make the supply of fuel uncomfortable for the customers. Through an on-demand fuel delivery app, you can provide your customers with a better experience.
We have shown you the lessons from which to generate good revenue by developing a fuel delivery app for your company here. However, if you have any questions about the creation of the fuel delivery app or want to know how much it will cost you, then you can reach us at any time.