In this article, we will be talking in detail about how you can develop your own bespoke salon booking mobile app like Booksy. Booksy is a world-leading beauty and wellness service provider mobile app that has achieved a tremendous amount of success within an unbelievably short period of time.
Therefore, we will be discussing in detail the complete process of beauty and wellness mobile app development in the USA.
Personal care is a crucial part of everyone's life. It not only gives someone an attractive look but it plays a vital role in improving someone's mental health.
Hence, it becomes vital to make personal care services like salon services easily accessible to customers. Here, an intuitive mobile app can take simplicity and accessibility leaps ahead of the traditional method of salon appointment booking.
Now imagine if the same salon appointment booking mobile app can help salon owners manage staff, customers, and appointments as well as grow their business reach. Sounds wonderful, right? Now let's take the whole concept to a whole another level.
Make it your mobile app that is simply offering dedicated services to salon owners and their customers. How lucrative can it be? It all depends on your imagination.
So, without further ado, let's dive into the process of bespoke salon booking mobile app development and its various aspects like business models, mobile app features, development cost, etc.
What is Booksy App?
Booksy is quite an ambitious mobile app of modern times that was first developed in Poland. Now its headquarters has been relocated to San Francisco.
Booksy provides a very straightforward service, i.e., helping customers to book appointments for dedicated services like beauty and wellness.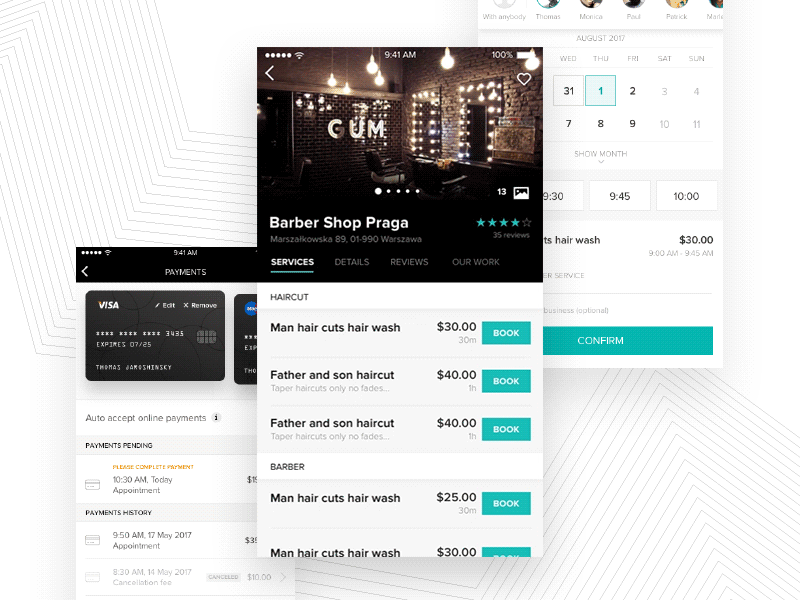 As I said, Booksy is an ambitious app. Its services are not limited to the customers of the beauty and wellness industry. Booksy also provides a huge range of essential features to salon owners as well.
These features help business owners to streamlines their services while offering them tools to increase business revenue and growth. But we will talk about these features later in the article.
Currently operating in countries, the USA, South Africa, Brazil, and Spain, Booksy raised USD 70 million in the year 2021. With so much raised funds, Booksy swallowed other salon booking mobile apps to become the most prominent appointment booking mobile app in the major markets in the world.
Booksy strikes as a simple mobile app interface. However, in its simplicity, the app is a diverse mobile point-of-sale system (POS) that offers the simplest features like appointment booking to business analytics via the same software interface.
It saves time for customers and helps business owners to grow their businesses. And if you're the owner of the app then it's a win-win situation for you. And I am here to help you to develop your own salon booking mobile app.
Business Model of Salon Booking Mobile App
Developing a Beauty Salon App is not the hard part. The hard part is to ideate and decide the small nuances of the whole process.
A business model is one of the factors that can play a vital role in the success of your salon appointment booking mobile app development. So, what are the most successful business models of salon booking mobile apps? Let's find out.
Personal Branded Salon Booking App
If you already own a salon business chain then it is the right option for you. Develop your own branded salon appointment booking mobile app for your salons only. In this mobile app, you can showcase your custom beauty and wellness services, packages, offers, etc.
And it's a great way for your customers to get access to your services. It is a great option for you if you either already own a salon chain or planning to start a salon chain. Because personal branding can go a long way if you can establish it in a certain way that your customers love.
Aggregator Beauty Services Business Model
Now let's assume that you don't own any brick-and-mortar salons. But you want to invest in the beauty and wellness industry. Then this business model could be a great source of revenue for you.
The aggregator business model means you develop a marketplace beauty service appointment app that connects various salon owners to their customers. The mobile app offers both types of app users a dedicated set of services according to their profile.
Booksy works on the aggregator appointment booking business model. You only need to develop robust software. You don't need to build a salon, rent one, or anything. Just develop your own beauty and wellness services booking mobile app, and you're all set.
How Does App Like Booksy Earn Money? – Revenue Model
If you too want to develop your own salon booking mobile app then ways of making money depend on your creativity only. But for a jumpstart, it would be wise to follow the ways that other successful businesses are doing for their revenue influx.
Booksy has devised a smart revenue model. It doesn't charge anything from the customers. That means customers can make as many appointments as they want without paying an extra buck out of their pockets. Therefore, the only source of income for Booksy is the salon service providers.
Booksy provides a basic set of features like appointment management, calendar, marketing tools, and payment management under a fixed monthly subscription of USD 29.99.
This subscription fee is only for one user. If a service provider wants to add their staff accounts as well then an additional USD 20 is charged per user every month.
However, if the number of staff profiles is 14 or more then the business owners need to pay a fixed monthly price of USD 309.99.
Apart from the fixed monthly subscription fee, Booksy also charges a commission on every service provided to the customer. 30% of every service amount is charged by the Booksy platform.
The minimum amount is $10 and the maximum is $100. That means, even if the 30% of service amount exceeds the $100 mark, only a maximum of $100 will be charged for each service.
Booksy also offers a paid marketing and promotion functionality. It is called Booksy Boost. If the salon business owner wants to promote their services and showcase their profile at the top of the search results then they will have to pay some extra fee for this service. It also offers some exclusive features to the business as well.
So basically, the revenue model of Booksy is pretty straightforward. With this simple, yet efficient revenue model Booksy was one of the fastest-growing companies in 2020. But how fast? We will talk about this later in this article.
Why should you Invest in Beauty Service Mobile App Like Booksy?
Did you know that in just three years the revenue of B Booksy then let's talk a little bit more about the numbers.
As this article is being written, the market size of the beauty and personal care market is somewhere around $532 billion. And it is projected to cross the mark of $716 billion by the year 2025. According to Statista, the USA alone has already generated revenue of $91.41 billion in the year 2023.
To make the entire venture more hopeful, in the beauty and personal care market, 27.5% of total revenue will be generated by online sales throughout the year 2023.
And the figures are growing every single day. As people are getting more reliant on mobile apps to go about their daily lives.
From ordering their first-morning coffee at their office desk to booking a professional babysitter, everything is being done via a simple mobile app. Personal care and beauty are one of those industries that are being overhauled by the advent of technology.
If you can see the steady market growth then you can observe that it is possible to emulate the growth of Booksy with your own salon booking mobile app.
Now let's talk about the features that can help you win the market of calendar & appointment booking mobile apps.
Best Features to include in your Salon Booking App
What is an app without its features? Trust me, you wouldn't like the answer. Every app that you have ever used or your favorite is filled with simple to complex features that you use every day without realizing that features are what make an app your favorite app.
It is because of useful features users gravitate toward an app again and again. Hence, it is safe to say that for your business growth, features are not where you should cut any corners.
So, while you discuss your salon booking mobile application development, do take the following features into your consideration.
Booksy for clients
No one likes to remember the login details of every app they use in a day. It is also virtually impossible to do. Therefore, social media login is quite a trendy feature that every app has adopted nowadays.
The simplicity and ease of access are what make this feature ubiquitous among all modern apps. It allows users to log in to an app with social media credentials.
User profiles are a feature where the app shows all stats and details of the user in one place. From upcoming salon appointments to all previous appointments, everything is presented in detail in this section.
Smart Service Search & Sorting Options
For a beauty and personal care mobile app, where there are thousands of service providers, it is wise to offer a feature that can help users to search for the right service provider. The smart sorting option allows users to find service providers based on their specific requirements.
Personalized Recommendations
Based on the past activities of the users, this feature shows some personalized recommendations to the users to enhance their overall experience with the app.
Once the service is selected from a specific service provider, users can book an appointment for a preferred date and time. Since appointment booking is a fully automatic system, the appointment can be booked even after the working hours of the service providers.
The smart and intuitive calendar integration to the app allows users to select and date and time of the appointment. The calendar also shows the available timeslots of the service provider to the user.
Beauty and self-care are important parts of our lives. And it can also turn out to be a thoughtful gift to our loved ones. Therefore, a gift card is a great feature for users to gift their loved ones a gift of self-care.
Once the appointment is booked, the integrated map provides the users with navigation details of a salon to the users.
After taking service from a salon, users can rate the services of the salon and post a review on the profile of the salon. Ratings and reviews are publicly shown on the salon profiles so that other users can check and take them into consideration while selecting their next salon visit.
Rewards and discounts are the features dedicated to loyal app users. Every now and then you can reward your loyal users by offering them an exciting discount offer on their next salon visit. It is also a great promotional opportunity for you.
There is hardly any app in the app store without this feature. Push notification is a great feature to update the user about their appointment confirmation, payment confirmation, discount offers, etc.
Booksy Biz for Service Providers
For salon businesses, it is important that you offer them a simple and secure method of login. Remember, for businesses you should offer them an extra layer of security. Since these users are paying to use your services.
Just like user profiles, businesses will also require dedicated profiles to check all their business analytics in one place. Services provided so far, confirmed payments, pending appointments, etc. can be accessed from these profiles.
As the name suggests, this feature allows salon owners to keep track of every penny that comes in and moves out of the business accounts.
Appointment management allows salon owners to check their upcoming appointments. So that they can schedule their work days accordingly.
Calendar & Day Off Management
This feature allows salon owners to manage their calendars to streamline their services for the users. They can manage their working days, days off, and holidays so that users do not have to face any problems while scheduling their next appointments.
Any salon that employs multiple professionals can manage their staff members with the help of this feature. The master profile can check the schedule of professionals, pending appointments, services provided in a day, week, and month, and many more details.
Marketing tools are a very powerful feature that you can offer to your beauty and wellness service providers. With this feature, they can optimize their business profiles to showcase their services in a more attractive manner. They can also promote their profiles to often appear in the personal recommendations of users.
Customer Service & Engagement Tools
Customer service and engagement tools help service providers to increase repeat appointments and customer loyalty. With these tools, salon owners can send personalized package information to their customers. They can also offer customized packages, personalized discount offers, etc.
For their Pro subscription, Booksy offers some extra exclusive features. This is one of those features. Inventory management enables business owners to keep their inventory in check. So basically, these features work as a complete business companion for beauty and self-care service providers.
No-Show Protection Rule Settings
Booksy provides a no-show protection rule settings to the service providers. When customers book an appointment and do not show up, the business loses both money and time.
Therefore, to prevent such scenarios, no-show protection rule settings were introduced. Booksy allows service providers to select one of the two options for their customers while booking a salon appointment. These are:
Pre-payment: With this setting on, the customers are required to make complete payments while booking an appointment at a salon.
Cancellation fees: With this setting on, the customer is required to fill in the card details while booking an appointment but is not charged anything yet. But they are notified at this point that if they cancel the booking, they will be charged a predetermined cancellation fee. Salon owners can also decide to automatically charge the cancellation fee.
Business Stats & Analytics
If you have made up your mind about your own salon booking mobile app development, then this is one of those features that you cannot miss.
It shows the complete business statistics to the business owners, from ongoing activities to all the previous ones, everything is shown in detailed and graphic form in this section.
Now, let's get to the next part of the beauty and self-care appointment booking mobile app development.
Steps to Develop a Bespoke Salon Booking App Like Booksy
Developing a bespoke salon booking app like Booksy involves the following steps:
Ideation
The very first part of any mobile app development is ideation. Here you take your initial idea of on-demand mobile app development and build the product around it by adding small details about your business. These details could be your targeted audience, area of service, business model, revenue model, etc.
Once you have a robust idea of your business operations then you can start thinking of the app. Mobile app development like Booksy requires you to provide all types of beauty and wellness services within one app.
So, if you want similar services then you must take every small business into account in the same industry. When you have all the details ready then you can start searching for the best salon booking mobile app development company in the USA.
Search for a Reliable Mobile App Development Company
It sounds simple to search for the best mobile app development company in the USA but it is far more complicated than that. So, first, we need to find out the qualities that you must be looking for in a great mobile app development company. Some of the qualities are:
Extensive experience
Great user feedback
Impressive track record
A huge number of developed mobile apps
Cost-efficient
Modern tech stack
Once you have your priorities straight you can start the hunt for the best app development company. You can search for the company with the help of the following options,
Ask your friends and colleagues for some reliable recommendations. If you can find a good recommendation then you have a great head start. If the recommendations are not promising then we can try another method.
There are several trustworthy companies that rate software development companies based on their expertise and customer feedback. Some of these companies are Clutch and Goodfirms. Here you can search for mobile app development companies that fit your requirements and budget.
Now you need to visit the websites of your shortlisted companies and go through the websites to get more details about these companies. This step might shrink your list of shortlisted companies. It's time to move on to the next step.
Now you need to contact these companies via their contact details and ask for their proposal for your salon booking mobile app development project.
When you receive their proposals, carefully go through each proposal, and finalize the one that you find the most suitable for your requirements.
It might seem a long process to find the right mobile app development. But trust me, a bad choice can cost you a lot more than you can imagine.
Custom Salon Booking Mobile App Development
Now that you have the company you wanted, it's time to begin mobile app development. Make sure the company provides you with detailed and regular reporting of the progress of your project.
If you don't want the company to handle the entire project, you can also hire on-demand Salon booking mobile app developers from these companies.
These developers can work as an extension of your own mobile app development team. They can either work from their office or they can come and join your team. On-demand mobile app development companies are quite flexible when it comes to working on your ambitious project.
If you are tight on the budget, then the company might suggest you develop an MVP for your mobile app idea. An MVP is a light version of your mobile app with basic features and designs.
But it is a great option to raise funds for your business. Because an MVP may not look attractive but it is enough to show your investors your vision.
You will be required to decide the number of platforms for which you want to develop your app. In other words, do you want to develop a health and wellness app for Android, iOS, or the Web? Or do you want your appointment booking app to be available for all mobile platforms?
Salon Booking Mobile App Launch
Once the Beauty services app development phase is over, you are all set to launch your mobile app out in the wild. Let users use your mobile app, leave feedback, and share some suggestions. You can also track every analysis and metric to make crucial future decisions for your business growth.
Maintenance & Scalability Opportunities
Mobile app development is an ongoing process. As users use your mobile app, they might come across a bug or glitch. Or someone may have a great suggestion for your app that can enhance the user experience for your app.
Therefore, an app always requires maintenance work to ensure smooth business operations. Maintenance works comprise bug fixes, OS updates, frameworks and library updates, security checks, etc.
And as your business grows the app needs to grow as well. Scalability opportunities help you to scale up your app performance, capacity, and functionalities according to modern and future business demands.
Why do Salon owners need On-demand Salon Applications for their Businesses?
We have talked about so many aspects of a salon appointment booking mobile app, now let's talk about whether is it even worth the investment of time and money.
We will go through the benefits that can be achieved by introducing a mobile app in the traditional beauty and wellness service provider framework. And where there is a scope for improvement, lies an opportunity for a proliferating business.
Time-Saving
No calls, no missed calls, no network errors, and no visiting a salon during errands to book an appointment. Just a few taps on your smartphone screen and done. Simplicity welcomes more business. And when simplicity saves time, it is a blessing in disguise.
Push Notifications
Our lives are busy. We may not remember to take care of ourselves. A simple push notification can remind someone to get their nails done or visit a spa. A gentle reminder can go a long way.
Multiple Payment Options
Multiple payment options allow users to pay via their preferred mode of payment. And the rule of thumb in business says, never make it hard for customers to pay you.
Customizations & Personalization
People love being in control. And when it is about personal care, they love to be in charge. From selecting their favorite beauty service provider to customizing their service package, everything feels like playing video games and earning virtual rewards. It's an amazing experience that begs for more frequent interactions.
In-App Navigation
In-app navigation simply helps users to find a salon within their vicinity. It can also help them to drive right to the doorsteps of the salon.
Effective Service Advertisements
With paid promotions and marketing tools, self-care service providers can promote their services to get more visibility from potential customers. It can help them to target more customers and grow their business.
How Arka Softwares can help you build your Salon Booking App?
To put it into simple words, Arka Softwares checks all the marks of the best on-demand mobile app development company in the USA. We understand your vision. We try to fortify it with our expertise.
We help you take the right measures during the project. We incorporate the best technologies available in the world for better future support. And at what cost? The cost is not too heavy on your budget.
Here are the following reasons why Arka Softwares should be the one developing your next on-demand Salon appointment booking mobile app for you:
More than a decade long experience
100% confidentiality
Best tech stack for best performance
World-class quality products
450+ already launched mobile apps
Pure Innovation
Well-decorated team members
Uncompromised after product support and assistance
Limitless scalability opportunities
In other words, whatever is your dream, we can make it come true.
Wrapping Things Up
The beauty and wellness industry is growing faster than wild weed. Now is the best time to invest in your own beauty and wellness appointment booking mobile app.
The current market is being ruled by Booksy. You can take advantage of low market competition and move ahead in the growth graph. Users like to explore their options. Hence, it is the perfect opportunity for you.
And, we, at Arka Softwares, can help you take advantage of time and technology by offering you the next-gen of on-demand salon appointment booking mobile app development to you.
FAQs Related to Salon Booking Mobile App
What are the top features of a Salon Booking Mobile App?

Some of the top features of a salon booking mobile app are:
● Social media login
● User profiles
● Smart search and sorting options
● Book an appointment
● In-app navigation
● Service subscription
● Customize service package
● Multiple payment options
● Ratings and reviews
● Push Notifications
● Customer support