Most people are always looking for low-cost website platforms. When it comes to running a business, your website is a significant investment. However, keep in mind that money is what you spend, and worth is what you receive while making a purchase.
WordPress is one of the most popular self-hosted blogging tools and an affordable digital publishing platform. Yet, there are several other tools available for website development.
So, if you're intending to develop a website, it's easy to become lost in the bushes. These days, WordPress and Kentico are the two most popular Content Management Systems (CMS).
Both of these platforms are well-known and have unique characteristics that can meet your requirements. In this blog, we will help you discover more about Kentico vs WordPress so that you can make an informed choice.
WordPress: Overview
If you intend to create an appealing website, WordPress is an excellent choice. WordPress is a robust and versatile CMS that runs around 37% of all of the world's websites and has become one of the most popular website development platforms.
At first sight, WordPress CMS development may appear to be intimidating. However, it is far more user-friendly. It has a wide range of features that allow you to create your website to your specific needs and goals.
Features of WordPress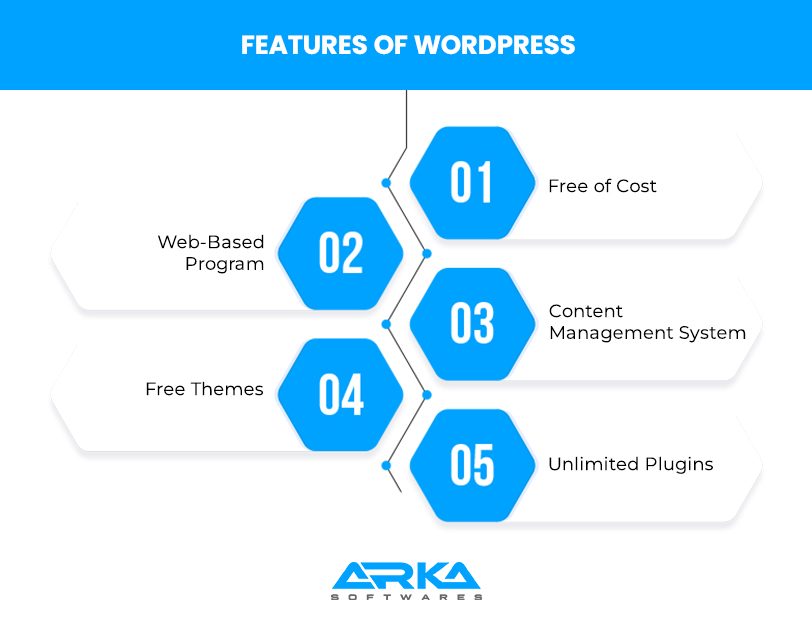 1. WordPress is Free
You may use WordPress for free for the rest of your life as long as you keep up with its regular security upgrades and fixes. Although free is not a good thing, neither an individual nor a firm offers WordPress for free.
It's free software, developed by tens of thousands of people throughout the world, and released under the terms of the General Public License, version 2. This expedites the cycle of improvement far more than alternative platforms given by corporations.
One of the most significant features of a web hosting service is the availability of one-click installation of WordPress, which includes free and regular updates.
After signing up for a hosting account, it takes less than 10 minutes to configure WordPress and obtain a unique URL for your site.
2. It's A Web-Based Program
WordPress comes with a great admin panel that lets you control anything from a PC or a Mac using a single user interface. Everything from installing a new theme to removing a plugin or changing the core files may be done on the front end.
The term "FTP" is commonly used in the WordPress community, but you don't have to be an expert to utilize it effectively on your own site. To avoid the need for separate FTP client software, even the most basic web hosting plans have a "File Manager" option.
3. Content Management System
While initially known for its blogging capabilities, WordPress has now grown to include a wide range of tools for creating all kinds of websites. All of these options are available to you when you use WordPress to design your website.
4. Free Themes
Installing a new theme in WordPress is as simple as going to the admin dashboard and selecting one from the wide collection of free themes. It is possible to utilize free themes without any form of advertising or footer message.
The majority of the themes are mobile-friendly and don't require any additional configuration to work effectively on mobile devices. It's also possible to purchase themes from other developers and install them in your WordPress dashboard.
5. Unlimited Plugins
Literally, every sort of functionality you want will be offered as a ready-made plugin that can be deployed from the admin panel.
One of the main reasons people use WordPress is that they can't obtain that functionality elsewhere, even if they're willing to pay for it.
In order to make your WordPress site load quicker and appear at the top of the search engine results, there are a number of sophisticated WordPress plugins available.
Kentico: Overview
Kentico is an all-in-one solution for marketing. It assists in the building and maintenance of a wide range of websites, much like WordPress. Kentico CMS development services are meant to be a one-stop shop for all of your content needs.
Kentico has a wide range of built-in capabilities for its customers, and it's inexpensive for businesses of all kinds, no matter how large or small they are.
Kentico's workflow characteristics allow it to provide solutions for sites, communities, shops, and marketing campaigns. It is a simple-to-use alternative for both developers and site administrators.

Features of Kentico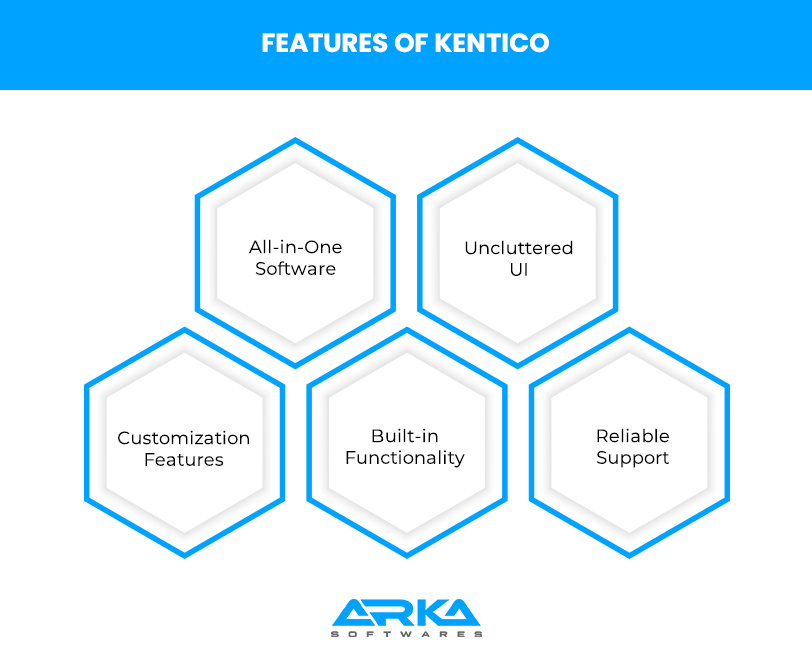 1. All-in-One Software
Kentico is the only all-in-one digital marketing, eCommerce, and CMS platform. Kentico eliminates the need for businesses to deal with multiple systems and their associated costs and hassles by providing a comprehensive set of capabilities.
2. Uncluttered UI
Despite having a large number of functionalities, the platform is incredibly user-friendly. It enables website designers, content editors, and other people to modify information, update the system, and simplify processes, so increasing their productivity and efficiency.
3. Customization Features
Kentico provides a comprehensive range of functionalities as well as exceptional customization capabilities, which foster creativity and assist businesses in ensuring that their website is developed with the brand and its purpose in mind.
It also includes superior scalability capabilities, which assure that the business's rising demands will not overtake the platform. Hence, this advantage of Kentico CMS might serve as a vital aspect in the progress of a company.
4. Built-in Functionality
Kentico offers up to 60% more out-of-the-box features than competing systems and technologies. As a SaaS or on-premise solution, it lets organizations create and launch aesthetically beautiful and effective websites more quickly.
The platform also has an open API, which means that users can integrate anything they want with the system. 
5. Reliable Support
Kentico provides 24/7 assistance from many global locations and has a seven-day bug-fixing policy. To ease the burden on first-time customers, support is available whenever required.
Users may also simply incorporate their own open authentication process, user database, or any of the common access control methods.
Difference Between Kentico and WordPress
WordPress used to be a blogging platform, but it has evolved into a full-fledged CMS. Various themes and extensions have been added to make it even more user-friendly. Kentico is a CMS platform that includes supplementary digital marketing tools.
As it allows for such extensive personalization, it's perfect for companies who want to increase their innovative capabilities. Here are a few comparisons between the two website development platforms:
Open Source vs Integrated Solution
A major factor in choosing between these two platforms is whether or not the user prefers an open source option or a more integrated one.
The term "open source" refers to a piece of software whose source code is available to the public and may be used by anybody.
While this may sound like a brilliant idea, it really reduces the CMS's flexibility. There is an excessive dependence on the developer community to provide plugins to fill in holes in features and functions, and open source systems might lack quality control.
Kentico is an all-in-one CMS solution that is commercially backed and integrated. Kentico comes pre-loaded with 450 modules, one of which is a headless CMS. Third-party modules are seldom required.
As a result, you won't need any further knowledge in order to start using it. It's also simpler to update to the latest versions whenever the time comes, as you don't have to track down updated versions of third-party plugins.

1. Performance
In terms of website performance and optimization, WordPress is an excellent choice. Even if you employ a lot of plugins, graphics, integrations, and other large data, it won't affect the website's speed.
Kentico, on the other side, enables users to build a powerful website that can be used and optimized on any device.
In addition, it includes setups, options for how the website's performance might be enhanced, and other considerations.
2. Usability
WordPress is without a doubt a user-friendly and customer-focused platform for managing content on the internet. With it, users can quickly manage their website's content, govern the pages, and take charge of every feature.
It is a user-friendly platform that is simple to navigate and comprehend. WordPress may be used by anyone, even if they have no prior experience with coding.
Kentico as a CMS is a versatile and user-friendly platform. In contrast to WordPress, Kentico requires users to be a little more tech-savvy.
However, you may still design your website's tabs, menu elements, and custom widgets without any coding experience.
3. Expertise
Simple websites may be quickly and easily created without the need for technical expertise using WordPress. It only takes a few seconds to get started with building your website on it. However, the situation is different if you need to develop a high-performance WordPress website.
Kentico necessitates ASP.Net experience and technical understanding. Kentico is not preferred by those who are unfamiliar with programming languages. When it comes to creating their own websites, many people prefer using alternative CMS platforms, such as WordPress.
4. Media Management
It is simpler to handle media such as images, videos, and documentation using Kentico CMS. It has a well-organized media library built-in, whereas WordPress automatically organizes your files into folders by month and year.
An FTP tool is required to update photos that were posted more than a month ago in WordPress.
5. Security Standards
If you're going to add forms to your website, you should take precautions as you may end up getting spammed. Most spam-hunting boats search for vulnerable websites. They can even utilize the forms to send unsolicited emails to the people that come to your site.
So you must ensure that your website is entirely safe from any data breaches. WordPress may be completely adapted to suit your needs. It provides a variety of plugins to keep spam off your website.
However, you should constantly ensure that all of your plugins are up to date in order to take advantage of the latest technological breakthroughs. Plugins with a higher price tag offer a higher level of security.
Kentico features a form builder that is visual. It has a layer of protection that comes with the proper license. It also includes a Google Recaptcha and does typical tasks for programmers, such as escaping spaces and further filtering input.
Conclusion
Kentico and WordPress are both fantastic platforms for building websites. Kentico's ability to help with organizational transformation is a key advantage.
WordPress is simple to use, easy to customize, and provides a versatile environment. It's best to familiarize yourself more with these two options so that you may make an informed decision and create a website aligned with your business goals.
FAQs – Kentico vs. WordPress
Let's

build something great together!

Just take one step forward and we can build history.

Want to build something good for the business but still good for the customers?
You know the answer is, Yes!