It is crucial for any online store to ensure that customers have a positive experience throughout the entire buying process. The use of secure payment gateways in UAE is crucial to this.
It's fair to assume that the best payment gateways in Dubai pave the way for a more satisfying online buying experience and increased sales.
Providing viable payment options in the exact targeted location of the website will make the work of store admin much easier, as it would increase the likelihood that a website visitor may convert into a satisfied buyer.
You can win over customers' confidence in your online store or mobile eCommerce application by providing a secure and convenient payment option. These days, consumers are more likely to shop at a store that makes every aspect of the transaction simple and convenient for them.
In the next few years, the United Arab Emirates is expected to rake in almost $27 billion from online sales. An annual growth rate of 23% is a reasonable estimate for this phenomenon. This information is sufficient to demonstrate the potential of online commerce and payment gateways in UAE.
Consumers who make transactions online are far more aware of the need to protect their personal information when doing so. The success of a company's online store depends on the security of its payment systems; hence it is imperative that online payment gateways for your eCommerce business must be carefully selected.
Top 7 Payment Gateways in UAE
1.
Telr
Telr is undeniably one of the most well-liked online payment gateways for your eCommerce business because of its support for a wide array of standard payment types. It already accepts payments from more than 100 countries and is expanding rapidly.

E-commerce businesses, startups, and SMEs operating in today's dynamic market will find the three available pricing tiers (entry, small, and medium) to be ideal.
Features of
Telr
Quick and simple transactions that help your business grow.

Security against fraudulent activity can be enabled.

PCI Data Security Standard (DSS) Level 1 Compliant.

Superior adaptability and responsiveness.
Options for Integration
Your own mobile-friendly, tablet- and the desktop-friendly payment gateway will be hosted by Telr. After a successful transaction, the customer will be taken back to the site.

Use an frame to embed the payment page into your site, and then style it as you see fit using your preferred CSS.

You can customize the look of the payment form to your liking by integrating it fully into your website.
2. Amazon Payment Services
Amazon purchased Pay fort in 2020 and changed the name to Amazon Payment Services. This platform is trustworthy, reduces the potential for fraudulent transactions, and quickens the rate at which money comes in.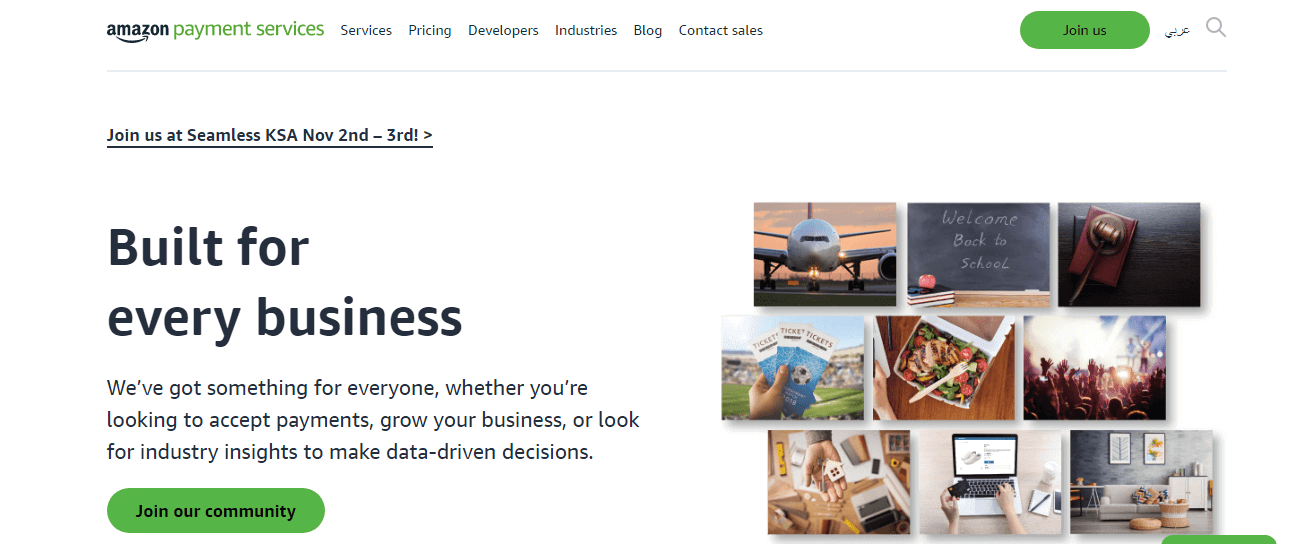 This online payment option for UAE business may be adjusted to fit the needs of any business, and it can also assist you in fostering stronger connections with your clientele.
Amazon has two pricing tiers for its payment services: regular and customized. The regular plan includes no initial price and a predetermined monthly account management fee. Prices for the individualized plan vary because it is designed to match the unique requirements of each individual customer.
Features of
Amazon Payment Services
Helps with financial transactions and expanding a company.

Provides a service that provides analysis of the market.

Accessible in 8 countries.

Provides a payment plan option for customers.

Keeps tabs on how well a company is doing.
Integration Choices
Compliant API integration with the Payment Card Industry Data Security Standard.

It uses the iFrame technique.
3. Cashu
CashU was one of the first payment gateway companies in UAE. Originally catering just to UAE residents, it has since become one of the continent's most sought-after solutions. It is well-known for its safety measures and cutting-edge AML technologies for preventing fraud.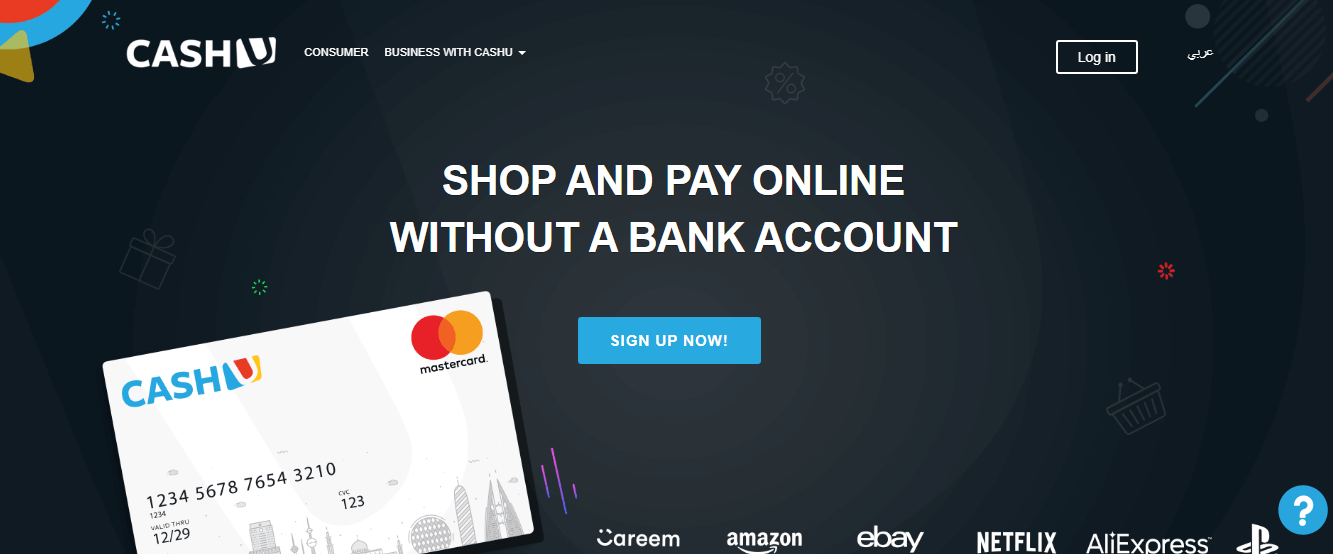 In addition, CashU offers a 100% money-back guarantee on all payments. To use CashU, however, you will be required to pay a one-time setup fee in addition to a refundable security deposit. The yearly cost is proportional to the company's sales volume.
Features of CashU
Different strategies for integration are used.

Exceptional user experience.

Effective fraud and risk management.

Performance evaluation.
Options for integration
Standard – The CashU server automatically receives payment data via the default integration.
Premier – Data is transmitted to the CashU online service. An authorization code is transmitted after authentication and then utilized to complete the transaction.
API Integration – Integrate with Checkout's API either directly through an HTTP/REST library or through one of Checkout's software development kits.
4. CCAvenue
CCAvenue, which is headquartered in India, is a favored payment gateway service in the United Arab Emirates. The fact that CCAvenue provides round-the-clock assistance and safeguards against fraud makes it a desirable choice for companies of all sizes.

For its most basic plan, CCAvenue doesn't charge any money upfront, and the monthly maintenance fee is flexible according to the client's preferences. The start-up pro plan is great for startups and smaller enterprises because there are no initial costs and only a few dollars per month in maintenance and transaction fees. 
Features of CCAvenue
A platform for accepting payments through several channels.

Various alternatives for integration.
Options for integration
CCAvenue's Billing Page – By making use of the individualized billing page, you may avoid the headache of creating and maintaining a separate checkout system.
iFrame Checkout – Integrate a predefined payment validation form.
Direct payment – Make it possible for customers to make purchases without leaving your site to visit CCAvenue.
5. PayTabs
PayTabs, which was founded in 2014, is well-known for its efficient payment processing and top-notch fraud detection system. Its cutting-edge and adaptable solutions have made it possible for businesses to handle payments safely online.

Visa and Mastercard have recognized PayTabs' security, and the company has become a popular payment gateway provider in the United Arab Emirates as a result.
PayTabs's pricing structure is simple and transparent. You can choose from three different packages: the starter plan, the growth plan, or the enterprise package.
The low, consistent monthly cost of the startup plan makes it ideal for new businesses. The expansion strategy is highly beneficial and effective in boosting sales. Businesses with grander expansion goals should use the enterprise plan.
Features of
PayTabs
Payment methods available across all channels.

Easy paperwork and onboarding procedures.

An excellent POS control panel that displays everything in one place.

Capacity to process payments around-the-clock.
Options for Integration
Plugins.

Express Checkout.

Direct API.
6. Cybersource
Cybersource operates as a subsidiary of VISA, a globally recognized financial services provider. The platform provides access to its many features in more than 190 countries worldwide. Its primary function is to facilitate the widespread use of electronic payment systems like Apple Pay, Android Pay, and Alipay in addition to local payment systems.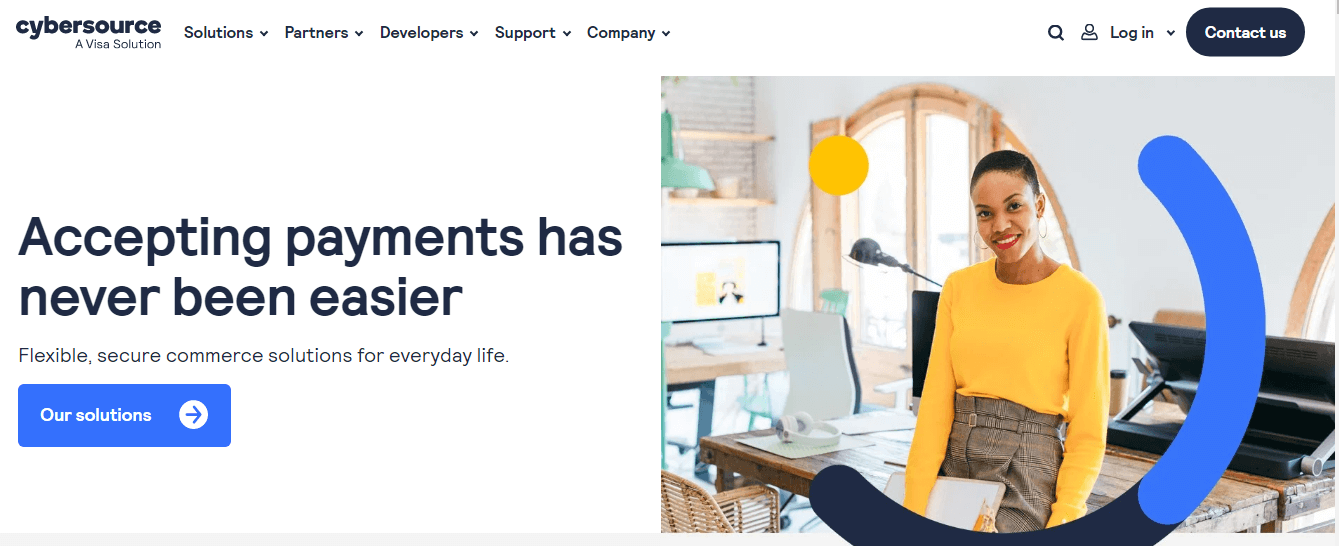 Cybersource, which has been in business since 1994, is able to reach customers all over the world by using cutting-edge technology to facilitate its pioneering eCommerce services. Because it is affiliated with Visa, you can rest assured that your financial transactions will be processed safely and securely.
Features of Cybersource
Universally accessible monetary infrastructure.

Accommodates a number of different currencies.

Innovative, dynamic routing.

Rapid adaption and customization.
Options for Integration
There is an open API for use with Apple Pay, Google Pay, Samsung Pay, and Visa Click to Pay.
7. Hyperpay
When it comes to the Middle East and North Africa, Hyperpay is one of the most rapidly expanding payment systems. It is headquartered in Saudi Arabia and works with more than 100 banks and major credit card firms in the United Arab Emirates.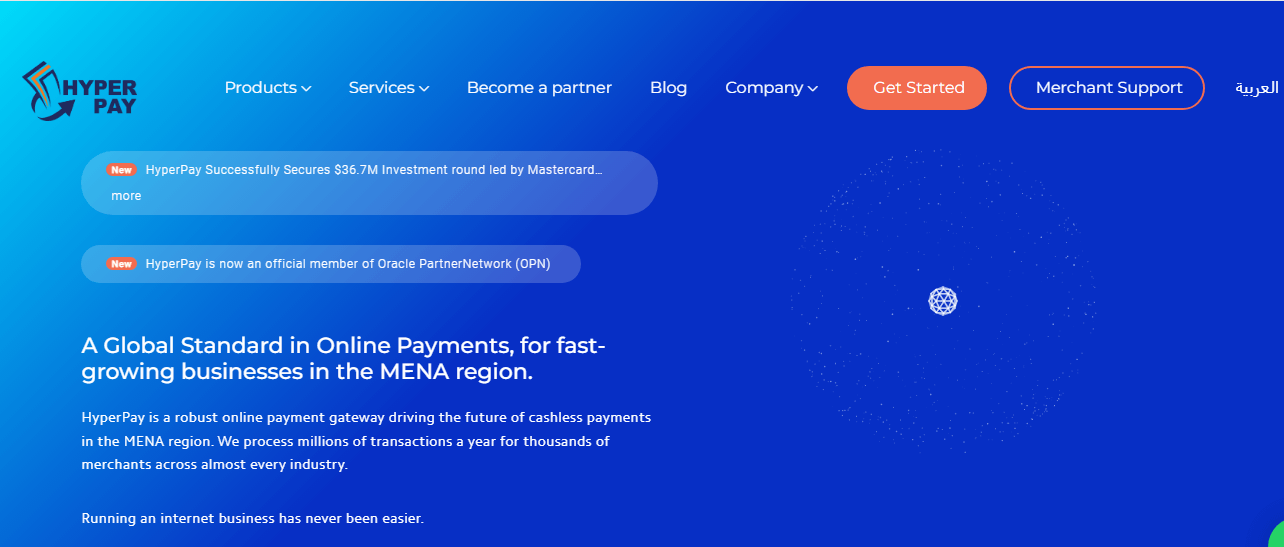 WordPress and Magento, two of the most popular shopping cart solutions, interact seamlessly with the platform. Along with its adaptable payment gateway, Hyperpay also provides a foolproof fraud management solution. 
Features of
Hyperpay
Compatible with the vast majority of online store management systems.

Compliance and risk assessment.

Reduces time to market.
Options for integration
COPYandPay. (Widget)

HyperSplits. (Payout framework)

HyperBill. (Invoice management system)

Payment Gateway: A Quick Overview
A payment gateway is a piece of software that facilitates the acceptance of electronic payments like credit and debit card transactions for businesses. The term can be used to describe both the virtual payment gateways used by online retailers and the actual card readers used in brick-and-mortar businesses.
This technology works in tandem with web-based merchants and links to your existing banking information in order to facilitate the transfer of funds to purchase goods.
Most payment gateways in UAE are provided by specialized banks or corporate banks. Many different payment options are available to customers, including UPI, debit/credit cards, and online banking/wallets. It eliminates the need for currency and the hassle of carrying it everywhere.
Types of Payment Gateways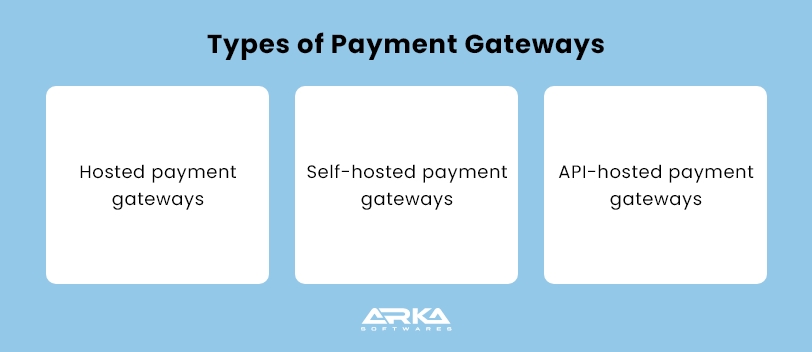 Hosted payment gateways
When a consumer uses this gateway to make a purchase, they are taken away from the merchant's site and brought to the payment processors. The next step is for the customer to input their payment details, such as a credit card number or bank routing number.
If everything is correct, the customer is redirected back to the store's site to view their order confirmation. Merchants may boost trust with their brand presence on the checkout page.
Self-hosted payment gateways
To use pro-hosted online payment gateways for your eCommerce business, a customer just enters their card or bank information on the merchant's website.
Customers may be required to provide data in a particular structure. Once you hit submit, your information will be sent off to the payment gateway's designated URL. It improves the shopping experience for the customer because it is already accessible on the retailer's website.
API-hosted payment gateways
This payment gateway is integrated into the online store, where customers may enter their credit card or bank information to complete a purchase.
Payments are processed using HTTPS requests or application programming interfaces (APIs) rather than by going to the URL page. Every step of the buying procedure is under the merchants' complete command. However, in order to offer this service, retailers must be SSL- and DSS-compliant.

How do the Payment Gateways for Merchant Account Work?
A payment gateway's primary function is to protect the privacy of the customer's financial details. It protects sensitive information like credit card and banking details by encrypting them before they reach the server.
A customer makes a purchase on the online platform and then clicks the "Submit" or "Checkout" button, or something similar.

When this occurs, the buyer is routed to a secure payment gateway where they may input their banking details or credit card number to complete the transaction. The payment gateway then forwards the user to the issuing bank's website or a 3D-secured page for authorization of the transaction.

When a payment gateway is successful in obtaining authorization for a transaction, the bank follows up by verifying that the customer has enough money in their account to cover the cost of the purchase.

The merchant is notified by the payment gateway. If the bank says "No," the merchant will notify the consumer through an error message that there was a problem processing their payment. If the bank's portal returns a "Yes" response, the shop owner will try to complete the transaction with the bank.

The bank makes a settlement with the payment gateway, and the gateway makes a settlement with the retailer. After all of this is done, the consumer receives a notification confirming that their order has been placed.

As was previously noted, when making a financial transaction, the data of a person's bank account and credit card are revealed. For this reason, maintaining the confidentiality of sensitive data is of the utmost importance.
If you are curious about the business model of payment gateways in UAE, know that they generate money by either taking a small percentage of each transaction or charging a flat rate per transaction referred to as the Merchant Discount Rate (MDR).
It's essentially an eCommerce platform that accepts credit cards and direct payments online for a nominal fee. This is the basic idea of online payment gateways for your eCommerce business.
How do you Select the Best Payment Gateways in Dubai?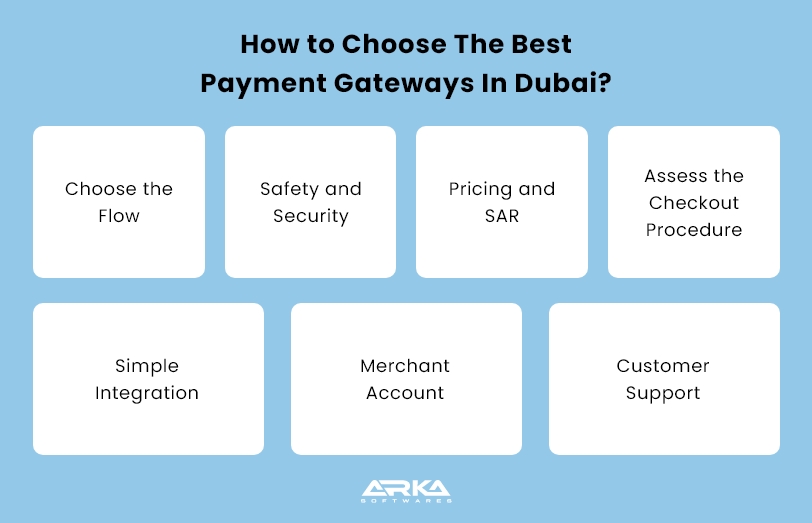 Choose the Flow
To ensure the smooth running of your business, you must select the top payment gateway in UAE for business. However, don't rush to hire the biggest names in the business; take your time and find the payment gateway companies in UAE that meets your needs at the lowest possible cost. Make sure you double-check the iFrame and Escrow system together with the payment form.
Safety and Security
Verify the security of the online payment gateways for your eCommerce business. And to do so, you must thoroughly inspect the payment gateways in UAE. Look into how long it takes to process payments, too. Also, make sure you double-check the PCI-DSS certification.
Pricing and SAR
Consider the price and the terms of the Service Agreement Requirement before deciding on a top payment gateway in UAE for business. The costs and terms of the required Service Agreement vary from one payment gateway to the next. Therefore, before settling on a payment processor, double-check both.
Assess the Checkout Procedure
Examine the payment gateway's checkout procedure across a number of platforms (Android, iOS, browsers, etc.) before deciding which one to use for your website. Knowing this can assist you in deciding if the payment gateway is right for your company.
Simple Integration
When selecting payment gateways for merchant account, make sure they can be readily integrated with your business and that you receive clear integration instructions from the vendor. Choose the gateways that simplify and improve the payment procedure for your consumers.
Merchant Account
It's a crucial component of payment gateways in UAE. To accept credit card payments from customers, you'll need a merchant account. A merchant account is an account used by retailers to hold consumer payments pending approval from their respective banks.
Customer Support
There are numerous payment systems that do not offer customer service. These payment processors often have detailed how-to guides posted on their own websites in the event of an emergency.
Even though this can be useful, it usually necessitates learning certain technical details before you can completely understand the data presented. Since the ability to swiftly fix technical difficulties and prevent business downtime is crucial, it is important to verify whether the supplier offers live technical help around the clock.
If your company uses the top payment gateway in UAE for business that provides around-the-clock service, it can enhance the client experience, bring in new customers, and foster brand loyalty among existing customers. As an added bonus, this lets you capitalize on promising avenues for fostering long-term relationships with your clientele.
How can a Payment Gateway be Integrated?
When starting a business, you probably have a million things on your mind, including how to handle the billing and collection of payments for your services. The solution is simple. If you want to take payments online, having secured online payment gateways for your eCommerce business will help.
To make sure that both the retailer and the client are comfortable with the online transaction, it is important to have the integration handled by professionals and for that, you must hire payment gateway company based in Dubai.
Conclusion
Finding a reliable payment platform can do wonders for an online store's success. No mistakes will be made in the checkout process if the payment gateway is safe, fast, and easy to use. Cart abandonment rates are also lowered as a result.
Keep in mind that it's important to select an international payment gateway solution for your business in Dubai that works well and is responsive on mobile devices because of the rapid adoption of smartphones and the use of mobile apps.
FAQs- Payment Gateways in UAE