If there's one thing we learned from the epidemic, it's that food-ordering apps are a miracle. In this fast-paced world, the ability to relax at home and place an order whenever you like is a true luxury.
All throughout the world, online food delivery increased when the lockdown period ended, and the United Arab Emirates was no exception. You can hire a food app development company to develop your restaurant app. 
The United Arab Emirates is a foodie's delight, with restaurants serving not just delectable Arab specialties but also international cuisines and dishes.
Who could say no to all this finger-licking delicious food when it's there at their fingertips?
Top Food Delivery Apps in UAE 
1. Talabat
Talabat is among the most popular food delivery apps in Dubai. It may connect you to thousands of eateries around the country and offer delivery service at reasonable pricing. Their expert workforce, lightning-fast order processing, and reliable customer service have made them unbeatable in the food delivery industry.
These important features of Talabat are like magic to Emiratis all around the United Arab Emirates. This app's main features include:
There are literally dozens of restaurants to choose from in the area, so you may experience a wide variety of cuisines.

After selecting your preferred cuisine, you can instantly confirm your order with a single click and pay with a debit card or cash on delivery.

The application remembers your order history, making future purchases a breeze.

It is possible to use this application without creating an account by selecting the "guest checkout" option throughout the ordering process.
Talabat is available on both Android and iOS for free.
2. Careem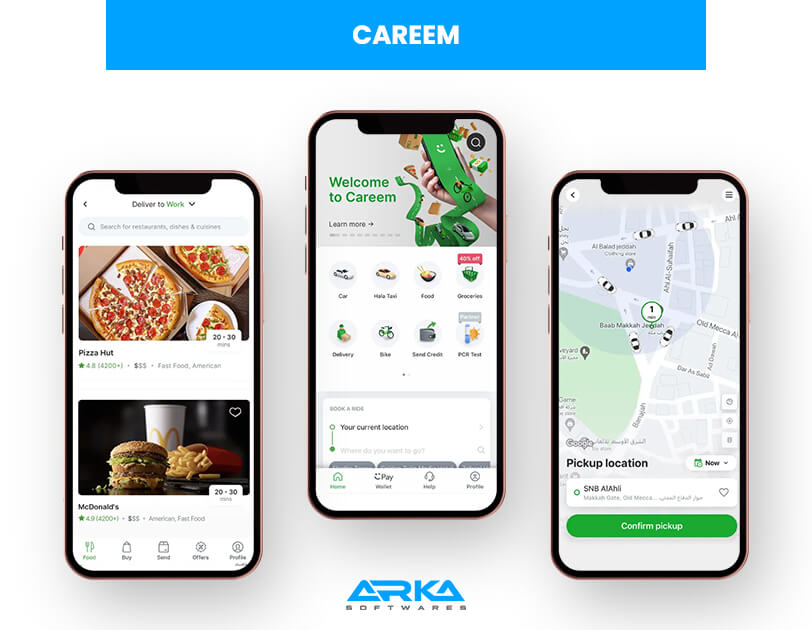 As one of the top taxi and food delivery apps in the United Arab Emirates, Careem has seen enormous growth and success in the Middle East. Its founding year was 2012, and Uber purchased it in 2020. Key features of this app are:
Your meal order status can be monitored in real-time.

It remembers your most recent purchases so you can quickly place repeat orders.

In order to help you save money, the app features a dedicated section that lists several promotional offers and incredible bargains.

Careem's minimum delivery price is fixed at AED 7.

This online food delivery app in Dubai gives you access to the thousands of delectable dishes served at the many restaurants in the United Arab Emirates. 
An amazing feature of the Careem app is the ability to search for restaurants depending on the kind of food they serve, as well as the individual ingredients used to make that restaurant's signature dishes. Simply type your ingredient of choice into the search bar to see a complete list of foods that include it.
Careem is available on both Android and iOS for free.
3. Deliveroo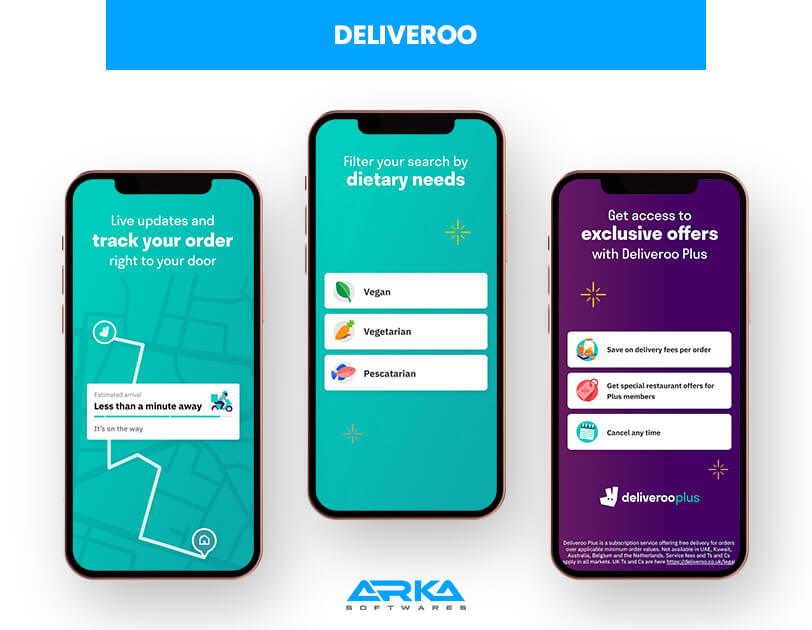 Deliveroo is among the top food apps in Dubai that allows you to quickly and easily place an order for meals from a wide variety of restaurants in your area. Today, Deliveroo serves over 200 locations across the globe, including those in the UK, UAE ad Europe. The app's defining characteristics are as follows:
Select from budget-friendly options like biryani, brisket sandwiches, barbecue, chicken curry, soups, and more, all available through Deliveroo.

When compared to other Dubai food delivery apps, the minimum delivery fee of AED 5 is quite reasonable.
The application has over 10 downloads on Play Store and over 5 million on the App Store. The company has undertaken rigorous procedures to guarantee that contactless delivery protocols are followed in light of the recent Covid-19 pandemic.
Deliveroo is available on both Android and iOS for free.
4. Noon Food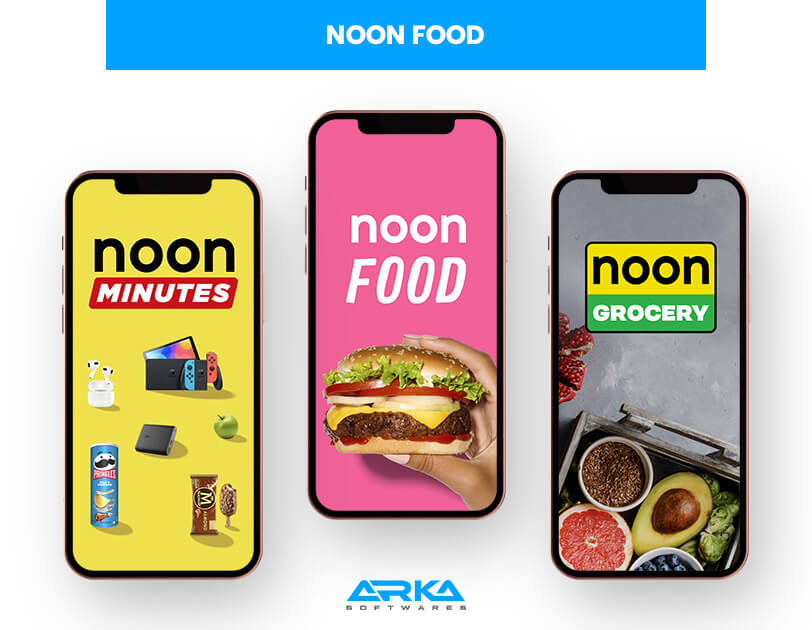 The Noon Food application is widely used in the United Arab Emirates (UAE) because of its simple payment process and transparent pricing. They offer their services in the following areas:
A special silent delivery mode called "Good morning mode" is largely responsible for its massive success. The meals are brought to the users between the hours of 5:00 and 9:00 in the morning.
They will contact you via the application by sending you a text message. There are no phone calls or other methods of communication between the consumer and the delivery man. You can find out more services like – Noon E-commerce services, Noon Grocery Services, and Noon Food delivery services. 
Noon Food is available on both Android and iOS for free.
5. EatEasy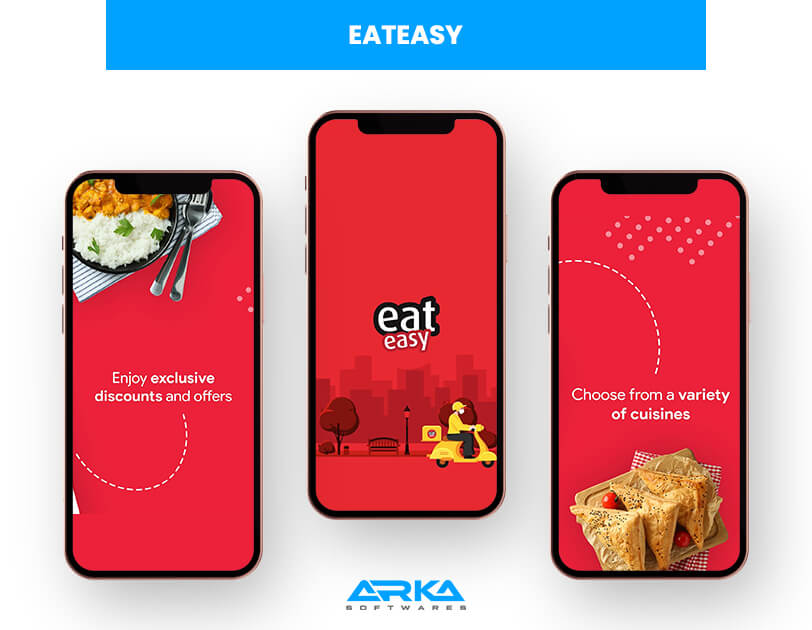 Moving on, we have the renowned EatEasy app which offers customers a wide variety of shopping and food delivery options. As a perfect hybrid app, it provides the best local food delivery services possible. Give this excellent app a try to satisfy your meal cravings. EatEasy's main selling points are:
Location-based user segmentation.

COD (cash on delivery), credit cards, or eWallets are all acceptable methods of payment.

They offer expedited shipping to any address in Dubai.
You may find hundreds of great eateries, pharmacies, and supermarkets on it. Using this best food ordering app in Abu Dhabi, you may shop for consumables like candy and groceries as well as nonperishables like medicine and flower bouquets.
EatEasy is available on both Android and iOS for free.
6. Munch: On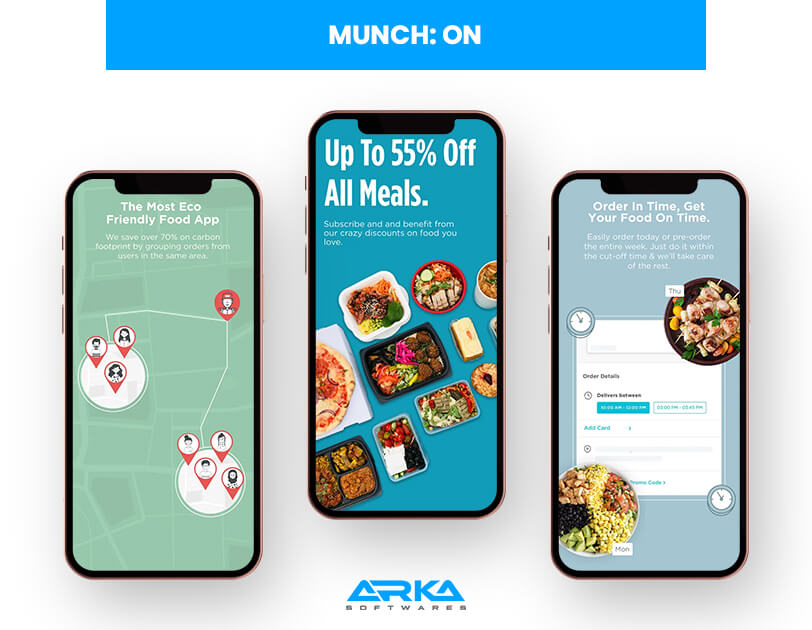 Munch: On is often referred to as Lunch in Dubai. Anyone who is constantly on the move but still wants to eat well at work should take advantage of this service since it is among the best and most affordable of its kind. Some of the reasons why Emiratis love Munch: On are outlined in the following bullet points:
Offers a unique collection of meals.

By joining up, you'll get weekly recommendations along with access to incredible sales and savings.

You can avoid having to wait around for your meals if your office's break time and the restaurant's break time don't coincide by scheduling your food deliveries in advance.
Munch: On mostly aims towards a working-class demographic. Hence, this food delivery app is extremely popular among young people.
Munch: On is available on both Android and iOS for free.

Why do Businesses prefer to Spend Money on Developing Food Delivery Apps?
Small company owners, freelancers, and sole proprietors can gain access to previously unattainable markets by investing in the development of top food delivery apps in UAE.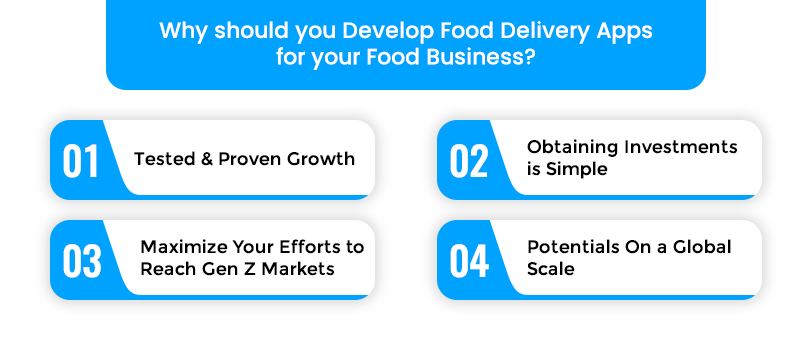 Over the next four to five years, the food delivery market is expected to flourish, creating enough opportunities for online meal delivery services.
Tested and Proven Growth
There is a fast-expanding market for restaurant delivery apps all across the world, including the Middle East. Since the spread of COVID-19, fewer individuals are choosing to go to restaurants, either to sit down for a meal or to order a takeaway. The increased acceptance of online food ordering has created a thriving market for meal delivery services.
Obtaining Investments is Simple
Investors in the food delivery industry are always looking for the next big thing. A great idea can help you secure the financing you need to keep your firm running and even grow it.
Maximize your Efforts to Reach the Millennial and Gen Z Markets
The youth of today constitute the largest demographic. By the year 2022, there will be 1.8 million millennials and 2.5 billion members of Gen Z in the world. They account for over half of the world's 4.3 billion people or 1.5 billion more than the next largest group.
Moreover, the majority of today's consumers are young people. The majority of people who order food delivery are under the age of 35, making a meal delivery app a great way to reach this audience. An on-demand meal delivery service is a smart move if you want to attract young professionals.
Potentials On a Global Scale
Due to the increasing demand for variety, online food delivery businesses have mushroomed all over the world. As such, if you're considering a career shift, going into the food delivery industry will give you a lot of options.
How have we chosen the Best Food Delivery Apps in UAE?
There is a lot of competition among top food delivery apps in the UAE. After testing a large number of food delivery apps, we were able to compile an accurate ranking of the finest apps available in the country. We dug hard, and here are the criteria we used to rate the apps serving food:
How diverse their menu is a major aspect? In order to stand out from the crowd of food apps in Dubai, it's important to offer a wide selection of delicious dishes from across the world.
Food quality is very important. When ordering meals online via food ordering apps, you want nothing unhealthy to show up at your door. So, we had to investigate what went into the meal, how it tasted, how healthy it was, and how it was packaged.
The cost of shipping will also be considered when having food delivered to your home, you probably don't want to spend too much on transportation costs.
We also took the expected time of delivery into consideration. Nobody likes to wait around for hours just to get their food delivered. Given the abundance of food delivery options, being late with orders will make it difficult to separate from the crowd.
We also analyzed the apps' layouts and interfaces. When placing an order, everything must be simple and uncomplicated.
When an issue arises with an order, customers will always demand assistance. The best food delivery apps in the UAE will include helpful customer service representatives that can answer questions and resolve problems quickly.
And, finally, reviews do count. As a means of learning about users' experiences with the service, we pored over hundreds of reviews and feedback.
How to Develop a Food Ordering App in Abu Dhabi?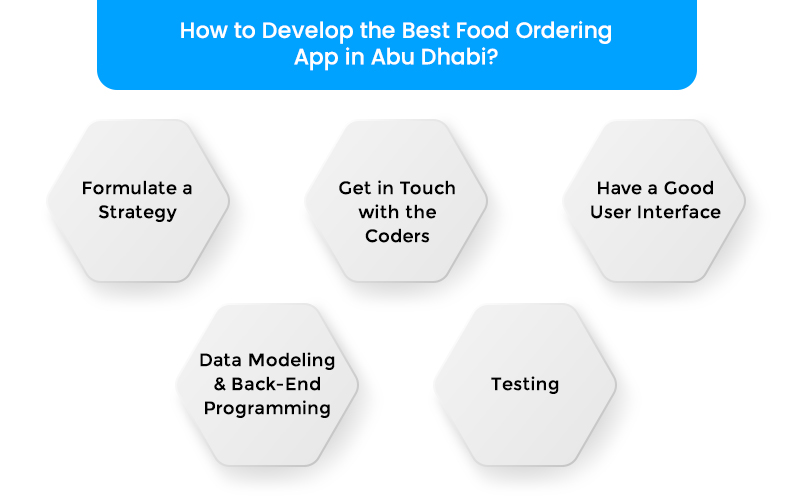 Formulate a Strategy
Starting with a comprehensive outline of your company's core assets, value propositions, cost structure, income sources, and distribution channels is essential.
When you have a clear picture of where you want your business to go, putting together a strategy is a breeze. It's best to secure funding for food-ordering apps before launching them so that you can concentrate on making them the best they can be.
Get in Touch with the Coders
While you may have the creative spark for an application, you'll still need skilled programmers to make your vision a reality.
If you want to find a team of developers you can trust, you need to be sure you've clearly communicated your needs and expectations from the start. You must know how to hire a food delivery app development company if you want to build a food delivery service app that can succeed in the market.
Make Sure you Have a Good User Interface
Before you begin making a database for food apps in Dubai, you should emphasize the app's UI. The user interface is the initial point of contact between the app and the consumer, so it is essential that developers, designers, and marketing strategists all contribute their unique perspectives to the design process.
Data Modeling and Back-End Programming
As soon as the user interface is finished, the back end and database structure may be developed. Develop a minimum viable product (MVP) or prototype using small data sets to test out the app's core features early on. Considering that the public has not yet been given access to the app, integrating your improvements will be a breeze.
Testing
After the features and aesthetics of the app have been finalized, the team may begin testing it to find any remaining issues. You can now press the "deploy" button, making your food delivery application accessible to the public.

Cost to Develop Food Delivery Apps in Dubai 
A ballpark figure can be anywhere from $20,000 to $200,000. Based on your precise requirements, the total cost could be slightly less than $20,000 or more than $200,000. The final cost of development for food apps in Dubai depends on a variety of factors.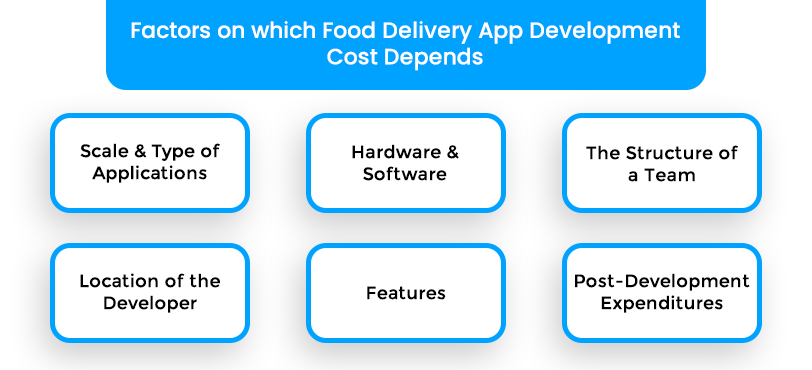 Scale and Type of Applications
The budget for development must take into account the project's specifics, including its size, scope, and complexity. Choose a hybrid solution for food apps in Dubai if you simply require the most essential app functionalities, as the cost of developing native software with those capabilities will be much higher.
Hardware and Software
Top food delivery apps in UAE can be developed for a wide range of platforms and devices, such as Android, iOS, Windows, etc. As the number of devices chosen grows, so will the price tag.
The Structure of a Team
You have the option of hiring either a freelance programmer or a well-established on-demand app development company. Freelancers are cheap, but they're also typically untrustworthy, so it's best to refrain from hiring them for developing restaurant delivery apps.
Companies, on the other hand, have access to a wider pool of talent, including not just the project leader but also application developers, QA engineers, UX designers, and more.
Location of the Developer
In South Asian countries such as India and Malaysia, the cost per hour to design a high-quality application goes from $15 to $85, but in West Europe, the cost ranges from $40 to $120, and in the United States the cost is from $120 to $300.
Features
Customer, company, delivery, and management are the four pillars of a typical meal delivery application. Features can be found in a wide range of panels. The price of creating food apps in Dubai rises in direct proportion to the number of screens it has and the number of features it offers.
Post-Development Expenditures
Putting together an application is just the first step. Maintaining a satisfied user base will need a successful app release, intensive marketing, and consistent updates. Each service may come at an extra cost, depending on the provider.
In Conclusion
As the online meal delivery business evolves and competition intensifies, food delivery companies are pushed to adapt and innovate their processes and services in order to remain competitive.
If you're a business owner considering investing in a food delivery app in Dubai, your primary aim should be to make the service more valuable to your customers.
FAQs – Food Delivery Apps in UAE