If there is one thing that almost everyone absolutely loves is to binge on the scrumptious meals. And today in the online world it has become super easy ordering meals from the list of our favorite restaurants.
Out there in the market, a number of food delivery mobile apps are creating a furor. Like, there is a segment of apps being created by restaurant owners, they prepare the food and then deliver it to the app users on their set locations.
On the other hand, there is another segment of apps, which is basically service apps such as Swiggy, Foodpanda, and Zomato, working as a service provider for both restaurants and clients.
These prominent on-demand food delivery platforms have set some really high examples in terms of speed and convenience.
Needless to mention, these two aspects are of prime importance for any customer in any business category. Hence, businesses are looking to cash into the prominence and potential of this kind of service.
If you are keen on knowing the process of on-demand food delivery app development for your business, then this blog can be a rewarding read for you. It covers various aspects of a food delivery app development, like its types, basic features required, team structure, cost, and a lot more.  
Market Size And Statistics – Online Food Order Market
To provide a better understanding of the significance of food delivery mobile apps, here we offer some statistics revealing how technology is impacting the food industry. These stats shed light on the fact how technological advancement has immensely contributed to bridging this gap between offline & online food ordering.
Also, it is expected that soon the online food ordering market will surpass the physical restaurant visits.
A report from an investment firm, Cowen reveals that the online food delivery market will witness 79% growth in the coming times.
Not just this, as other statistics reveal that by the year 2020, the online food delivery industry will grow to $55 billion, and by the end of the year 2019, online payments made on the food ordering apps are going to reach $210 billion. 
Revenue Forecast for Online Food Order Market Worldwide [2017-2024]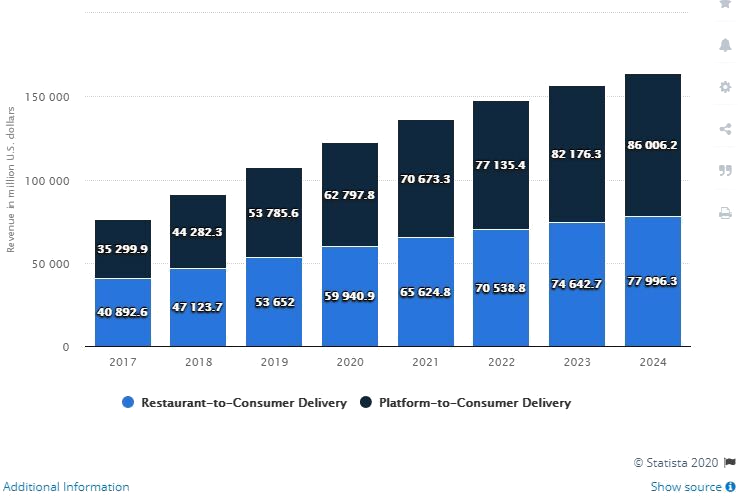 A further study has revealed that online ordering helped both small and big restaurants increase their revenues by 25%. These statistics and studies certainly vouch for the success of the food delivery platforms and their future standing.
Types of Food Delivery Mobile App
So, if you are contemplating creating a food delivery mobile app, it is vital to understand that in the present online food delivery scenario, majorly there are two types of apps dominating the market. They are:
Aggregator Model:
These apps are basically second-party platforms connecting the customers & restaurants. They are mainly responsible for accepting orders and passing them to restaurants. But they are not responsible for delivering the food to the customers. The delivery process needs to be managed by the restaurants.
Due to this reason, this model or type of app, is favorable for only big restaurants.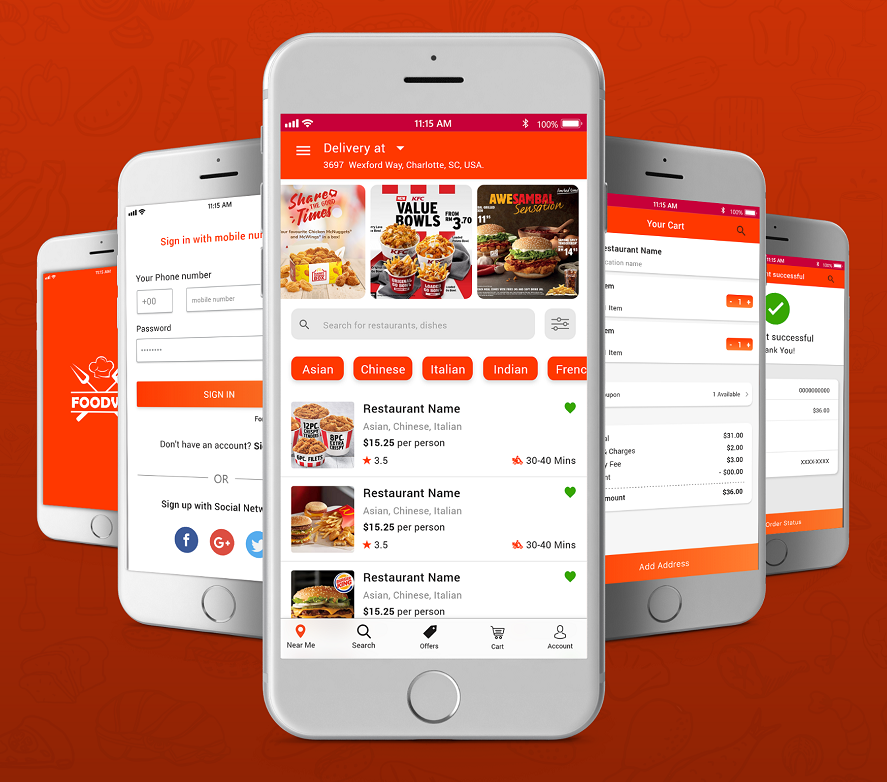 Logistic Support Model:
In this model, the third party supports the delivery system. Here, the third-party consists of the delivery personnel. These delivery persons do the job of picking up prepared food orders from restaurants and then delivering them to app customers.
This model holds huge market potential favoring both small restaurants (who can't afford to deliver orders on their own) as well as big restaurants.
In today's times, the aggregator model is rarely used, as the logistic model is most preferred owing to the convenience it offers to both restaurants & consumers. In fact, most of the famed food delivery app platforms work on the latter model.  
Understanding the functioning of Food Delivery Mobile App
A food delivery mobile app works pretty simply, consisting of just three easy steps.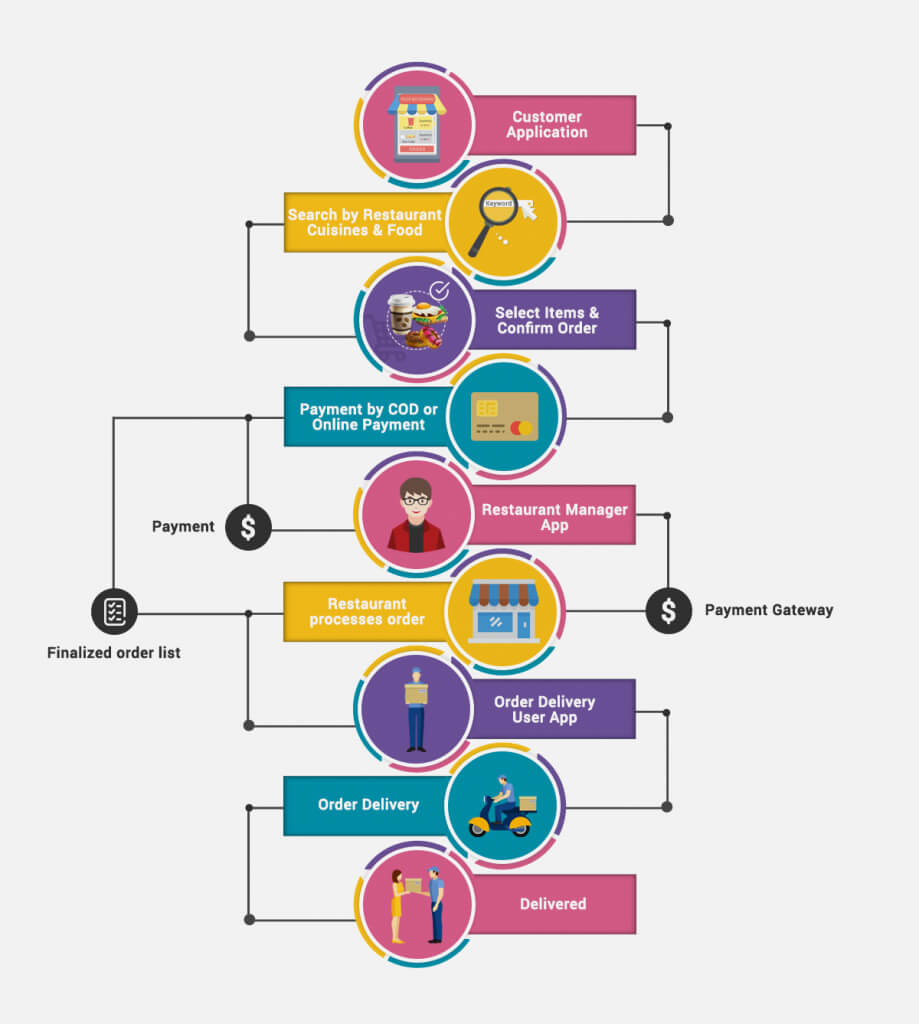 The customer places an order for food from a restaurant using the app.

The restaurant accepts the order and prepares food and hands it over to a delivery agent or delivery partner (in the case of third-party delivery personnel).

The delivery person delivers the food order at the address provided by the customer.
Yes, it is this simple and quick.
Business Model for Food Delivery Mobile App
Most of the food delivery mobile apps like Postmasters, DoorDash, Zomato, and others usually follow a similar business model. They work as a restaurant finder as well as a food delivery mobile application. Basically, this concept is like a digital approach to the traditional food delivery model.
Here the app is serving as a platform, which offers access to numerous restaurants, and at the same time, it also maintains a logistics network for the delivery personnel.
Revenue Model For Food Delivery Mobile App
There are a number of ways to earn revenue via your online food delivery mobile app, however, the most common monetization models are:
Delivery Charges:
Many restaurants do not offer a home delivery facility. So, you can ask them to pay the delivery charges by offering them your food delivery app with delivery personnel.
For instance, the prominent on-demand food delivery app platform Deliveroo made a whopping revenue of $164 million in the last year using this monetization model.
Surge Pricing:
For days when the demand is too high, then this popular food delivery app, UberEats applies a surge price. Herein, the app limits menu options and also adds a surcharge when an order is placed by the customer.
Thus, in this model, the demand rate can go lower, but still, the delivery amount per order can increase to a great extent.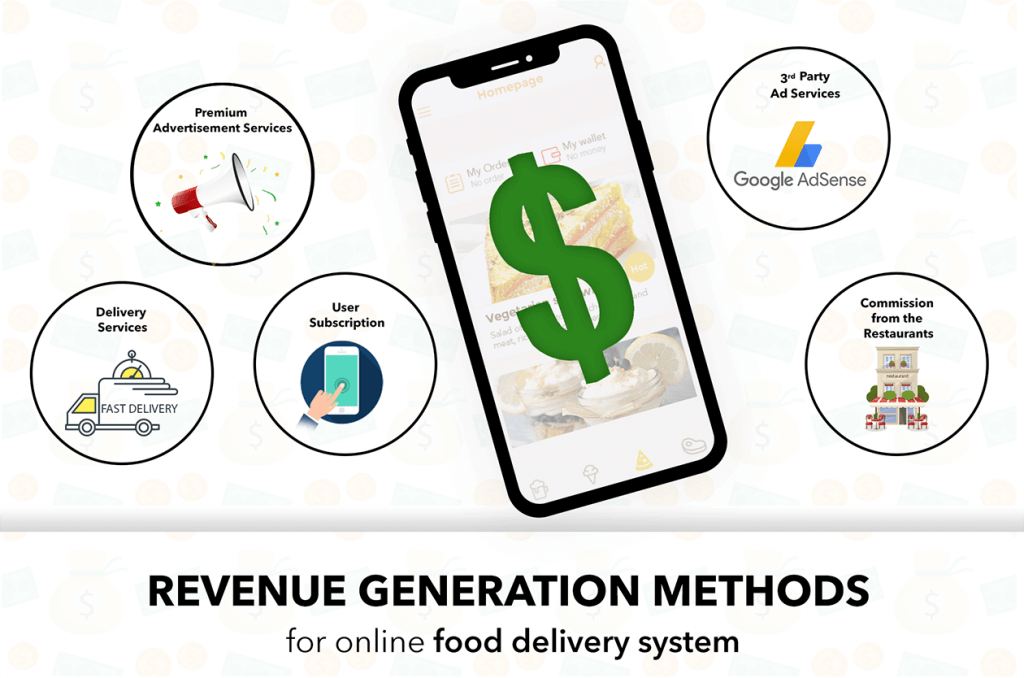 Commission-based:
In this model, the on-demand food delivery app platform charges a fixed commission for each order a customer makes via the app. Firms choose this revenue model to generate revenue.
However, it not only helps in making revenue, but it also helps to create a long-term association between the restaurant and food delivery app firm.
Advertisement:
It goes without saying that advertisement is, in fact, the easiest way to generate huge income. Like you can display ads for a few restaurants in the featured section, or can run short video clips on the app's home screen for them, either way, you like.
For doing this, a certain amount can be charged from the restaurant and can also earn more revenue by running Google Adsense on the app.

Most Prominent names in Food Delivery App Industry
These days idea of food delivery apps has become a culture. Owing to the busy schedules most people have, they prefer ordering at most times, instead of cooking meals. Then look no further than the popular food delivery mobile apps installed on their smartphones and tablets.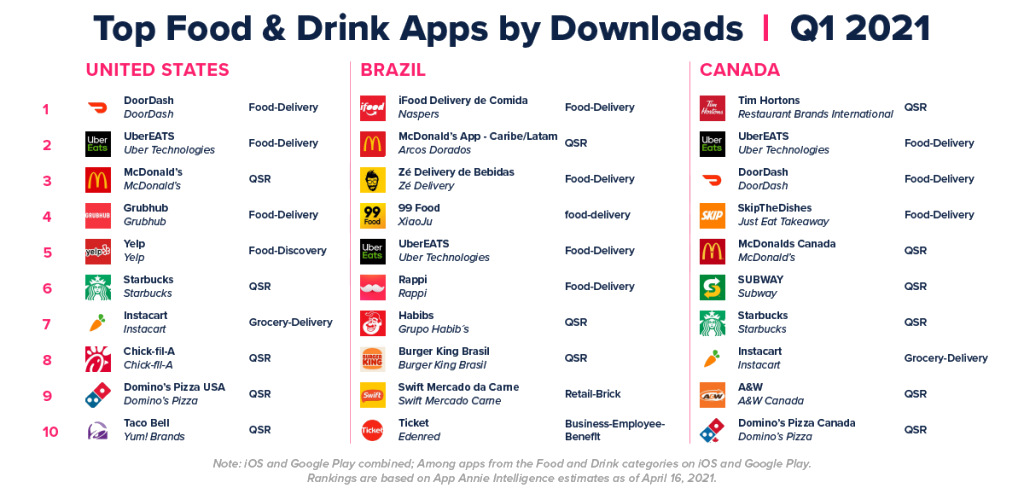 Talking about food delivery, a few of the famous on-demand food delivery apps that are dominating the food delivery industry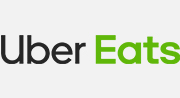 This renowned food ordering service, UberEats, offers its services in 1000 major cities around the globe. This app has easy-to-use functionality wherein the users can select food delicacies from the restaurants of their choice, and then the food orders are picked and delivered by freelance drivers to the customers.
UberEats has collaborated with a large number of restaurants and this way it allows users to order the food of their choice from their favorite restaurant.
All it takes is a few taps on the screen to book an order and as soon as the order is placed, customers will receive notifications regarding the processing and will be able to track the whole process. The app also allows for easy cashless transactions.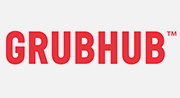 Launched way back in 2004, this online food delivery platform does the job of connecting restaurants with the users, whereas the delivery services are managed by independent contractors. This platform has service teams available 24×7 to manage orders & support customers.
The users like the fact that GrubHub offers several filters and this way they can search by cuisine, by closest restaurants, and customer feedback. It even allows its users to customize their favorite list, thus in case of urgency, they don't have to spend their time searching. The regular app users really like this functionality.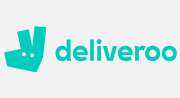 Regardless of not having its own delivery system, Deliveroo allows to order food from the restaurants and gets it delivered quickly. This platform delivers in only a limited radius and this way it makes the logistics utterly simple.
Deliveroo has this amazing feature where it supports motorcycles, bicycles, & cars as transport options, and engages more people in its delivery system, making the services faster and more efficient. From time to time, it also offers coupons to its users, so they engage with the app more often.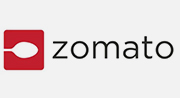 Zomato is yet another renowned food delivery platform. The plus point of this app is that apart from ordering food, it also allows the users to book a table from the list of restaurants provided in the app. It offers social networking functionality as well for food lovers.
Here the users can follow the other users, give feedback and read reviews, and also explore the nearby eating spots and restaurants. Not just this, the platform also comes up with special offers to the subscribed users, like social drinking membership and a lot more.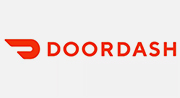 Launched in 2013, this successful food delivery platform is available in many North American cities. DoorDash is delivered in a limited radius to ensure that the food is delivered quickly to the customers. It offers several features, it allows the users to search via closest restaurants as well as the fastest delivery.
And once the order is placed, it can be tracked by the app. It also involves smaller local restaurants in the platform and thus boosts competition.
Another of its reorder feature allows you to quickly order to dish from your favorite list. Hence, when you are short of time, it makes the ordering process a lot easier and fast.
What are the Key Features of a Food Delivery Mobile App?
The online food delivery mobile app consists of four panels:
Customer Panel

Restaurant Panel

Admin Panel

Delivery Person Panel
Customer Panel
Sign up/Sign in: Users can Sign Up/Sign In to the mobile app using their Email id/Phone number and password.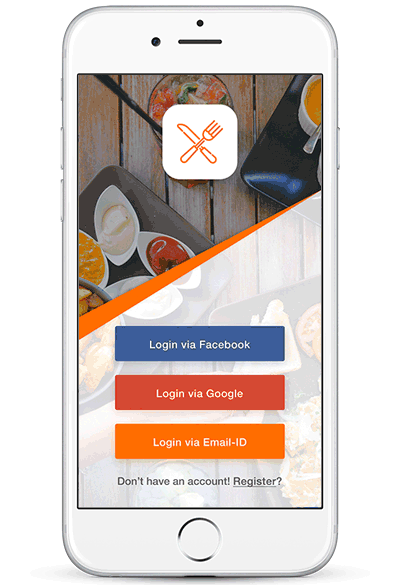 Location: Users can enter the delivery location manually or permit the app to auto-detect their current location.
Homepage: A list of all the restaurants with their ratings and reviews can be viewed in detail.
Search & Filter: Search for different restaurants and filter the result using location filter, food category filter, price filter, etc.
Order Food: Order food in 4 simple steps; view the menu, select the food, place the order and get it delivered. Order delivery can be scheduled for the user's convenient time.
Shopping Cart: View the list of all the food items available in the shopping cart along with their price, apply promo code if any, and check out.
Payment: Users can view the total amount to be paid after applying the promo code, select payment method (Online/Offline), and confirm the order
Wallet: Wallet can be used to store virtual balance and can be used while paying for the order
Track Order Delivery: Track and locate the order status right from the kitchen and once it is out for delivery, track the location of the delivery boy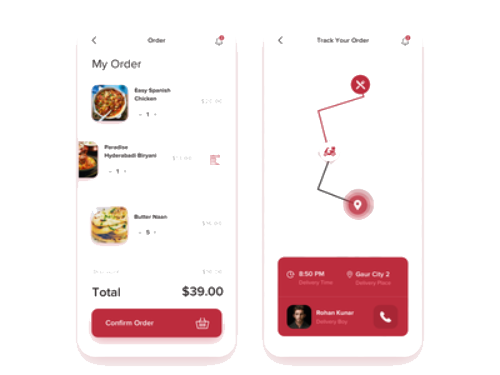 Call/Chat: Call the driver/restaurant for queries regarding the order placed ( call is done using the network service provider)
Rate & Review: Rate & review the restaurant after the delivery is successfully completed
Order History: View past orders and cancel orders
Offers & Coupons: Users can get discounts by applying available coupon codes
Restaurant Panel
Dashboard: View various order statuses like all the pending, upcoming, delivered & canceled orders.
Menu Management: Manage menu by adding/deleting various food items in predefined categories or cuisines
Restaurant Profile: Create a restaurant profile with all the required information
Food Order Management: View details for upcoming orders and can update status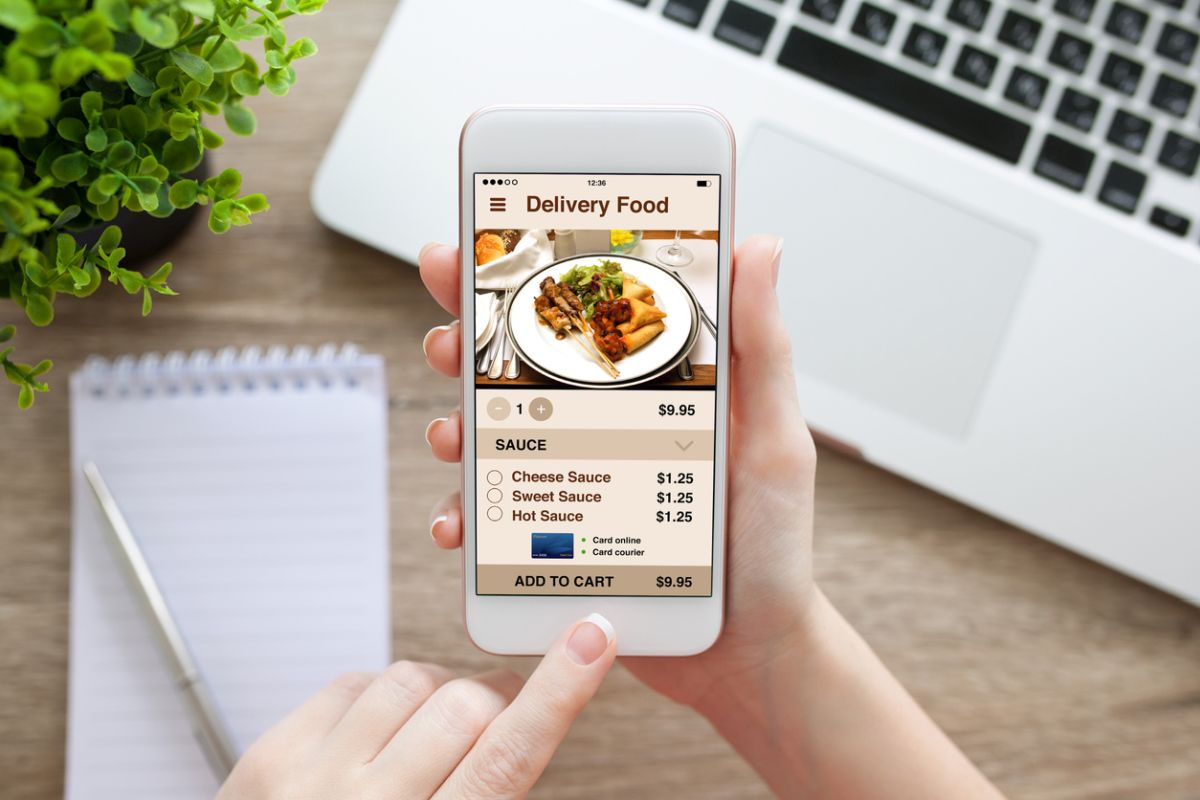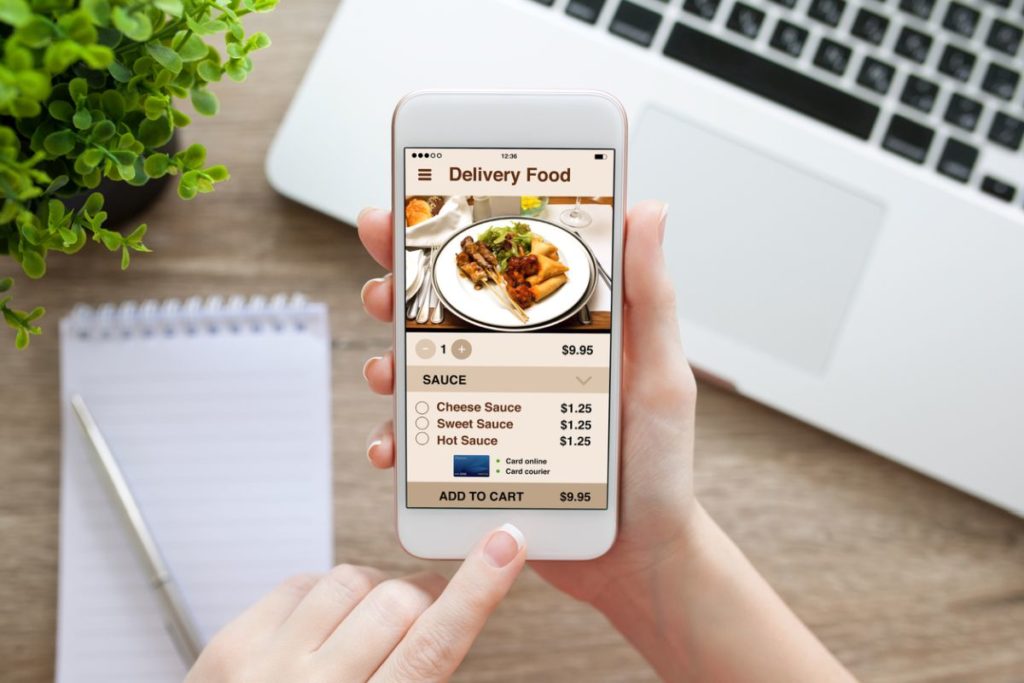 Order Cancellation: Orders that can be canceled by the restaurant admin
Chat: Receive messages from the users or queries regarding their order
Order History: View past orders with the date and complete order summary
Admin Panel
Dashboard: View various order related information like all the pending, upcoming, delivered & cancelled orders for the particular restaurant
Analytics: Real-time revenue reports, areas where the app is used widely, and time period of maximum revenue generation (using 3rd party analytics tool)
Payments: Payment management with restaurant owners
Transaction History: View the transaction id, order summary, order id, transaction date, and method of payment for the particular order.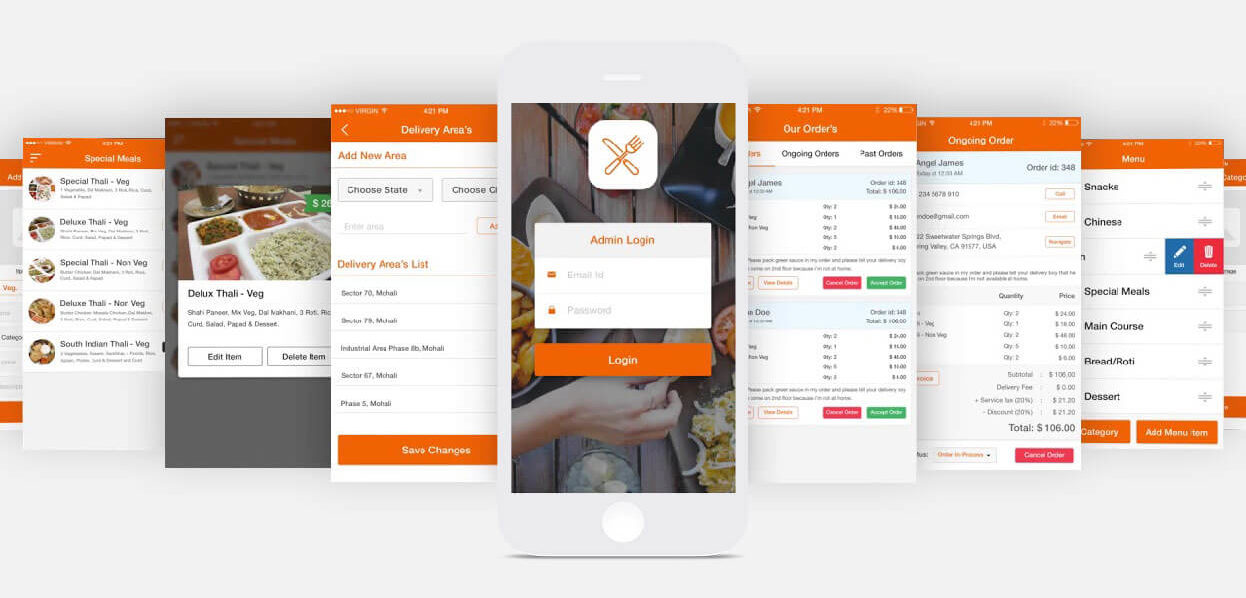 Menu Management: Manage menu by adding/deleting various food items in predefined categories or cuisines.
Restaurant Profile: Create restaurant profiles with all the required information.
Food Order Management: View the details of upcoming orders and can update status.
Order Cancellation: Orders that can be cancelled by the restaurant admin.
Chat: Receive messages from the users or queries regarding their orders.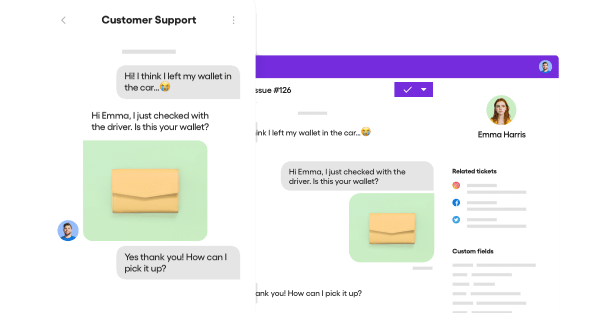 Order History: View past orders along with their date and the complete order summary.
Push Notification: Send push notification to the customer, restaurant admin, and delivery driver regarding any system-related news/offers.
Offer & Coupons: Generate new offers and coupons which can be availed by the customers while placing orders.
Delivery Person Panel
Sign up/Sign in: Delivery Drivers can Sign Up/Sign In to the mobile application using their Email id/Phone number and password
Dashboard: View the summary and statistics of the completed, pending, and rejected delivery.
Status: This is for delivery boys indicating their availability for getting delivery orders. If it's "ON", the delivery request will be received which can be accepted or rejected, in case of "OFF" request won't be received.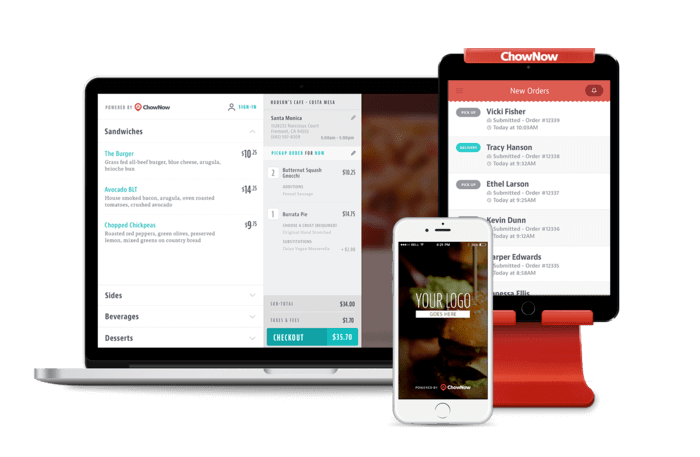 GPS-Navigation: Start navigation to the restaurant's and customer's location to collect the order and get it delivered
Call/Chat: Receive messages or calls from the user or queries regarding their order (Call is received on default mobile app)
Order history: View the summary for the past deliveries completed with the transaction and user details

Advanced Features to Develop Prominent Food Delivery Mobile App:
Social Signup & Login
This functionality allows the user to signup and login into the app using their social media credentials.
Behavior Track
This functionality is useful for tracking the user behavior and accordingly serving them content, like their favourite food items listed, and special discount offers running in their favourite restaurants.
Multiple Booking
This functionality allows the user to book multiple orders in one go.
Book for Others
Using this feature, the app users can book meals or food items for others, simply by giving their location details and making online payments in advance.
Custom Packages
This functionality allows the users to get their orders customized by placing a special request.
Re-ordering
This functionality is useful when users would like to place the same orders as they did in the past. The re-order feature saves their time and efforts as the order is booked as soon as the user clicks on the re-order option.
Group Ordering
Here in this feature, a group of friends and family can be created and they can simultaneously add the food items of their choice in a particular order.
Text Order
This is an intelligent feature for users who have frequent internet issues or they are going to another city for some days. This feature demands the user to buy a food package from the restaurant via the app. Then on any day, food can be ordered by just sending a text message to the restaurant from the registered phone number of the user.
Push Notification
This functionality is useful to send notifications and alerts to customers, drivers as well as restaurants.
Catering Request
This functionality allows the users to create a food platter that can be served to the guests at home or at a party. Order can be placed by the platter or by setting a budget per person. Accordingly, fresh and hot food is delivered to customers.
Franchise Management
This functionality within the app allows the app users to efficiently manage the franchise.
Real-time Analytics
This functionality keeps the admin aware of the happening in the app in real-time.
Role-Based Dashboards
Here, this feature is useful to know about the business progress in each area. Accordingly, the required steps can be taken to improve performance.
Multiple Payment Modes
You can choose to integrate this functionality into your app as it will allow the users to make instant and hassle-free payments, via their desired payment mode.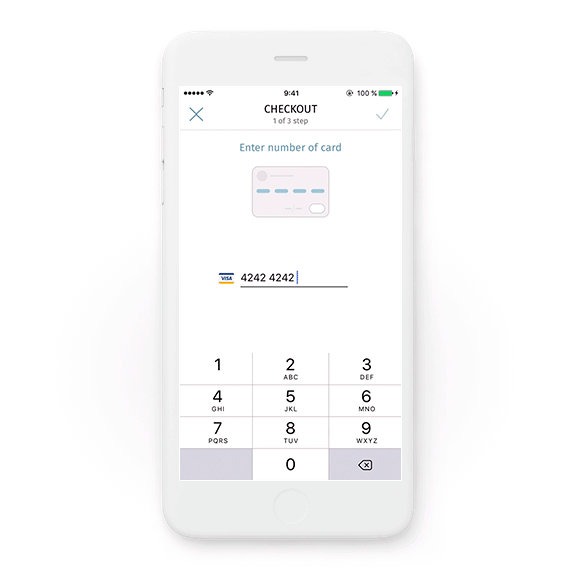 Just as in any on-demand mobile app, this feature is useful for food delivering the mobile app as well. This way the food order can be delivered to the customer on time, as well as it helps drivers to find routes easily.
Loyalty programs
Using this feature, gift vouchers, special offers can be sent to the users, to show that their loyalty is valued and counted.
Marketing Tools
For any business, marketing remains essential and the same goes with the food delivery mobile app. Here the app can be marketed by offering special offers or coupons to first-time users, in order to lure them to install the app.
CRM Integration
In order to maintain a steady relationship with the app users, this functionality of Customer Relationship Management can prove to be greatly helpful.
CMS Integration
This functionality of the Content Management System allows for managing the app content. It keeps in check that the content posted on the app is up-to-the-mark, as well as manages the reviews posted by the app users.
In-app Calling
Using this functionality, the users, restaurants as well as drivers can make in-app calls to one another.
In-app Chat
This functionality can be used by the users to initiate a chat with the restaurant or the admin, in case of any issue, like food customizations, or regarding delivery time or for other related reasons.
Bill Splitting
This feature is useful to split the bill. Here the users can make the payment using different payment modes.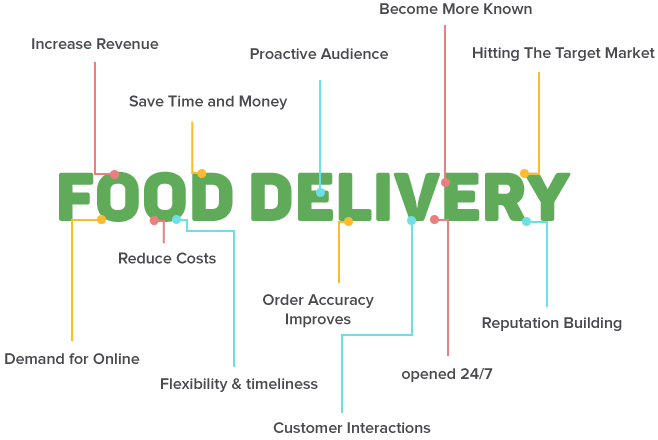 Tech Stack Required 

to Develop Outstanding Food Delivery Mobile App:
Platform – Android, iOS, Web
Real-time Analytics: Storm, Flink
Database:  Postgress, HBase, MongoDB, Cassandra
Payments: e-Wallets, Stripe, PayPal, Braintree, Net Banking
Voice, SMS, & Phone Verification: Twilio, Nexmo
Push Notifications: Push.io, Twilio
Cloud Environment: Azure, Google, AWS
Navigation: Google Map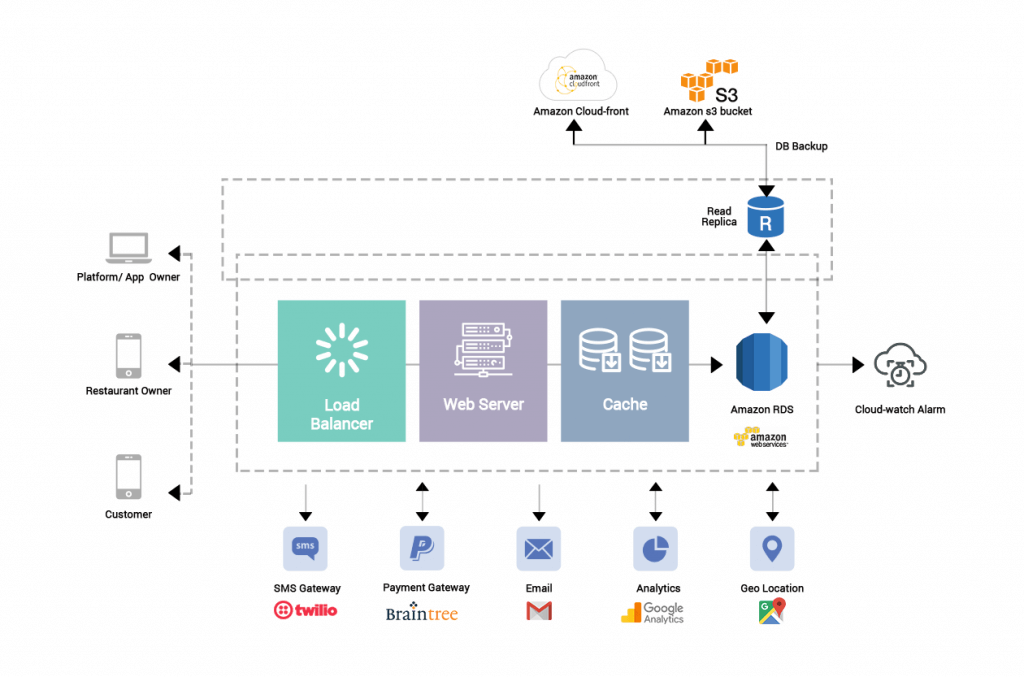 Development Team Structure for Food Delivery App
Usually, an app that has a clean and sleek user interface makes a great impression. Hence, it is imperative to have a skilled and experienced app development team on board, consisting of the following professionals: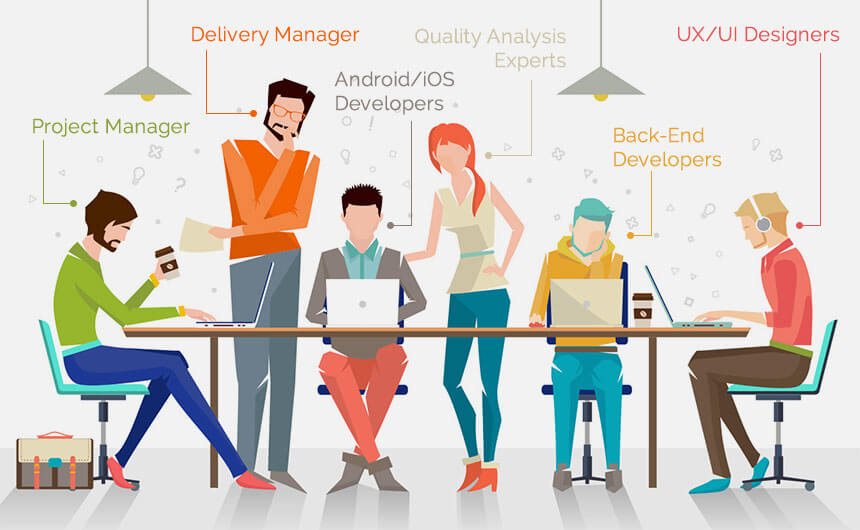 Project Manager
Android/iOS Developers
Backend Developers
UX/UI Designers
Quality Analysis Experts
Delivery Manager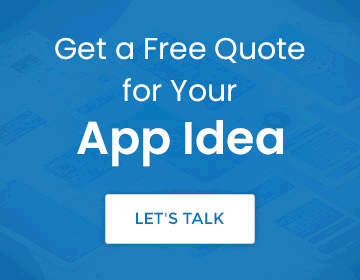 Cost of developing a Food Delivery Mobile App
The cost of a mobile app usually depends on four determining factors that are:
App Complexity is determined by the number of features within the app. More features mean more cost.

Number of Platforms, here the cost is determined by the number of platforms, the app is being built on, whether iOS or Android, or both.

App Development region, this happens to be the most crucial deciding factor. As the mobile app development cost per hour is way higher in the USA and European regions, as compared to India.

3rd party API integration, more API integration means more development effort.

For instance, a basic food delivery app in USA or UK based on the Android or iOS platform will approximately cost you
Technical documentation: $1,000 to $1,500 / 40 hours
UI/ UX designing: $1,500 to $3,000 / 50-60 hours
Front-end and back-end development: $8,000 to $15,000 / 400 hours
MVP testing: $2,000 to $4,500 / 75-80 hours
Bug fixing: $1,000 to $3,000 / 40 hours
If you choose to get an Indian mobile app development company or developers on board for your food delivery app development process, then the cost for a basic app created on a single platform can be around $20000-$25000. If more features are added, along with more than one platform, then the cost may go higher to $35000-45000. 
Let's

build something great together!

Just take one step forward and we can build history.

Want to build something good for the business but still good for the customers?
You know the answer is, Yes!