If there is one thing that almost everyone absolutely loves is to binge on the scrumptious meals. And today in the online world it has become super easy ordering meals from the list of our favorite restaurants.
A number of food delivery mobile apps are creating a furor.. Like, there is a segment of apps being created by restaurant owners, they prepare the food and then deliver it to the app users on their set locations.
On the other hand, there is another segment of apps, which is basically service apps such as Swiggy, Foodpanda, and Zomato, working as a service provider for both restaurants and clients.
These prominent on-demand food delivery platforms have set some really high examples in terms of speed and convenience.
Needless to mention, these two aspects are of prime importance for any customer in any business category. Hence, businesses are looking to cash into the prominence and potential of this kind of service.
If you are keen on knowing the process of on-demand food delivery app development for your business, then this blog can be a rewarding read for you. It covers various aspects of a food delivery app development, like its types, basic features required, team structure, cost, and a lot more.  
Market Size and Statistics – Online Food Order Market
To provide a better understanding of the significance of food delivery mobile apps, here we offer some statistics revealing how technology is impacting the food industry.
These stats shed light on the fact how technological advancement has immensely contributed to bridging this gap between offline & online food ordering.
Also, it is expected that soon the online food ordering market will surpass the physical restaurant visits.
Planning to create an app for the delivery of food? This is the perfect time to begin developing your own meal delivery app. Why is that, exactly? These numbers should give you a better idea.
Since 2014, the growth rate of digital orders and deliveries has been three times that of revenues at traditional dine-in establishments. Statista projects that the 'platform-to-consumer' distribution market would grow to $96.2 billion by 2024.
After the COVID pandemic, six out of ten adults increased their use of meal delivery services. For the younger generation, the figure was much higher, at 71%.
It was predicted that by 2022, over 888 million people throughout the world would use a mobile app to order food and drinks.

As smartphone technology progresses and more apps become available, the food delivery market is anticipated to explode to a startling $300 billion by 2030, say, industry experts.

As per Statista, the total income generated by food delivery applications was $22,073 million. This revenue source is expected to grow to $31,413 million by 2023.
 The market size of the global online food delivery sector was estimated at 130.2 billion U.S. dollars in 2022. This figure was expected to grow to 223.7 billion U.S. dollars by 2027.
Types of Food Delivery Mobile Apps
So, if you are contemplating creating a food delivery mobile app, it is vital to understand that in the present online food delivery scenario, majorly there are two types of apps dominating the market. They are: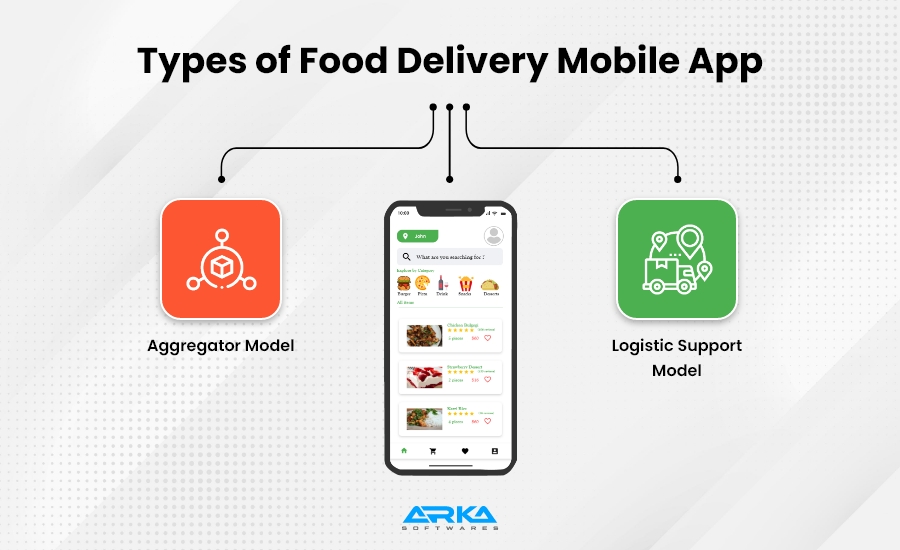 Aggregator Model:
These apps are basically second-party platforms connecting customers & restaurants. They are mainly responsible for accepting orders and passing them to restaurants.
But they are not responsible for delivering the food to the customers. The delivery process needs to be managed by the restaurants.
Due to this reason, this model or type of app, is favorable for only big restaurants.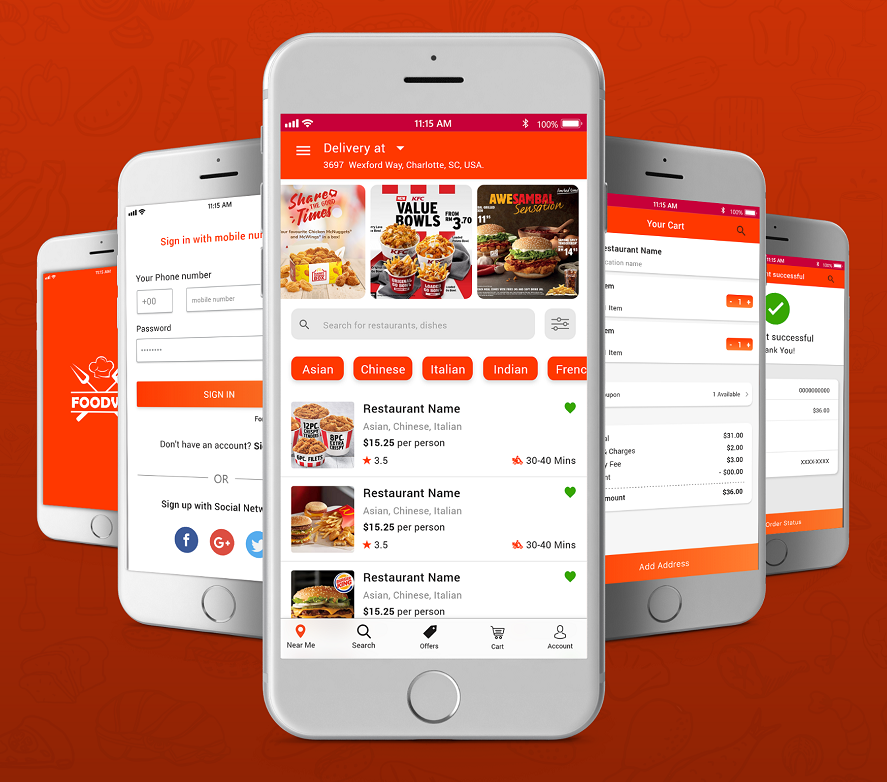 Logistic Support Model:
In this model, the third party supports the delivery system. Here, the third-party consists of the delivery personnel. These delivery persons do the job of picking up prepared food orders from restaurants and then delivering them to app customers.
This model holds huge market potential favoring both small restaurants (who can't afford to deliver orders on their own) as well as big restaurants.
In today's times, the aggregator model is rarely used, as the logistic model is most preferred owing to the convenience it offers to both restaurants & consumers. In fact, most of the famed food delivery app platforms work on the latter model.  
How Do Food Delivery Mobile Apps Work?
In order to create a successful app for food delivery, we must first understand how similar apps work:
Step 1
The customer will be given suggestions for neighboring eateries, as well as any available daily specials. From choosing a restaurant to making the final purchase, the customer is in charge.
Step 2
After adding an item to a shopping basket, the customer can review their selection before proceeding to checkout.
Step 3
As soon as the order is finalized, the restaurant is alerted and can begin cooking the meal. Creating a food delivery app requires you to know how to coordinate between the customer, the restaurant, and the delivery person.
Step 4
After the order is ready, a delivery person will pick it up and bring it to the customer at the address they provided. Everything must operate efficiently and without disruptions.
Whether it's linking the customer to the restaurant using GPS or facilitating the transfer of funds, the application will facilitate the connection. You can pick between two distinct forms of meal delivery:
Business Model for Food Delivery Mobile App
Most of the food delivery mobile apps like DoorDash Postmasters, Zomato, and others usually follow a similar business model. They work as a restaurant finder as well as a food delivery mobile application.
Basically, this concept is like a digital approach to the traditional food delivery model.
Here the app is serving as a platform, which offers access to numerous restaurants, and at the same time, it also maintains a logistics network for the delivery personnel.
The Order-Only Business Model
Specifically, this style of meal delivery software connects diners with nearby eateries. Users can place orders at their preferred restaurants using the application.
These sites are useful for restaurants because they allow them to expand their customer base without incurring the costs of traditional advertising.
Order & Delivery Business Model
Startups in the food delivery business that lack the necessary funds or manpower can benefit greatly from this concept.
There are a lot of positives to this strategy from the perspective of a restaurant. To implement this concept, you won't require any additional staff, vehicles, or delivery management.
Revenue Model For Food Delivery Mobile App
There are a number of ways to earn revenue via your online food delivery mobile app, however, the most common monetization models are:
Delivery Charges:
Many restaurants do not offer a home delivery facility. So, you can ask them to pay the delivery charges by offering them your food delivery app with delivery personnel.
For instance, the prominent on-demand food delivery app platform Deliveroo made a whopping revenue of $164 million in the last year using this monetization model.
Surge Pricing:
For days when the demand is too high, then this popular food delivery apps, UberEats applies a surge price. Herein, the app limits menu options and also adds a surcharge when an order is placed by the customer.
Thus, in this model, the demand rate can go lower, but still, the delivery amount per order can increase to a great extent.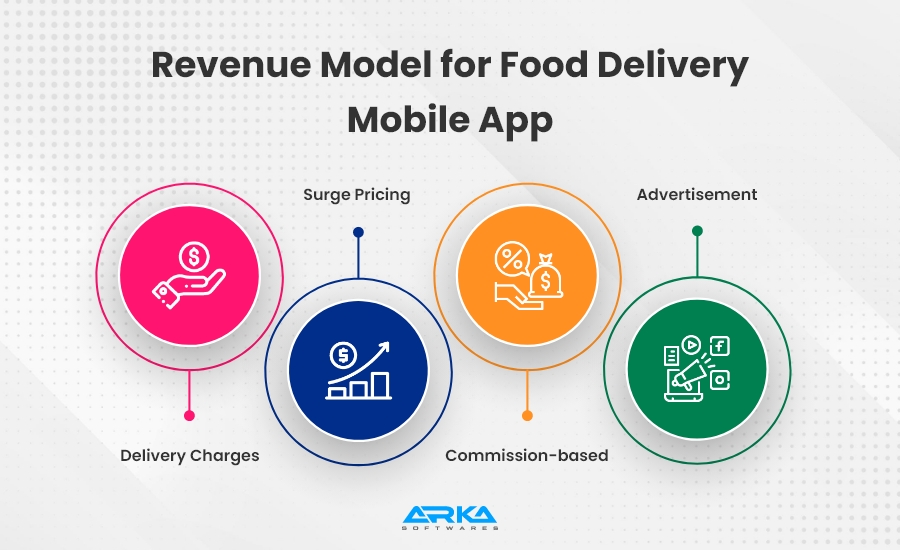 Commission-based:
In this model, the on-demand food delivery app platform charges a fixed commission for each order a customer makes via the app. Firms choose this revenue model to generate revenue.
However, it not only helps in making revenue, but it also helps to create a long-term association between the restaurant and food delivery app firm.
Advertisement:
It goes without saying that advertisement is, in fact, the easiest way to generate huge income. You can display ads for a few restaurants in the featured section, or can run short video clips on the app's home screen for them, either way, you like.
For doing this, a certain amount can be charged to the restaurant, and can also earn more revenue by running Google Adsense on the app.
Top 5 Food Delivery Mobile Apps
These days idea of food delivery apps has become a culture. Owing to the busy schedules most people have, they prefer ordering at most times, instead of cooking meals. Then look no further than the popular food delivery mobile apps installed on their smartphones and tablets.
Talking about food delivery, a few of the famous on-demand food delivery apps that are dominating the food delivery industry
1. UberEats: 
This renowned food ordering service, UberEats, offers its services in 1000 major cities around the globe. This app has easy-to-use functionality wherein the users can select food delicacies from the restaurants of their choice, and then the food orders are picked and delivered by freelance drivers to the customers.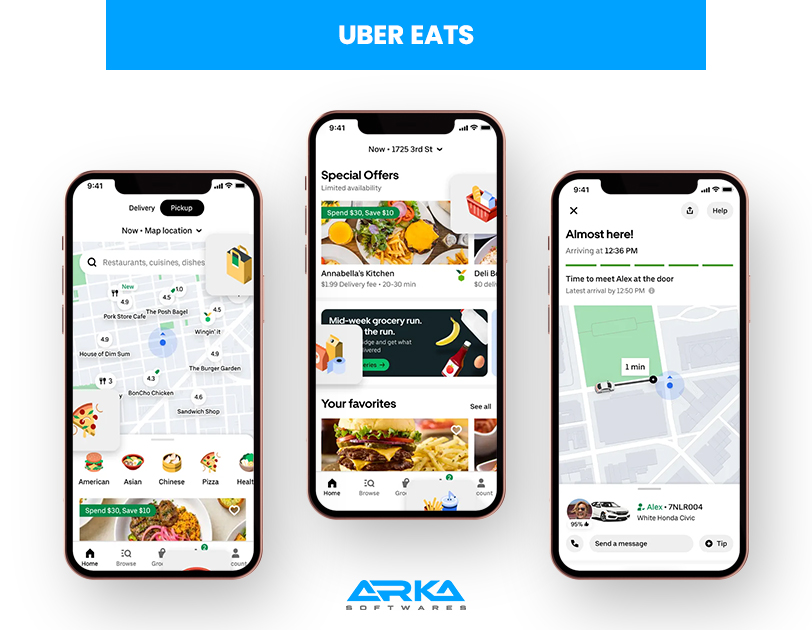 UberEats has collaborated with a large number of restaurants and this way it allows users to order the food of their choice from their favorite restaurant.
All it takes is a few taps on the screen to book an order and as soon as the order is placed, customers will receive notifications regarding the processing and will be able to track the whole process. The app also allows for easy cashless transactions.
2. GrubHub
Launched way back in 2004, this online food delivery platform does the job of connecting restaurants with users, whereas the delivery services are managed by independent contractors. This platform has service teams available 24×7 to manage orders & support customers.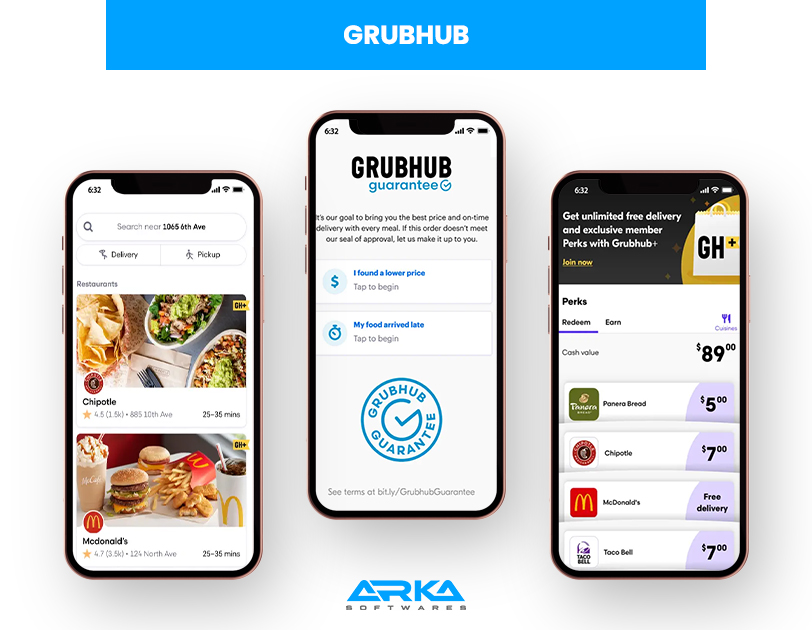 The users like the fact that GrubHub offers several filters and this way they can search by cuisine, by closest restaurants, and by customer feedback.
It even allows its users to customize their favorite list, thus in case of urgency, they don't have to spend their time searching. Regular app users really like this functionality.
3.
Deliveroo
Regardless of not having its own delivery system, Deliveroo allows to order food from restaurants and gets it delivered quickly. This platform delivers in only a limited radius and this way it makes the logistics utterly simple.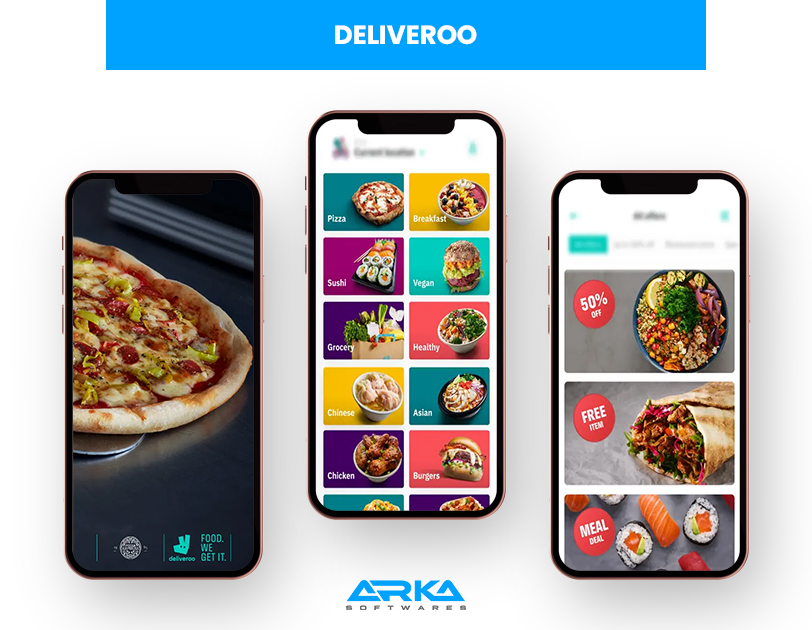 Deliveroo has this amazing feature where it supports motorcycles, bicycles, & cars as transport options, and engages more people in its delivery system, making the services faster and more efficient. From time to time, it also offers coupons to its users, so they engage with the app more often.
 4. Zomato
Zomato is yet another renowned food delivery platform. The plus point of this app is that apart from ordering food, it also allows the users to book a table from the list of restaurants provided in the app. It offers social networking functionality as well for food lovers.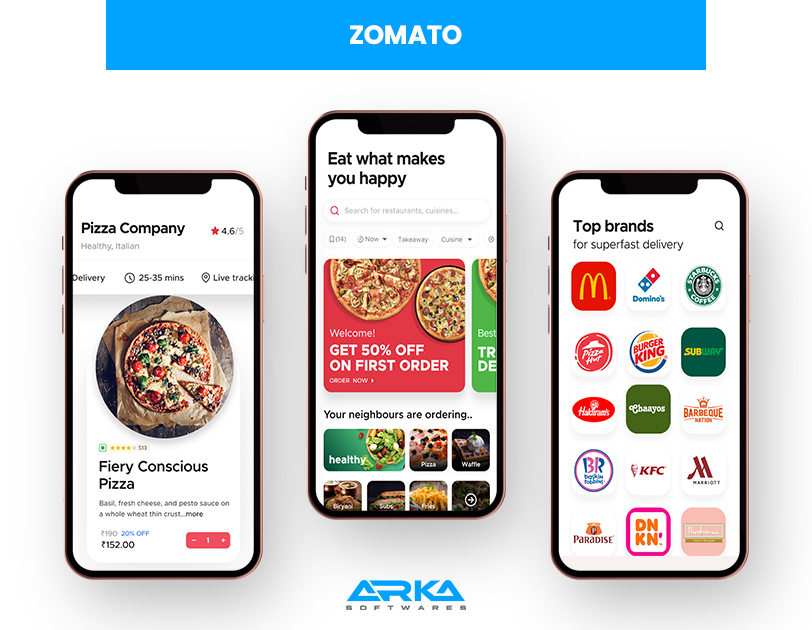 Here the users can follow the other users, give feedback and read reviews, and also explore the nearby eating spots and restaurants.
Not just this, the platform also comes up with special offers to the subscribed users, like social drinking membership and a lot more.
5. DoorDash
Launched in 2013, this successful food delivery platform is available in many North American cities. DoorDash is delivered in a limited radius to ensure that the food is delivered quickly to the customers. It offers several features, it allows the users to search via the closest restaurants as well as the fastest delivery.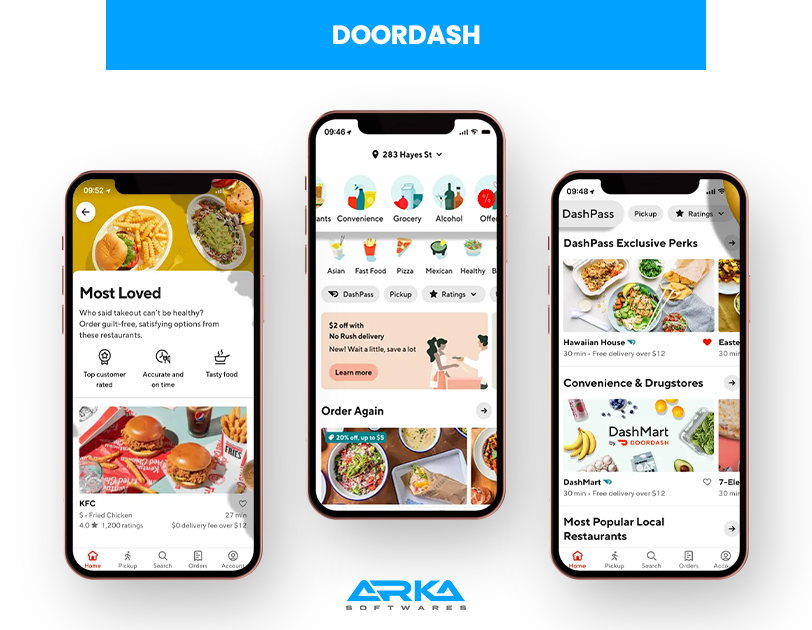 And once the order is placed, it can be tracked by the app. It also involves smaller local restaurants in the platform and thus boosts competition.
Another of its reorder feature allows you to quickly order to dish from your favorite list. Hence, when you are short of time, it makes the ordering process a lot easier and fast.
What are the Key Features of a Food Delivery Mobile App?
Here is a list of some features of a food delivery mobile app. The online food delivery mobile app consists of four panels:
Customer Panel

Restaurant Panel

Admin Panel

Delivery Person Panel
Customers Panel
Search and Browse
This feature allows customers to find the food they want to order by searching for specific restaurants or types of food using keywords, or by browsing through a list of restaurants and menus in their area. .
The app might also allow customers to filter the search results by location, price range, cuisine type, or other criteria to find exactly what they're looking for.
Order Placement
Once a customer has found the food they want to order, they can add items to their virtual "cart" and proceed to the checkout page. On this page, they can review their order and choose a delivery or pickup option. They can also specify any special instructions or customizations for their order, such as requesting extra sauce or leaving off certain ingredients.
Real-time Tracking
This feature allows customers to see the status of their order in real time, including the location of the delivery person as they bring the order to the customer's location. The app might also provide estimated arrival times and alerts when the order is ready for pickup or has been delivered. This can help customers plan their day and know when to expect their food.
Payment Options
Customers can enter their payment information and choose a payment method when placing their order. The app might support various forms such as credit cards, debit cards, or online payment platforms like PayPal or Venmo. This allows customers to pay for their orders securely and conveniently.
Review and Rating System
After a customer has received their order, they might be able to rate and review the restaurant and the dishes they ordered. This feedback can help other customers make informed decisions about where to order from, and can also provide valuable feedback to the restaurant about their food and service. This can help the restaurant improve and provide a better experience for future customers.
Personalization
The app can store a customer's favorite restaurants and dishes, as well as their delivery and payment information, so they can easily place repeat orders or make changes to their order more quickly in the future. This can save time and effort for the customer and make the ordering process more convenient.
Customer Support
Customers can contact the app's customer support team if they have any questions or issues with their orders. This might be through in-app messaging, email, or phone. This can help customers get the assistance they need and resolve any problems they might have with their order.
Notifications
Customers can opt-in to receive notifications from the app about their order status, as well as promotions and discounts from the app or participating restaurants.
These notifications might be sent through push notifications or in-app messages. This can help customers stay informed about their orders and take advantage of special offers.
Restaurant Panel
Menu Management
This feature allows restaurants to create and manage their menus on the app, including adding and updating dishes and their descriptions, prices, and photos. This can help restaurants showcase their offerings and make it easier for customers to browse and order their food.
Restaurants can also use this feature to highlight special deals or limited-time offers or to create multiple menus for different times of day or occasions.
Order Management
Restaurants can view and manage orders placed through the app, including marking them as prepared or completed. This can help restaurants keep track of their orders and ensure that they are fulfilling them efficiently. The app might also provide alerts or notifications when new orders are placed, or when an order is ready for pickup or delivery.
Real-time Analytics
With this feature, restaurants can track their sales and performance in real-time and view data such as their most popular dishes, busiest times, and customer demographics.
This can help restaurants understand their customers' preferences and make data-driven decisions to improve their business. The app might also provide reports and insights on the restaurant's performance over time.
Customer Communication
Restaurants can communicate with customers through the app, such as by responding to reviews or inquiries. This can help restaurants build relationships with their customers and provide excellent customer service. The app might also provide tools for restaurants to engage with their customers, such as a messaging platform or social media integration.
Marketing and Promotions
Restaurants can create and manage promotions and discounts to attract new customers and boost sales. This can help restaurants stand out from their competitors and incentivize customers to order from them. The app might also provide tools for restaurants to create and share marketing materials, such as social media posts or email campaigns.
Integration with the POS System
The app can integrate with the restaurant's point-of-sale (POS) system to streamline the ordering and payment process. This can save time and reduce errors by eliminating the need to manually enter orders and payments into the POS system.
The integration might also allow the app to access the restaurant's inventory and pricing information, and to update this information in real-time.
Order Routing
The app can route orders to the nearest restaurant location or to a specific location based on the restaurant's preference. This can help restaurants manage their workload and ensure that orders are being fulfilled efficiently.
The app might also provide tools for restaurants to optimize their delivery routes and schedule deliveries based on factors such as traffic and distance.
Partner Integrations
The app can integrate with other partner platforms, such as meal kits or grocery delivery services, to expand the restaurant's reach and offerings. This can help restaurants reach new customers and offer a wider range of products or services.
The integration might also allow the app to access the partner's delivery network and technology, or to offer cross-promotions and co-branded marketing materials.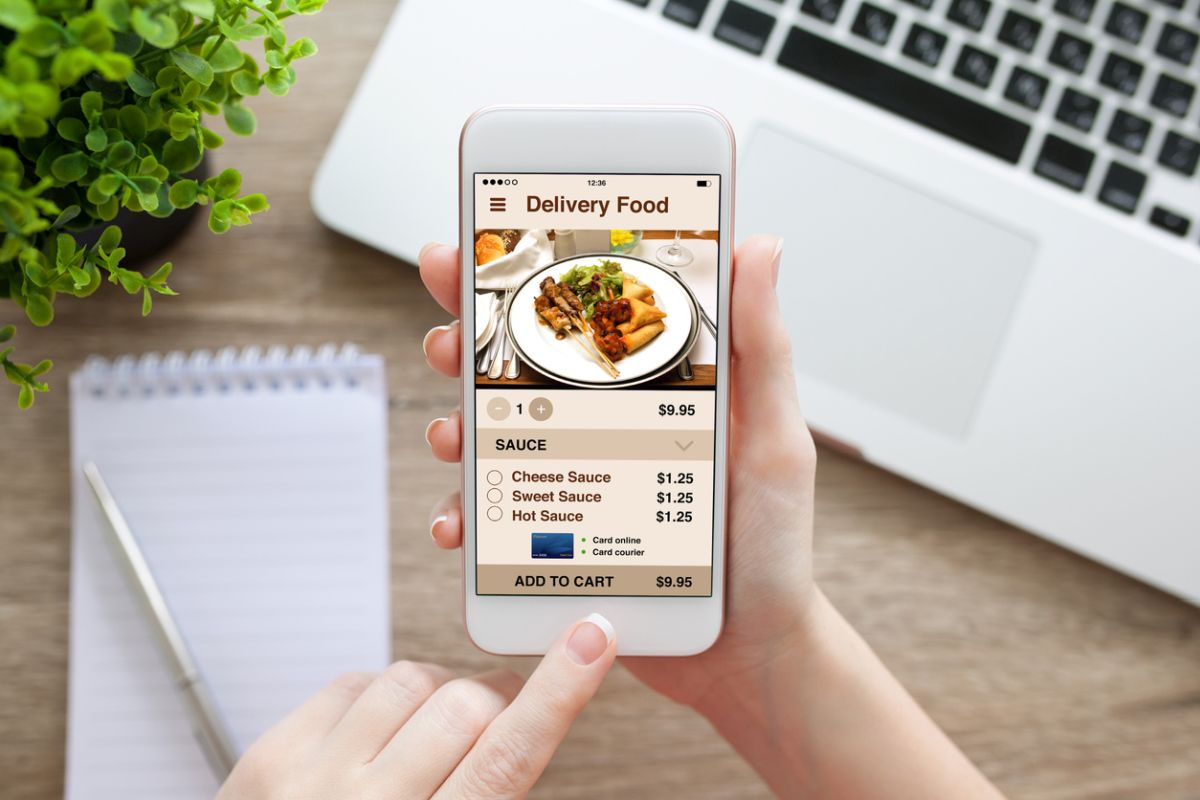 Admin Panel
User Management
This feature allows admins to view and manage user accounts on the app, including restaurants, customers, and delivery personnel.
Account requests are reviewed and approved by admins, and they can also create and delete accounts as well as grant roles and permissions. This feature can enable admins to restrict the app's functionality to only those who are supposed to have it.
Order Management
Admins can view and manage orders placed through the app, including tracking their status and resolving any issues that may arise. This might include features such as canceling orders, refunding payments, or rescheduling deliveries. Order volume and revenue data are also available for review by app administrators.
Payment Processing
Administrators have the ability to monitor and control all payments that are processed through the app. This includes monitoring the progress of payments and resolving any problems that may occur. Transaction processing, payment data reconciliation, and refunding are all examples of what an app like this might do.
Analytics and Reporting
A variety of metrics, including order volume, revenue, and user demographics, may be viewed by admins to get a sense of the app's performance and user behavior.
This can provide admins with a better grasp of the app's strengths and shortcomings, allowing them to make informed decisions about how to enhance the app's functionality. The app may also have features that allow users to personalize and schedule reports, as well as export information for further study.
Marketing and Promotions
App or restaurant-specific discounts and promotions can be made by admins, and their effectiveness can be tracked. Having a unique selling point is a great way for restaurants to stand out from the competition, which can help bring in new customers and increase sales for the restaurant's administration. It's possible that the app would also have features for making and sending out promotional materials.
Content Management
The app's content, such as restaurants, menus, and advertisements, can be modified by the app's administrators. This can be helpful for admins in ensuring that the information of the app is relevant and important, and it can also be helpful for restaurants in showcasing their offerings and attracting customers.
Customer Support
Administrators have access to all feedback from customers and can handle any related matters, including responding to questions and fixing concerns. This can assist admins in providing superior customer service and ensuring that users have a pleasant experience while using the app.
Integration with External Systems
The application should have the capability to integrate with third-party systems, such as the point-of-sale (POS) system of a restaurant or a Restaurant Management System used by a delivery firm, in order to simplify the interchange of data and automate procedures. This allows the app to gain access to more information and capabilities, and it can help admins expedite operations and reduce manual labor.
Delivery Person Panel
Order Management
This feature allows delivery personnel to view and manage their delivery assignments, including tracking the status of their orders and updating them as they progress.
The delivery staff can see the order's specifics, including the delivery address, the method of payment, and any further instructions or requests the customer may have specified. By doing so, the delivery staff may better plan their routes and optimize the time spent on each order.
Navigation
The application should be capable of providing real-time traffic updates and alternative route recommendations in addition to turn-by-turn guidance to the spot where the delivery is to be made. This can help delivery staff in determining the quickest and easiest path to their location.
Communication
The delivery staff should have the ability to contact the restaurant or the customer through the app, for purposes such as confirming details or requesting assistance. This can help delivery staff make sure they have everything they need to make the delivery and provide stellar service to customers.
Payment Collection
In some cases, the customer's order total may be collected by the delivery person. The app may have features that facilitate the transaction, such as the ability to swipe a card, scan a QR code, or enter the amount manually. This might enable the app or restaurant in keeping tabs on their earnings and the delivery staff in getting paid for their services.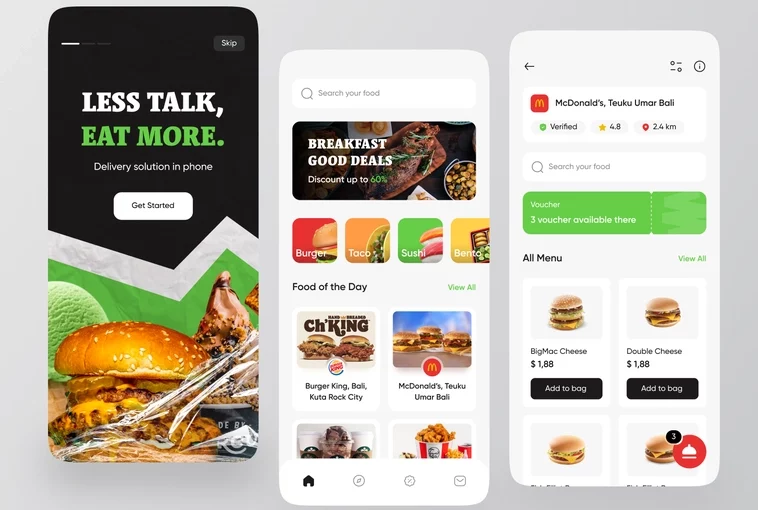 Proof of Delivery
Delivery personnel can use the app to record proof of delivery, such as by taking a photo or obtaining a signature from the customer. This can help the app and the restaurant verify that the delivery was completed successfully and can also provide evidence in case of any disputes.
Scheduling
With the help of the application, delivery drivers should be able to monitor, modify, and manage their schedules as well as their availability.
This will allow them to schedule their work around the times they are needed to make deliveries. The app might also provide tools for delivery personnel to request time off or request additional shifts.
Advanced Features to Develop Prominent Food Delivery Mobile App:
Social Signup & Login
This functionality allows the user to signup and login into the app using their social media credentials.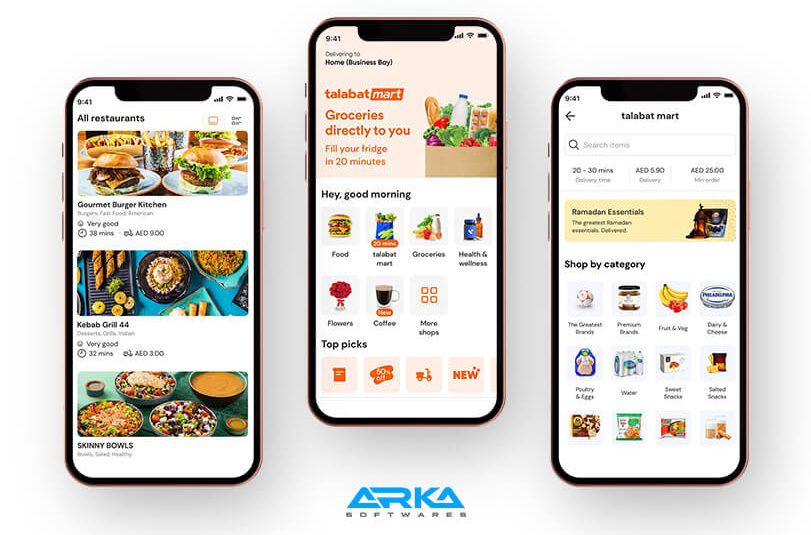 Behavior Track
This functionality is useful for tracking the user behavior and accordingly serving them content, like their favorite food items listed, and special discount offers running in their favorite restaurants.
Multiple Booking
This functionality allows the user to book multiple orders in one go.
Book for Others
Using this feature, the app users can book meals or food items for others, simply by giving their location details and making online payments in advance.
Custom Packages
This functionality allows the users to get their orders customized by placing a special request.
Re-ordering
This functionality is useful when users would like to place the same orders as they did in the past. The re-order feature saves their time and effort as the order is booked as soon as the user clicks on the re-order option.
Group Ordering
Here in this feature, a group of friends and family can be created and they can simultaneously add the food items of their choice in a particular order.
Text Order
This is an intelligent feature for users who have frequent internet issues or they are going to another city for some days. This feature demands the user to buy a food package from the restaurant via the app.
Then on any day, food can be ordered by just sending a text message to the restaurant from the registered phone number of the user.
Push Notification
This functionality is useful to send notifications and alerts to customers, drivers as well as restaurants.
Catering Request
This functionality allows the users to create a food platter that can be served to the guests at home or at a party. Order can be placed by the platter or by setting a budget per person. Accordingly, fresh and hot food is delivered to customers.
Franchise Management
This functionality within the app allows the app users to efficiently manage the franchise.
Real-time Analytics
This functionality keeps the admin aware of the happening in the app in real time.
Role-Based Dashboards
Here, this feature is useful to know about the business progress in each area. Accordingly, the required steps can be taken to improve performance.
Multiple Payment Modes
You can choose to integrate this functionality into your app as it will allow the users to make instant and hassle-free payments, via their desired payment mode.
Tracking & Navigation
Just as in any on-demand mobile app, this feature is helpful for food delivery the mobile app as well. This way the food order can be delivered to the customer on time, as well as it helps drivers to find routes easily.
Loyalty programs
Using this feature, gift vouchers, special offers can be sent to the users, to show that their loyalty is valued and counted.
Marketing Tools
For any business, marketing remains essential and the same goes with the food delivery mobile app. Here the app can be marketed by offering special offers or coupons to first-time users, in order to lure them to install the app.
CRM Integration
In order to maintain a steady relationship with the app users, this functionality of Customer Relationship Management can prove to be greatly helpful.
CMS Integration
This functionality of the Content Management System allows for managing the app content. It keeps in check that the content posted on the app is up-to-the-mark, as well as manages the reviews posted by the app users.
In-app Calling
Using this functionality, the users, restaurants as well as drivers can make in-app calls to one another.
In-app Chat
This functionality can be used by the users to initiate a chat with the restaurant or the admin, in case of any issue, like food customizations, or regarding delivery time or for other related reasons.
Bill Splitting
This feature is useful to split the bill. Here the users can make the payment using different payment modes.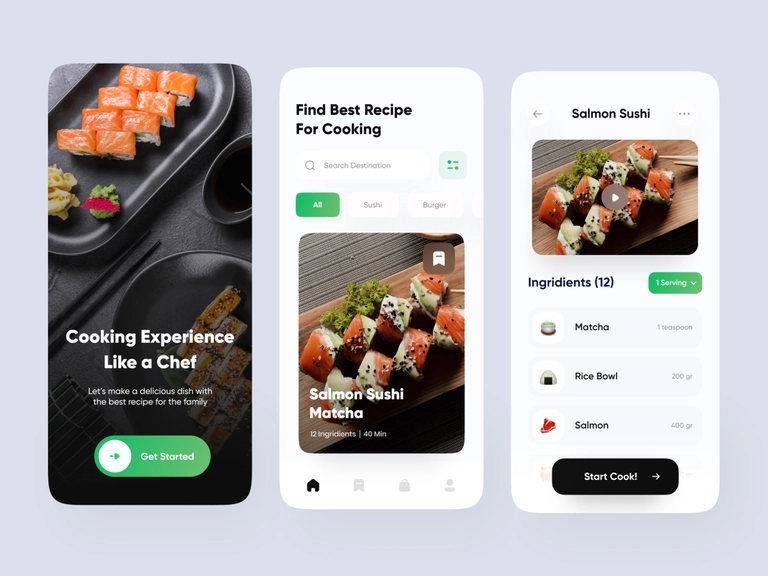 Steps to Create a Food Delivery Mobile App
Creating an app for a mobile device calls for extensive planning and study. There are several stages involved in creating an app, and you need to be familiar with each one to succeed. Here is a detailed breakdown of what it takes to make a food delivery app:
1. Analyze the Market as Much as Possible
Initially, you should invest in research and data collection to have a feel for the market. To do this, you can use resources like the internet and public documents.
In order to maximize effectiveness, it needs to be precise and exhaustive. Identifying the supermarkets' locations, the demographics of your intended audience, and your competitor's strengths and weaknesses are all good places to start.
To begin selling your product, pick a specific market.

Learn the whole market size and who the delivery executives are in your field.

Keeping tabs on how much money customers spend on transactions is a great method to determine the value of the marketplaces.

Think about the niches in food delivery where digital technology would be most useful.

Last but not least, think carefully about how to best design the application.
2. Pick a Profitability Ratio and Business Approach
Before releasing a competitor to DoorDash, you need to figure out how to make money off of your idea. It is essential to come up with a revenue model, differentiate value propositions, and put functionality first. You can monetize your online presence through advertising, paid subscriptions, product sales, and service fees.
3. Finding a Trustworthy Organization to Create Your Mobile App
Discovering a reliable food delivery mobile app development should be your top priority. One option is to hire an IT company that focuses on mobile app development; another is to hire independent developers. In the beginning, you should compare the agency's cost and effectiveness to the methodology they provide.
Find the most suitable mobile app development company for your requirements and spending plan. The development, launch, testing, and upkeep of your food delivery application should be managed by a reliable firm.
4. Start the Development Process
Your thoughts can change and develop in whatever way they choose right now. The amount of time, energy, and money needed for each individual stage can vary widely.
Maintaining fidelity to your budget is essential. As opposed to adding unnecessary functionality, food delivery app developers should concentrate on improving the user interface, making sure their customers are happy and creating a safe and secure program.
5. Pick an App with an Appealing Layout
You'll need a catchy layout if you want clients to abandon your rivals. In order to be successful, your app needs to be easy to use while yet being highly effective, stand out from the competition, and cater to the needs of the end user. Any mobile device must be able to properly display its content.
6. Conduct Appropriate Product Testing
Upon completion of the app's development and design phases, you should inspect it for bugs. A thorough evaluation of each feature is required by quality assurance. Before releasing an app to the general public, it must be completely bug-free.
7. Promote the Application
To ensure that the final version of the application gets discovered, you must utilize all suitable marketing channels. By collaborating with influencers and launching social media campaigns together, food companies may help you market your app. Getting to know the intended audience is crucial to achieving the overarching goal of expanding the platform's user base.
8. Allow for Upkeep in The Future
Innovations in technology occur at a dizzying rate. The importance of precision and effectiveness cannot be overstated. When choosing a development company for your app, be sure they offer support long after the app has been released.
If you want your application to continue to be useful, you need to keep it up-to-date with the latest food ordering app development in your field.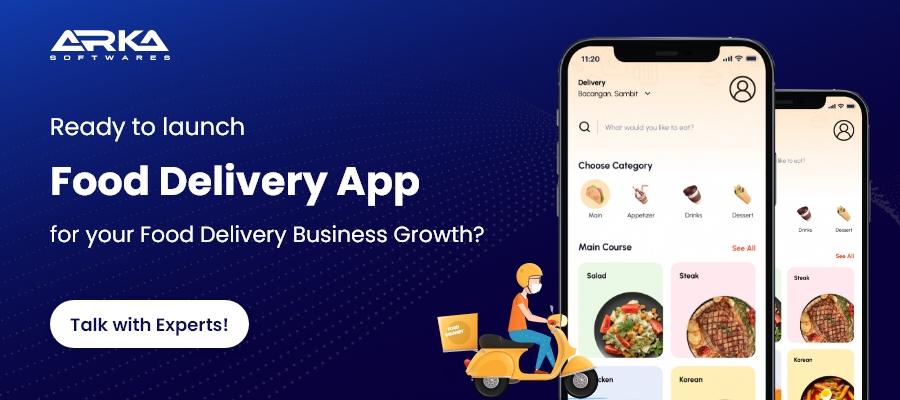 Tech Stack Required 
to Develop Outstanding Food Delivery Mobile App:
Platform – Android, iOS, Web
Real-time Analytics: Storm, Flink
Database:  Postgress, HBase, MongoDB, Cassandra
Payments: e-Wallets, Stripe, PayPal, Braintree, Net Banking
Voice, SMS, & Phone Verification: Twilio, Nexmo
Push Notifications: Push.io, Twilio
Cloud Environment: Azure, Google, AWS
Navigation: Google Map
Development Team Structure for Food Delivery Mobile App
Usually, an app that has a clean and sleek user interface makes a great impression. Hence, it is imperative to have a skilled and experienced app development team on board, consisting of the following professionals:
Project Manager
Android/iOS Developers
Backend Developers
UX/UI Designers
Quality Analysis Experts
Delivery Manager
Cost of Developing a Food Delivery Mobile App
The cost of a mobile app usually depends on four determining factors that are:
App Complexity is determined by the number of features within the app. More features mean more cost.

Number of Platforms, here the cost is determined by the number of platforms, the app is being built on, whether iOS or Android, or both.

App Development region, this happens to be the most crucial deciding factor. As the

mobile app development cost

per hour is way higher in the USA and European regions, as compared to India.

3rd party API integration, more API integration means more development effort.

For instance, a basic food delivery app in USA or UK based on the Android or iOS platform will approximately cost you
Technical documentation: $1,000 to $1,500 / 40 hours
UI/ UX designing: $1,500 to $3,000 / 50-60 hours
Front-end and back-end development: $8,000 to $15,000 / 400 hours
MVP testing: $2,000 to $4,500 / 75-80 hours
Bug fixing: $1,000 to $3,000 / 40 hours
If you choose to get an Indian mobile app development company or developers on board for your food delivery app development process, then the cost for a basic app created on a single platform can be around $20000-$25000.
If more features are added, along with more than one platform, then the cost may go higher to $35000-45000. 
To Conclude
Even if there is a lot of rivalry in the meal delivery app industry, there are two ways to cope with it. The choice is yours: let the existing competition discourage you from joining the industry, or forge ahead with a fresh strategy.
Keeping up with the ever-changing landscape of the online meal delivery industry and the fierce rivalry that exists in this space necessitates constant reinvention on the part of food delivery companies. As a business owner, your top priority should be increasing the utility of your meal delivery.
FAQs for Food Delivery Mobile Apps