The Healthcare sector has been booming at an unprecedented pace, as more and more hospitals and larger healthcare systems are using advanced technology and tools to save lives and treat patients with care. Though it is important to ensure that these healthcare organizations must perform their functions with utmost care and professionalism.
In order to fulfill their responsibilities, every healthcare organization must develop efficient and effective policies and processes to stay afloat financially and serve their customers with the best of their capabilities. Here comes the Revenue Cycle Management software into the picture, as it facilitates various processes and functions of a healthcare organization.
An RCM software helps an organization to manage its clinical, financial, and administrative functions such as payment management, revenue generation, or claims processing.
In the era of modern healthcare services, the revenue cycle management software is used as a strategical asset by healthcare organizations to enhance their services and make a big saving on organization's money, time, and efforts.
It also helps an organization to make its processes streamline and effective, to enhance the revenue per patient, and helps the organizations to keep their focus on the core functions, that is to provide healthcare services to their patients.
What is Revenue Cycle Management System?
This could be an unheard term for a few, but most of the people who have visited the hospital must have experienced or saw the function of this system in real-time. The moment any patient makes an appointment to see the doctor this system comes into action as it helps the healthcare service provider to keep a track of every associated financial element. 
The medical billing module of RCM enables healthcare professionals to accomplish multiple tasks related to billing, procurement, and reporting. It can help with the verification of insurance coverage and assess the status of copayments before a patient is admitted for further treatment; then it sends treatment claims for further processing with specific codes to insurance providers, once the patient care protocol is determined; then it calculates the balance amount past the appointment.
Revenue Cycle Management is indeed a system, that combines various aspects and processes of a healthcare organization with the core components of health information management system (HIM), which also includes the electronic health records (EHR) and patient information privacy management methods as well.
For any healthcare service provider, it is important to implement an efficient and accurate revenue cycle management system to successfully run a medical practice. It is important for a healthcare organization to establish the core accounting protocols and manage them effectively as healthcare financial processes are now shifting away from fee-for-service payments to a value-based care system.
An RCM software also extracts data from complex databases and then offers accurate reporting, which can be used to make vital decisions. It is indeed a comprehensive software system, that offers combined functionality that is available in medical billing systems, claims management and processing systems, coupled with a credential management system, and more.
What is Revenue Cycle?
According to the Healthcare Financial Management Association, the revenue cycle comprises all clinical and administrative functions that contribute to the capture, collection, and management of patient service revenue.
Following are the basic components of a Revenue Cycle.
Charge capture

: It renders a medical service into billable charges.

Claim submission

: Submits claims of billable charges to insurance organizations.

Coding

: It comprises steps to code the clinical procedures and diagnostic efforts into the system.

Patient collections

: To determine the dues of patients and then collect the payment using several methods.

Preregistration

: To collect preregistration information, insurance coverage, past due amount before a patient arrives for any medical procedure.

Registration

: To collect patient information while registering them, create a unique medical record number, and comply with several regulatory, medical, and financial requirements.

Remittance processing

: Apply and reject the payment via remittance processing.

Third-party follow-up

: To collect the payment from 3

rd

party insurers and vendors.

Utilization review: To examine and assess the requirement of medical services.
How does a Revenue Cycle Management Software function?
A Revenue Cycle Management software is built upon the Revenue Cycle process, and it operates using the following steps:
Insurance Eligibility Verification

–
It is the initial stage where healthcare service provider determines the status of patient's insurance coverage and its validity. It helps patients to schedule their appointment with a specific physician.
Assess Overdue Balances and determine Co-Pays information

–
In this step, the healthcare service provider collects a fixed amount from the patient on or before their visit, it also determines if there is any overdue amount owed from a prior visit. If yes, then the software raised an appropriate claim to the insurance provider or demands the patient to settle the overdue amount. 
Medical Coding

–
In this step, the information of treatment, medical procedures, and diagnosis should be coded and updated into the system using the standard ICD-10 and CPT coding guidelines.
Claim generation and submission

–
This step comprises Claims generation, which could be generated either be manually or electronically. Once these claims are thoroughly validated by a competent authority, they are submitted to insurance provider, clearinghouse, or other claims vendors.
Denial Management

–
At this stage, claims are checked and corrected if any error is observed, and then resubmitted to the system, or additional information is added to make sure that claim is completed. In this stage, the insurance providers may initiate an appeal for a claim to be successfully reconsidered.
Claims Follow-Up

–
This stage comprises of steps taken by healthcare services provider to take follow-up with the payer, so that claim may be processed successfully and reimbursed on time. This helps a healthcare organization to reduce A/R days and reduce potential financial implications for the patient.
Final Bill

–
The healthcare service provider is responsible for providing the final costs and charges information to the patient in the form of an electronic or printed bill. This bill is generated after getting information such as amount owed, fees breakdown, procedures performed, diagnostic tests were undertaken, etc.
Payment Collection

–
This stage consists of payment collection activities, where multiple options and modes are offered to the patient, against which they can make the transaction. Nowadays we use online banking and mobile banking methods to simplify the payment collection process so that patients and their family members do not need to come in person to settle their bills.
Data Analysis and Reporting

–
This step comprises activities to process and aggregate all financial and patient-specific information and convert it into meaningful insights, which could be used to improve business operations by reducing A/R days, increasing revenue, and enhancing the financial performance of the healthcare organization.
Advantages of Revenue Cycle Management System for Healthcare Sector?
A Revenue Cycle Management software offers the following advantages for Healthcare sector:
Paperless Billing

:
RCM software drives the paperless environment in healthcare organizations, which enables them to cut the documentation cost and improve patient satisfaction as people generally prefer getting the medical bills online, instead of managing the paper documents, reports, and receipts.
Enhanced RCM practices

:
Revenue Cycle Management practices have the potential to transform the existing policies and processes in no time. Organizations can utilize a revenue cycle technology stack to avail numerous benefits and enable access to multiple revenue streams across all the locations using a single dashboard.
Improved Point of Sale revenue

:
An RCM software allows a healthcare organization to offer viable payment options and workflows to their customers. As consumers are paying higher medical care costs and some ratio of cost is shared by the insurance providers, hence it is a must for an organization to have viable payment options, else healthcare service providers may suffer financial loss in event of failure of collection of payment prior to offer elective services.
Better coordination in EHR and RCM systems

:
Most healthcare organizations are using EHR systems (Electronic Health Records) to manage the records of their patients. It is important to have some sort of integration between EHRs and RCM software, to ensure the system of a healthcare organization remains streamlined and accessible for all.
Most of the HER vendors ensure their systems are capable enough to be integrated with the RCM software, which helps an organization to successfully manage and execute both the processes, which in turn enhances the process and cash flow of healthcare service providers.
Timely Reimbursements

:
Since the revenue cycle is managed by a software system, it will assure that reimbursements are processed in time. As most of the functions are performed by the software itself, it will reduce the unnecessary burdens and hurdles as far as processing from the 3rd party is concerned. Timely reimbursements lead to better customer services and satisfaction.
Require Less Administrative Resources:
An RCM software takes care of several administrative activities such as patient registration, billing processing, payment collection, denial management, insurance eligibility verification, and coding. It enables a healthcare service provider to downsize unnecessary workforce and keep its focus on hiring healthcare and clinical staff.
Less staff to manage means an organization can focus on the core medical practices, rather than thinking about other administrative staff members. It will reduce a lot of performance worries and financial implications in long term.
Reduced Billing Errors

:
With the help of RCM software and well-trained staff, the billing errors will be reduced up to a great extent. This will prevent all sorts of revenue leakage by entering wrong information or CPT codes. This gives multiple advantages to a healthcare service provider, as it improves its reputation in the healthcare industry and helps it to attract further clientele in long term.
Predictable Revenue Stream

:
A strong and effective RCM software prevents interruptions in cash flow from all the stakeholders accessing the RCM functions, which ensures a more predictable and secure revenue stream. As all the financial information and transactions are carried out in a secure manner, this improves the security of vital patient and payment-related information.
Greater Industry-specific compliance

:
For a healthcare service provider, it is mandatory to meet all the healthcare sector-specific and regulatory compliance. An RCM software will help in management of Payer policies, industry compliance, and regulations, by constant monitoring of all the vital parameters. This will help an organization to keep its focus towards providing the best patient care, rather than indulging in fulfilling various kinds of compliance parameters.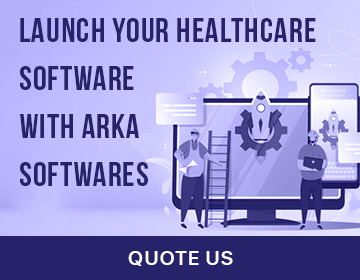 Revenue Cycle Management Software – Challenges
As we know, the revenue cycle initiates once the patient makes the appointment and it concludes when the payment is collected successfully. However, it is important for the RCM software to perform multiple steps efficiently and accurately to ensure timely payment.
There are certain challenges an RCM software may experience, such as coding complications, medical billing errors, lack of communication, or data duplication, which may result in lost revenue.
Here we have listed a couple of challenges for RCM software, and Developers must keep these constraints in mind while developing the software.
Delays in Payment process-
The service provider has almost no control over the payment from the claim denial and review process. Any sort of delays for claims and billing process from the provider may lead to claims denial.
Payment Collection from Customer

–
The healthcare cost is increasing and sometimes it is quite difficult for a healthcare organization to collect the payment from the patient, as a patient might be struggling to afford higher deductibles. Hence, it is extremely important to collect the payment during, or before, their treatment, as this will reduce the risks of non -payment.
Fragmented Administrative Processes

–
For any healthcare service provider, there might be different priorities as far as the front and the back end is concerned. The Functions and Processes should have seamless interfaces, which can prevent any sort of process bottlenecks, that may lead to claim denial or revenue loss. It is important to have better communication while performing the patient intake, assessment of insurance coverage eligibility claims reimbursement, etc. 
3rd Party Communication and Follow-up

–
For any Healthcare organization, it is quite important to communicate well with the health insurance providers and other 3rd party vendors. Any sort of neglect while processing the claims may result in several types of claim issues. Any neglect while managing the claims process after submission can result in pending, rejected, or denied claims. Claim tracking is another area that is quite important, as this is from where many problems originate. Developers must keep this in mind while building RCM software.  
Lack of Digital Workflow

–
 lack of effective digital workflow may lead to poor data quality data, which may complicate the revenue cycle and may result in several types of issues. It is important to have a robust digital workflow and healthcare IT infrastructure, that can complement the RCM software to perform the desired functions. Effective implementation of digital workflow can ensure seamless coordination between front-end and back-end functions of any healthcare organization.
Revenue Cycle Management Software – Future
We have seen growing traction among the healthcare majors, who are investing heavily in healthcare revenue cycle management technologies, to improve their management of conventional fee-for-service claims and value-based reimbursement methods, as healthcare industry is moving to innovative payment models.
Healthcare revenue cycle management software is going to gain massive popularity in the future, and that is evident with the following facts.
Investment in healthcare RCM software and services is all set to grow by 15.51 percent over the next couple of years. 

The total spent on revenue cycle management solutions around the world has already breached $7.09 billion in the year 2020.
Many healthcare service providers have availed numerous benefits by automating the redundant healthcare revenue cycle management functions, such as determining appropriate ICD-10 codes, improvement of Patient-Service provider communication, monitoring of medical billing processes, and scheduling patient appointments.
Though these technologies are slightly expensive, they come with massive advantages and that is the reason why Revenue Cycle Management software is going to be the most talked-about buzzword in the Healthcare industry.
Revenue Cycle Management Software – Final Words 
The Healthcare industry is witnessing a humongous transformation as far as the usage of advanced technology is concerned.
Healthcare service provider organizations are consistently embracing the advanced IT technology and Software tools to remain competitive over their competition and at the same time to offer better services and experiences to their customers. Healthcare revenue cycle management is evolving as a core of any healthcare ecosystem, that can help them develop value-based care.
RCM not only helps an organization to keep a track of all the financial transactions, but it also helps enhance the revenue and cut the cost of overall operation.
Hence, it is correct to say that implementing an efficient Revenue Cycle Management software is certainly a brilliant idea, as it also enables an organization to keep its focus on the core functions, while rest of the non-core functions could be handled efficiently by the RCM itself. 
The future looks very promising for RCM, and healthcare service providers have understood this and that's the reason why almost every healthcare service provider is putting all their efforts to develop and implement a dedicated Revenue Cycle Management software for themselves.