One of Salesforce's many features is its capability to provide transparency in the sales process with a specific tab named "Opportunities." All sales possibilities are listed here with their current statuses, so you can keep track of each sale with precision.
As a result, sales managers may follow offers in real-time and close them more quickly rather than continually updating a pipeline spreadsheet.
Using the Salesforce Opportunities stages in its default configuration results in many companies not taking advantage of the enhanced sales productivity that may be achieved by customizing it properly.
Salesforce Opportunity Stages: Overview
Opportunities represent the overall stages of your marketing funnel. As a deal proceeds through the sales process, salespeople alter the opportunity stage in a CRM system.
Realistic opportunity phases are essential because they provide pipeline visibility through reporting and dashboards. In contrast, if your opportunity stages do not correctly reflect your sales process, your pipeline data and projections will be incorrect.
Customizing Opportunity Stages: A Step-by-Step Guide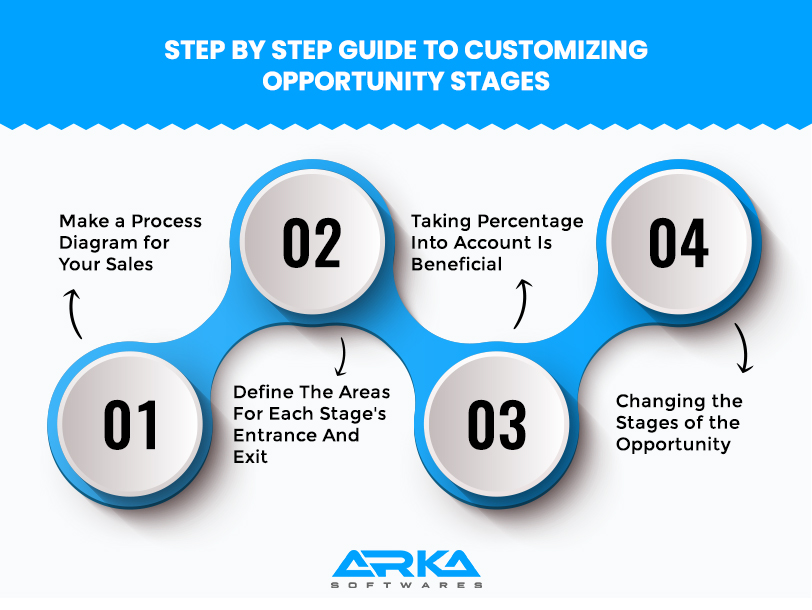 1. Make a Process Diagram for Your Sales
Who will utilize your Salesforce module's opportunity phases features? Clearly, that is your company's sales manager.
The simplest approach to do this is to create a flowchart of your complete sales process and see which steps work well for you and which ones need to be tweaked.
Your first goal should be to simplify the complicated method for your sales manager so that he understands what to utilize and when to use it.
2. Define The Areas For Each Stage's Entrance And Exit
In order to progress from one opportunity stage to the next, there are a number of milestones that must be completed.
That's why each step demands a series of tasks be completed in order to go to the next stage. Create a list of stages if you want your sales manager to effortlessly pass on to the next opportunity stage.
3. Taking Percentage Into Account Is Beneficial
One way to measure sales growth is to use percentages to indicate where a sales lead has progressed in terms of opportunity stages.
Assigning percentages to firms at different phases of opportunity will offer you a better chance of closing a deal. Salesforce CRM is pre-configured with specified percentages based on normal opportunity stage progression.
4. Changing the Stages of the Opportunity
It is usually a good idea to regularly review your sales process to ensure that the opportunity phases are still relevant because the sales cycle is always changing.
How to Modify Or Create a Custom Salesforce Opportunity Stage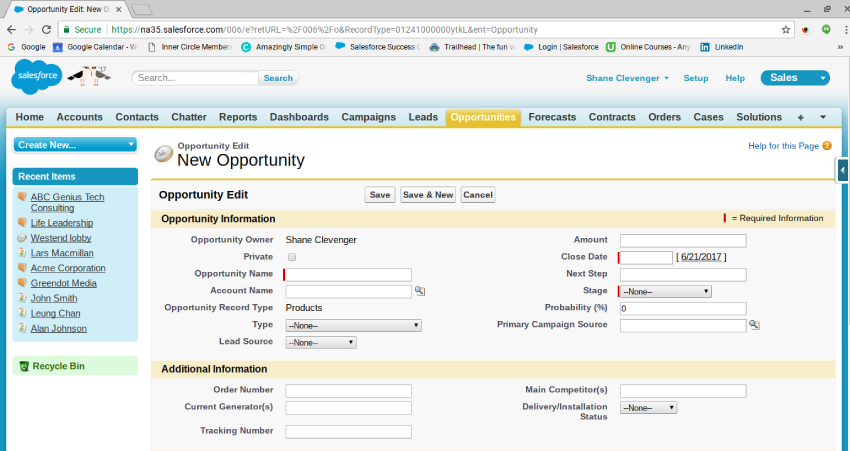 1. Add or Edit an Opportunity stage in Salesforce Classic
Step 1: Navigate to the Setup menu.
Step 2: Under 'Build,' select Customize > Opportunity > Fields.
Step 3: Select 'Stage' from the menu.
Step 4: Select 'New' to start a new stage. A drop-down menu will appear, with an Edit button, next to the stage name.
Step 5: You may choose the sales process that is tied to the new Opportunity stage data.
This option is only available if your business has multiple Sales Processes (available in Enterprise Edition and above)
Step 6: Select 'Save' from the File menu.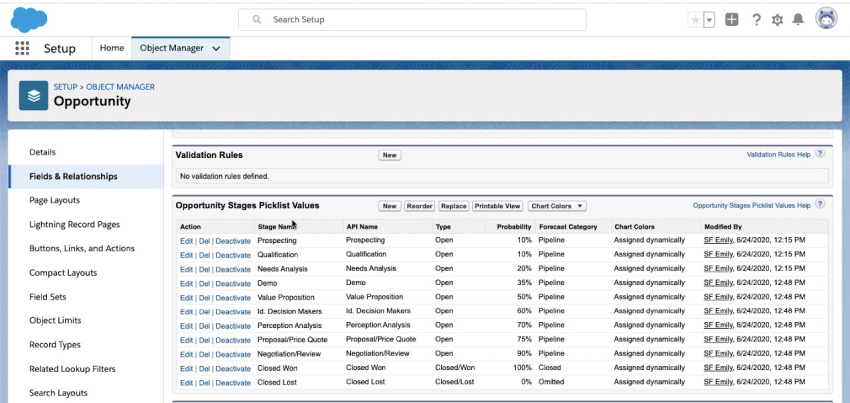 2. Add or Edit an Opportunity Stage in Lightning Experience
Step 1: Navigate to the Setup menu.
Step 2: From the drop-down menu, select Opportunity > Fields & Relationships.
Step 3: Select 'Stage' from the drop-down menu.
Step 4: Click 'New' in the Opportunity Stage Picklist Values section to add a new stage to your campaign. A drop-down menu will appear, with an Edit button, next to the stage name.
Step 5: Choose the Sales Process associated with the newly collected Opportunity stage data.
Step 6: Select 'Save' from the File menu.
Steps to Delete Stages from Opportunities in Salesforce
1. Deleting An Opportunity Stage in Salesforce Classic
Go to the Setup menu.

Under the "Build" menu, click Customize > Opportunity > Fields.
You may access the "Stage" field by clicking the "Stage" button.
To remove a value from the picklist, click "Delete" next to it.

In the drop-down menu, you may select the relevant stage, and all current stage opportunities will be substituted with alternatives from that stage.
2. Deleting An Opportunity Stage in Lightning Experience
Go to the Setup tab on the menu bar.

From the drop-down menu, select Opportunity > Fields & Relationships.
From the 'Stage' drop-down menu, choose the appropriate field.
Click the 'Delete' button to delete a value from the drop-down menu.

Please pick a different stage from the drop-down menu to replace all opportunities associated with the current stage with the selected stage. If an opportunity stage is deleted without being replaced with a current value, the stage will be moved to the list of dormant stages.
Best Practices for the Opportunity Stage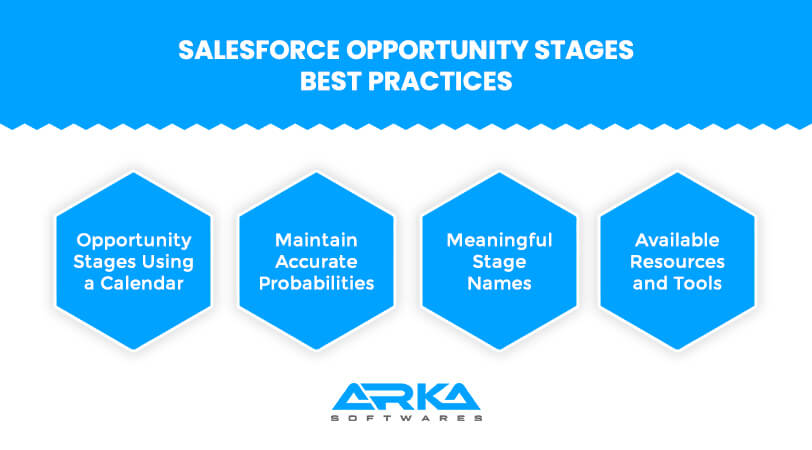 1. Assign Dates to Your Opportunity Stages Using a Calendar
Salesforce's opportunity object serves as a record of your negotiating process. In the event that you include phrases like "business case" in your pipeline, you run the risk of leaving certain leads and prospects to rot.
You should specify each step according to a time component in your reports and dashboards to eliminate these lost chances.
This opportunity should be closed with a lost status if it doesn't move through any stage in the specified time frame. A predetermined time restriction for each step will help you remove prospects that aren't going anywhere in your pipeline because of the biases of salespeople.
2. Maintain Accurate Probabilities in Your Stages
The conventional OOTB opportunity stages are used to show the importance of appropriately calculating each stage's worth in completing the deal. Be sure to supply precise measurements to the probability fields when defining your phases.
It's important to keep in mind that your sales resource might change the probability while shifting between phases. If you have frequent clients with established ties with your company, you should change the probability value in the system rather than accepting the default number.
3. Include Meaningful Stage Names
It is easy for organizations to add too many phases and lose part of the purpose behind these designations. A contact stage may sound like a nice concept, but it seldom provides the context needed to examine the development of your sales funnel.
Keep in mind that naming phases with confusing terms might sabotage your forecasting efforts. The best way to monitor these kinds of occurrences in the process is to utilize activities inside phases.
Your sales staff won't be misled and won't be able to move between stages if your reports don't truly reflect the process.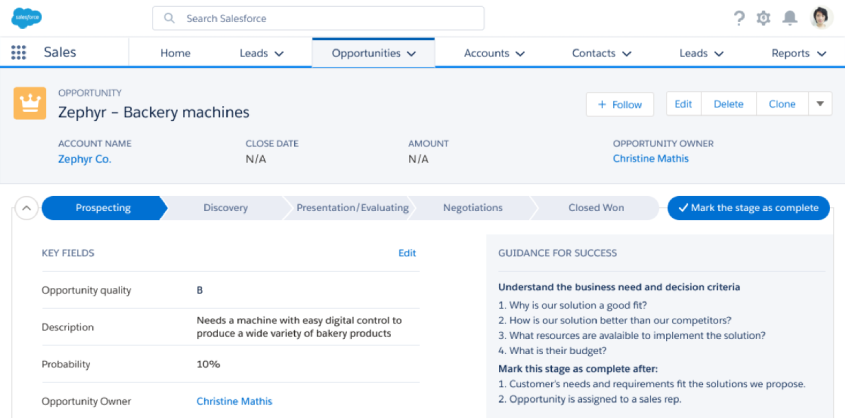 4. Utilize All of the Available Resources and Tools
Einstein, one of the probability-calculating tools in Salesforce, may be used to speed up the process. Improve your forecasting and reporting by using these tools whenever feasible.
To assist you to complete the transaction, keep your sales staff up to date on the meaning of each step, its potential value, and the information they can provide to aid you.
These tools allow you to assess your existing Salesforce implementation status and determine whether you should instead utilize actions, comments, and records to emphasize the specifics of a gained or lost opportunity.

Conclusion
When interacting with Sales Cloud, one of the most significant components your employees will encounter is Opportunity. That's why it's crucial to execute it appropriately and integrate sales operations into it.