Do you know the number of merchants using Shopify exceeded over 1.7 million in 2023 and is expected to break the 2 million mark in the upcoming year?
Due to these staggering numbers, many Shopify development companies have come into existence. It has become a fantastic playground that has become a favorable option for managing the online selling business on Shopify stores.
According to a rough estimate, an average user explore up to 3 stores during a single visit. The Best Shopify developers are continuously building sites using the features of Shopify and bringing many opportunities.
If you are serious about trying hands with this platform and looking to hire 15 top Shopify development companies, read this article with a sharp mind.
What is Shopify Development?
Shopify Development can be defined as a procedure for developing or customizing an online store with the capabilities of the Shopify platform.
It is a highly popular eCommerce platform that lets companies efficiently create e-commerce online stores. This process consists of designing the store layout, adding functionality, and integrating third-party plugins.
It also consists of optimizing the stores to improve search engine rankings for boosting traffic and sales. Plenty of significant and specific requirements exist for making arrangements better regarding profits.
Top 15 Shopify Development Companies to Hire for your Shopify Store
Creating a next-level e-commerce store is only possible with the help of a professional Shopify store development company. However, finding a real one that serves consumers' needs isn't easy if we see the number of options available in the market.
We have created a list of top Shopify Development companies to help clients with the best services.
Founded in 2015, Magenest is a top-level Shopify development company that has continuously created functional and high-performing Shopify websites. They have worked with all sizes of companies, ranging from small to large size enterprises in various industries.
They are one of the top names in eCommerce app development for developing a Shopify platform. It is a one-stop solution for enjoying the digital transformation of your brand. While working with them, one can understand their strong understanding of this industry.
Location:  Hanoi, Vietnam
Foundation Year: 2015
2. Arka Softwares- Best Shopify Development Company
Arka Softwares is a leading Shopify agency that focuses on developing innovative solutions for dealing with critical challenges faced by E-commerce brands during the initial stages. It is one of the best Shopify development company known for offering end-to-end custom eCommerce development solutions.
They have a team of over 150+ expert developers and analysts who adequately fulfill each commitment. We highly recommend this option for brands wishing for a smoother digital transformation.
Location: India
Foundation Year: 2010
3. Webkul
Webkul is another convincing choice to build and scale a marketplace like Shopify. With a large list of happy clients, they have tried to make things highly innovative and simplified for the brands.
Their understanding of running tough Shopify development projects smoothly proves how knowledgeable they are. Furthermore, we found their communication skills excellent which ensured the outcome came as expected.
Location: India
Foundation Year: 2010
JPLoft Solutions is a reputable and well-established Shopify development company, boasting over 10+ years of industry experience and technical expertise. The company specializes in providing customized Shopify development services to global brands, helping to turn their eCommerce business ideas into tangible realities.
With a dedicated team of over 100+ skilled tech professionals, JPLoft Solutions excels in transforming innovative eCommerce concepts into exceptional and distinctive online stores tailored to meet project requirements.
As a highly recommended firm, JPLoft Solutions is the ideal business partner to bring your ideas to life, offering competitive pricing and accelerated time to market.
Location: India
Foundation Year: 2013
5. WPWeb Infotech
WPWeb Infotech stands as a top Shopify Development service, renowned for offering top-notch e-commerce solutions across the globe. With a deep understanding of the Shopify platform, WPWeb Infotech is adept at delivering customized, powerful, and high-performance online stores that meet your business needs and cater to your target audience.
WPWeb Infotech houses a dynamic team of highly skilled Shopify developers, each possessing extensive experience and technical knowledge. WPWeb Infotech's range of services extends beyond just Shopify store setup and configuration.
WPWeb Infotech is also experienced in theme development, API integration, payment gateway integration, SEO optimization for Shopify sites, and much more. WPWeb Infotech ensures that each aspect of your e-commerce store is finely tuned and optimized to provide the best possible user experience.
Location:

India

Foundation Year: 2015
SetuBridge Technolabs a top eCommerce development agency specialize in creating innovative solutions that would meet your specific requirements. Having a team of skilled Shopify professionals, there are certain services offered by them such as, Magento commerce, Shopify development, Shopify Page speed optimization, etc. So, they can go above and beyond to satisfy your expectations.
They're having an unmatched comprehension of business objectives and can make your concepts a reality. Discover the strength of their end-to-end custom eCommerce solutions and unleash your brand's full potential.
Location: India
Foundation Year: 2012
7. BSS Commerce
BSS Commerce is a full-service eCommerce development company that always works to build platforms that can give customers immersive digital experiences. They have a pool of talented developers, designers, and strategists who can flourish your brand in the competitive market.
They are more than just a Shopify app development company due to their efforts to connect with the audience. This agency believes in creating experiences loved by the audience for buying products. BSS even loves to solve the complex issues faced by startups in the initial phases.
Location: Hanoi, Vietnam
Foundation Year: 2012
8. Web FX
Web FX is a top notch shopify development agency created to empower online businesses and eCommerce store platforms. Whether it is about creating customized Shopify solutions or user-friendly eCommerce sites, they are a one-stop solution for having all services under a single roof.
Their data integration experts love creating fully customized e-commerce solutions. Don't get surprised by seeing this company surprising you with its high-end solutions for businesses in various verticals.
Location: Harrisburg, Pennsylvania
Foundation Year: 1996
 9. Damco Group
With a strong presence in multiple countries, Damco Group has a team of over 1,600 people committed to giving quality Shopify solutions to their customers.
They continuously deliver scalable and reliable solutions best suited to a brand's business approach.
They have built, designed, and optimized Shopify stores for many years. This e-commerce agency always uses the latest technologies that result in creating products that serve the purpose.
Location:
Foundation Year:
10. Make Be Cool
If someone wants to work with the agency solely focusing on Shopify development, don't look anything beyond Make Be Cool. It is the best Shopify development agency constantly developing quality platforms for incredible results.
They offer a range of Shopify development services, like Shopify maintenance, Shopify theme development, migration, and plus agency. It doesn't matter what kind of business you have; they have something for everyone. Look at this company's case studies, and you will find why they are unique.
Location: Tallinn, Harju maakond
Foundation Year: 2010
11. HTML Panda
The next name that deserves to be part of this list is HTML Panda which always provides robust and scalable Shopify App Development solutions to its customers. They have helped a huge number of businesses in having a strong online presence.
Their Shopify App developers and designers are fully dedicated to offering end-to-end solutions across different verticals. Whether it is about integrating Shopify into an existing site or someone wishing to develop a new store, they help build exceptional eCommerce stores.
Location: Boston, Massachusetts
Foundation Year: 2014
12. The Brihaspati Infotech
Established in 2011, Brihaspati is a full-fledged agency working to deliver great work experiences. Their staff is passionate about creating solid products and delivering highly scalable solutions.
They have a proven track record of creating innovative products for great sales.
It seems they love creating Shopify applications to let entrepreneurs encourage their brand. They can be a great help and support for making your vision come true.
Location: India
Foundation Year: 2011
13. Techno Infonet
Techno Infonet is a trusted name in web development and design with over 90% client retention. With an experience of more than 18 years, this company has strived to achieve a place that very few get in this business.
They have continuously developed user-friendly and well-organized business solutions for various organizations. Their passion for handling web and app development makes them ideal candidates for this list.
Location:  India
Foundation Year: 2004
14. Net Solutions
Net Solutions is a rapidly growing company who have achieved massive expertise in Shopify development with a team of skilled experts. They are fully experienced in Shopify Plus, Shopify, PHP, Magneto 1 & 2, and many more.
This company uses the right capabilities to create an online store identity. It is an innovative company that can excite users with its transformative solutions.
Location:  India
Foundation Year: 2000
15. Cyblance
Building customized web applications is the expertise of Cyblance who have continuously achieved the ladder of success in the previous years. It is one of the ideal places to find a Shopify developer that solve complex task conveniently.
They have expanded their portfolio in the past few years by never compromising on quality. Their in-depth consultation and technical expertise have helped hundreds of brands in serving the purpose.
Location:  India
Foundation Year: 2012
16. Space Stem
Space Stem is an exceptional Shopify development firm that ensures success by understanding clients' concerns and offering them the required solutions.
They have prompt and transparent policies for getting a deep understanding with ease.
Their team of dedicated developers deeply understands the eCommerce market, ensuring success can be achieved with ease. They have demonstrated in delivering solutions that give results to the brands.
Location:  India
Foundation Year: 2012
Shopify Development Process For Your E-commerce Store
Have a look at the significant steps involved in the Shopify development process in detail below:
Step- 1. Discovery & Planning
Shopify Developers do proper research to understand the requirements of the business. It consists of asking questions, developing ideas, and engaging in in-depth conversations.
Step-2. Creating a Prototype
The Shopify expert will apply a Shopify template to the website, depending on what business and products you want to work with. They will work on all those things to create a prototype as per the needed research.
Step-3. Development
After making the prototype ready, the next thing that needs to be done is developing the original store. The work for the Shopify store will begin once the essential modifications are made.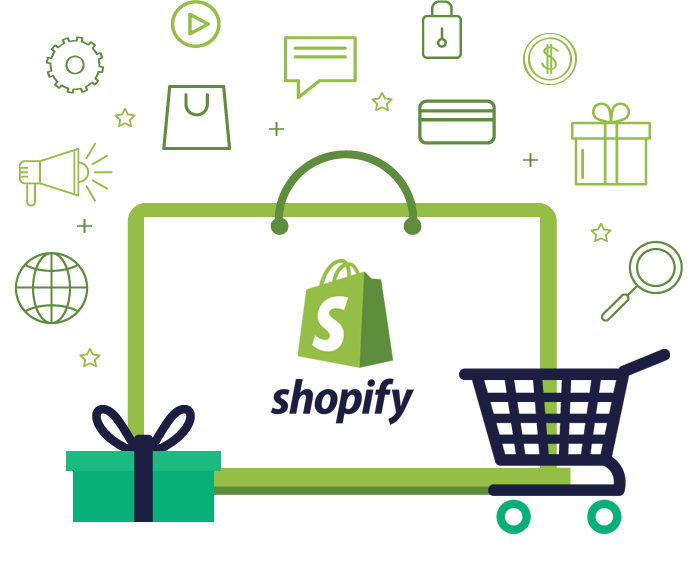 Step-4. Testing
A team of quality analysts will perform cross-browser examinations, test the security updates, and make the required file transfers.
Step-5. Launching Stores
In this phase, the Shopify development agency will launch your Shopify store after completing all the essential procedures. They will ensure everything has gone as per the requirements before launching.
Step-6. Maintenance & Support
After making your e-commerce store live, there will be a need for giving support solutions. It consists of upgrading versions correcting security patches, and maintenance.
Why is Shopify the Best eCommerce Platform?
Shopify is a beautiful eCommerce place has everything needed for shopping convincingly online. Have a look at a few reasons for choosing this platform in detail below:
Great Set of Integrated Marketing Tools
If you are a startup, Shopify brings an exceptional set of built-in marketing tools to lower the initial cost. Whether it is about adding Meta titles or creating unique URLs, everything is available on this wonderful site.
The users can even optimize the stores according to their preferences.
Excellent Speed & Security
Whichever Shopify development company you choose, the chances of facing a few technical issues are pretty much possible. However, Shopify stays committed 24X7 to solving their customers' problems and even reaches out when there are any glitches.
This platform provides highly advanced functionality for letting the users install, download, and customize the site with ease. They also offer access to other essential things, like business reporting, inventory management, and accounting.
Many people like testing Shopify applications before making things permanent. In that case, you will love using the 14-day trial period of Shopify that allows testing of every feature available in the platform.
Think about developing product variations or adding products to learn how things work.
Things to Consider When Searching for Shopify Development Companies
Finding the top Shopify developers isn't easy unless you go for a great development company. Setting up an online store isn't challenging, but converting listings into sales demands the proper guidance and effort.
Have a look at what things you should consider for selecting the Expert Shopify development Company below:
Streamlined Development Process
Make sure the development company you choose is clear about the entire process. It can be beneficial for every team member to understand what their duty is. It is useful for making things smoother while creating an eCommerce store.
Good Communication Skills
One thing that all the top Shopify developers always have is excellent communication skills. They are beneficial for having good talks throughout the project.
These professionals consistently update their clients about the status to ensure better improvisation.
There won't be any use for an agency that usually develops websites with plain designs and a boring approach. Always choose the one with professionals who believe in using fresh ideas to transform ideas into a reality.
The best Shopify development companies always stay clear about their terms for payment, deadlines, etc. Every platform has different collaboration models, and we suggest discussing each one to choose the best.
Find a flexible method with a fully transparent model for perfect results.
Many people think work is done once the platform is launched, but things are very different in reality. You may have to face lots of troubles after the launching process, and it is suggested to have consistent support from the development agency.
How Much Does Shopify Development Services Cost?
Creating a Shopify platform demands many things, each with a different cost. Although the cost is very flexible, a certain fee is charged at the minimum that needs to be paid to give desired functionality and design to the site.
A Simple Shopify development project with an average functionality can cost anywhere between $ 4,000 and $ 20,000.
The major factors deciding the cost are the Shopify subscription plan, professional app development services, themes, templates, and Shopify apps. We have explained these factors in detail below:
There are three plans offered by the company, named basic, Shopify, and Advanced. They range from US$ 29 and US$ 299 making sure one can choose a plan according to their needs.
The next factor that needs to be taken seriously that a Shopify development agency considers seriously is selecting a perfect theme for the store.
There are plenty of themes one can choose from using the official marketplace. Few of them are paid, while others are free for users who can select one as per their requirements.
There is a need for many different tools to let merchants manage their payments, shipping, inventory, and many more. It can be done by installing Shopify Apps to make this job easier.
These tools are greatly useful for performing personalized email marketing, retaining customers, etc.
Another critical factor in estimating the cost is the Shopify theme design development services used for creating the platform.
It varies according to the background and experience of Shopify development companies. As per a tough estimate, the average charges of a developer per hour vary from $20 to $100.
How Can Arka Softwares Help You to Develop Your Online Shopify Store?
Arka Softwares has a highly passionate and talented team of experienced Shopify developers who have hands-on expertise in creating Shopify applications.
They can be your go-to technology provider for transforming your vision into a reality. They have worked with plenty of businesses in different industry verticals with years of experience.
As one of the leading Shopify development companies, the company has helped businesses for staying ahead of the competition. Arka Softwares knows techniques for creating action-packed and responsive online stores that deliver.
The team at Arka Softwares configures the Shopify store and customizes the themes according to your requirement. You will love how they develop unique functionalities to match high standards.
Conclusion
We believe this post has helped us understand which of the top Shopify development companies in the market. The companies mentioned here have vast experience developing eCommerce stores, and building Shopify stores is their specialty.
Selecting a professional development company is important for creating a store that delivers. So, go through the portfolio carefully before finalizing a deal with a company.
FAQs related to Shopify Development Companies