Are you looking for the best ecommerce platforms to create an ecommerce website to transform your business offering and revolutionize the experience of your customers? Then you're in the right place.
Ecommerce platforms offer all the necessary capabilities and tools to develop, manage, and sell your products online and grow your enterprise by reaching out to some unprecedented territories. These platforms make it very easy for anyone to establish an e-commerce store from scratch without having much knowledge of coding.
Choosing a suitable e-commerce platform is certainly not an easy task for any enterprise. You must always keep in mind that developing a website is not that difficult, but if you select the wrong platform, then things can go haywire anytime soon.
In this blog, we will walk you through some of the most popular e-commerce platforms in the market. We will explore their prominent features, their advantages and disadvantages, and their business use cases. It will give you deep insight into these platforms and help you choose the right e-commerce platform for your business.
11 Most Popular E-Commerce Platforms
1. Shopify

–
It is among the most popular e-commerce platforms available in the market. It's a fully hosted and all-in-one platform that is known for its wide range of 3rd party tools and integration abilities.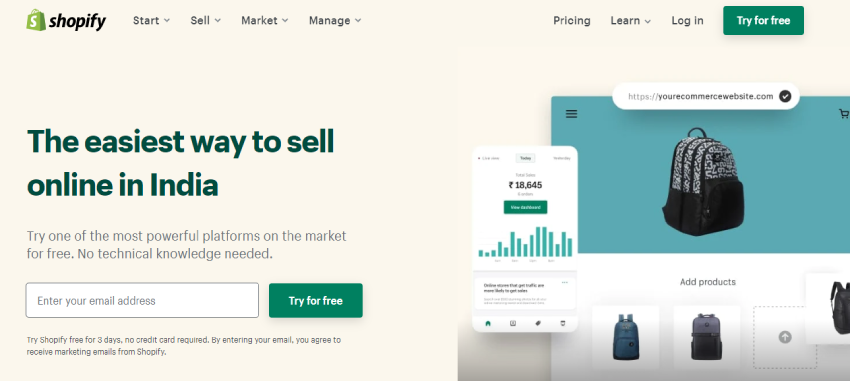 Shopify was launched in 2006 and it was among the first companies to offer an end-to-end solution for store owners to develop their online stores without having much Shopify development knowledge.
It takes a few minutes and a couple of clicks to develop a fully responsive online store for you. You can avail of the capabilities of site builder and exceptional theme catalog to customize your store to meet your business needs.
Shopify offers a bouquet of plugins and 3rd party applications, which could be integrated into your web store to give it a much-needed edge. These apps could be installed from Shopify App Store to provide desired higher flexibility and scalability to your e-commerce solution. You can simply install Facebook Channel or Dropshipping store to post your product catalog on Facebook and Instagram.
Shopify – Features
Wide range of One-click upsells and post-purchase sales tools.

Offers an on-the-go store management mobile application

Live chat integration feature for visitors.

Supports 3D models and videos of products.

User tracking and In-depth analytics

Integrated coupon and discount engine

In-built email marketing tools
Shopify – Pros and Cons
Pros
Cons

Powerful and highly flexible

Wide range of integrations

In-built mobile application for on-the-go management

Slightly weak SEO capabilities

It's a costly solution

Lack of customization
Shopify – Pricing Plans
Shopify offers the following pricing plans.
Basic ($29 per month) – It offers basic capabilities to develop your online store, process payments, and ship products. 

Shopify ($79 per month) – It offers additional capabilities of more staff accounts and in-depth analytics.

Advanced ($ 299 per month) – It offers all the capabilities along with lower transaction charges and custom reporting.
2. BigCommerce –
BigCommerce is one of the most popular and widely used e-commerce platforms, that offers a drag-and-drop page builder to build an enchanting storefront without any technical efforts.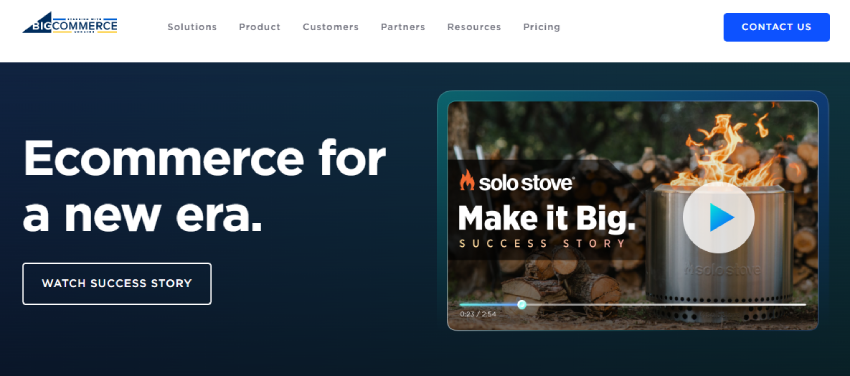 All you need to select a template or theme, add some elements, make some customizations, and launch your online e-commerce store idea. You can always tweak the CSS and HTML code without messing up the overall design and code.
It also provides some capable built-in sales and marketing tools to assist your business to drive more sales and revenue. It allows single-page checkouts, image optimization, automated shopping cart recovery, and many more.
BigCommerce also offers numerous SEO features including robot.txt access, customizable URLs, and support for a blog, which will help you devise a brilliant SEO strategy to drive better organic search traffic on your website.
You can also integrate it with popular marketplaces such as Facebook, Google, and even Amazon to reach more potential customers.
BigCommerce – Features
Website Customization

Application Integration

Inventory and Payment Management

SEO and Analytics Optimization

Single-Page Checkout

Less downtime

Unlimited products, bandwidth, and file storage
BigCommerce – Pros and Cons
Pros
Cons

Scalable and Flexible

Strong SEO performance

Exceptional multi-channel selling

No single-click selling

High-volume store costs more

Inconsistent loading speed
BigCommerce – Pricing Plans

 
BigCommerce offers the following pricing plans.
Standard – ($29.95 per month) – Offers basic capabilities to build an online store.
Plus – ($79.95 per month) – Offers various tools and web builders to launch an online store in less time.
Pro – ($299.95 per month) – It offers Product filtering and faceted search capability, less payment processing fees, and Custom security options.
Enterprise – (Customized plans for businesses) – It offers B2B capabilities, Consultancy, Real-time analytics, and many more features.
3. Magento (now Adobe Commerce) 
Magento Commerce is an online e-commerce platform, which has been taken over by Adobe in 2018. Adobe integrated it into the Adobe Experience Cloud, and now it is known as Adobe Commerce.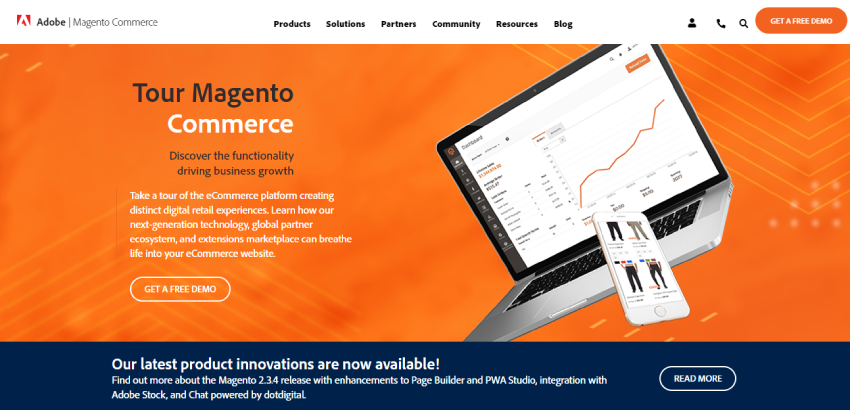 It could be used to develop an online storefront of any size in a few clicks. It also lets you customize your e-commerce store's functionality, themes, and integrations with 3rd party tools to enhance the capability.
Apart from the usual hosting and domain name services, it offers advanced SEO and marketing tools and various other extensions, that can enhance the overall functionalities of your online store. It also offers point-of-sale (POS) providers, which can help you execute in-person sales as well.
It allows you to use advanced drag-and-drop tools to develop captivating content and compelling shopping experiences without having much knowledge of coding. You can create content, personalize it for specific client segments, and update the pages in real time.
It has been duly supported by Adobe Experience Platform and is well integrated with other Adobe products such as Real-time CDP, Experience Manager, Analytics, and more, which offers you deep analytics, up-to-the-minute profiles, and the capability to serve relevant commerce and marketing events.
Magento – Features
Flexible 3rd party integrations

Advanced search engine optimization

Mobile-friendly configuration

Customizable security permissions

Spacious and Sturdy

Versatile content management

Multiple language support
Magento – Pros and Cons
Pros
Cons

Compliance with GDPR and other legal frameworks

Omni channel support and Mobile friendly 

Highly customizable and flexible

It is very expensive

It has less number of developers

Inadequate product support
Magento – Pricing Plans
Adobe Commerce Pro (Price available on request)- It is an all-in-one solution for businesses of any model and size.

Managed Services (Price available on request)- It reduces downtimes and business risks with the help of advanced-level managed services.
4. NopCommerce

–
NopCommerce is an open-source and ASP.NET-hosted e-commerce platform available for all business types and users. NopCommerce offers a customizable shopping cart, administration management, and monitoring tools, and Catalog fronted for business owners.

Its open-source architecture is equipped with best practices of software patterns and security practices. It offers a higher level of flexibility and customization that can easily cater to your business requirements.
It uses the latest microsoft technologies, that ensure high performance, security, and stability. It is completely compatible with Web farms and Azure Cloud services.
It let you rapidly create and scale your e-commerce store with its built-in functionality and features. It offers seamless integration with shipping and payment services, SEO, and marketing tools. warehouse management, and mobile-friendly themes.
It uses multi-vendor (B2B) and multi-store (B2C) functionality, which let you avail the state-of-the-art enterprise-level performance. It offers features that can fit into your business scope to fit your demands, such as multi-language support, multi-currencies support, regional taxes, and laws support, international store management, and integration with local suppliers and services.
NopCommerce – Features
Multi-channel marketing support

Wide range of plugins

Advanced SEO capability

Responsive platform

Supports a wide range of Payment methods

Supports PostgreSQL and MySQL databases

Enjoys support from a large developer community
NopCommerce – Pros and Cons
Pros
Cons

It is freely available

It is PCI DSS compliant

Extensible e-commerce platform

The upgrade process is slightly complex

Costly solution

The themes are not good 
NopCommerce – Pricing Plans
NopCommerce is based on ASP.NET and it is available free of cost.

5. WooCommerce
–
It's a free WordPress plugin that allows sellers and merchants to transform their WordPress websites into full-fledged online stores without any hassles. It also offers supplementary integrating options and paid features to simplify the functionality of your shopping cart.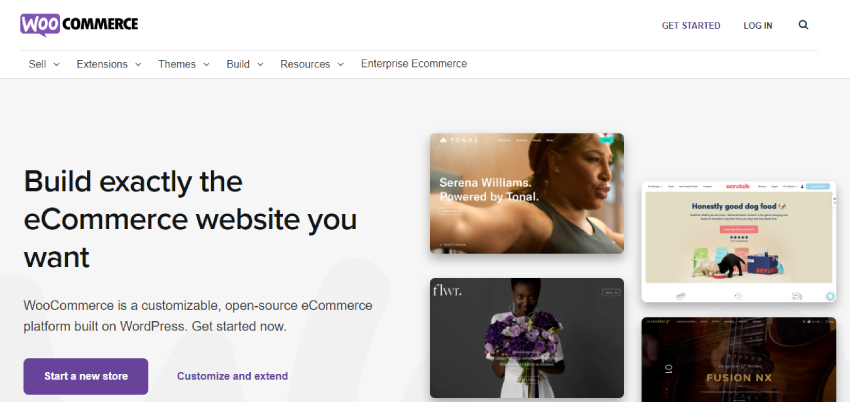 It is an open-source platform that has become an ideal solution for small and medium-sized businesses with its highly customizable WordPress development resources. WooCommerce leverages the capabilities of its highly secure payment processor to ensure secure communication and PCI compliance between your server and customers.
However, you must be very careful with anything you install while using this plugin, as this can adversely impact the performance of your online store. WooCommerce can certainly slow down your website as it can face challenges while working with other plugins, themes, or product listings. 
Hence you must plan and choose a suitable hosting environment that can keep up with the scalability of your website in the future. 
WooCommerce – Features 
Unlimited price table anywhere

Wide range of themes

More than 400 official extensions

Built-in blogging

You can create pricing in any language

Each type has unique customizable parameters

24/7 technical support
WooCommerce – Pros and Cons
Pros
Cons

Suitable for SEO 

Highly extensible with the help of 3

rd

party plugins

Complete Flexibility and Control

The learning curve is tough

Can't be used on websites not hosted by WordPress

Difficult to set up Wishlist functionality and configure multi-currency
WooCommerce – Pricing Plans
Personal – $10 per month

Businesses – $20 per month

Developer – $30 per month
6. Sellfy –
It is another hugely popular e-commerce platform among small and medium-sized online stores for its unprecedented simplicity. It has been used by over 2,70,000 creators across the world and it has been appreciated by small business owners and content creators.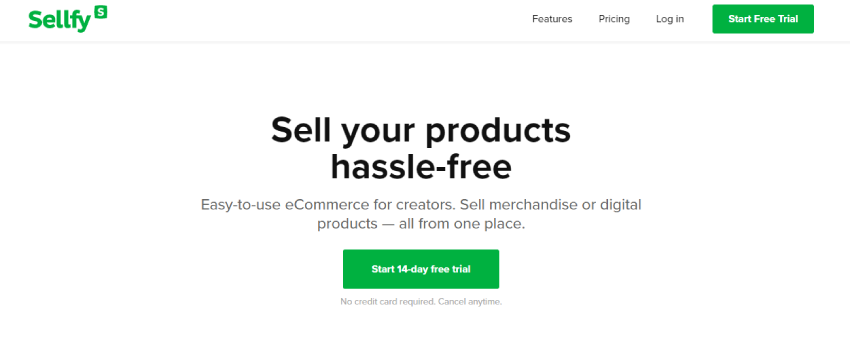 Sellfy was developed to cater to the requirements of content creators, photographers, music producers, video makers, and various other creators who want to sell their products and services online.
You can utilize this platform to sell eBooks, subscriptions, audio files, photographs, PSD files, videos, video streaming, and numerous other digital file types you can think of.
It allows you to create your online storefront in less than 5 minutes, past that you can make necessary customizations to match your brand, setup up your shopping cart, connect with your domain, and start selling your products.
Selfie could be used to embed 'Buy Now buttons onto your corporate or social media pages. It allows you to integrate your product cards on your YouTube channel and monetize the traffic generated by video offerings.
Sellfy – Features
Beautiful Storefront

Complete Product Hosting

SEO and Marketing tools

Secured Payment facility

Report and Tracking

Wide range of Integrations

Wix App
Sellfy – Pros and Cons
Pros
Cons

Suitable for selling digital subscriptions and goods

Offers in-built POD sales tools

Comes with robust Email marketing functionality

Lack of flexibility

A smaller number of integration options

It supports only 2 Payment Processors
Sellfy – Pricing Plans
Starter Plan – $29 per month
Business Plan – $59 per month
Premium Plan – $129 per month
7. Squarespace

–
It is not just an e-commerce platform but an all-in-one content management solution that facilitates the development of online stores and websites. It comes with industry-leading website templates, which makes your task of hosting an online store very easy. 
It offers cutting-edge designs, exceptional fonts, and a wide range of color palettes, which makes it the most suitable platform for showcasing visual products. These visually appealing templates come with all Squarespace pricing plans, which can address the needs of any business type.
All you need is to choose a template, thereafter the online store setup is just a breeze. Then you can list your products and services, customize categories, configure payment gateway settings, and create enchanting content via the website builder.
Squarespace also offers numerous SEO and email marketing tools, that can help you drive your website traffic and enhance sales figures.
Squarespace – Features
Offers complete support for sales of digital goods and subscription

In-built tax tools

Robust fulfillment options

Abandoned cart recovery

Seamless integration with renowned shipping services and payment processors

Online and Offline sales channel synchronization

A Squarespace application for customer communication and mobile inventory tracking
Squarespace – Pros and Cons
Pros
Cons

Wide range of website templates

Built-in taxation tools

Built-in SEO and email marketing tools

Limited integrations

Lack of advanced marketing tools

Lack of phone support
Squarespace – Pricing Plans
Personal – $16 per month

Business – $23 per month

Basic Commerce – $27 per month

Advanced Commerce – $49 per month
8. Weebly

–
It is a multi-faceted e-commerce platform with an in-built website builder. It offers an ideal and affordable solution for small and medium-sized businesses to develop a low-cost online platform that could be scaled further in the future.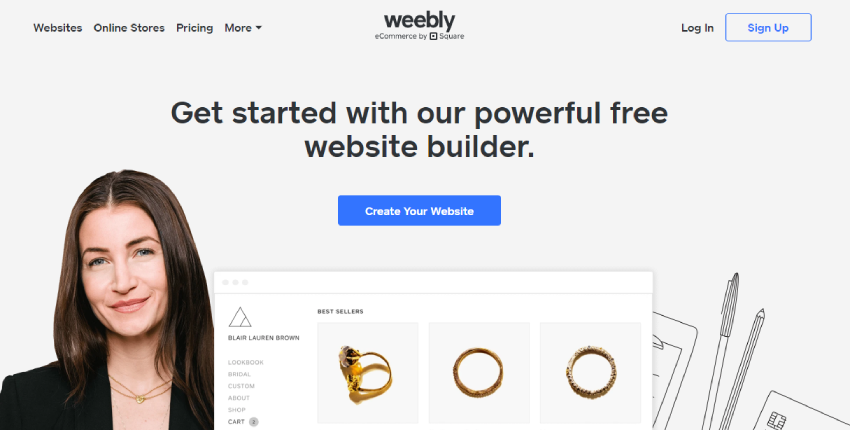 Weebly may not offer advanced and sophisticated features and tools like its competitors, but it covers that up with its exceptional simplicity. It is known for offering some of the most affordable pricing plans for the end users along with a free version.
Weebly provides utilities and tools your business requires to start your online storefront, including smart marketing tools, an instinctive drag-and-drop website builder, abandoned cart recovery, customizable welcome, in-depth analytics, inventory management, and real-time shipping rates.
It also offers some additional tools like gift card builder, coupon management, product search, and support for product badges, which assist your business to outclass its competitors.
Weebly – Features
Seamless HTML and CSS Access 

Publishing and Blogging 

Robust SEO capabilities

Effective Page Management

Wide range of Web design tools

Full-fledged Hosting and Domains

3

rd

party application integration
Weebly – Pros and Cons
Pros

Cons

Captivating and Adaptive Layouts

Affordable and Easy to use

In-built coupon engine

Restricted Intuitive customization

No ADI (Artificial Design Intelligence) choice

Lack of support services
Weebly – Pricing Plans
Free Version

Connect – $5 per month

Pro – $12 per month

Business – $25 per month
9. Volusion
It is an all-in-one e-commerce platform that currently powers more than 180,000 online stores across the world. It's not renowned like BigCommerce and Shopify, but it still offers robust in-built analytics and marketing features that can give tough competition to its rivals.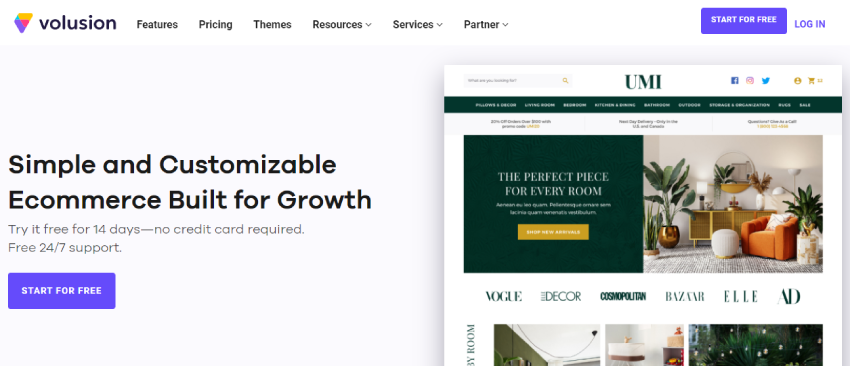 It offers basic e-commerce platform features such as a shopping cart module, a website builder, and full-fledged online marketing and analytics suite to cater to your business needs. 
Volusion enables you to create and manage your marketing campaigns across multiple channels (Social media, email, and SEO) from a single place.  Its robust SEO features provide you best opportunities to improve search engine rankings and drive organic traffic to your online store. It also allows faster loading of your web pages, while enabling web owners to manage metadata with ease.
It is equipped with a wide range of Admin social management tools, that allows you to connect your Twitter, Facebook, and Instagram accounts with your online store. It allows you to manage your social media stores and publish social posts from the Volusion dashboard.
Volusion – Features
Easy to use Editor

Faster returns and refunds process

In-built SEO tools

Customizable storefront designs

Exceptional Email marketing tools

99.9% guaranteed uptime

Robust and Secure Hosting
Volusion – Pros and Cons
Pros
Cons

In-built Customer Relations Management

In-depth Reporting and Analytics

Robust SEO and social media marketing tools

Lack of customization

Bandwidth limitation issues

Insufficient API calls
Volusion – Pricing Plans
Free Version 

Mini – $15 per month

Plus – $35 per month

Pro – $75 per month

Premium – $135 per month
10. Wix –
It is another popular e-commerce platform, that provides a multi-purpose website builder to build an online store in no time. It is unarguably the most beginner-friendly e-commerce platform available in the market. It offers an affordable, hassle-free, and cost-effective solution for solopreneurs and small businesses to get started quickly.

It comes with the powerful 'Wix Editor' and a plethora of powerful in-built automation features that can set up your online storefront in a matter of a few minutes. All you need to use its revolutionary drag-n-drop feature, select a suitable store template, and then customize them with absolute design freedom. 
It lets you transform your website with captivating video background, beautiful animation, and parallax scrolling effects. You can use its Wix Artificial Design Intelligence (ADI) to make necessary customization without hassles. 
All you need to address a few questions and then Wiz will create a personalized e-commerce store for your business. It also lets you run automated Instagram and Facebook advertising campaigns to boost the visibility of your online store on social media. 
Wix – Features
Advanced Design Features

Optimized for Mobile

Enthralling templates

Advanced SEO tools

Total design freedom

Beautiful Media Galleries

Powerful app market
Wix – Pros and Cons
Pros
Cons

Offer powerful automation tools

Wide range of themes and templates

The learning curve is easy for beginners

It is not a dedicated e-commerce platform

Proprietary and Closed source coding

Wix branding is obligatory on all free sites.
Wix – Pricing Plans
Free – Free version with basic functionalities

Combo – $16 per month

Unlimited – $22 per month

Pro – $27 per month

VIP – $45 per month
11. Shift4Shop –
It is another brilliant e-commerce solution that is equipped with a robust website builder, an order management module, and an efficient marketing tool that can help you transform your e-commerce website. However, the biggest difference between Shift4Shop and its competitors is that it provides everything free of cost.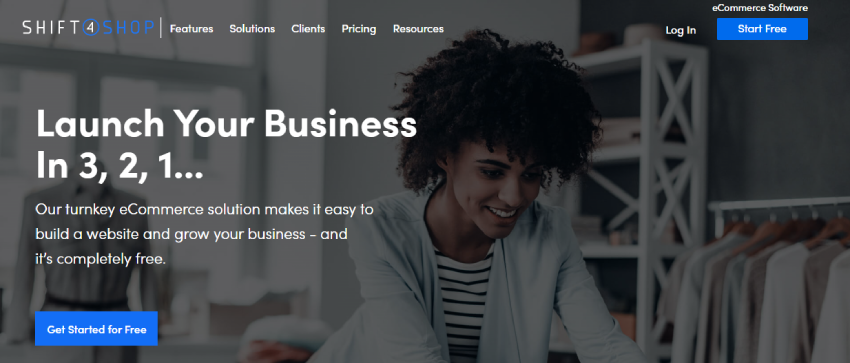 Shift4Shop has re-invented the e-commerce platform business model by offering an enterprise-grade solution at $0 per month, which can otherwise cost you around $100+ with other vendors. It also gives you a free domain name, an SSL certificate, and a built-in payment processor.
You can select from numerous industry-specific and professionally designed templates. The templates are SEO optimized, highly customizable, and mobile-friendly as well.
It let you customize your online store with its intuitive web design tool, which let you edit the CSS and HTML while accessing the community of web design professionals to develop your online shop.
You can also access many features such as SEO tools, social media marketing tools, order management, product management tools, and much more.
Shift4Shop – Pros and Cons
Pros
Cons

Free version available with basic features

A wide range of Integration opportunities are available 

Offers enterprise-grade features at a lower cost

The templates are slightly outdated

It's freely available only with Shift4 Payments

Lack of maintenance and support
Shift4Shop – Pricing Plans
Shift4Shop Free – $0 per month, an enterprise-level plan with unlimited users, products, bandwidth, and features.
12. Big Cartel

–
It is a simple, yet effective e-commerce platform developed specifically for artists. It was launched in 2015 and since then it has been adopted by over a million creators.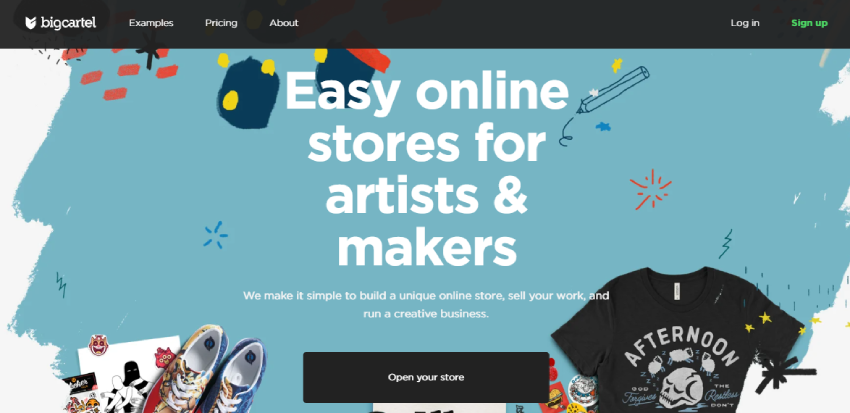 Big Cartel platform understands the requirements of independent creators, who need an e-commerce store for different use cases. It offers the adequate capability to design flexibility, prioritize ease of use, and precise pricing.
It lets store owners choose suitable free themes and templates from a given selection. You can tweak and customize them to cater to your business needs and change the look and feel to offer an enthralling interface to your customers.
It let you sell your products and services in both offline and online modes. It also offers robust inventory tracking and shipment, automated sales tax, real-time analytics, and support for promotions and discounts to name a few.
Big Cartel – Features 
Inventory Management

Full Fledged Catalog Management

Efficient Channel Management

Advanced SEO Management

Social Media Integration

Mobile-friendly online store

Coupons and Discounts
Big Cartel – Pros and Cons
Pros
Cons

Precise pricing structure

Flexible and efficient front-end site builder

Suitable for artists

Doesn't offer advanced features

Lack of stability

It limits the maximum number of products you can sell to 500
Big Cartel – Pricing Plans
5 Products – Free version

50 Products – $9.99 per month

500 Products – $19.99 per month

Critical Factors to consider before selecting an e-commerce platform
The above-mentioned e-commerce platforms come with different prices and features. You must consider the following aspects while selecting the platform and building your website:
The platform must support constant website upgrades and management.

Set up the website foundation diligently

Your online store must offer a seamless user experience and customer service

Ensure you offer robust security for your website and customers' data

Select a reliable web hosting service

Integrate seamless and Intuitive shopping cart and payment processors
Conclusion
Ecommerce platforms offer a set of tools to develop and manage an online storefront, which allows you to sell your products online. They make it seamless for anyone to create an e-commerce store from scratch, that too without having a knowledge of coding.
However, all e-commerce platforms come with unique features and functionalities. Most of the time, it is difficult to find a suitable platform for your business, as selecting the wrong one can be challenging. We hope this blog will help you determine the best e-commerce platform for your business.
If you are still in dilemma, then please feel free to contact our e-commerce consultants. Arka Softwares, with its decade-long experience in e-commerce development services, can help you transform your unique idea into a successful online store.
E-Commerce Platforms – FAQs