Music has an instant effect on people's moods, getting them excited, or making them calm and relaxed. Music is the ultimate way to make people feel nearly all the emotions that we usually experience in our lives. Thus, it is clear that music holds a huge significance in everyone's lives and this is one of the biggest reasons behind the constant revolutions & technical elevations in the field of music in the past few decades. From the era of the gramophone, we have evolved tremendously and thus today we are rocking the music streaming mobile app.
Music Streaming Expected Revenue – From 2015 to 2021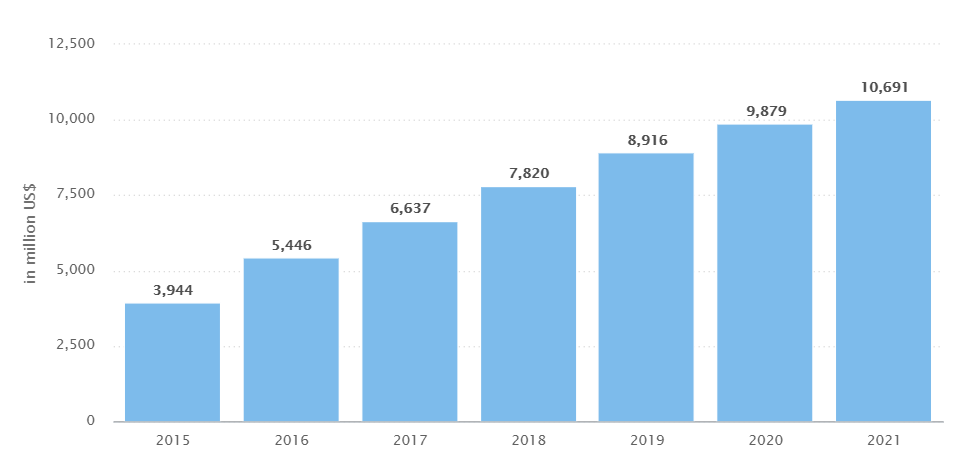 "Revenue Share of Digital music format is swelling day by day apparently music companies/bands across the globe are investing in music streaming to insure a good revenue share."
Revenue in the "Music Streaming" segment amounts to US$6,637m in 2017.
Revenue is expected to show an annual growth rate (CAGR 2017-2021) of 12.7 % that will result in a market share of US$10,691m in 2021.
User penetration is at 26.0 % in 2017 and is expected to hit 29.4 % in 2021.

The average revenue per user (ARPU) currently amounts to US$6.50.

From a global comparison perspective, it is shown that most revenue is generated in the United States (US$2,989m in 2017).

Yes, this time in the world of music solely belongs to music apps, which are keeping most people hooked on to them. It is tough to find a smartphone user who doesn't have at least one music streaming app installed on their devices. The reason for such immense popularity is the ease that comes with music streaming apps.
Today people hardly have time on their hands, and thus everything is desired to be on-demand and this streak paved way for the emergence of apps such as Spotify, Pandora, and others. Speaking of music applications, well they are as diversified as the music itself, and for some, it means a music player while for the others 'digital audio workstations. Hence, if you dream to create a music app, then first and foremost you need to learn about the types of music apps that exist.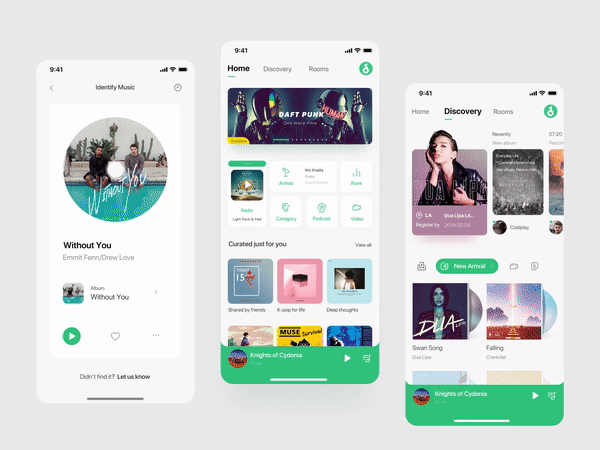 Types of Music Mobile Application
The most common types of music apps have been listed below. You can pick your area of interest among them and get started with the development process of the music app.
Music Streaming App:
These are the apps with innovative streaming functionality and mobile user interface and they are created for multiple devices. Apple Music, Tidal, & Spotify are all examples of music streaming apps and they allow users to instantly play songs of their choice. The on-demand streaming services offer recommendation & discovery features as well. These are based on what the users to keen on listening. Looking at the constant increase in the demand for on-demand music, Pandora introduced Pandora Premium, which is a $9.99/month streaming service to compete directly with Apple Music & Spotify. With Pandora Premium, users can listen to the Pandora radio while they can also create their playlists.
Music Learning App:
These are the kind of apps which allow music enthusiasts to sharpen their music skills by helping them learn music. These are more educational apps and are quite prominent among the users owing to the great music learning experience they offer. The app interface aims at contributing effective music learning experiences to its users and this is the reason this category of apps enjoys a great number of following.
Music Editing Mobile App:
Music editing apps come around as the ultimate form of convenience as they are great at reducing a lot of your stress with their easy-to-use and streamlined interfaces. The app's interface simplifies the editing process and makes it suitably portable. This way any of the editing issues can be easily tackled and quick adjustments can be made from anywhere and at any point in time. The music editing app developers combine their UI/UI design expertise with excellent sound capabilities thus offering effective music editing solutions.
Music Storage App:
It is a great idea indeed to back up your music collection online to avoid losing your music to hard drive failure/virus infection/other reasons, and at the same time, you get more space for your growing collection. Thus, a music storage app allows the users to store their songs & stream them just anywhere and at any time they desire.
Next, let's learn about the monetization strategy implemented in music streaming apps.
Monetization Opportunities
This report coming from the RIAA (Recording Industry Association of America) shows the global movement in the music industry across the world. For the first time, the revenues from the streaming have surpassed all the other categories, such as physical product & digital download. This way it is clear that in the present times, people are more than keen to pay for music streaming services instead of separate music tracks. Thus, music streaming applications can make easy profits without having to put any special efforts.
So, here lets into some of the most popular ways to monetize your music streaming app:
Paid Subscription:
Though there are several types of subscription models available out there, the most prominent and profitable remains the "Paid Subscription". In this model, only the users who have purchased the subscription will get access to your app. Like, in the case of Tidal, it has only paid plans, but the best part is that it provides its users with high-definition music especially curated by the experts. Tidal Premium costs $9.99/ month, whereas Tidal Hi-Fi, which comes with master quality audio costs $19.99/month. These apps allow the users to start with a free trial, and before starting a trial, users are required to enter their card information. Once the trial ends, they are charged automatically.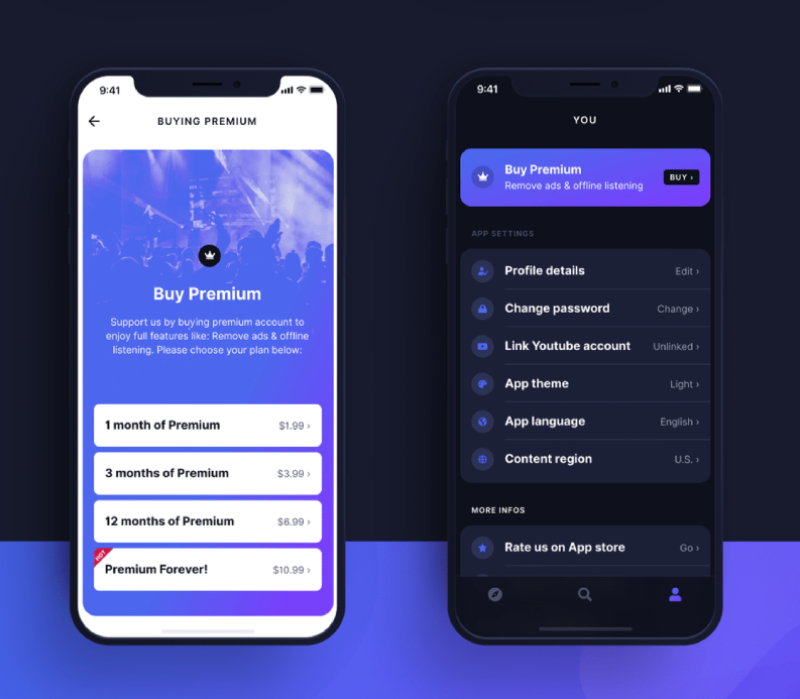 Ad Management:
Now, often the users are not keen to subscribe to the paid version of the app just right away, hence there are many music streaming services that have integrated an additional business model to derive revenue with the mean of advertisements. Advertisements are the traditional mean for monetizing a freemium mobile app. Here, as the users listen to free music streams, they are often exposed to the small banner advertisements on their screens or audio advertisements between tracks. In case, users are not keen on seeing or hearing these ads, they have the option to upgrade to premium/paid versions.
Featured Album & Artist:
This is one means where the app can earn money by charging the artists. For instance, there is an app, SoundCloud, which offers an amazing platform for new artists to promote their songs. It is a service which is also known for its paid artists' profiles, which provide additional options to the singers & managers. There are three Artist profiles here: SoundCloud Basic, SoundCloud Pro, & SoundCloud Pro Unlimited. The first one is free and here the newbie singers can view songs statistics & upload tracks with a total duration of three & more hours. The second plan allows the artists to monetize their uploaded tracks, turn off the comments, as well as upload tracks with a summary duration of six hours, and can view advanced statistics of their uploaded tracks. For this plan, €7 is charged per month. Then, the third plan is the upgraded version of Pro Plan, where artists are enabled to schedule their track releases and have unlimited upload time. Here the price is €11 per month.
Next, let's explore the most prominent music streaming apps available out there.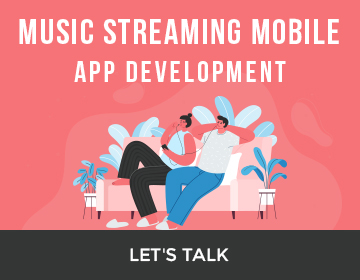 Top Music Streaming Apps across the Globe

Spotify is one of the most renowned music streaming apps offering its users unlimited access to global music & podcasts, allowing them to discover music based on their personal preferences, like favorite genres, artists, and albums. It enables its users to create custom playlists of their favorite tracks and also explore the tailor-made playlists & personalized music recommendations as per their mood. With the Spotify app, users can even download music for offline access. Meanwhile, the app is available to iOS and Android users.

Pandora implements the advanced algorithms curating custom radio stations, and it offers custom music recommendations based on user's past music preferences. Pandora keeps on evolving the personalized music experiences of its users with their music tastes while allowing them to search for their favorite songs, genres, and artists, to create a customized station. The users of the app can download the music for offline listening and they get high-quality audio ad-free in the premium version of the app. Meanwhile, the app is available in both paid and freemium versions, and it is available on the Apple Store as well as Google Play Store in the USA.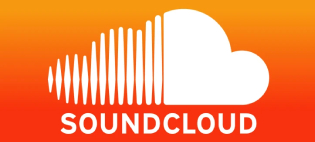 SoundCloud is known to be the world's largest music & audio streaming app offering more than 150 million tracks to its users, curating the music based on users' preferences & their listening trends, and allows to explore music from their favorite genres. The app even enables its users to connect and interact with prominent artists, as well as the users can download the music with the premium version so to listen offline. SoundCloud, which is available on Apple Store and PlayStore offers its users to create personalized playlists for parties, workouts, etc.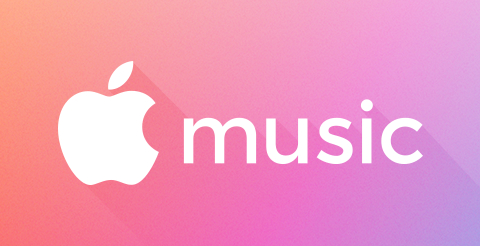 Apple music app available on Apple Store and Google Play Store streams more than 50 million songs straight from the Apple Music catalog and allows its users to download their favorite music to smartphones, thus carrying it everywhere. Here the users can create custom playlists and the automated playlist is also created by the app based on the listening history of users. Apple Music users' can create profiles so as to share their playlists, music, tracks with the followers and the app also offers personalized recommendations that are updated every day based on your music preferences. Users can listen to their favorite artists & DJs on Beats 1, live, and also on-demand, and can get exclusive access to the published content like original TV shows, documentaries on favorite artists, and others.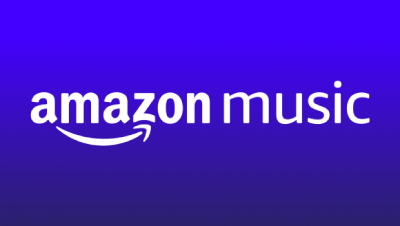 Believe it or not, Amazon has now been in the music streaming business for over a decade. Amazon Music is as good as the competition when it comes to options for music streaming. It's available on your phone or tablet, on Android, or on iOS. It's on the web and it works with Google's Android Auto or Apple's CarPlay. Of course, it's available on any Alexa-enabled device, including Fire tablets and Fire TVs. Amazon Music is now free to use in the USA and UK, providing you with a thrifty alternative to Spotify and Apple Music. It gives you access to more than 2 million songs without having to pay a penny.
What are the General Features of the Music App
User Panel

Admin Panel

Listen radio streaming
Add track on playlist
Counter plays tracks
Background remote control
Download track and listen offline
Like & Share track and track on social networks
Create Private and public playlists
Search style, album, artist, track name
Background play
Lockscreen info (artist, track, cover)
Search covers artist, albums & songs
User profile
In-app purchase( remove ad), add playlist, access to offline
In-app purchases (no ads)
Create a User profile
Like and Share favorite track
Search album, track and genre
Download songs and listen offline
Background play
Add tracks to playlist

Upload track (mass upload)
Prelisten track
Delete track, album, style, artist
Manage Users
Manage advertising and promotions
Publication of the track in one click
Edit track, album, style, artist
Add track, album, style, artist
Manage subscriptions & memberships
Manage subscriptions
Manage promotions and ads
Counterplay popular tracks
Add, edit and delete track and album
Upload multiple tracks in bulk
Single click track publication
Integrate these smart features into your app to make it stand out
Social Signup/Login & Sharing:
One great way to offer a personalized experience to app users is to collect and analyze data regarding the music preferences of their users. Well, registration is the best time to do so as needful information can be collected from the users and accordingly tracks can be recommended to them. At the same time, social signup allows easy and convenient registration, which most app users prefer, while social sharing is a great way to promote your app by allowing users to share app content and updates on their social media pages.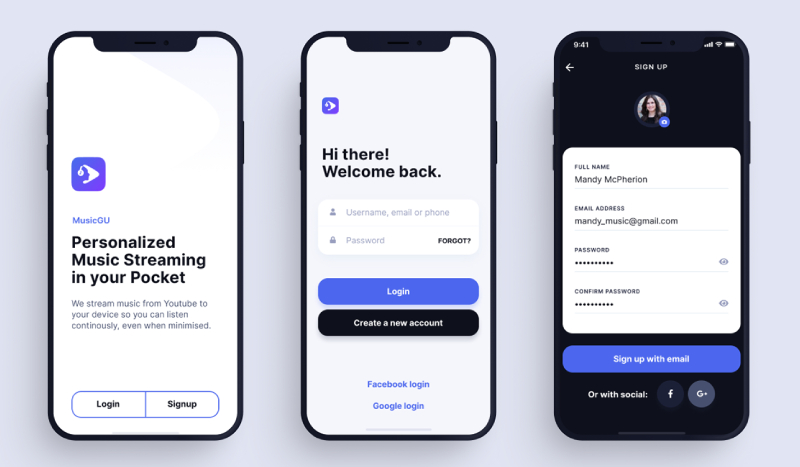 On-boarding & Authentication:
App onboarding is all about making the users' experience with the app as smooth as possible by listening to questions and answering them, or questioning them instead to offer a better experience to them as per their likings and preferences. Next is Authentication, which is quite useful in music apps to ensure content privacy and security. When this feature is integrated, the app will ask the users to provide valid credentials or verification of who they say they are.
Online & Offline Access:
Most of the music streaming apps out there provide the facility to listen to music online, but having offline access functionality can add a lot of value to your app, as users often prefer listening to music whenever & wherever they are, even when there is no internet connectivity. Offering this function will result in satisfied users. Like, you can offline playback in your app in the paid/premium version of the app. This way users will be able to play music in the offline mode, while in turn, your revenues will increase.
In-app voice Assistance:
This feature serves convenience to the users, as they can take the help of the in-app voice assistance to have their way through the app easily. Users can easily find and play songs/music of their liking.
User-Behavior Tracking:
This functionality is quite useful to serve the users just what they need and prefer. Users' behavior is tracked on several instances and accordingly, the content is served to them.
Music Genre suggestion:
Here the users will be suggested music genre as per their age groups, behavior-tracking, or preferred language. The feature allows users to explore their preferred content.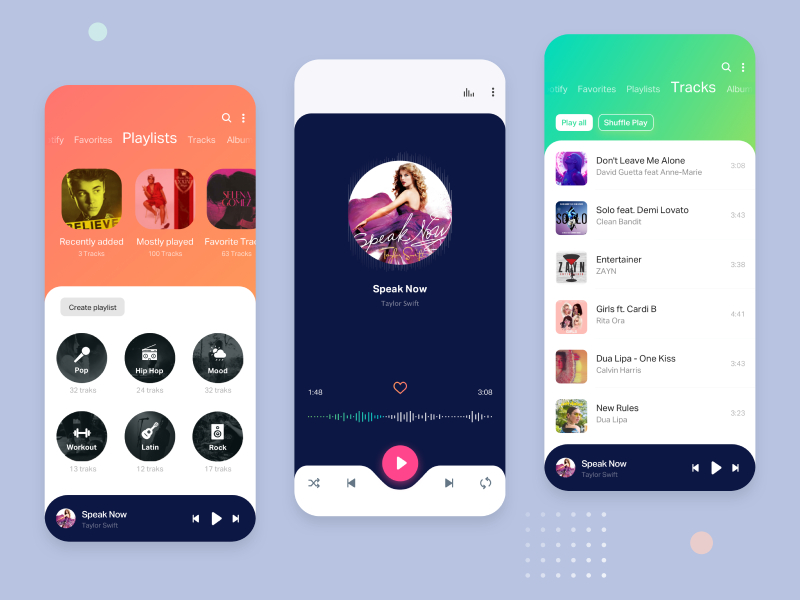 Public & Private Playlist:
Users can create both public and private playlist, where their public playlist will be visible to one and all, while the private playlist can be browsed only by the app users or the people they give choose to give access to.
Loyalty Programmes:
Just as in any other app category, here as well the loyalty programs can be run, where loyal users of the app receive perks from time to time. This further enhances app engagement and user satisfaction.
Multiple Payment Options:
It can be beneficial to offer this functionality as this way your users have the ease to make hassle-free payments with several modes available to make payments.
Advanced Back-end Features
Back-end system of any app is quite complex requiring strategic implementation and for your music streaming app development to have a great back-end infrastructure, ensure it consists of these advanced functionalities:
Recommendation Algorithm (AI):
After acquiring a sufficient music database & user-base, next, you should focus on developing an advanced recommendation & discovery system. Many musics streaming services out there use both audio analysis algorithms & human curation for advanced recommendation and discovery systems. This functionality is great at offering an amazing user experience and satisfy your users, delivery music to the listeners intelligently.
Push Notification:
Add this functionality to send an update or a notification to the users about an interesting event coming them. The app can even allow users to buy tickets to concerts.
Real-time Dashboards:
This functionality is helpful to track the app performance in real-time so that required measures can be timely taken to enhance the performance.
Real-time Analytics:
This feature is useful to analyze and track data in real-time with the use of some API users and technologies. It is useful to track user measurements, ad visitors, conversion, ads tracking, etc.
Bitrates Significance:
This again is crucial to ensure that the streaming quality is supreme, so that the users are fully satisfied with your app, and don't feel like going anywhere else. The app developers who are creating a music streaming app are required to use a specific format that can be installed within seconds and plays music sans buffering. For seamless streaming, the format used is M3u8, but the downside of this particular format is that it breaks bits into some small packets, with each packet having its limited lifespan.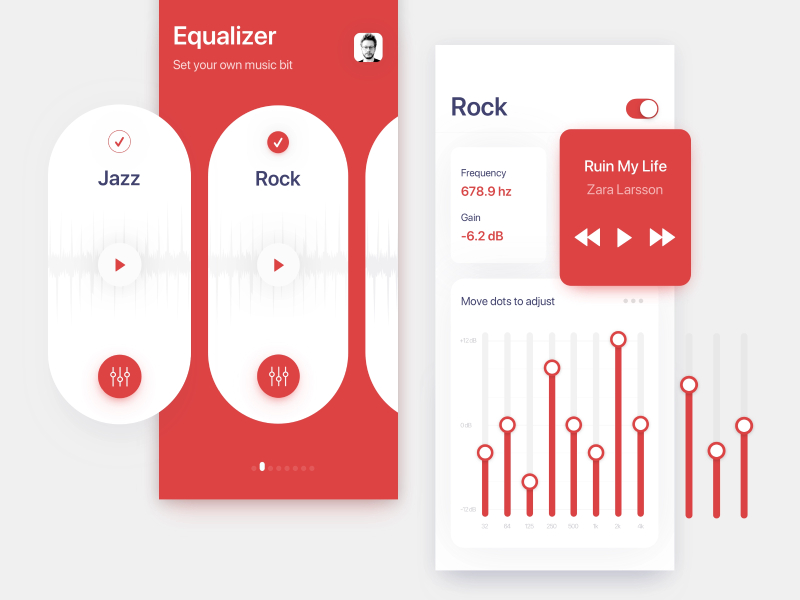 CMS Integration:
It is quite a useful functionality, which allows the app users to read correct information of the system and learn more about it.
CRM Integration:
This functionality is useful to enhance marketing via emails and SMS. It helps the admin in handling the promotions, communication, user analytics & email templates.
DAM Solution (Digital Asset Management):
This functionality is crucial to take care of your digital assets and manage them well, so that no issue arises in the future, of losing important stuff.
Seamless Payment Integration:
This functionality is quite important to have, as, without seamless payment integration, the users would find the payment processing frustrating, as they might end up leaving the app midway owing to the same.

Why Licensing is crucial for Music Streaming?
Now as it comes to music streaming services, licensing plays a big role here, as licensed music services are crucial to form a trusting relationship between your app and the users.
To start with, if you are keen to have your music streaming service, then Public Performance Rights is the first thing that you require. In the USA, it is usually handled by one of the three agencies as, Authors & Publishers (ASCAP), The American Society of Composers, or Broadcast Music Incorporated (BMI). For music streaming in Europe, one is required to apply to the Society of European Stage Authors & Composers (SESAC). Among the different ways of licensing deals, the most common are:
Through equity

As per the stream rate

Giving advanced payments for future streams 

A revenue share
Popular names like Spotify and Apple Music, on average, pay 55% and 58% respectively to these labels. Meanwhile, the licensing can be done by an app development partner from country to country with their being no global standards for it so far.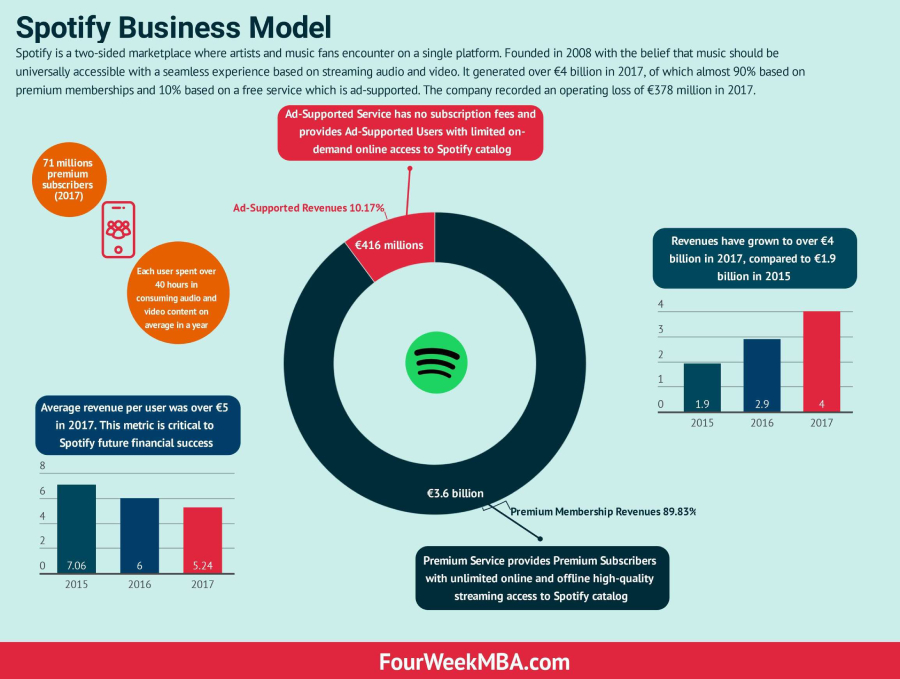 To offer a better understanding, here it has been explained with Spotify: In the case of Spotify, it has two types of licensing to stream music.
Sound Recording License Agreements, as this covers the rights to a particular record;

Then, there are Musical Composition License Agreements. It covers the people who own rights to the song.
This way, Spotify signs the contract with the large music labels, such as Sony Music Entertainment Group, Universal Music Group, and the others, so to easily stream music covered by the rights from these firms. It is advised to not let go of licensing and permissions to stream music, as without it, there can be massive damages you'd be required to pay, for instance, a minimum of $750 up to a maximum of $150,000/song played. So, don't take this one lightly.
Music Storage Formats
To store the music, one can choose to use their server or may use cloud storage services, such as Azure, Google Cloud Storage, or Amazon S3. The storage server has a crucial role to play in the media platform as it handles millions of requests per second with amazing efficiency.
Required Tech Stack
To process and manage data in real-time: Kafka Software
For storage or caching with CDN's, it is better to use Amazon S3
For the primary platform, App Developer can take the help of AWS or Google Cloud platforms
For the desktop-based UI (CEF) Chromium embedded Framework is a better option.
Bandwidth, Twilio– for Push Notifications
Nexmo– for SMS, Voice, and Phone Verification
Braintree & PayPal– for accepting payments
GWT– for Powerful Programming
Datastax– for Data Management
Mandrill– for everything related to emails
Music Streaming Infrastructure

Required App Development Team Structure
Now as it comes to the required team structure for the development of a Music Streaming mobile app, a set of professionals would be needed, such as:
Project Manager

A team of app developers, including, back-end & front-end (4 at least)

A team of app designers (2 to 3)

QA Analysts (1 or 2)
So, whether you go for in-house app development or outsource the app, it is vital to ensure that your app development team consists of these professionals, who are all great at their work and offer the best of services.

What to choose? In-house App development or Outsource to a Music streaming app development firm?
Often there is a tussle going on in the mind when it comes to choosing between in-house app development or outsource app development, as both the options have its pros and cons, isn't it? However, as it comes to music streaming app development, we can't help but suggest you go the outsource route, as a lot is involved in the development of music streaming app, involving advanced features, licensing, permissions, and it can be complicated for the in-house team to handle it all, and on the top of that, the cost may go high here as a big team would need to be hired consisting of developers, designers, advisors, QA Analysts, etc.
Hence, it is wise to go the experienced route and join hands with the expert music streaming app development company, who have the knack to create the best of apps and have the entire team of skilled app professionals working for them. So, they can even guide you in the process of launching the app in the app store, and how to further promote it as well.
How much will it cost to create a Music Streaming app?
It can be quite complex to tell the total cost required to develop a music streaming app at the very beginning as the development cost varies with features, number of platforms, and app development region chosen to develop the app. In the case of the app's mobile version, it is a lengthy affair taking a lot of development time, and most of the music streaming app development firms tend to charge on an hourly basis and complexities involved. Meanwhile, the current standard development rate ranges from $30-$250hour, 
Then on. The development cost further depends on the development region, for instance:
U.S. based developers charge $50-$250/hour
Western Europe & Eastern Europe based developers charge $30-$170 and $20-$150 respectively.
India-based Developers based developers charge $10-$80/hour
Thus, if you choose to develop a music streaming app by India-based app development firm, then it will cost around $30000 to $40,0000.
Let's

build something great together!

Just take one step forward and we can build history.

Want to build something good for the business but still good for the customers?
You know the answer is, Yes!