Smartphones have facilitated a general improvement in ease of living. The process of digitizing everything has taken technology to the next level. A top mobile app development company in UAE can easily develop an application that will enable users to quickly and easily access a wide variety of services with only a few taps on their screens.
Using an on-demand car wash app is the most convenient way to get your vehicle cleaned because it eliminates the need to wait in line, schedule an appointment, and then wait your turn.
Businesses providing on-demand car detailing services, such as washes and vacuums, are flourishing because customers appreciate the flexibility they offer.
When anyone needs their car washed, all they have to do is download an application that will send help to them wherever they happen to be.
Why does Investing in a Car Wash App in UAE make sense?
These days, one of the most downloaded apps is a car wash. Customers have apparently been anticipating the app's arrival so they can schedule vehicle wash appointments instead of making frequent trips to the dealer's lot.
The app's practicality and breadth of service have boosted the popularity of futuristic apps. Recent studies have shown that nearly 60% of consumers prefer to use an on-demand car wash application.
This explosion in app downloads has opened up a wide variety of funding opportunities for investors and start-up business owners.
Car wash applications are a great bet because the on-demand economy is here to stay and people have built a real need for such services.
The global car wash services market was valued at USD 29.3 billion in 2021 and is anticipated to grow at a compound annual growth rate (CAGR) of 3.1% from 2022 to 2030.
How Saudi Arabia Online Car Wash Market Positioned?
In 2022, the United Arab Emirates (UAE) automotive market is expected to expand at a rate twice that of the North American and Western European economies.
Different Models of Car Wash Apps
Dedicated Application Model
All those who run solely a car-washing business can have this type of app made for them. It allows them to provide their customers with individualized service in addition to the full range of their offerings.
The following are a few of the advantages of this model:
The return on investment (ROI) as a whole benefits greatly.

The percentage of actively engaged users increases.

Offer the user a number of distinct options for car wash types.

Prompt service delivery, taking into account the client's availability.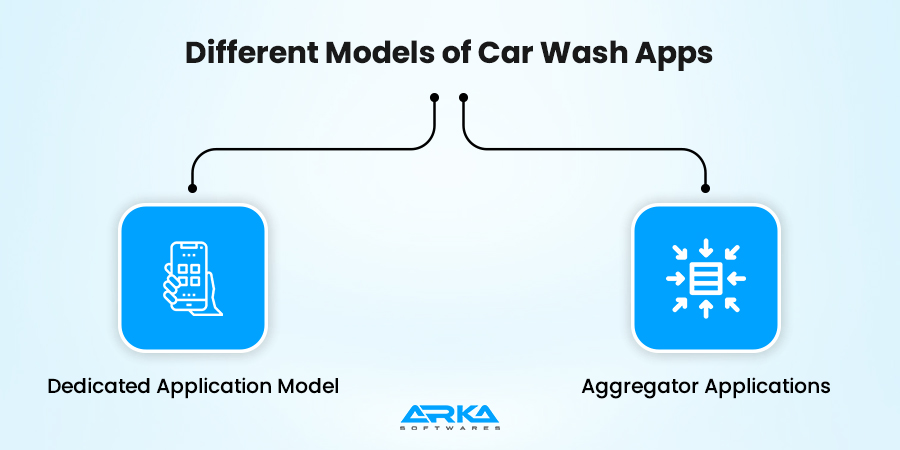 Aggregator Applications
There is only a one-time expense to the developer in creating such applications. He establishes a community space for detailers and consumers, where the latter can select the desired services from a catalog. The detailer operates independently by advertising his services and corresponding directly with customers.

Advantages of an On-Demand Car Wash Application
For Clients
Simple and Instantaneous Access
The app is accessible both online and offline, guaranteeing a problem-free experience for users. Once consumers have access to the internet again, they can check the status of their car wash reservations made offline and verify their recent financial transactions.
User-Specific Requirements
Data is provided to users according to their preferences and the cost of the vehicle wash they have chosen to use. Without distracting the user with unnecessary questions, the app links users directly to the websites of the car wash service providers who are the best fit for their needs in terms of accessibility and proximity.
Response Ratio
The response rate of an app designed to link car washers with customers looking for their services is very high. There are a plethora of sites online where you can find a car wash, but sometimes they take a while to load, while an app can answer all of your questions instantly.
Multiple Vehicle Service Request
A customer can request maintenance for multiple cars at once. He is free to schedule as many automobiles as he likes using the app.
Information
An individual can get specifics on the car washing services provided and the prices charged. This will help him choose the service that best fits his needs.
Sales and Promotions
The app informs users of the latest discounts and promotions available for their offerings. This assists customers in making educated decisions about the packages they purchase through the application.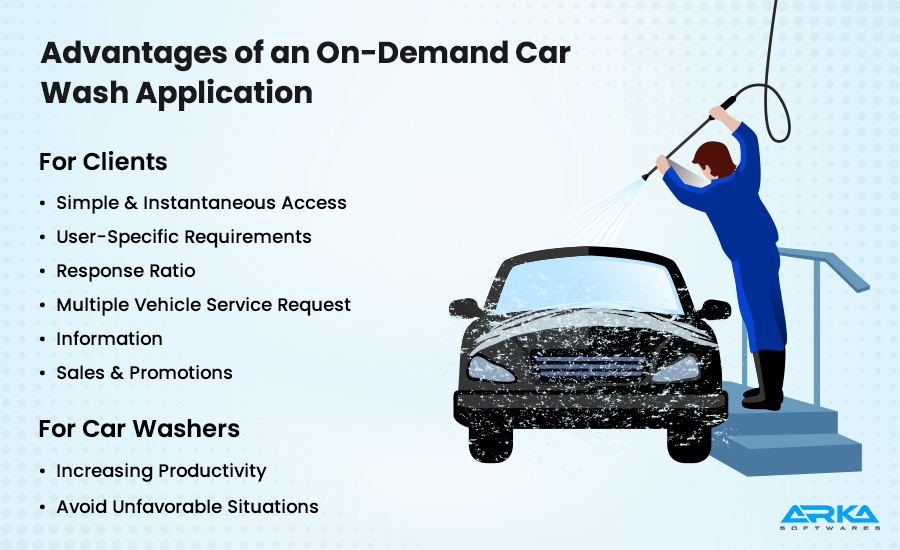 For Car Washers
Increasing Productivity
Improving a company's efficiency raises output and productivity. The increasing use of such apps has given car detailers a better idea of what their customers expect from them. Those in charge of the service can monitor how popular various features are with customers.
Avoid Unfavorable Situations
Using these apps, car washes can boost their professional standing. Any help they get from word-of-mouth, especially if it's positive, might be invaluable. Furthermore, the feedback provided by customers online aids in their expansion.
How On-Demand Car Wash Apps Make Money?
Wondering how these mobile car wash applications make money? To be sure, they generate revenue from a variety of sources. Let's take a look at a few of the most vital ways money might be made: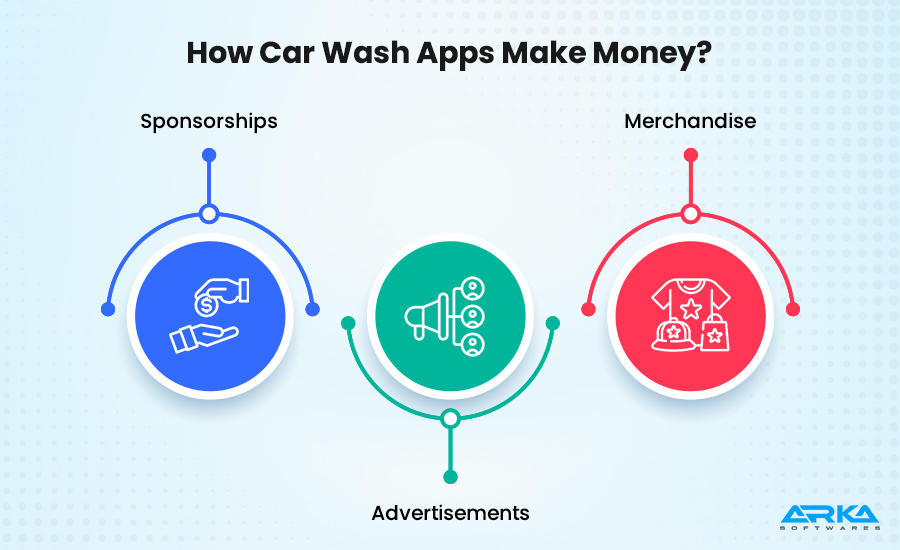 Sponsorships
Sponsoring and advertising vehicle wash service is a tried-and-true, but highly lucrative, business model. Including sponsored brand names or products in your app can help you earn money.
Advertisements
Including links to third-party businesses in your application could bring in a sizable income for you. However, before relying on this strategy for making money, you should check to see that you are just showing appropriate advertising to customers and that you are not bombarding them with it.
Merchandise
Selling physical goods is another great way to monetize your application. To guarantee top-notch results, you may want to offer customers the chance to purchase supplies like high-end car-washing shampoos, wax, wiping brushes, and surface paint. This is a fantastic strategy for promoting your company while also bringing in money.
Essential Features for a Car Wash Application
Customer Panel Features
Flexible Rates
The app's functionality isn't complete unless it allows users to pick and pay for the service of their choice from among the many available.
Billed on a Monthly Basis
A mobile app should offer a unique set of bundles to its most loyal consumers. It's possible that a customer would rather not have to pay every time he books a service.
Therefore, car wash businesses need to offer customers customized monthly, annual, and biennial plans. You should give them the facility to prepay for any of the bundles and utilize the included services whenever they like during the allotted time frame.
Registrations and Logins
In order to keep accurate records, it is necessary for each app to store some information about each user. To make use of the app's features, users need to join up and become members. 
Track Down a Local Detailer
The customer should be presented with a list of car washes located in the immediate area, from which they can choose one.
Continual Real-Time Monitoring
This helps keep the customer's faith in the detailer intact. Customers may locate their vehicle and then follow the route laid out for them by the app's detailers.
Chat and Calling
Users should be able to reach out to and communicate with detailers via the application. A consumer may run into trouble after he has delivered his automobile to the car wash provider per his scheduled appointment.
Consequently, he should be able to get in touch with the car washers and get his question promptly answered.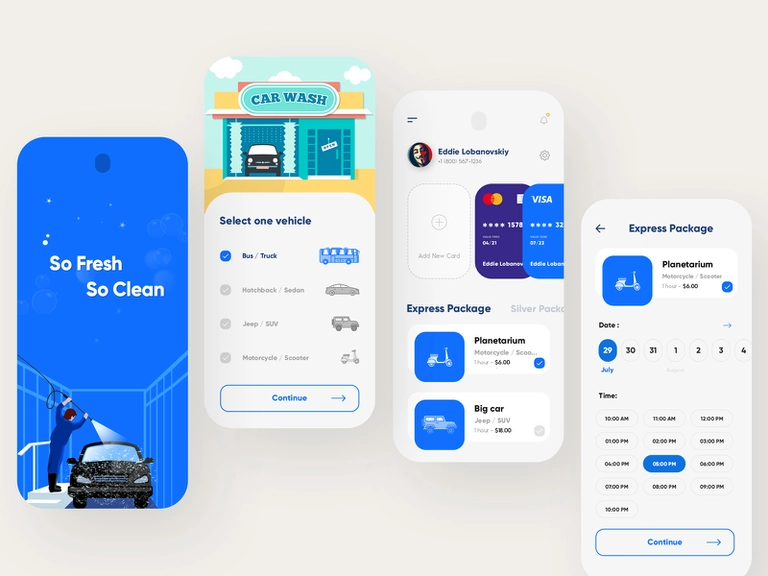 Video Conferencing
You might also add in-app video calling as a feature for a car wash application. Users can have direct conversations with detailers with this feature, providing information about their vehicle and the services they need.
Prediction of Expenses
There is a trend among consumers to limit their expenditure on car washes. That's why it's important to give them access to a cost calculator so they can learn more about the value of each service. As a result, consumers can tailor their requests to include only the products and services they require.
Multiple Payment Options
To make it easy for users to make online purchases, the application should accept a wide variety of payment types. With the rise of digital wallets and users' propensity to sign up for several wallets, it's important for apps to accept not only debit and credit card payments, but as many digital wallets as possible.
Choose a Service
It is the responsibility of the vehicle wash detailer to provide a catalog of services from which the customer can select those that best suit his needs and budget.
Submit a Request
With this function, a user may check out everything the app has to offer and see how it stacks up against other similar car wash apps. The user can place an order and finalize the transaction when they've decided on the services they require.
Reviews and Evaluations
This is essential for an on-demand car wash application since it builds trust in the business. Customers are savvy, and they always look at the reviews before paying for a product or service.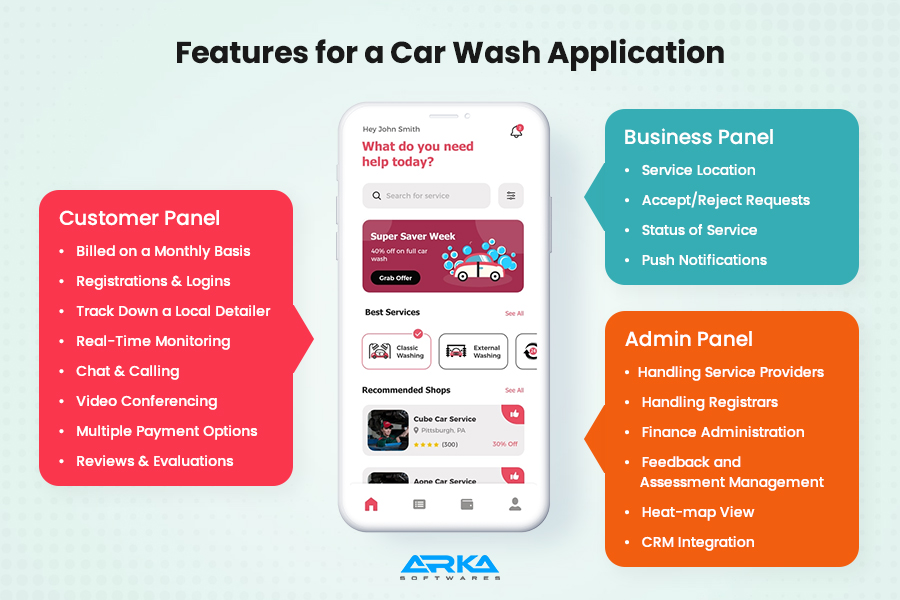 Car Washer Business Panel Features
Service Location
Due to the fact that car wash services are often limited to a specific area, a specific call center is required to handle requests from customers in that area only.
Accept/Reject Requests
To best serve its customers, a car wash should be able to accept or decline jobs at its discretion.
Status of Service
It is essential for service providers to inform each customer of the current status of their service, as a vehicle wash may involve multiple stages. It will help them gain their customers' trust.
Push Notifications
The app's push notifications feature needs to be activated. Providers of car-washing services might thus be alerted whenever a customer requests their assistance.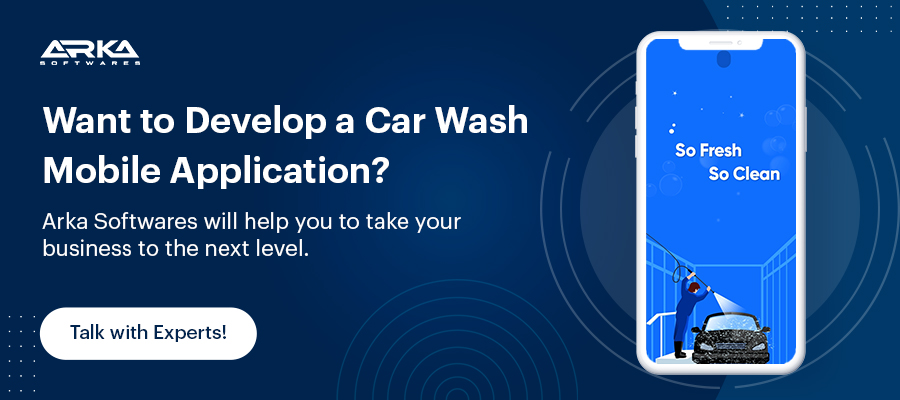 Admin Panel Features
Capable of Handling Multiple Service Providers
The administrator's job is to put users in touch with local car wash services. In this way, people can get in touch with car washes in their immediate areas.
Handling Registrars
To help users and answer their questions, the admin provides a support team. The service staff at each car wash also has the added duty of handling customer registrations.
This lets them know how many people are using the app at any given time, as well as how many people have utilized the car wash's services in total.
Finance Administration
Whenever a customer pays for a service, it is the administrator's job to deposit the money into the car washer's bank account. The administrator handles all of these monetary dealings. However, they keep a cut for themselves and pass that cost on to the car washers in the form of a fee.
Effective Feedback and Assessment Management
Dissatisfied customers will always submit negative reviews and lower ratings for a car wash, whereas happy customers will always leave five-star reviews and high ratings. The administrator must handle all ratings and reviews and make sure they are posted correctly.
Heat-map View
The only person with access to this special function is the app's administrator. Using this function, employees may see which parts of the app and which services are most popular inside the workplace.
CRM Integration
With the help of a Customer Relationship Manager, a car wash may more easily and rapidly manage the nitty-gritty of their services and their clientele. It also helps in providing reliable analytics.
Expertise
Creating Apps for Multiple Platforms – Arka Softwares developers are highly skilled and have years of experience creating apps for both Android and iOS.
Database Management – Let's explore the advantages of getting a car wash app developed by Arka Softwares. We have the industry's top developer uses agile methodology., who is fluent in MailChimp, MongoDB, and other databases.
Integration of APIs – Our team is able to successfully combine gateway, e-wallets, and all existing APIs into a unified mobile app for payment processing.
Developer Team – We are the top car wash app development company in Dubai because our team of experts uses agile methodology and cutting-edge car wash app development techniques to create custom apps that precisely suit your specifications.
We have the resources to back you up from the concept stage all the way to the app store with our UI/UX designer, developer, QA specialists, and sales and marketing pros.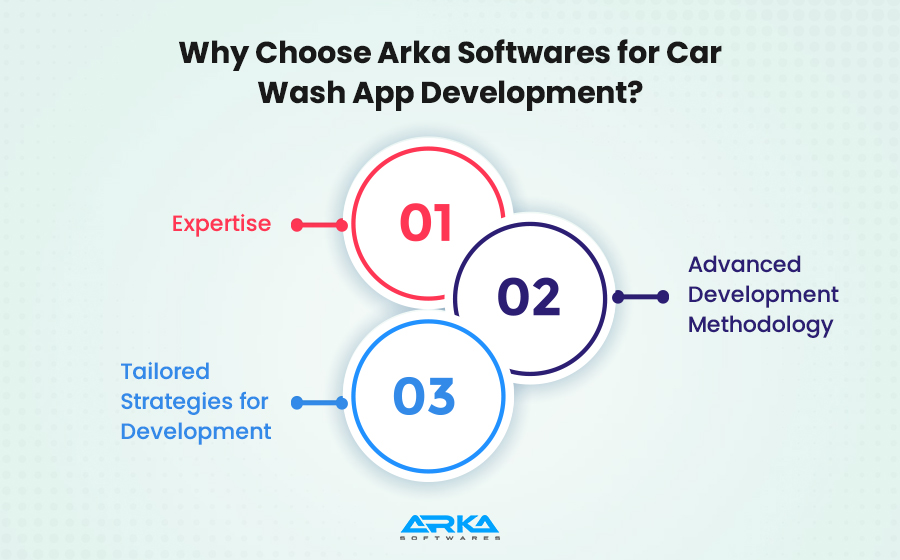 Advanced Development Methodology
As a leading web and mobile app development company, Arka Softwares is fluent in a wide range of languages. We uses technologies like Flutter, Python, React, Swift, etc. to provide a unified interface that can add value to your audience's lives beyond that of a regular app.
For instance, one area where our team excels is – Cloud Administration and Implementation.
When it comes to managing massive amounts of data, cloud deployment is an essential cure. Information on customers, vendors, marketers, and transactions may be accessed from anywhere thanks to cloud storage.
The cloud facilitates a smooth operation by storing data. The cloud-based vehicle wash app improves scalability and security for data operations.
Tailored Strategies for Development and Service
When you hire dedicated developer for your car wash app from Arka Softwares, expanding your business is always a primary concern for us.
We offer comprehensive car wash app development strategies, plans, and services to align your app's vision with your company's presence and support, allowing you to stand out from the competition as a significant market driver.
Conclusion 
The market for on-demand service apps has grown rapidly in recent years due to advances in technology. The automotive software industry is growing, therefore it's likely that these car wash applications will do well in the next years.
Companies of all sizes, from startups to multinationals, should work with an established mobile app development firm like Arka Softwares to create the precise application they have in sight.
FAQs
for Car Wash App Development